After our kitchen and living room reveal, it's finally time to share how our dining area currently looks!
I know, I know: I've been teasing about this post for way too long on Instagram, but I simply hadn't found the time yet to sit down properly and write about this room. Working and traveling is obviously amazing beyond amazing, but I do love coming home as well to catch up on blogposts to write, meet up with friends and of course… enjoy my favourite place ever: our own beloved house.
The dining area in particular has become a much-loved space to hang around, so let's take a look at how we decorated it!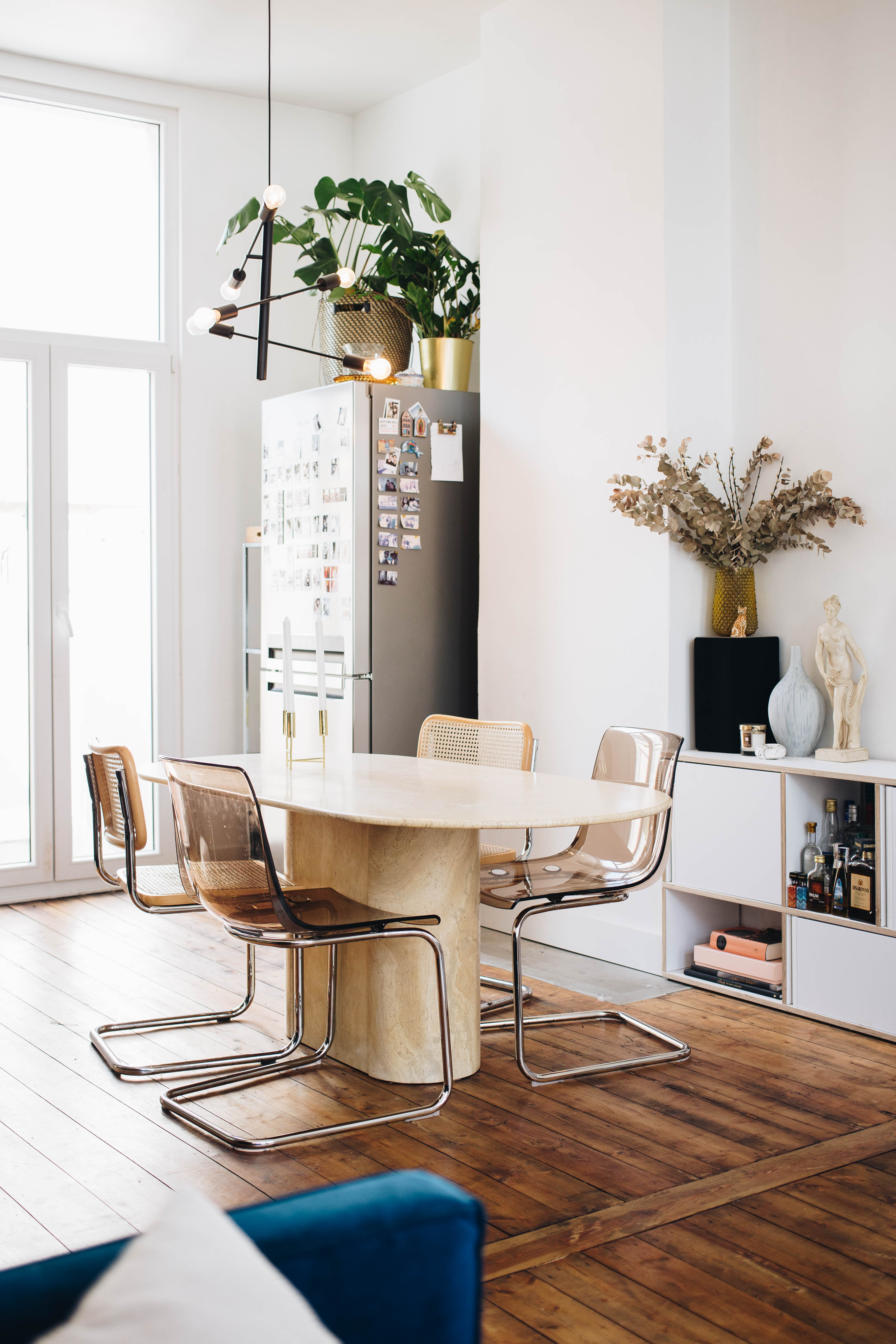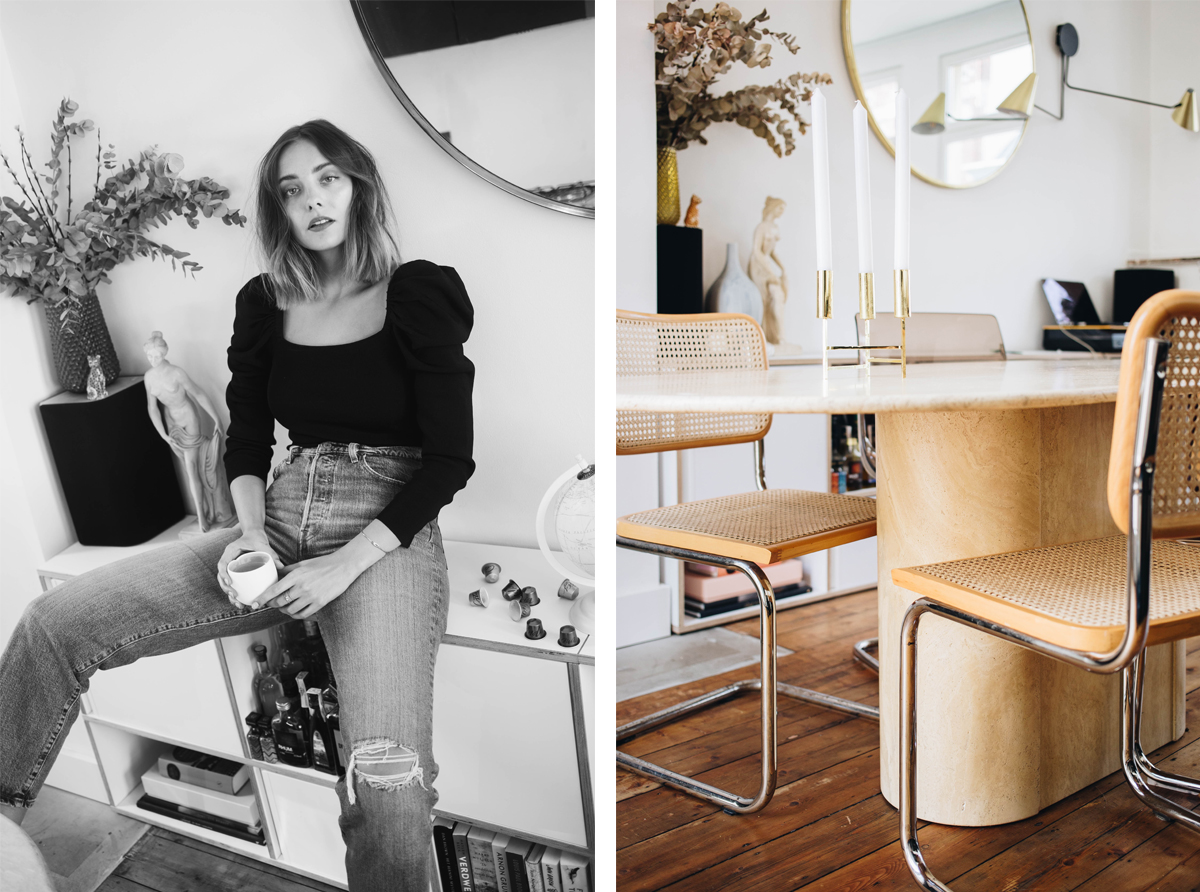 I don't have particular before/after images for this area, but you can check out the kitchen make-over and the living room make-over post to see how the entire floor looked before!
Since we have an open-plan kitchen, living room and dining area, I wanted to keep things quiet and rather neutral near the dining table.
Our living room has some amazing eye-catchers and the kitchen itself is a massive eyecatcher, so I had to find a way to squeeze in a dining table and chairs without being too much. The problem is that I like much 🙂 I love rugs, vases, ceramics, plants, books, polaroids, candles etc etc etc, so my decorating process is a constant struggle of me refraining myself from cramming the entire room with all this miscellany.
I do think that I've found a peaceful balance for the dining area, and that is probably due to the neutral colour scheme and all of the soft shapes we used.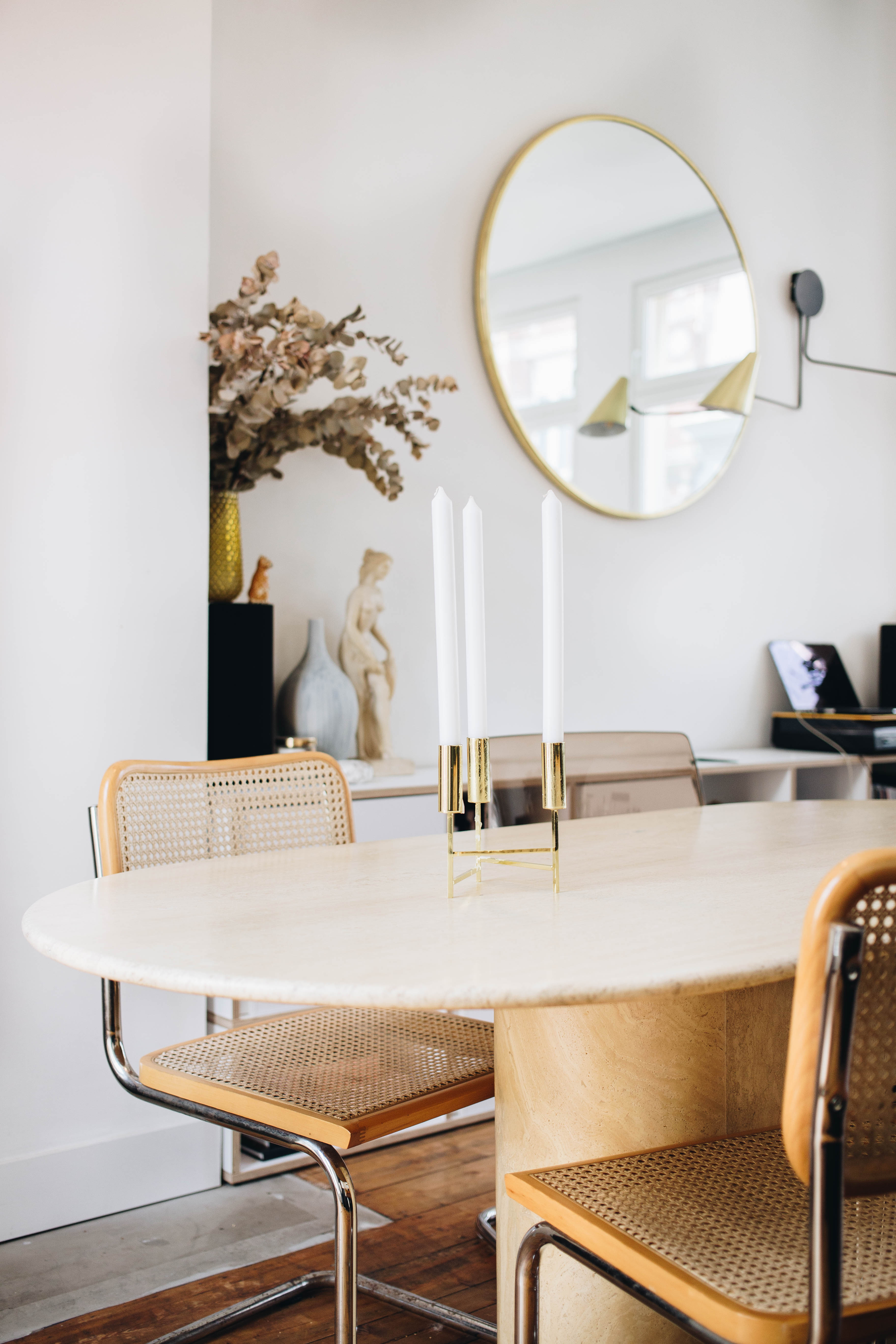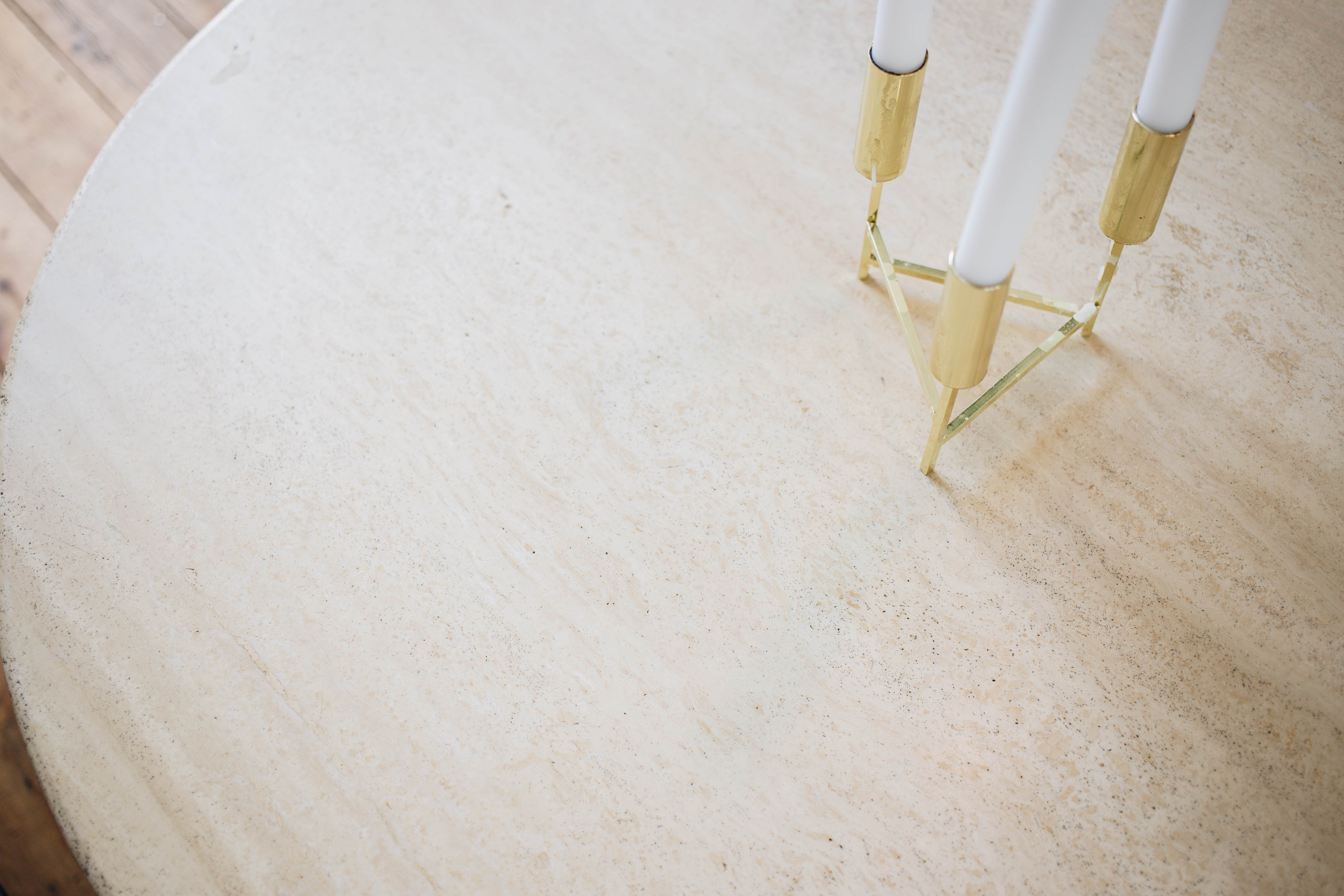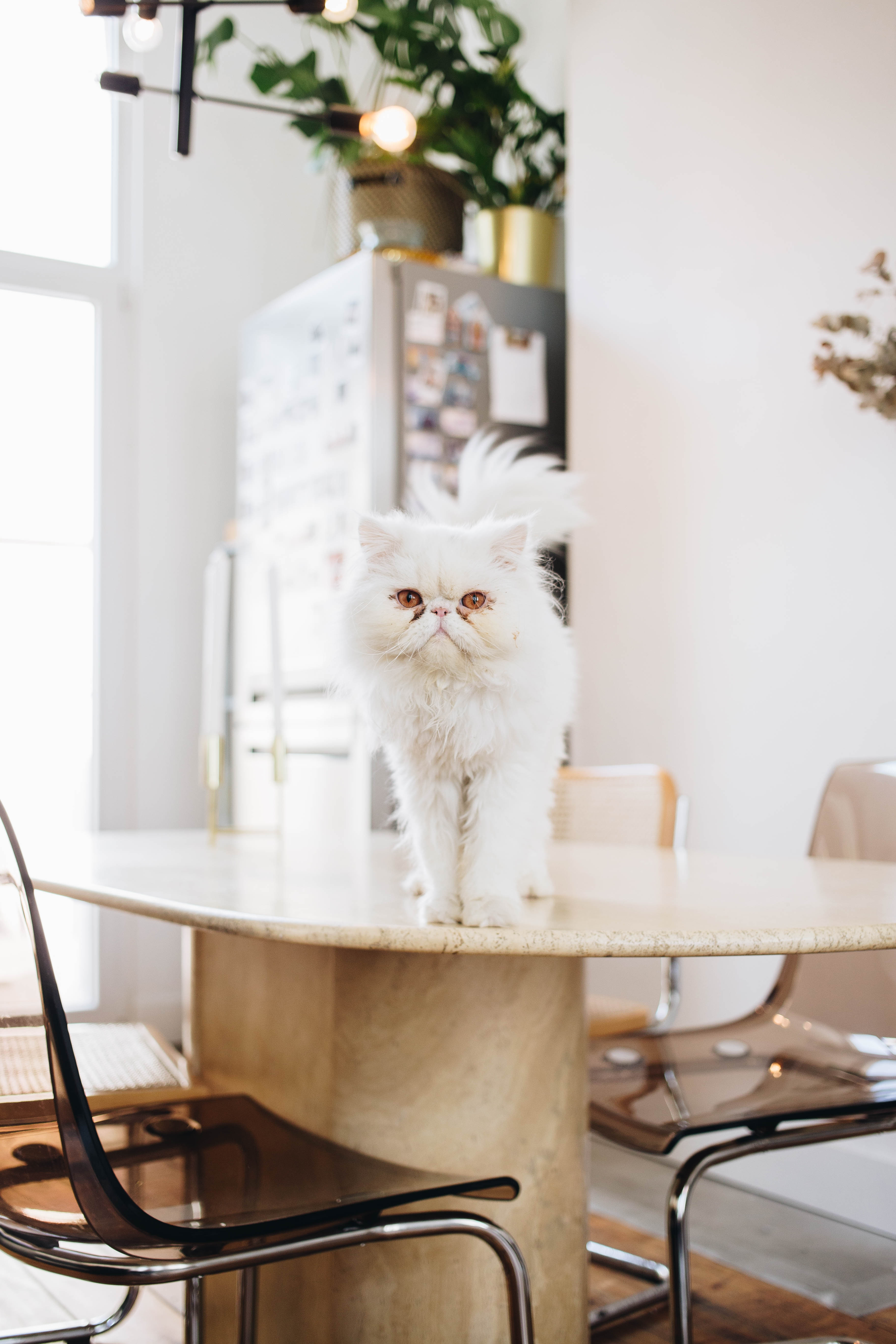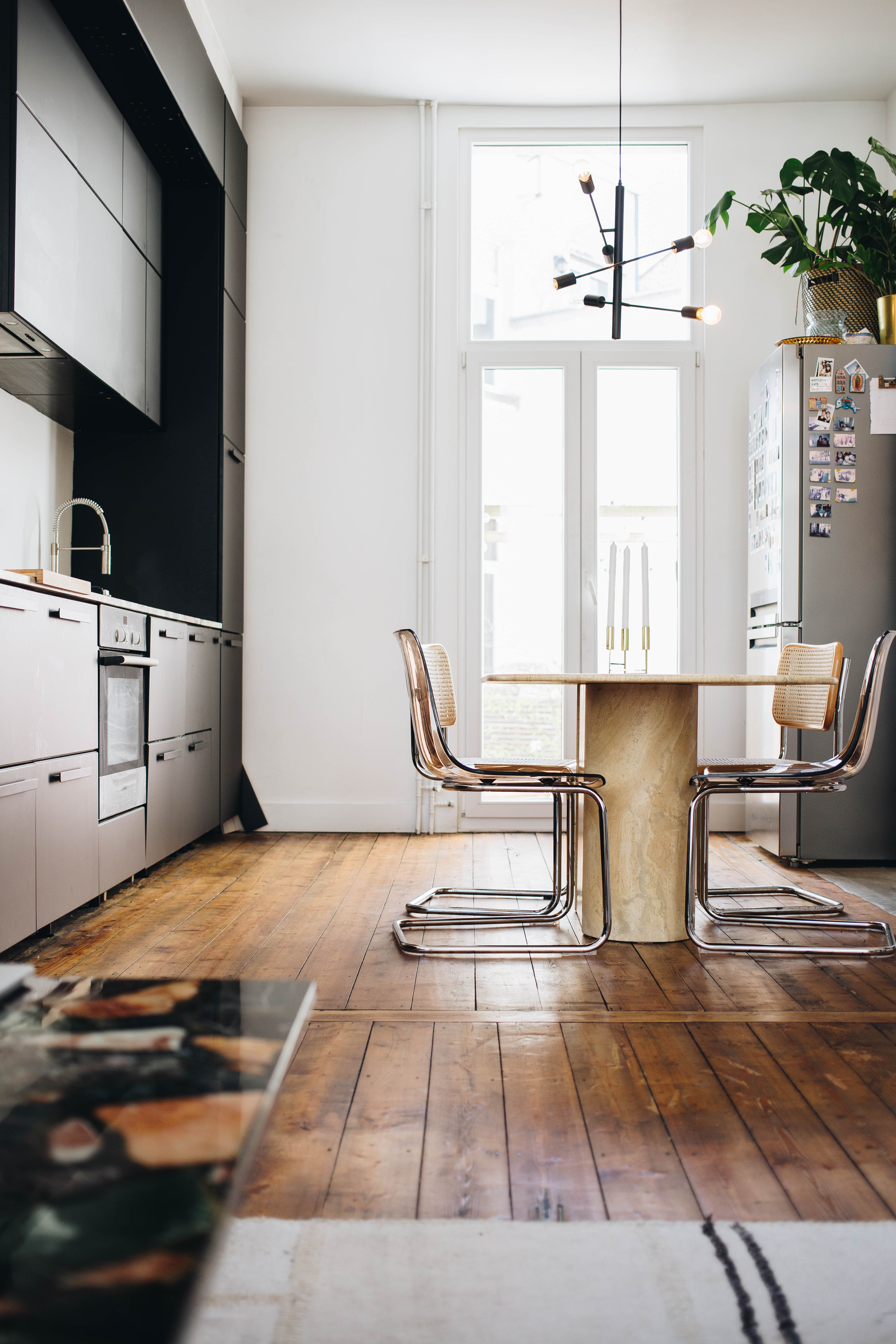 As you can see, the dining table is placed in the middle of two huge square pieces with quite an industrial vibe. I've contrasted these sharp blocks with a lovely egg-shape table in travertin stone. The different chairs are see-through plastic and rotan, and only have rounded corners too. Lastly, the big round mirror in messing adds another soft touch to the walls!
The choice of table wasn't an easy one; I just couldn't think of a nice option that would unite the black kitchen and the neutral palette of the living room. Black or white would have been too harsh, and wood would have blended in too much with the floors. But when I saw a round travertin table at a friend's house, I knew this would be PERFECT. I spent months looking for a second hand one online in the right size and shape, and as you can see, my work and patience have been rewarded 🙂 I got it for €100 if I remember well, so if you're looking for a travertin table as well, I'd suggest you don't settle for a super high price.
I always get so many questions about the chairs as well! The plastic ones in smoke colour are by IKEA but this particular shade is unfortunately not available anymore. The rotan ones are second hand as well; we found them for €2 each at a secondhand shop near my boyfriend's old town.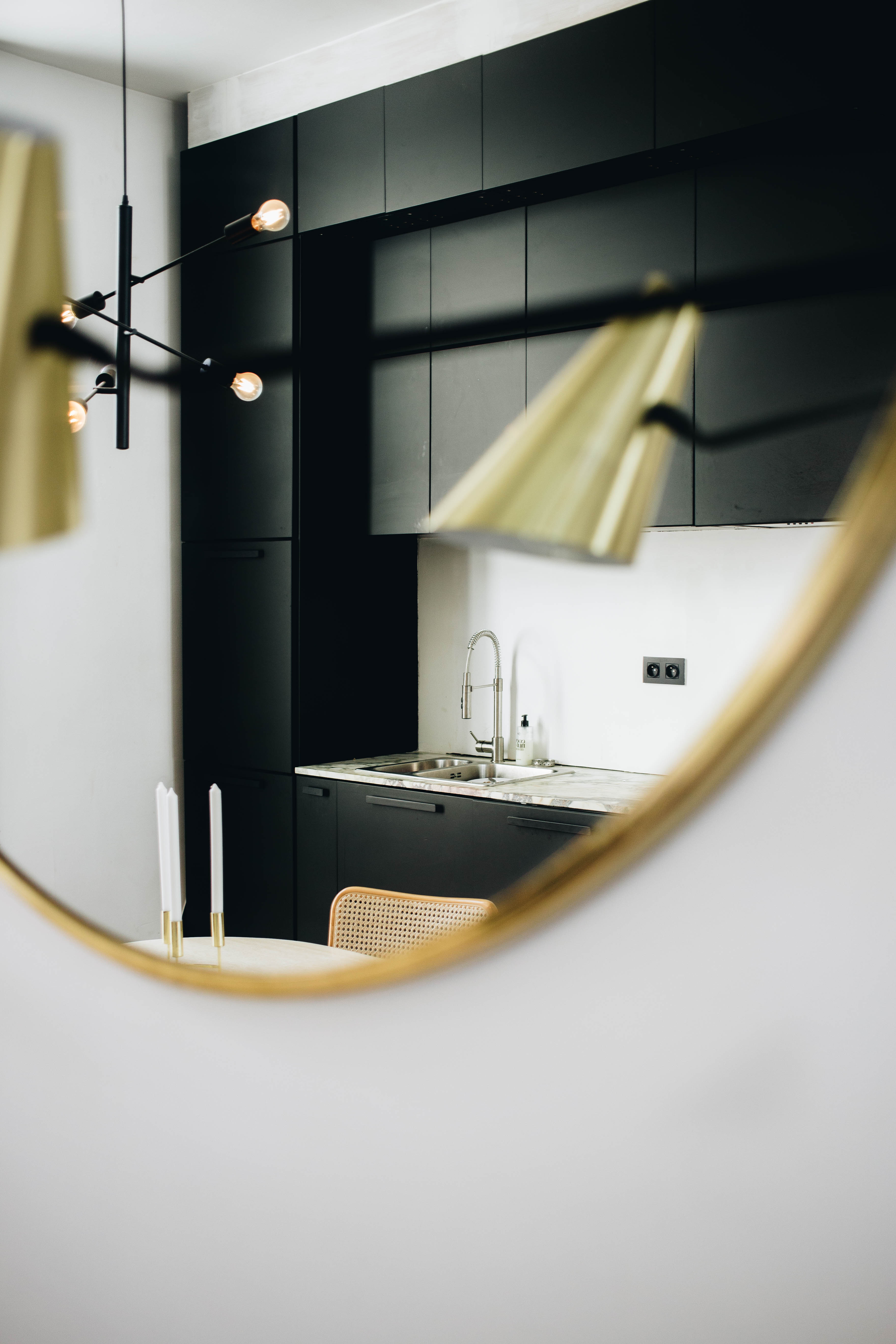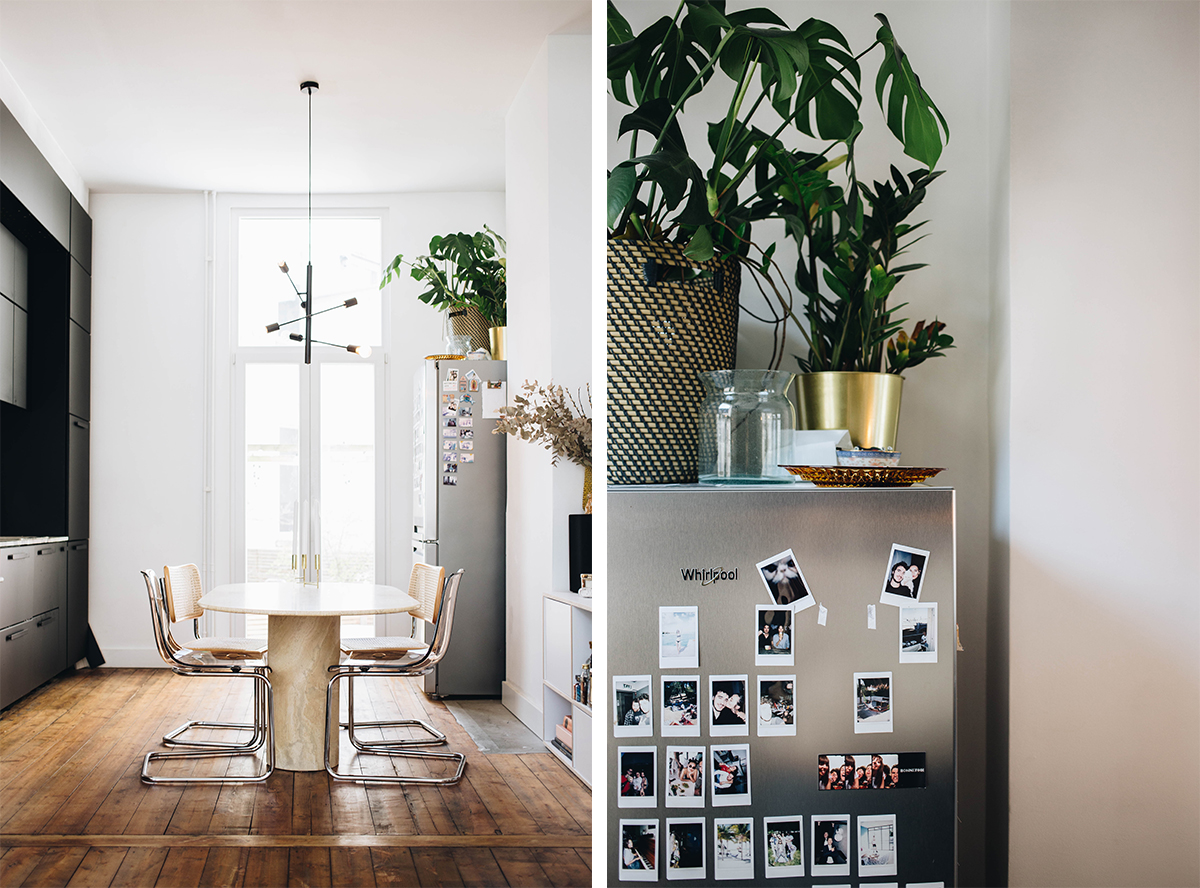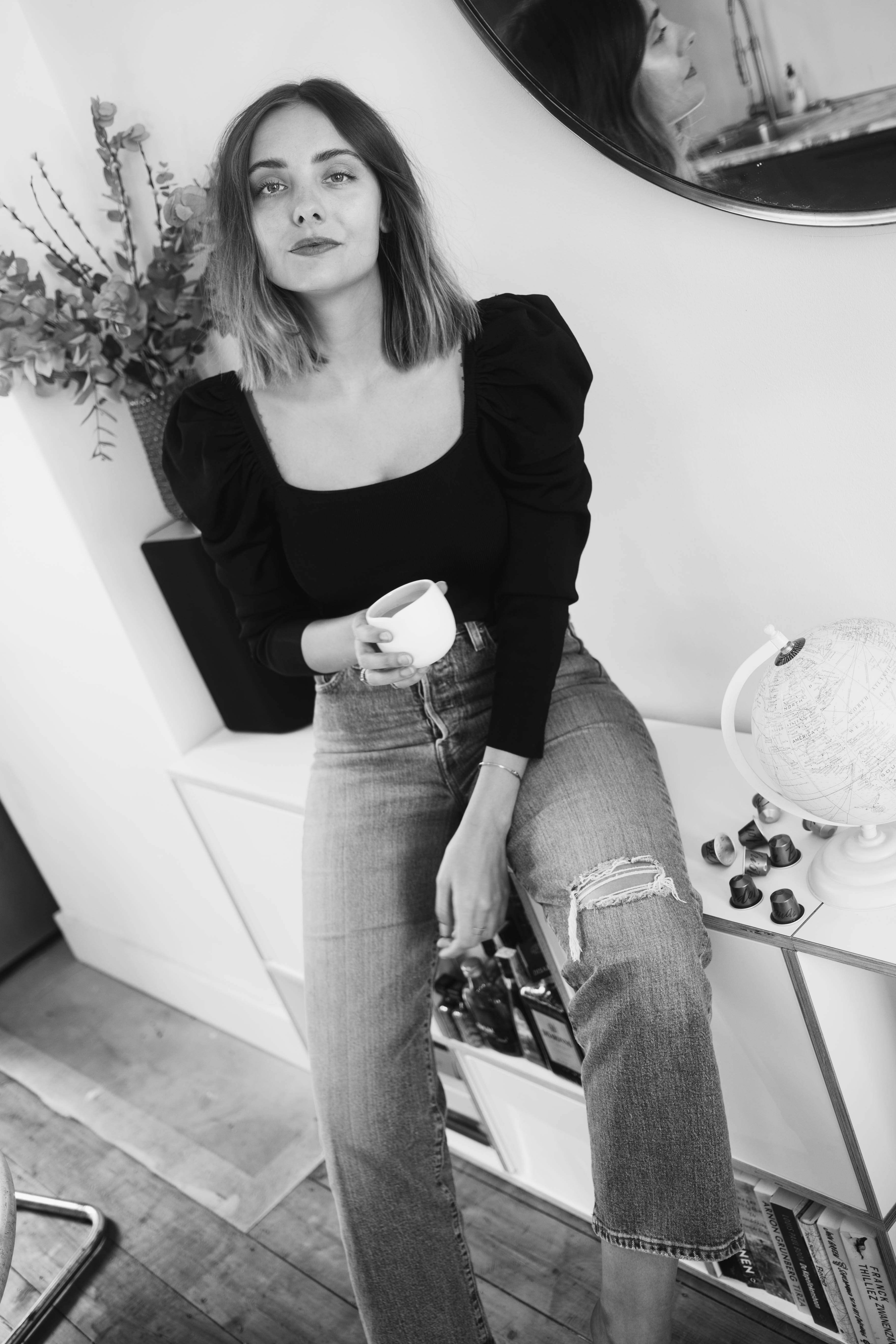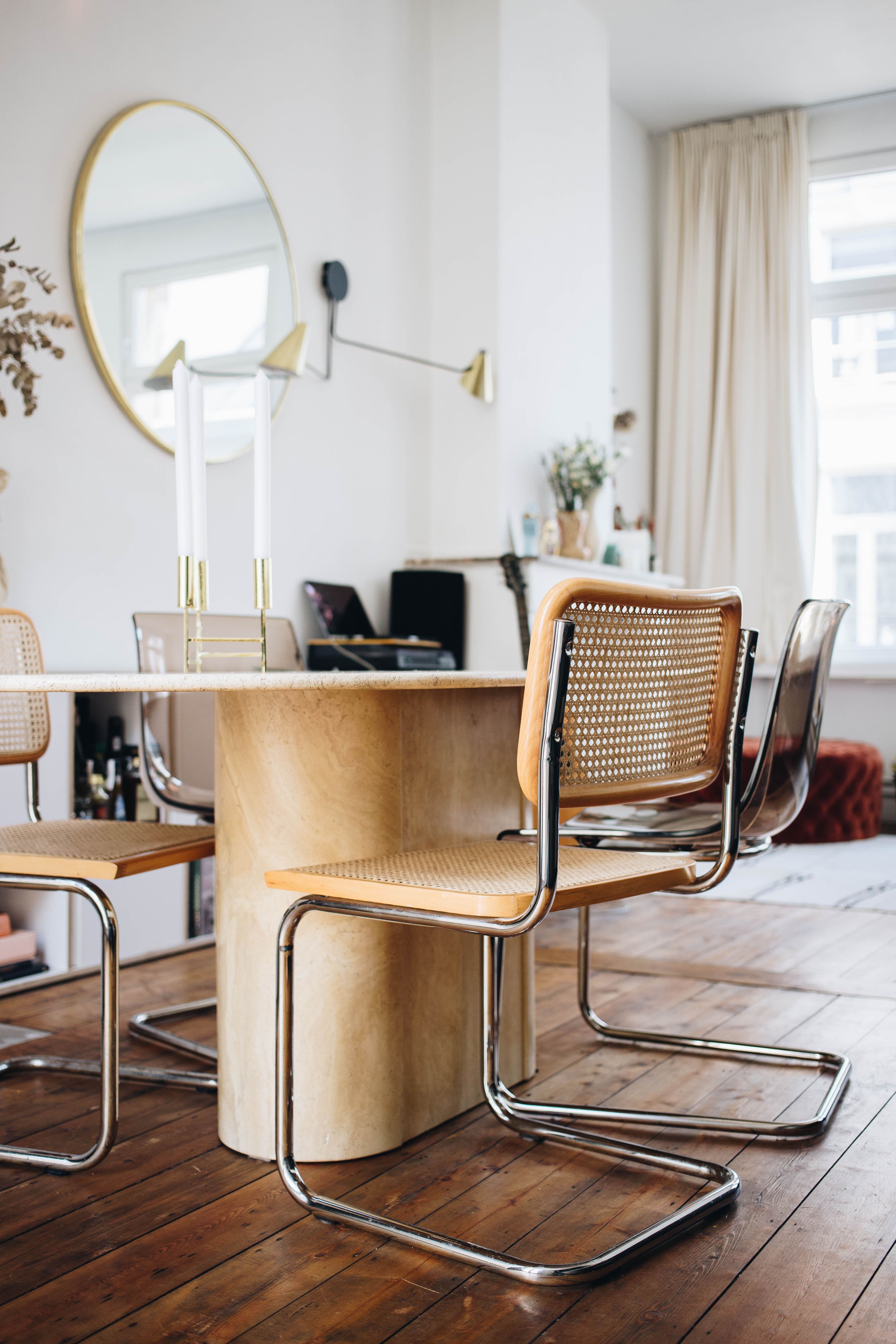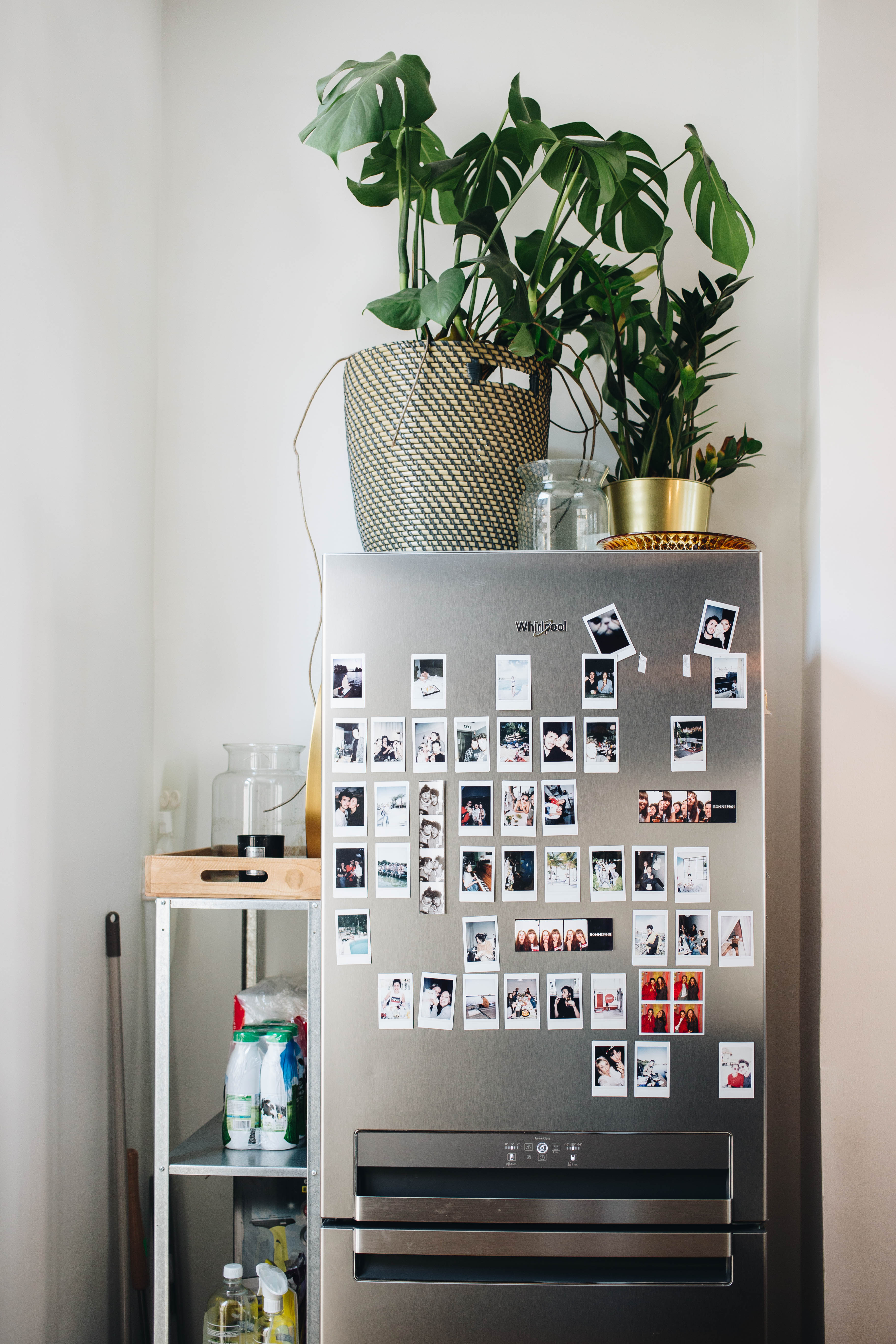 Apart from the kitchen, our huge fridge draws lots of attention too! It's an extra wide one by Whirlpool that has a fridge on top (better for your back) and a freezer below (plenty of space for pizza). We opted for a freestanding fridge instead of a built-in one for two reasons: 1) I didn't like the idea of an extra food storage cupboard opposite to the kitchen (would probably look weird) and 2) I did like the idea of a badass, American-style fridge as a design object!
I decorated the fridge with polaroids and plants for a slightly more cozy look, and I personally think it looks totally cool. Cool, get it? 😉 To see how the 450L inside looks, you might want to go here… Warning: it's not what you think!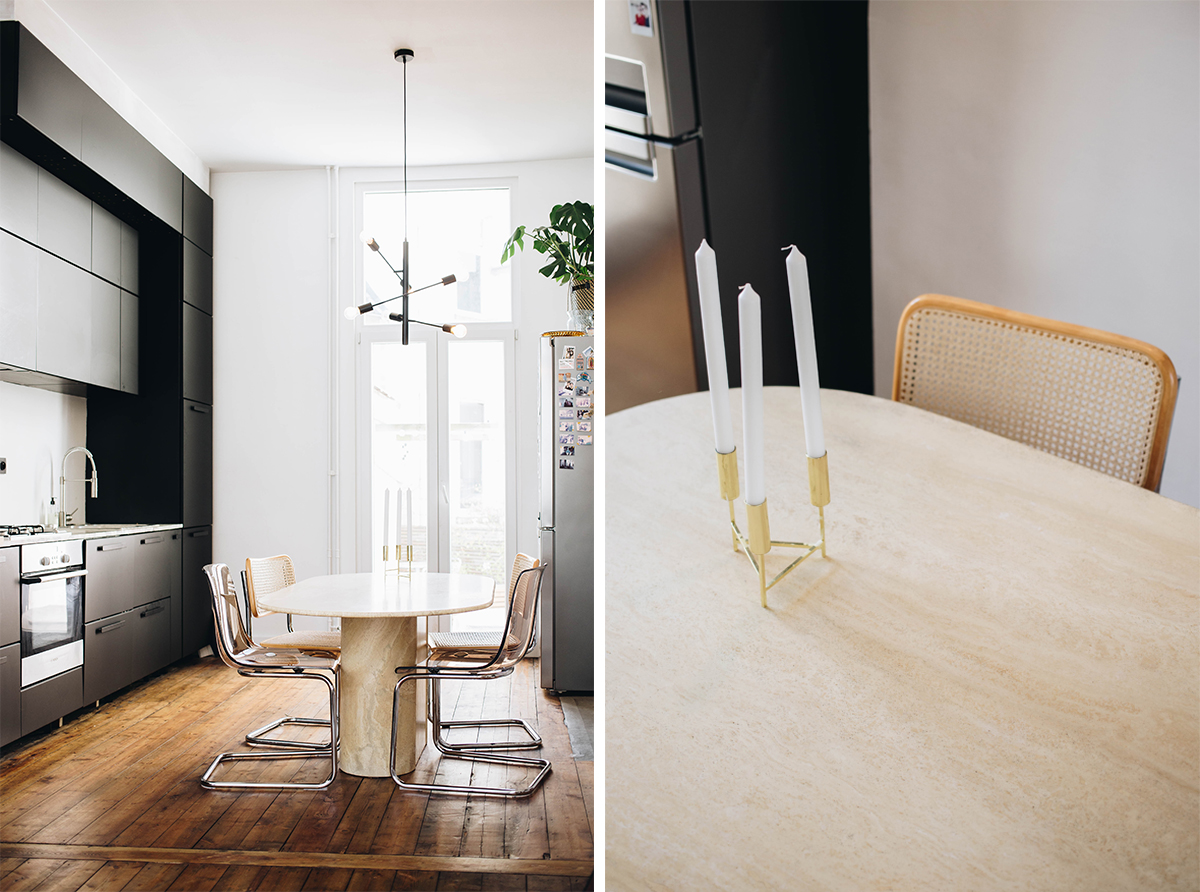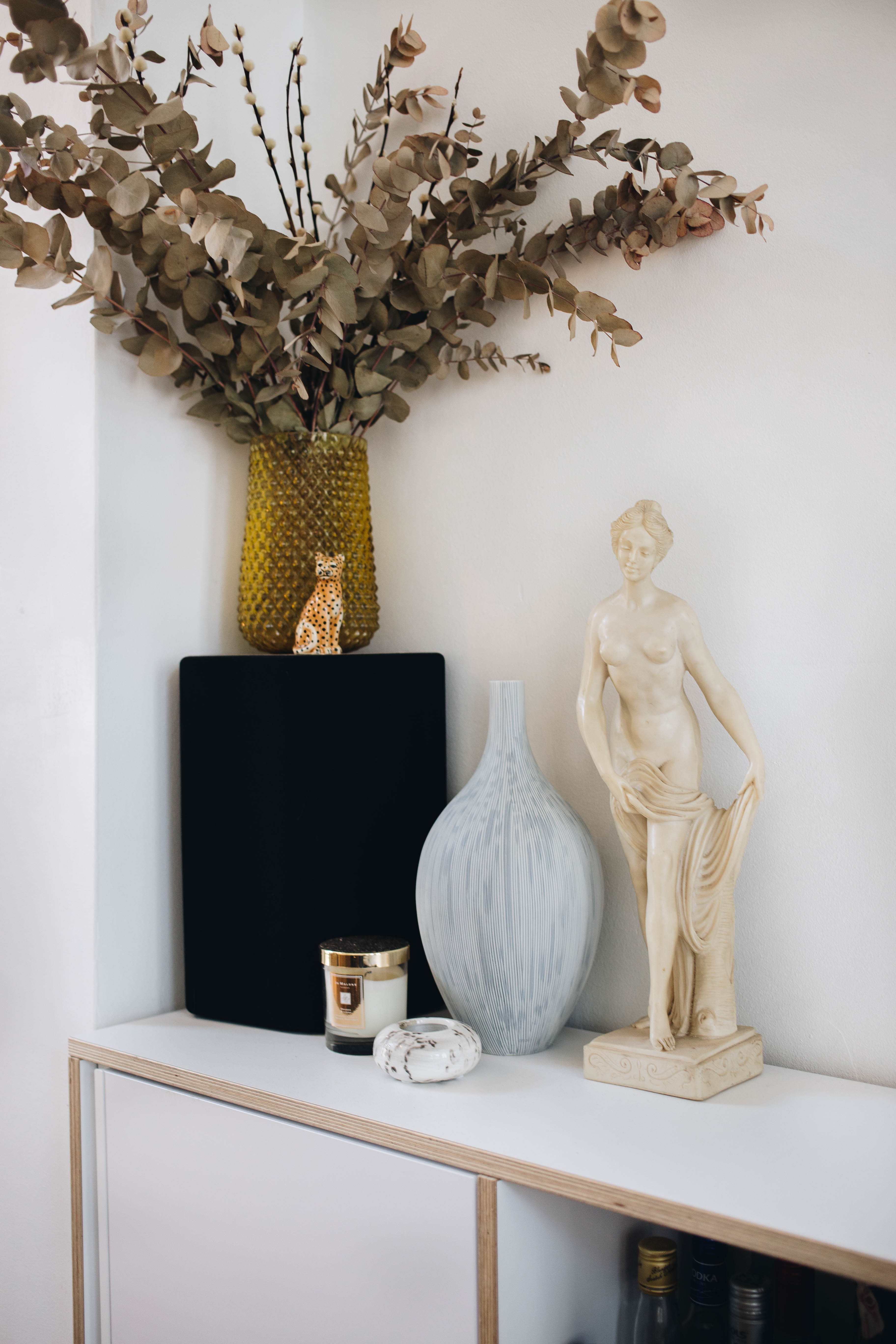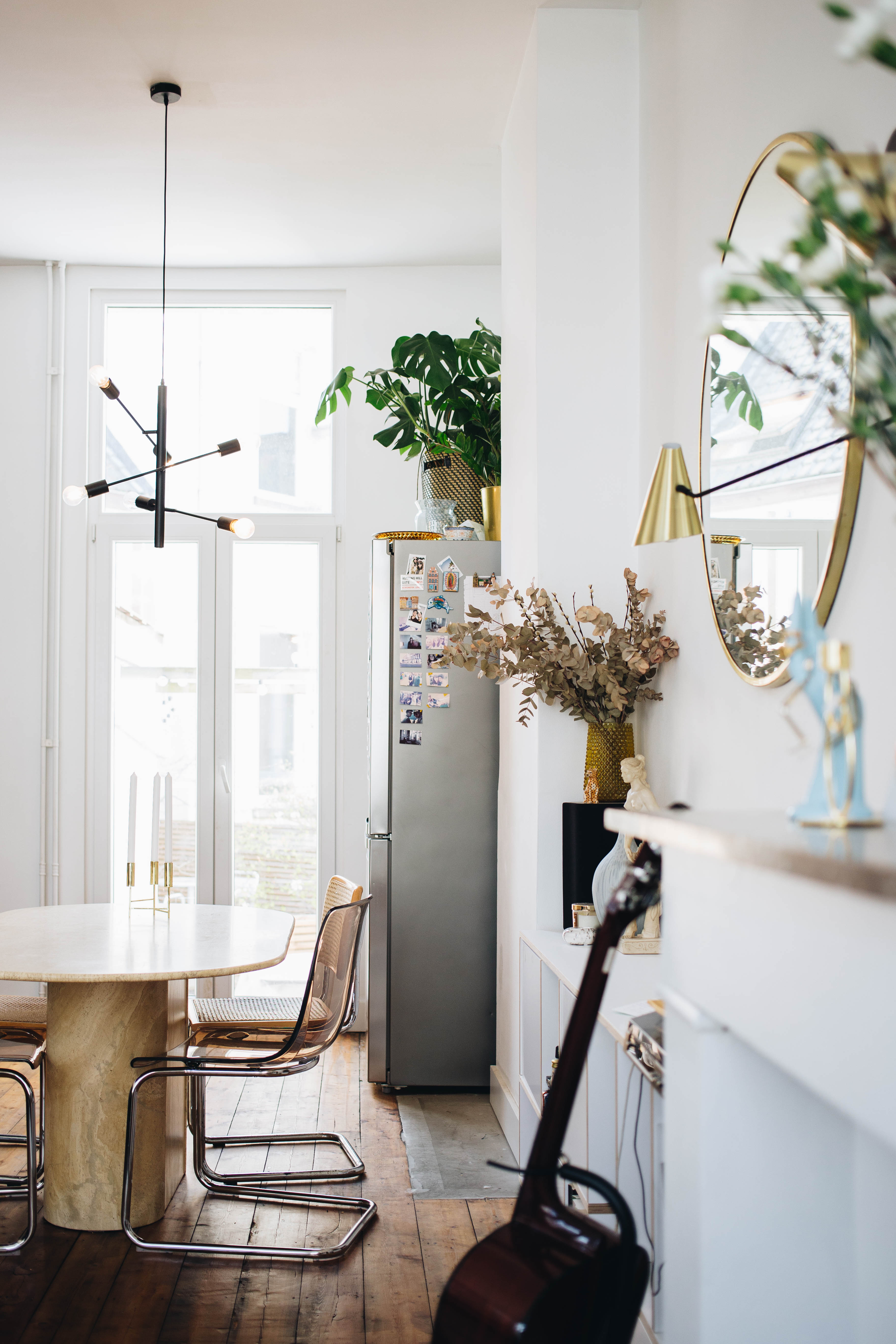 Et voilà, this how our dining area currently looks! I say currently, as it's an ever changing process of course. The black music boxes are not my personal first choice, but sometimes you have to compromise 😉 I was also thinking about adding a rug here, but I'm not so sure anymore as the room can look quite full easily and the floor is just super nice.
The only thing I'm still actively looking for is the perfect lamp! I've actually fallen in love with the Vertigo lamp, but this comes with a stunning little price card too. Might have to start saving up though, as I haven't found a worhty alternative…
Anyhow, let me know what you think! Super curious to hear your thoughts!
Other home blogposts you might find interesting: