Time for another home update! For some weird reason I thought that when we moved in back in January, we'd finish up the entire house pretty soon.
It didn't seem like such a big deal, as our to do list consisted mostly of refreshment projects like deep scrubbing floors and painting walls and stuff. However, I quickly realised that making a house a home is a matter of time, a lot of time. Also: the word "finished" does not apply to a house; it's an everlasting ongoing process.
By now, six months after our big move, I'm happy to tell you that most of the rooms are starting to look like what I had in mind! The room that I'll be showing you first is the bedroom. I've shown you the inspiration for our bedroom before (see the post here) and you've of course seen our little DIY project earlier this week, our golden bedframe.
I won't leave you in suspense any longer, let's move on to the final before/after results right away!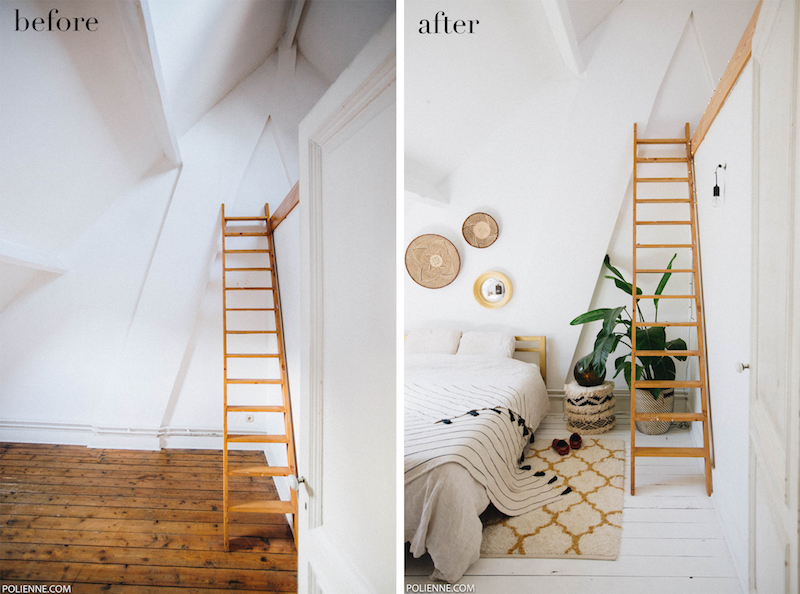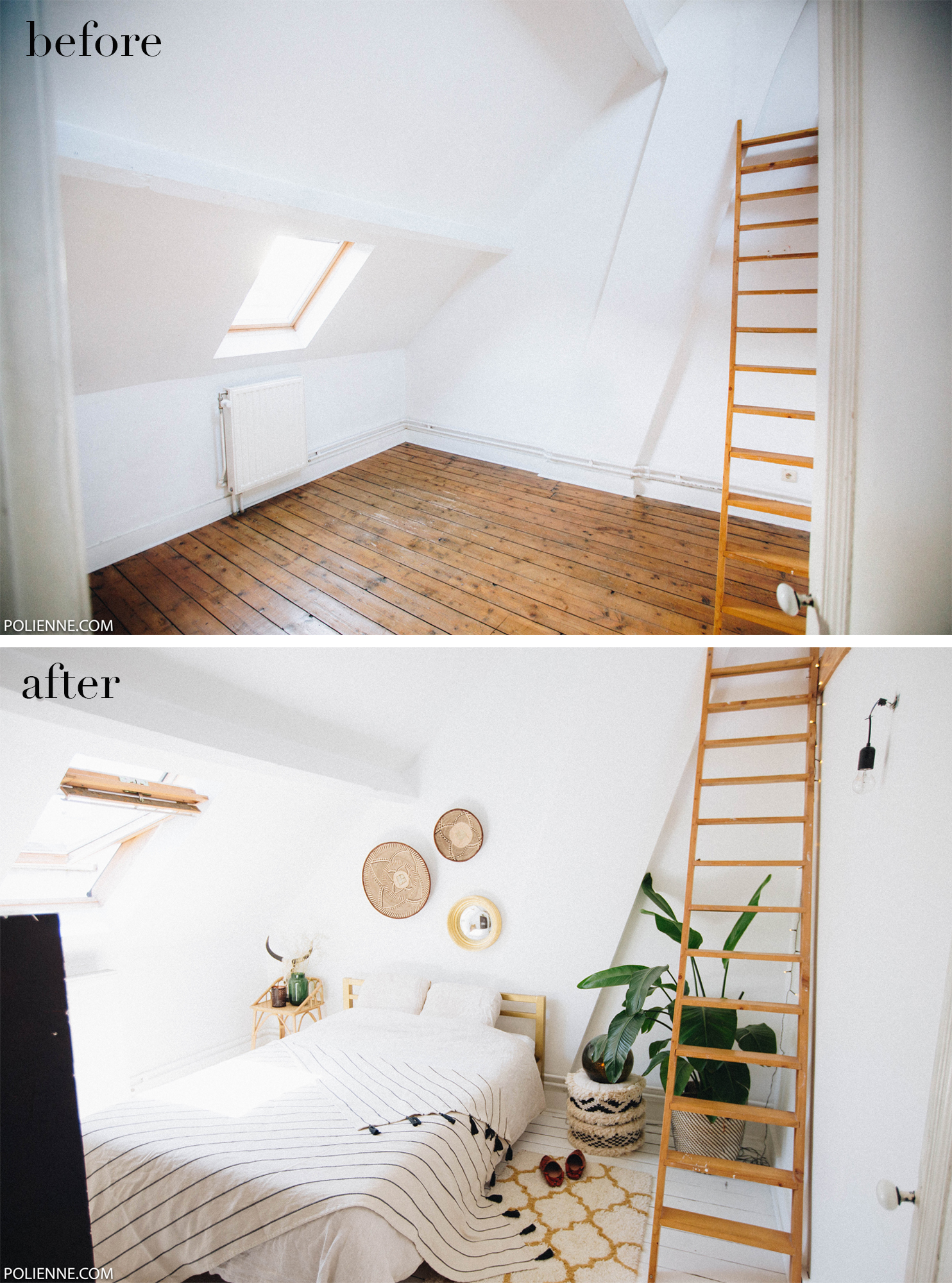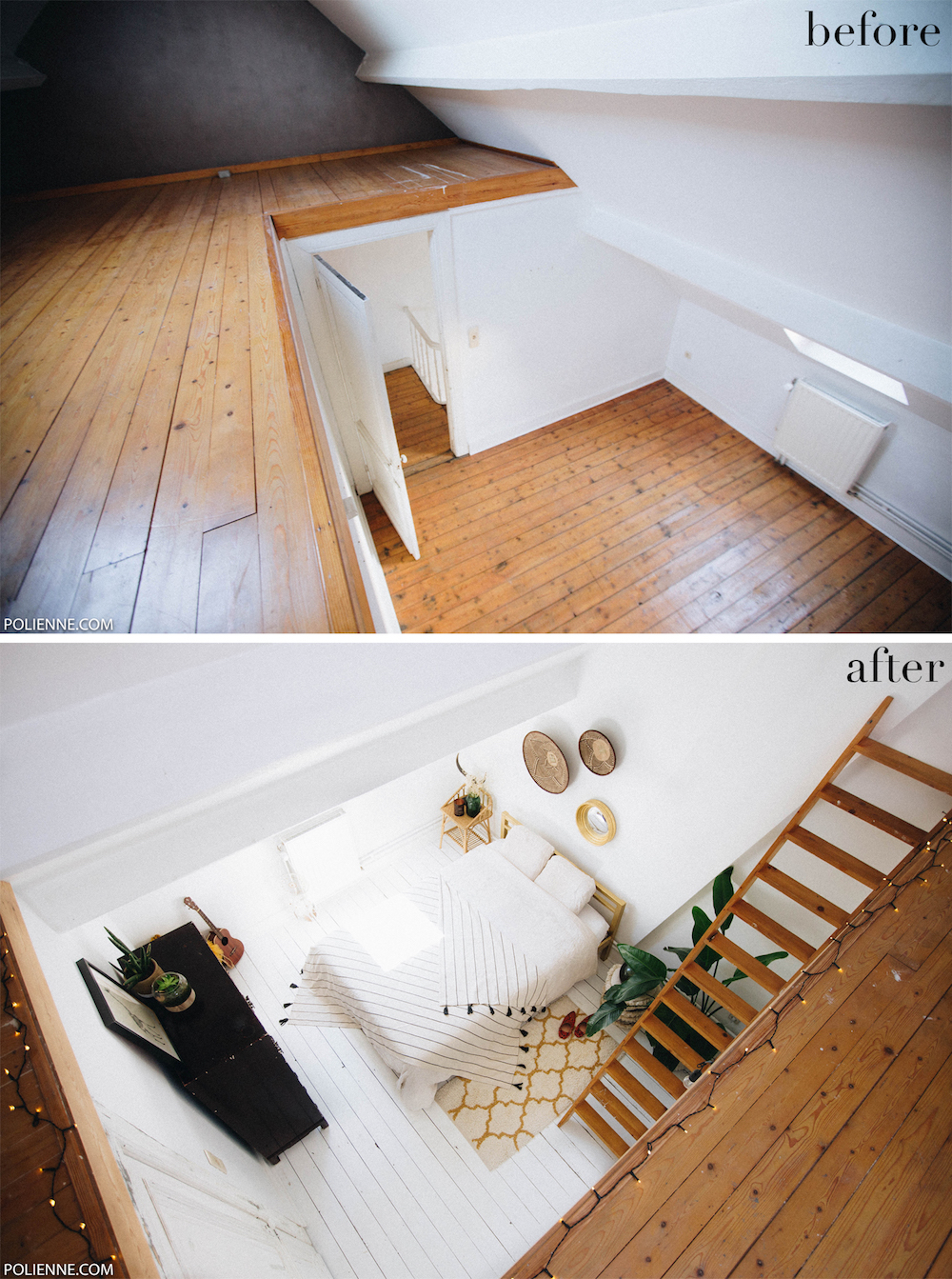 Tadah! Due to the specific set up and unique open attic with huge ceilings we didn't have to change a lot in this beautiful room. We kept a close eye on our moodboard and decided to paint the wooden floors white to make the space even bigger and brighter! A lot of people were a bit hesitant about our painting plans, especially because the floor is the very original one, but we figured that we have plenty of original wooden floors in the rest of the house to do something different with this one.
Anyway, the most difficult part was probably scrubbing and cleaning between the wooden floor, as we had to do this by hand. When the floor was all clean (see the difference below), we could finally start painting!
Paint brand Levis sent us an excellent white floor paint for this project, which was super easy to use as it doesn't need any primer or top coat. Since we wanted to still feel the wooden vibe by showing the nerves, we added two thin layers of paint only. You can tell that the result looks pretty splendid!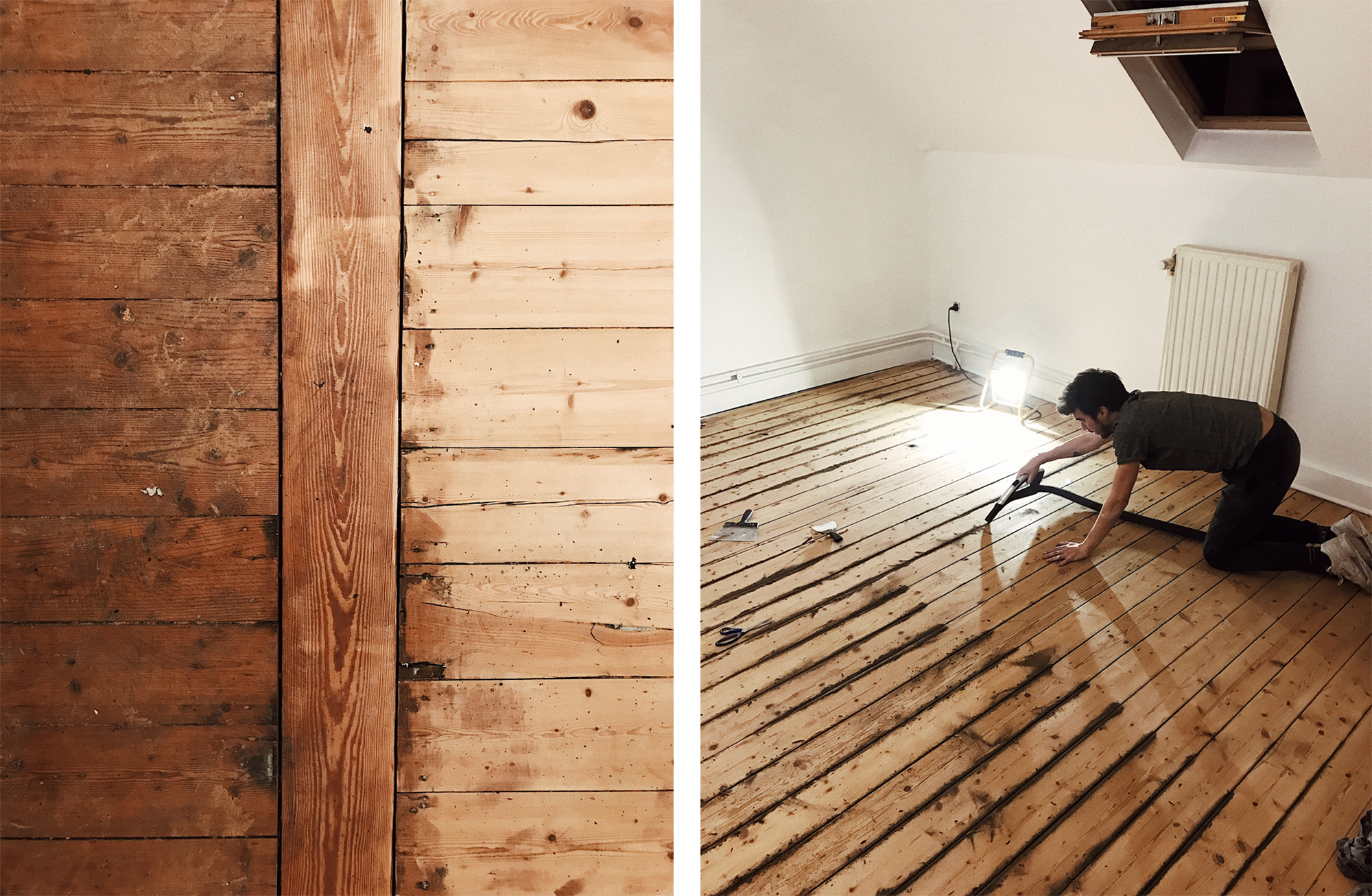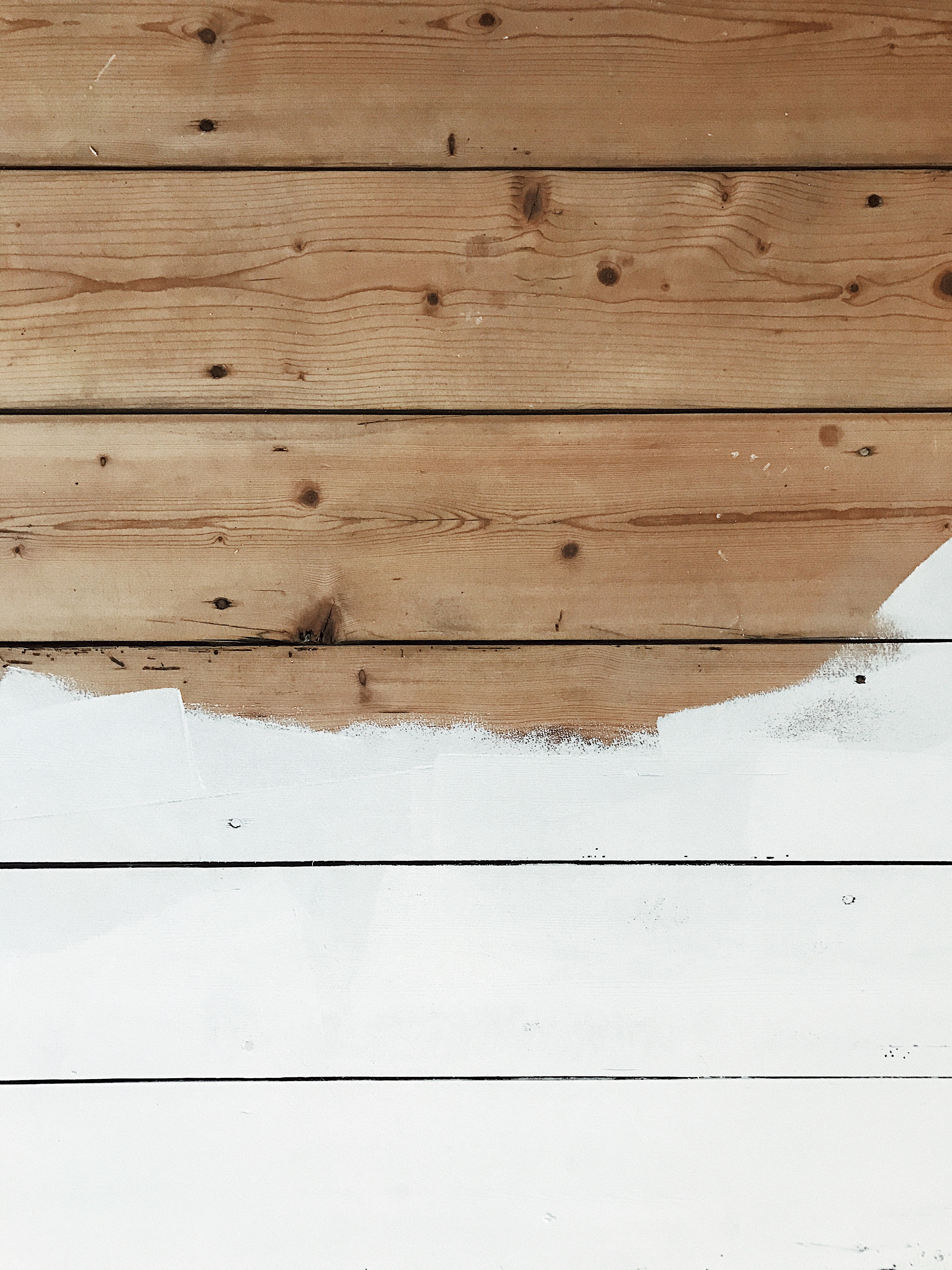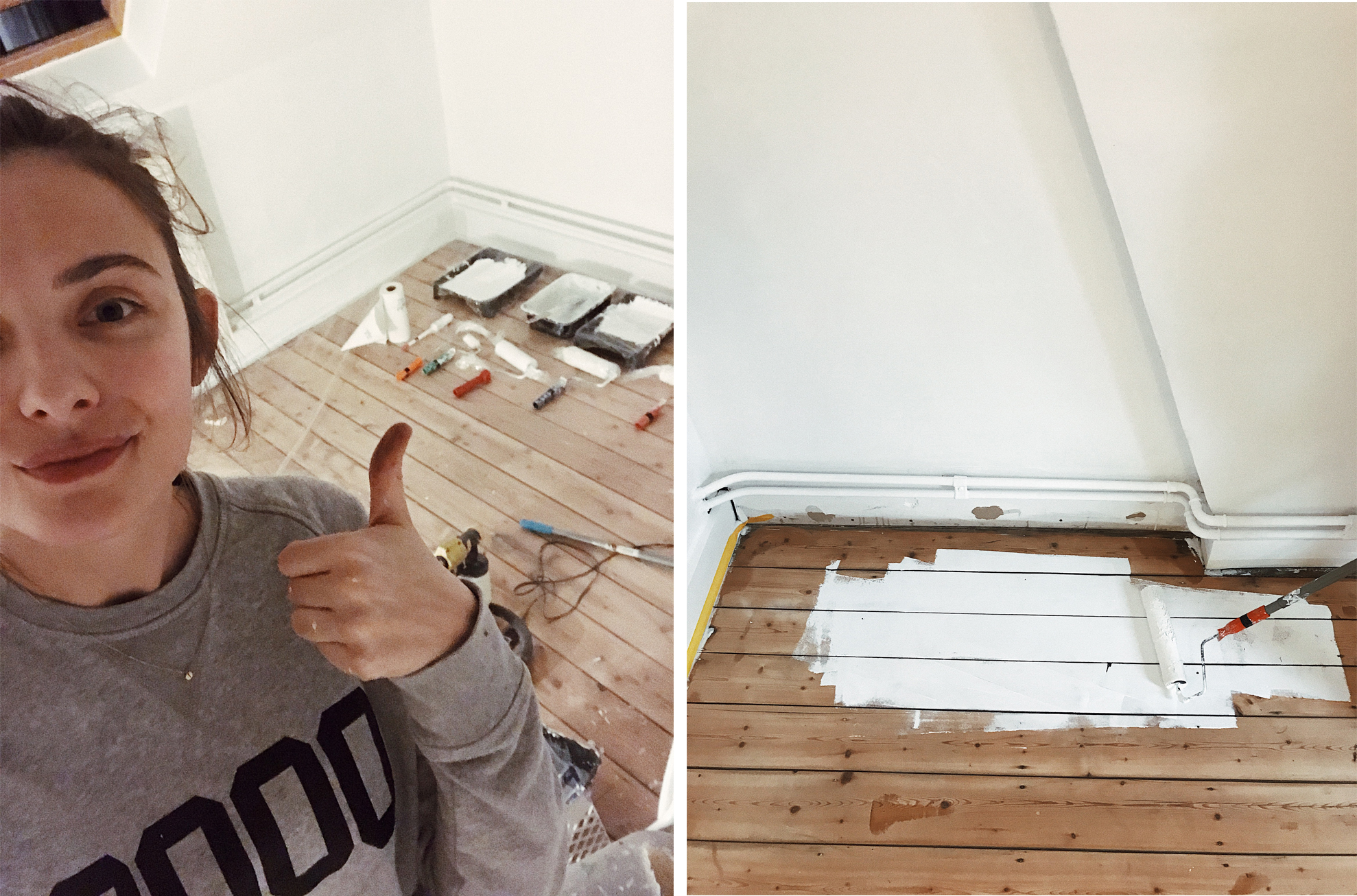 We wanted a peaceful and open but super cozy bedroom where we could perfectly unwind after a hectic day in the city. To avoid an all white Scandinavian feel we added lots of different bohemian inspired textiles, furniture and other materials, such as a woolen carpet, rotan wall decoration and a vintage wooden cabinet. If you'd like to know where we got all of our interior pieces: I've listed up everything at the end of this post!
The only thing we haven't decided upon yet, is what to do with the open attic. I currently store a few of my suitcases and Winter clothes there, but it's big enough to use more effectively. Since we don't have a TV at home we thought that it would be fun to create a cozy little movie corner up there… Wouldn't that be nice? If you have other fun ideas on what to do with the space, let us know! (You can see the full attic space in my previous interior post by the way)
Also: still looking for a nice wall lamp! Please hit me up with all of your (affordable) recommendations and ideas because I haven't found anything that would suit the room 🙂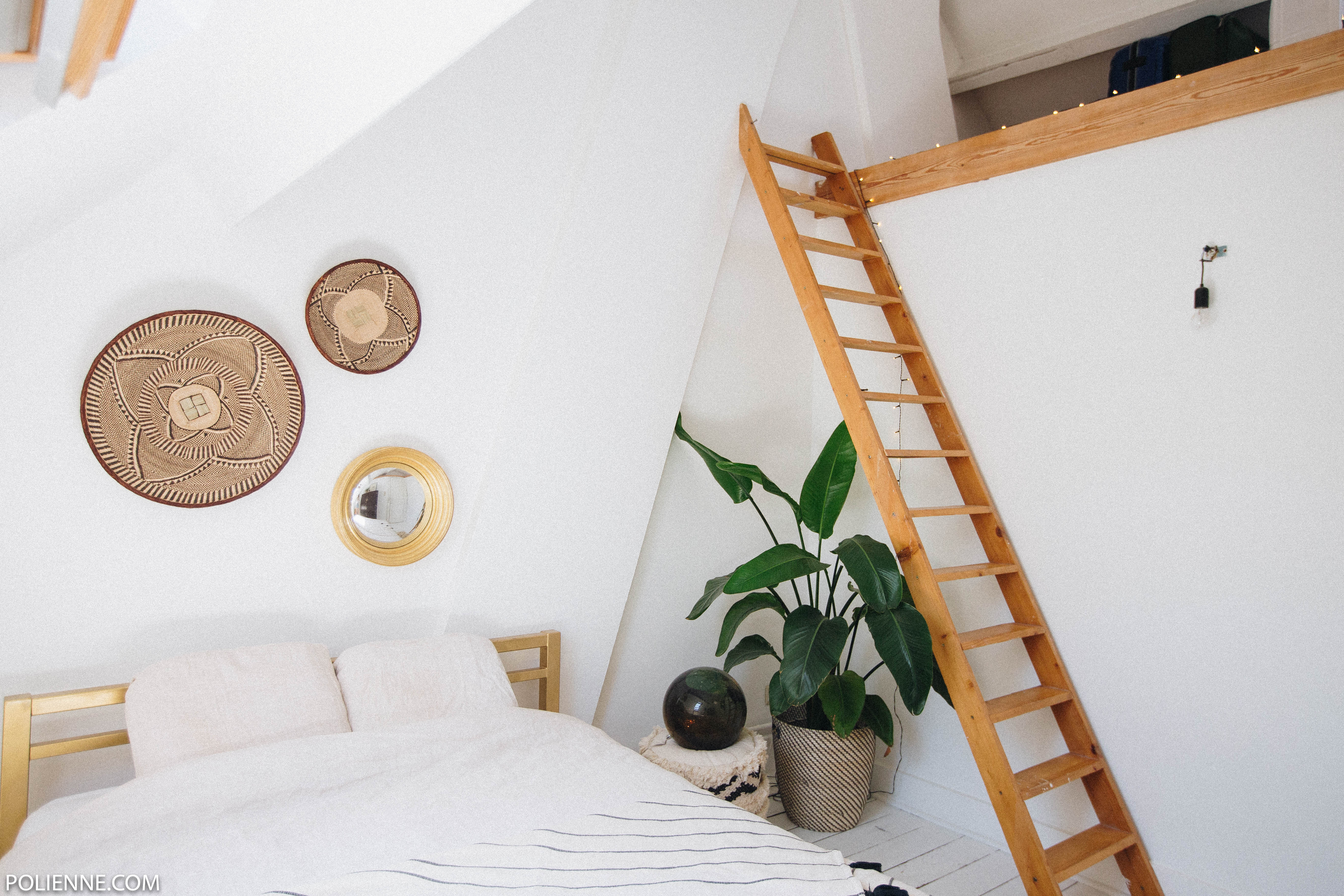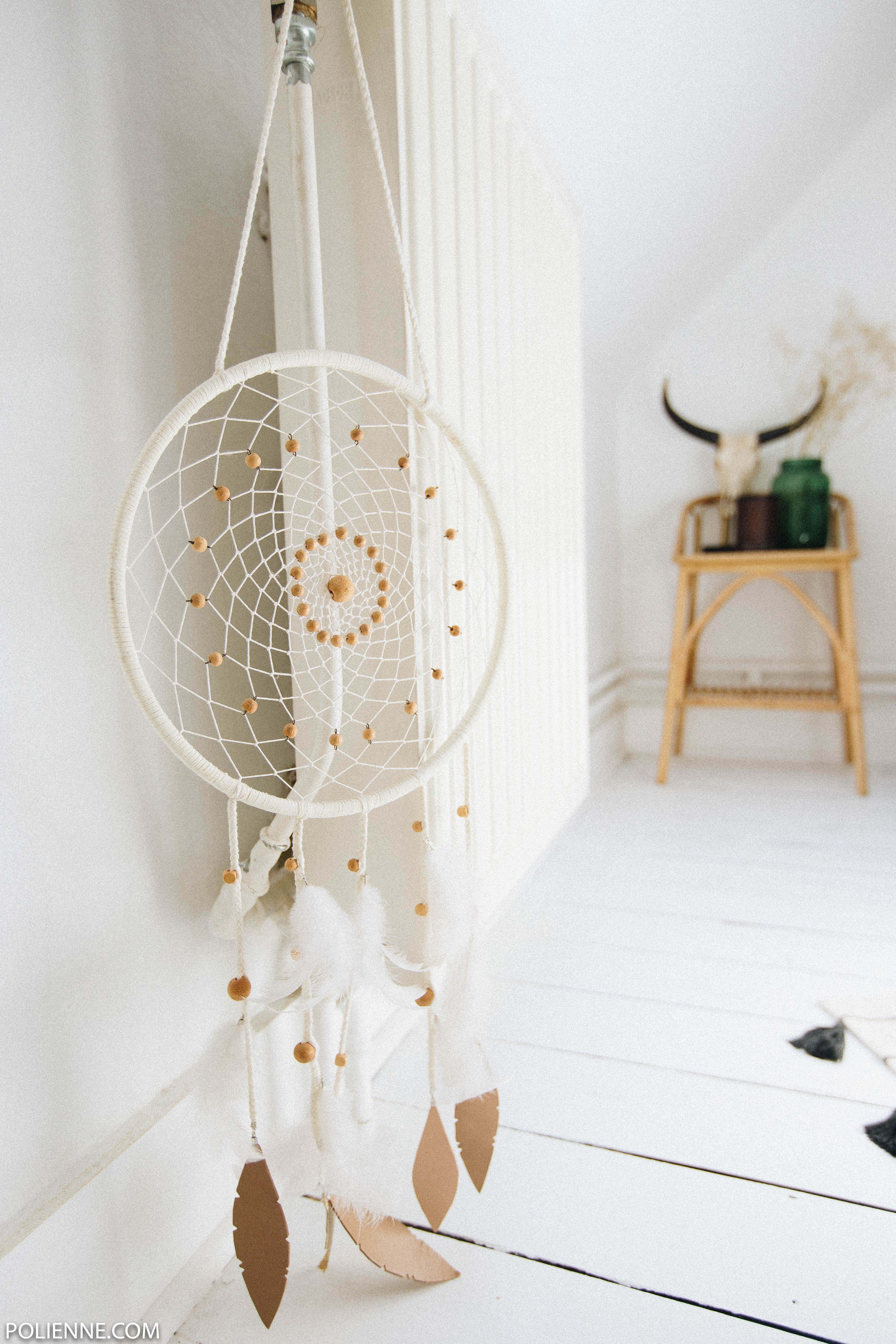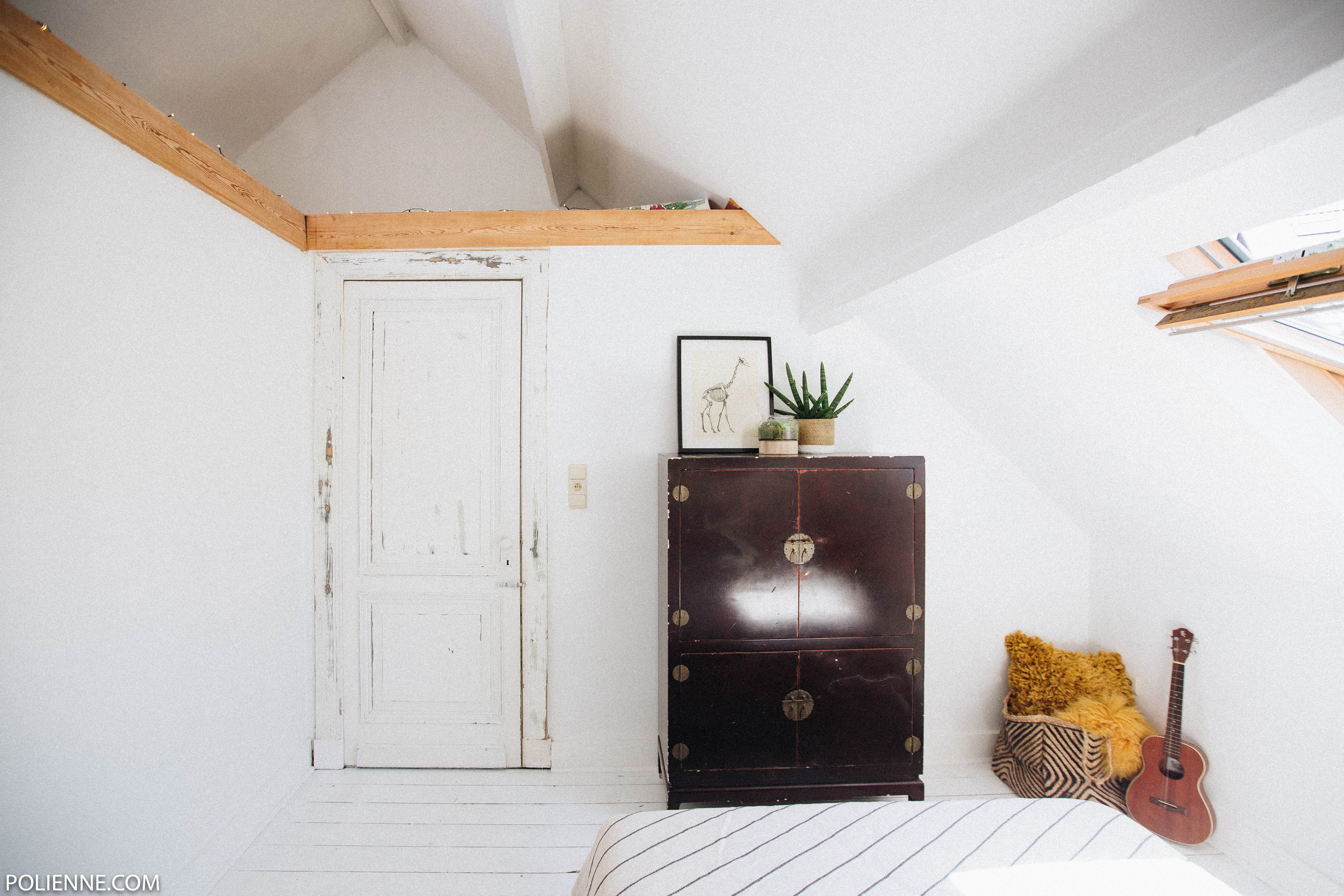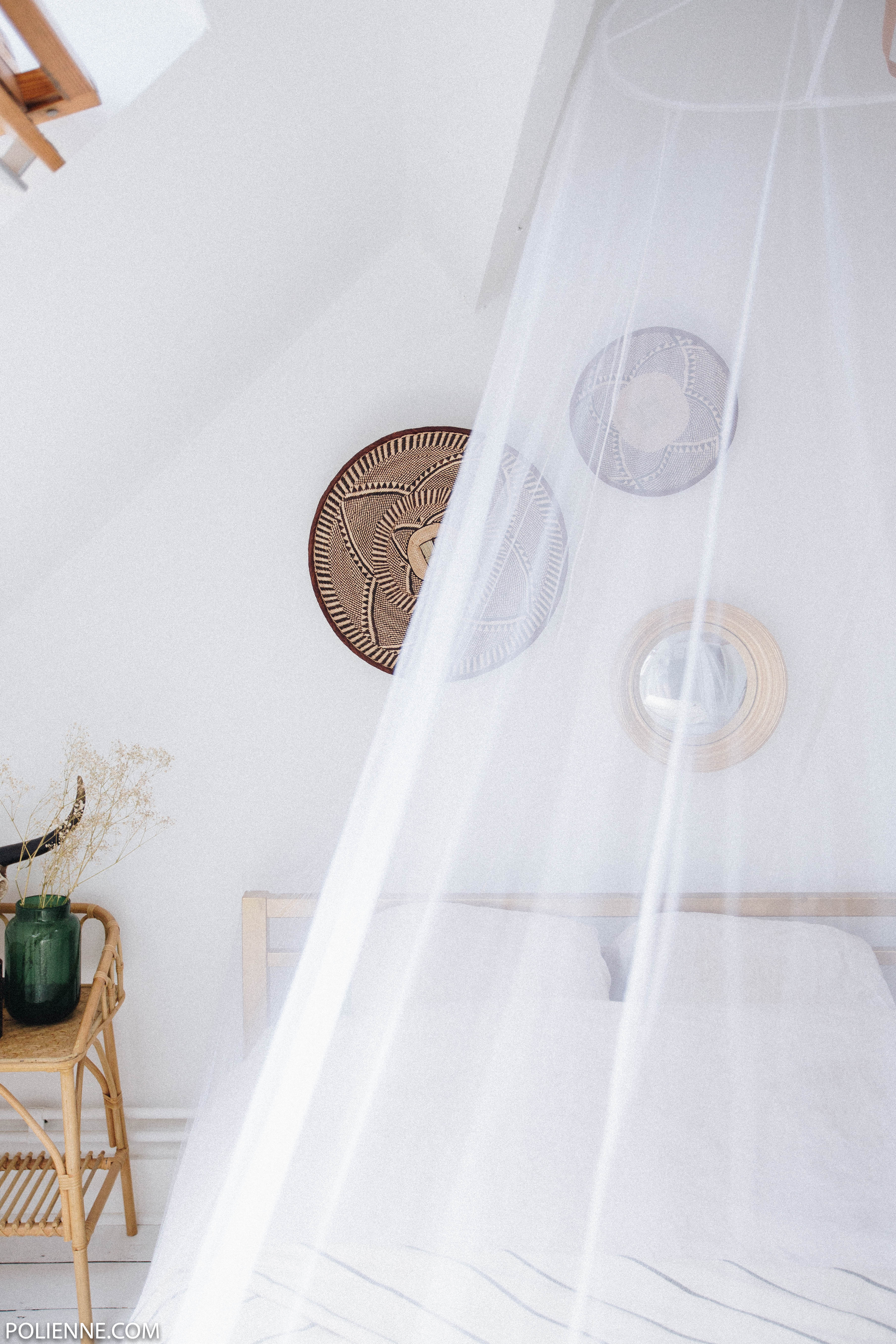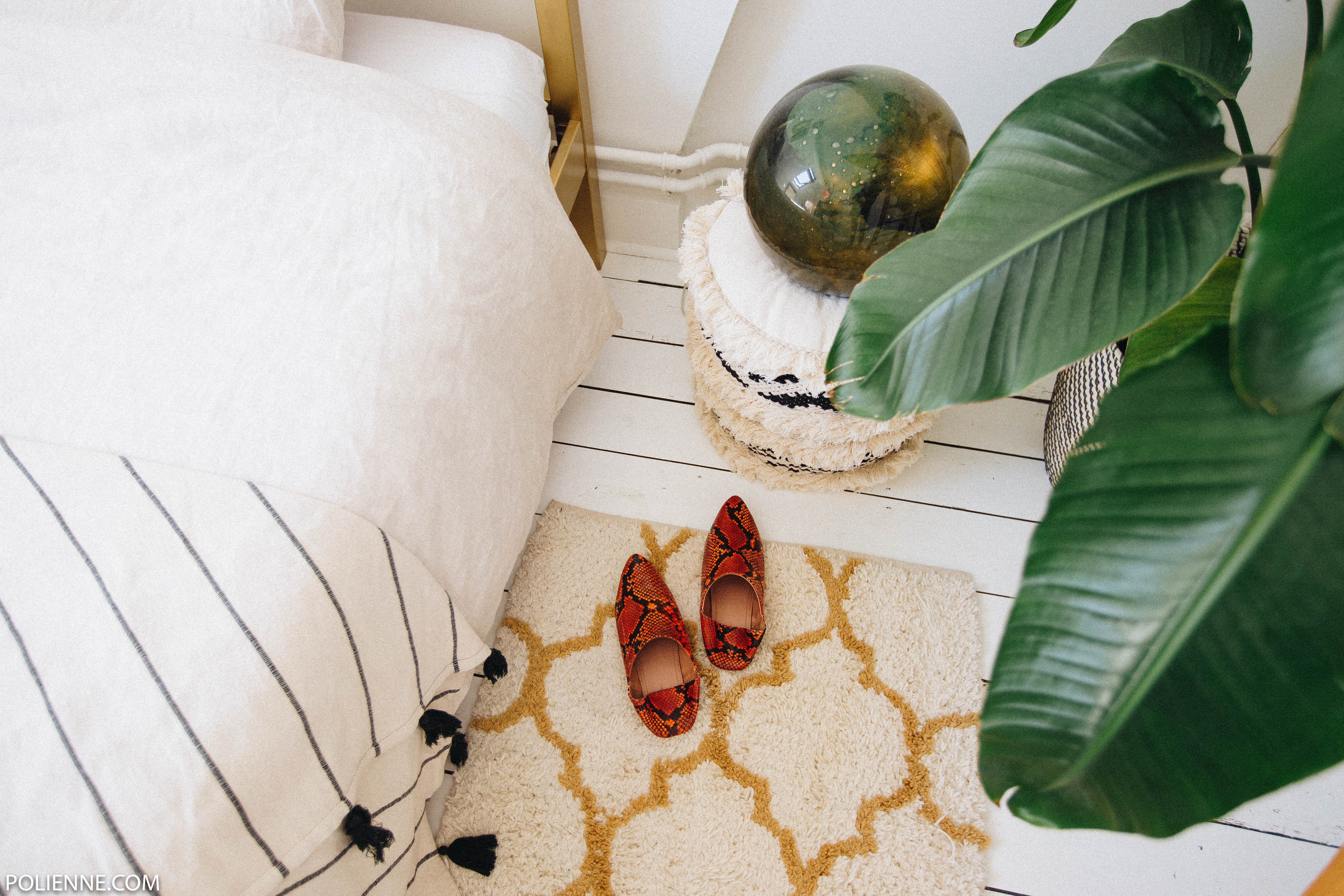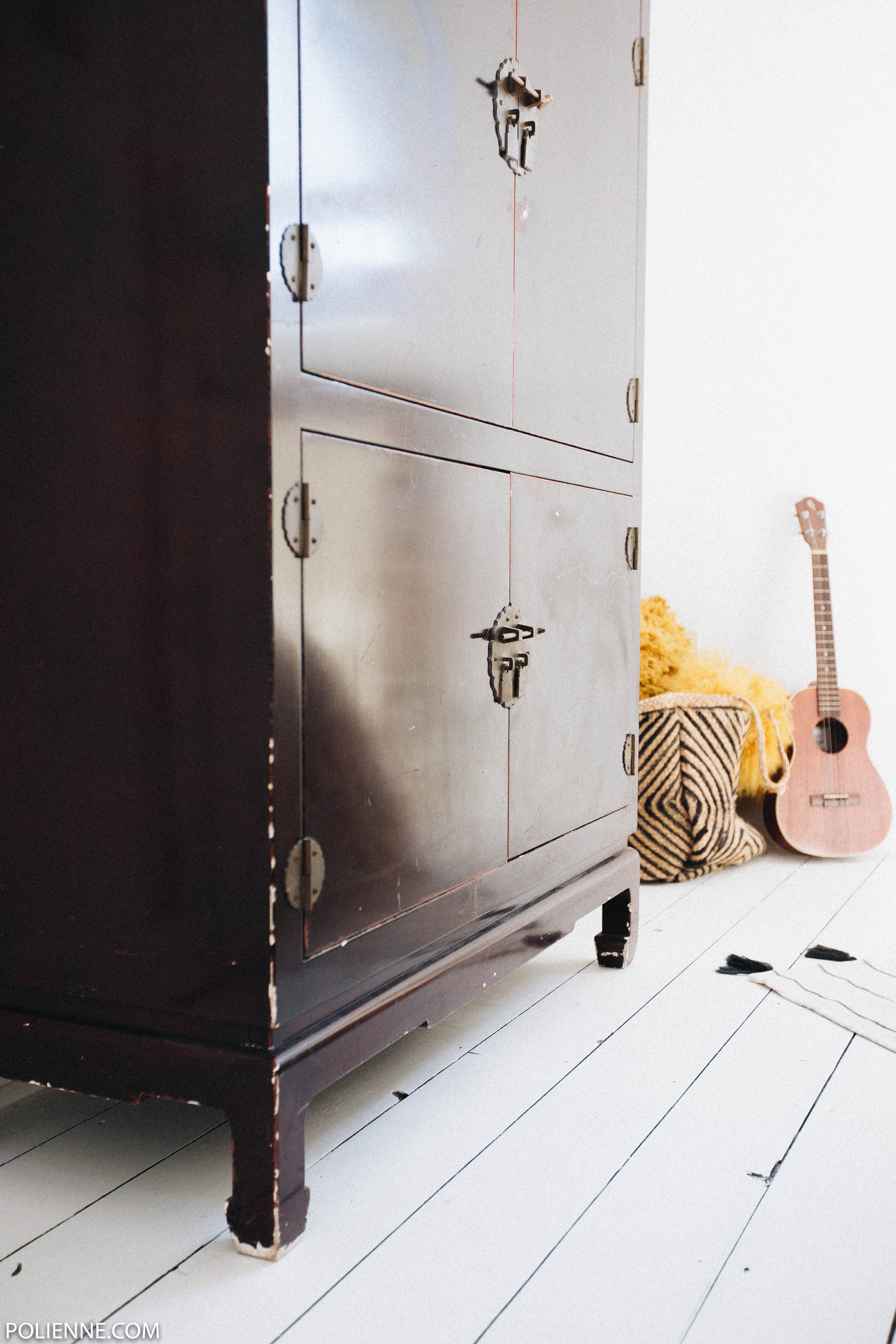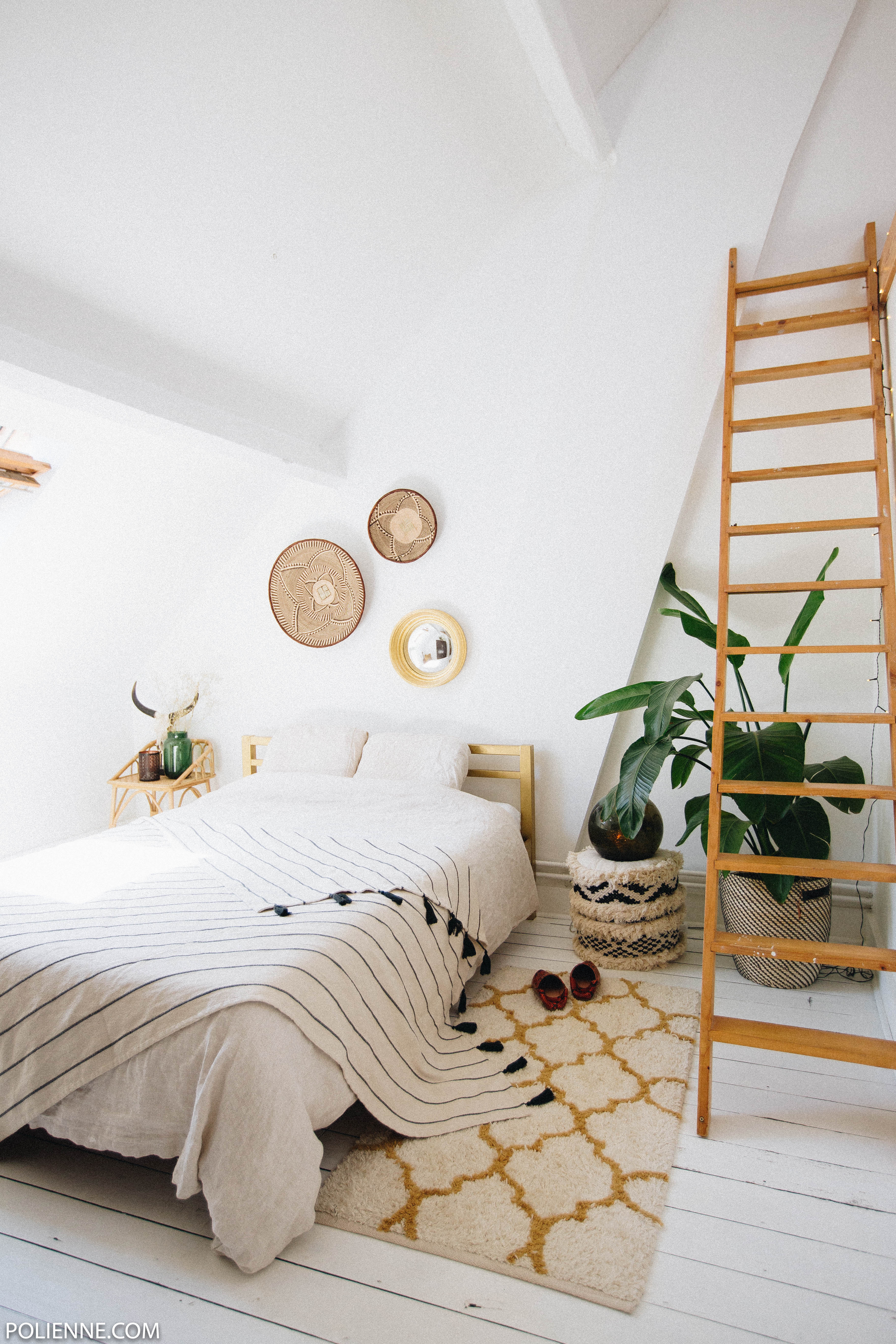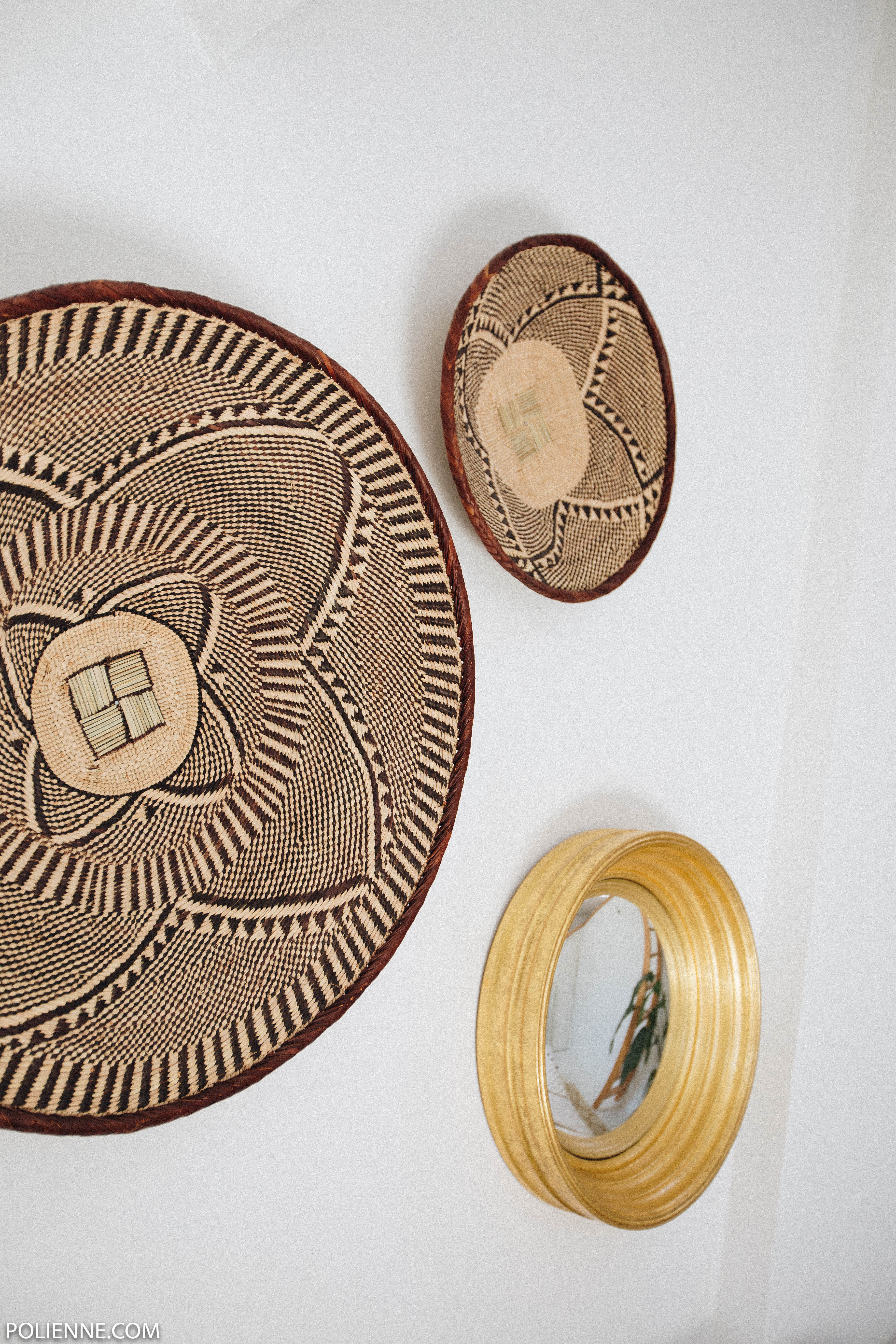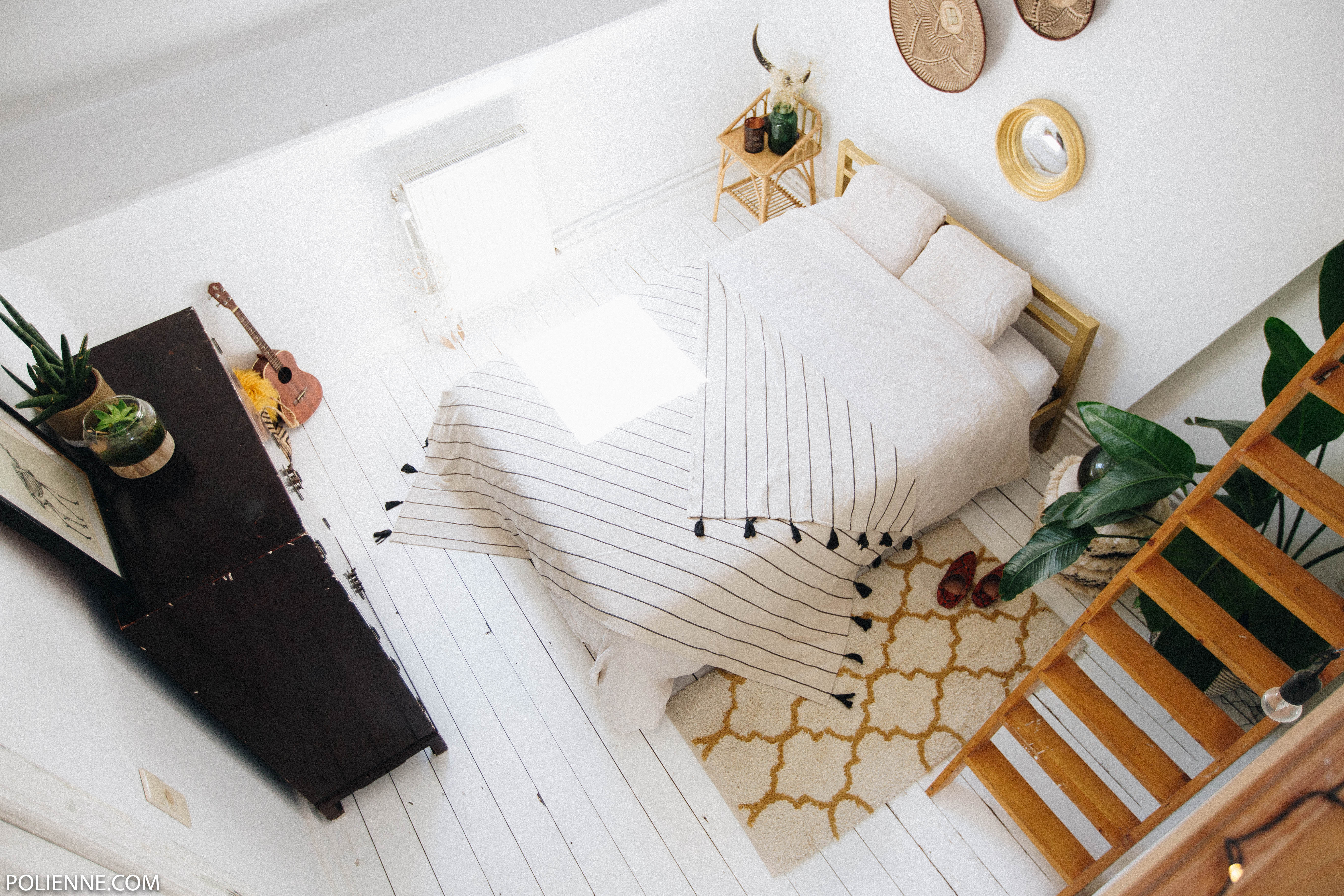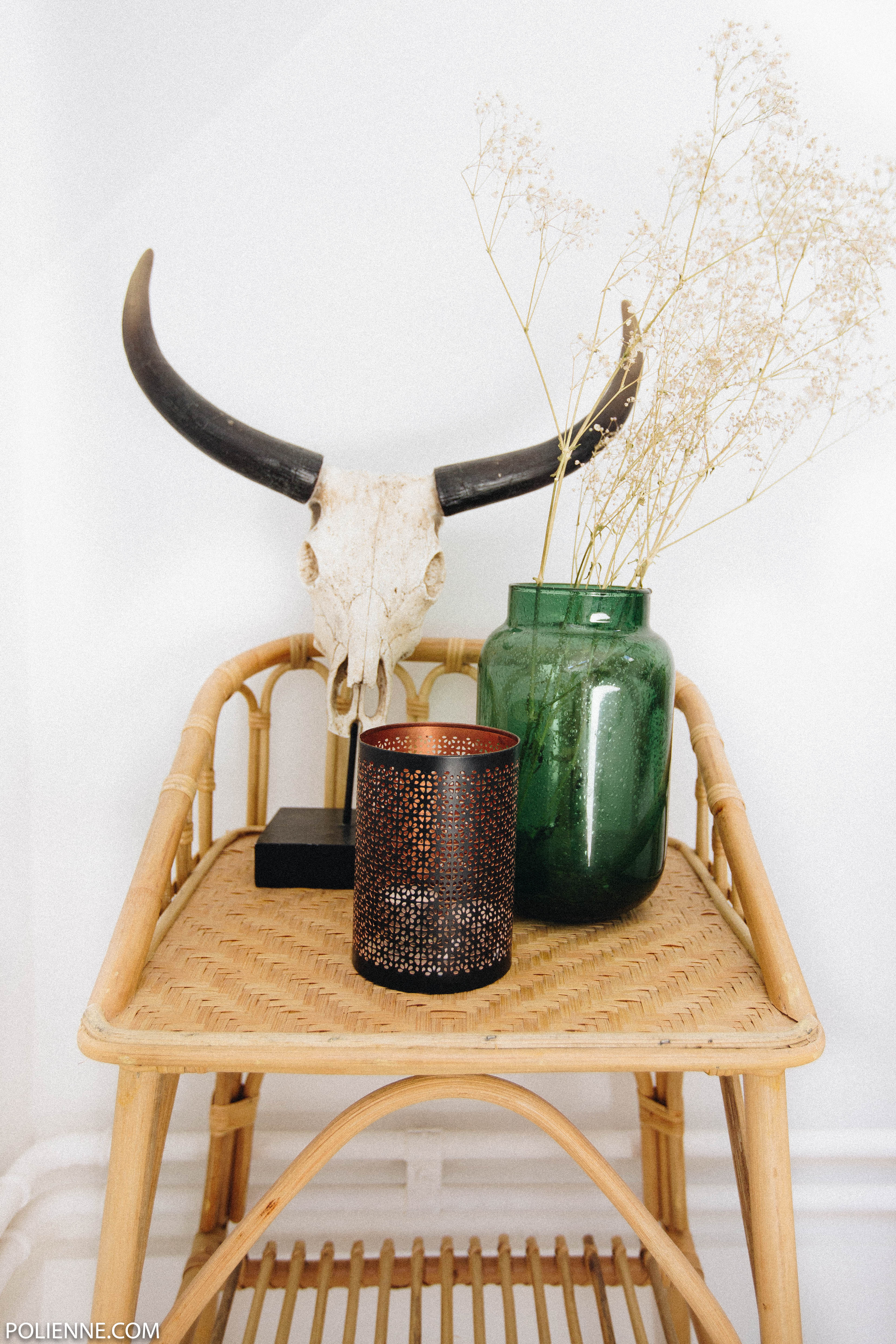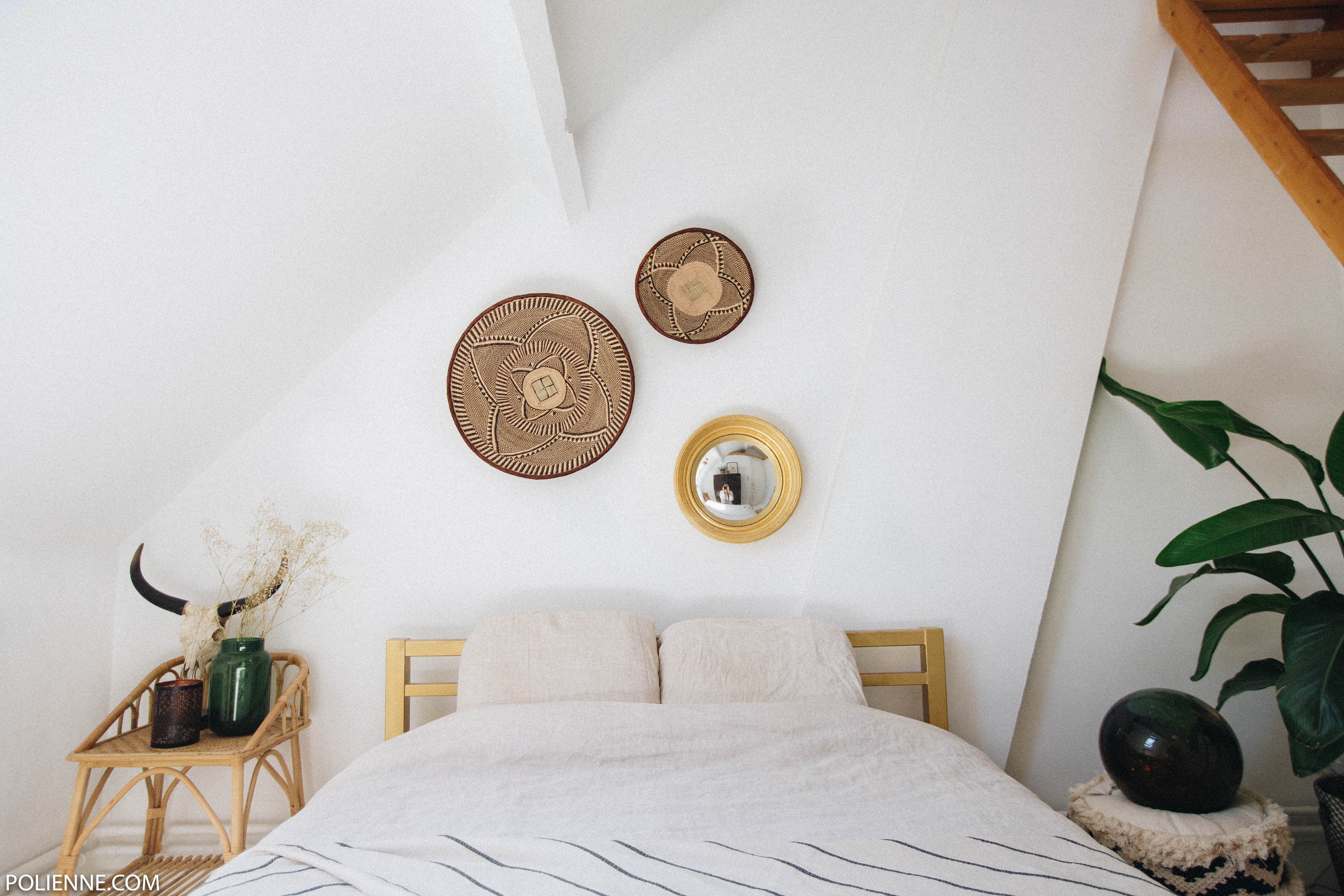 That's it! Please let me know what you think of the make-over, I'm so curious! We're super happy with the results and can't wait to go to bed every night. Especially now that our brand new mosquite net has arrived 😉 Find a list of all pieces shown in this post below:
FURNITURE
BEDFRAME from Daan's old house / ROTAN BEDSIDE TABLE by La Redoute (gifted) / POUF by La Redoute / CHINESE INSPIRED CABINET vintage
DECORATION
WOOLEN CARPET by H&M Home / LINEN SHEETS by Zara Home / STRIPED THROW by H&M Home / ROTAN WALL OBJECTS by Couleur Locale (gifted) / ROUND MIRROR by Zara Home / ROTAN PLANT POT by IKEA / SKULL by Zara Home / VASE by H&M Home / OVERSIZED STRAW BAG by La Redoute (gifted) / YELLOW CUSHIONS unknown / UKELELE unknown / GIRAFFE SKELETON DRAWING by Urban Outfitters / DREAM CATCHER by La Redoute / PLANTS gifted by friends / ROUND LAMP by Steen & Been / SLIPPERS by Samsøe & Samsøe (gifted)
This post contains affiliate links.