Rome wasn't built in a day, but TRY BUILD A KITCHEN, GUYS. Back in March the boyfriend and I started our kitchen renovation, and now at the end of Summer I'm finally ready to share a few pictures with you!
Let me first quickly recapitulate the story of our house & kitchen. The boyfriend and I weren't living together yet, but quite unexpectedly bought our beautiful house over a year ago, in April 2017. This year in January we could finally move in, without having to do any huge renovations. A bit of paint here, a bit of plasterboard there and DONE! Well, that's what we initially thought.
You only discover your own thoughts, needs and dreams for the rooms when you actually live in the space. That means that our kitchen plans rather quickly shifted from "let's paint the whole thing black" to "let's remove it entirely and replace it by new bad ass one". We quickly fell in love with the sustainable Kungsbacka kitchen by IKEA and teamed up with them to make our black kitchen dreams come true! You might have read about our kitchen search here before by the way.
But before we dig into the details, let's check out the before/after pictures first! My jaws literally dropped when I was looking for these old pictures. What. A. Difference. The space looks 10 times bigger, although there's a huge black chunky thing in the corner going all the way up to the ceiling.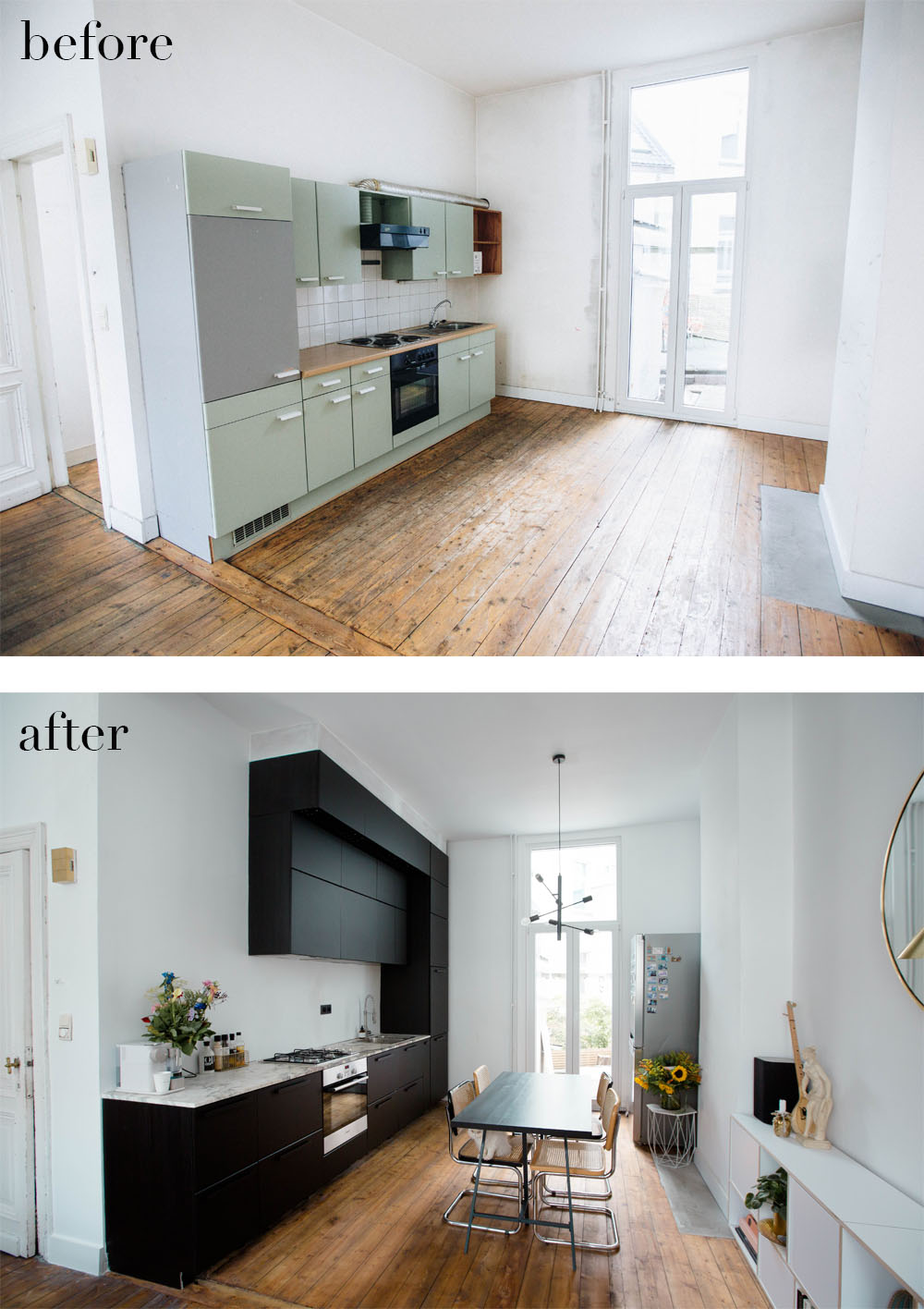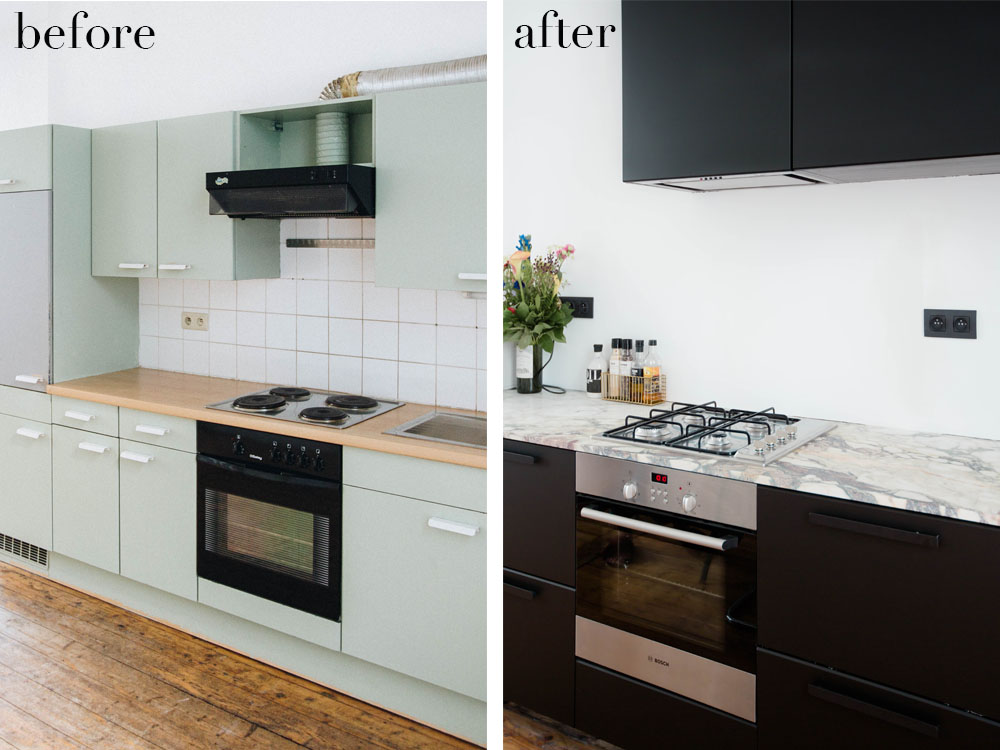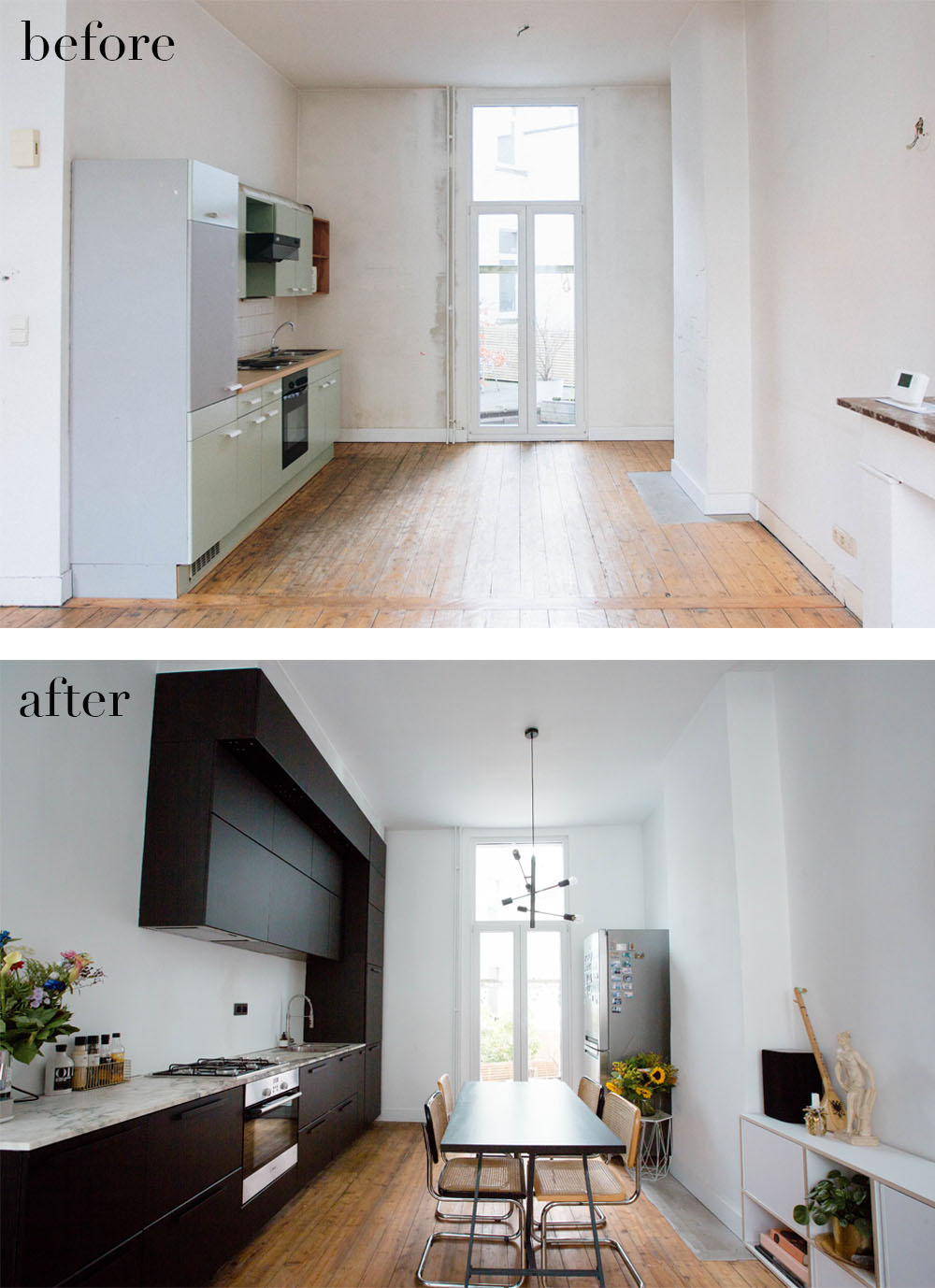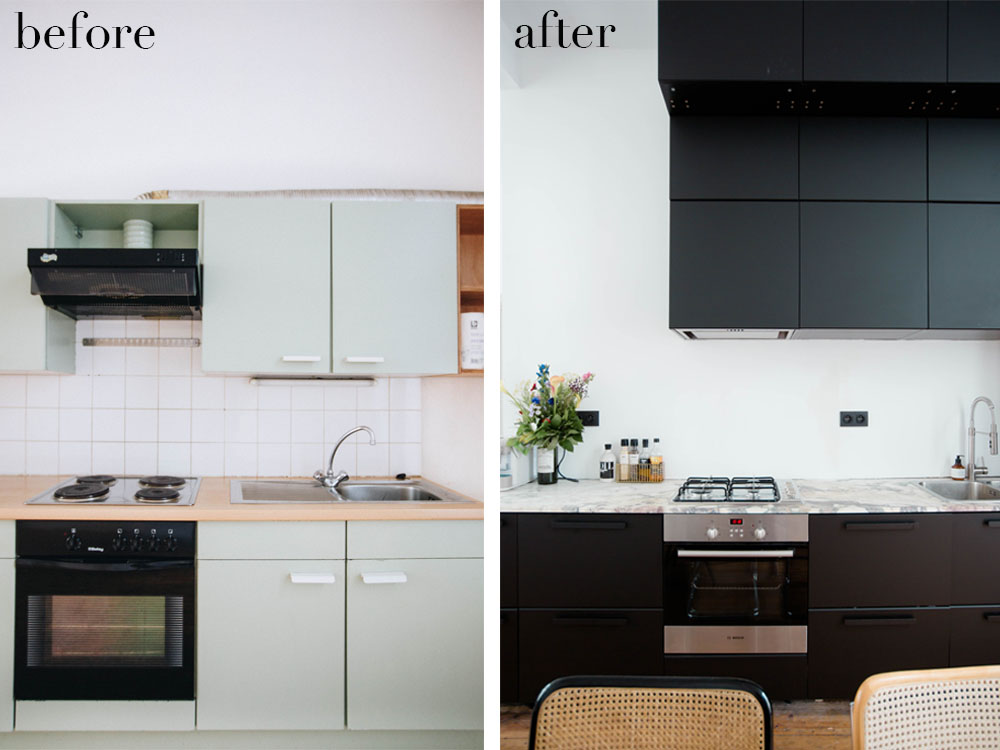 Pretty cool, right? I feel totally blessed to look at this amazing thing every single day! (Look yes, cook no, I'm the worst)
We had the whole thing designed at the IKEA store, had it delivered at home (recommended) and then assembled everything ourselves (not recommended). Looking back at it, I'd happily pay the extra cost to have everything installed professionally! After all, these guys are used to working with the products, so I can imagine the process going way quicker, with fewer errors 🙂
Anyhowww, we managed to finish nearly everything now! And we can be proud of the result! Let's take a closer look at that result then, shall we?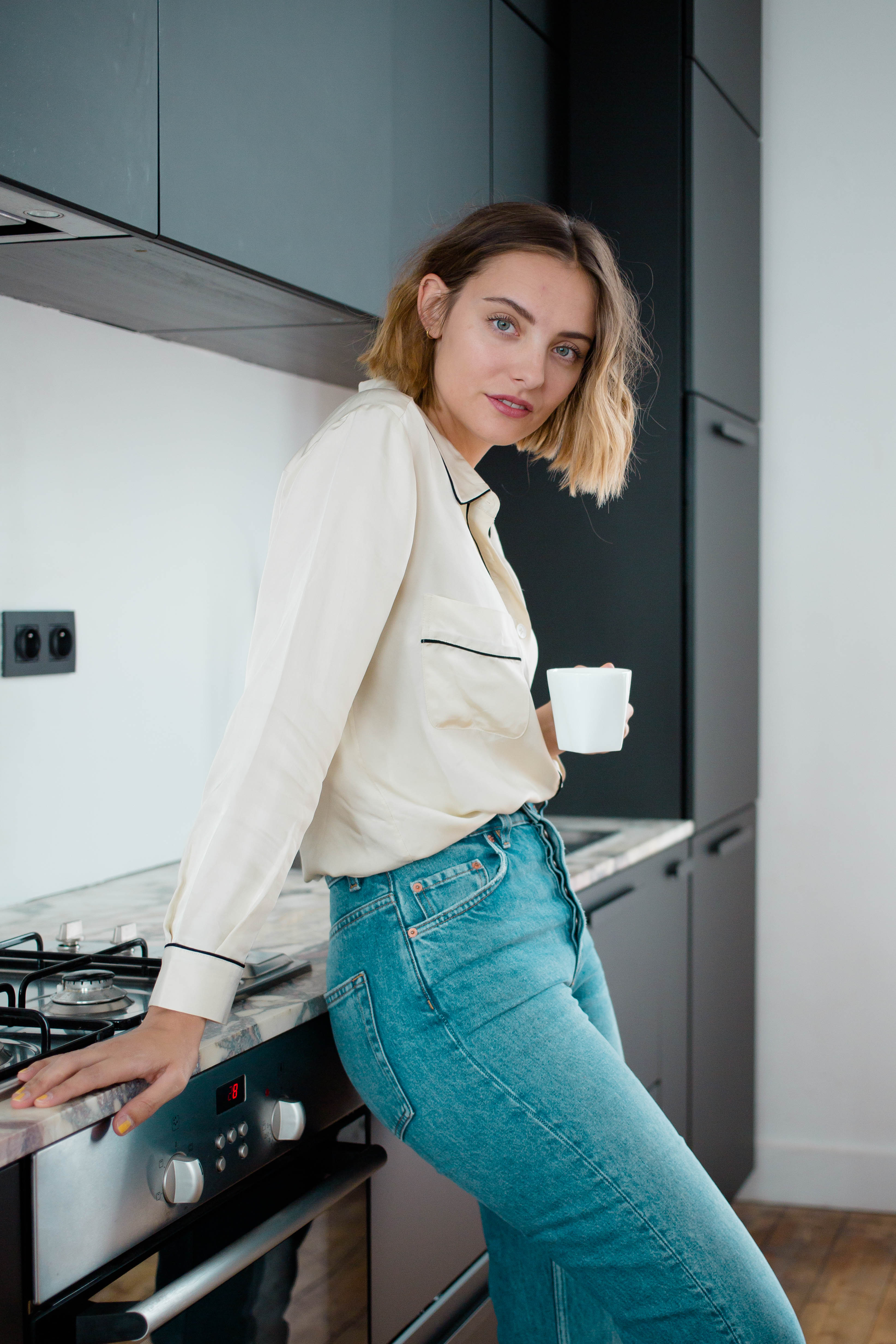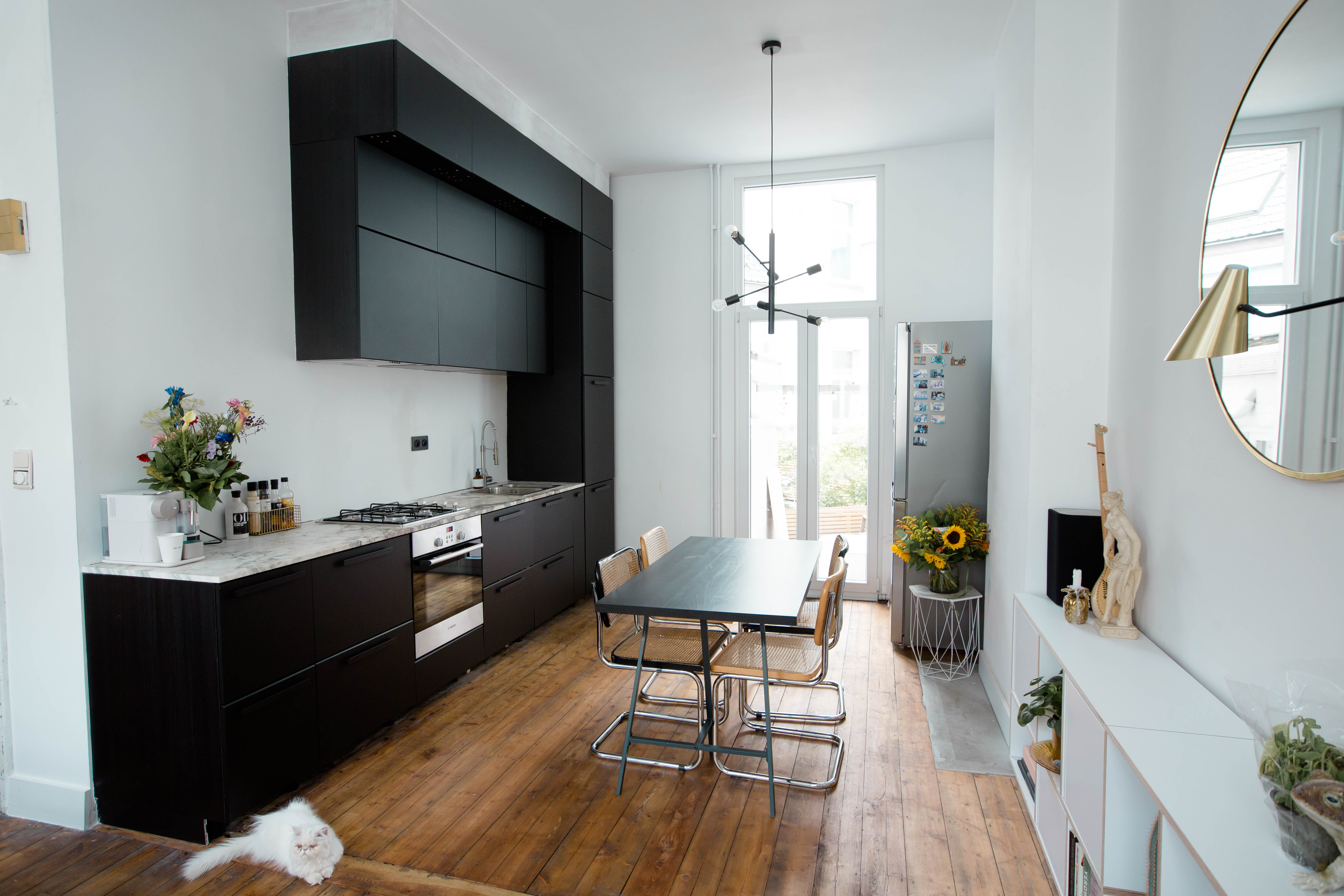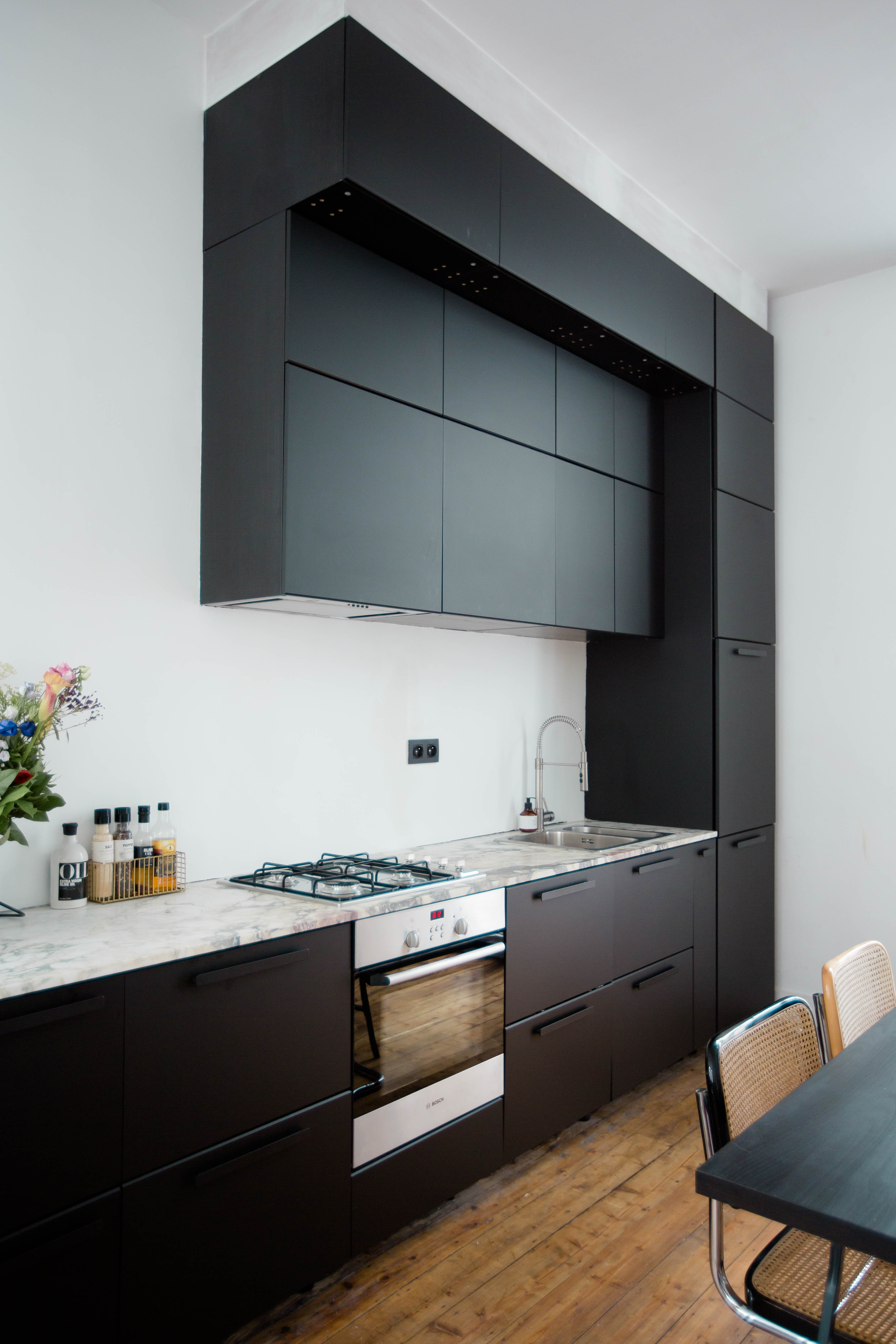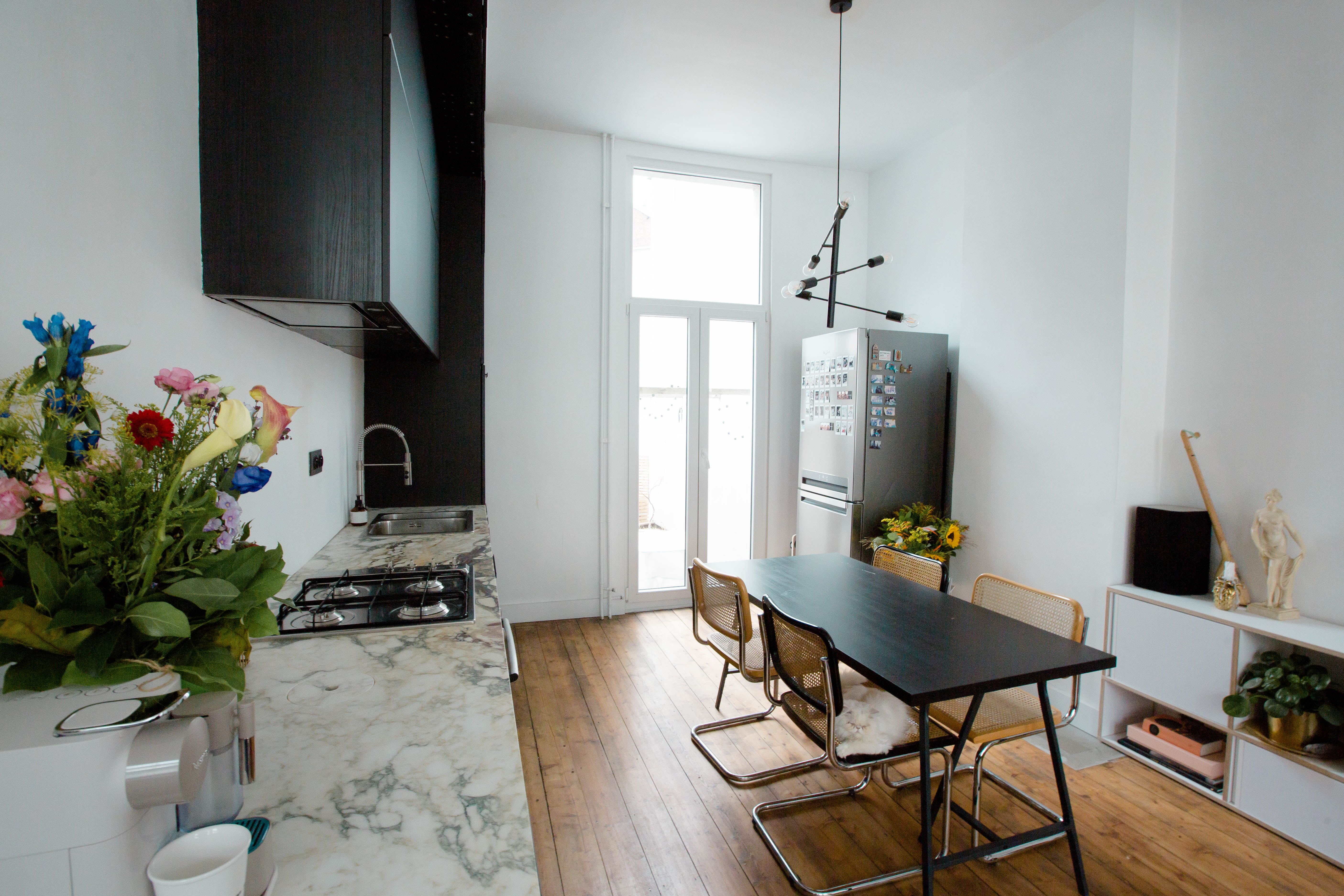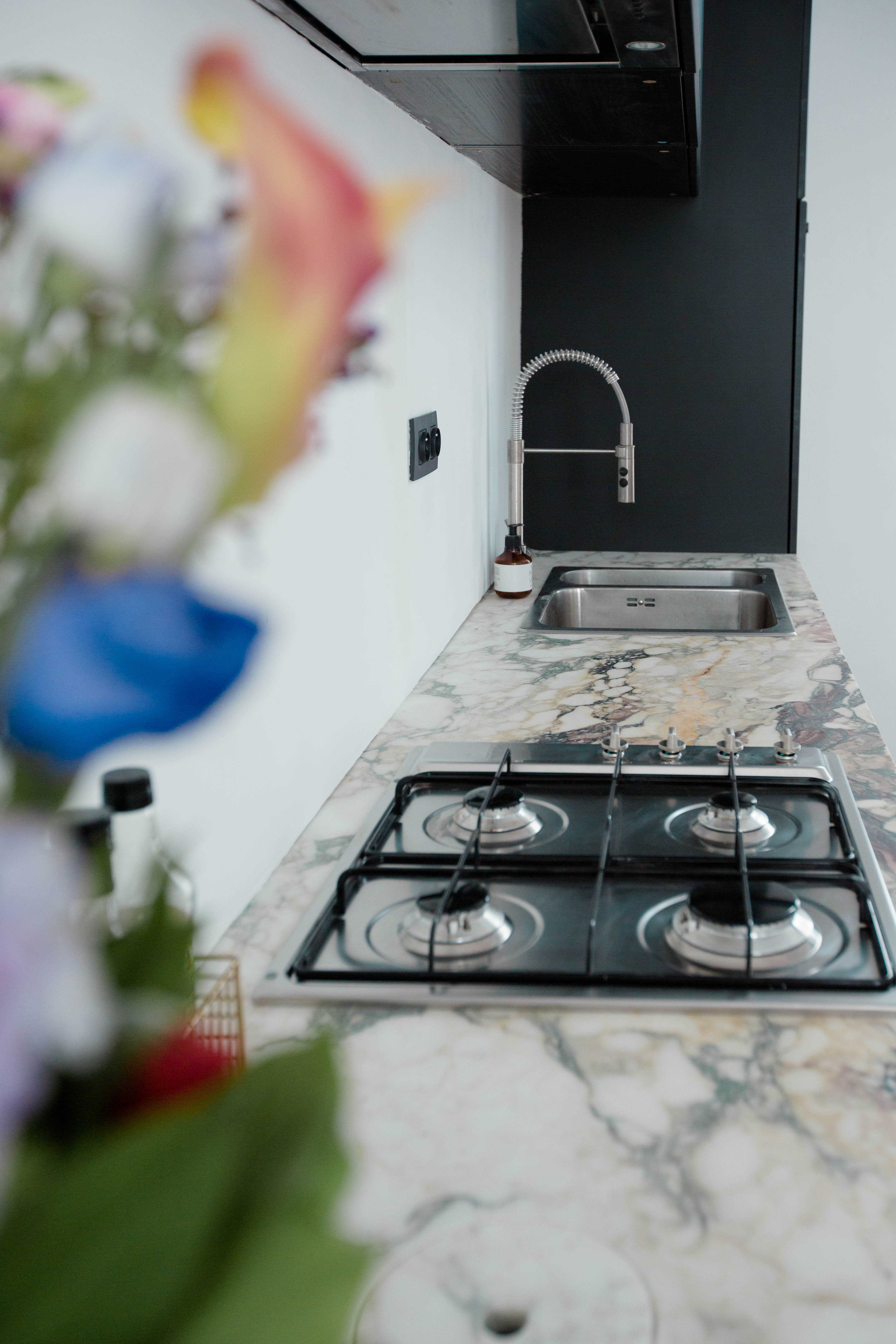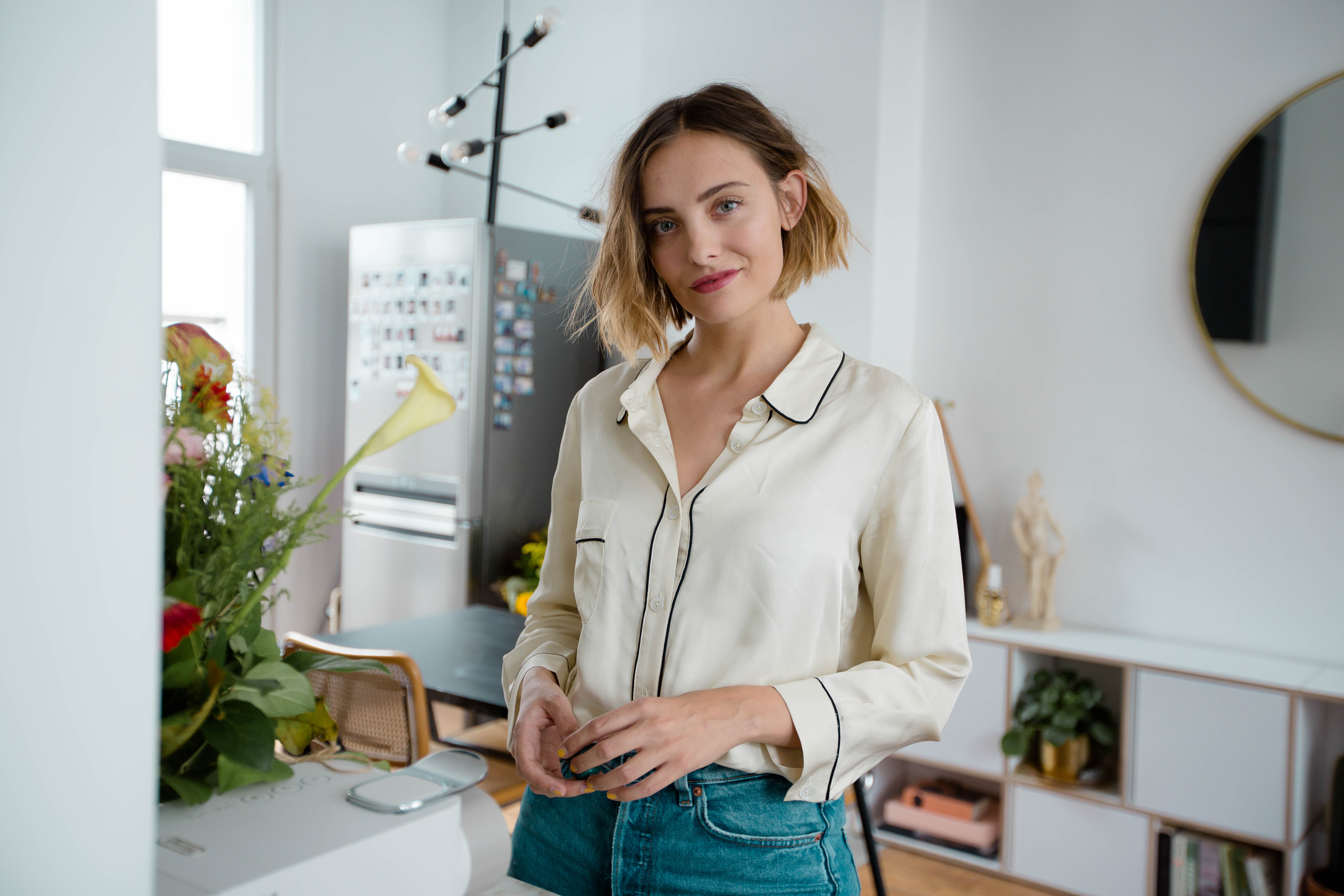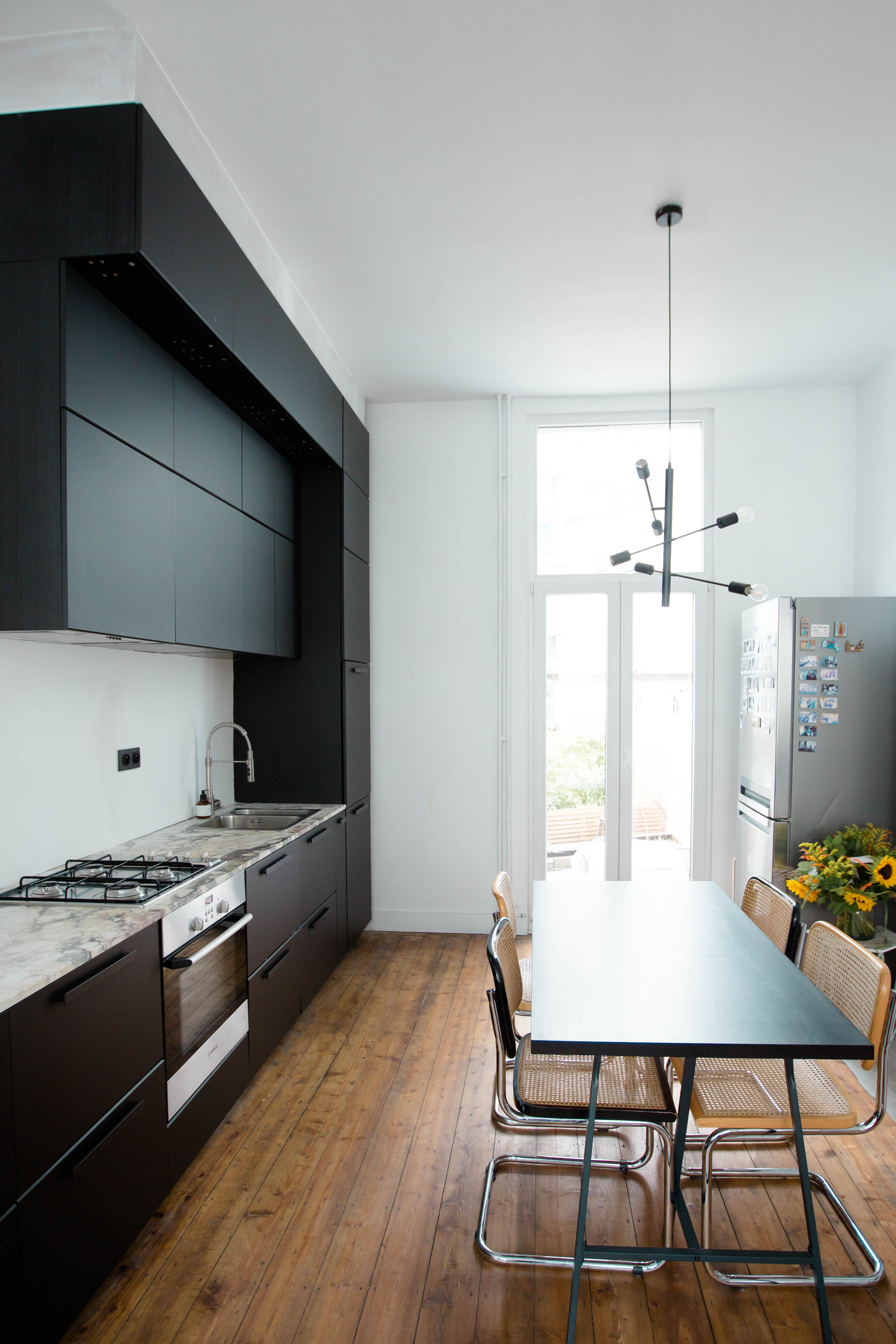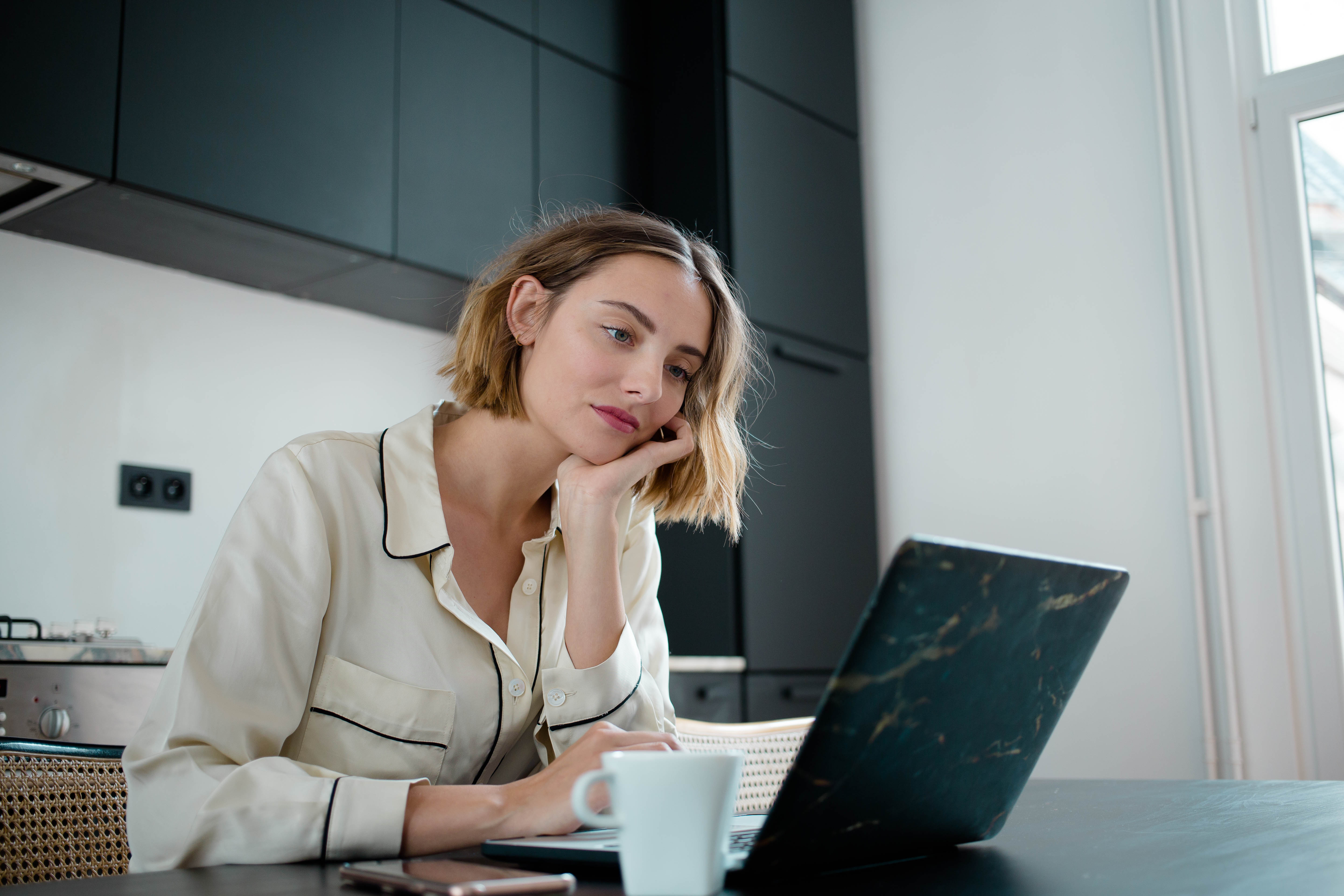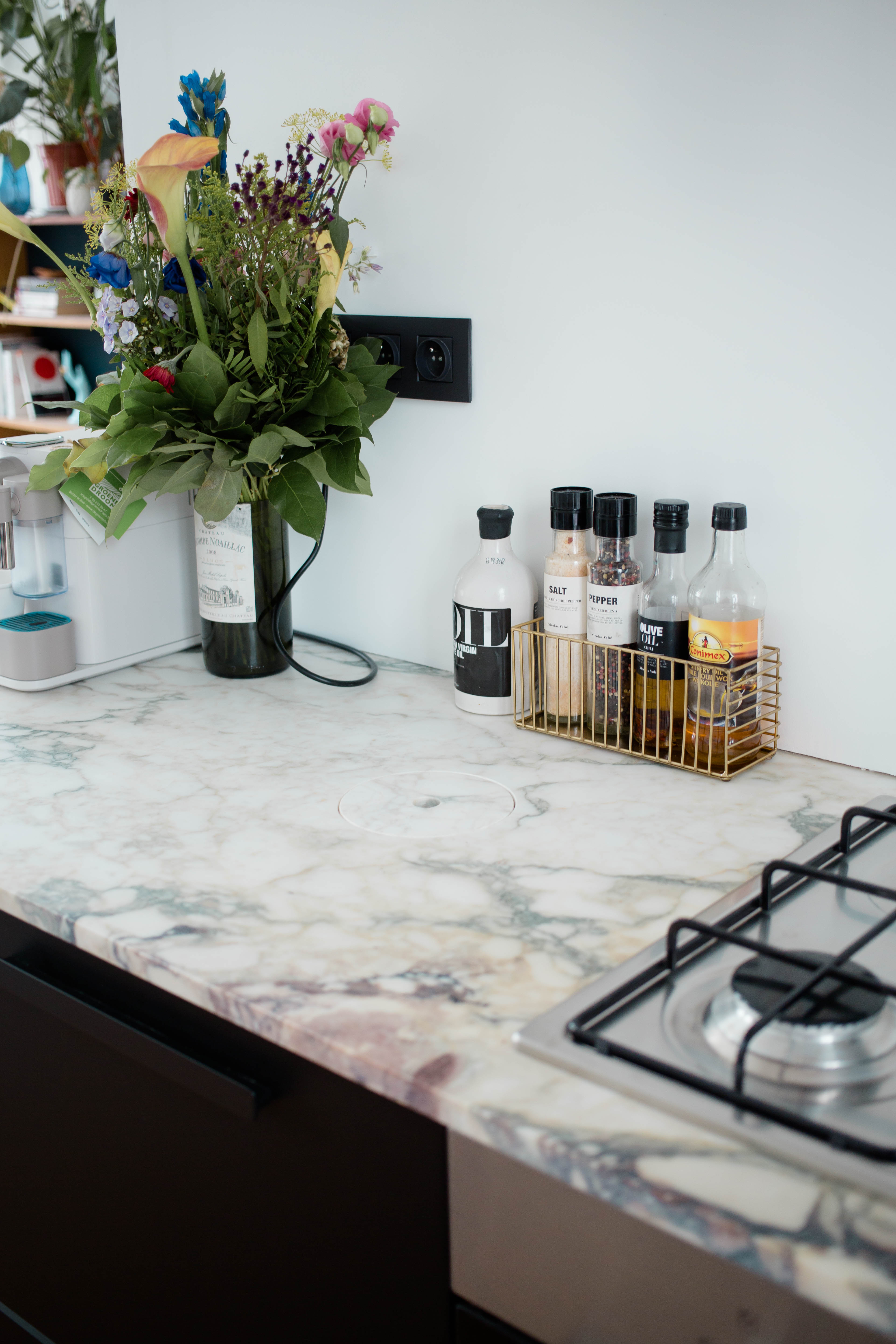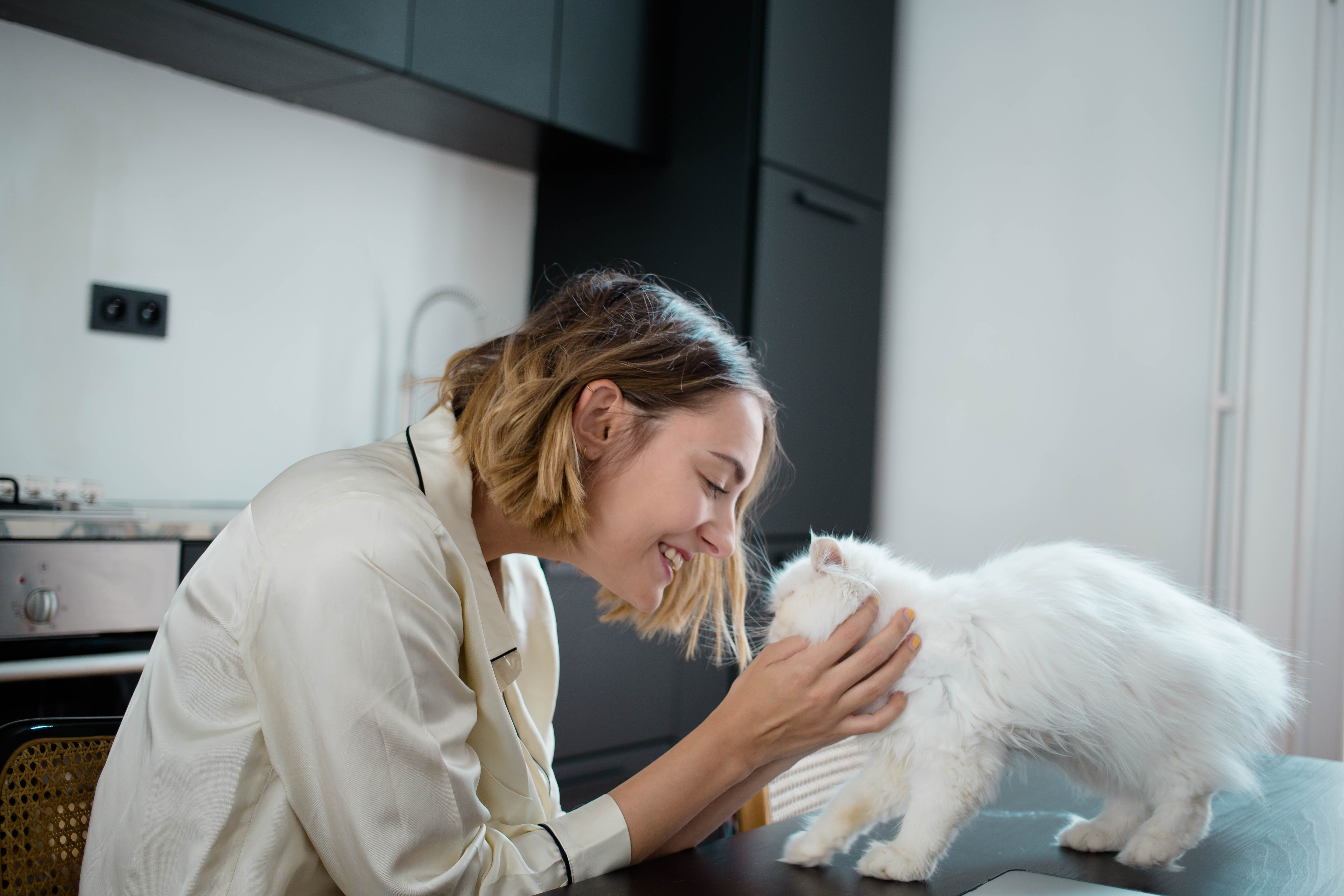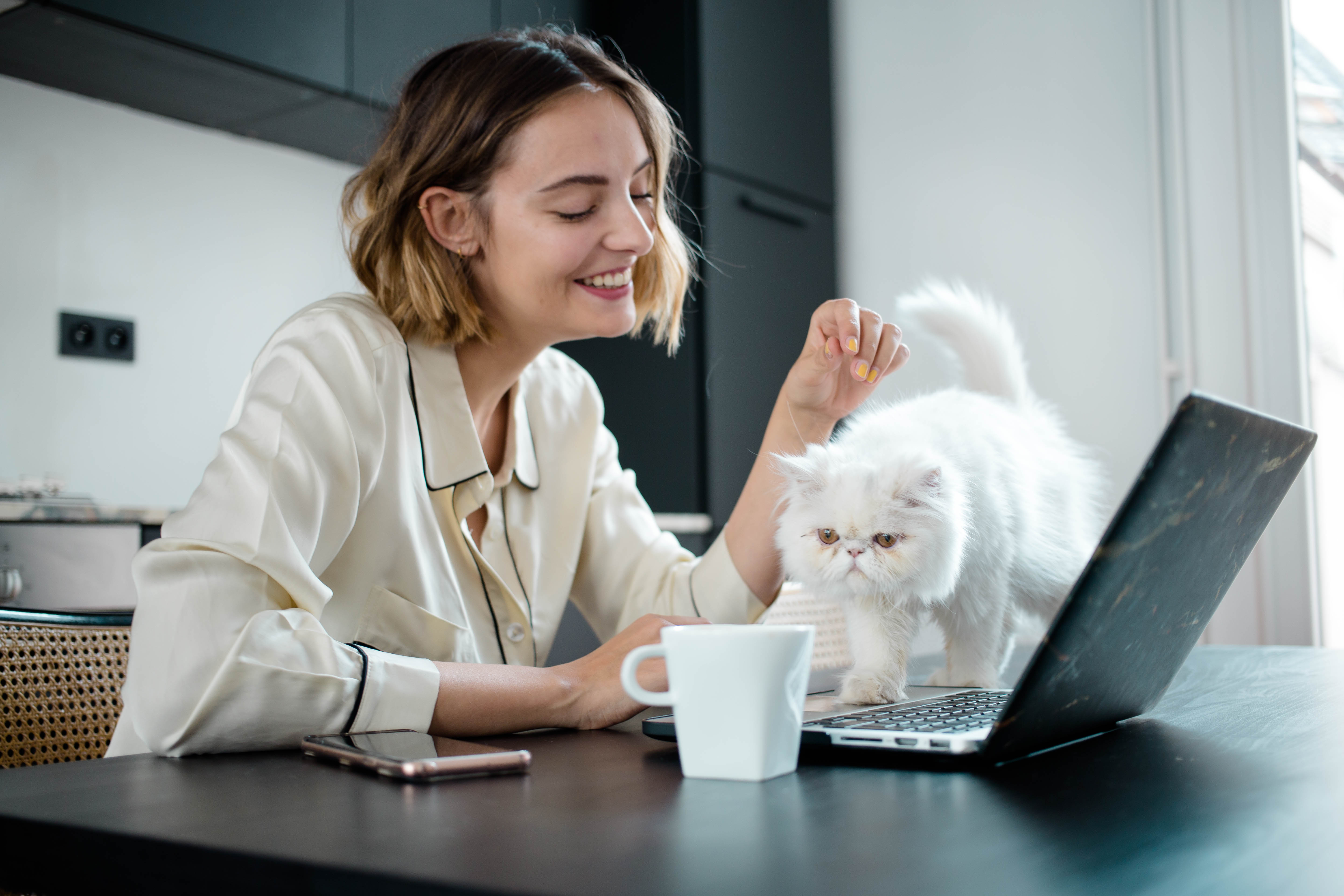 And look, a first appearance of kitten Pjotr on the blog! Yup, distracted by the cat again… So anyway, here's a few things that I'm L O V I N G about our new kitchen:
the height of it accentuates the 3m50 high ceilings
high cabinets means PLENTY of space to store things like a teppanyaki grill we use once a year, lolz
the fridge is not only huge, but also a statement piece full of memories
the clean, built-in IKEA exhaust hood looks super sleek
as said before, the Kungsbacka kitchen is sustainable: it's created from old wood and plastic bottles
new kitchen devices from outlet stores = win win for wallet & design
a lot, and I mean A LOT, more workspace
the IKEA tap is adjustable, making things way easier
the heaviest part of the kitchen is now on the right, which makes the space feel a lot more open
the Kungsbacka fronts are matt and leave fewer fingerprints
we have a mini trashcan in our marble worktop! more on that later
the open part of the worktop on the left now serves as a fun coffee corner close to the living room, which is super inviting
it looks badass and grown-up, BOOM!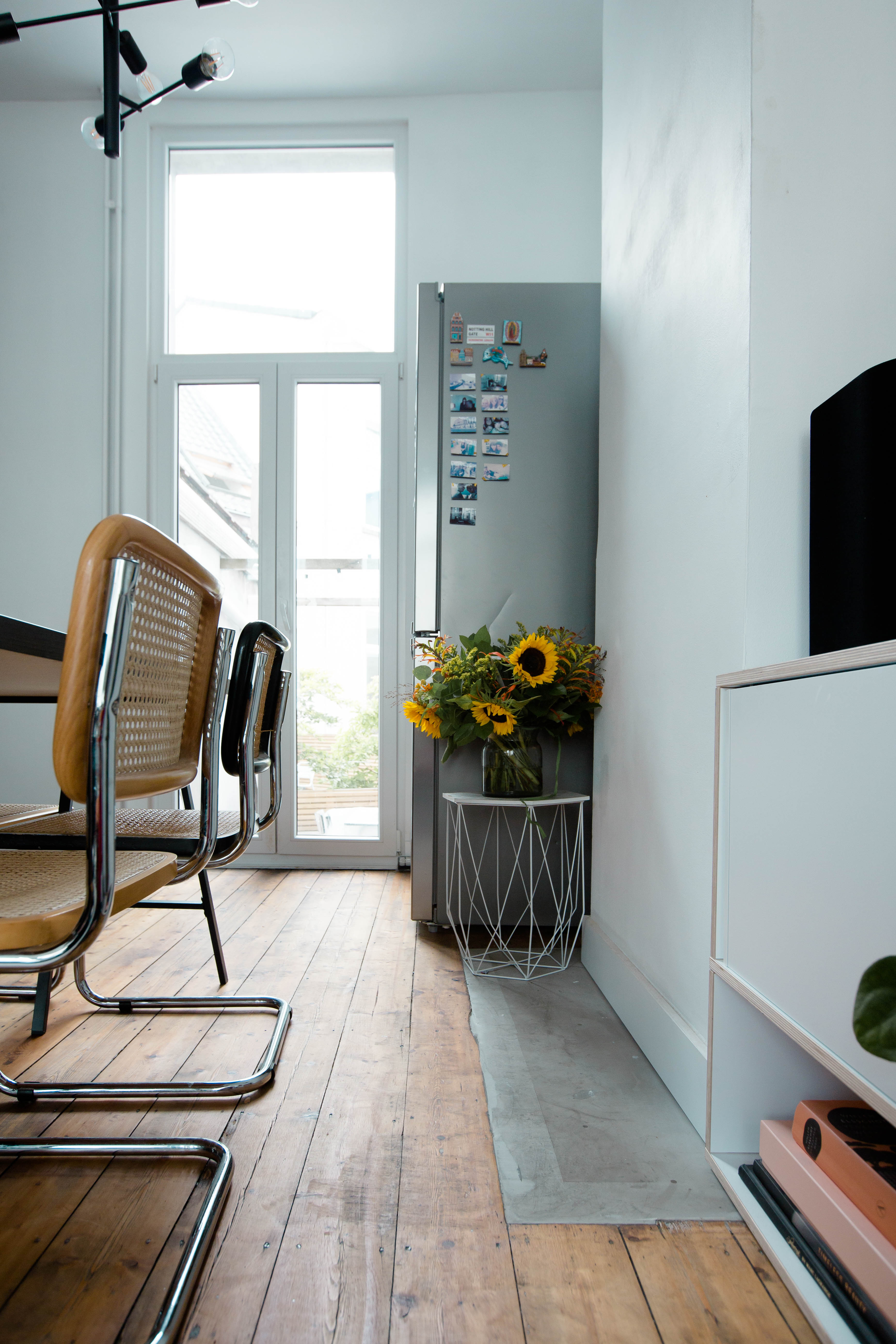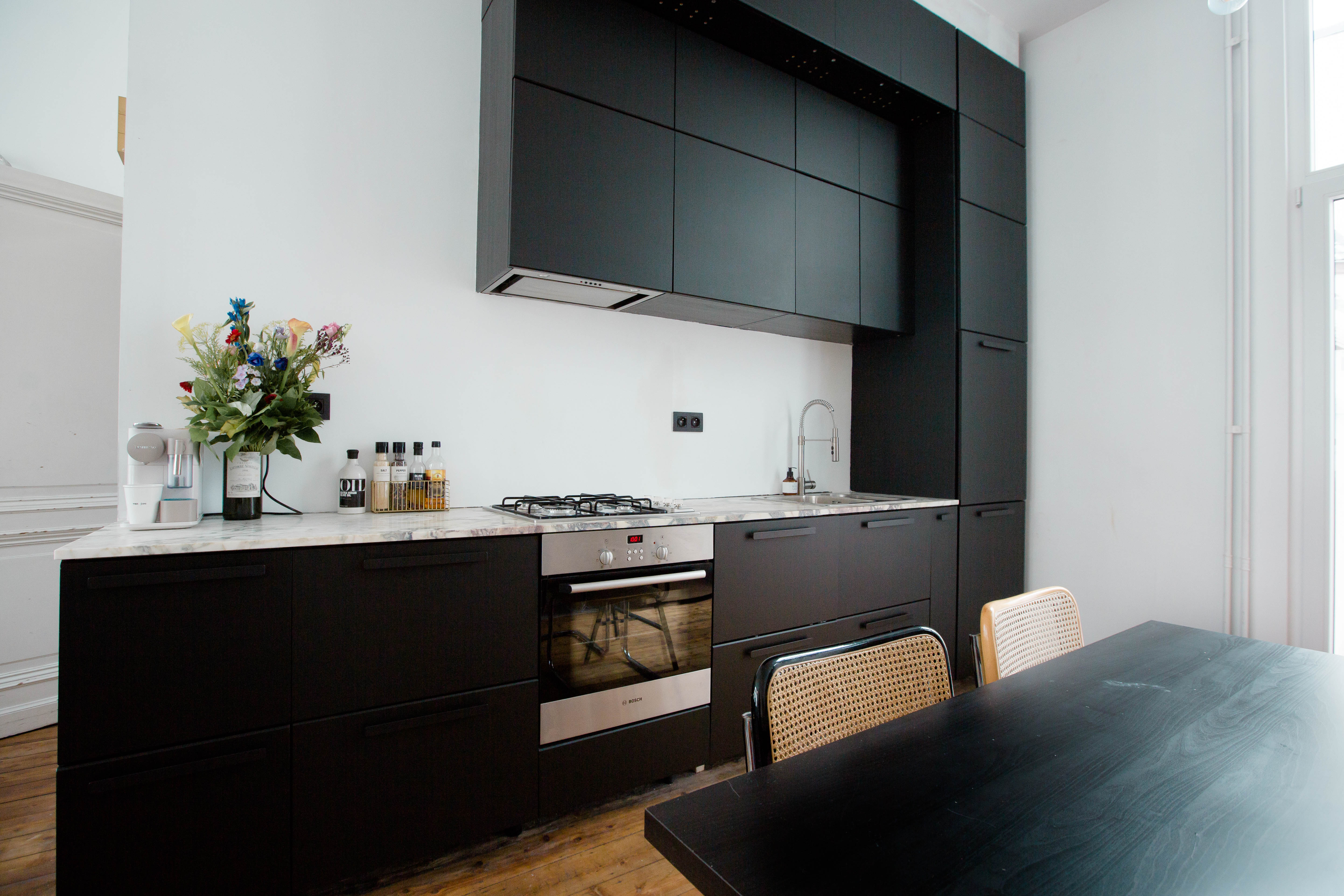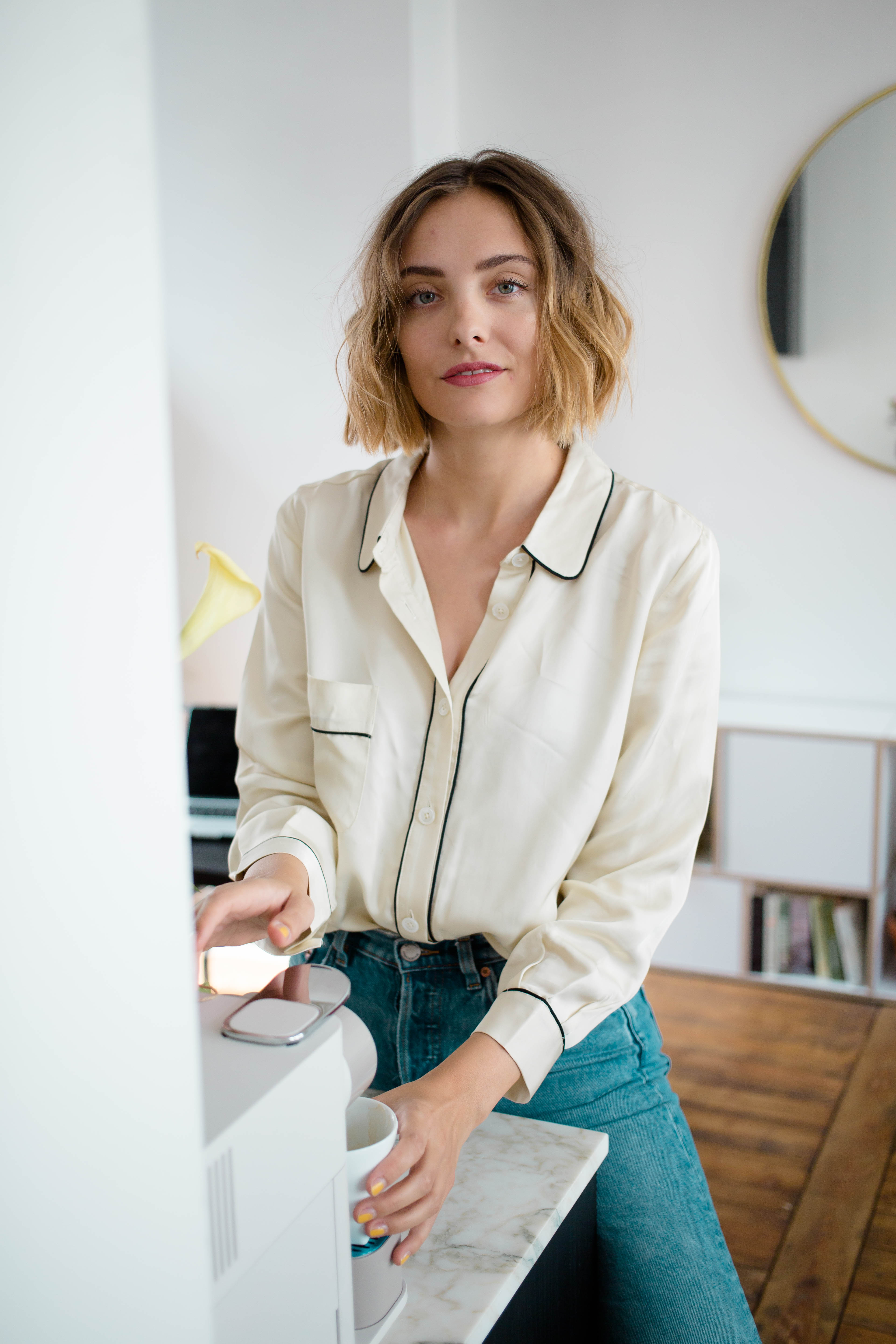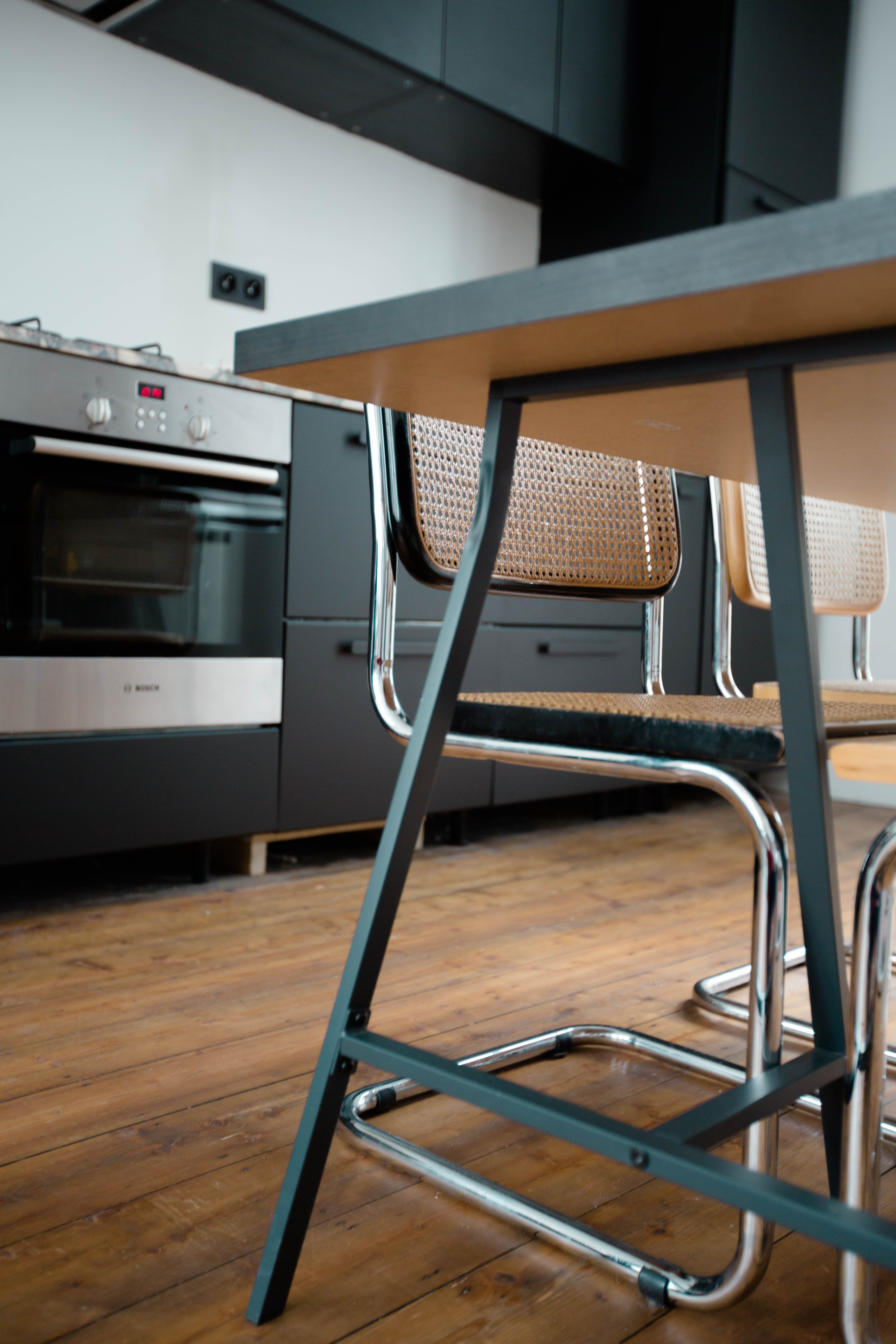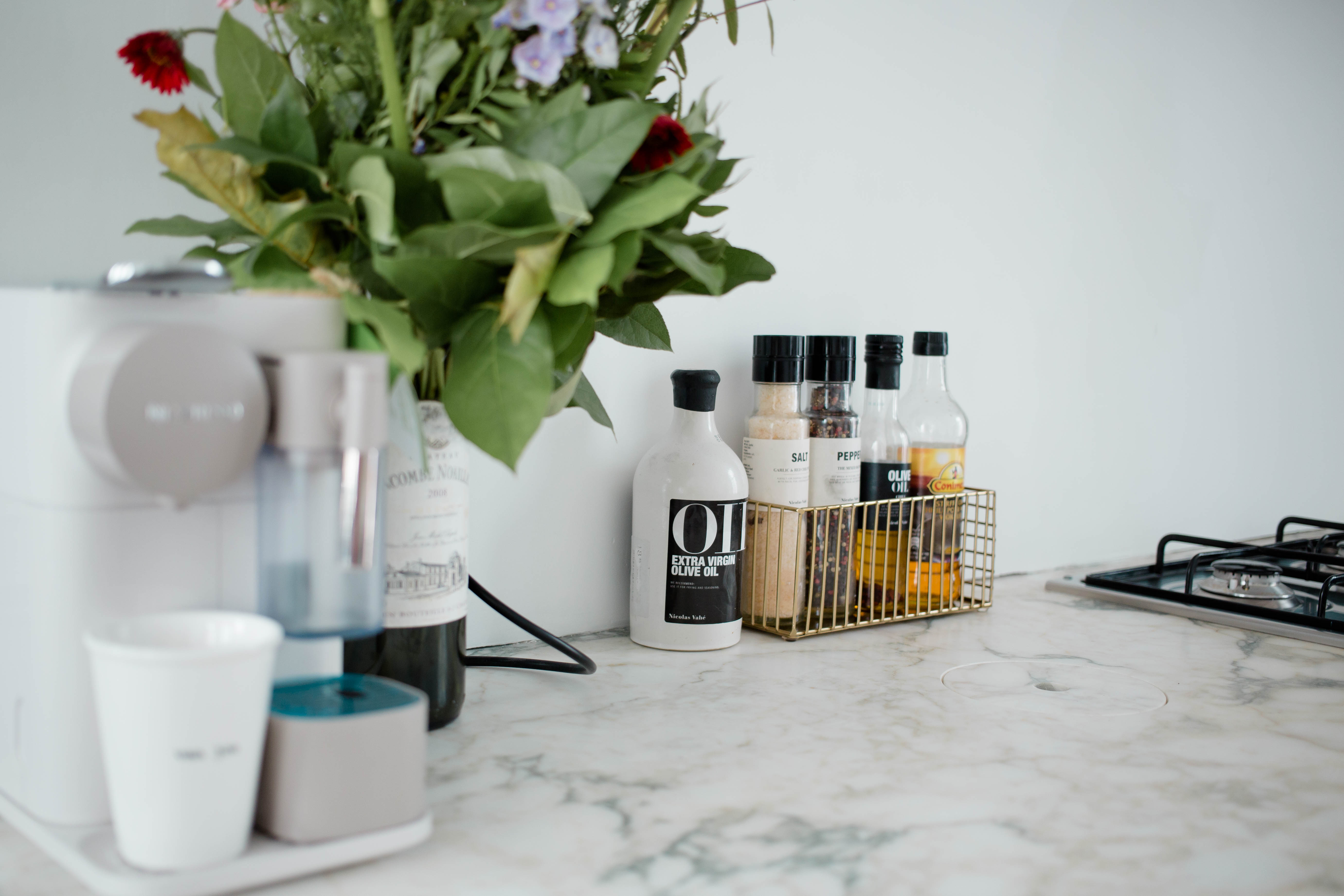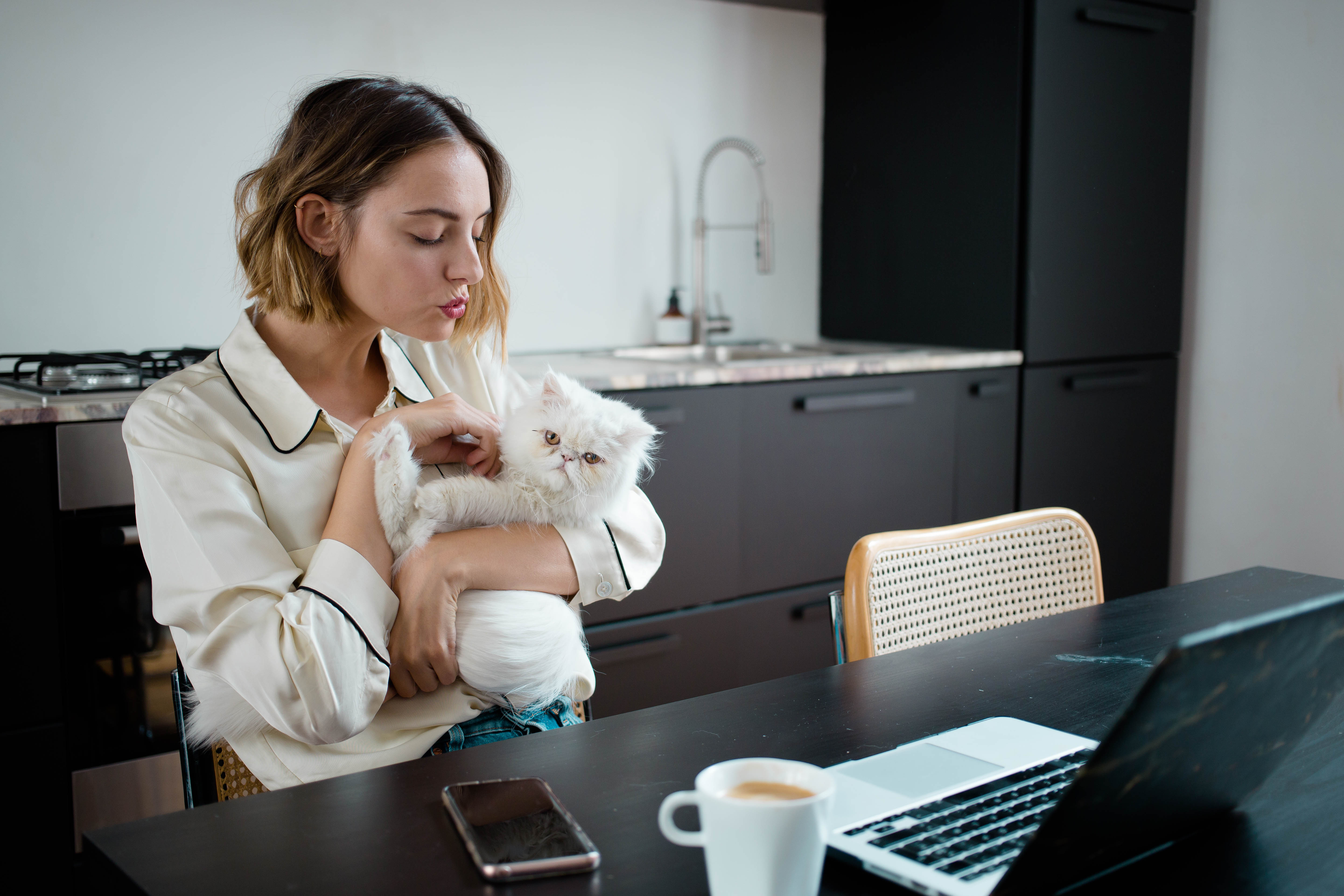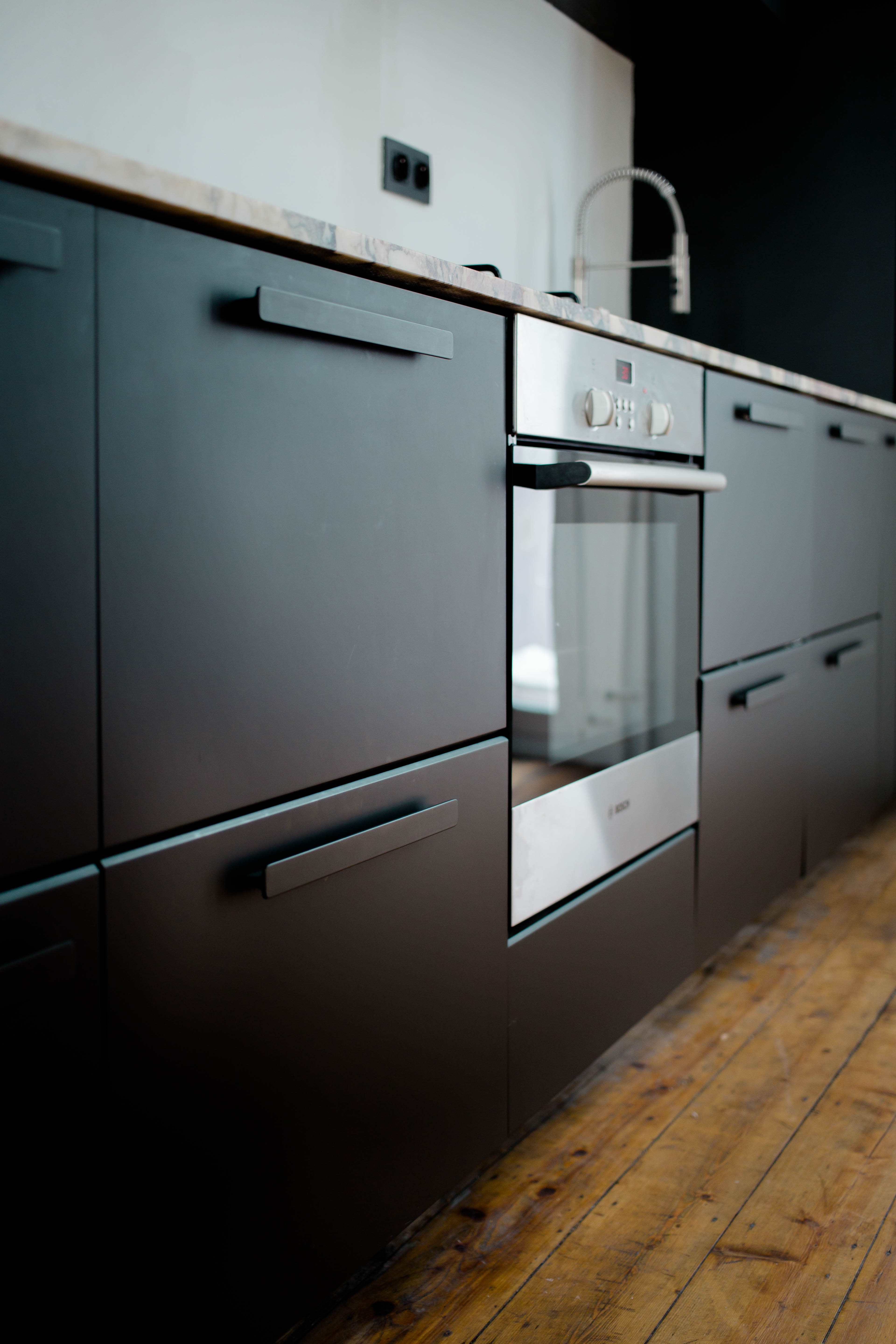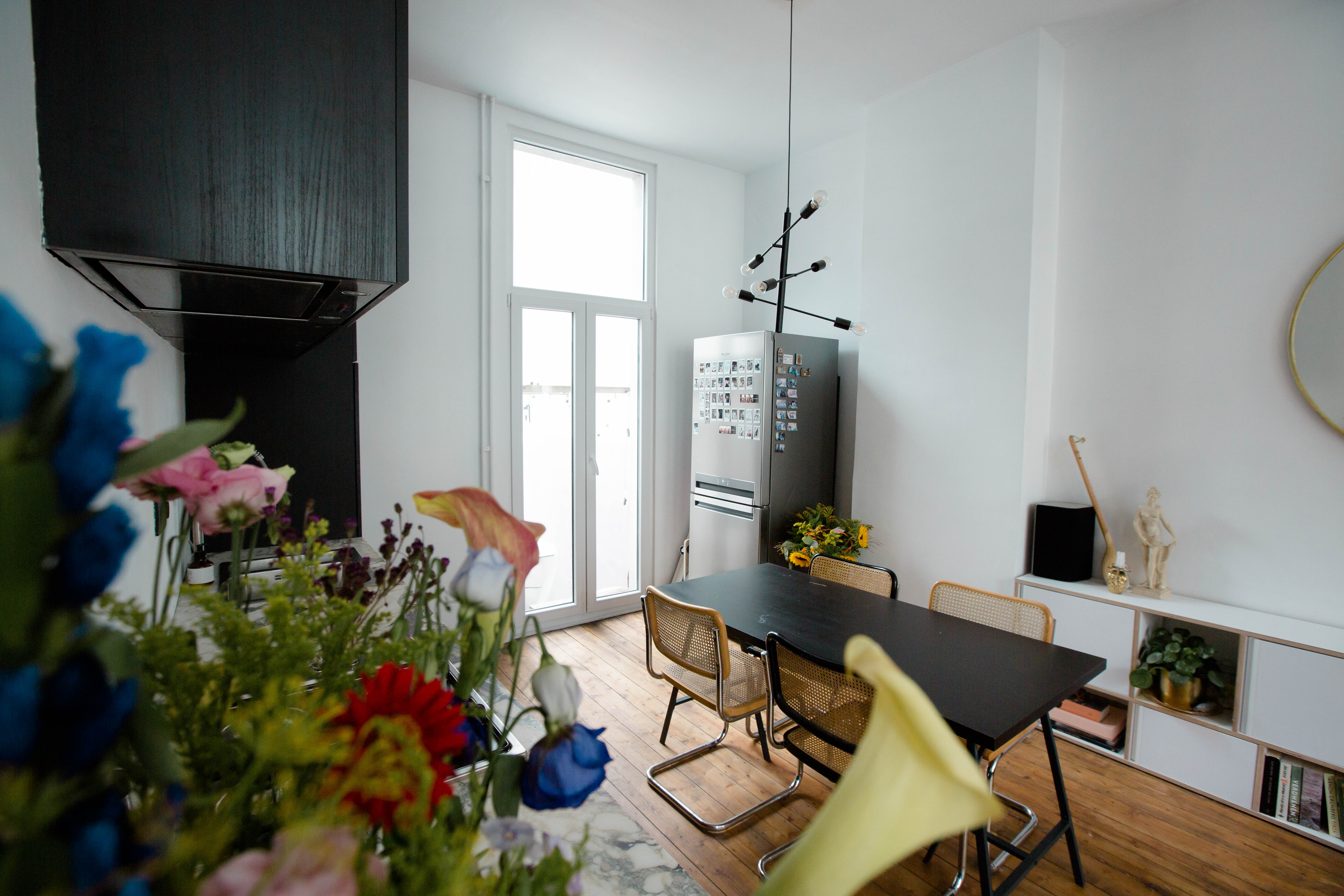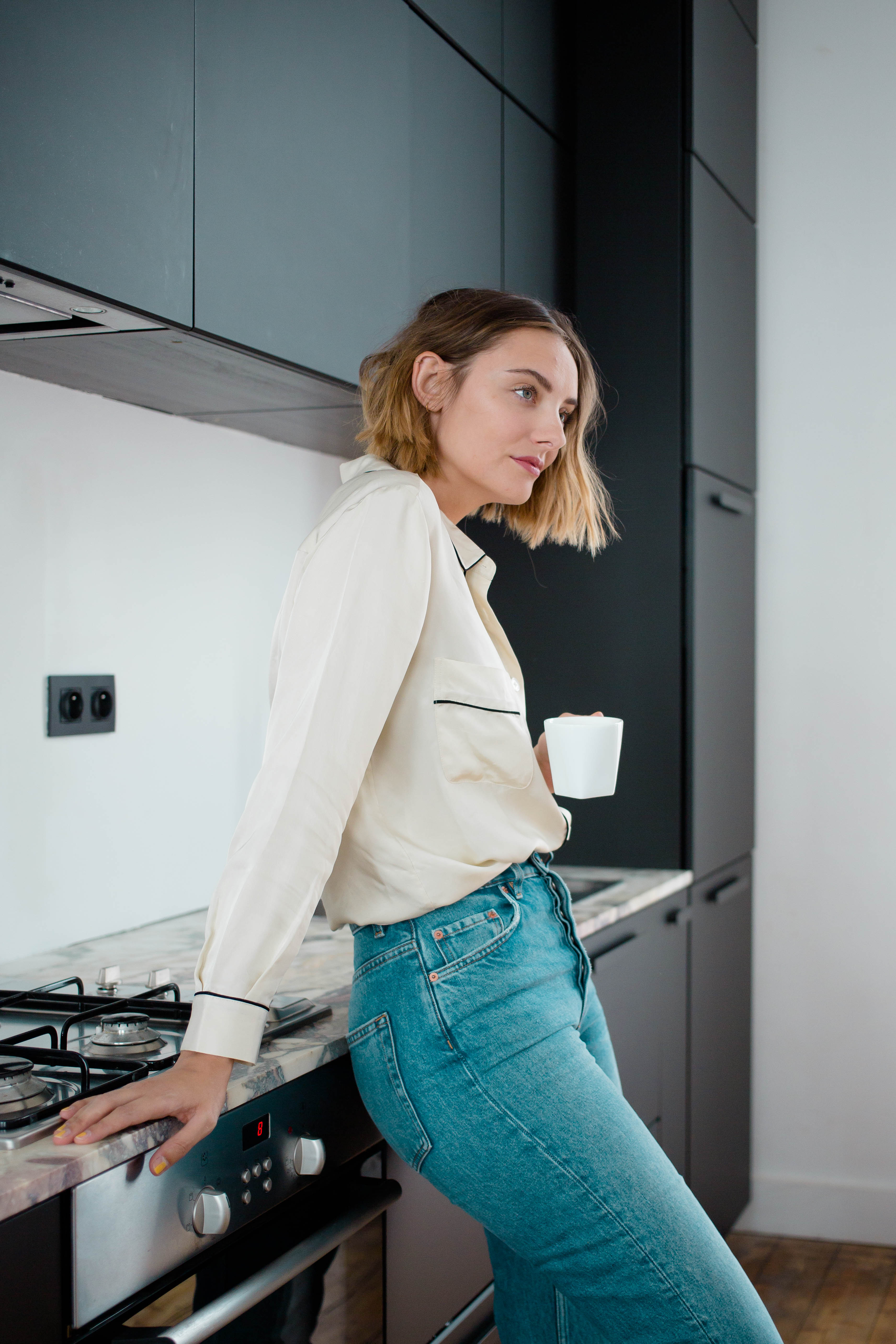 Et voilà, that was our big big kitchen make-over! You might notice that we still have a few things to do: putting up the baseboards, maybe do something creative with the open white space next to the upper cabinets (shelves? art? wine glass holders?), install a rear panel behind the fire, painting the plasterboard on top of the kitchen etc etc etc. It never stops!
Also: we're still looking for an updated oval dining table that would fit the kitchen and my old vintage chairs! Have you recognised them by the way? See their previous home here! Oh, and the stunning marble worktop definitely deserves a seperate post, coming soon too 😉
PS: If you share your own IKEA interior/happy moment/DIY project and use #MIJNIKEA, you can be featured on the IKEA Belgium Instagram page AND win a €100 voucher every month! Just putting it out there, so you knoooow…
Let me know what you think — I'm so curious for your reactions!
Photography by WE ARE FOKUS
This post was partly created in collaboration with IKEA. However, all words are my own and I only work with brands I personally really love and think you will too! Thank you for supporting the business that helps to bring fresh content to you every day and make Polienne possible.