Now that you've seen our apartment when it was still empty and pure, I of course had to show you how it looks right now, STUFFED with vintage furniture, Furby's and succulents. My friend Patricia from deco and design blog No Glitter No Glory dropped by as the very first person to photograph our space and I'm thrilled with the results. Let me guide you through the rooms!
Living room / office space
Or the space I immediately fell in love with. When I visited the apartment for the first time, I was all alone and I couldn't stop staring at those high ceilings, huge windows and the cute bay window. I sent a video to Robin saying WE NEED THIS, and we kind of decided in 10 minutes time. Of course, Robin and I went back for a second visit but both of immediately knew we wanted to live here.
We divided the living room into a chill area and a work zone, and these two are connected by the bay window where you can have your morning coffee before moving from the couch to the desk. We both work from home so it's fun to share a desk and work from a peaceful environment.
As you can see, we like to mix lots of vintage with more modern pieces, and play with plenty of different accessories and plants. Robin likes to changes our interior things up now and then, so it's always a fun game to come home and try to find out what piece she's moved this time.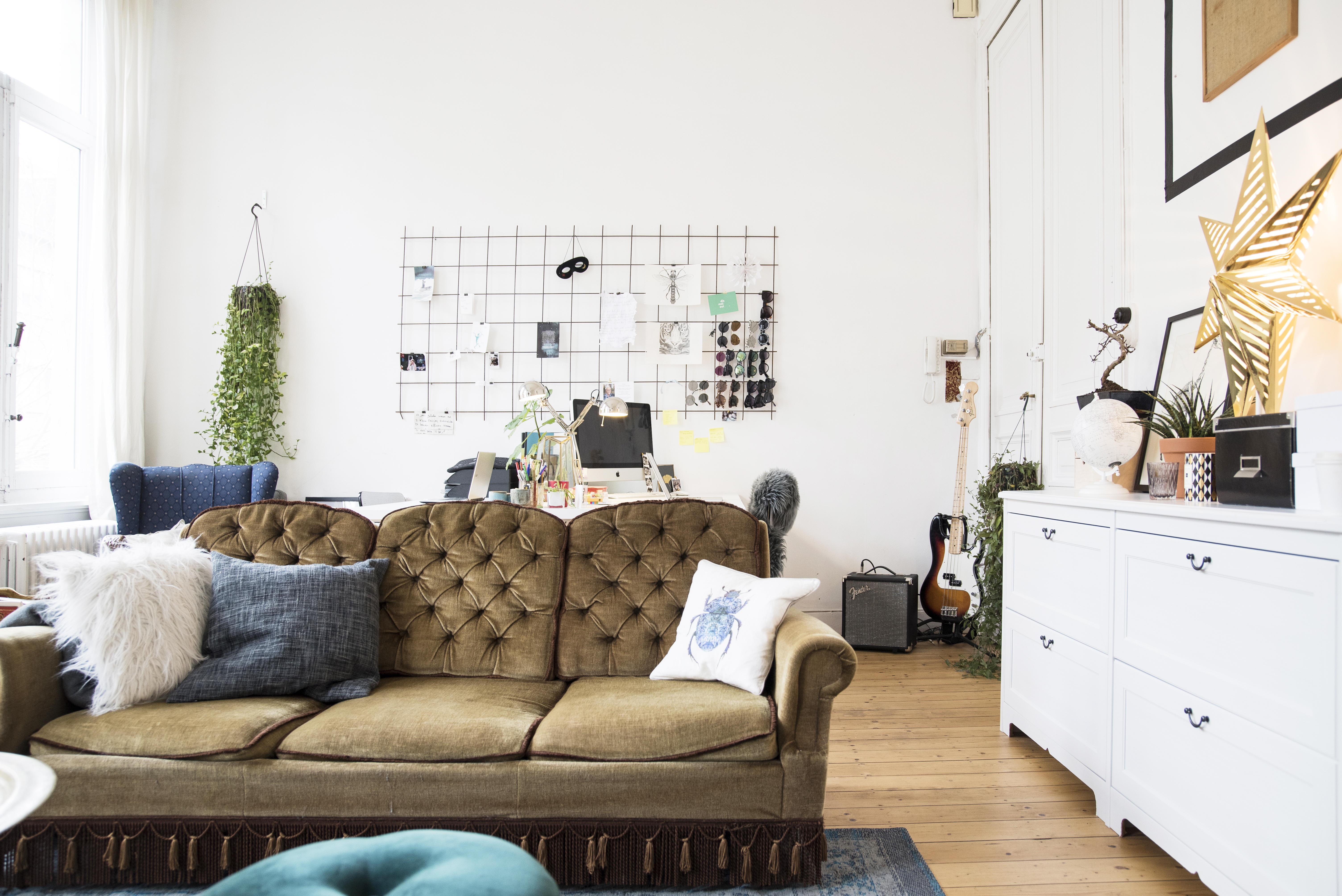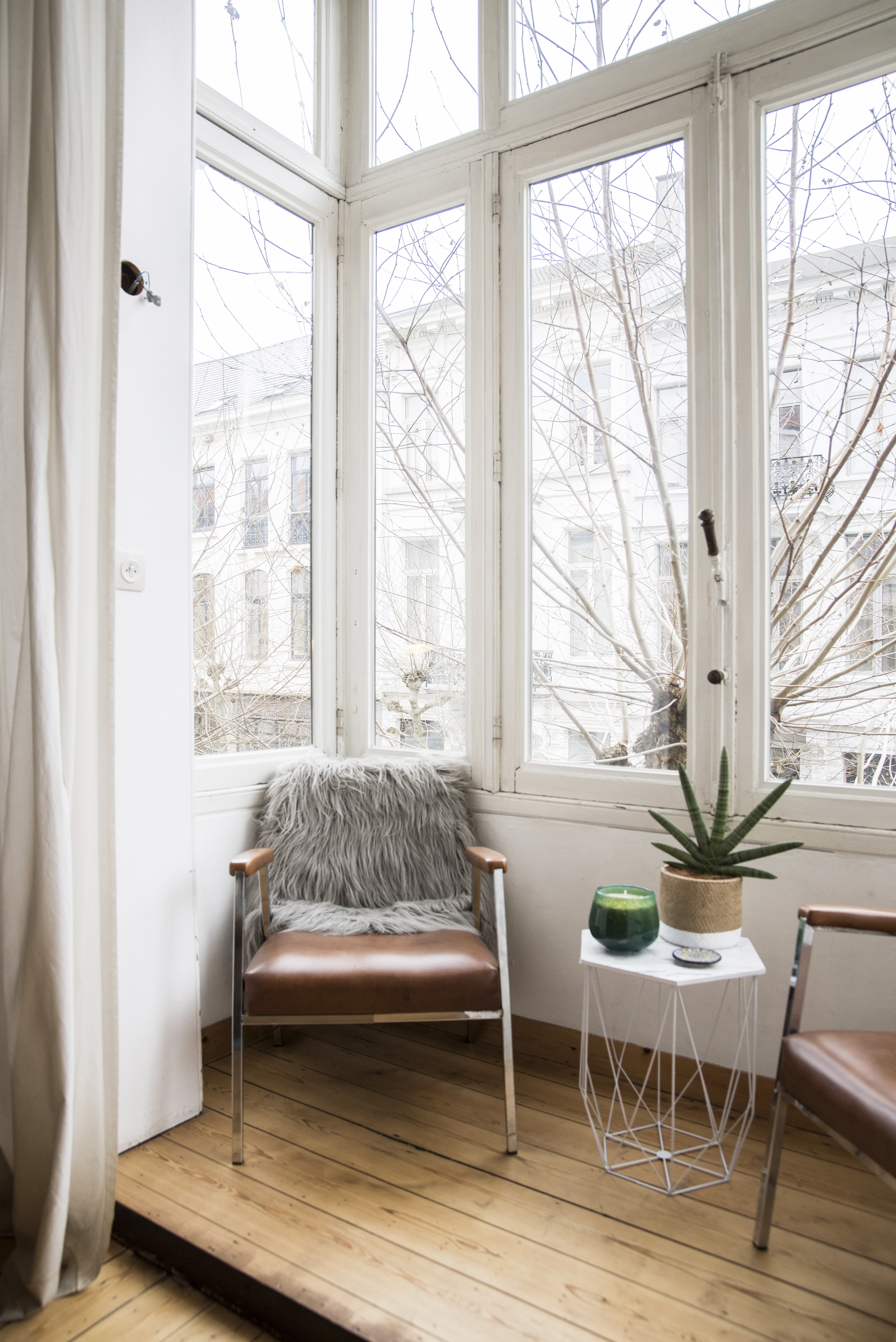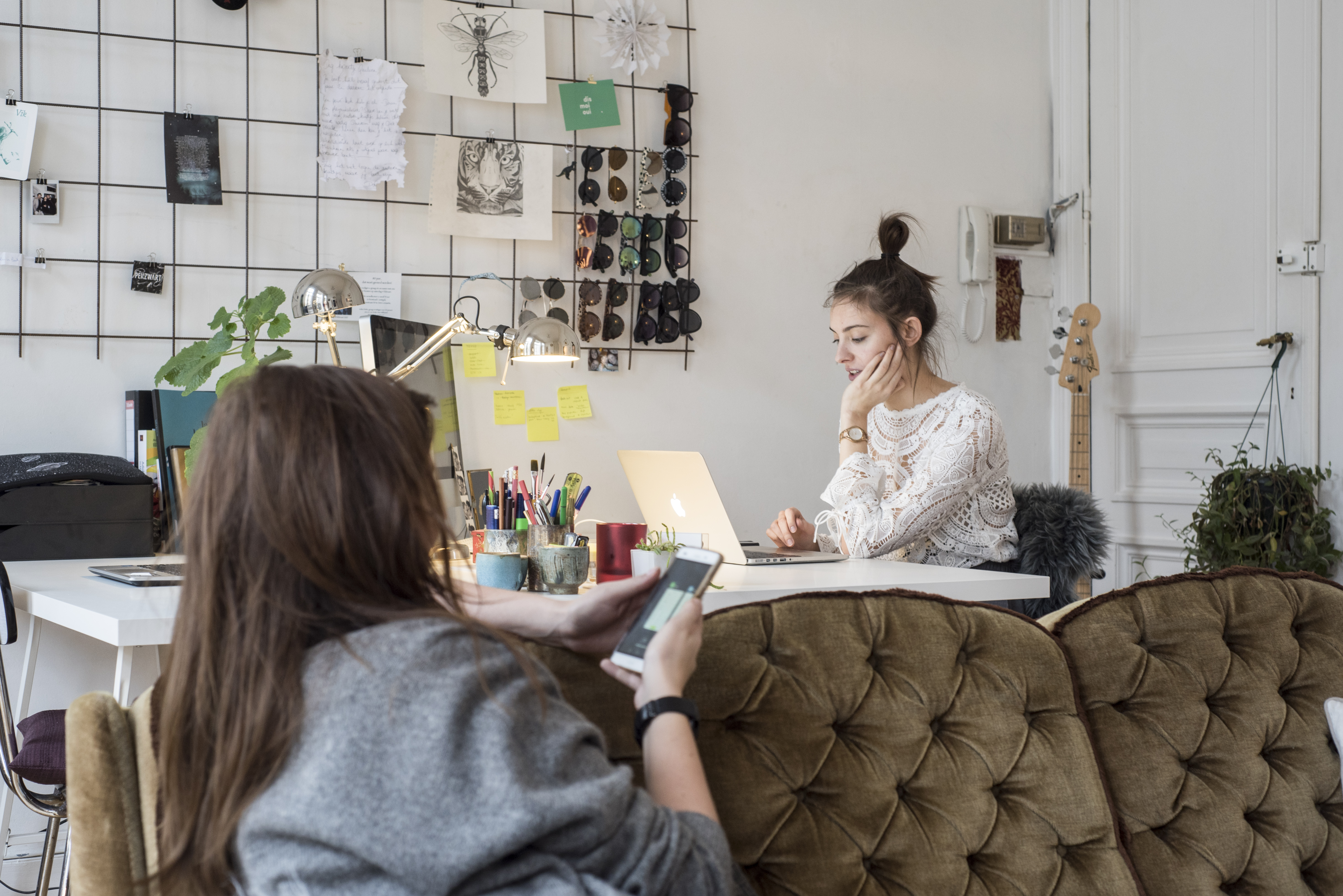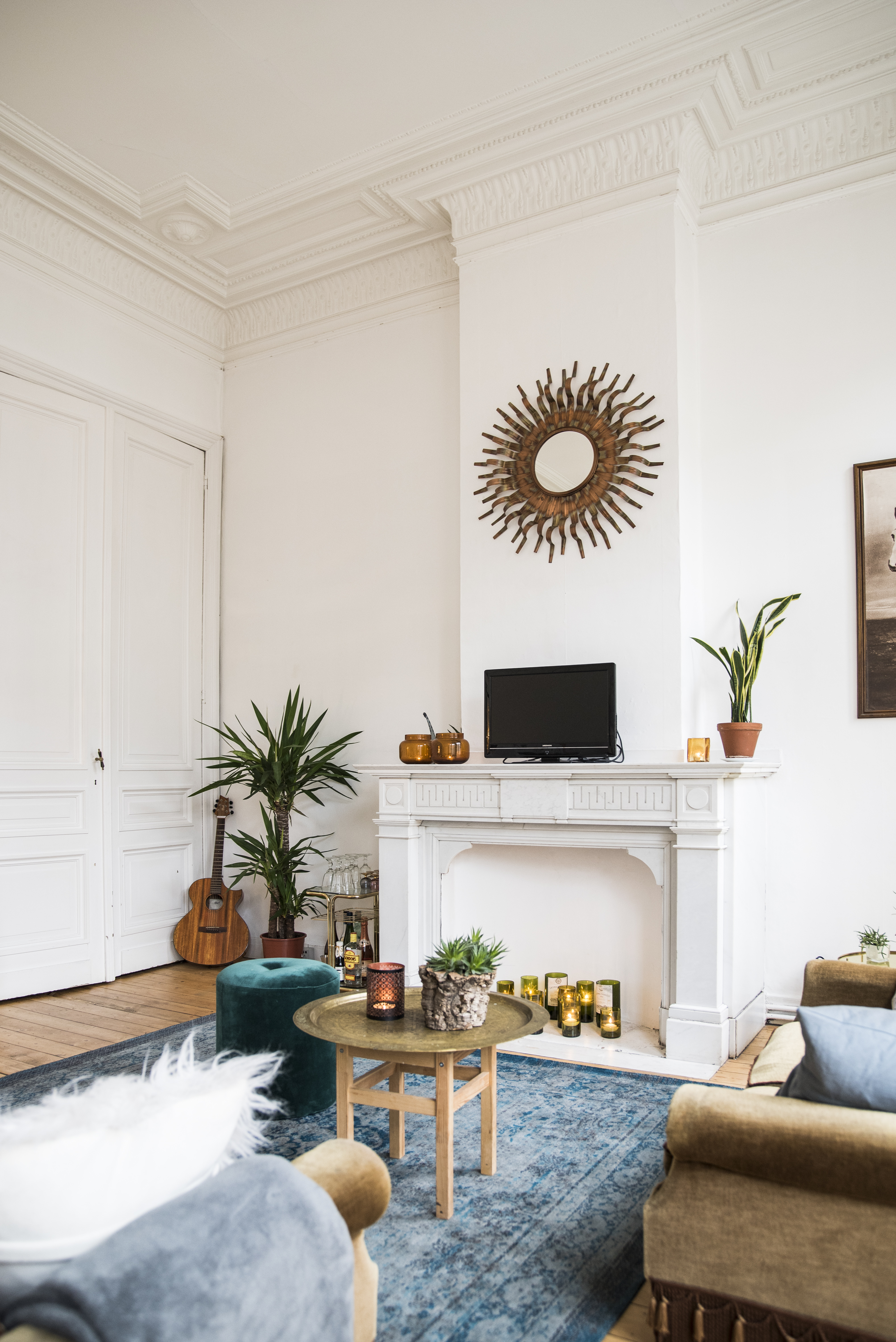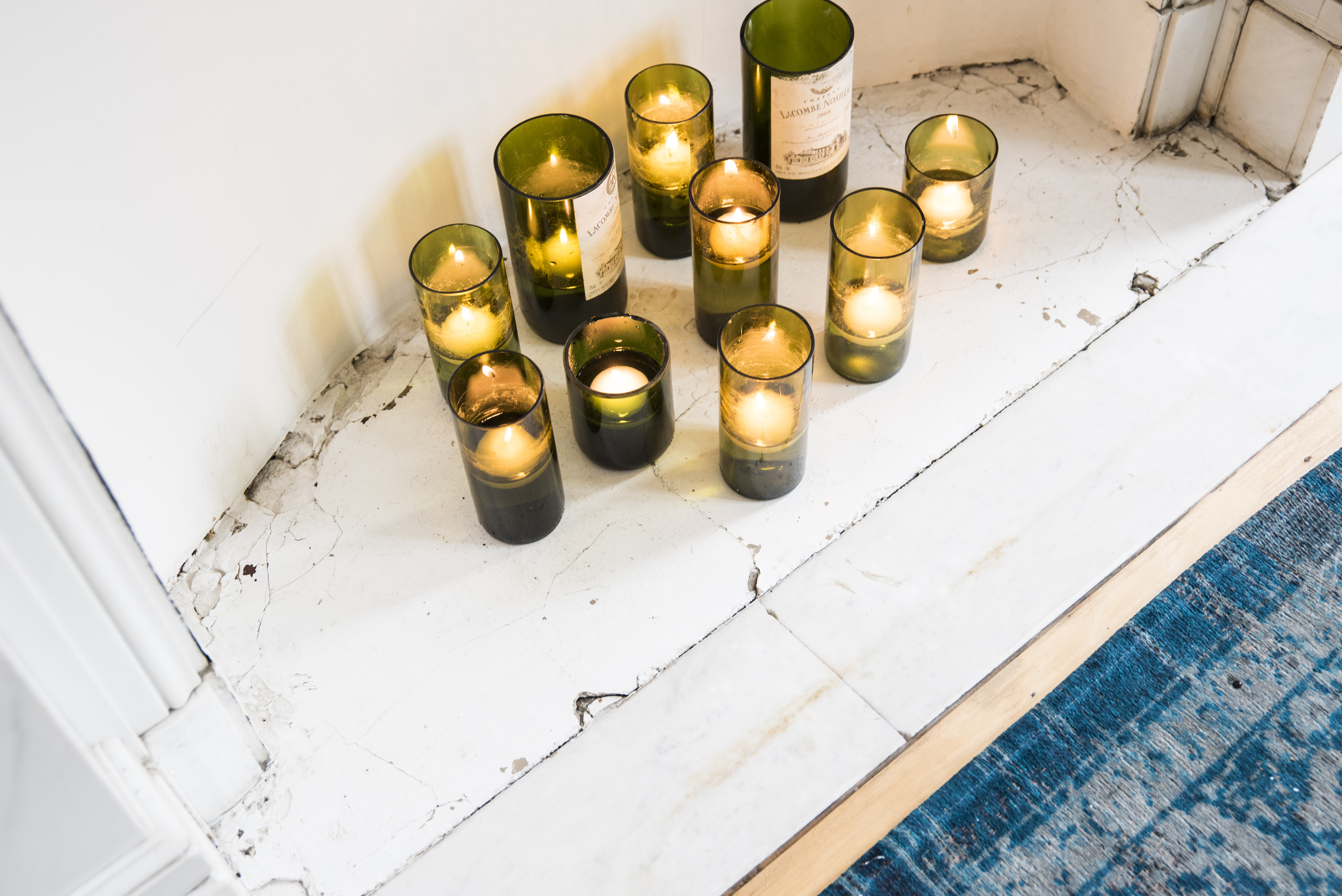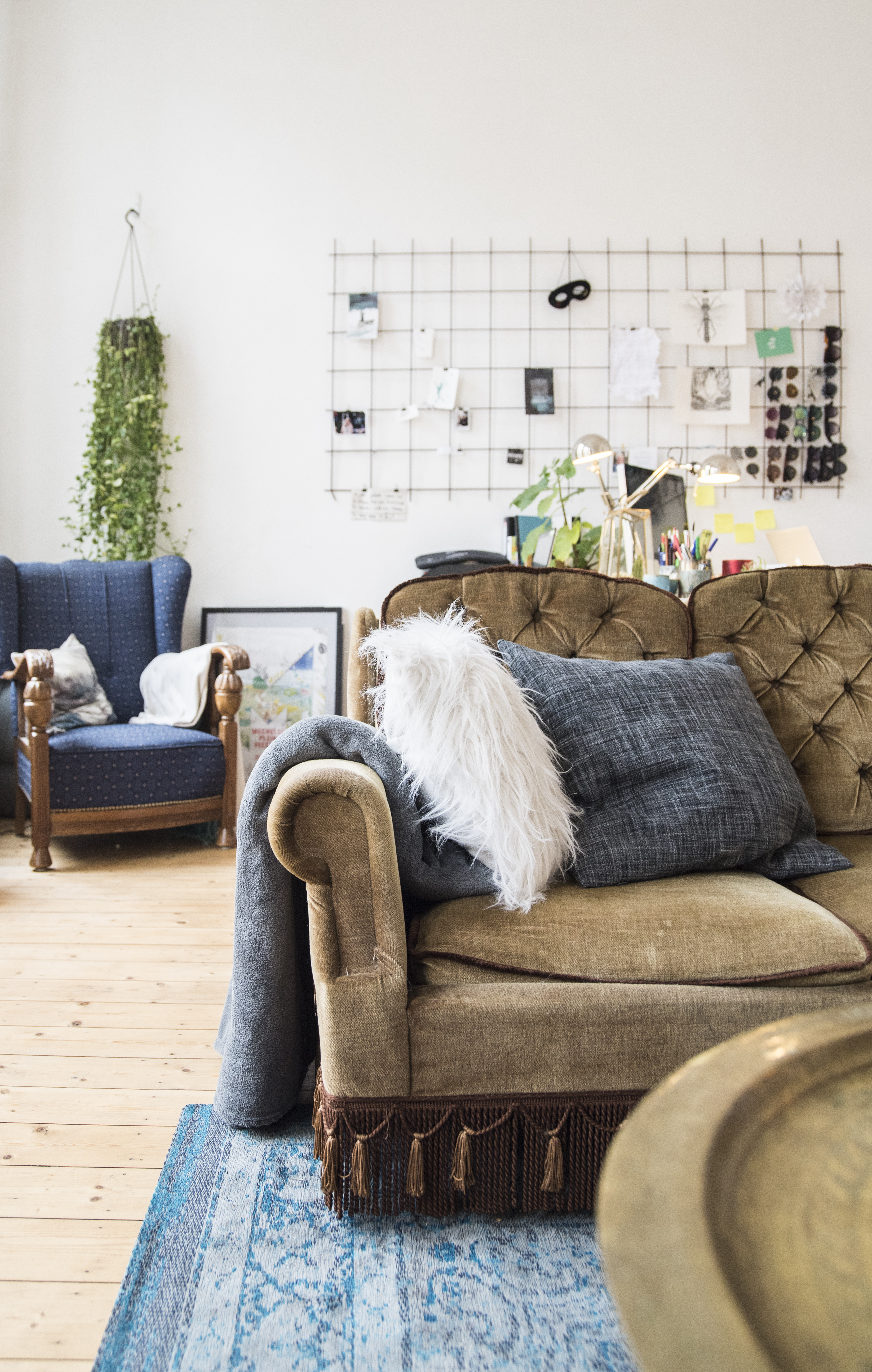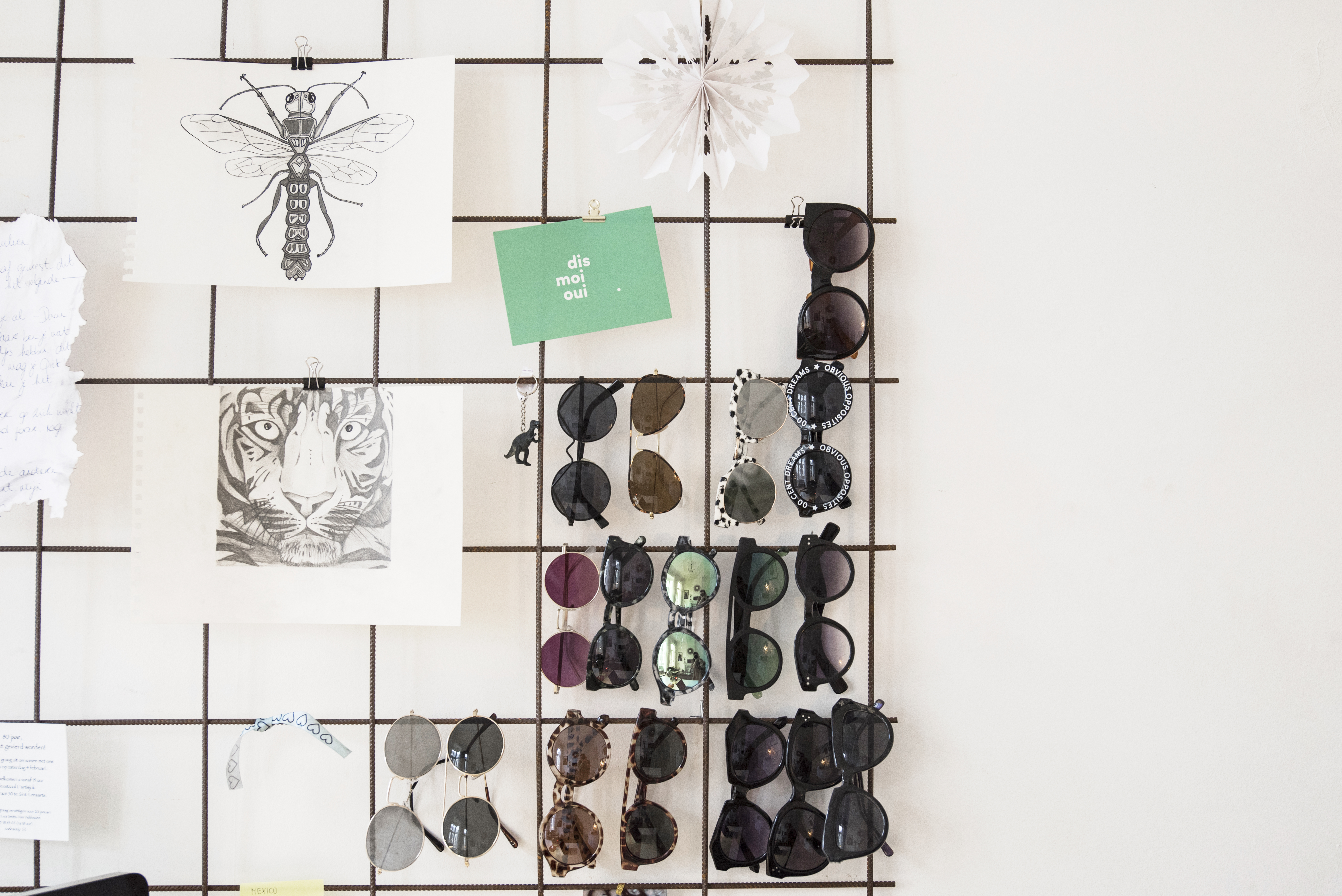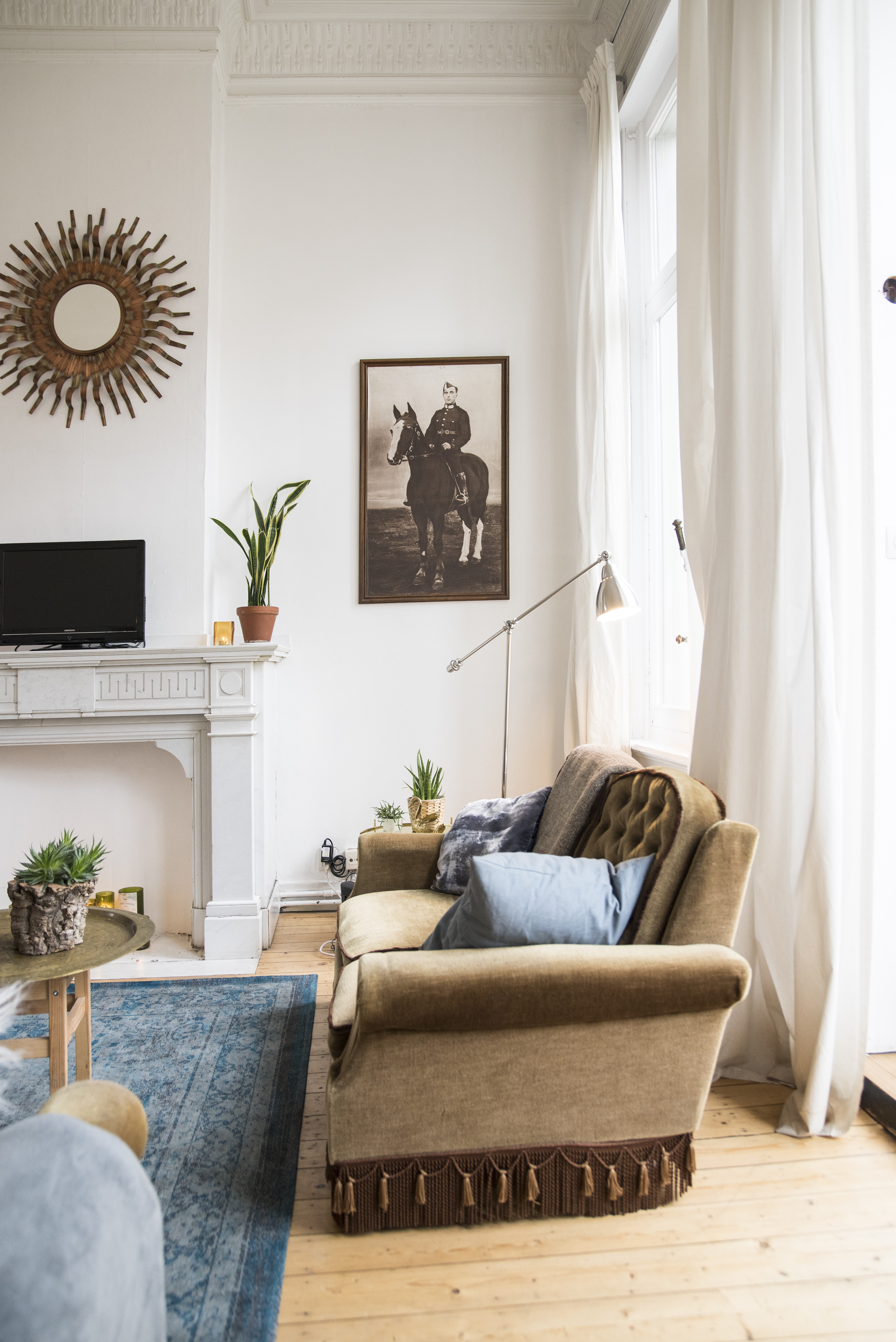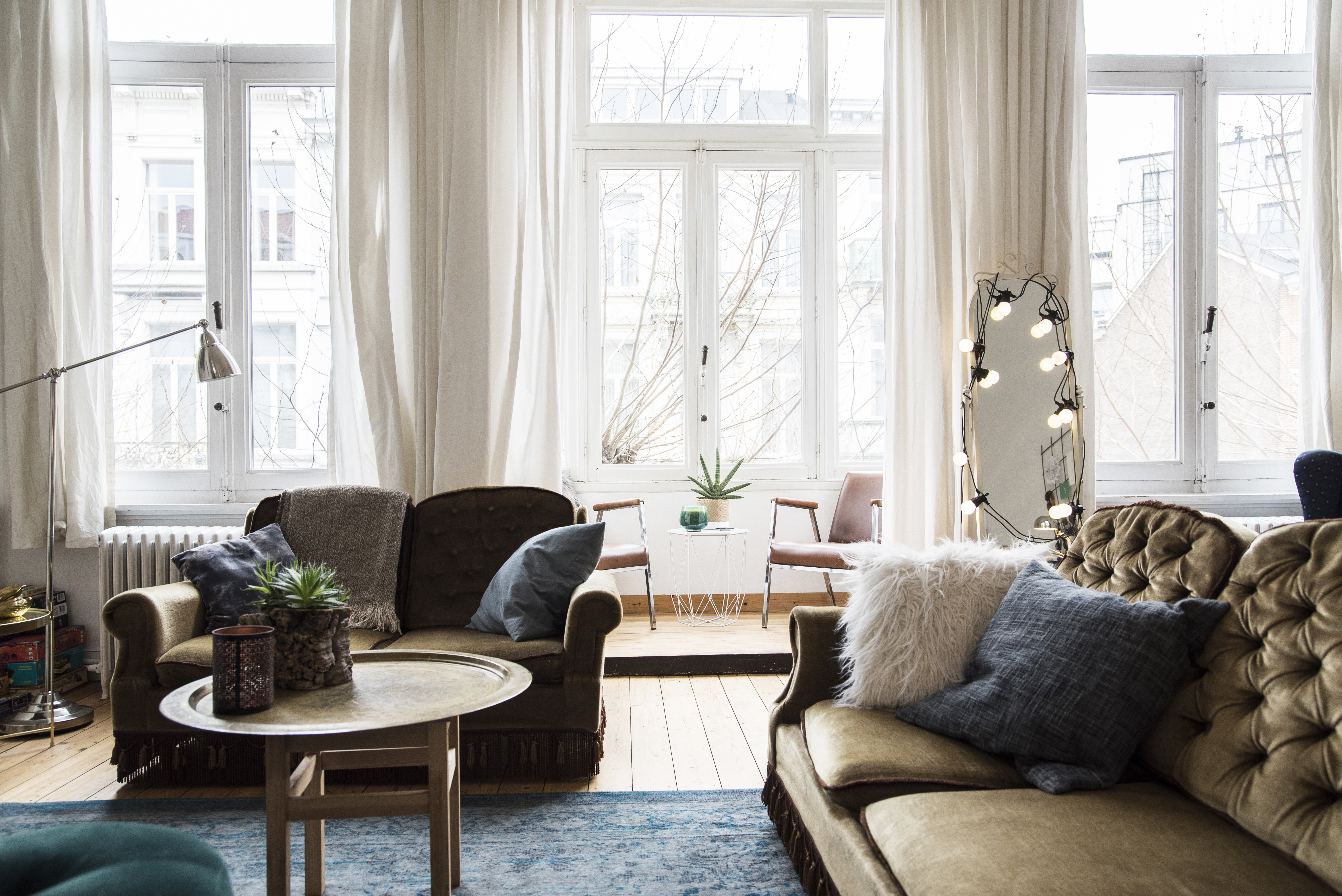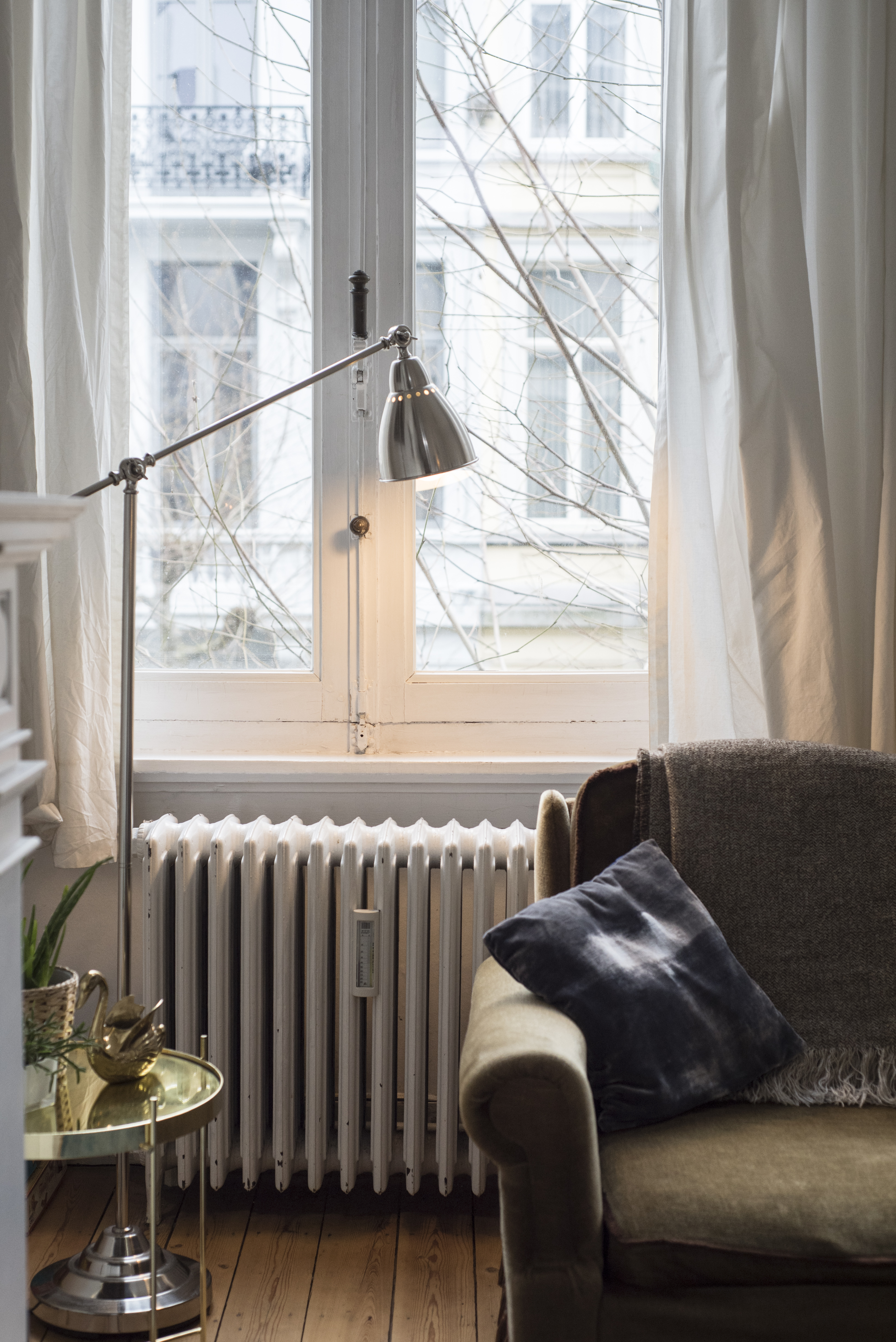 Kitchen
Or the problem zone. Since our green kitchen cabinets (love!) are VERY retro, we really wanted to avoid that the vintage vibe would take over the entire room. That proved quite difficult. We opted for a subtle jungle theme and worked with rotan, animal figures and lots of plants of course. The minimalistic black table enhances the beautiful black marble fireplace mantel.
This space really is a work of progress, as we've only just decided on what theme to use here. And that not-so-subtle palm next to our mustard vintage couch only arrived the day before the shoot! So I don't think we're finished just yet, but we're getting there. Slowly but surely 🙂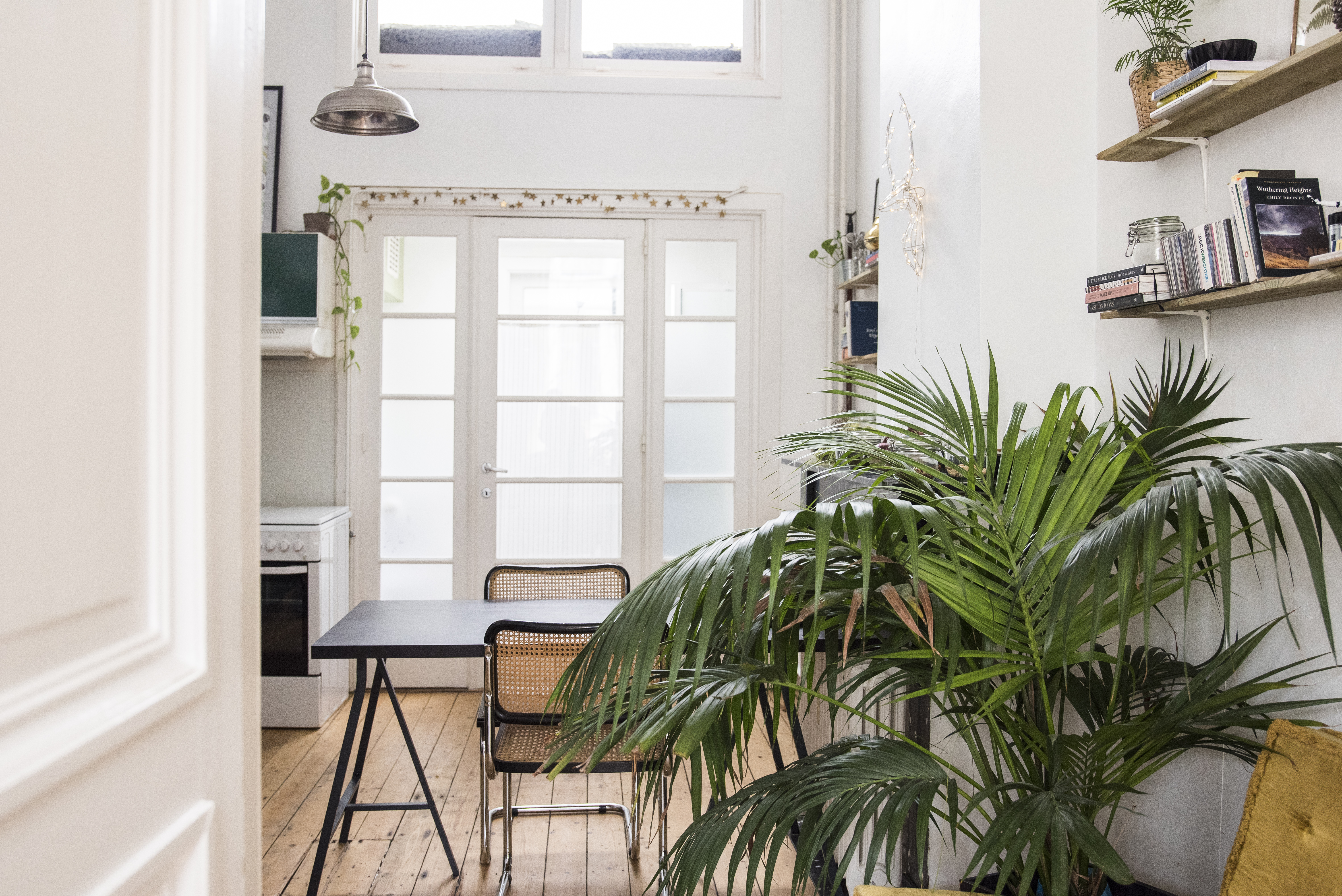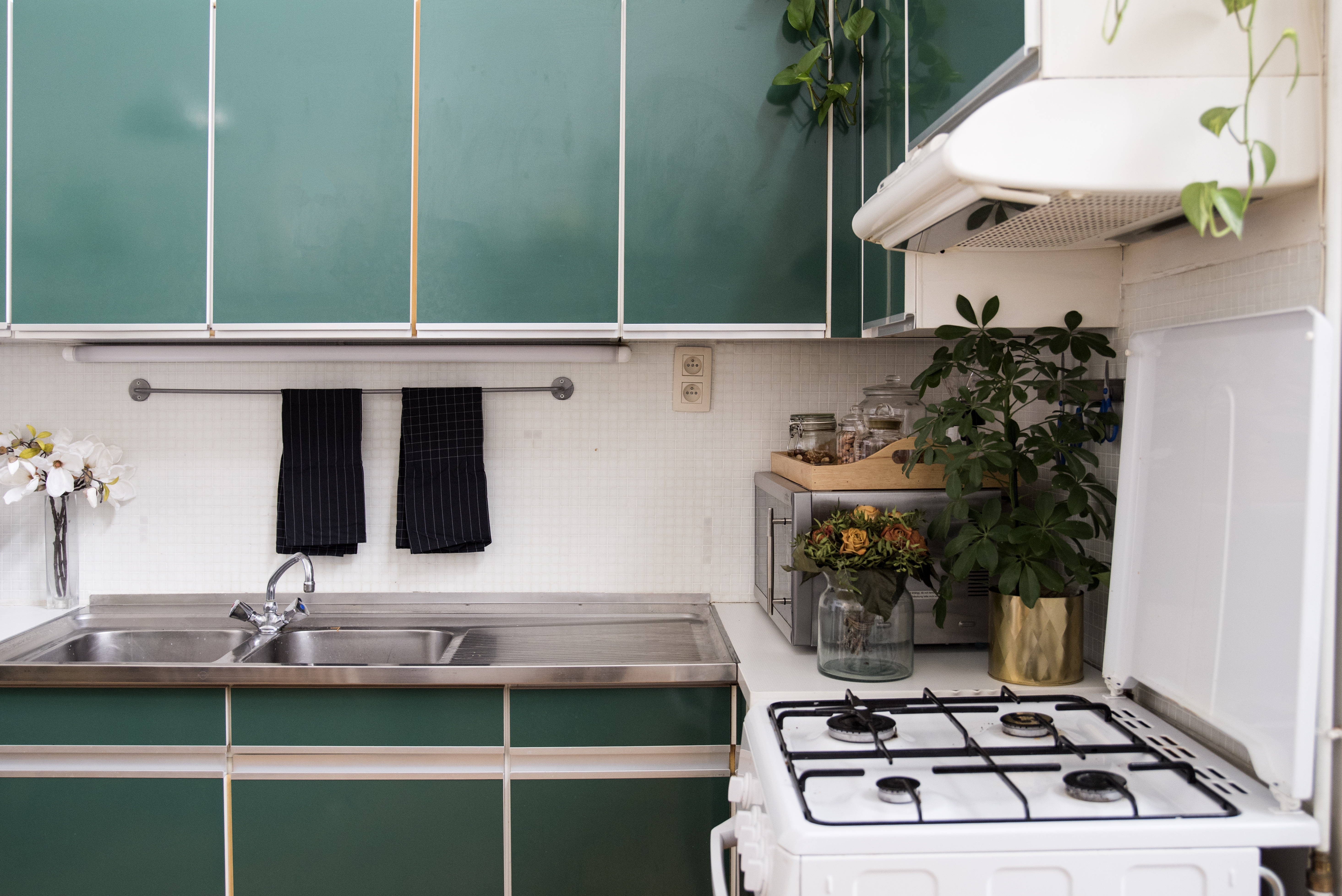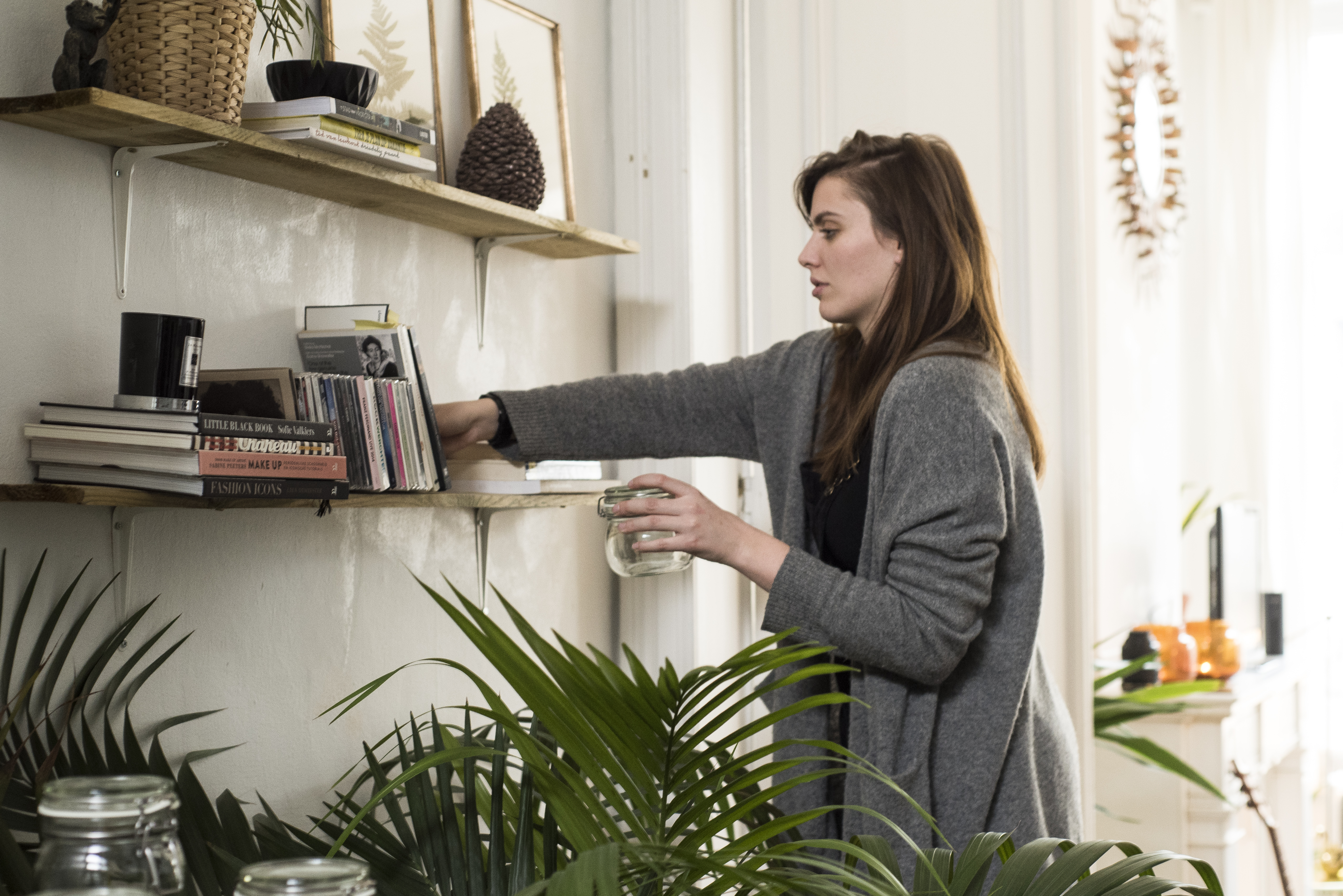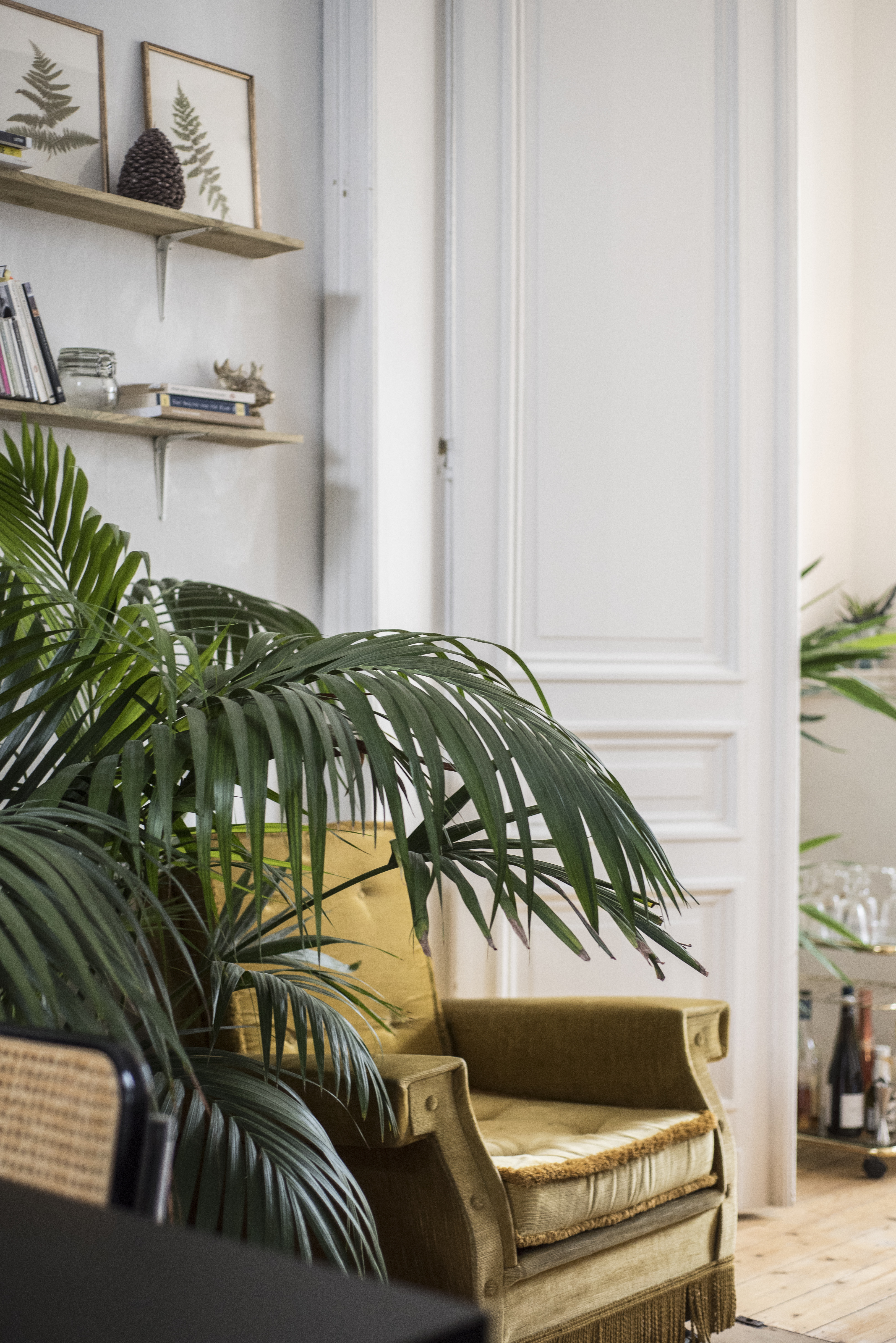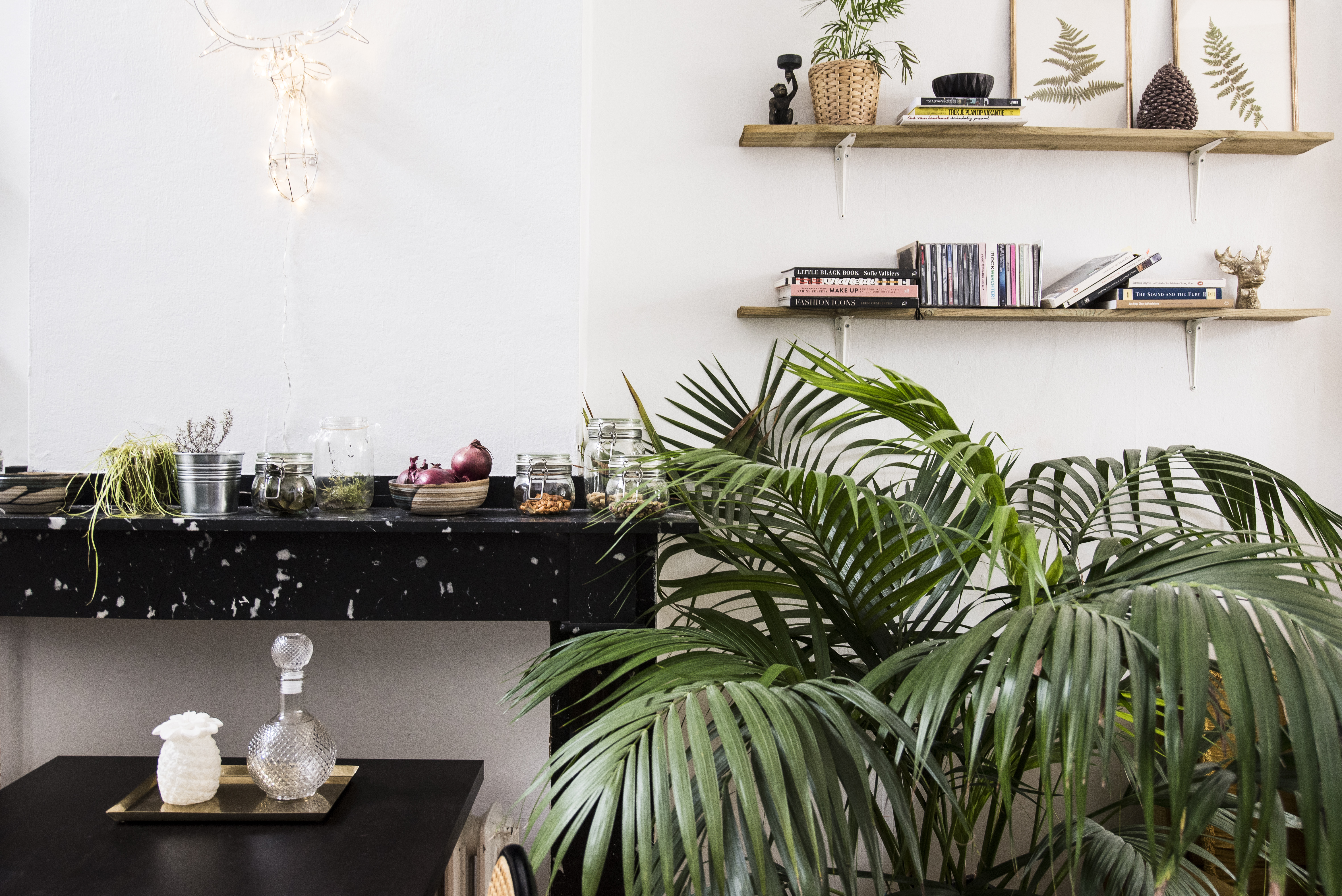 Bathroom
It was a challenge to give our teeeeeeeny-tiny bathroom an upgrade too. I figured that a plain white bathroom would do, but Robin clearly had something else in mind. With the only colored wall on our apartment, golden accents, lots of plants and a fabulous little crocodile this room now perfectly matches the jungle theme from the kitchen next door. Love!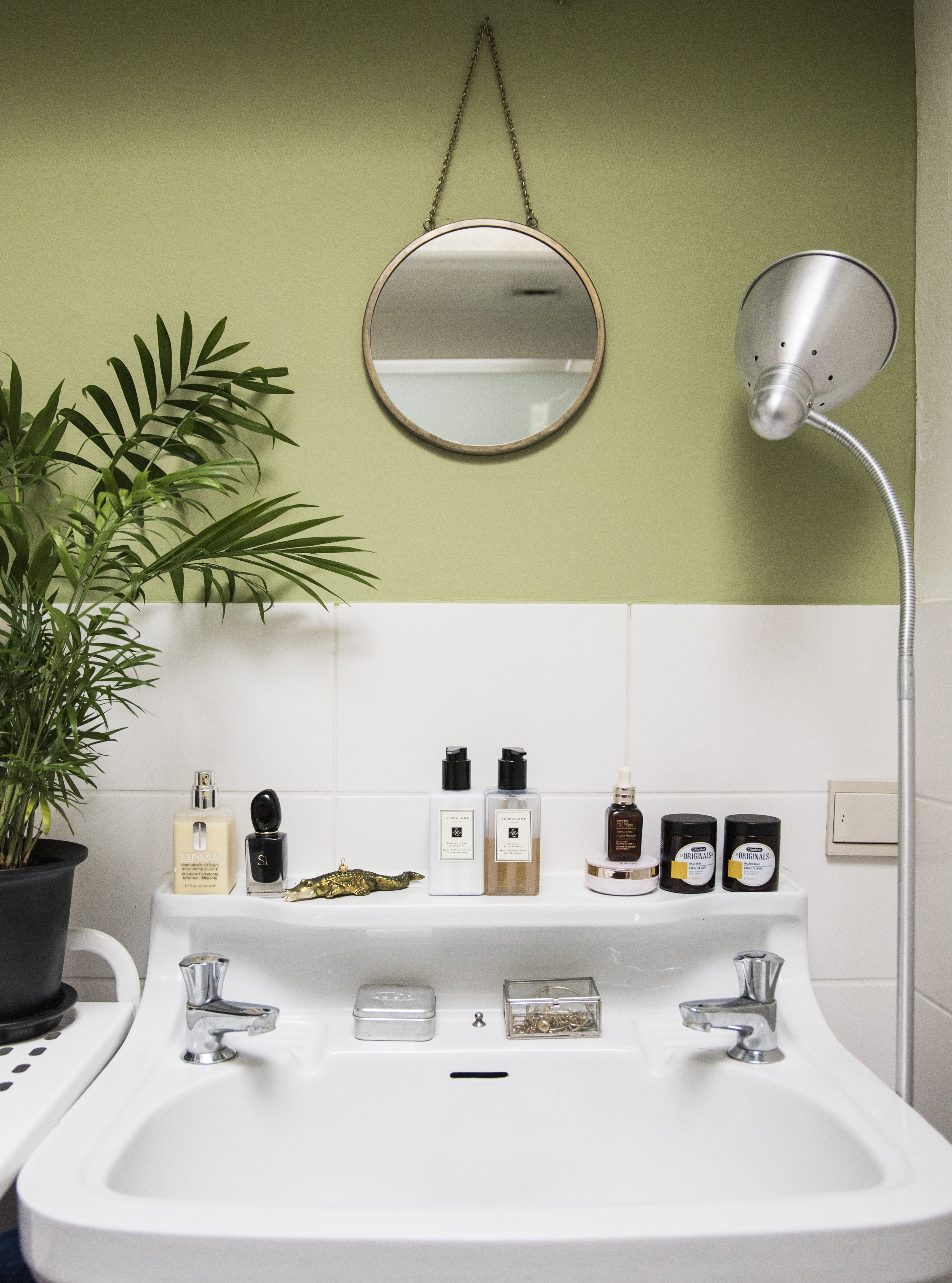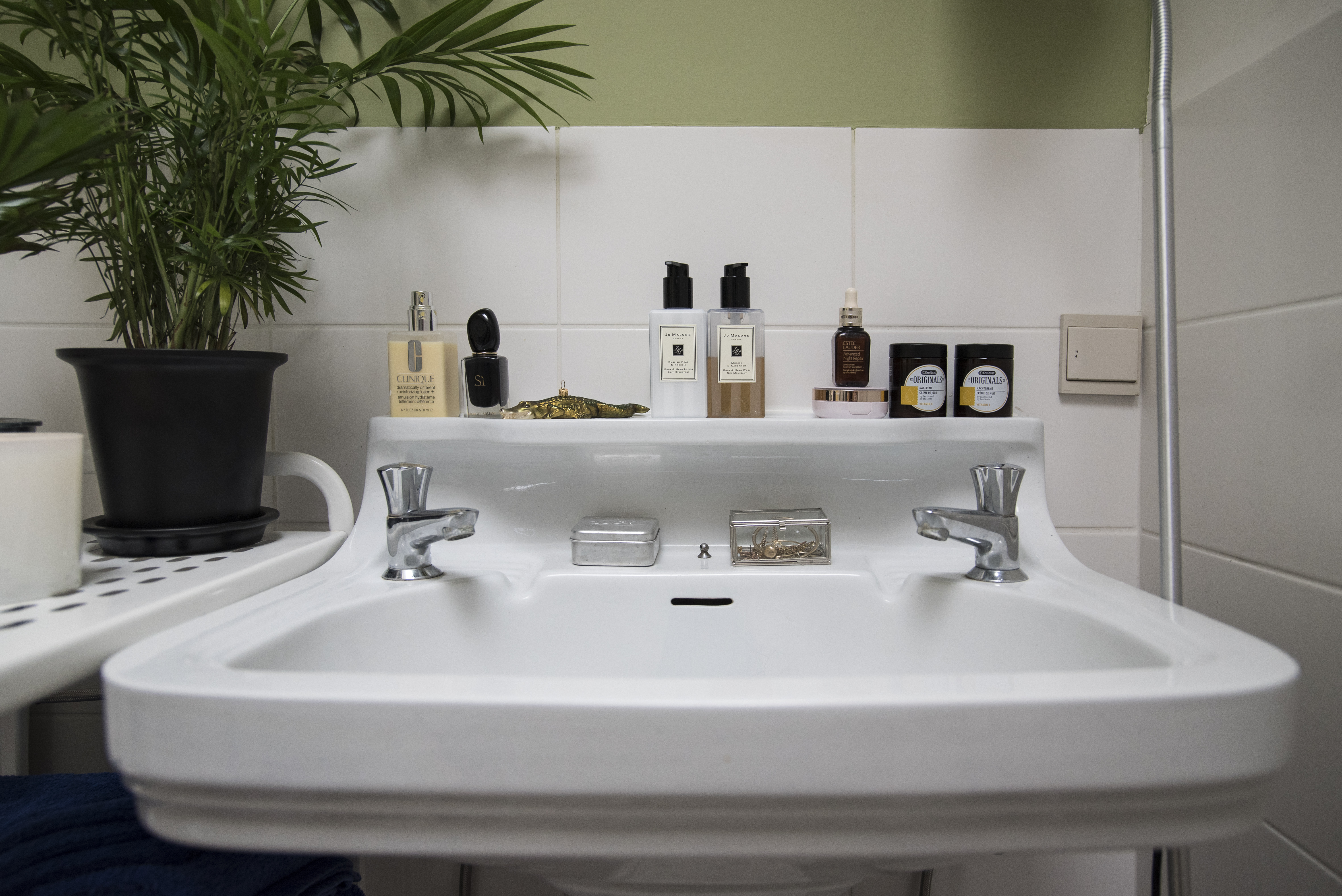 My bedroom
Yeah, another work in progress. I kind of had this idea in mind on what colours and styles to use for my bedroom: white with dark blue, pastel pink, golden and deep green accents. But since my bedroom has to house a massive blogger wardrobe too, the aesthetics aren't really on point yet.
But I'm getting there! Last week I got a golden etagere and a new brass clothing rack to display my new stuff, and I think that I've found some ways to make better use of my closet in the future. So hopefully I can show you more of my room soon!
PS:  the only nearly-dead plant is obviously in my bedroom. I'm so bad at these things.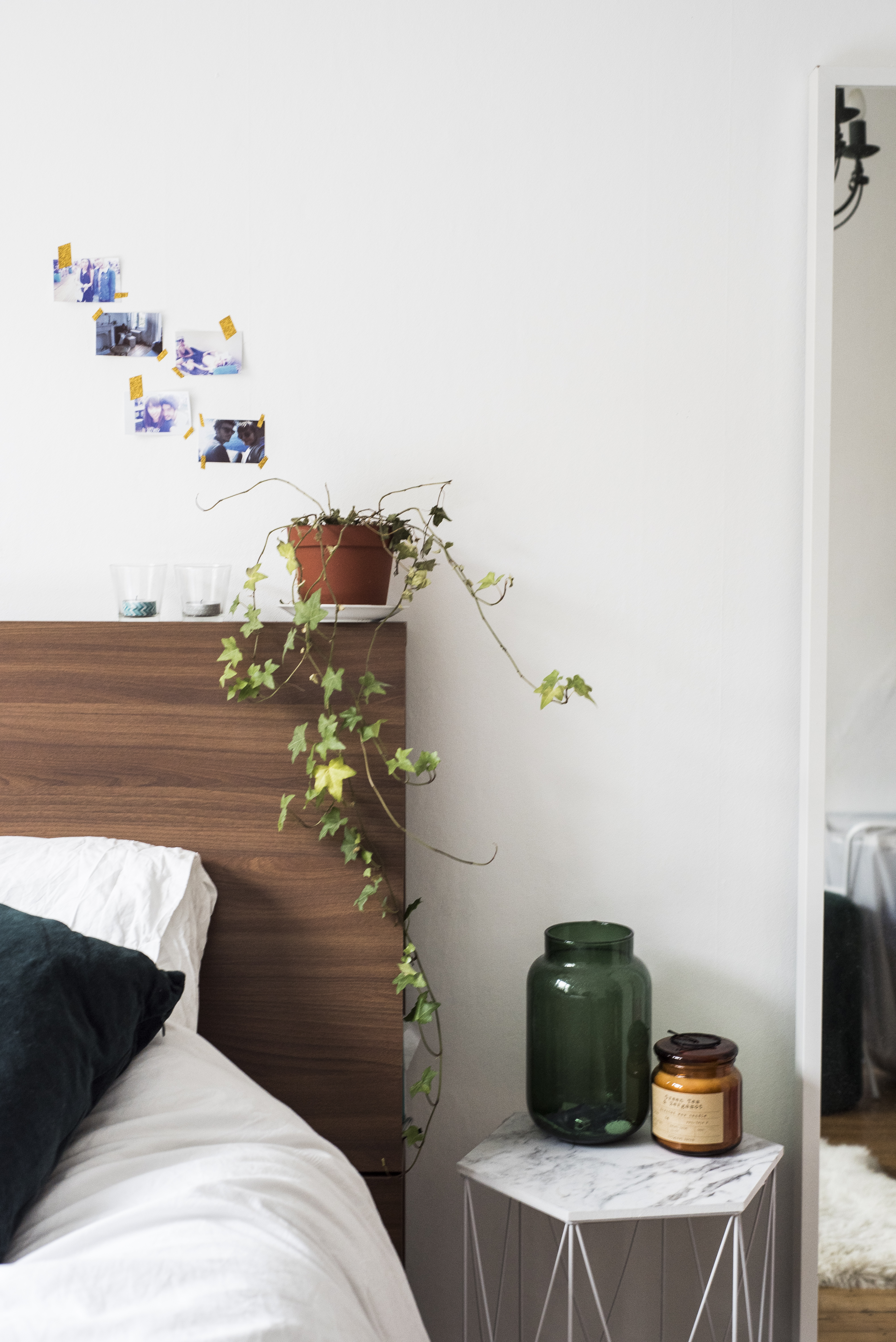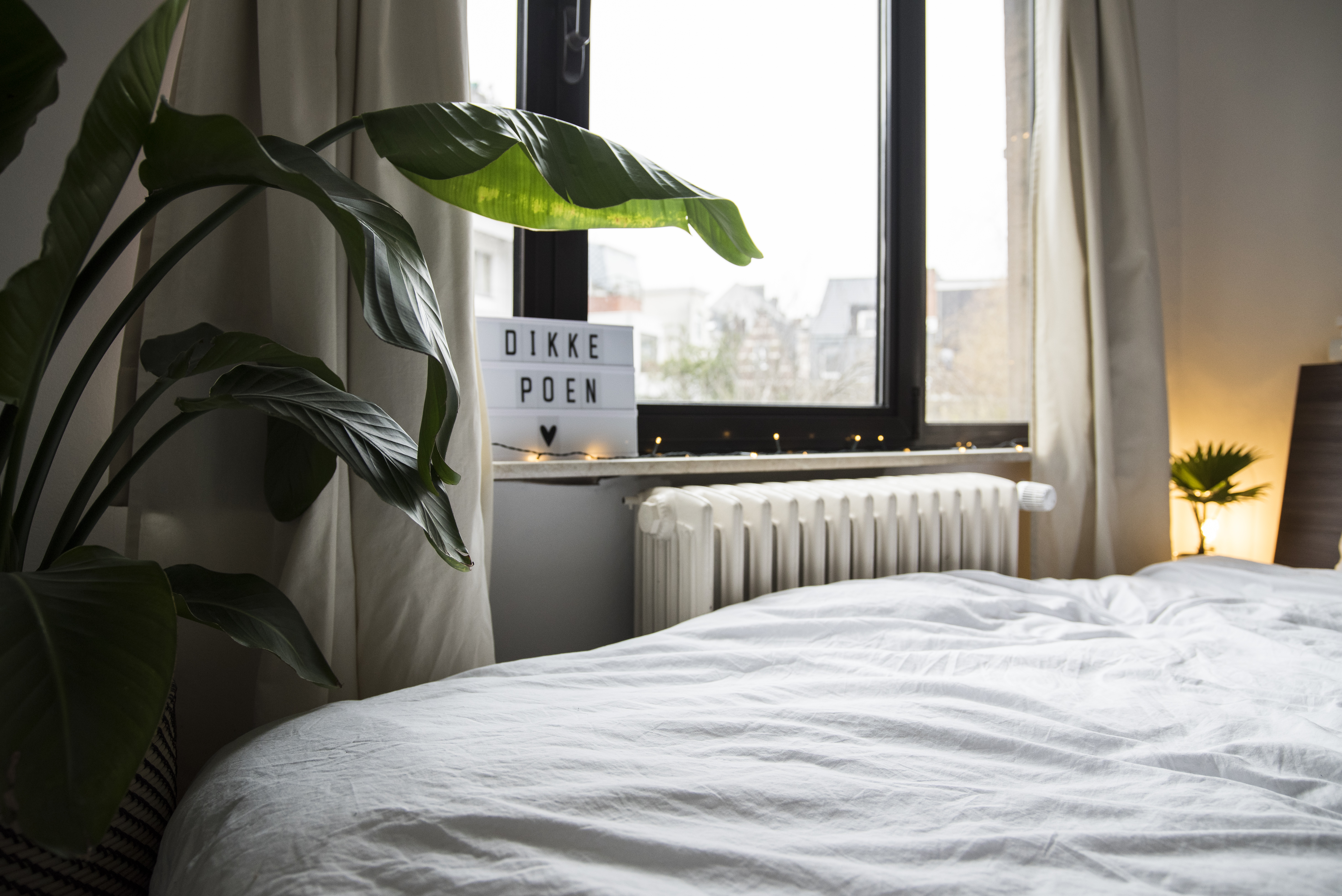 Robin's bedroom
This is a beaut. Robin has a great eye for detail and really enjoys changing up the interior all the time. That means that her bedroom looks pretty fabulous too! And even though she literally stuffed it with plants and furniture, it still feels very peaceful.
You can hire her for your own interior, but not after she's helped me with my own bedroom. You're welcome!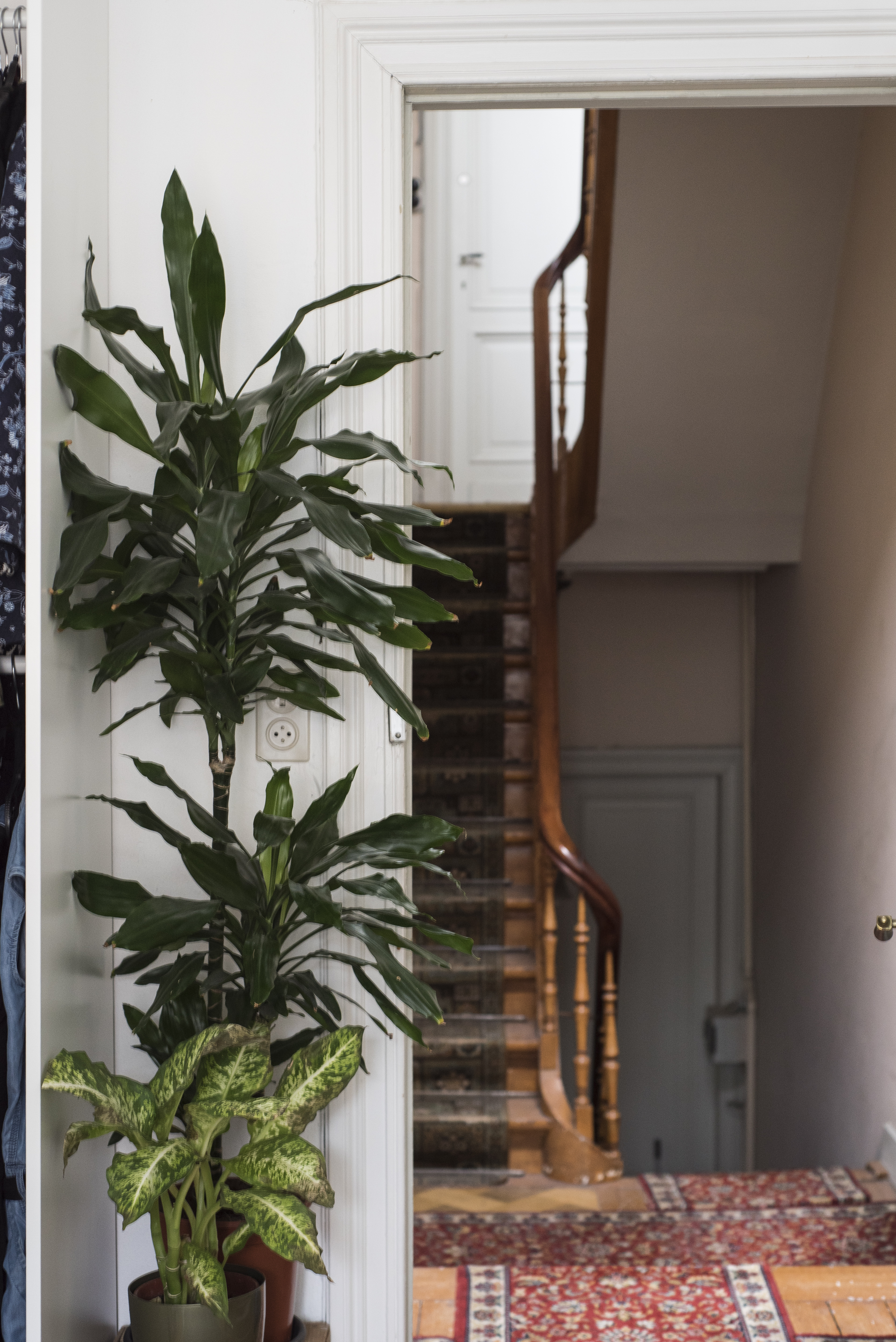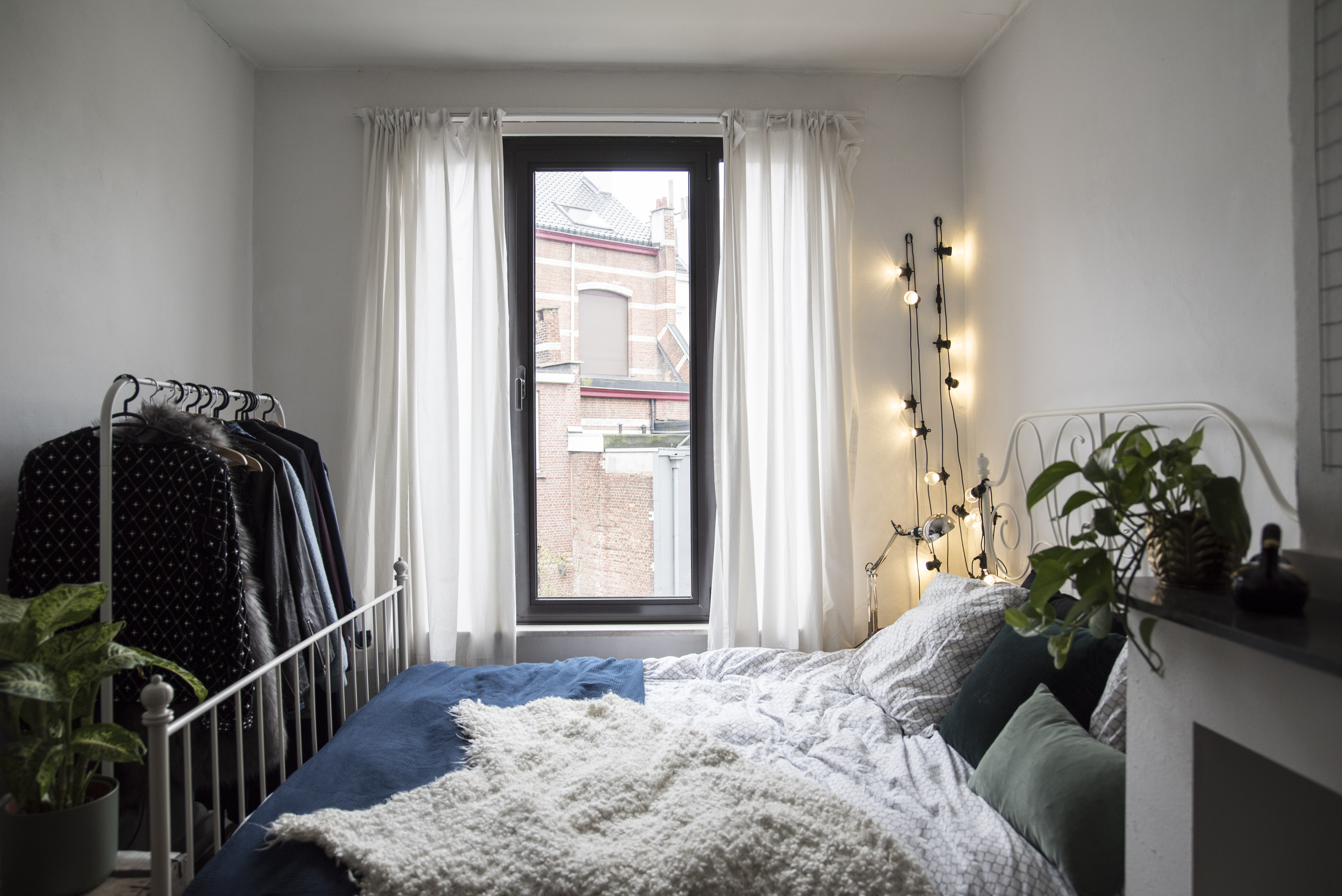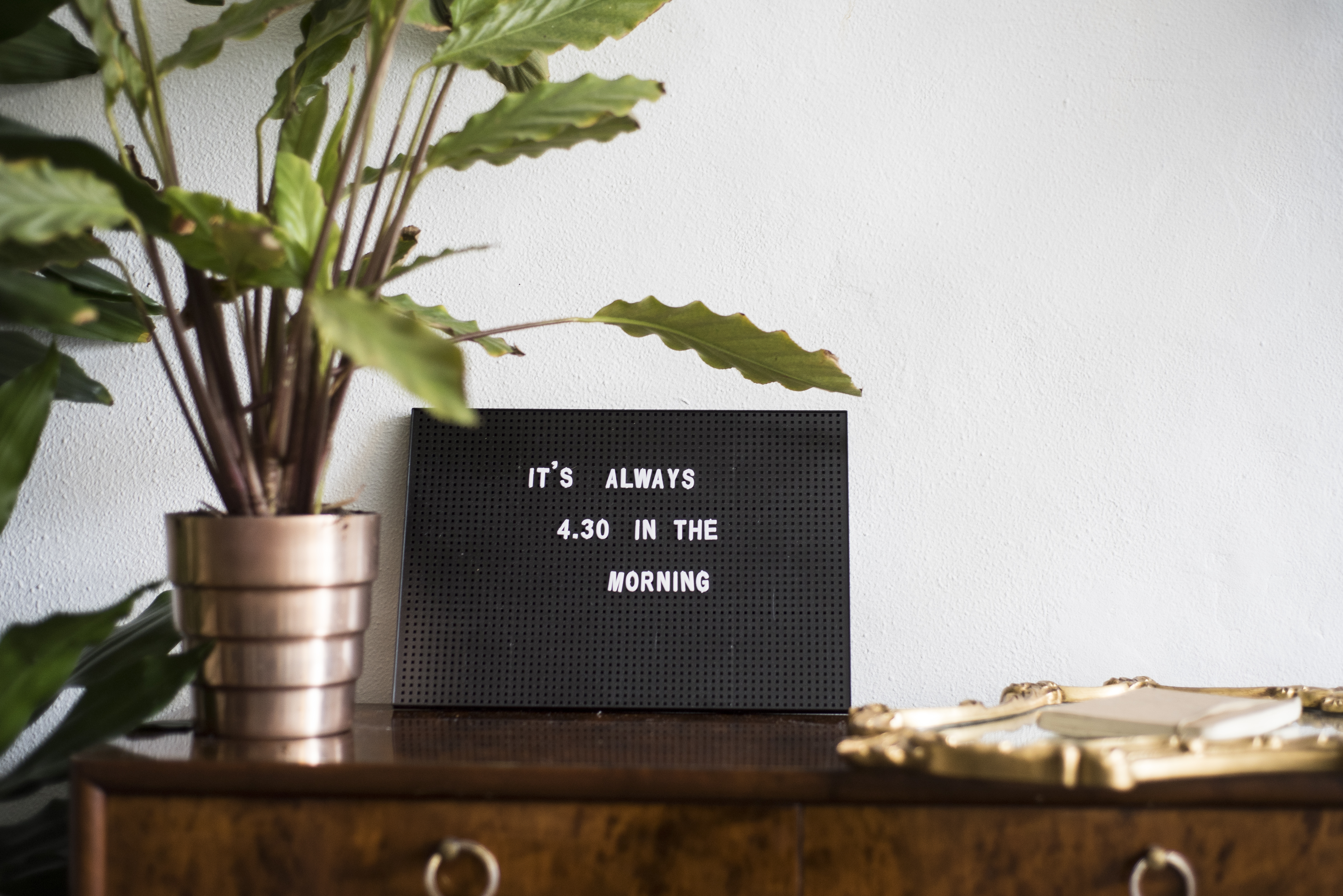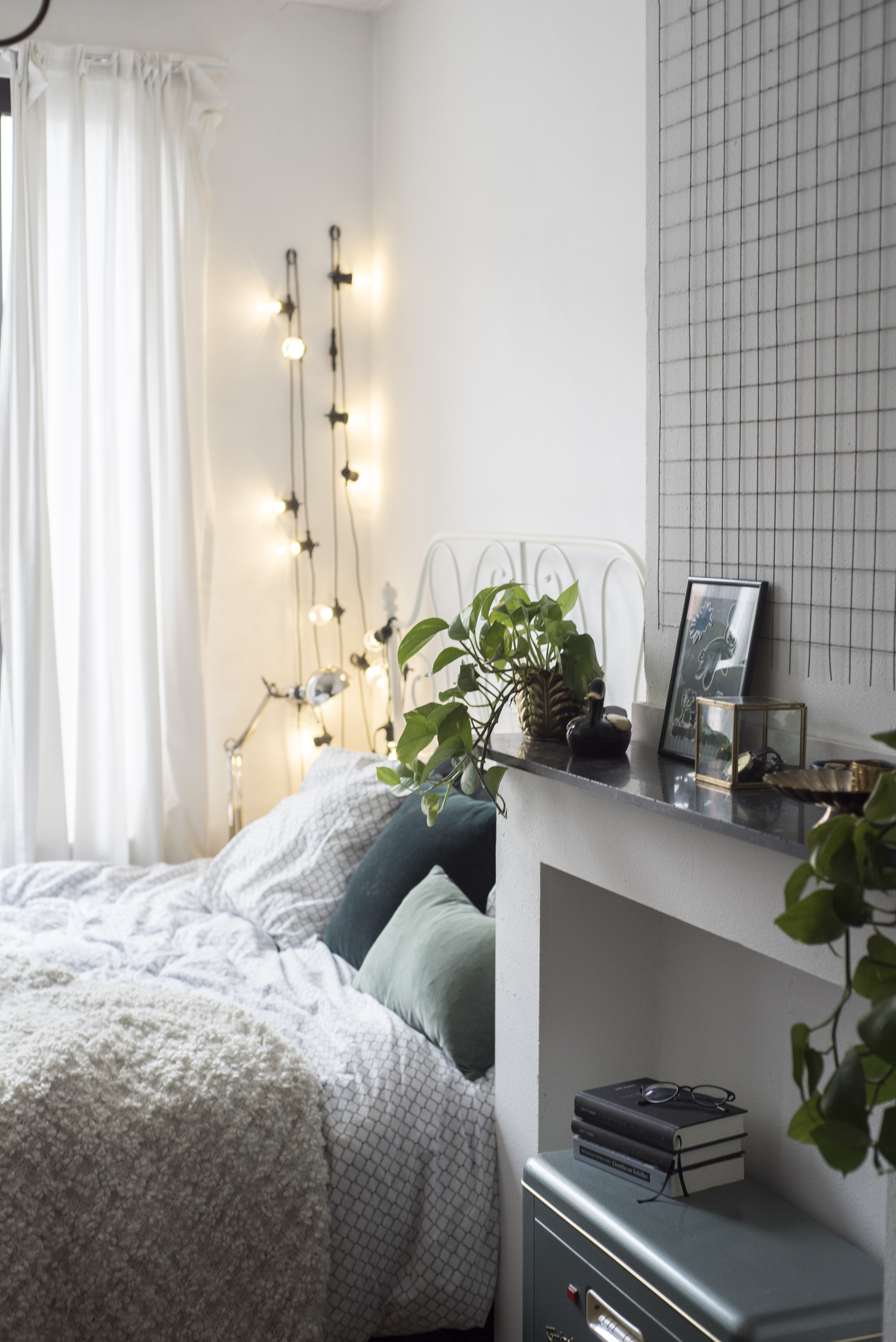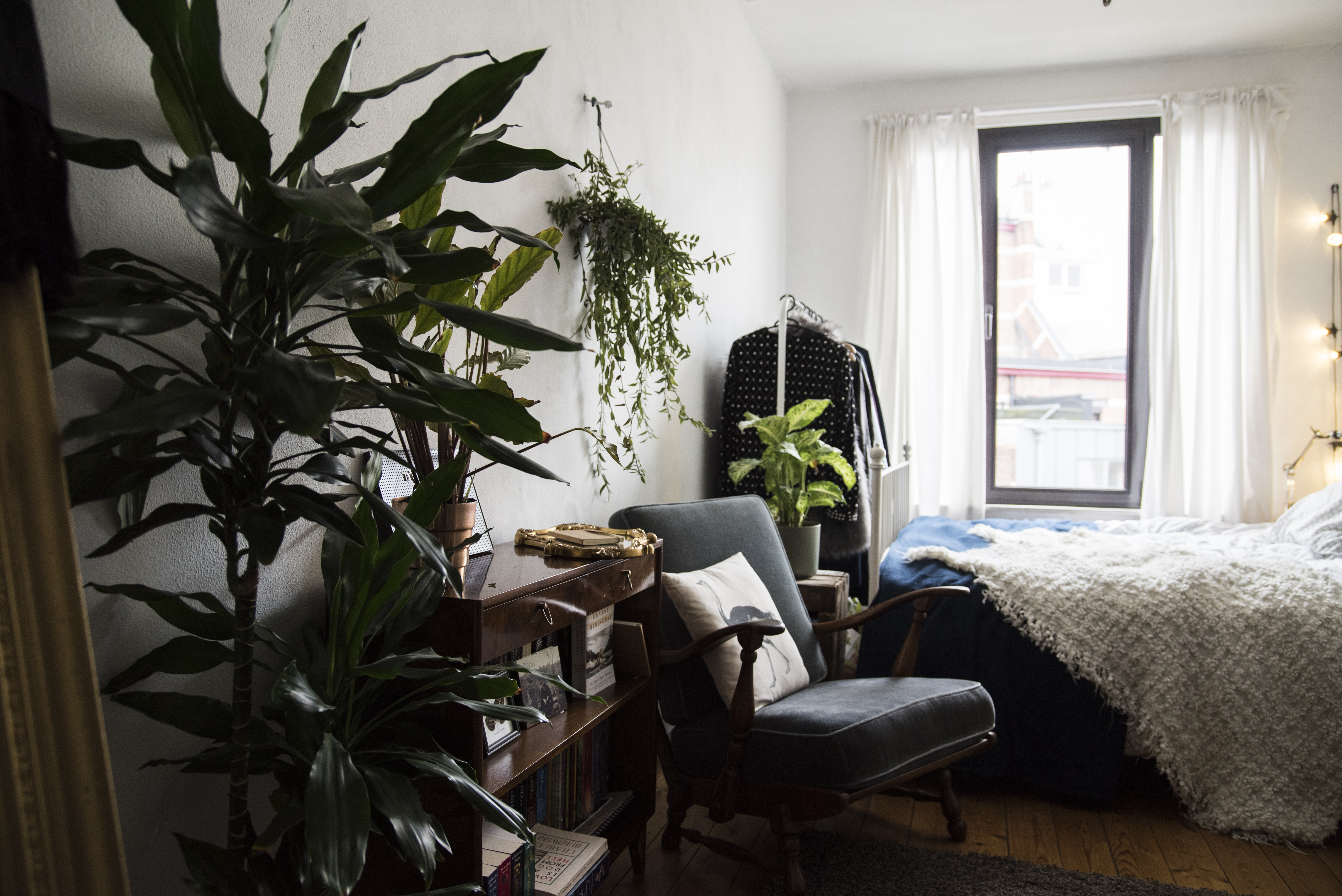 Et voilà, that was the full tour of our Antwerp apartment! I hope that you enjoyed it and that you might be inspired by our interior 🙂 Let me know what you think about it!
If you can't get enough, find more photos and details over at No Glitter No Glory! Thank you so much for the great photos, Patricia.