Writing about lovely, warm past travels is so much easier when it's boiling outside! So after a few outfit posts (find them here, here and here) it's finally time for my full Cyprus travel diary including my recommendations on where to stay, eat and relax. Grab a cup of something because it's a long one!
I was invited to discover the Greek island by Eliza Was Here, a travel organization that is way more personal than anything you've ever booked with. Where everyone else goes left, Eliza goes right. That basically that means that this is the place to be when you're looking for unique, local spots far away from mass tourism! When you book a holiday with Eliza Was Here, the vacay includes your flight, accommodation and your own rental car.
DAY 1
On Monday morning Lisa and I took a 4,5h flight from Brussels to Larnaca, one of the two important airports on the island. Upon arrival we collected our rental car and were faced with something pretty new to us: driving left! You can tell that the 30min ride from the airport to our accommodation was pretty hilarious. You see, the direction indicators and the windscreen wipers are the other way around as well…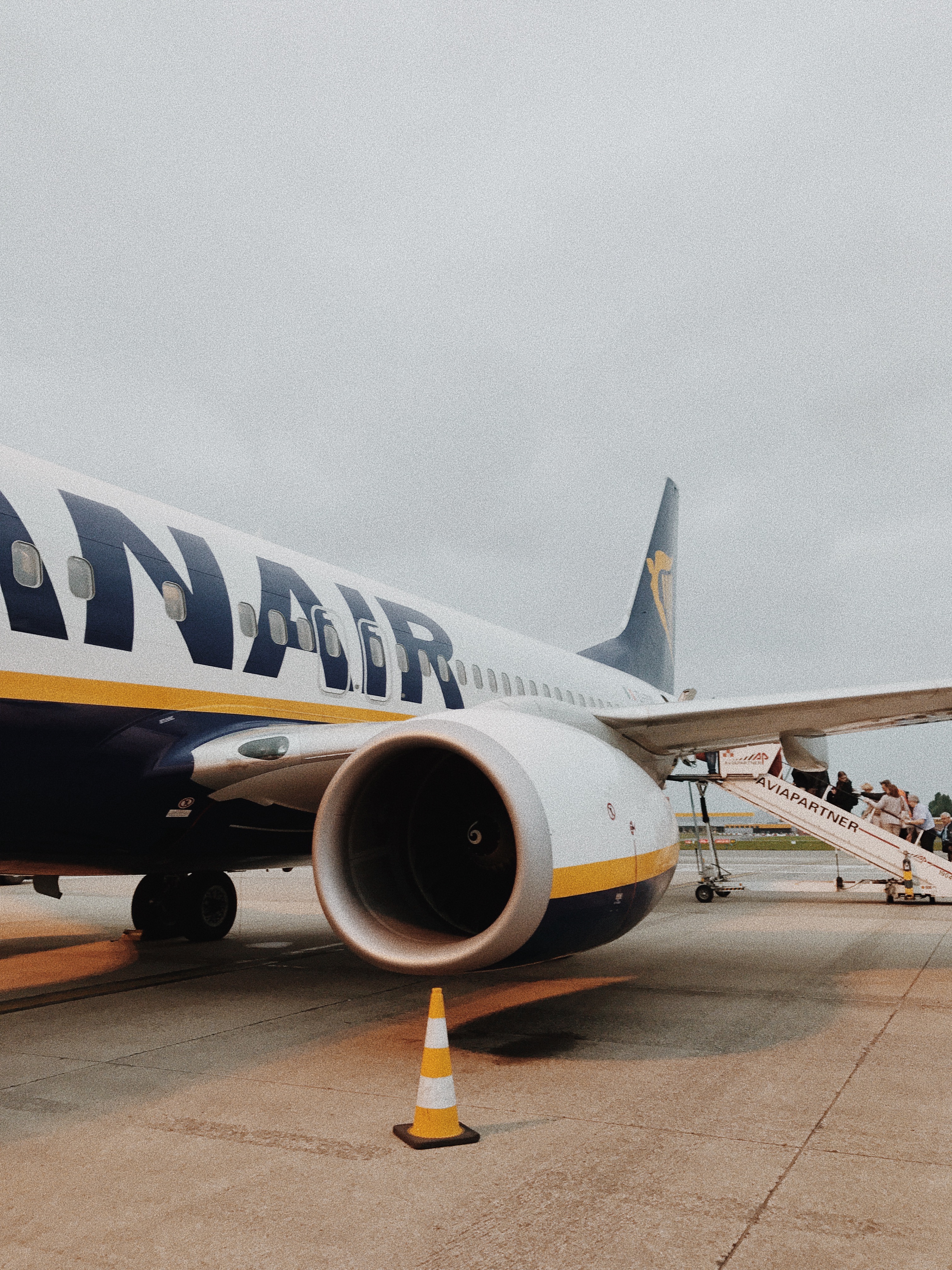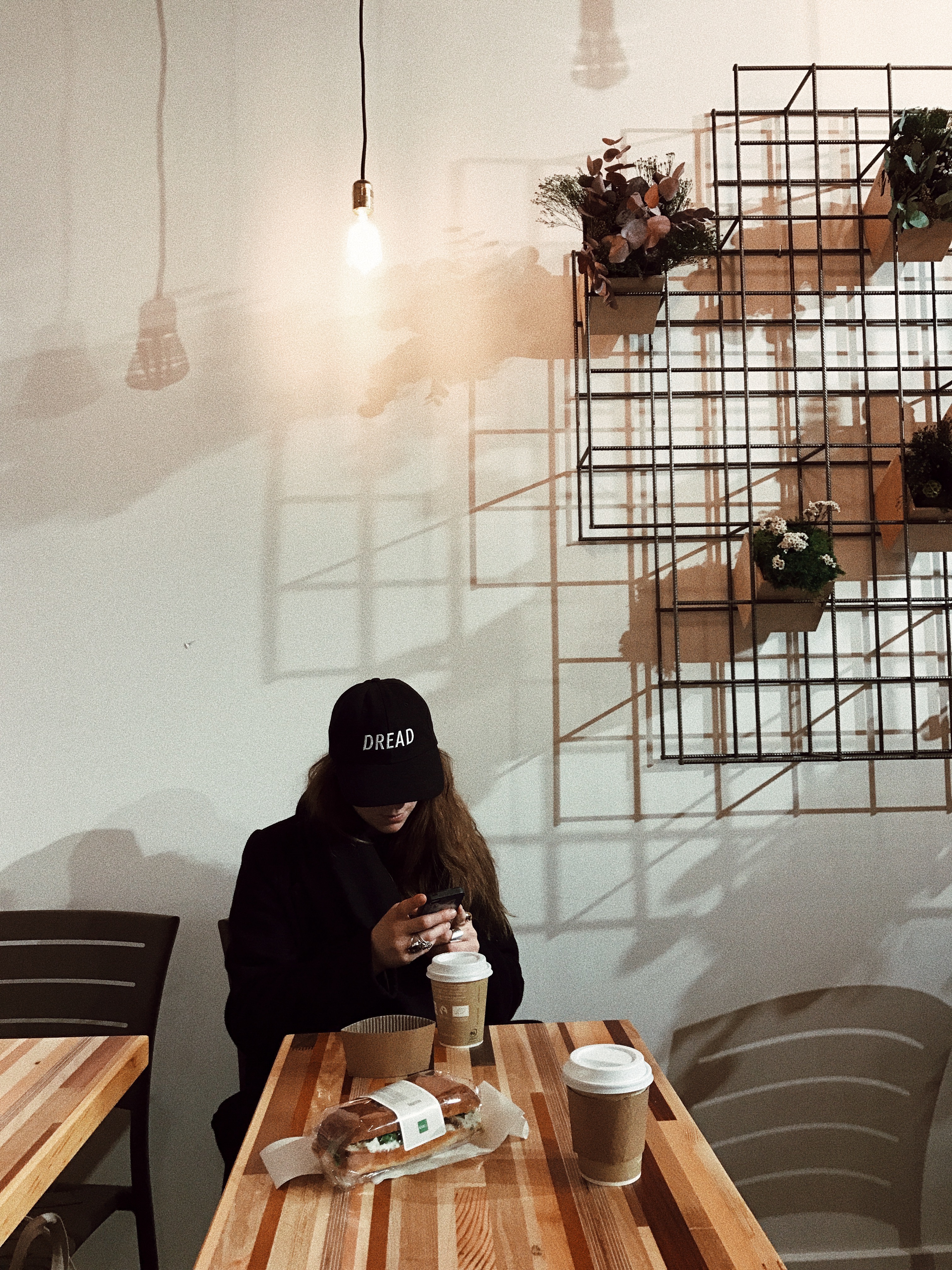 First impressions of those cute tiny villages: check!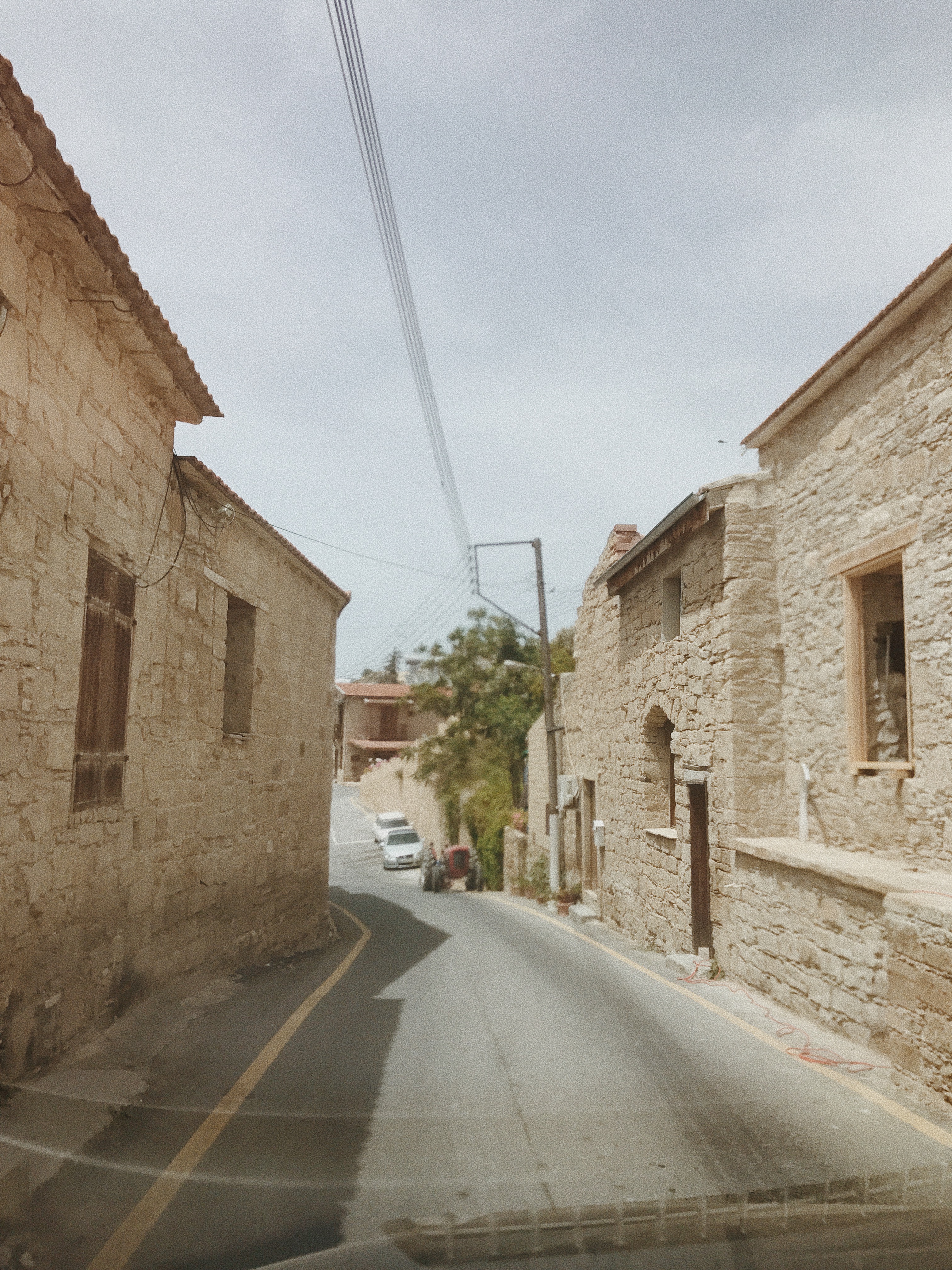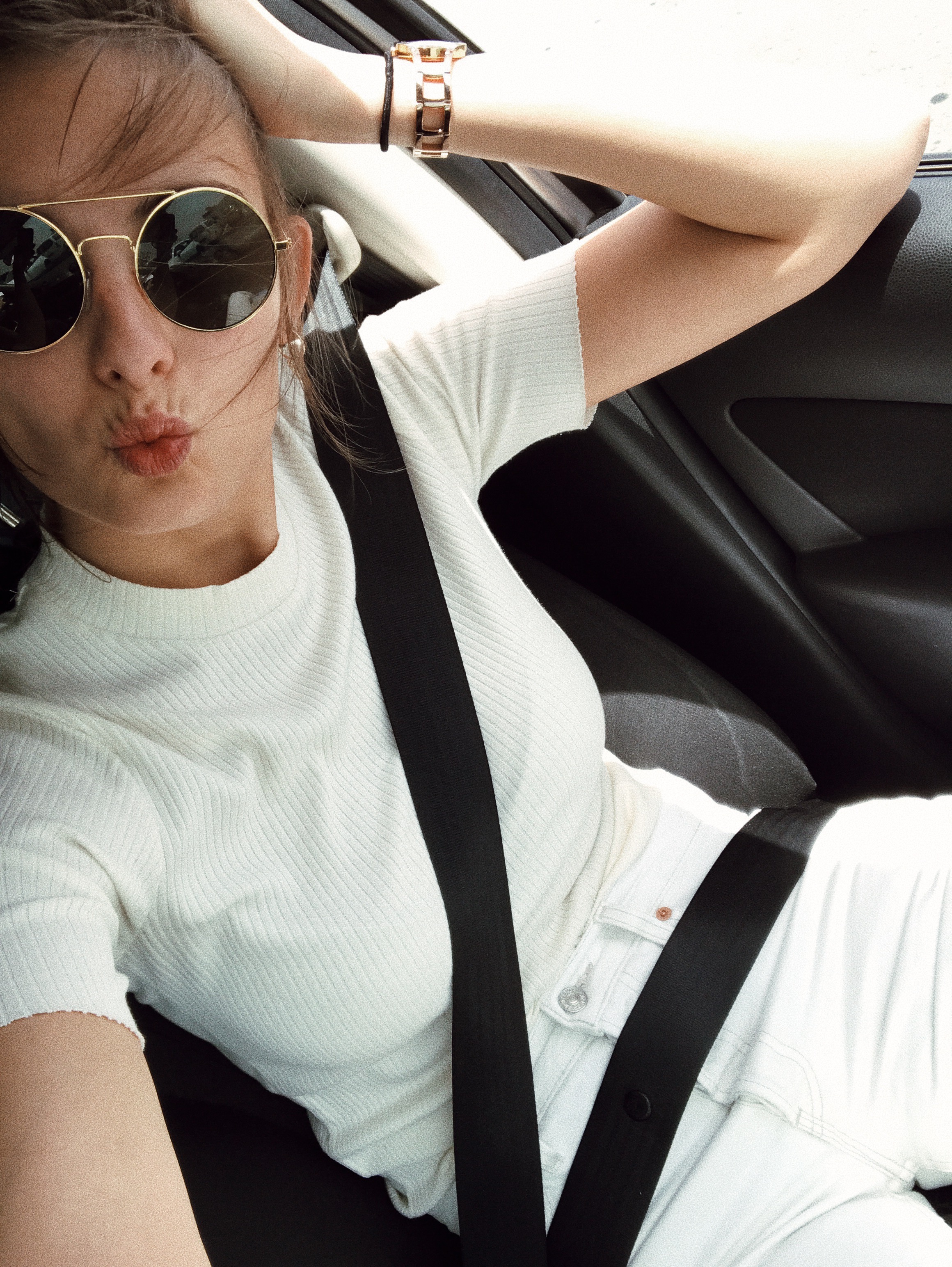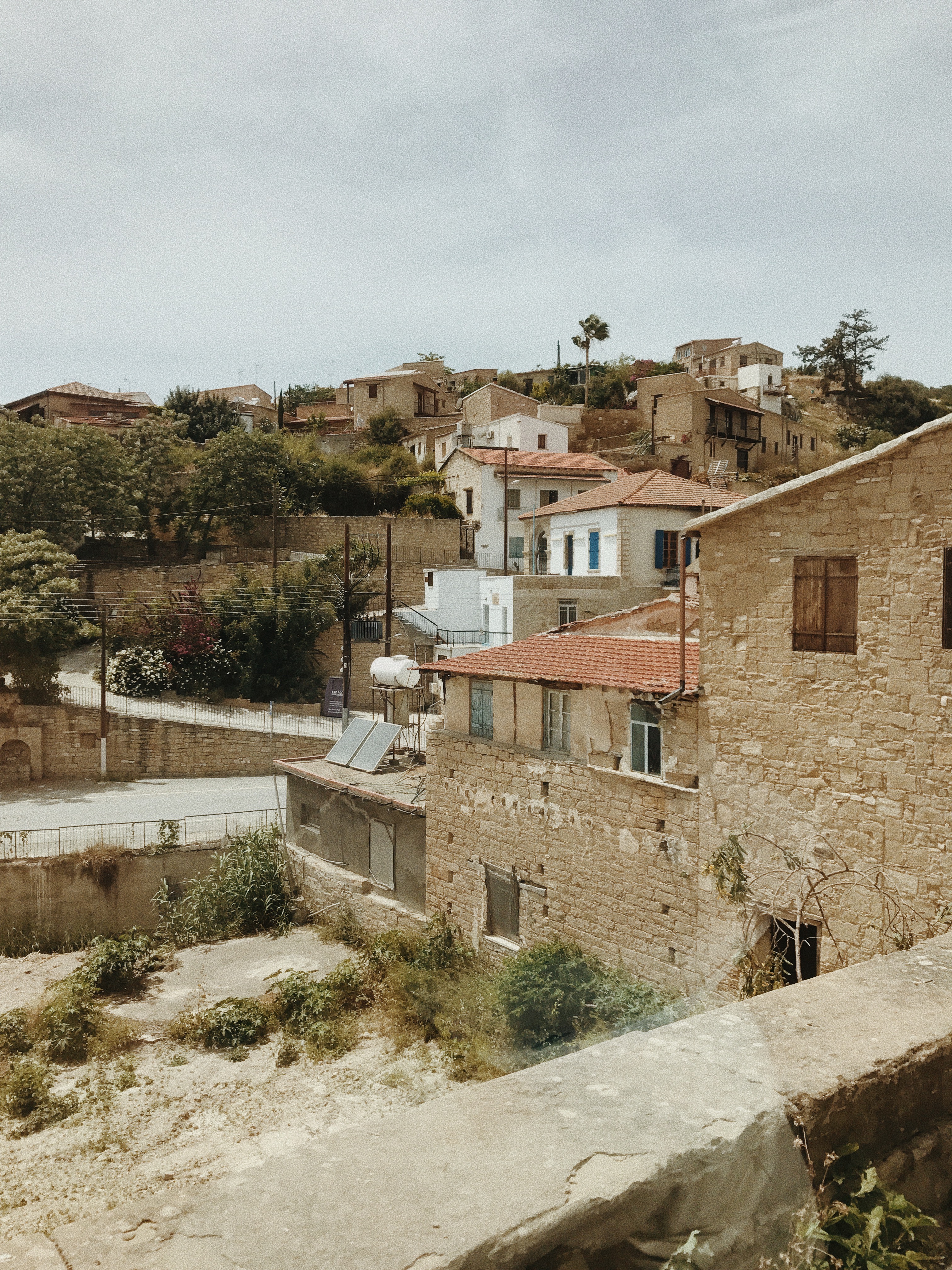 Hello Tochni! The tiny traditional village we stayed at is known as "heaven on earth for artists." The name Tochni even derives from the Greek word "techni", meaning art. We were welcomed by Klea and Andreas at the Eveleos Country House, which is a traditional accommodation with several studios and apartments. The rooms with terraces are cozily decorated and from the pool you have a beautiful view on the picturesque hills. A winner!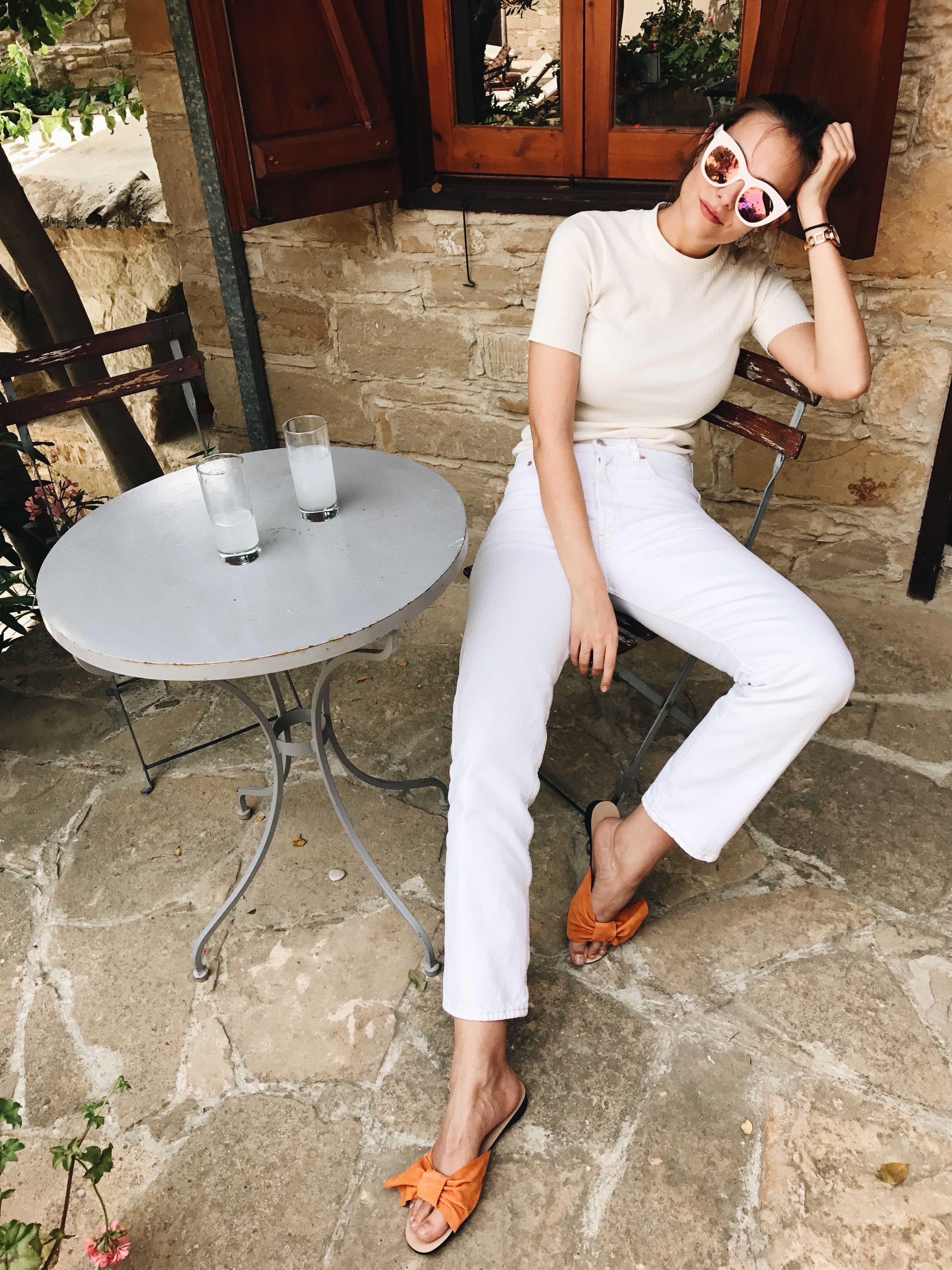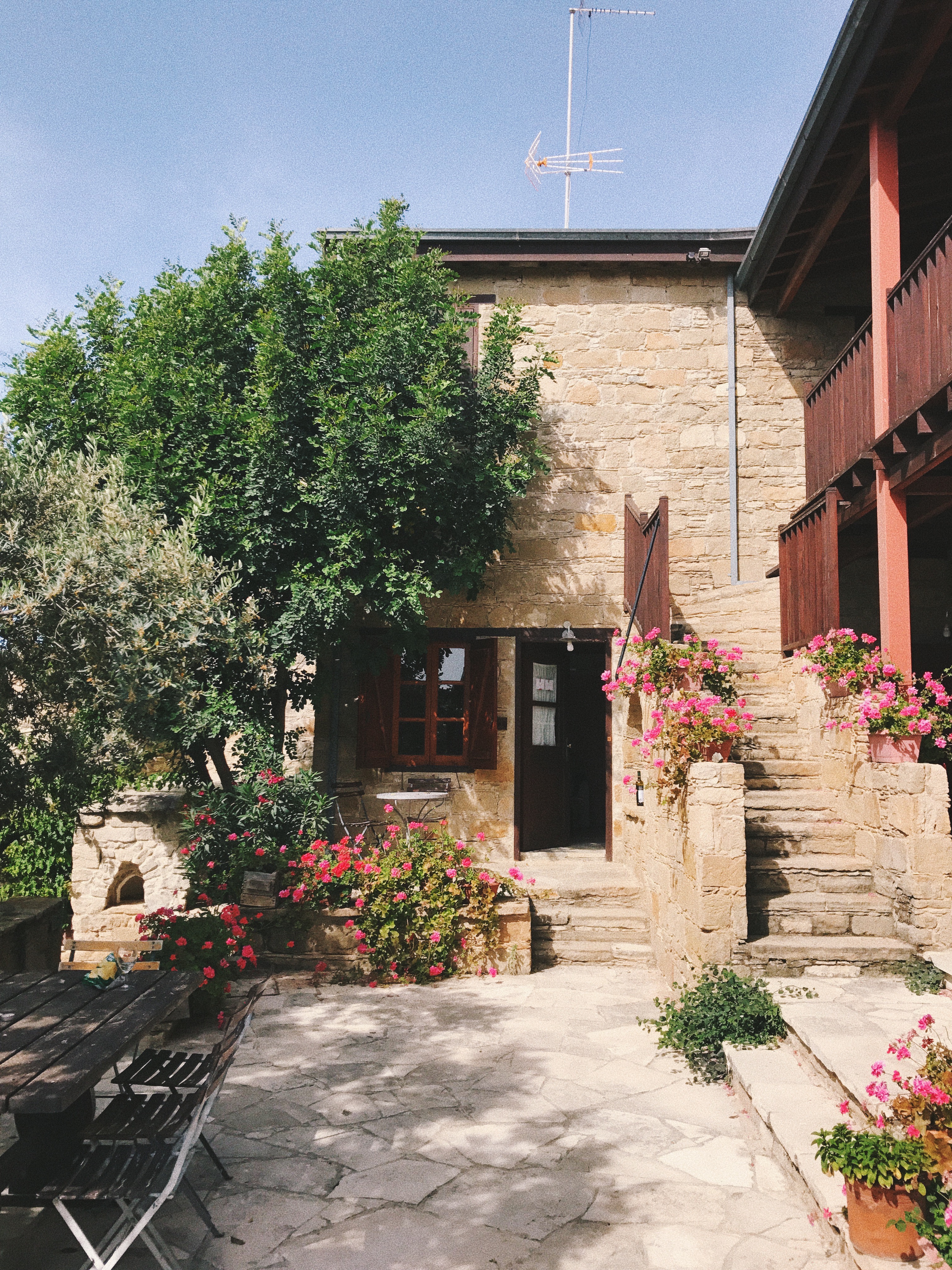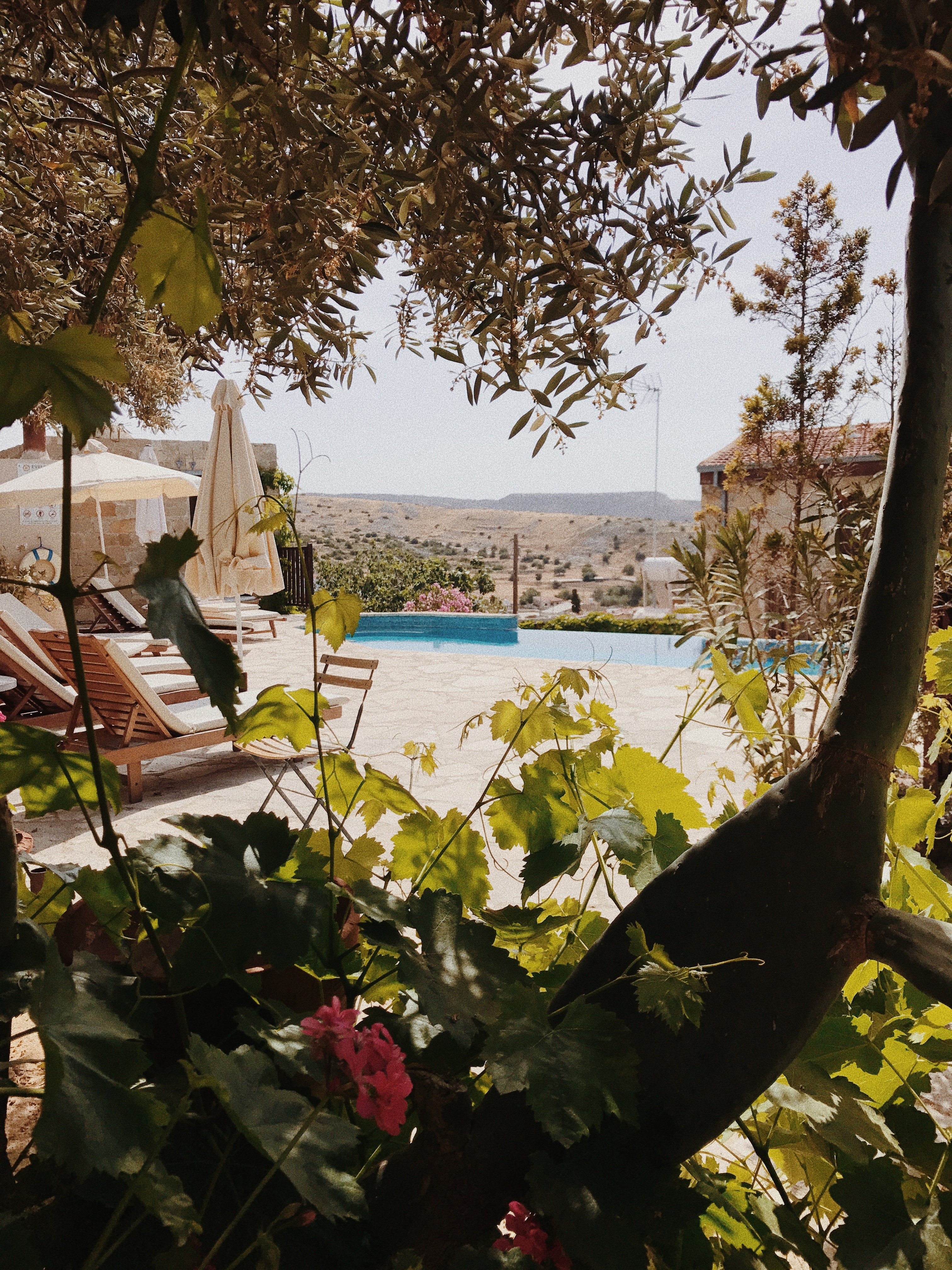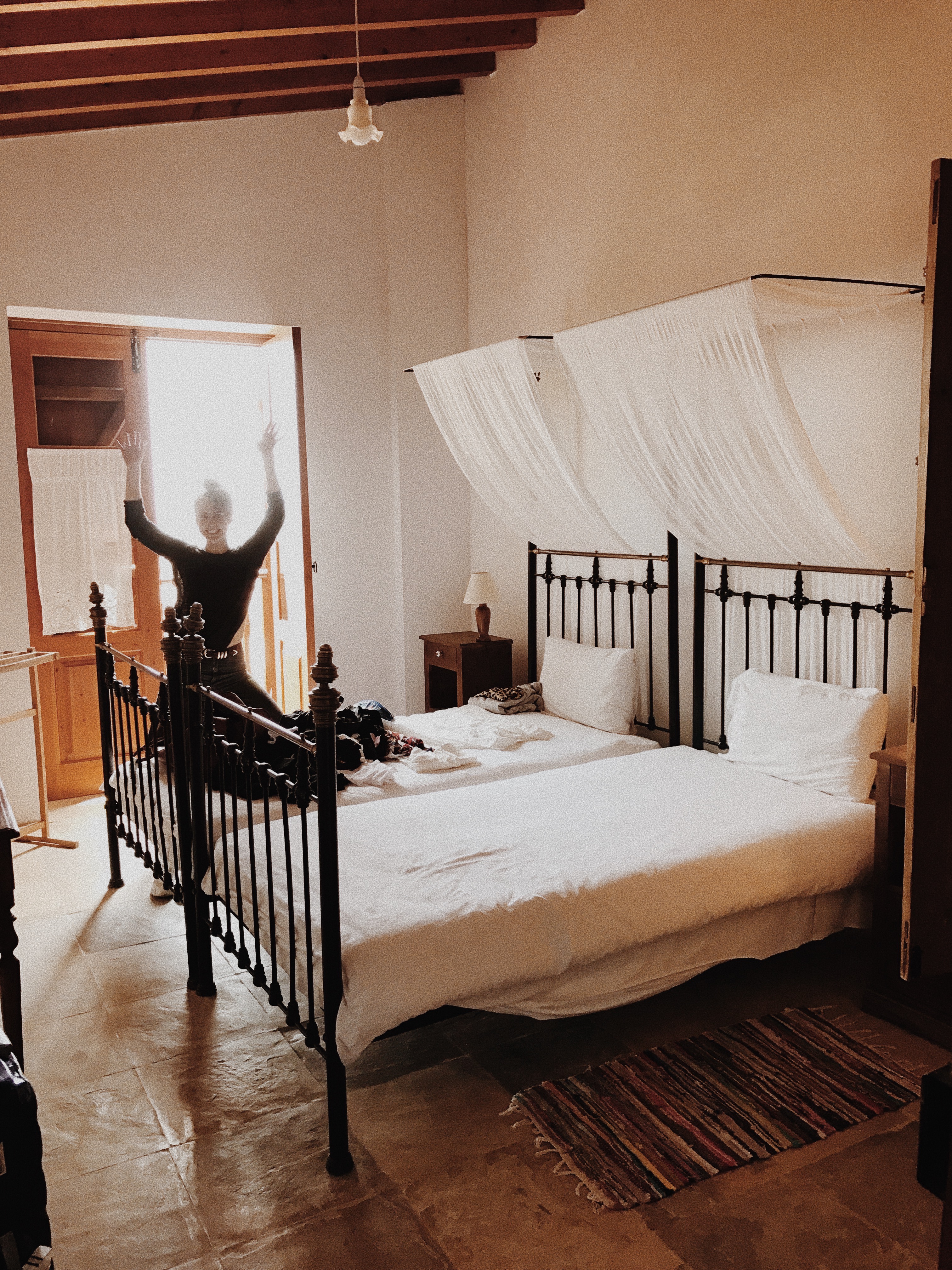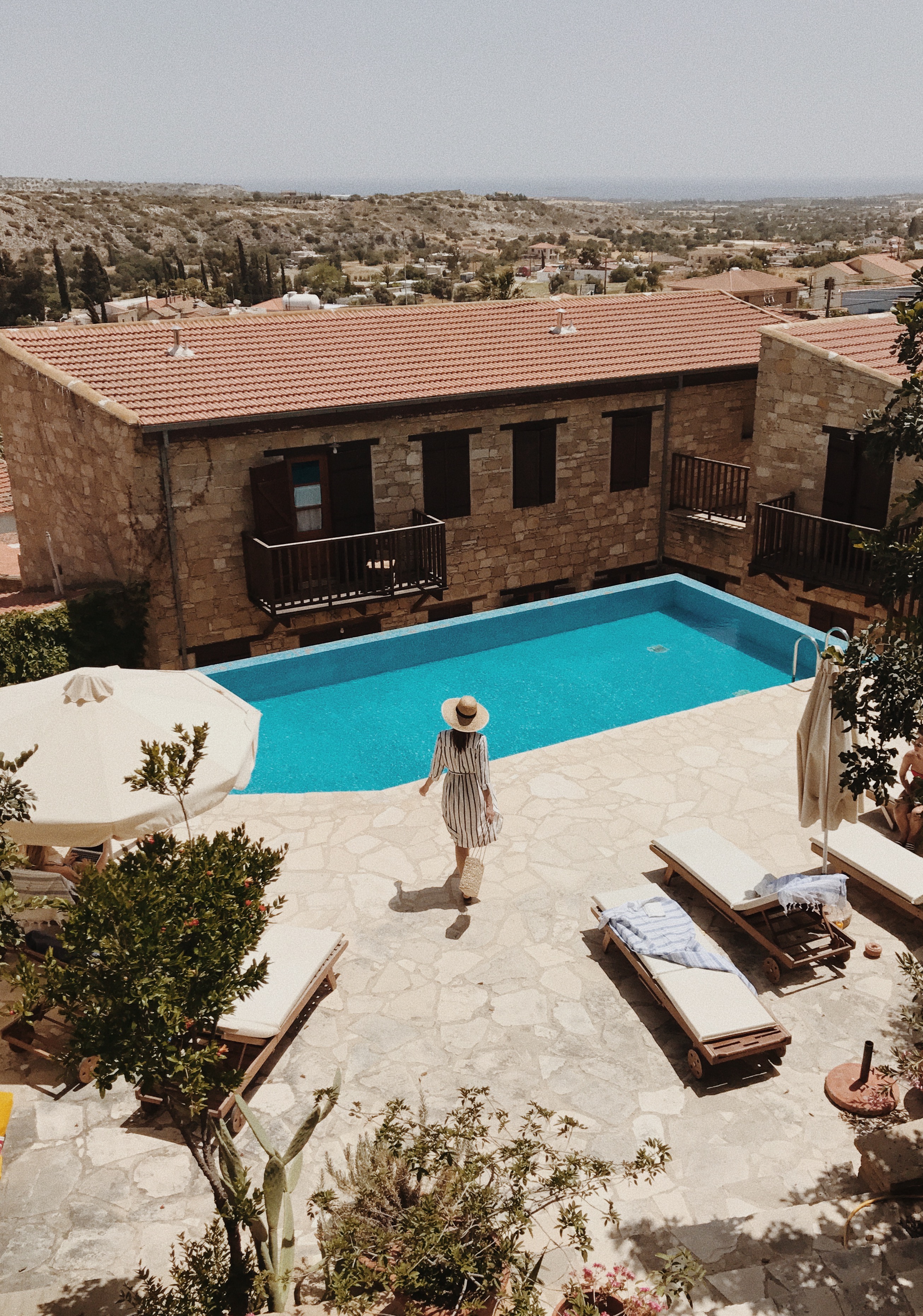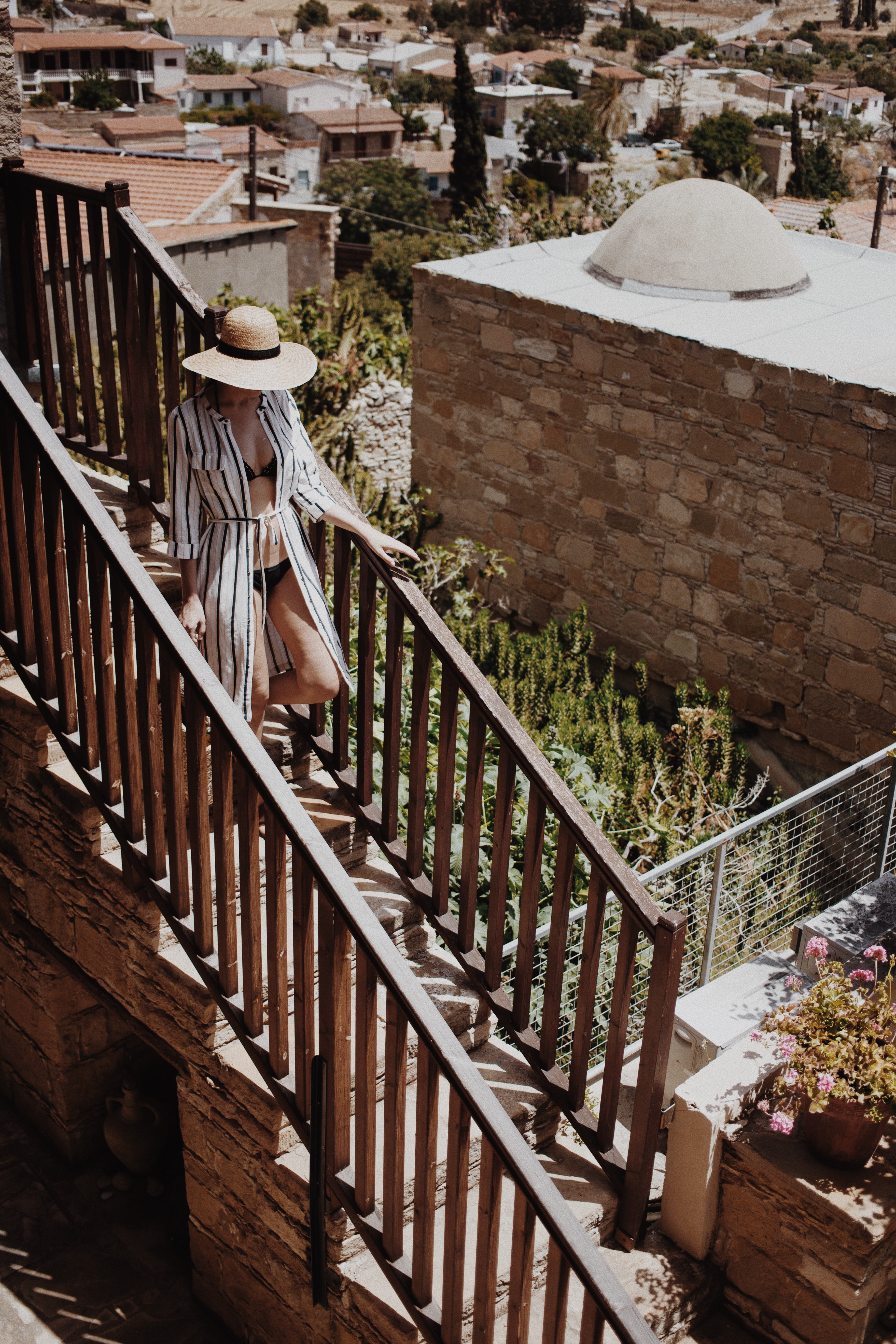 Lisa and I arrived late in the afternoon so we didn't have much time left to explore the island on our first day. We did go for wine tasting (see my post and outfit here!) and discovered the tiny village of Tochni in the evening. There's only two places to dine in Tochni, and we opted for a local street barbecue at Tochni Tavern. Fresh and delicious!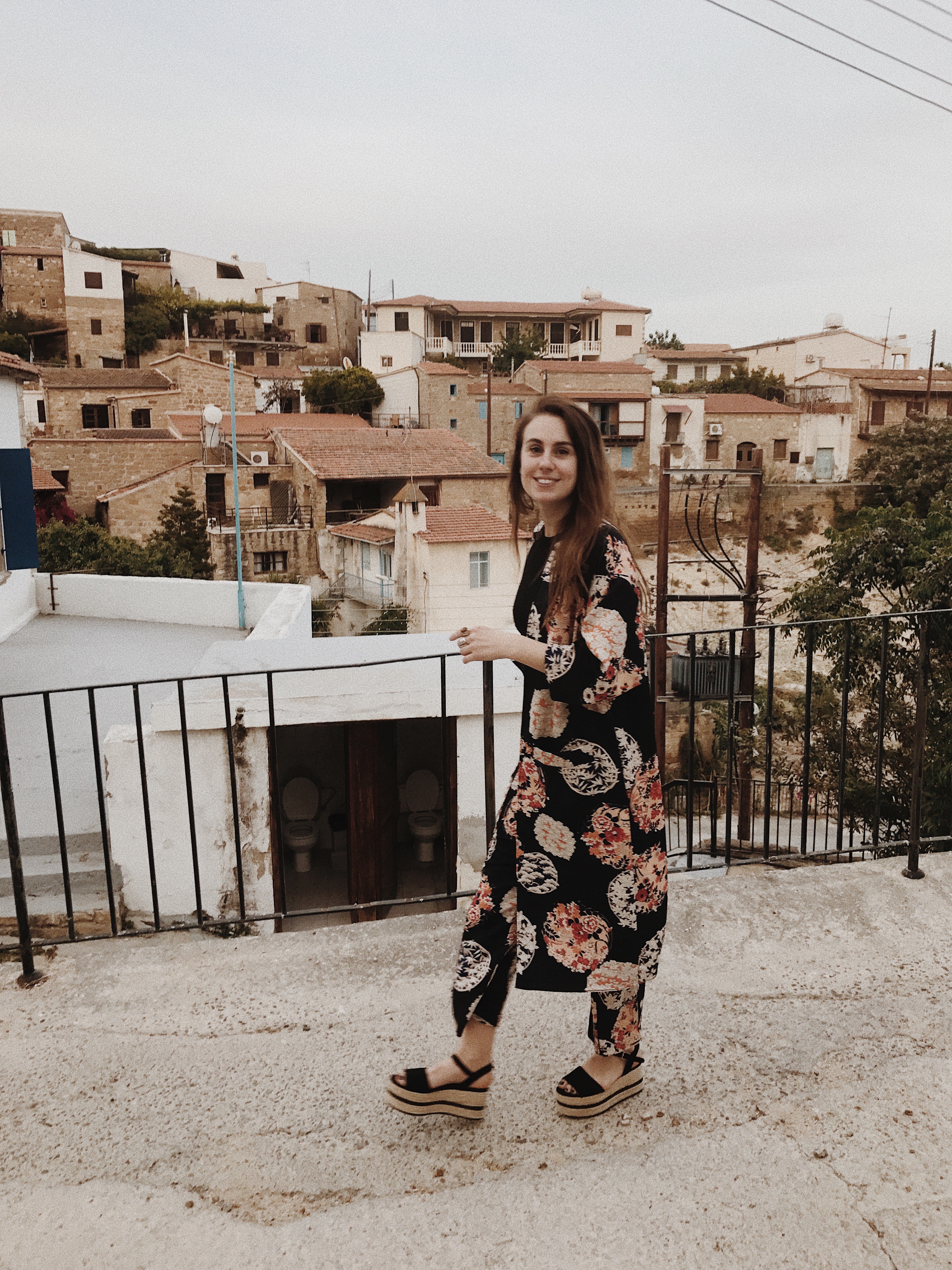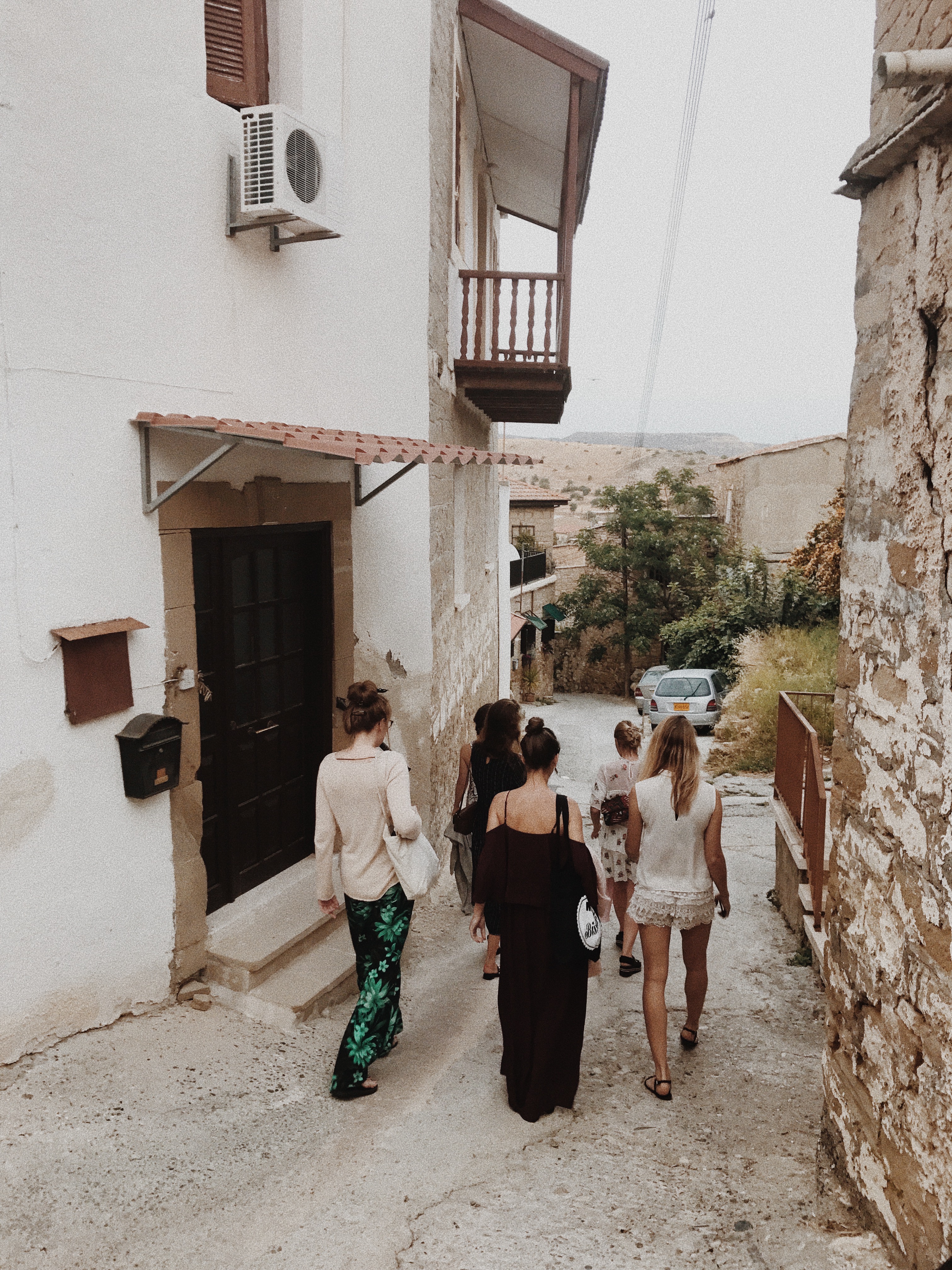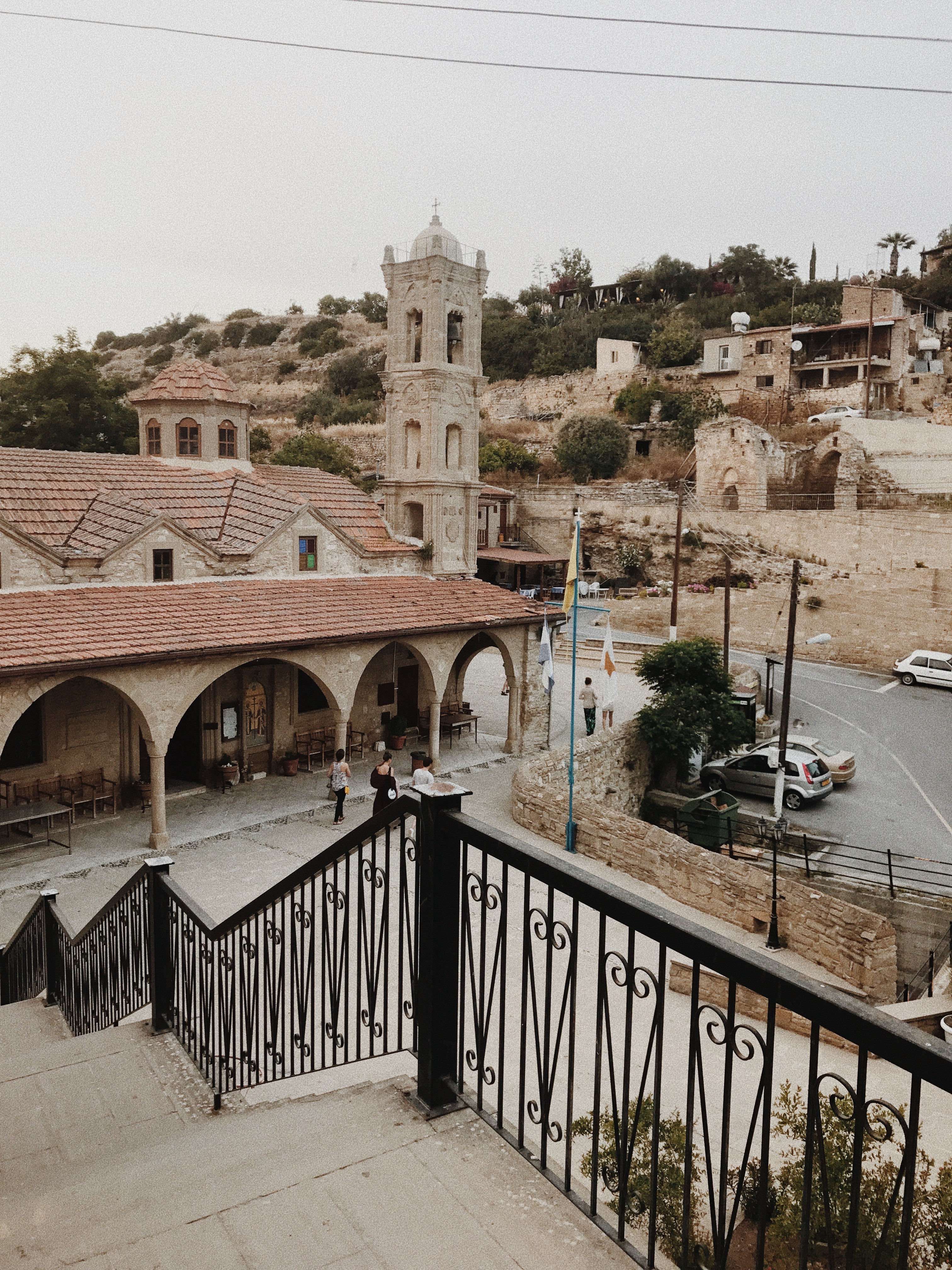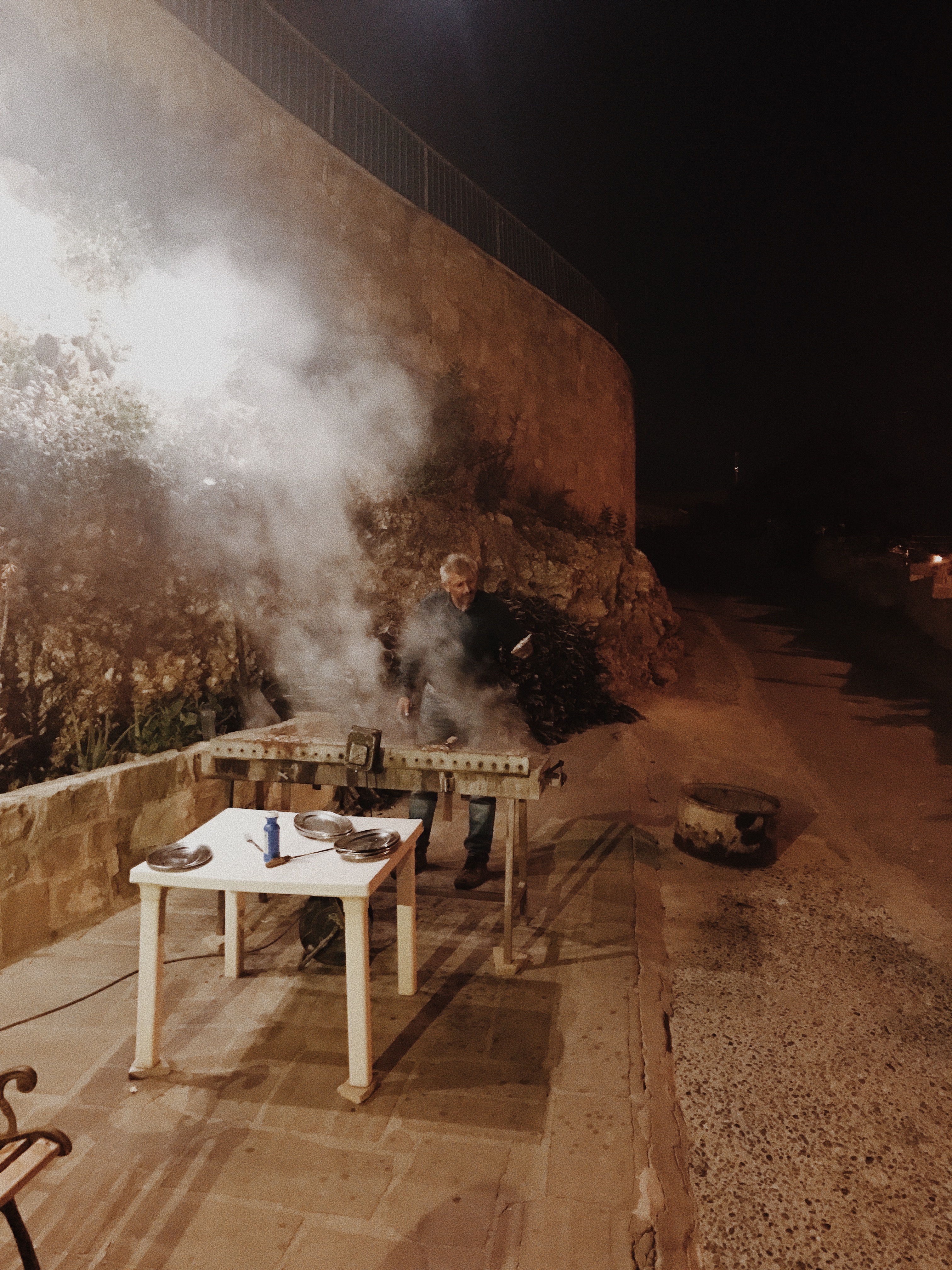 DAY 2
On our second day we got op pretty early since Eliza had arranged us a visit to the village of Omodos. The first challenge was finding our way around the island, which turned out way easier by map than by iPhone or GPS! The oldschool way 🙂 Just roadtripping through the mountains and fields was one of my favourite things of the entire holidays, to be honest.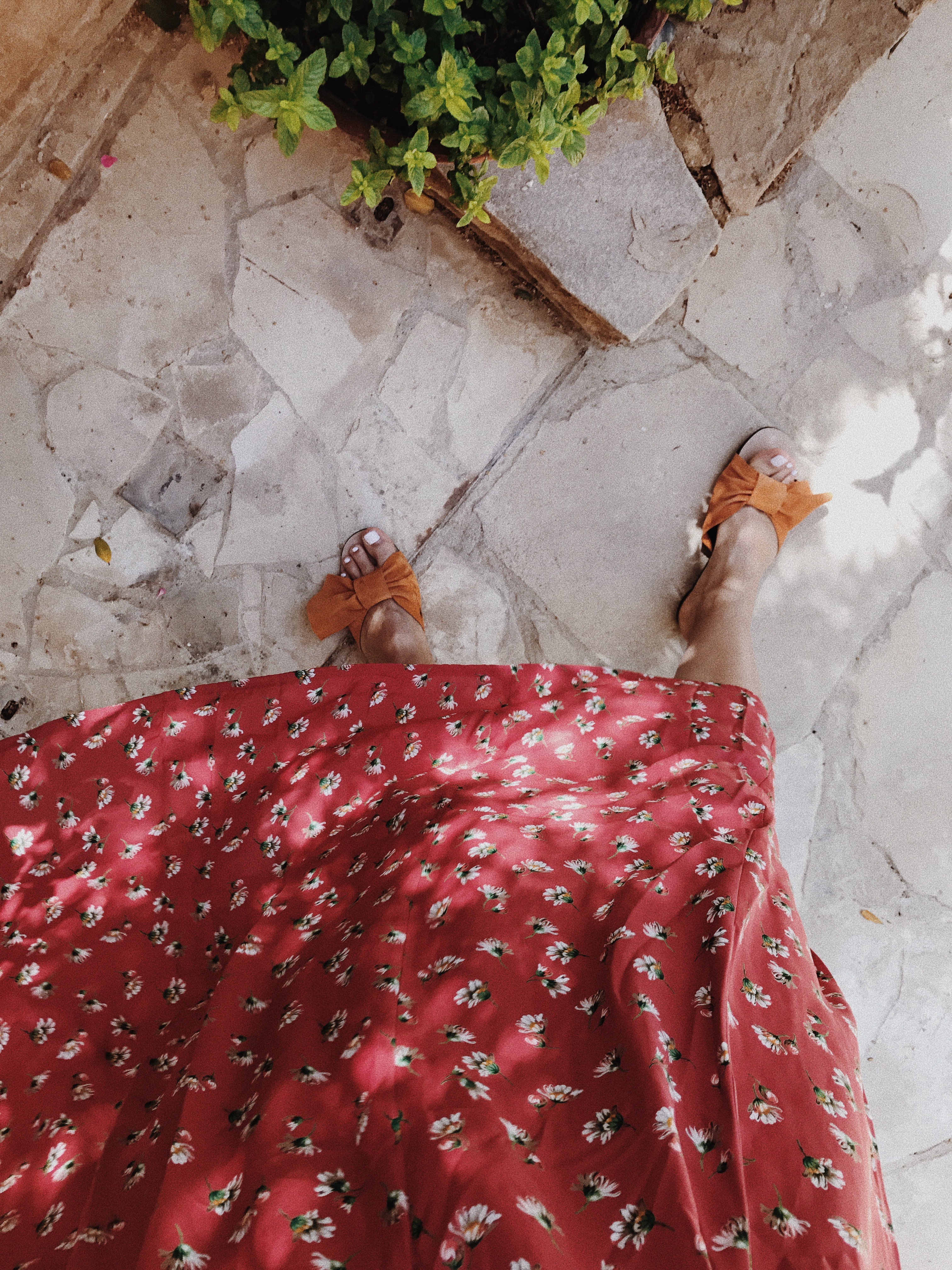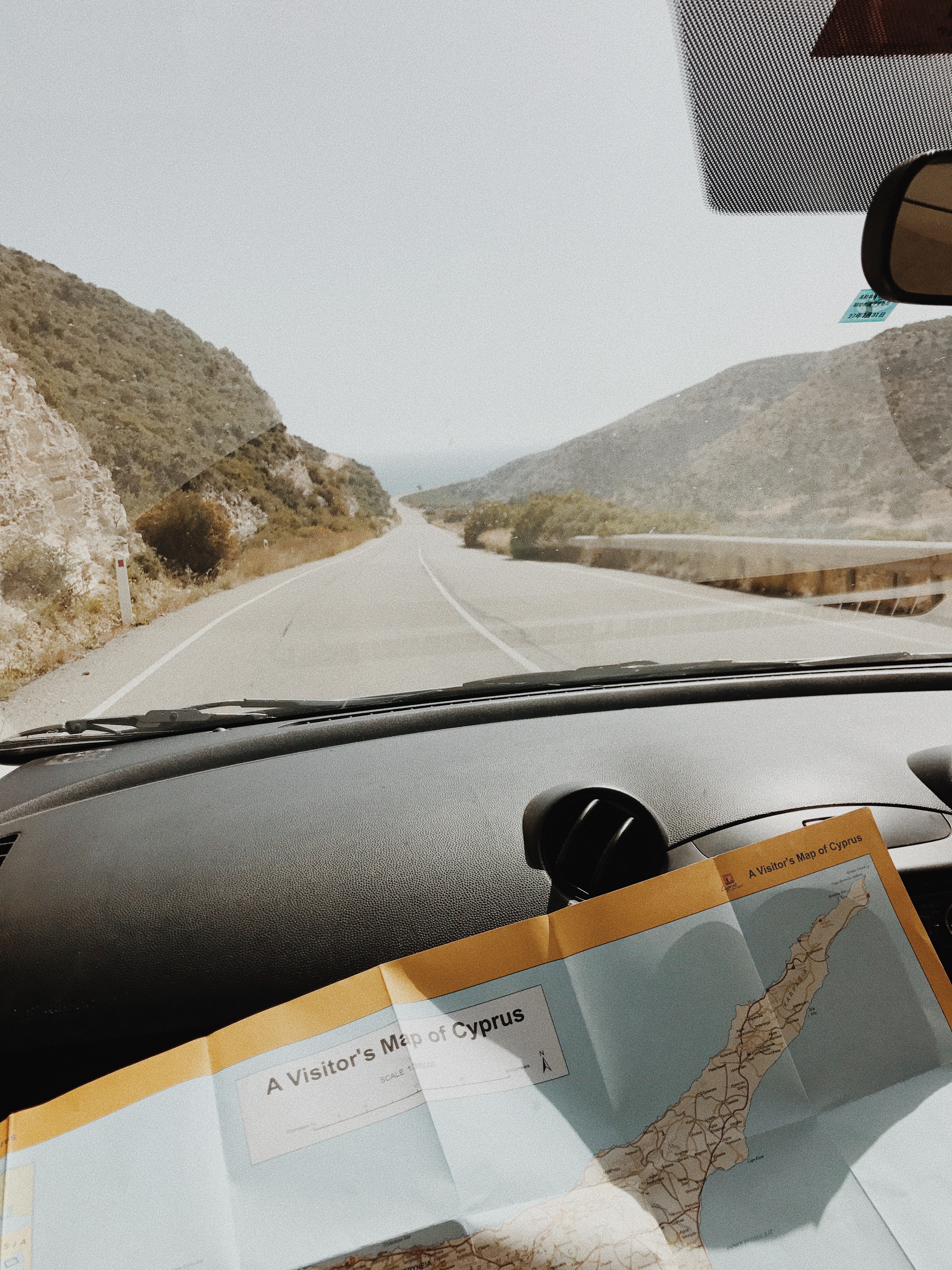 We were welcomed at Katoi, a local restaurant known for its secret family recipes with fresh and local products. The chef revealed some of these secrets on how to make traditional dishes such as koupepia (stuffed vine leafs) before we headed for lunch.
The Cypriot cuisine exists of lots of halloumi, mezze (tiny bites, like tapas), kebab, lots of small dips with flatbread and souvlaki. Right up my alley!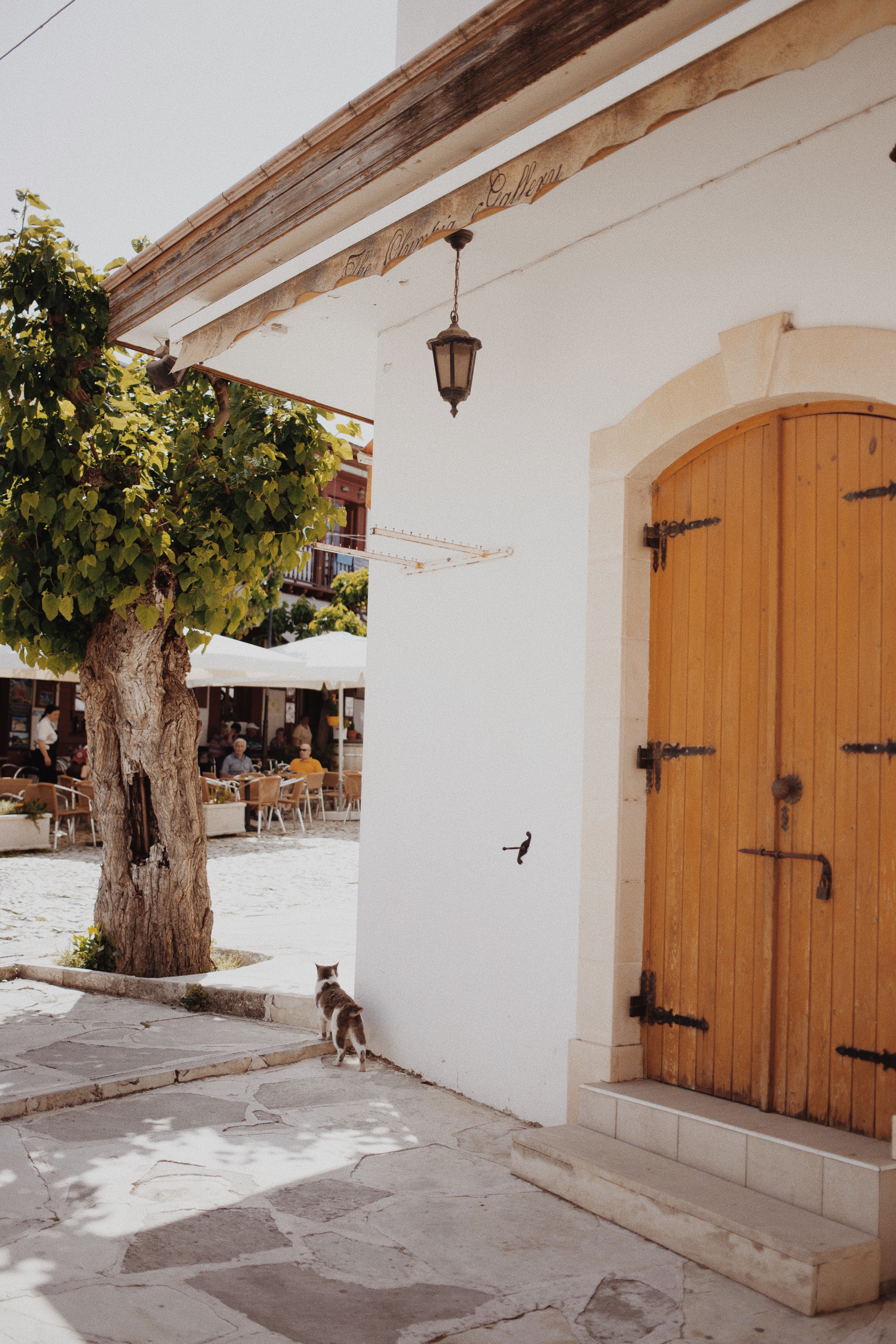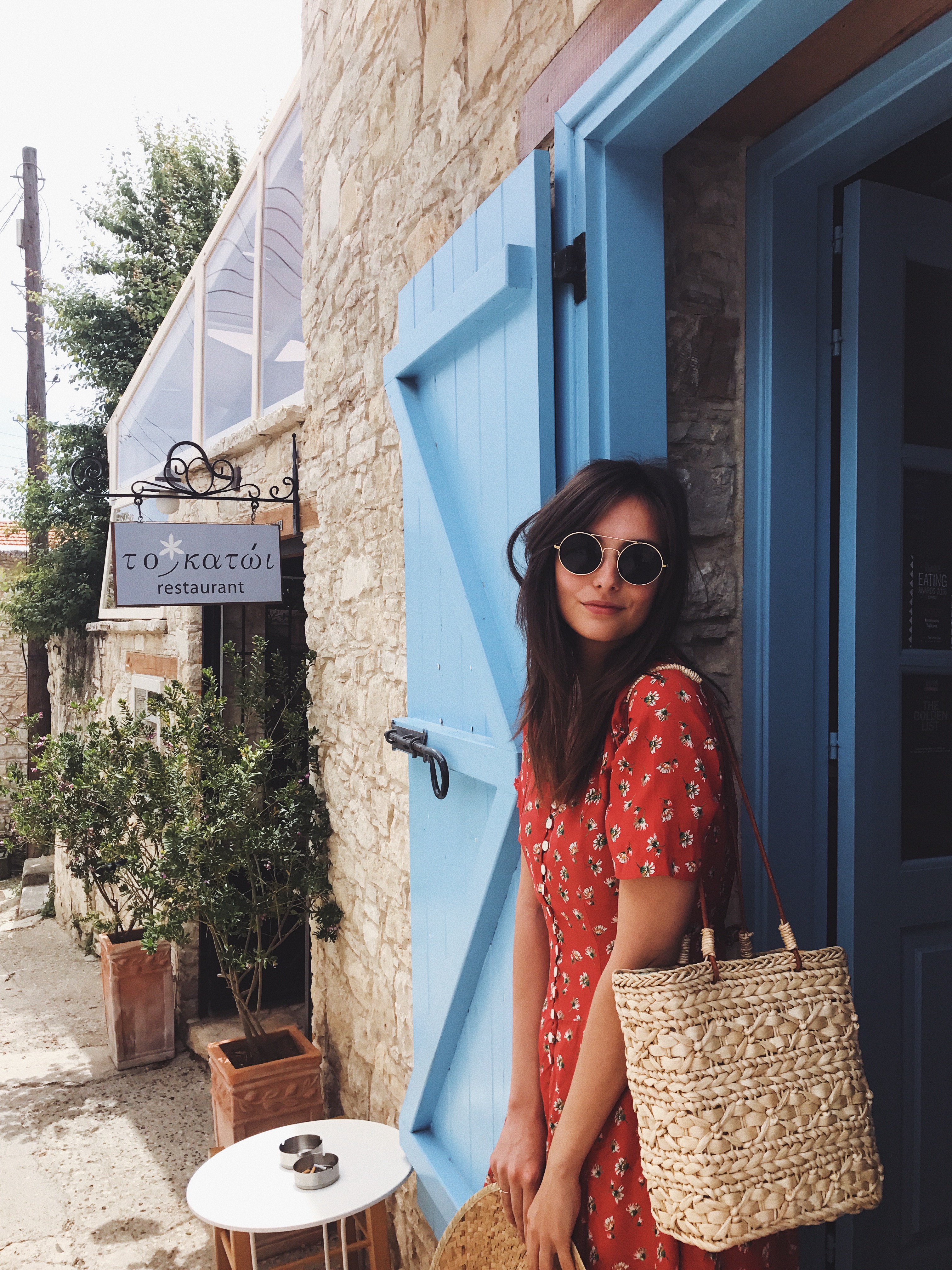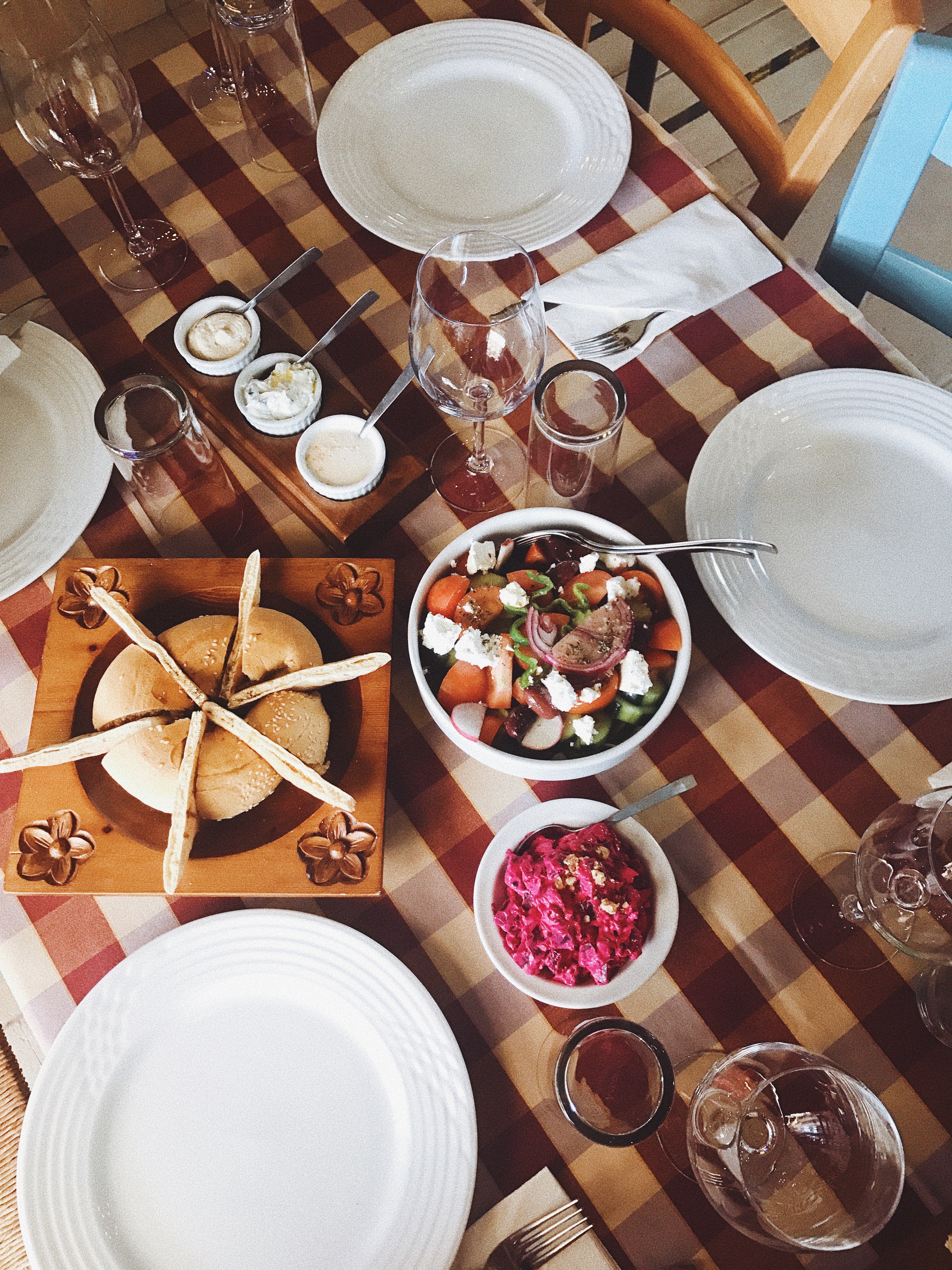 After this HUGE lunch – Cypriots love food, you know – we took some time to discover the village itself. Omodos has these adorable little streets where you can find lots of wine and handcraft, as I told you in this post already. It's one of those places so photo-worthy that your phone storage just cannot handle it. Watch along!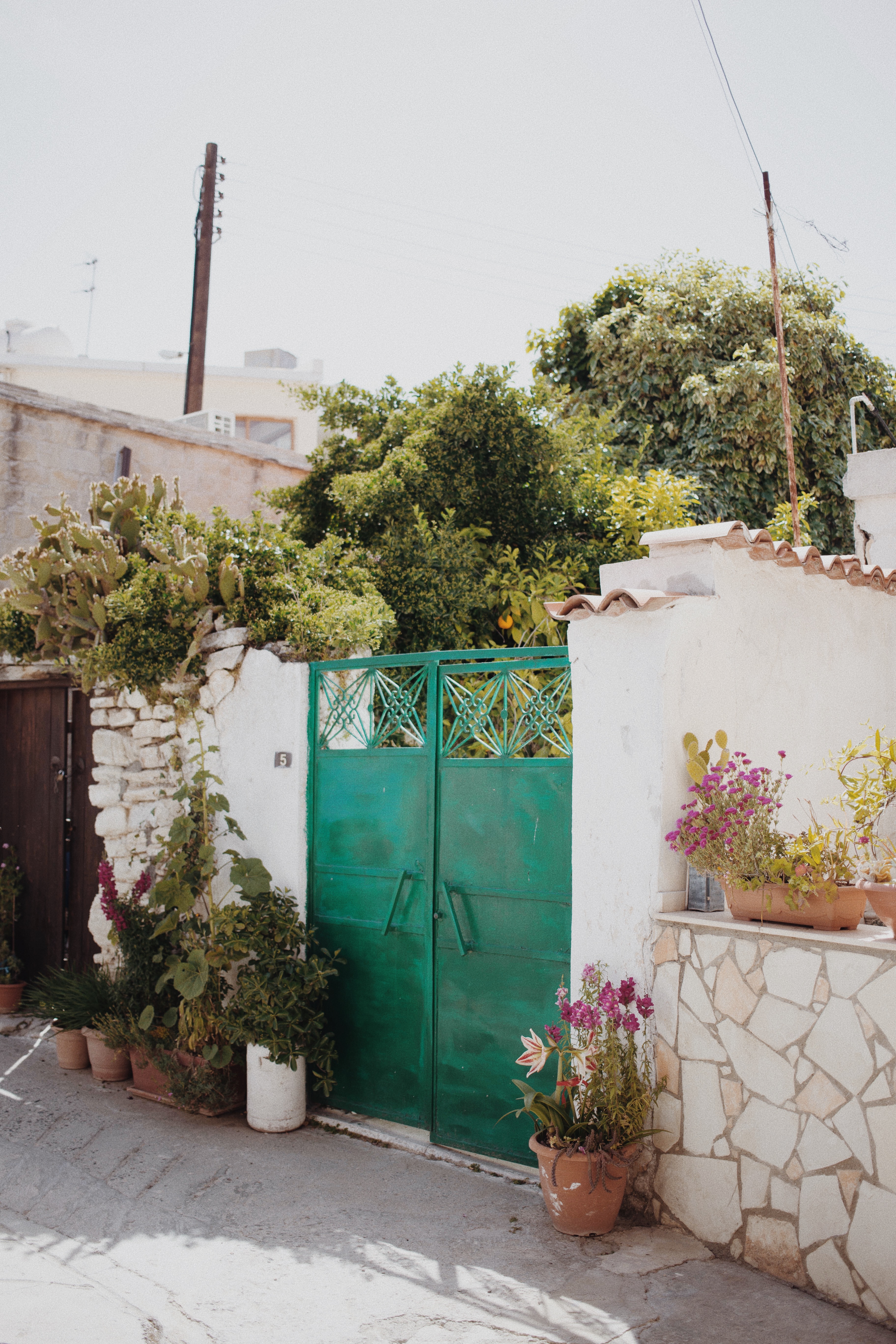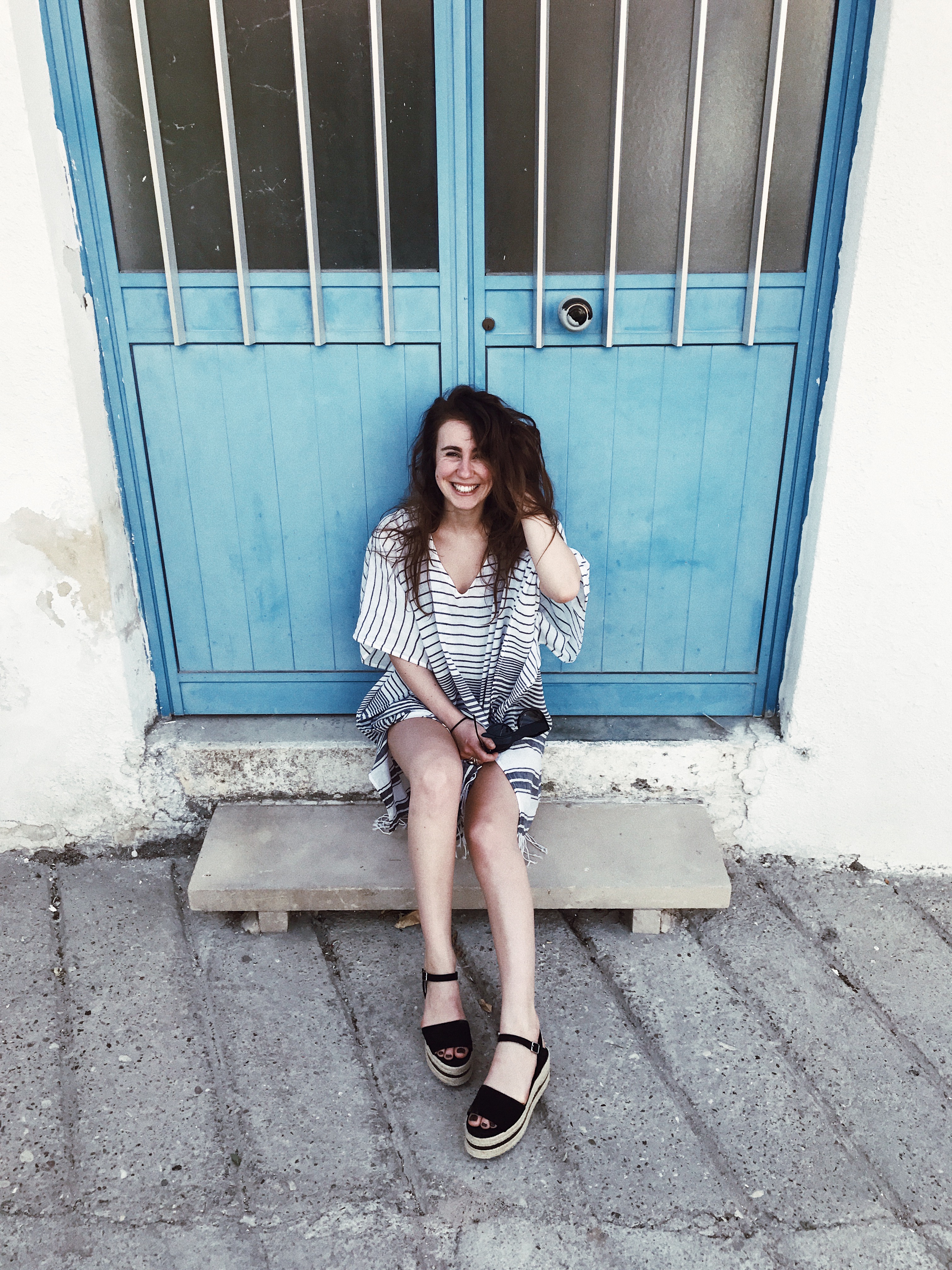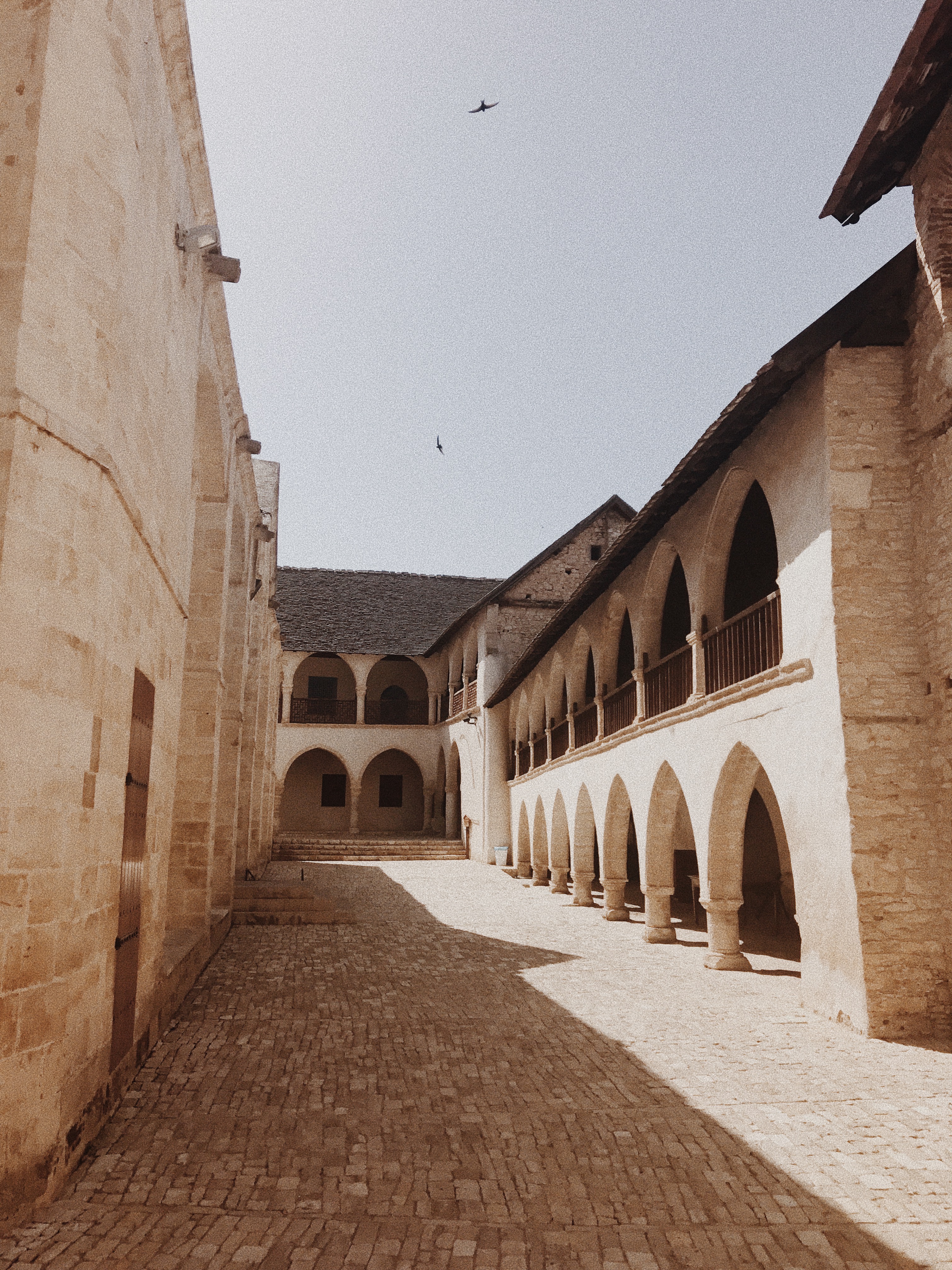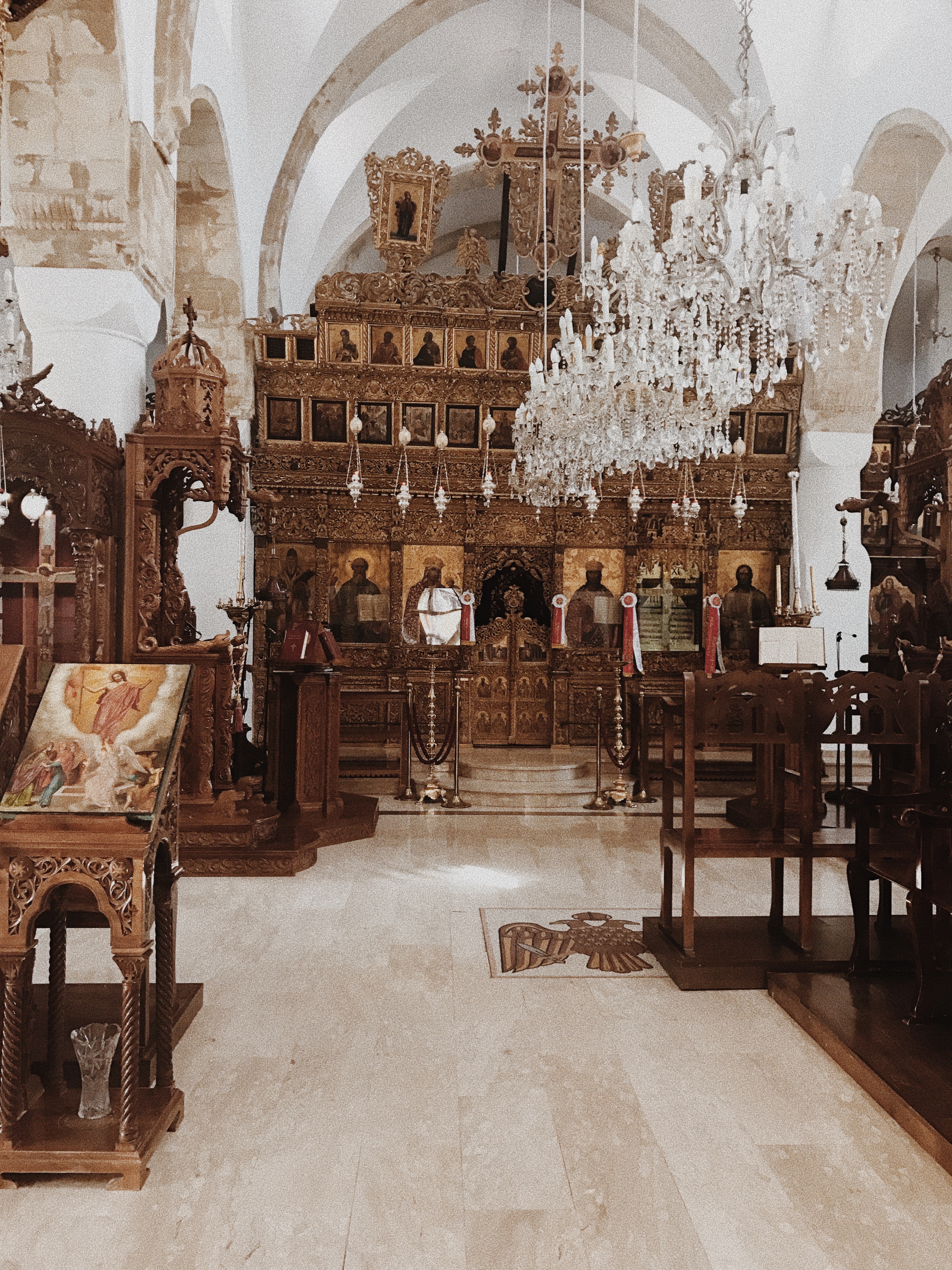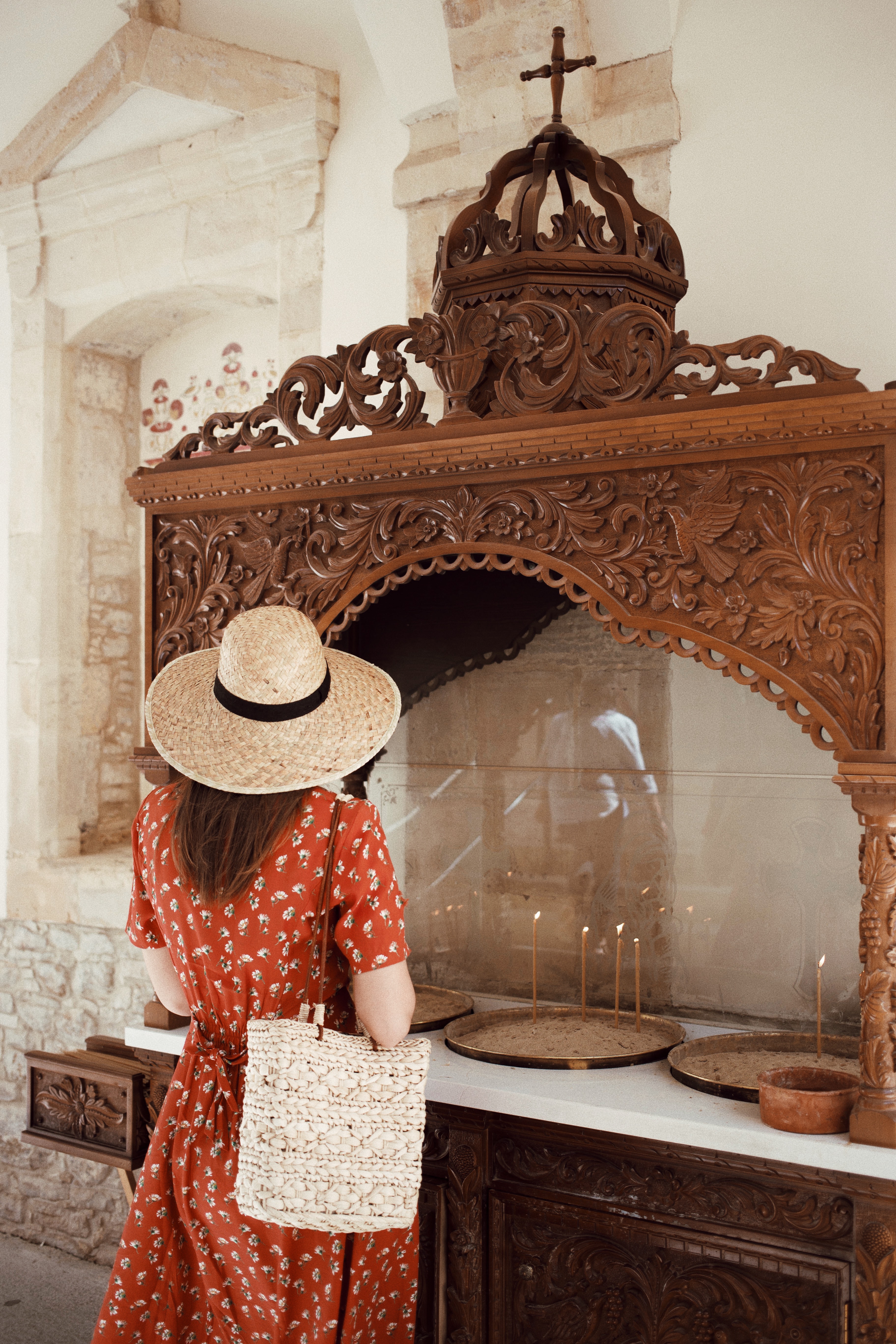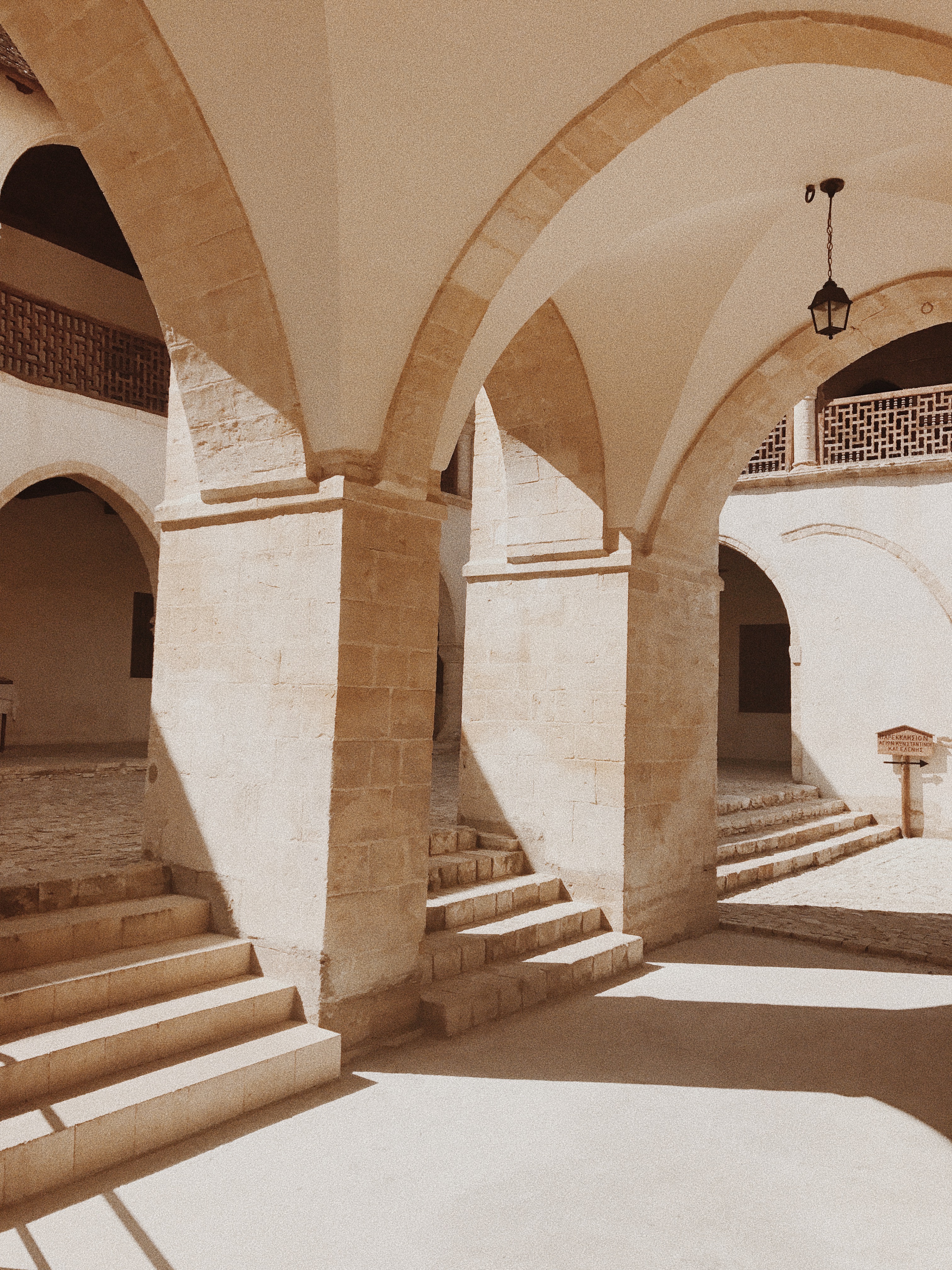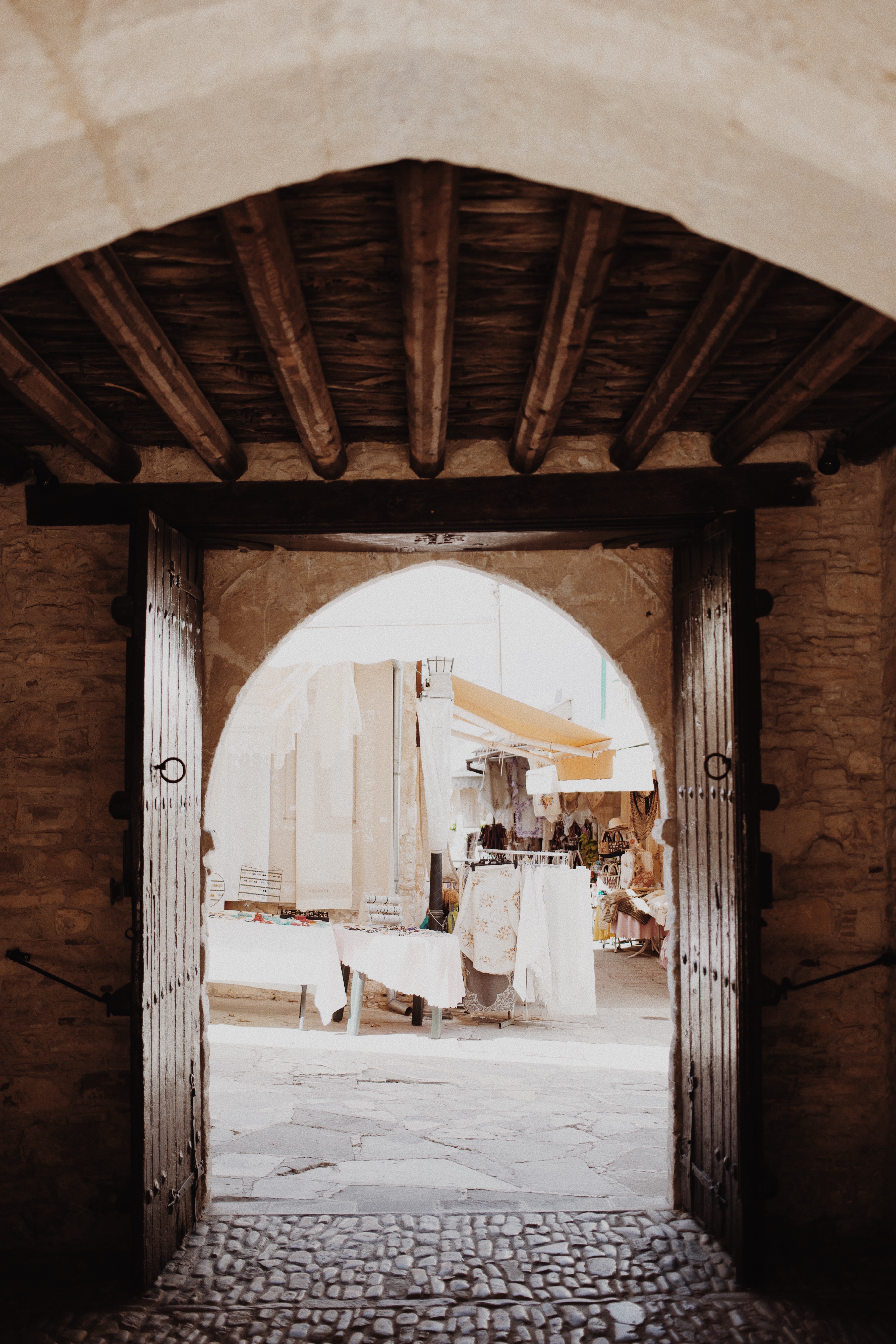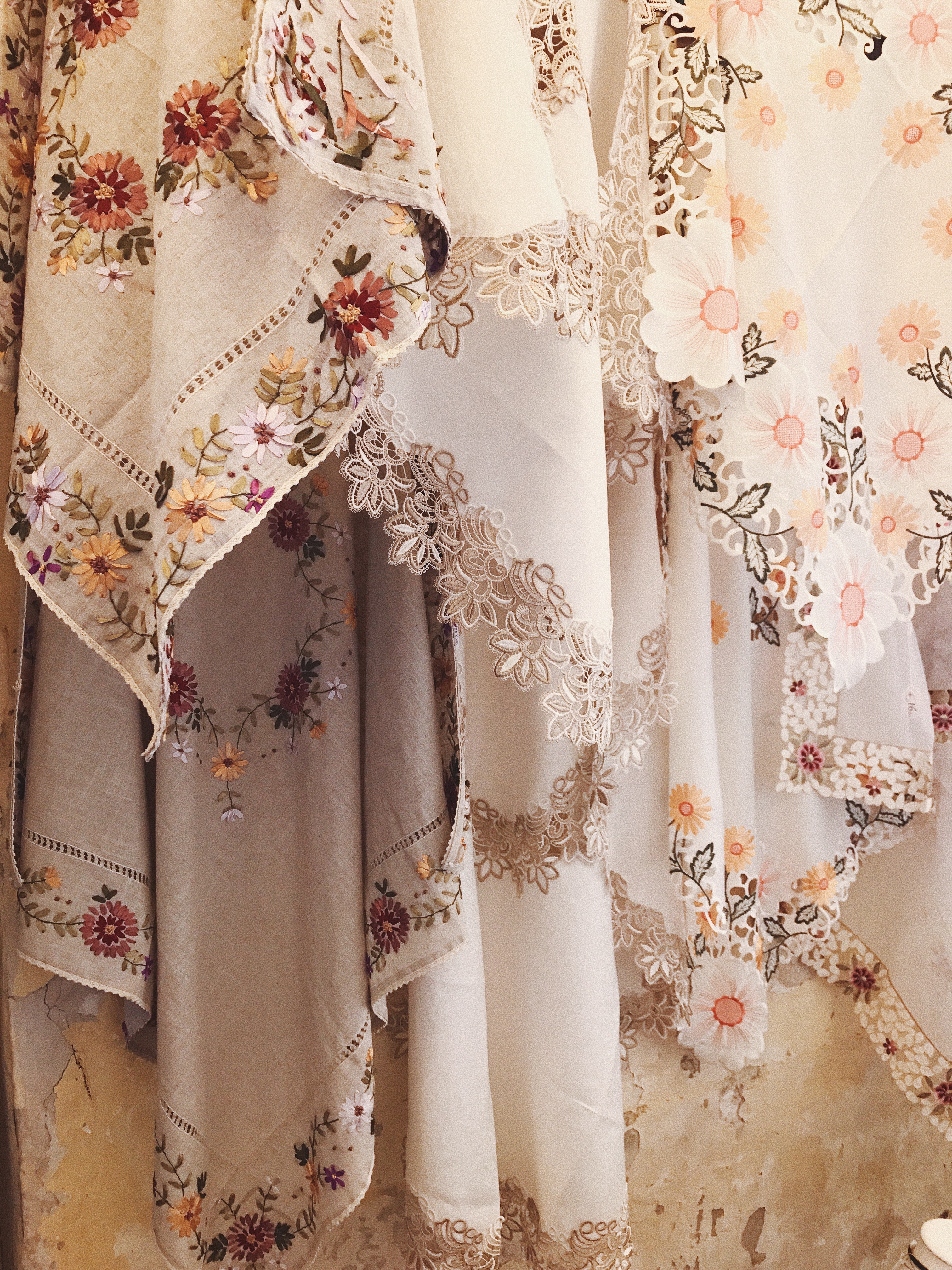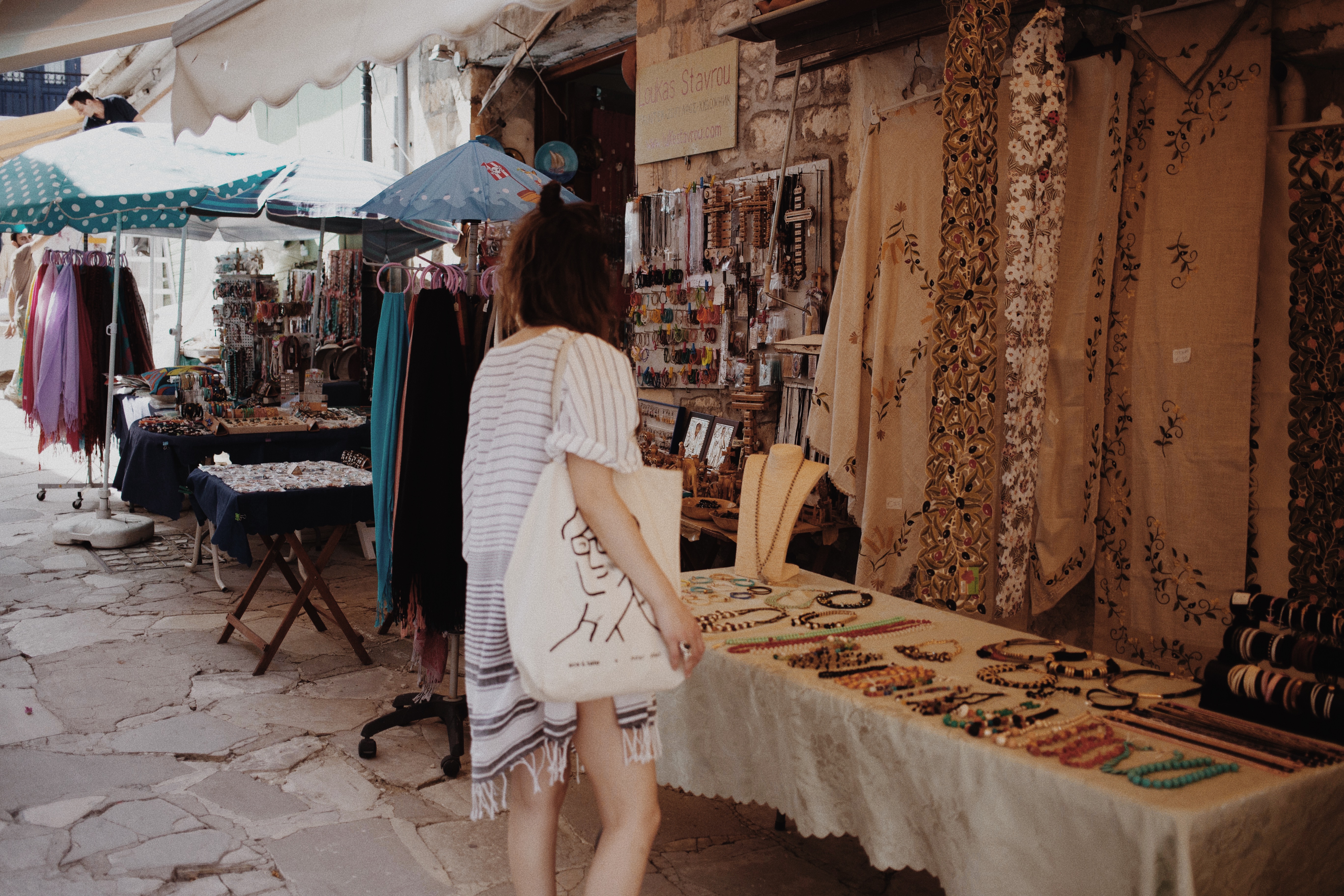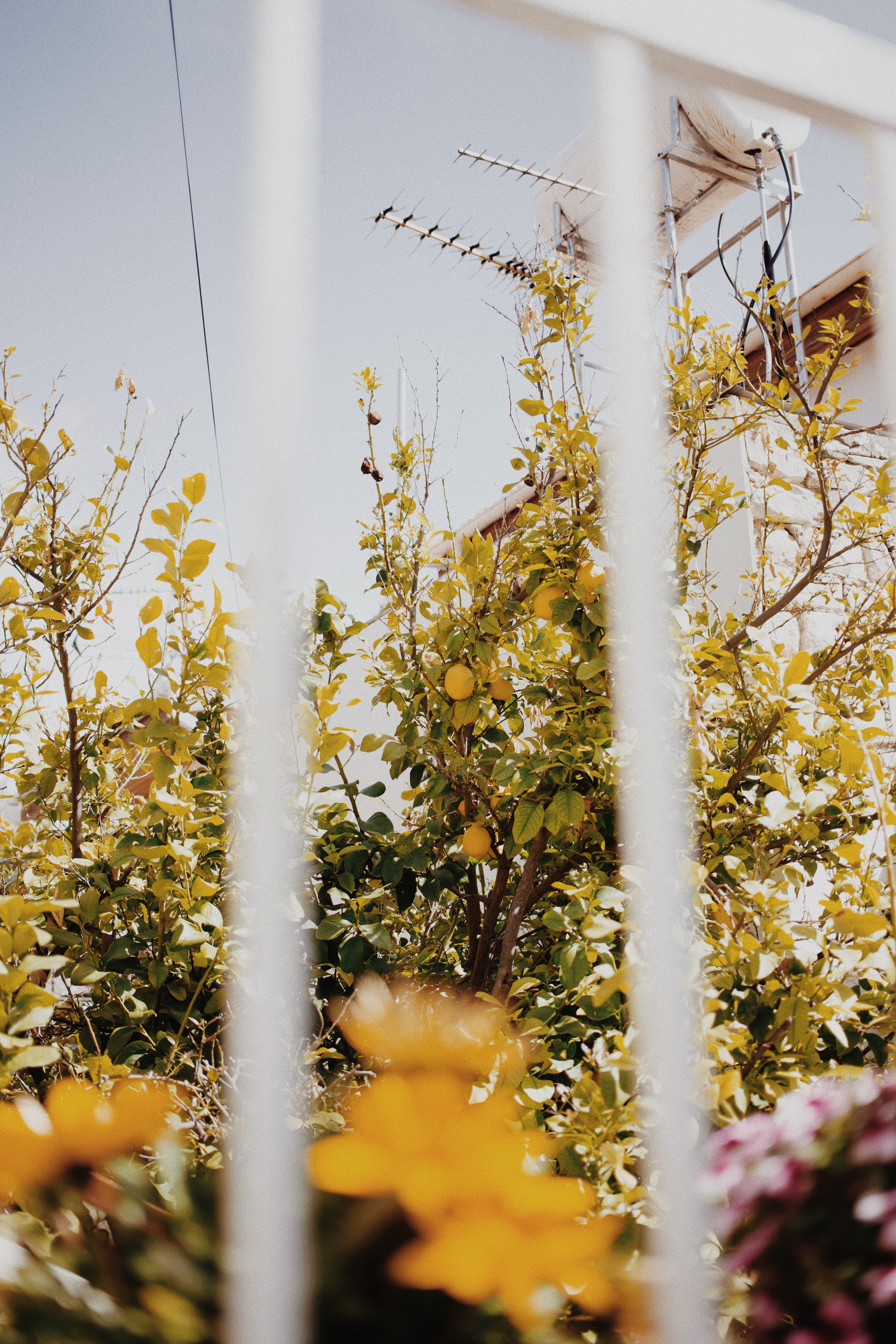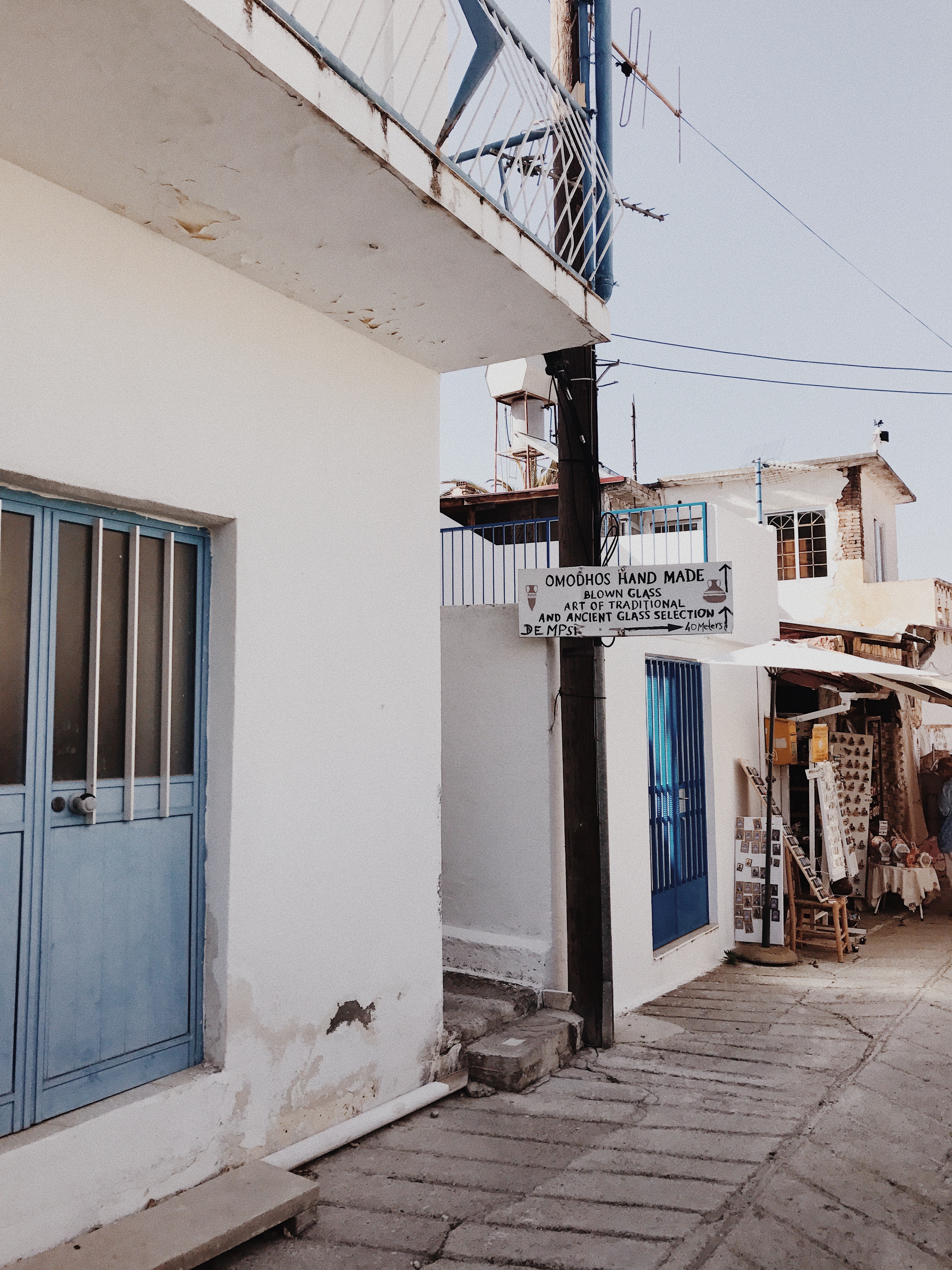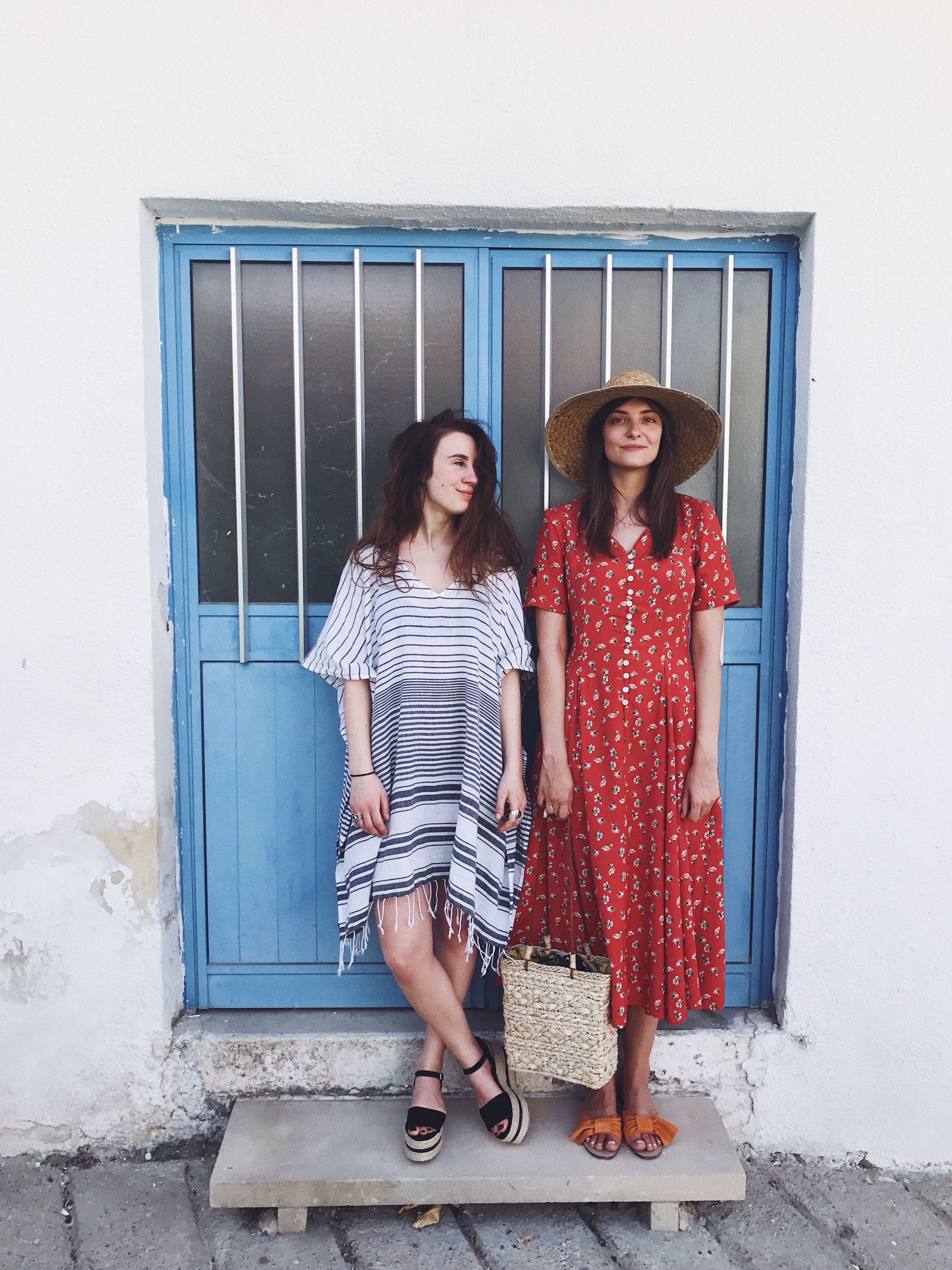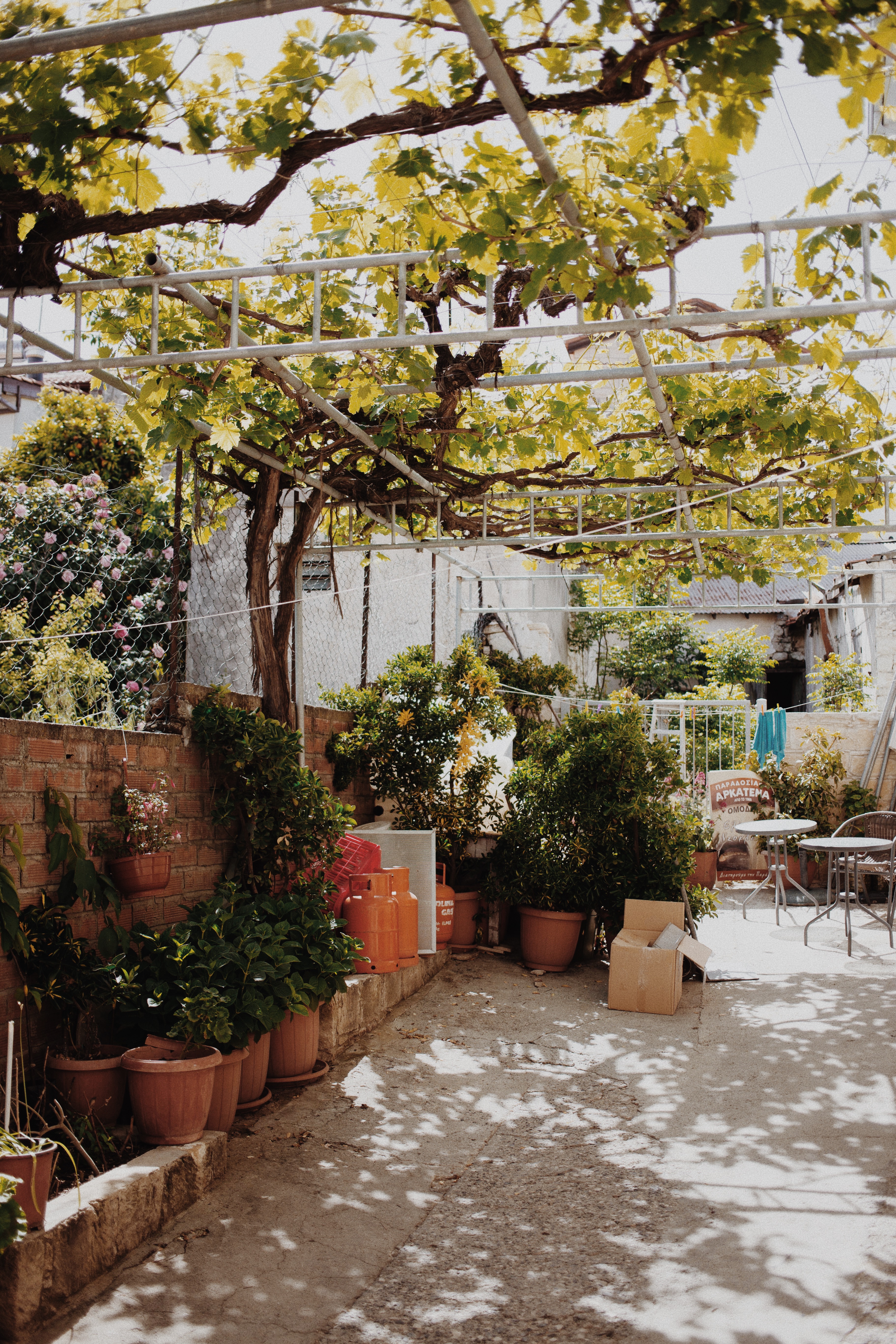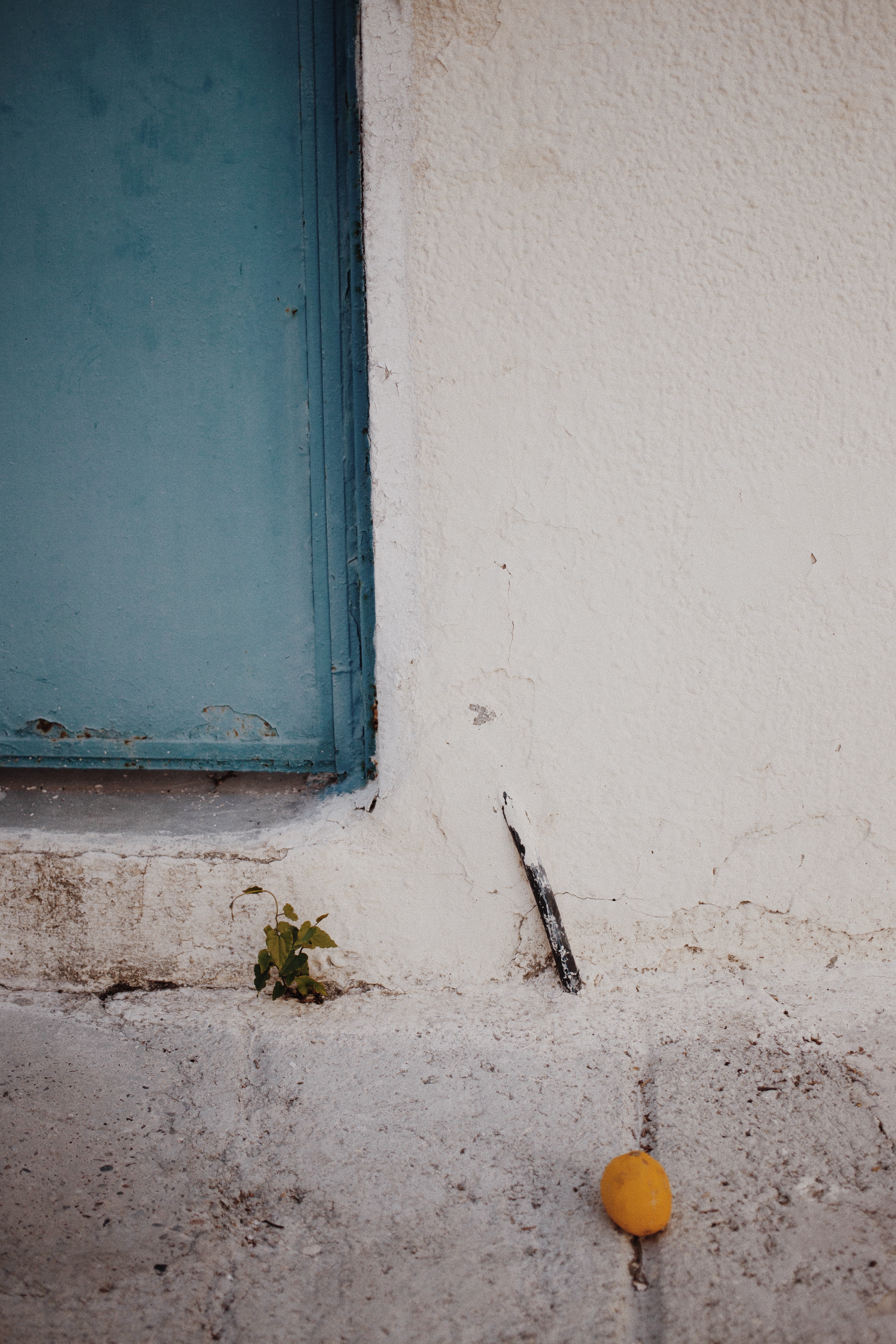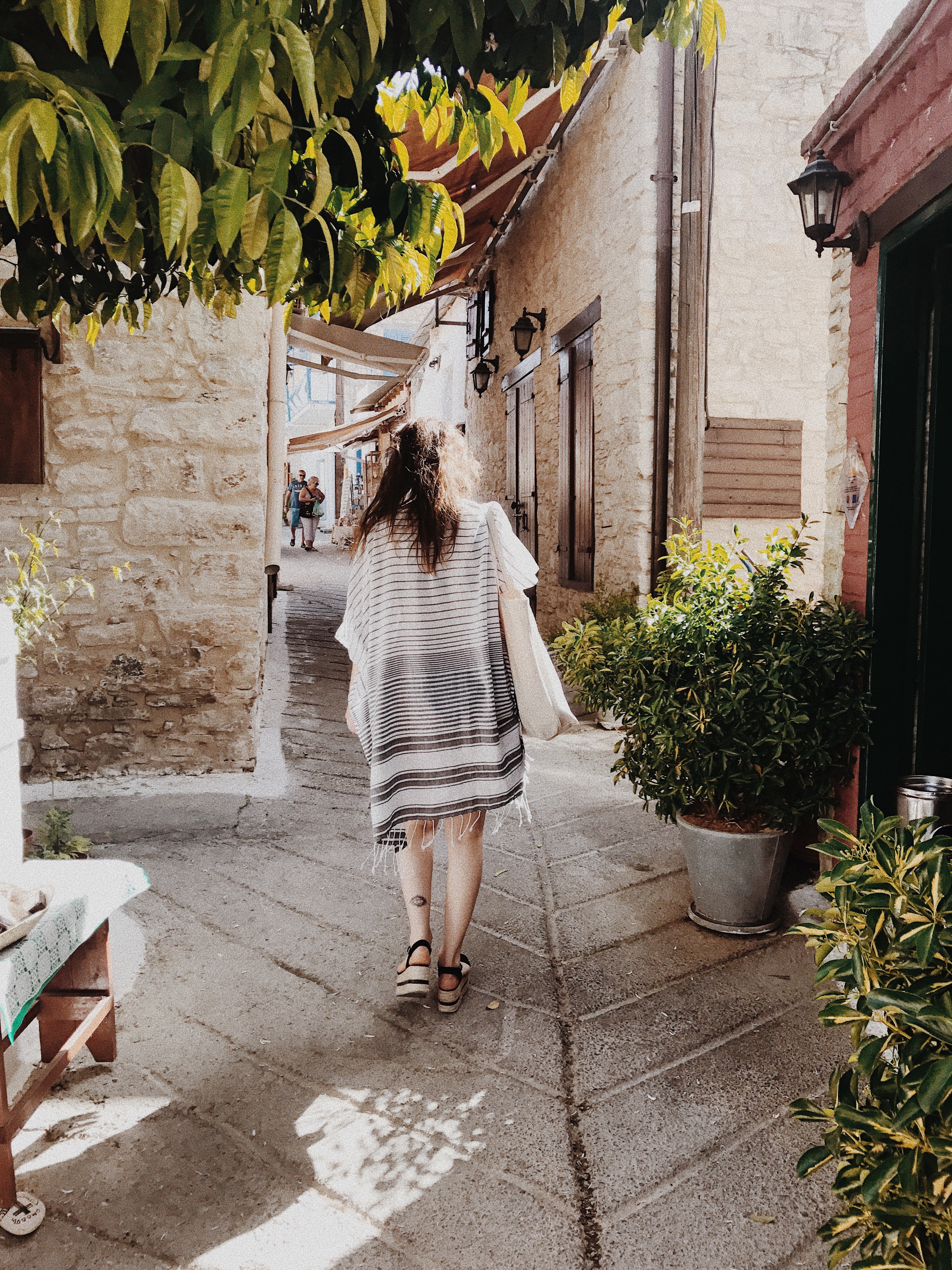 After visiting Omodos we took one of those slithering roads up to the highest mountain of the island, Mount Olympus. You can ski here. I'm not kidding. When driving through the mountains you'll notice a huge change of scenery! At some points it even feels like you ended up in the Canadian woods. The little villages up in the mountains with their ancient monasteries are worth a visit as well.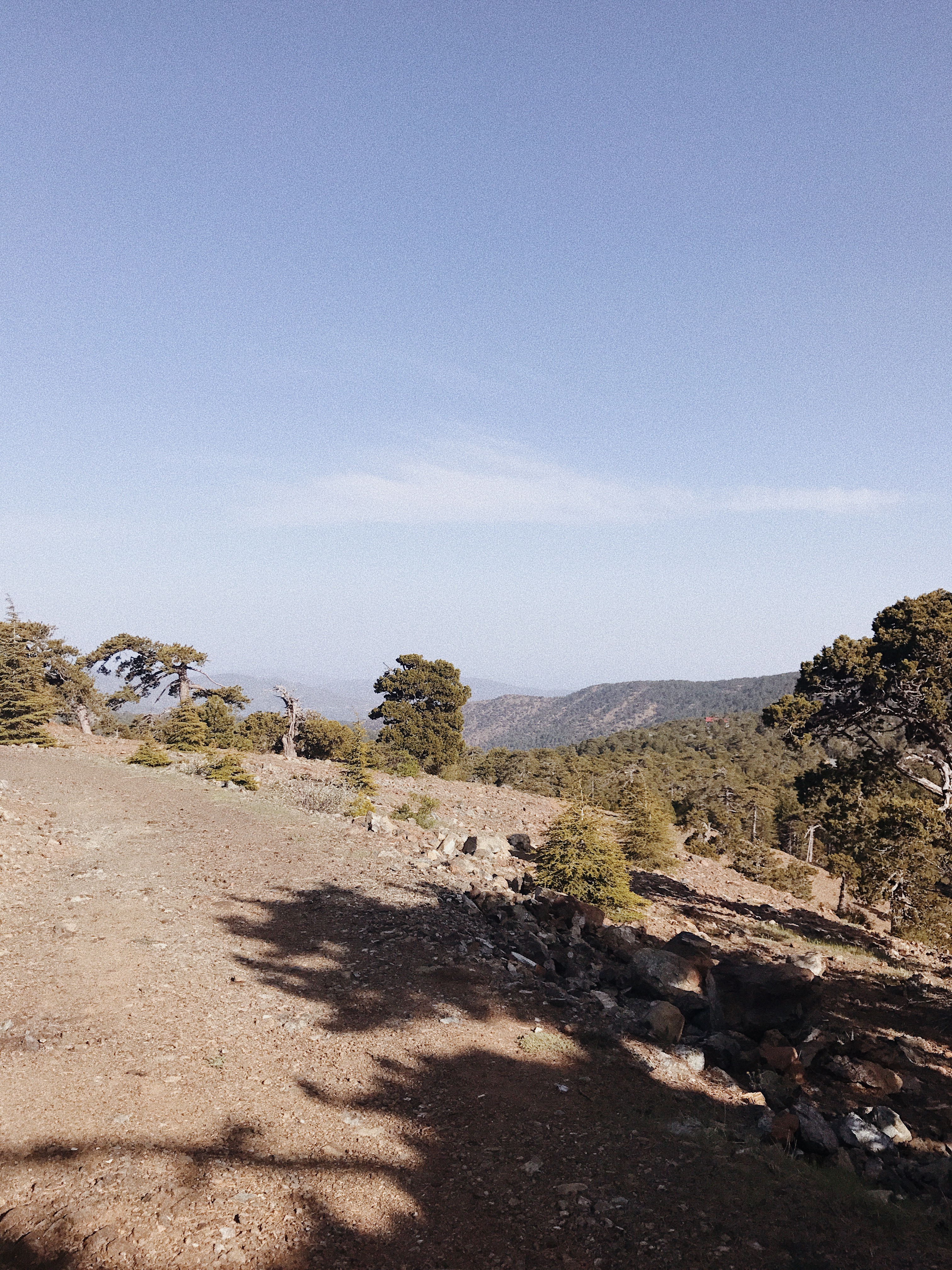 As the sun started setting, we drove back to the coastline to have dinner in Limassol. This city is the most important port city of Cyprus and is the perfect place if you're into dining, shopping and partying. There's not too many beach options, but the breakwater is pretty beautiful. Another quick tip: you can park for free near the waterfront!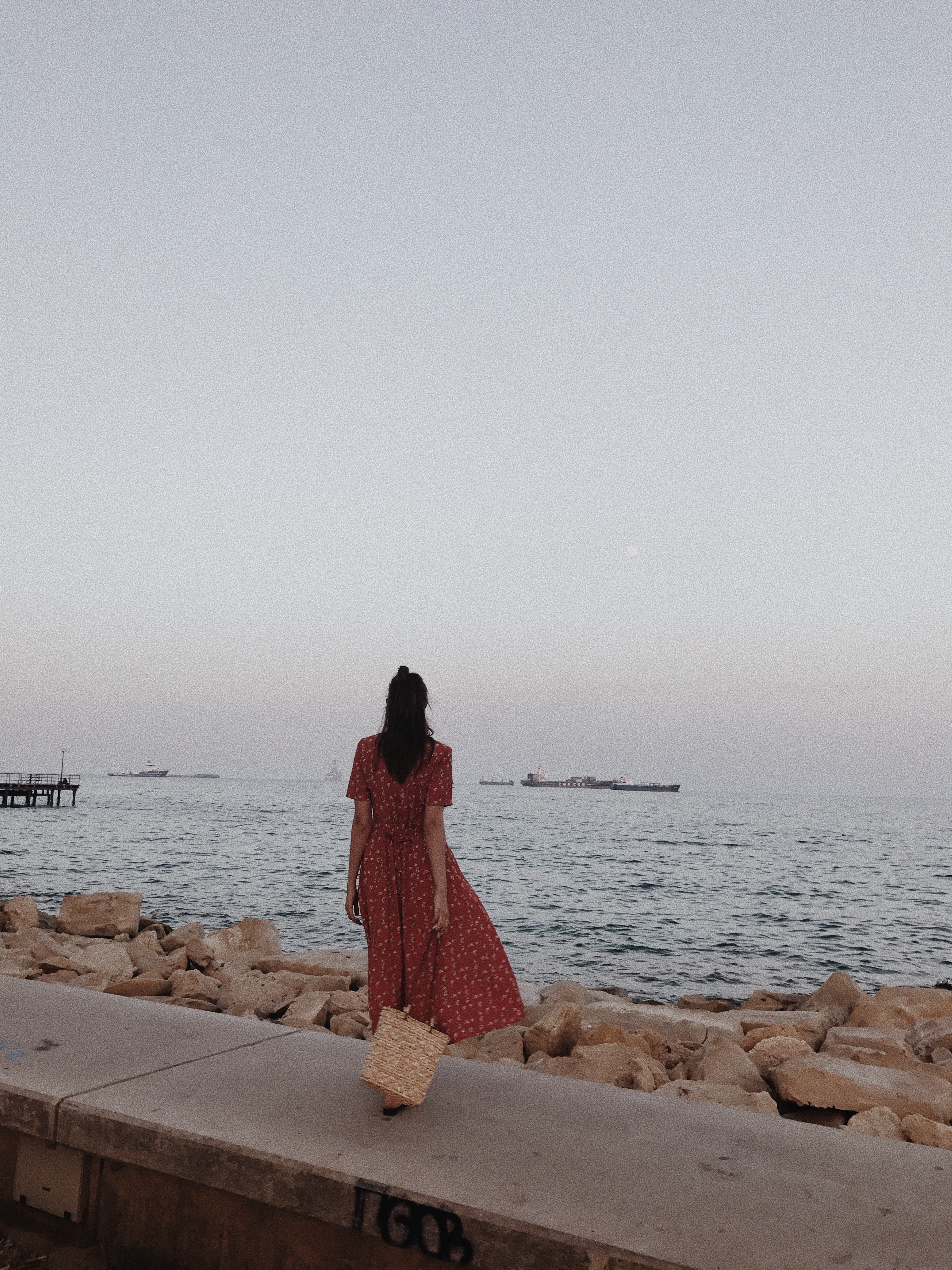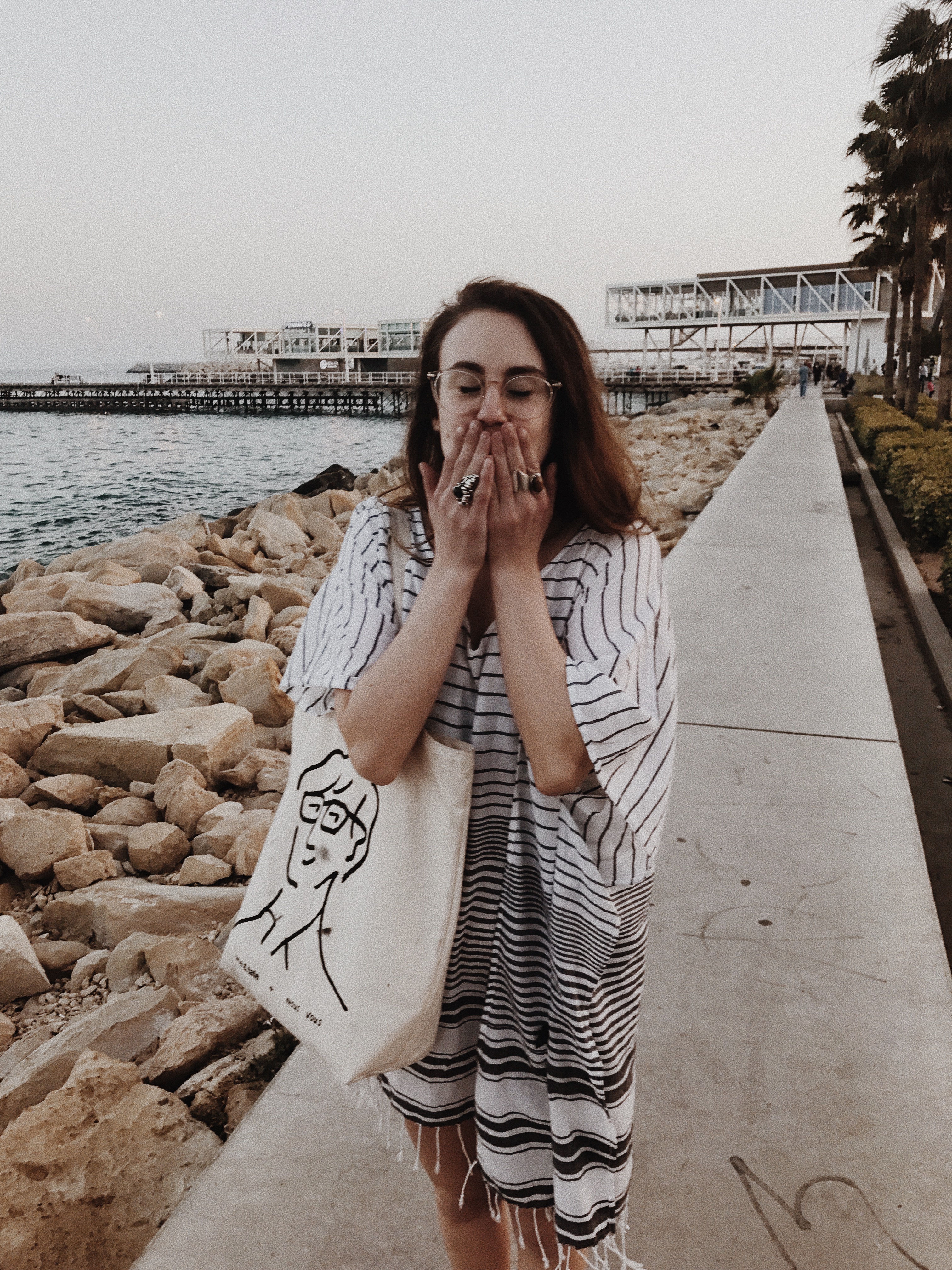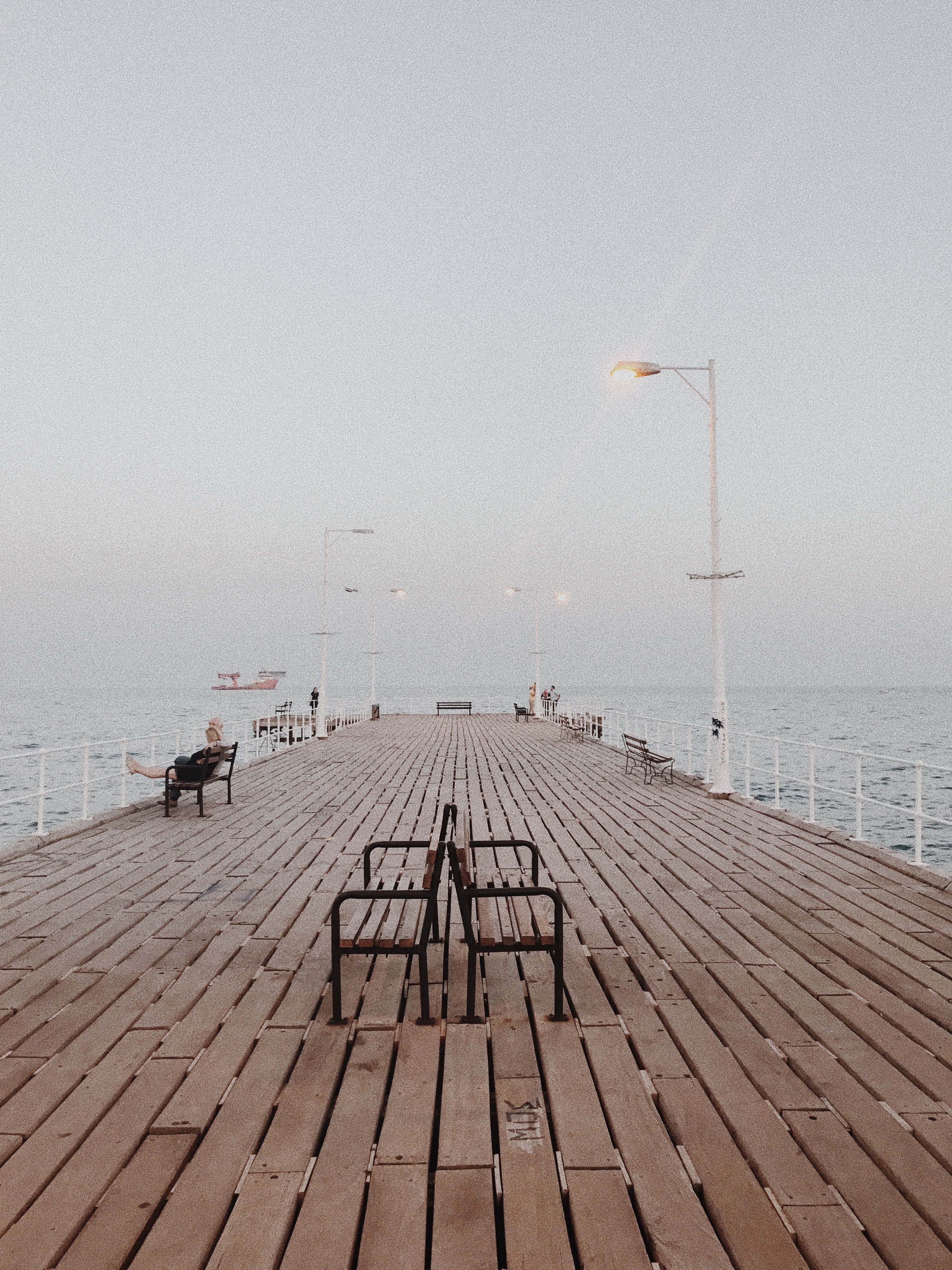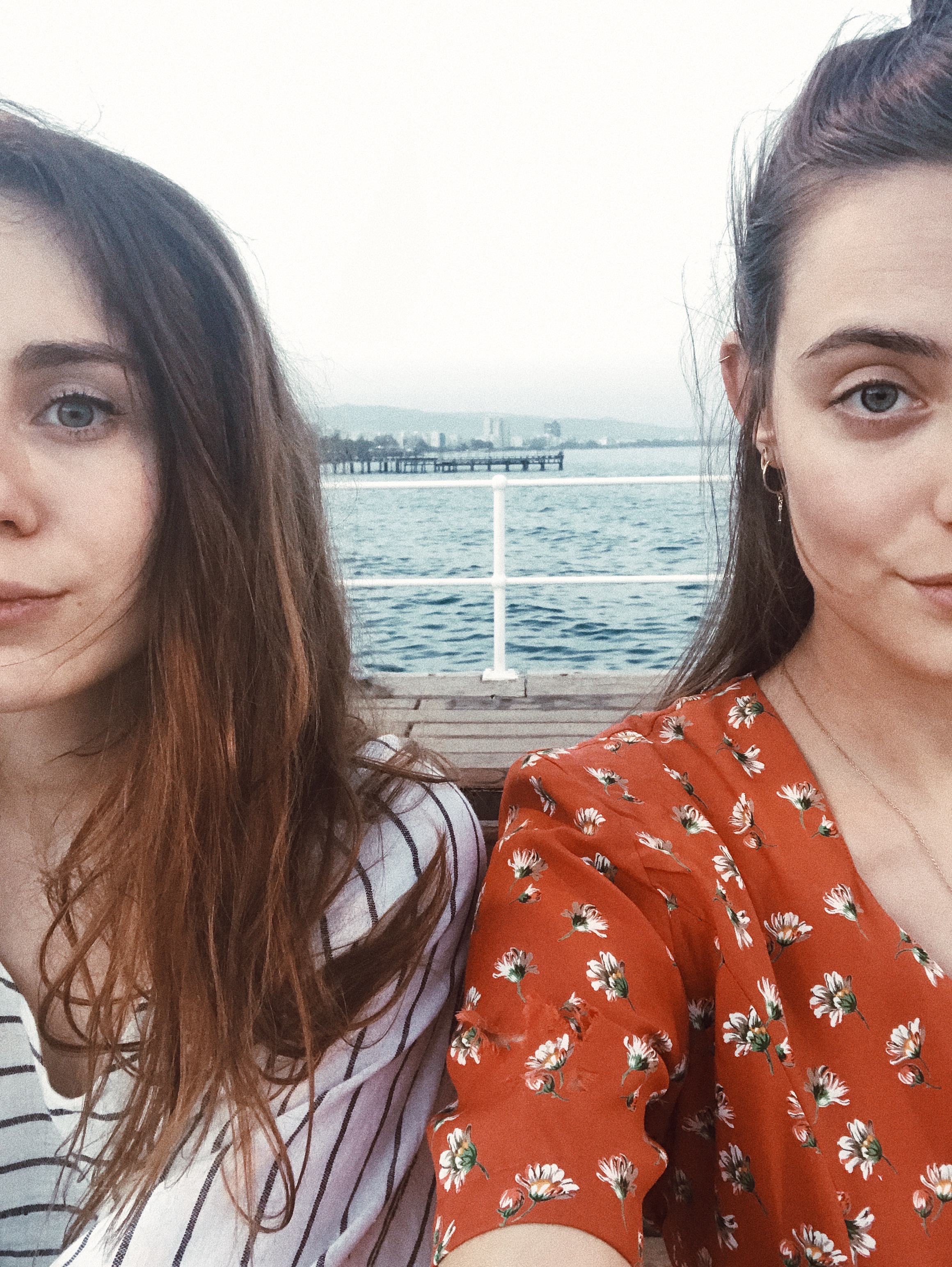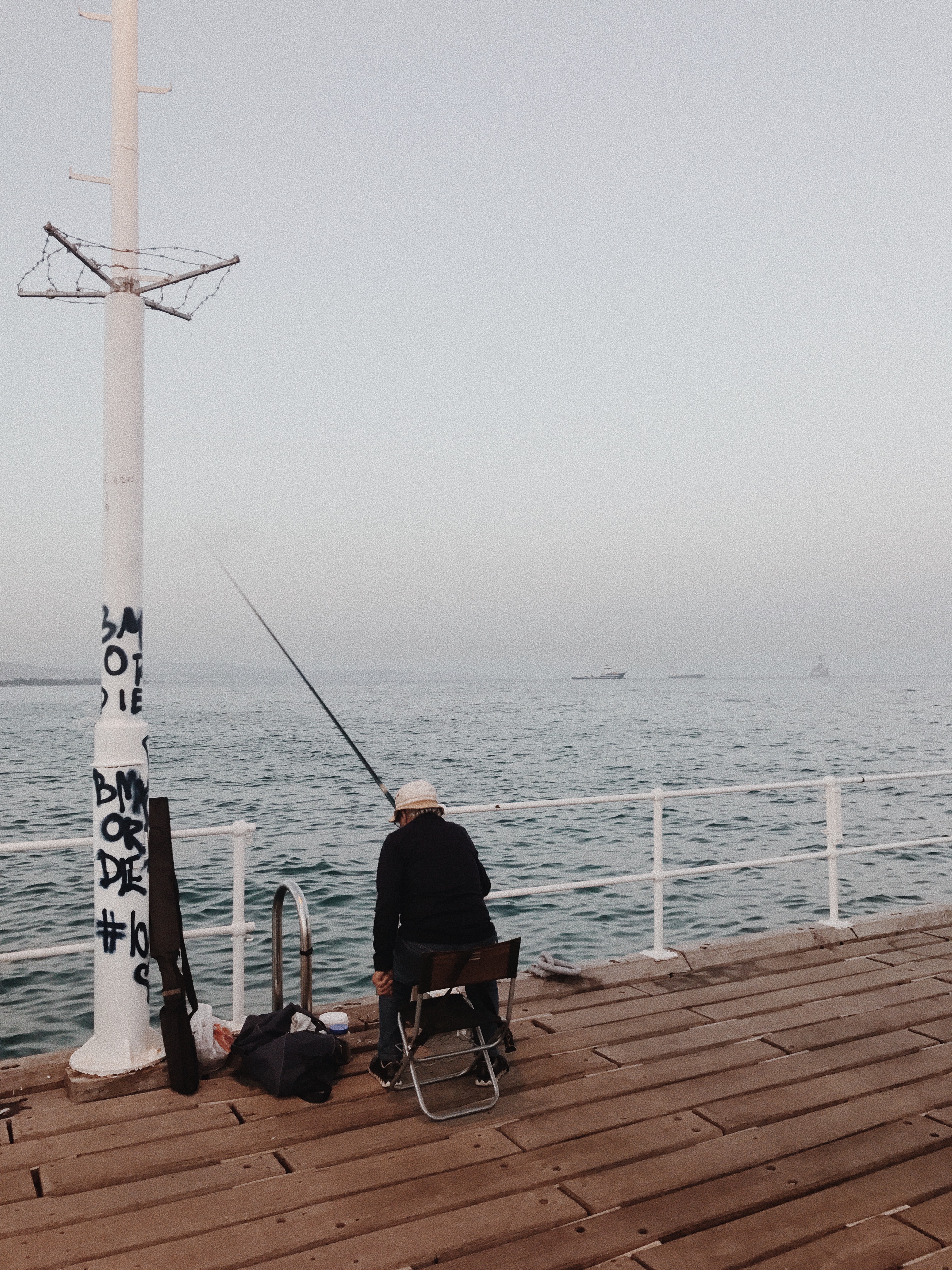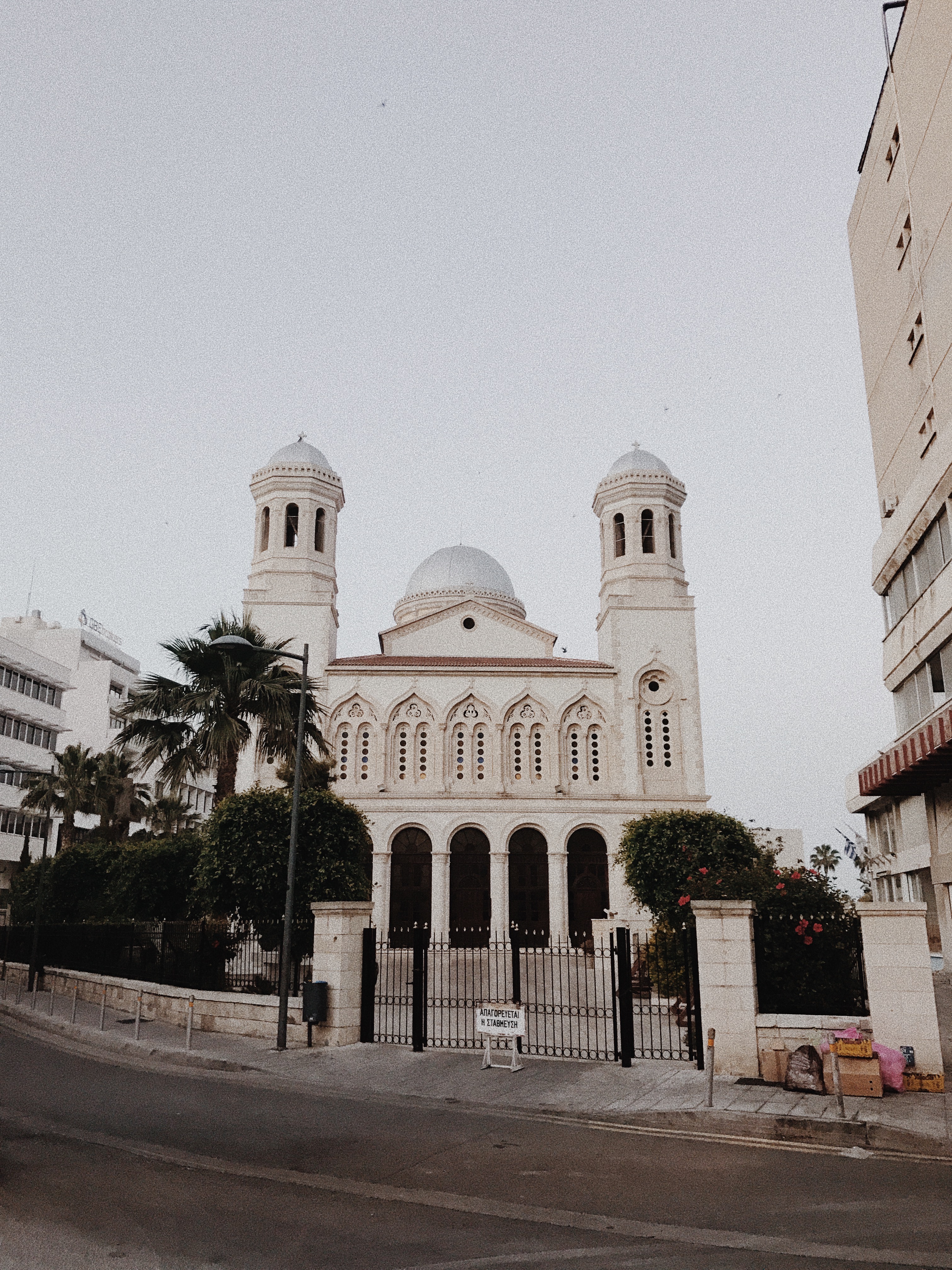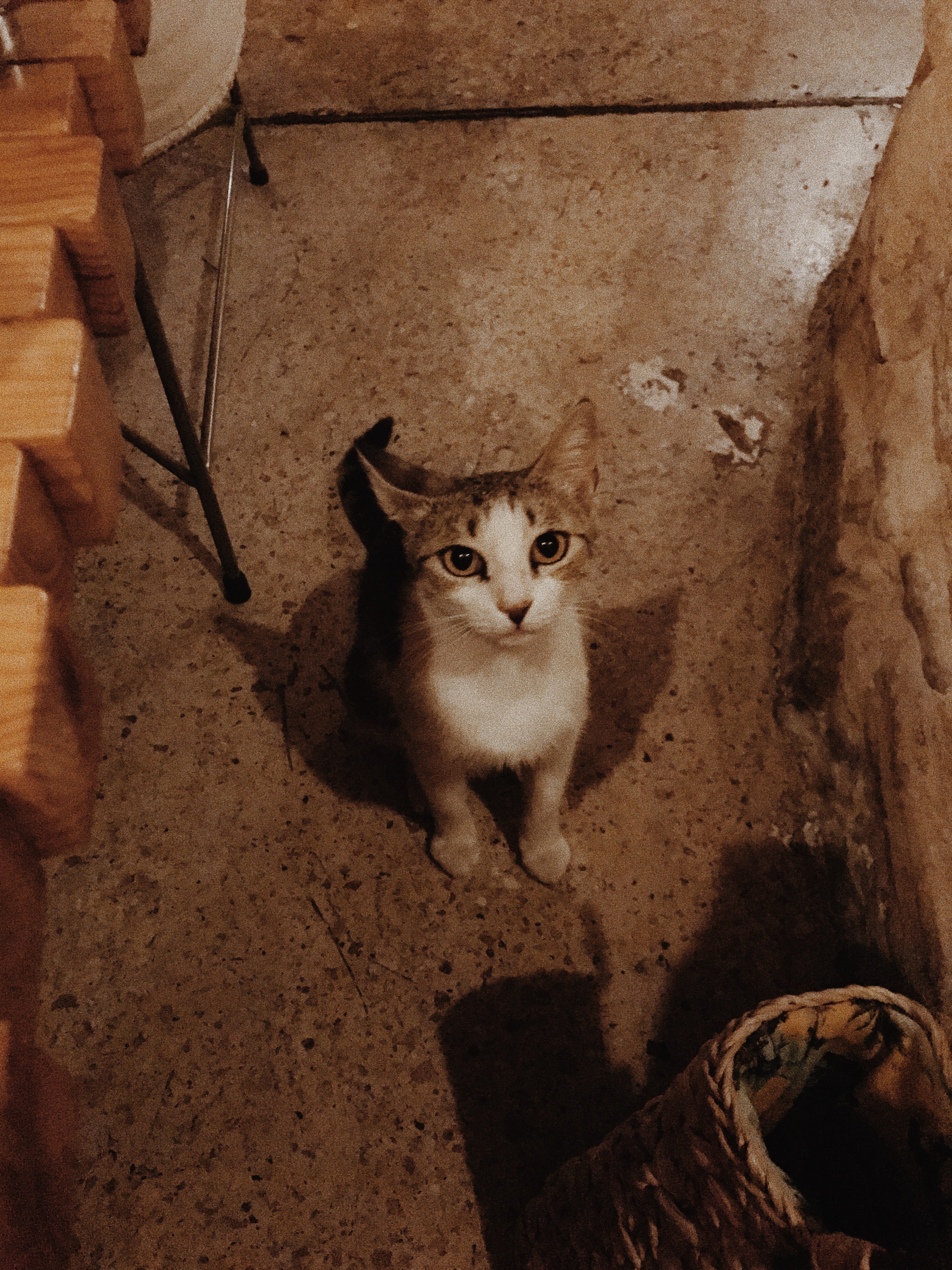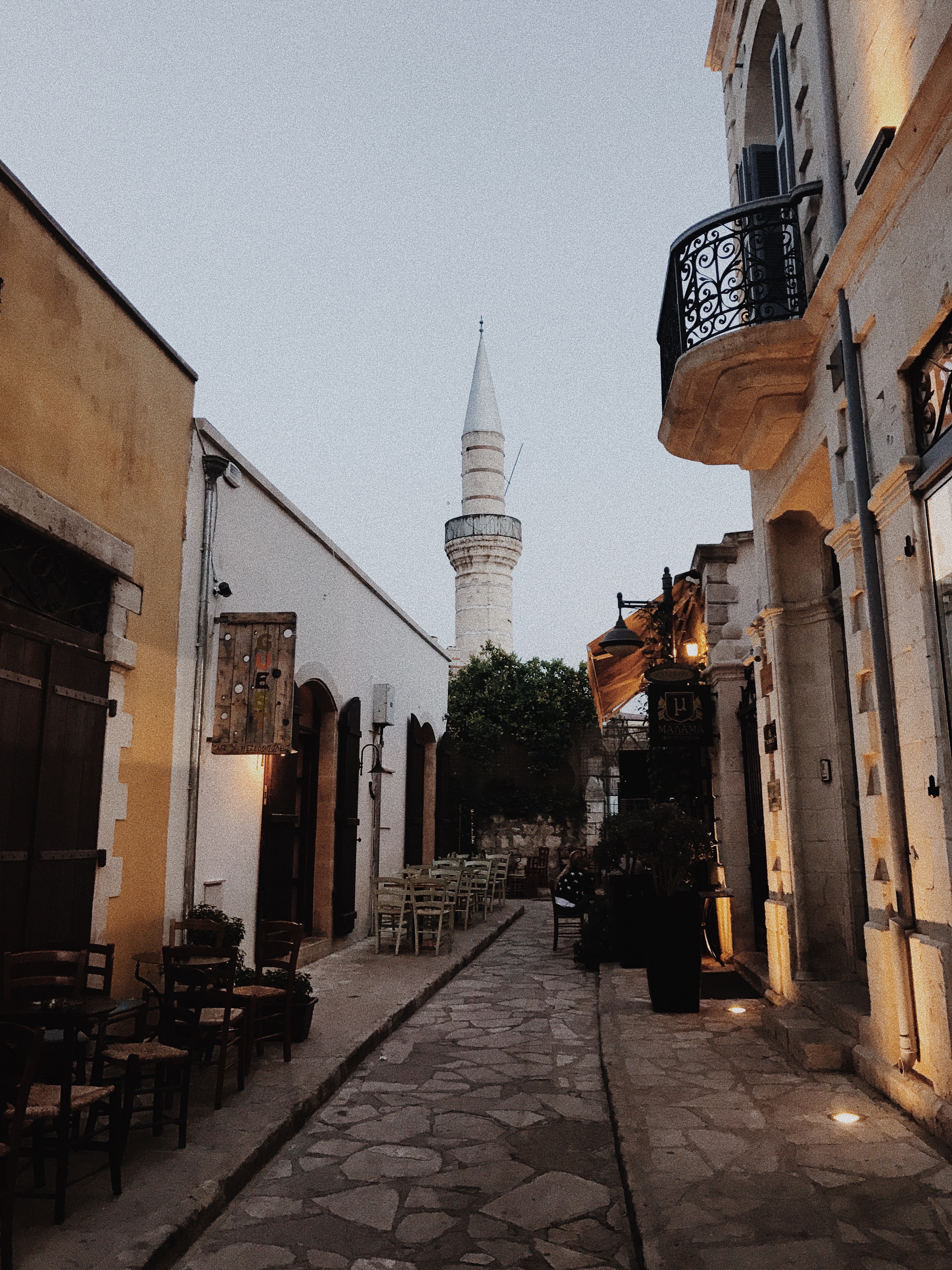 We had dinner at a stunning restaurant called Tohani, where we ordered plenty of smaller dishes like halloumi, shrimps and stuffed aubergines. The setting is super cozy and there are live music and traditional dance performances during dinner. A must-go if you're around!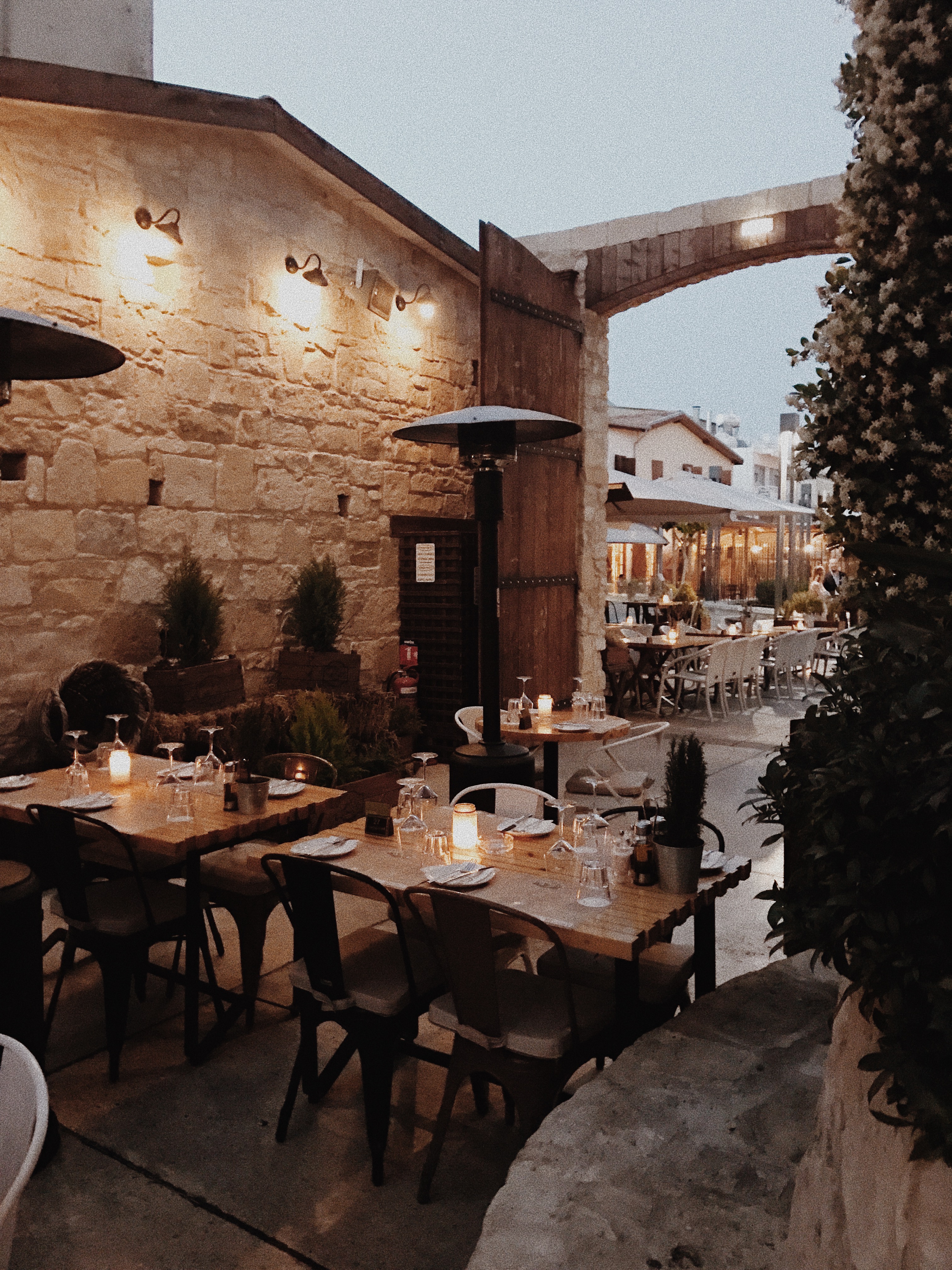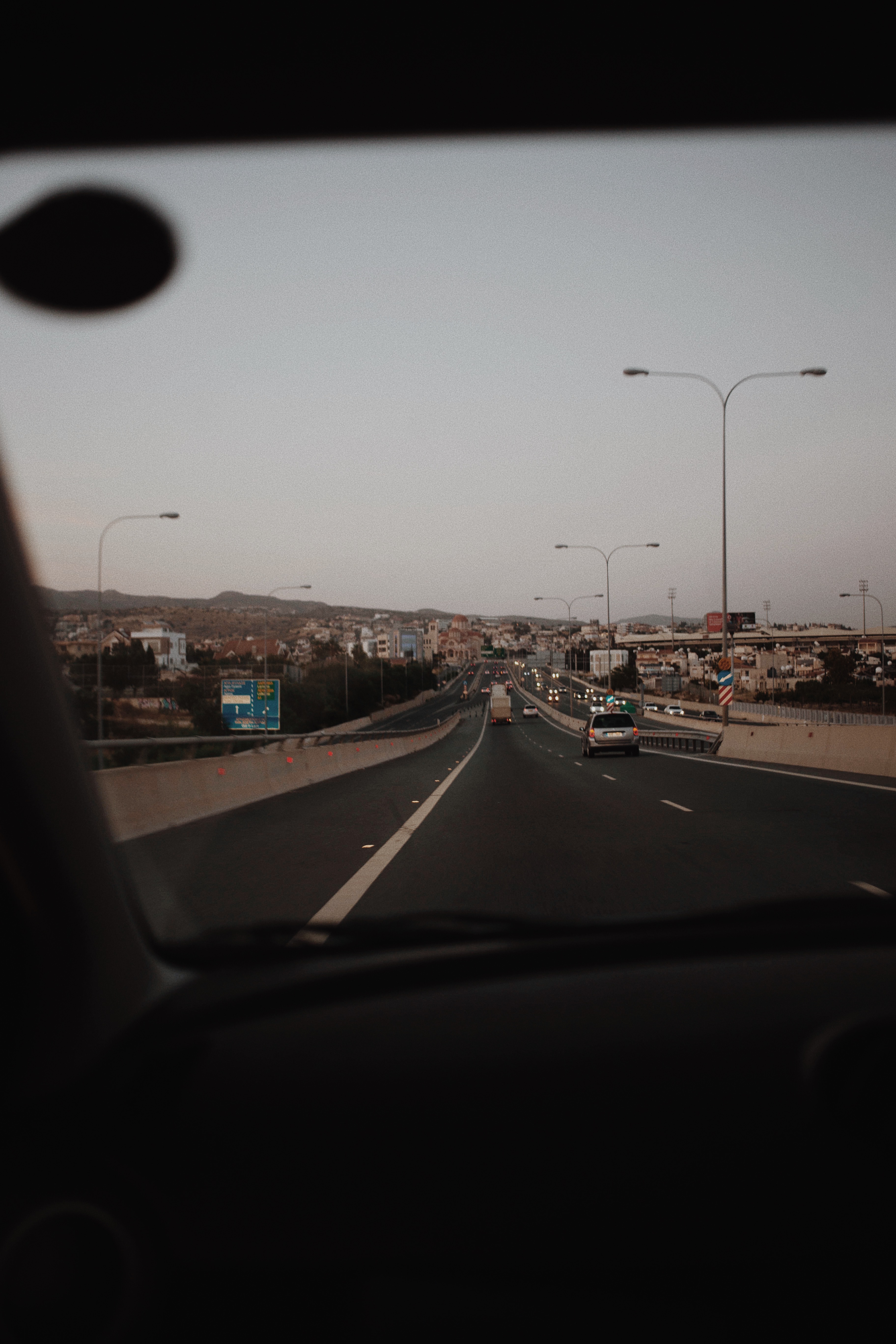 DAY 3
Since Lisa and I can be quite enthusiast in planning our shooting agenda, we decided to take a few hours off as well. So on day 3 we started our day slowly with plenty of fruits and a book next to the pool. When temperatures started rising we took a short walk through the village of Tochni, which has the prettiest morning light!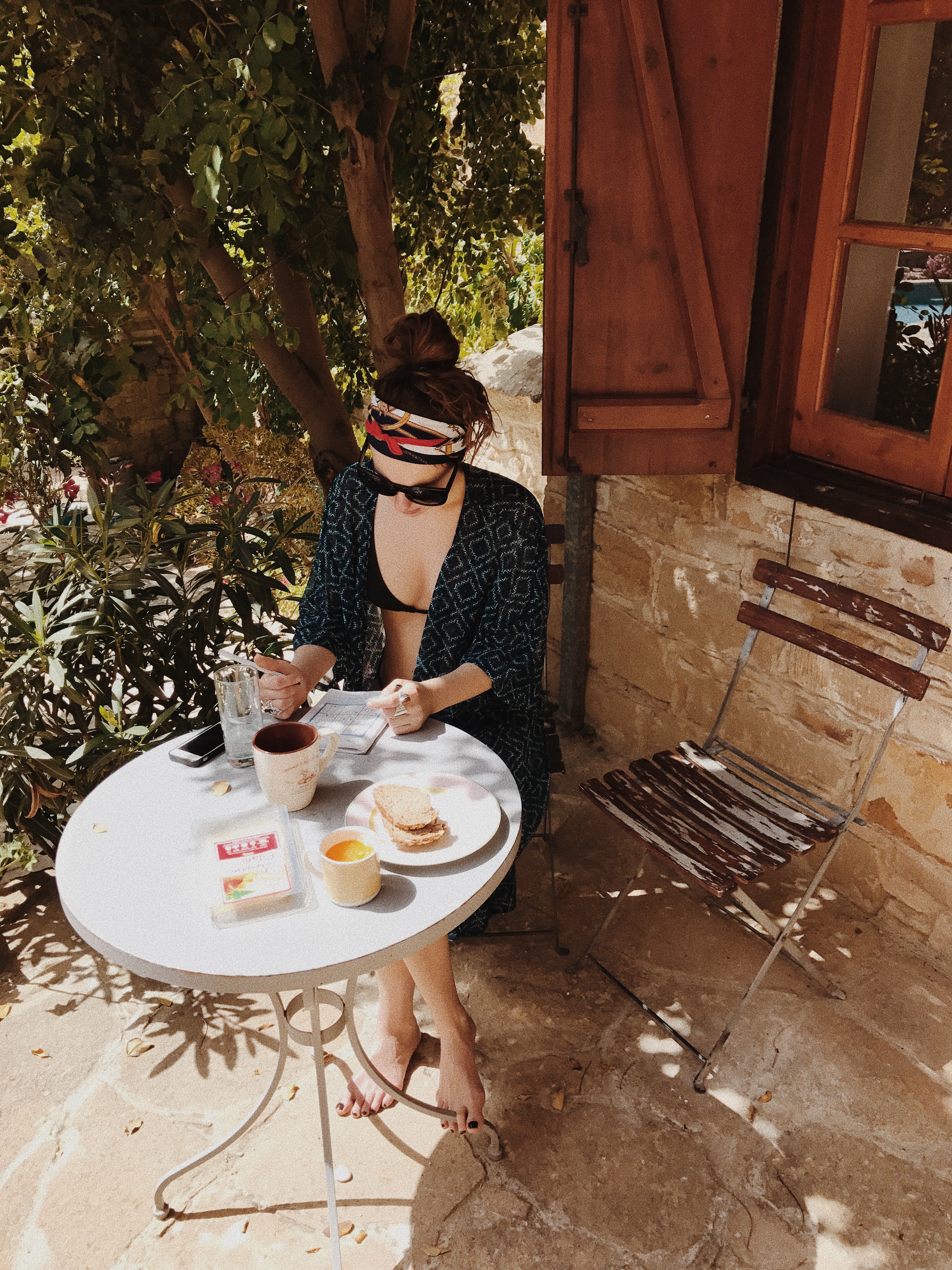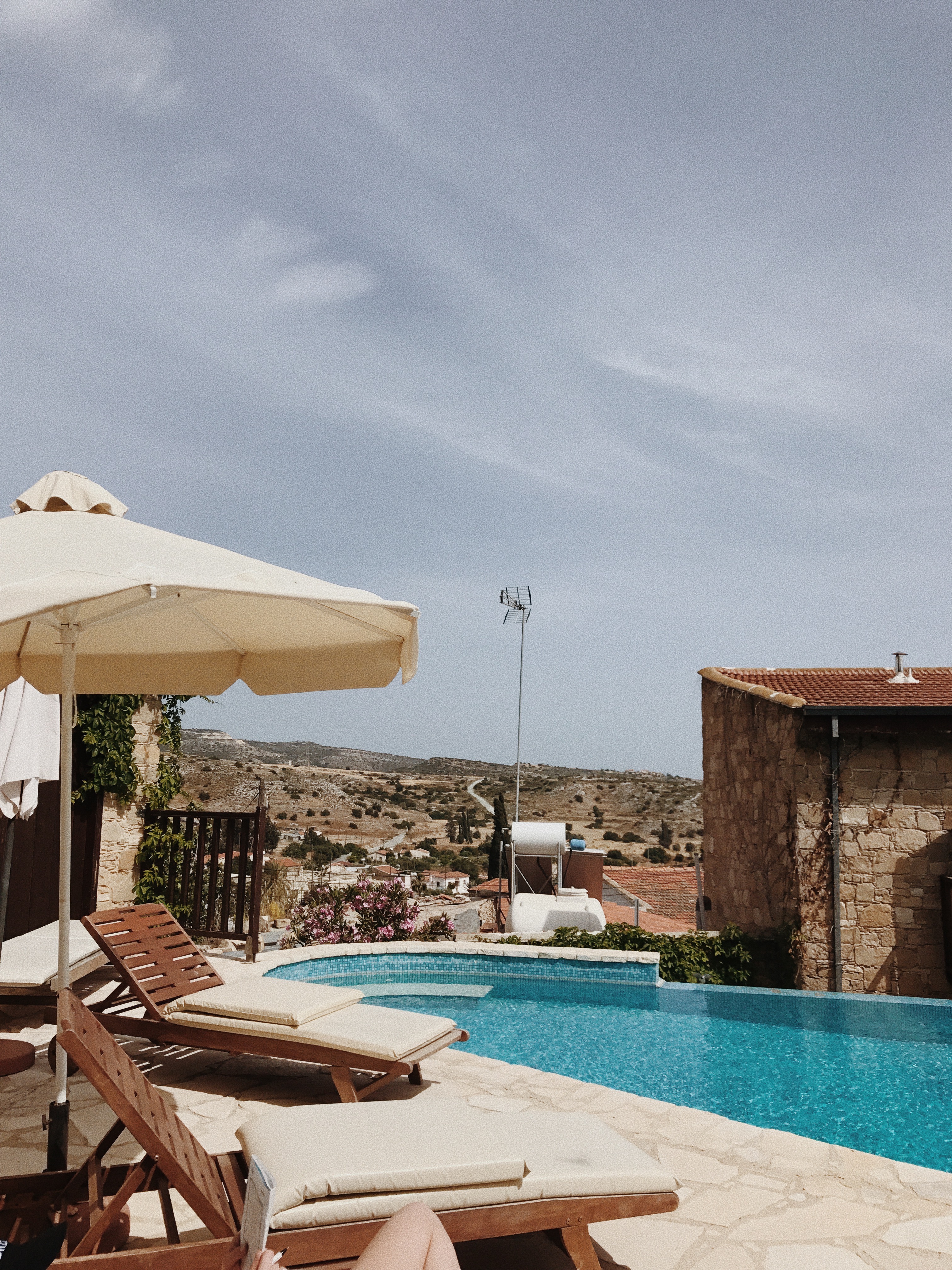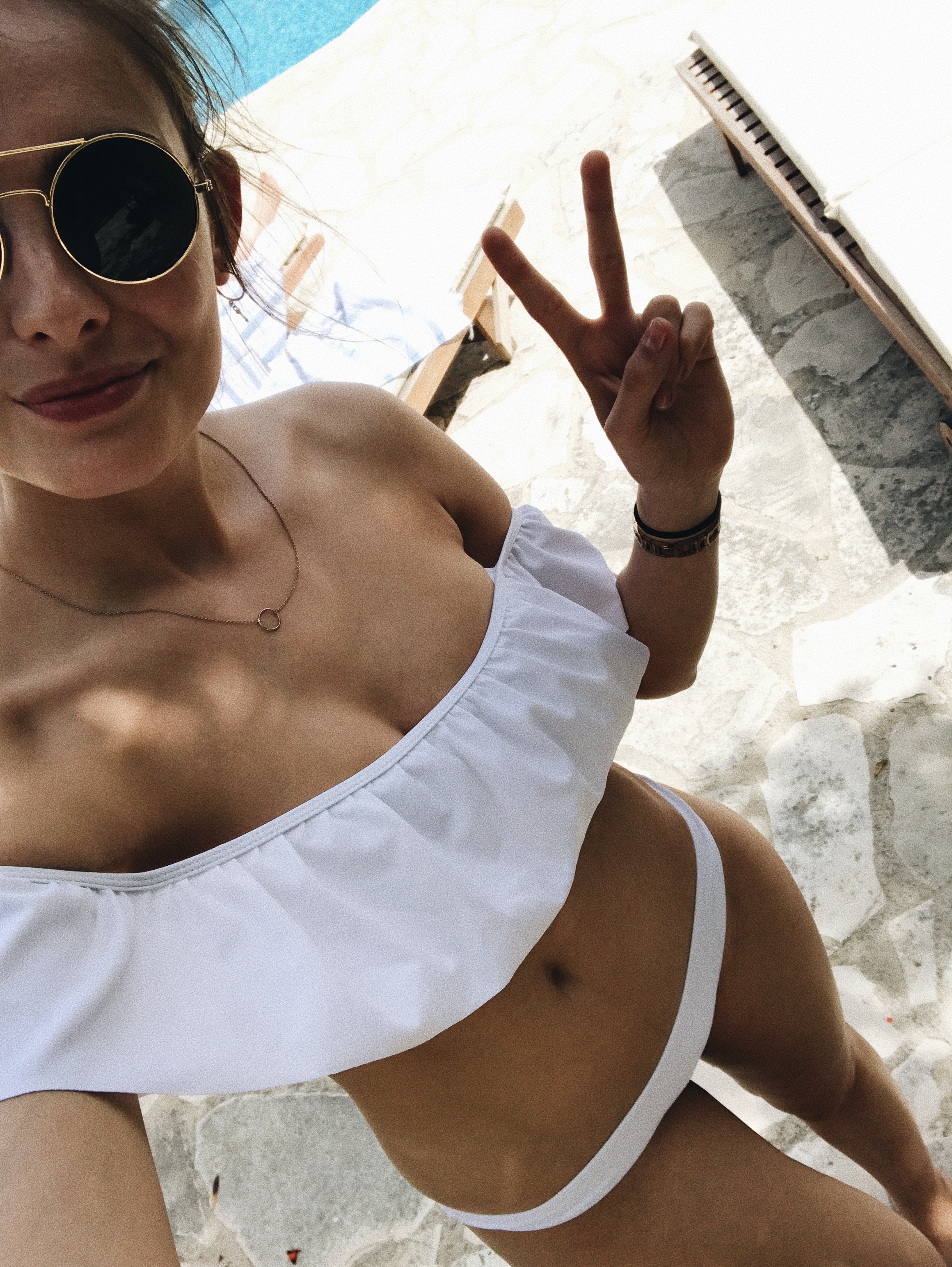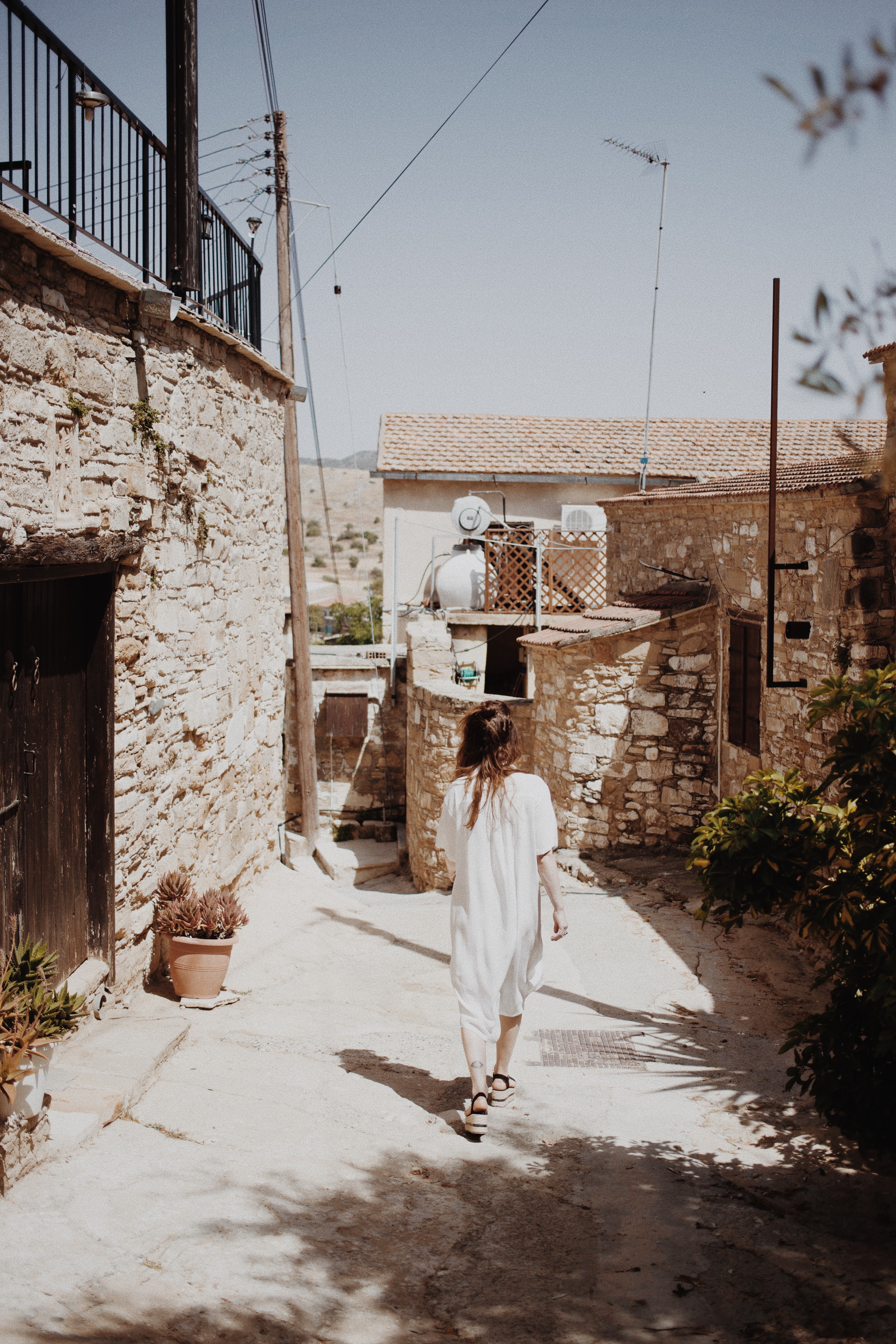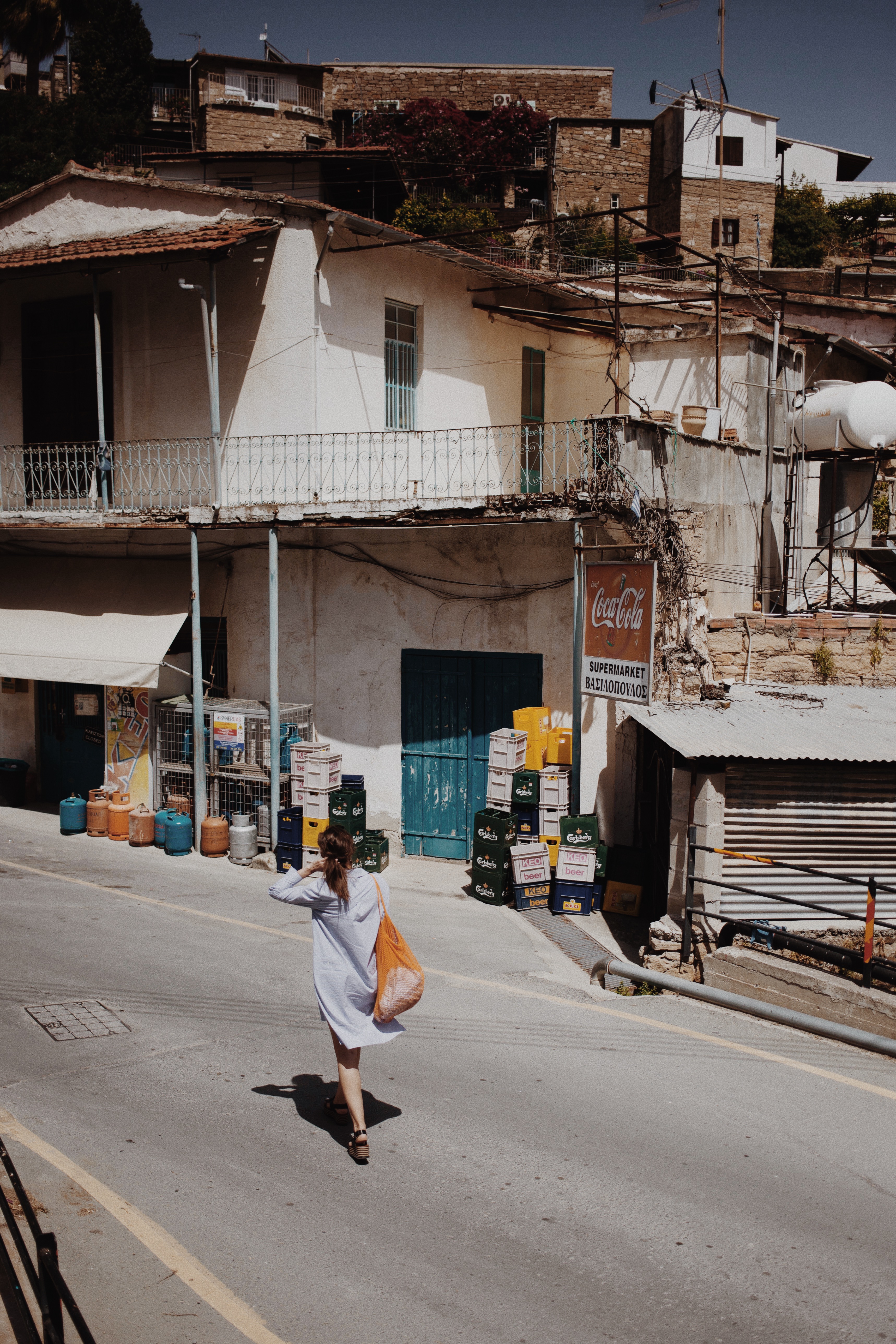 In the afternoon we picked up our Cyprus map again to drive over to Aphrodite's Rock, or Petra tou Romiou. In mythology this rock formation is known as the birthplace of the goddess of love, Aphrodite.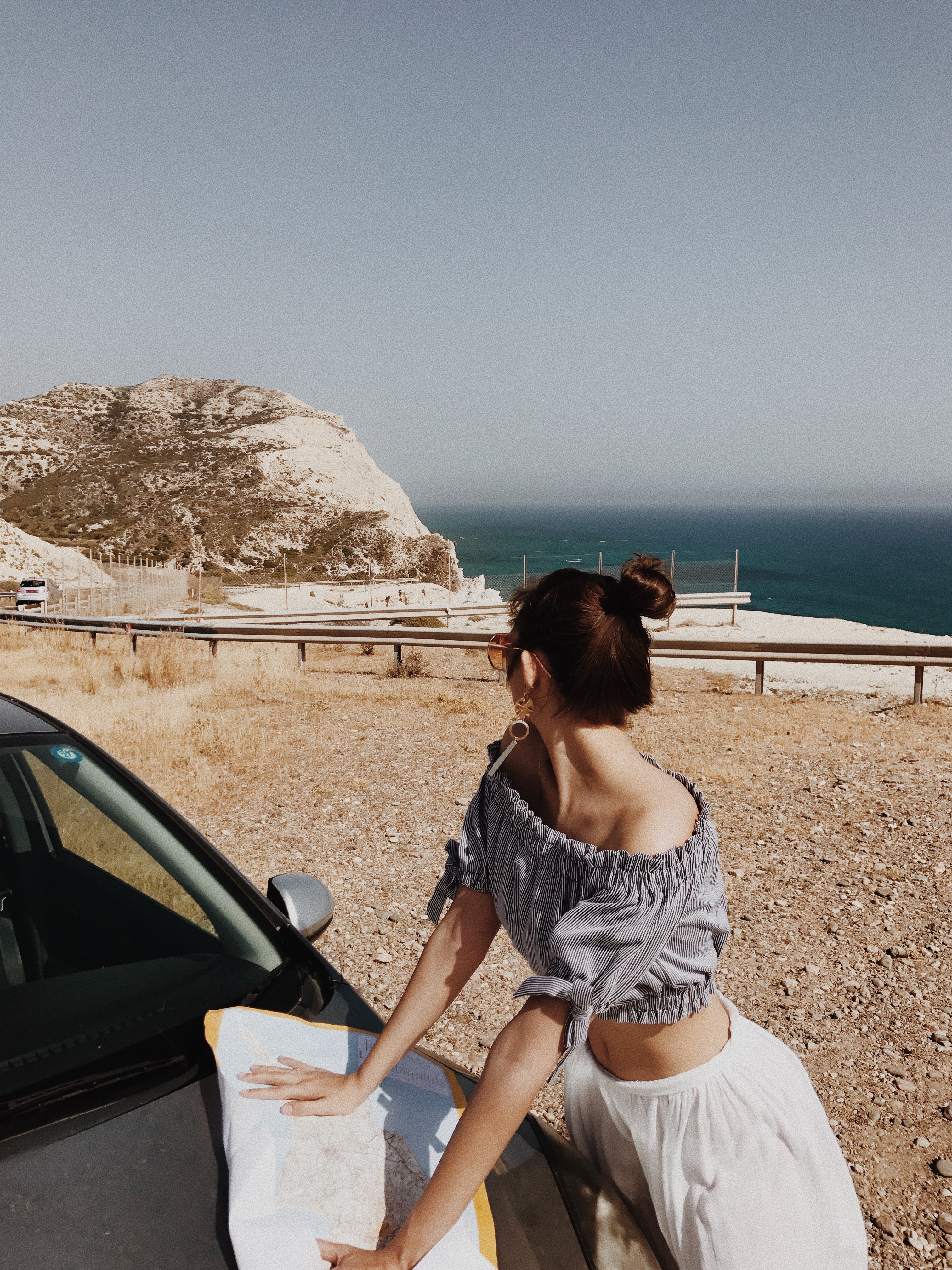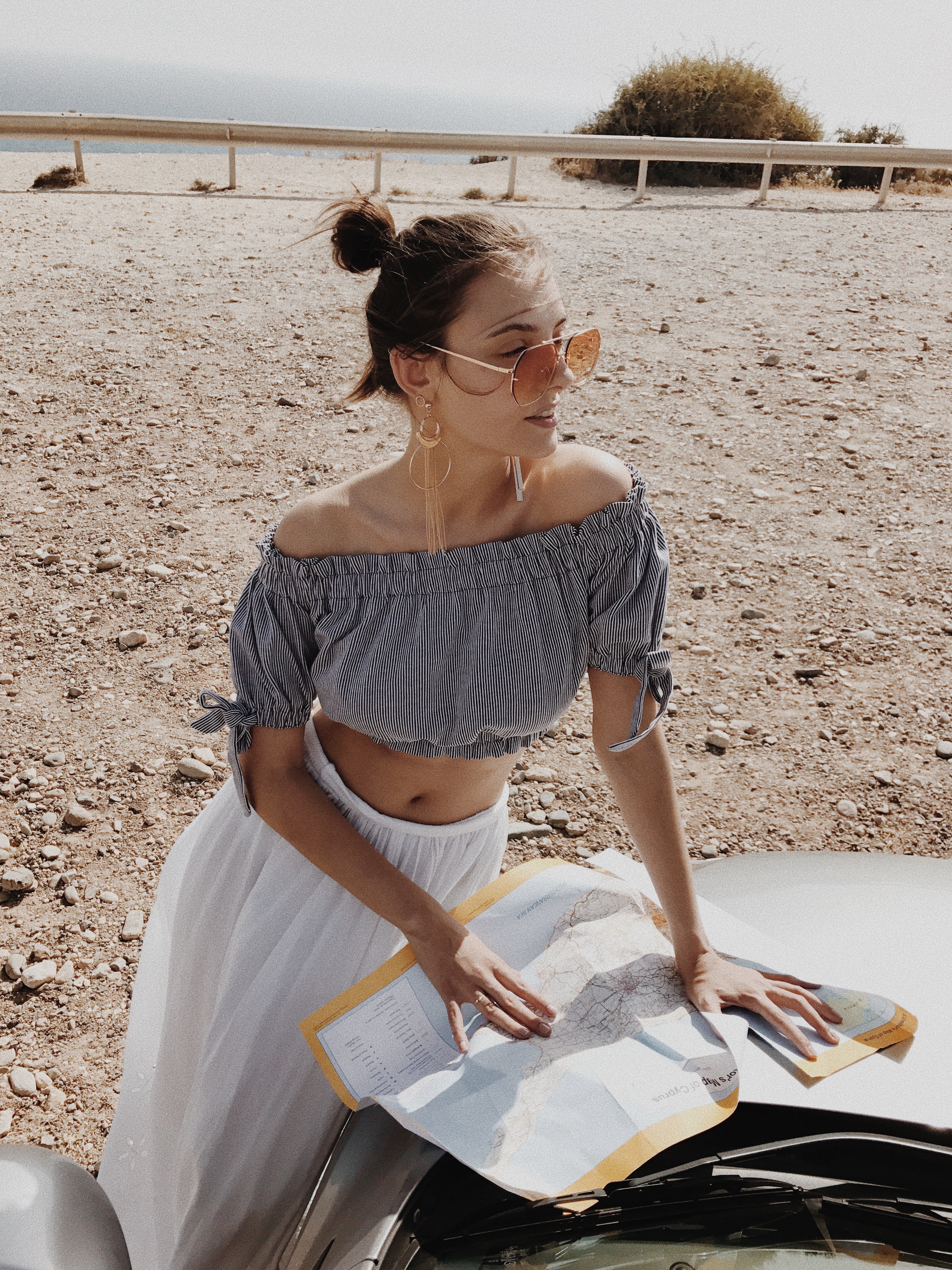 And again, the drive towards Aphrodite's Rock is equally beautiful als the rock itself! Make sure to make a little photo pit stop.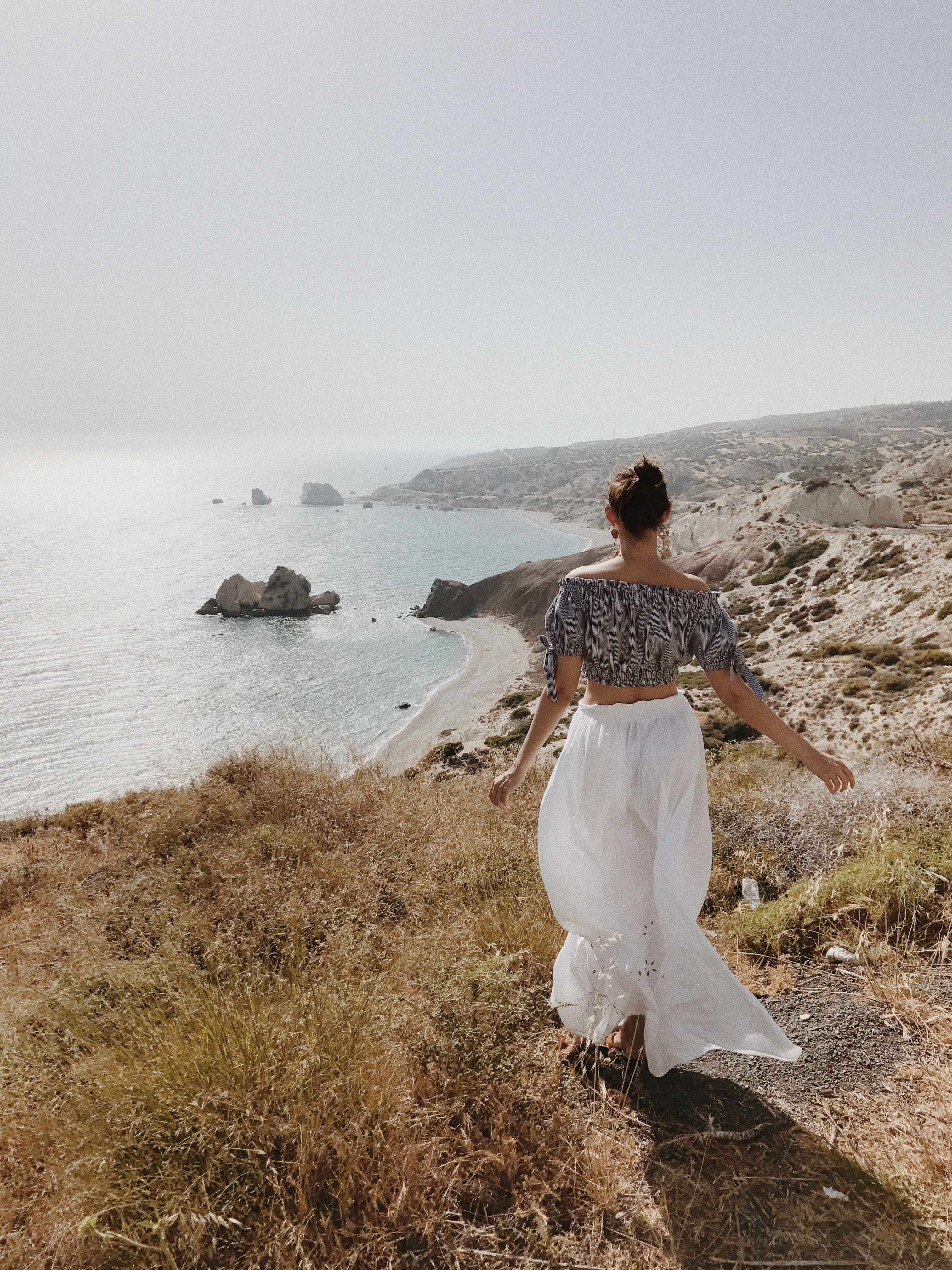 Tadaa! This place is quite popular amongst tourists but if you go early in the morning or around sunset (which we did), you can have a few moments for yourself.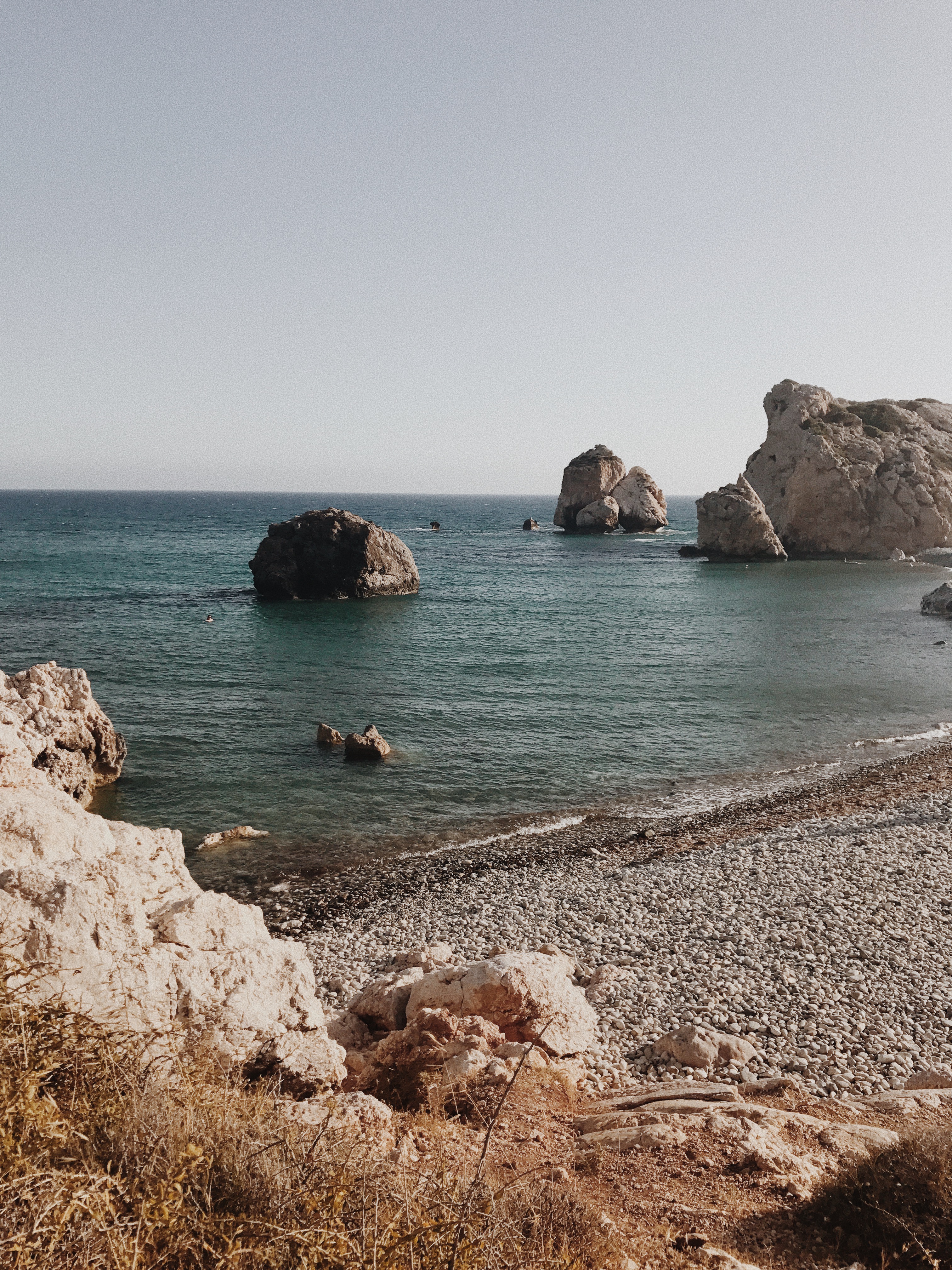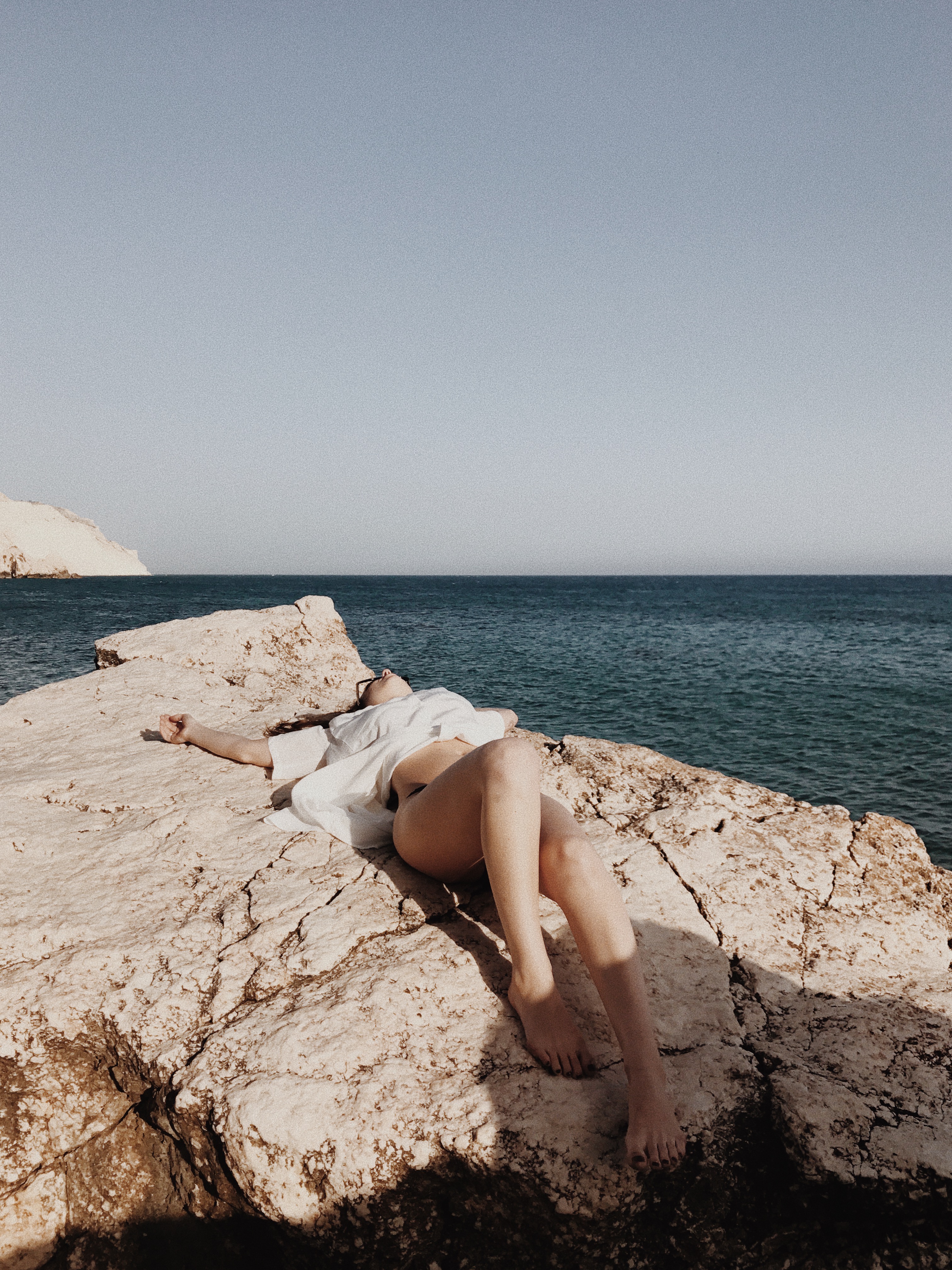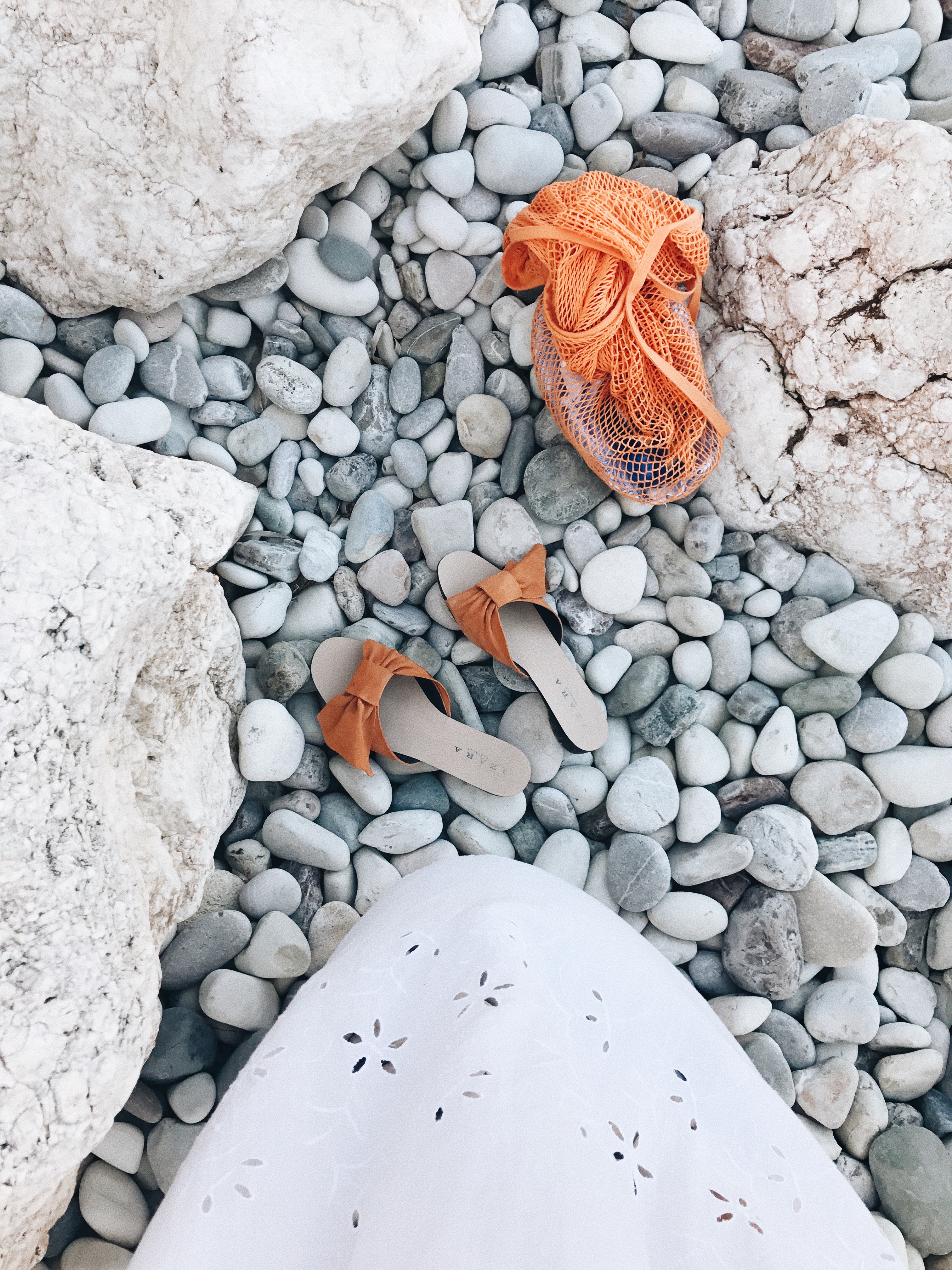 We had a real late lunch at the only restaurant around, which looks like a classic tourist trap but actually serves delicious food. And the stunning views on the sea are a huge plus of course!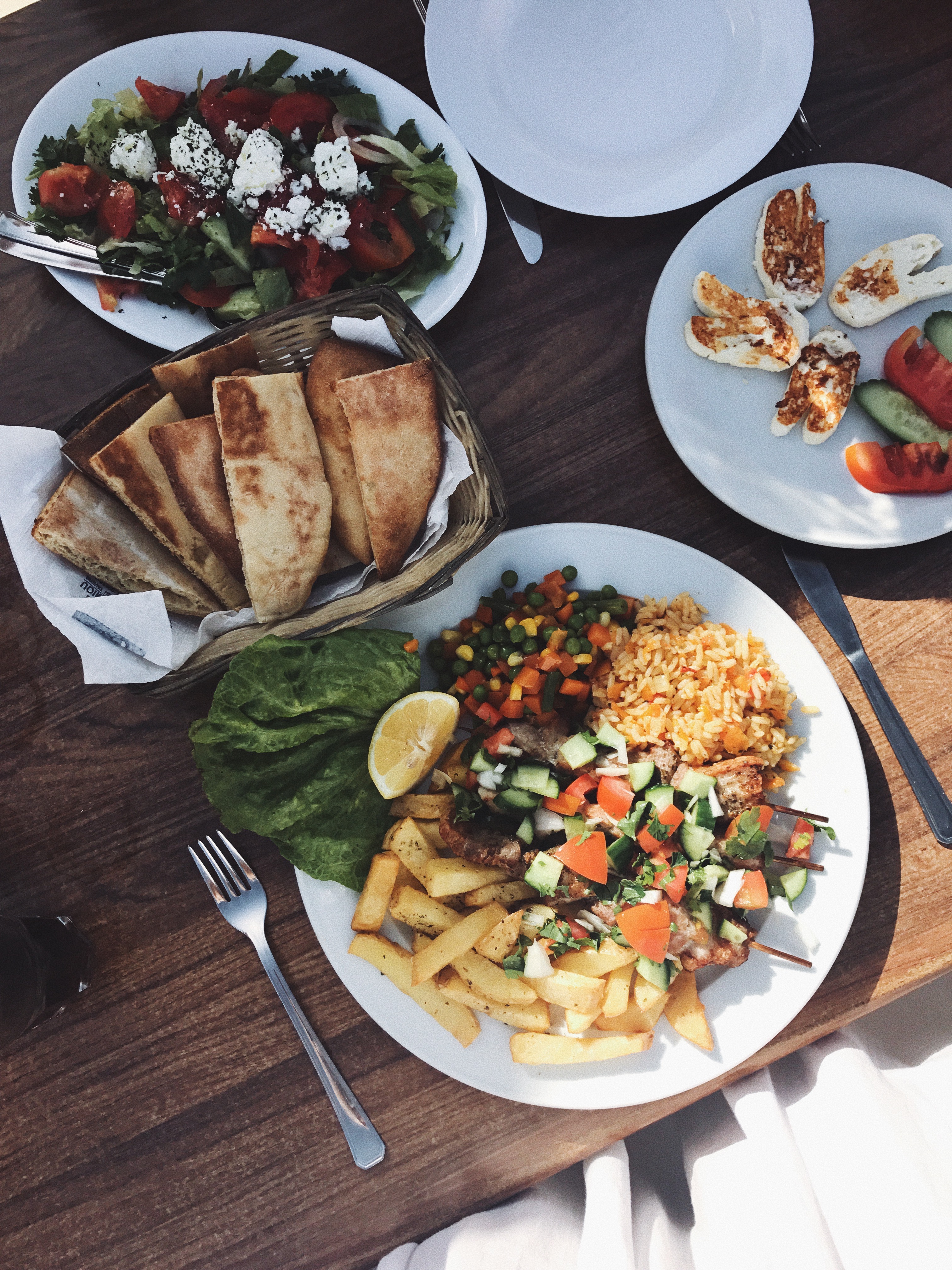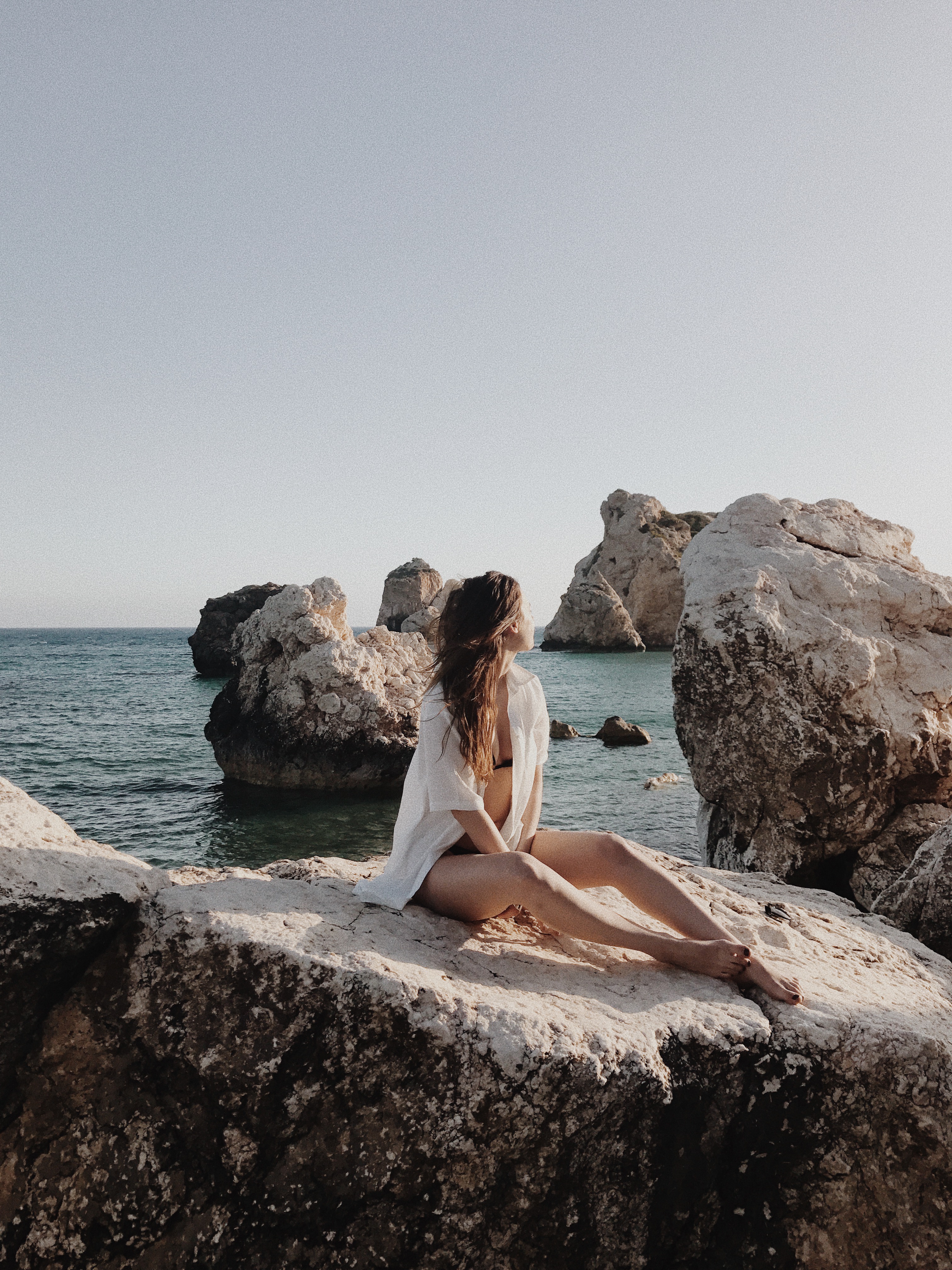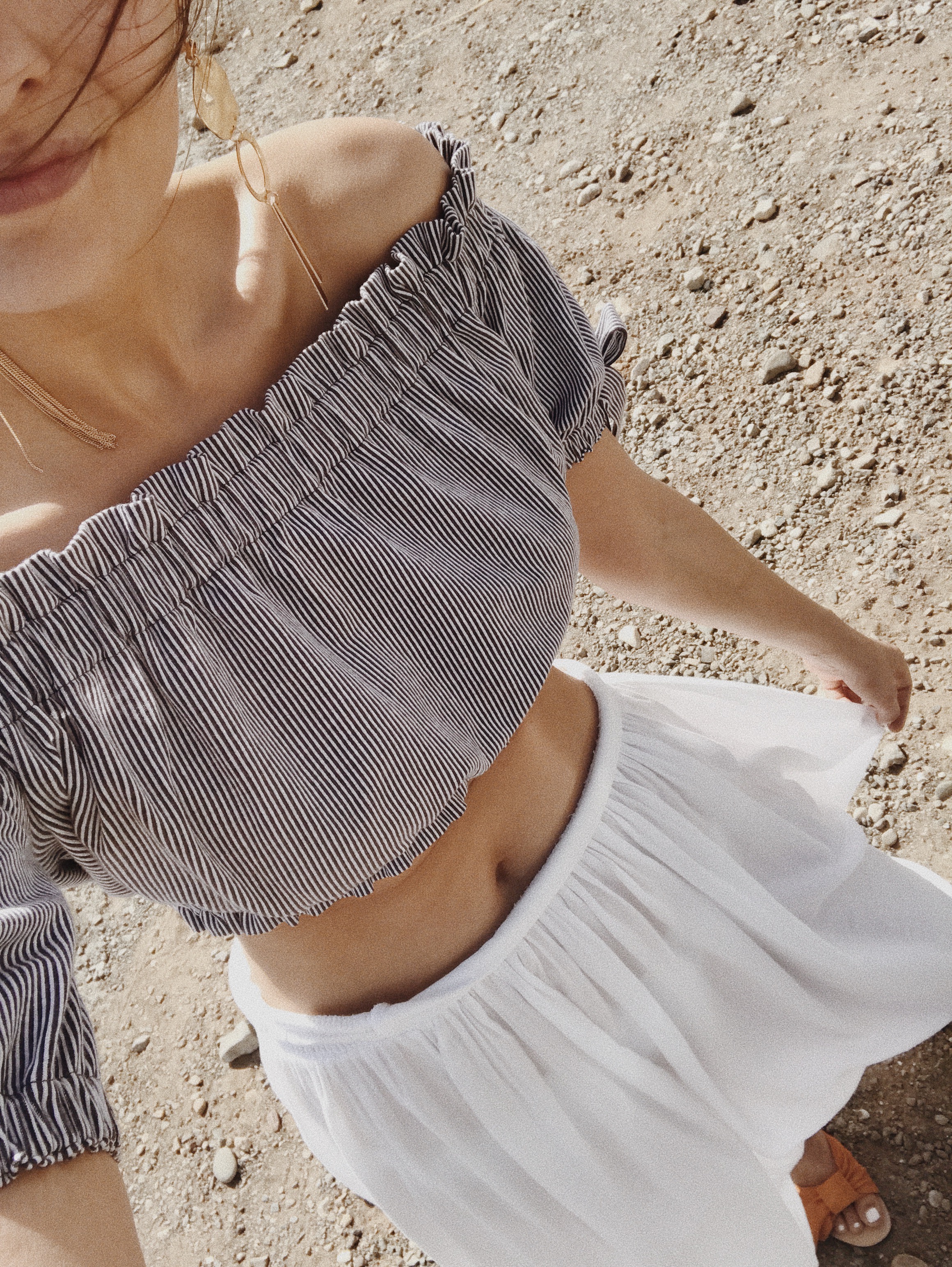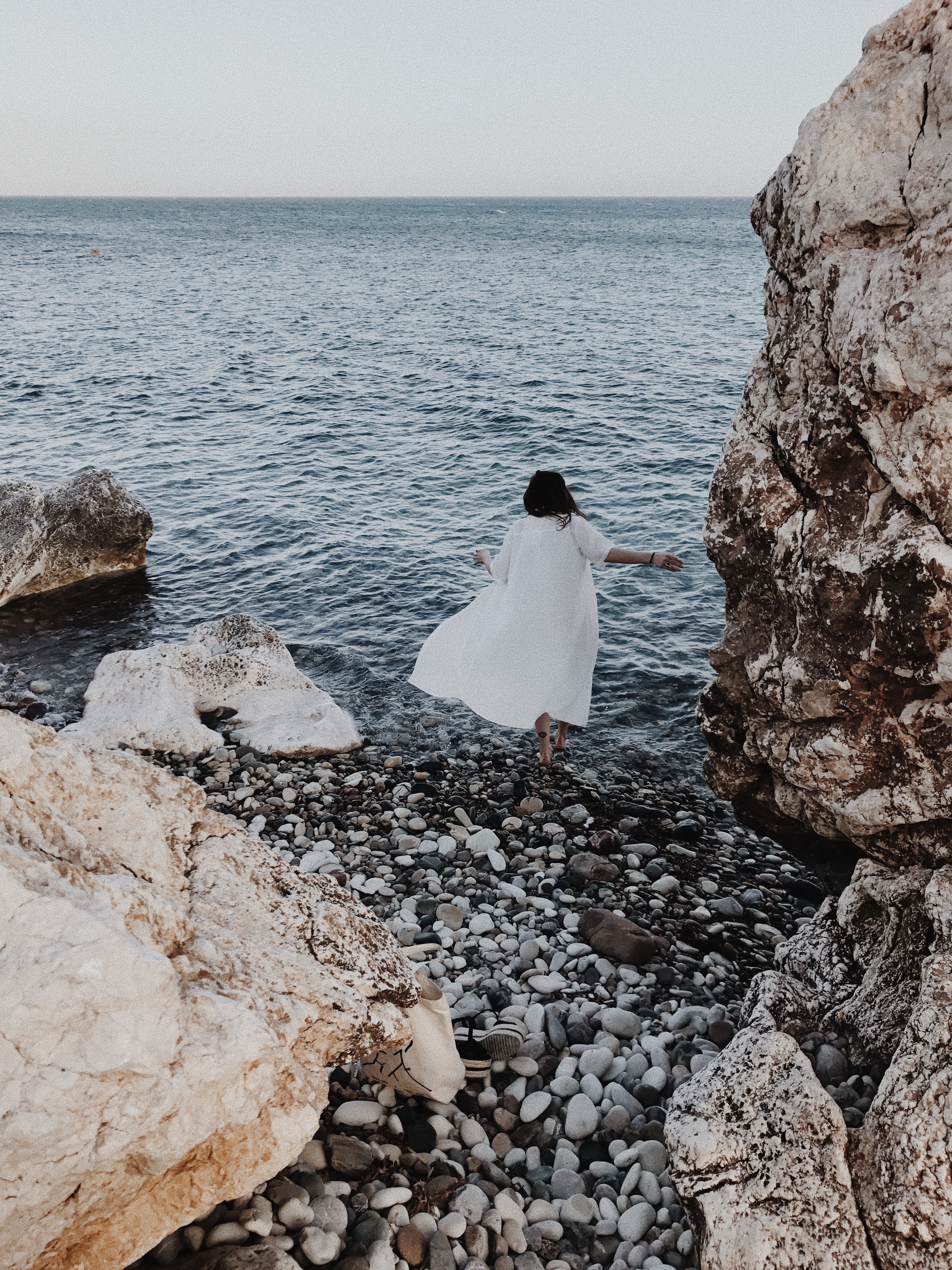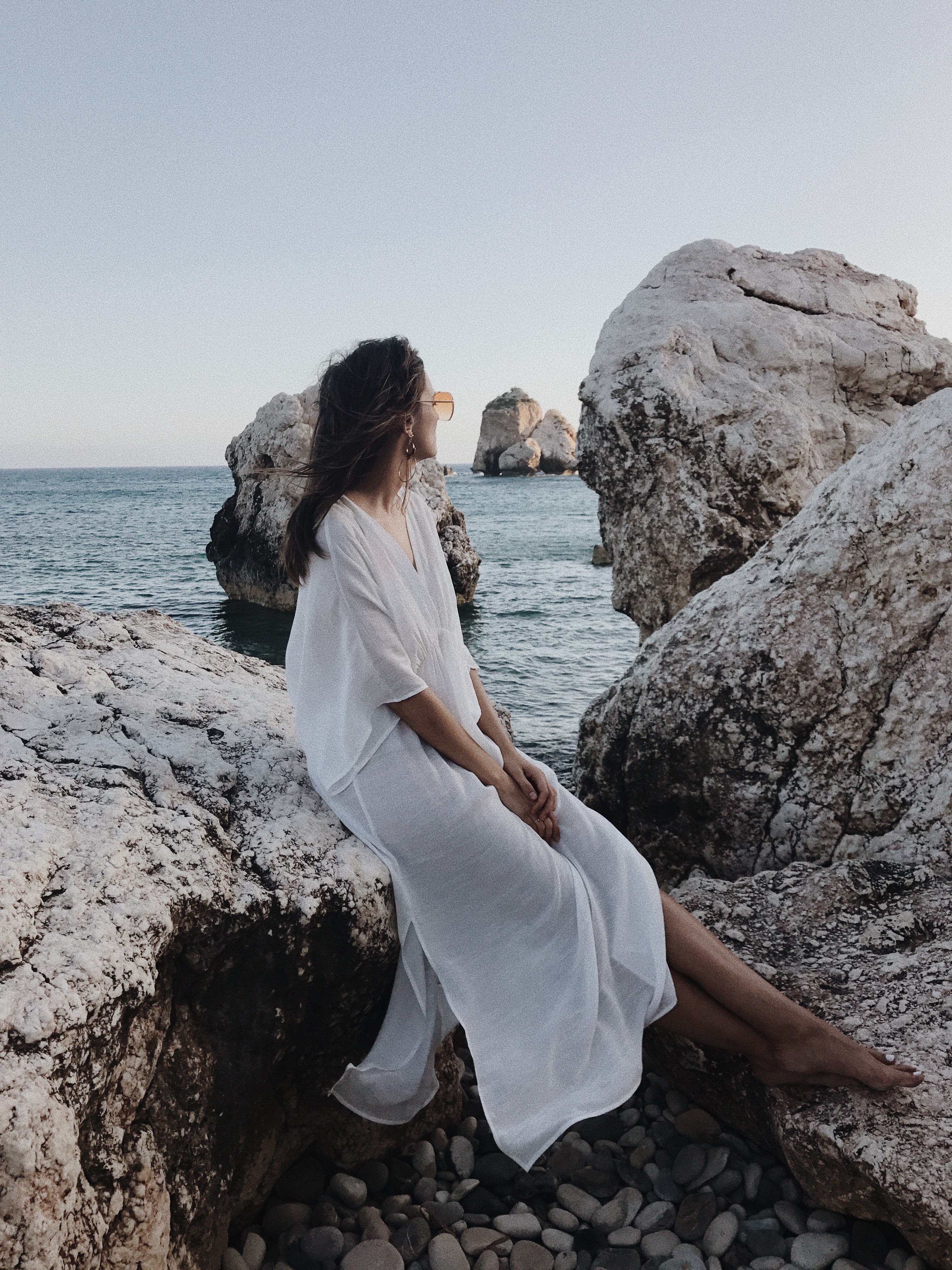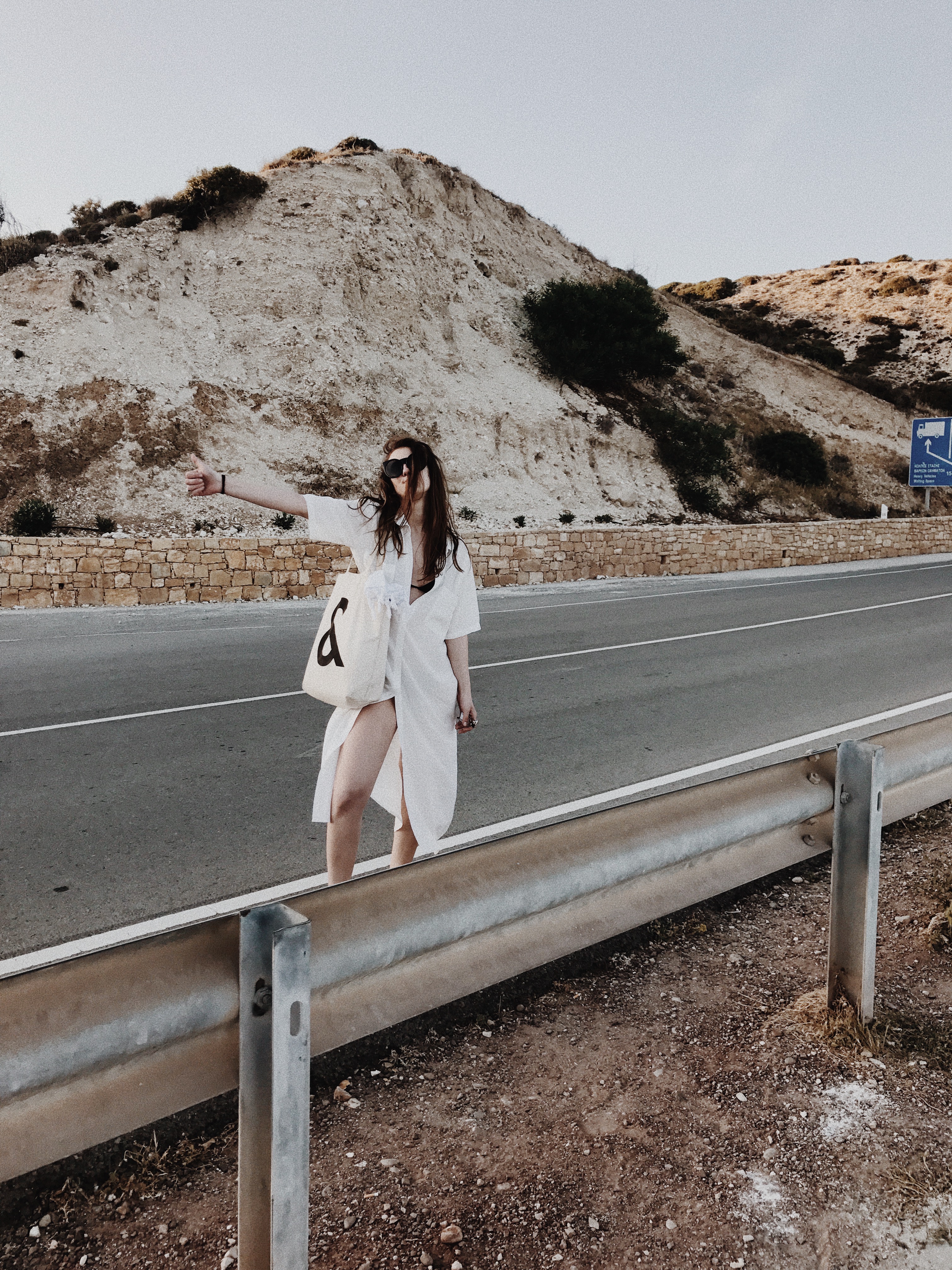 Oh, and something that slowly struck me after a few days of roadtripping: Cyprus' landscapes are so versatile that you sometimes feel like you're driving around an entirely different country. The seaside feels mostly Greek/Italian/French, but when you head inland the sceneries suddenly change. Up in the mountains the landscape looks quite Canadian, while at some points it feels like you're driving under the Toscan sun. That's what I call value for your money!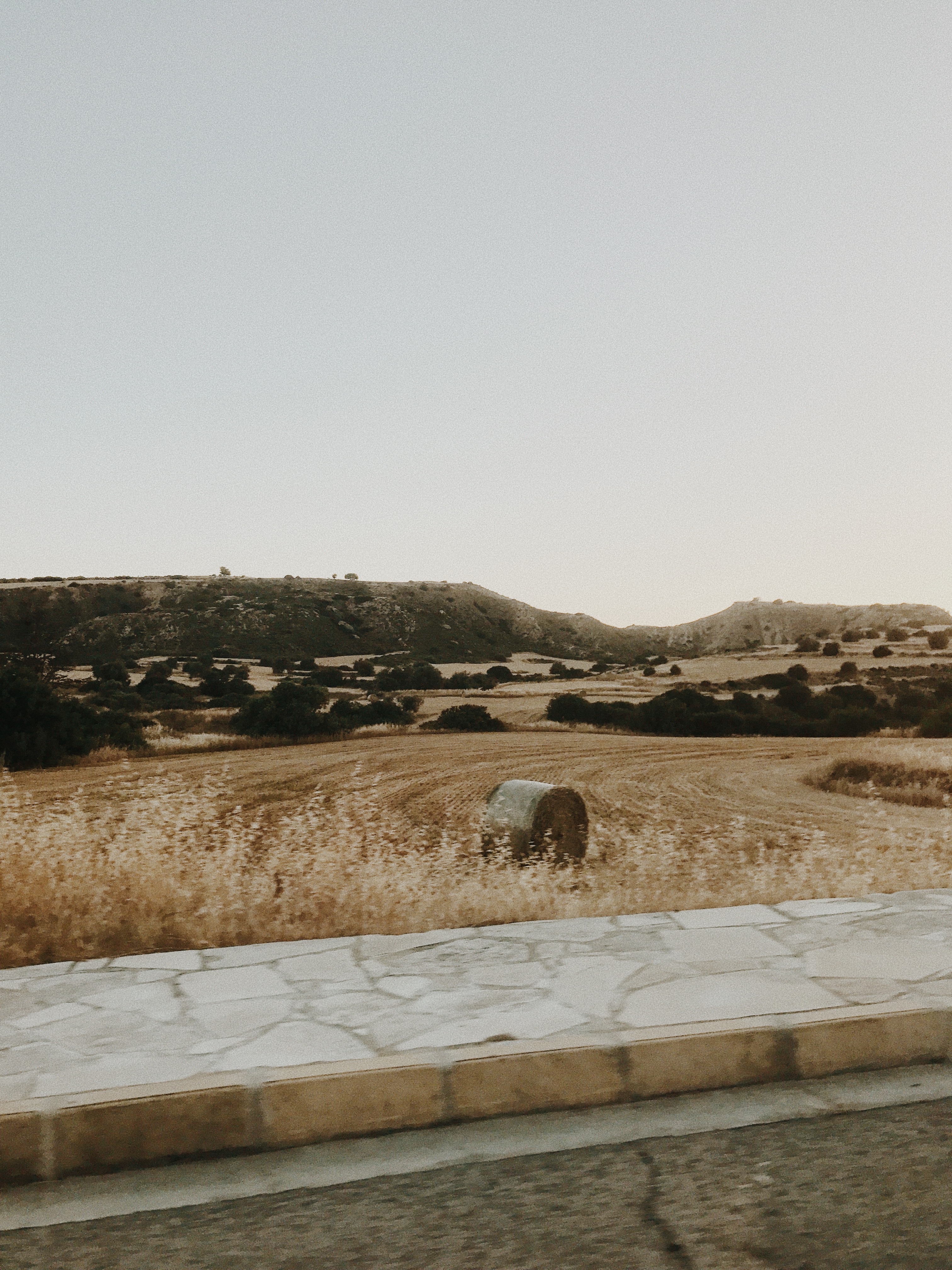 DAY 4 On our last full day Eliza had scheduled us a decent portion of culture! Lisa and I enjoyed our usual morning coffee & fruits next to the pool before driving off to the city of Pafos. The entire (!) city is included in the official UNESCO list of cultural and natural treasures of the world's heritage for its spectacular ancient remains, and was selected as the European Capital of Culture for 2017. Time for a visit!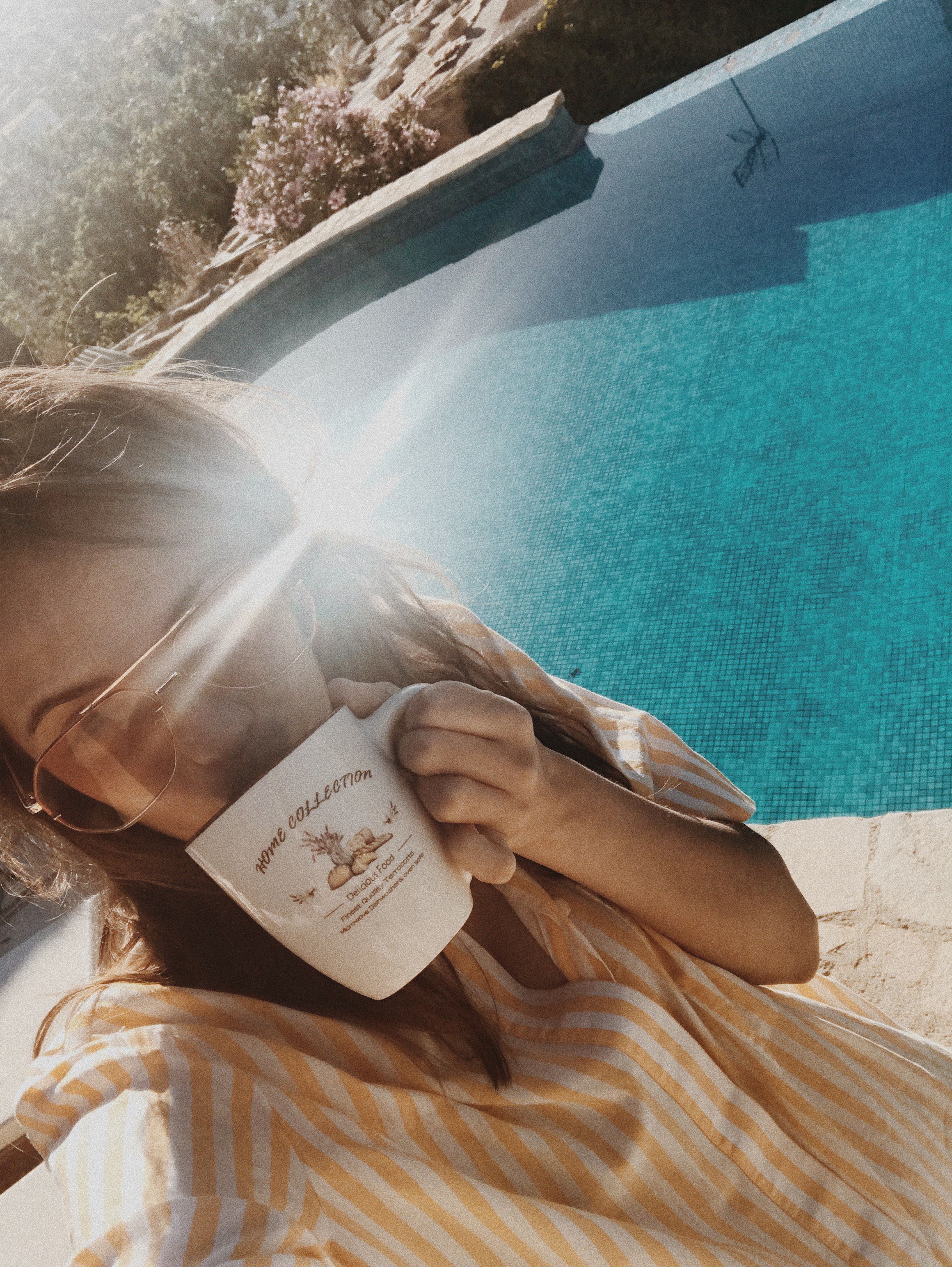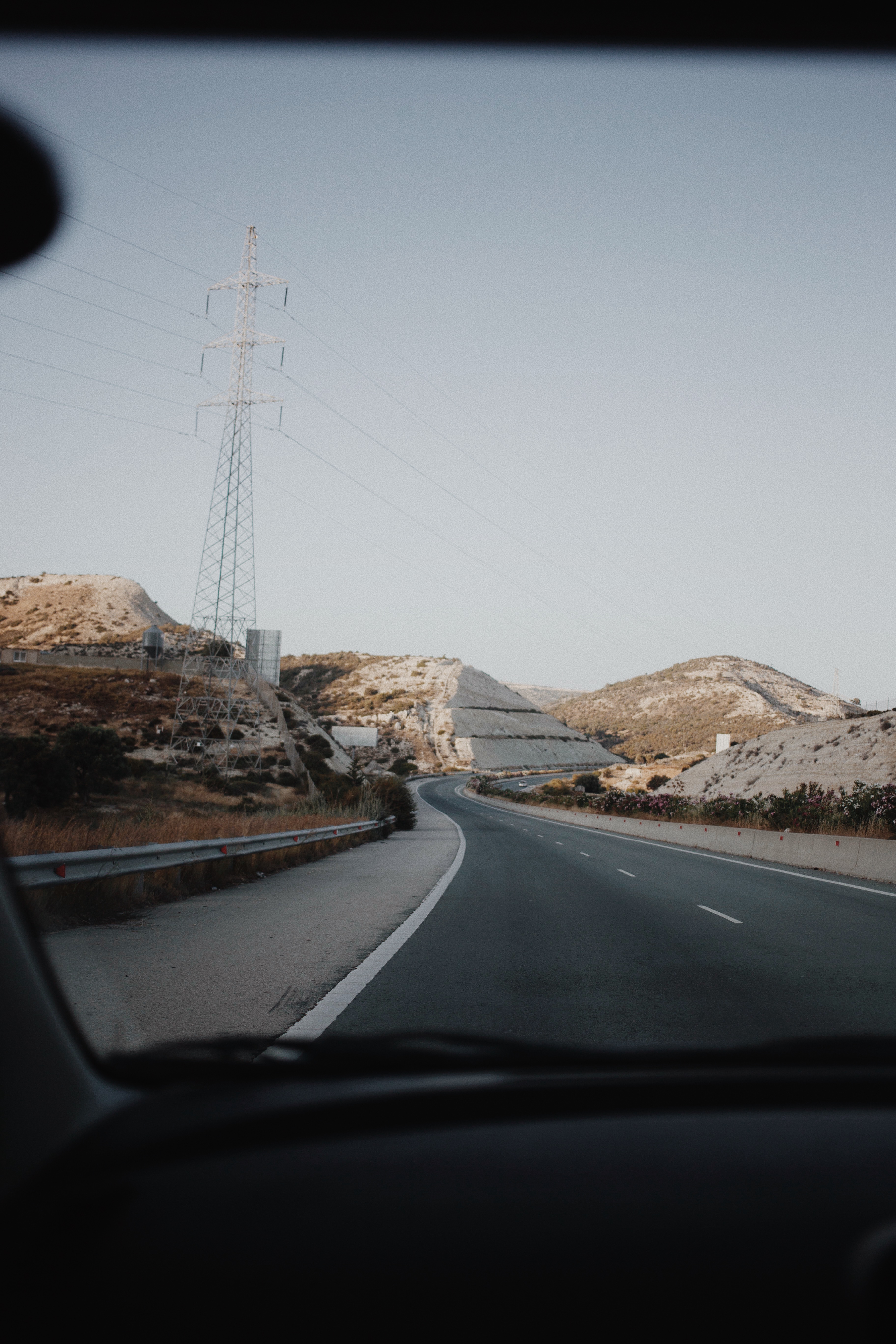 But first, iced coffee.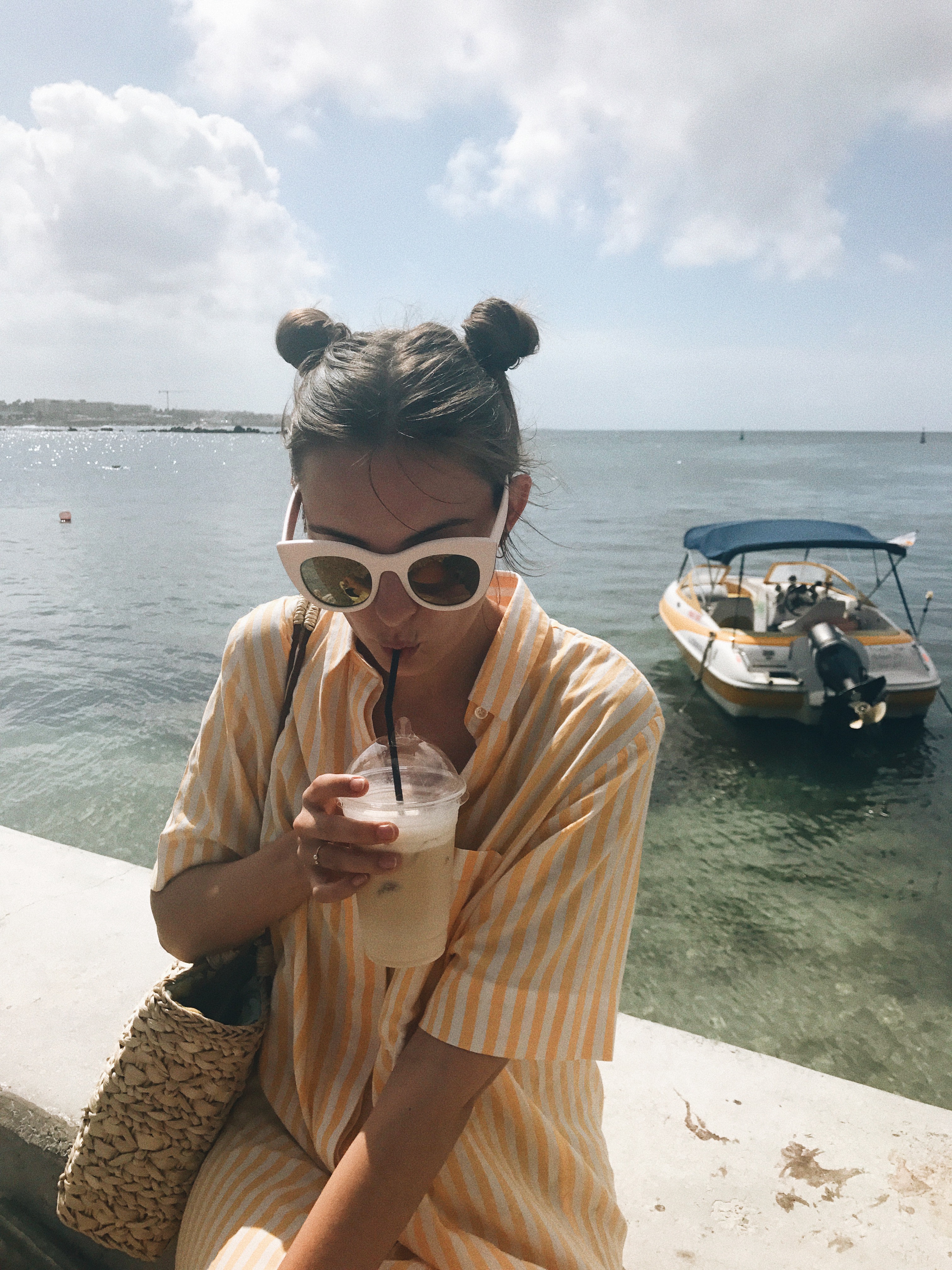 Our first stop was the Kato Paphos Archaeological Park, which includes sites and monuments from prehistoric times to the Middle Ages. The epicenter of the finds are the beautiful mosaic floors of four Roman villages. The site is often used for cultural and musical events too. And there's actually still 1 house on the site, with an old lady permitted to keep living there after the archeological finds were discovered! Fun fact 🙂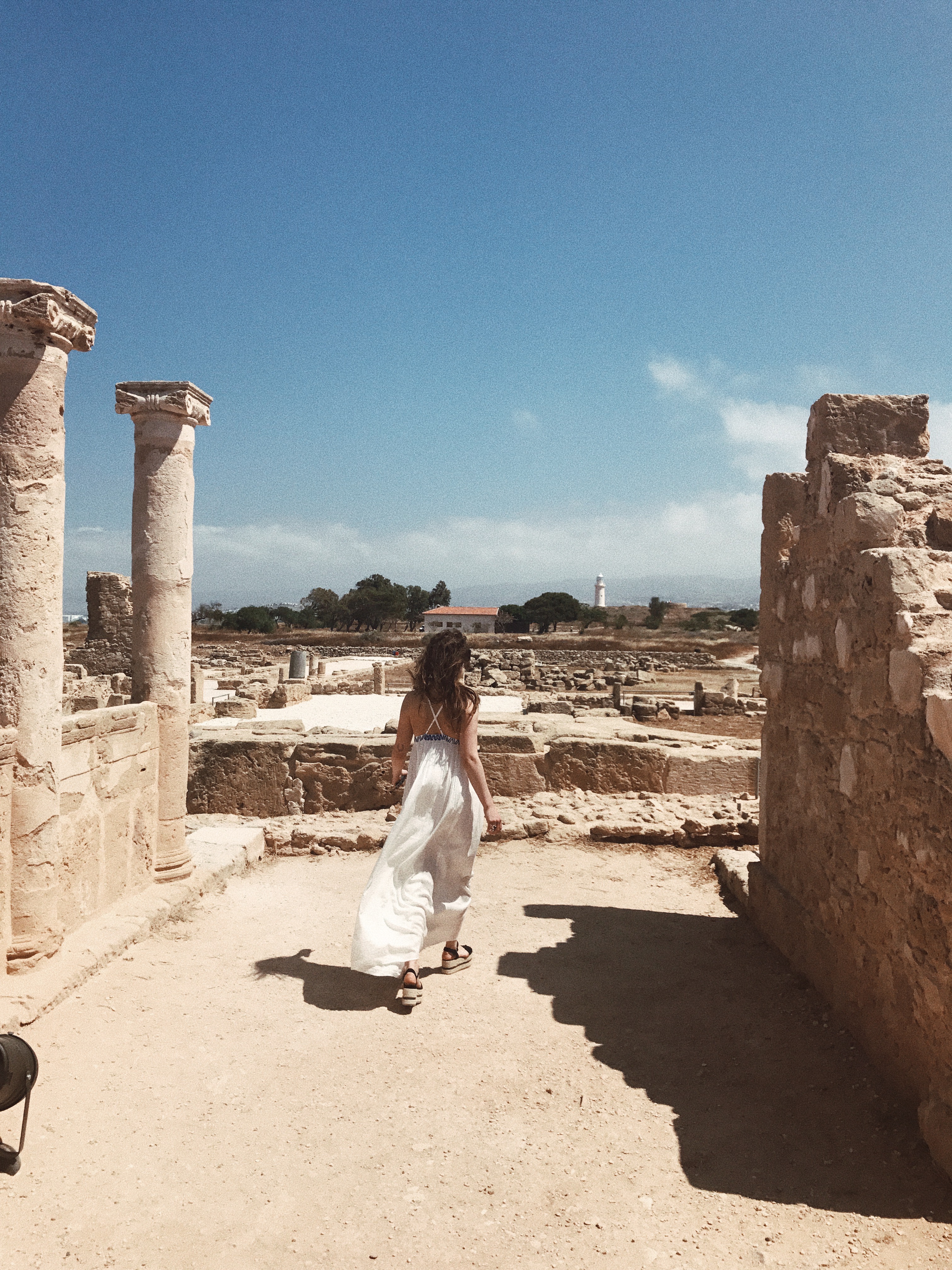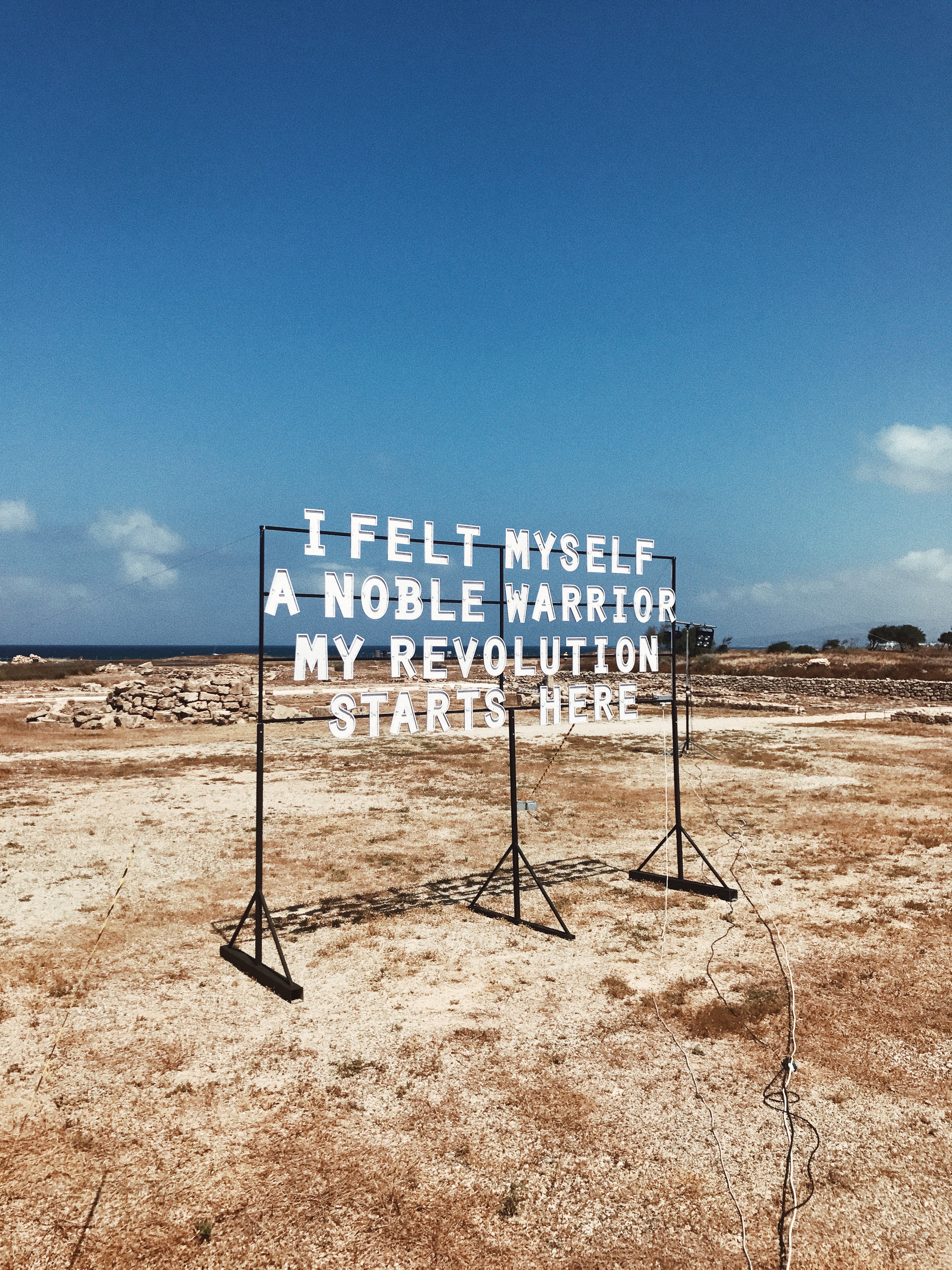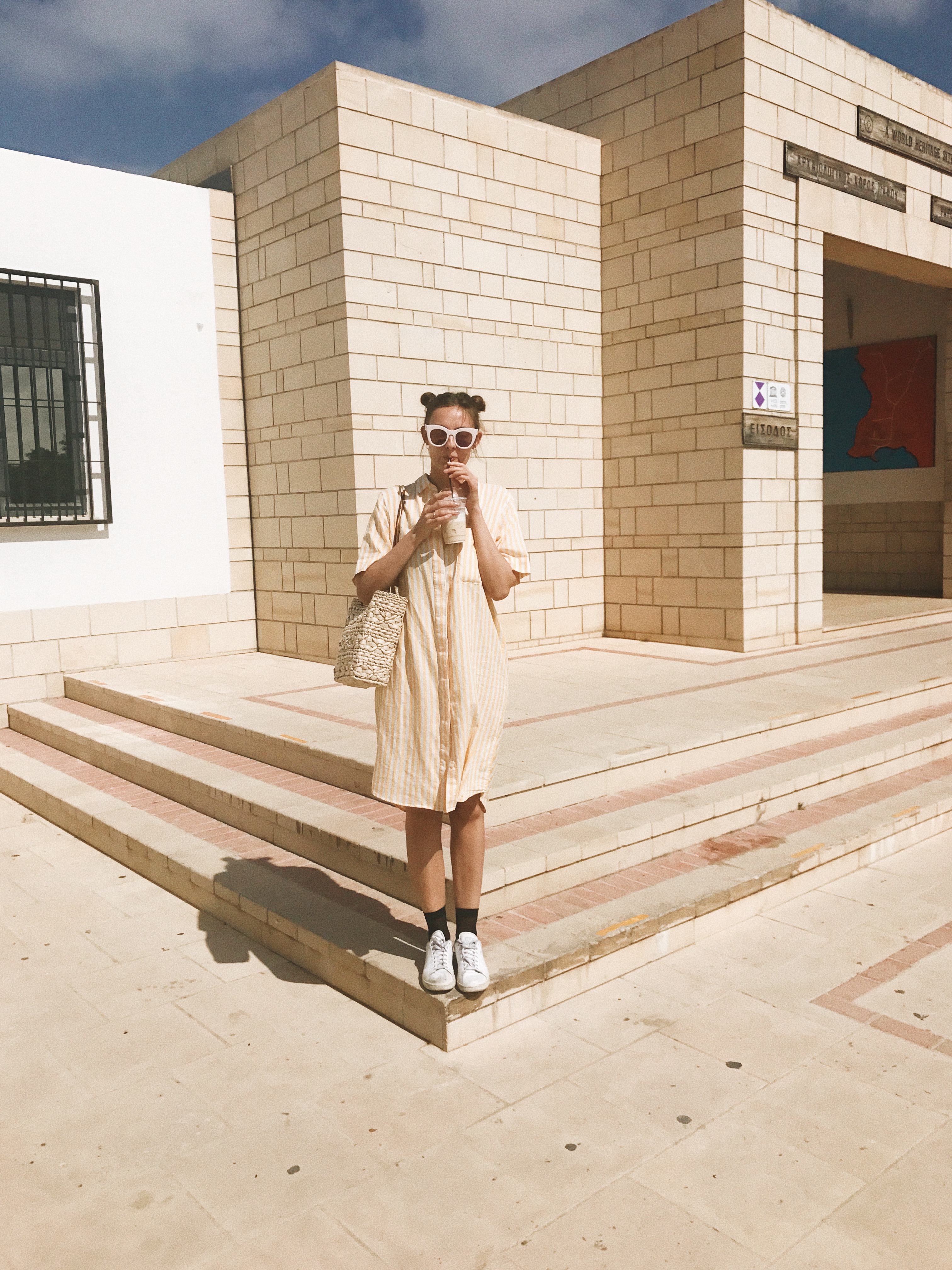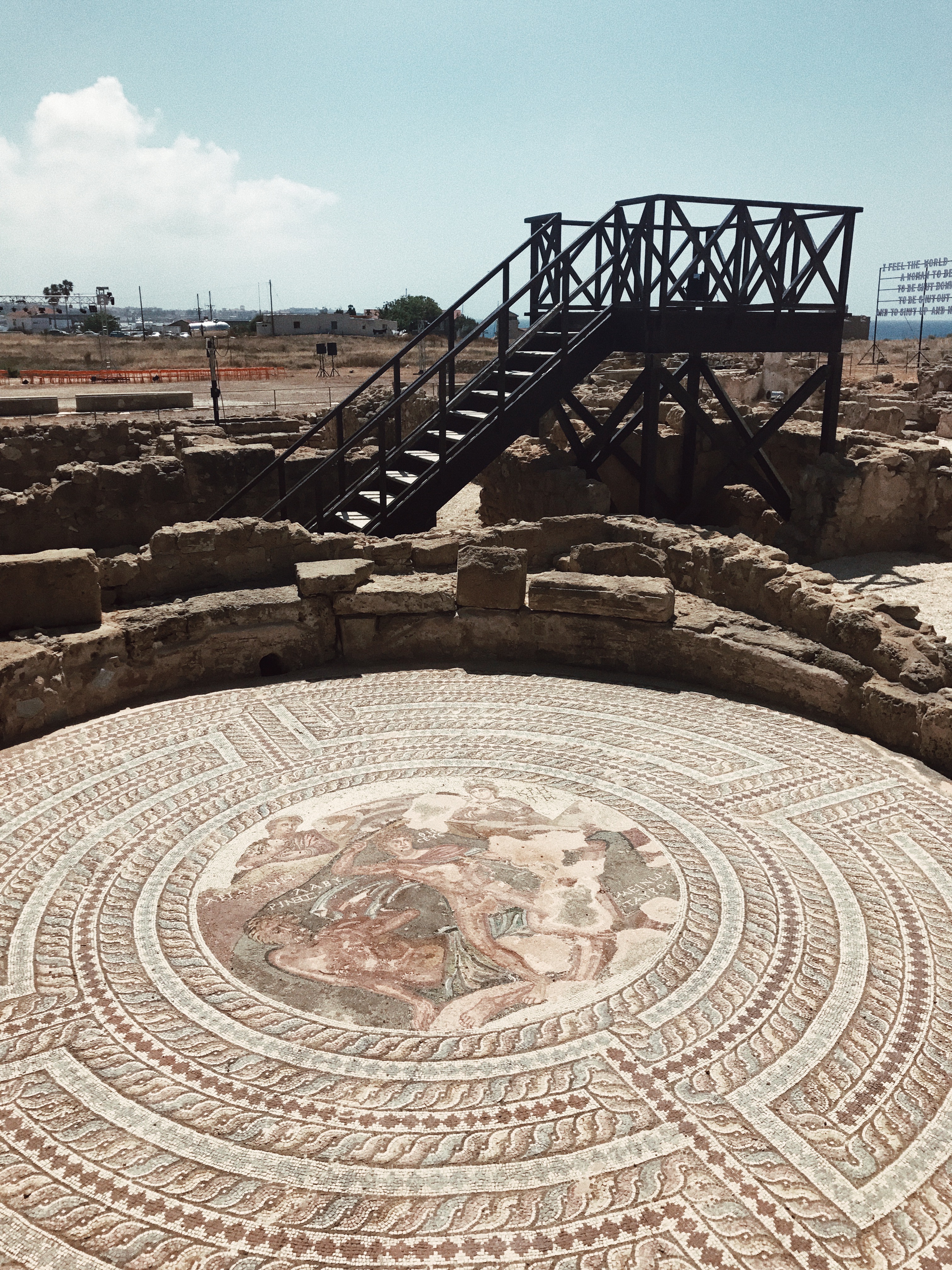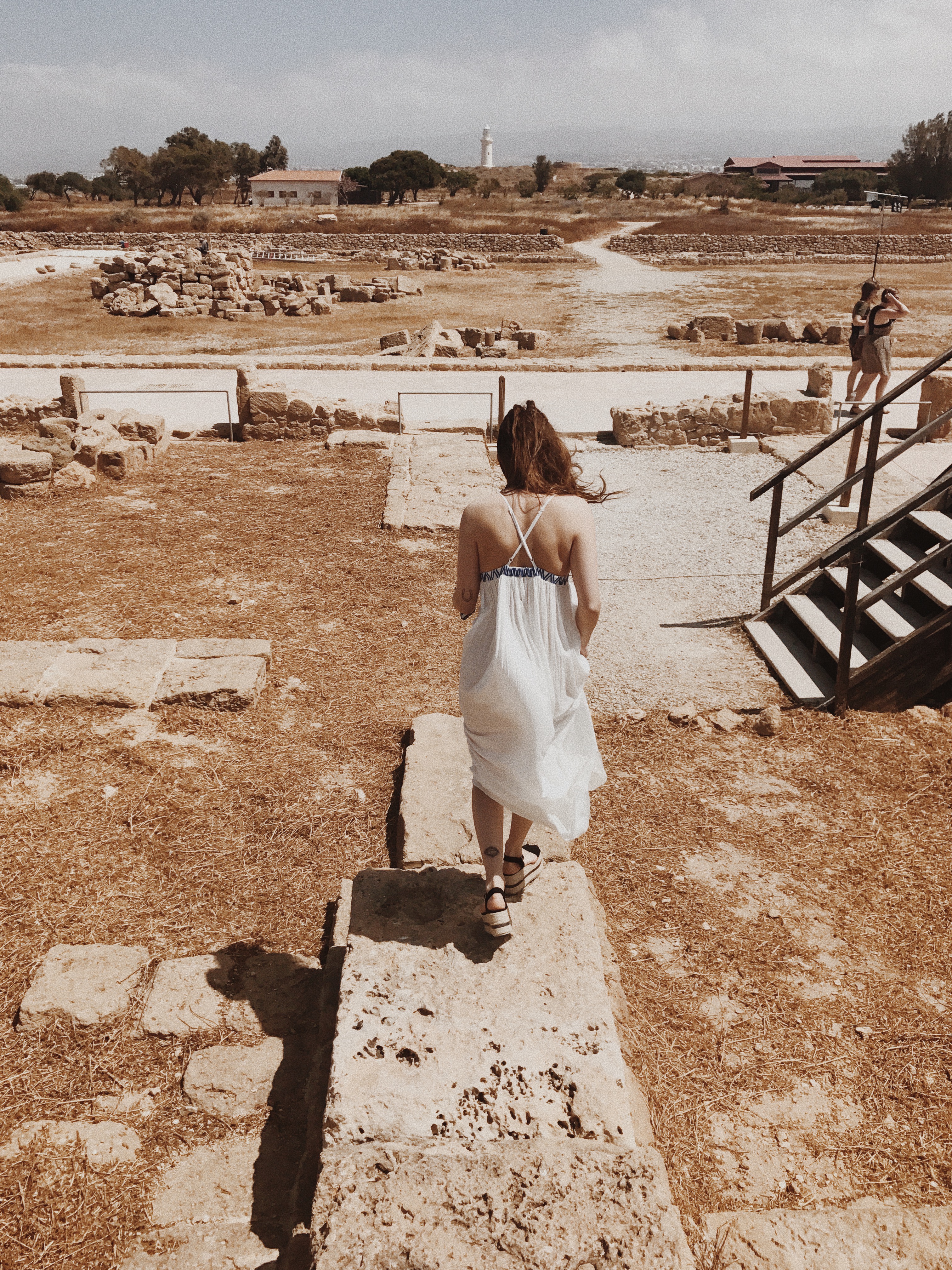 When you head towards the upper town of Pafos, you'll notice a completely different vibe from the downtown part at the port. Upper Pafos is more modern and more local, and not unimportant, they have just finished a brand new shopping street 😉 In the city you'll stumble on plenty of street art around every corner.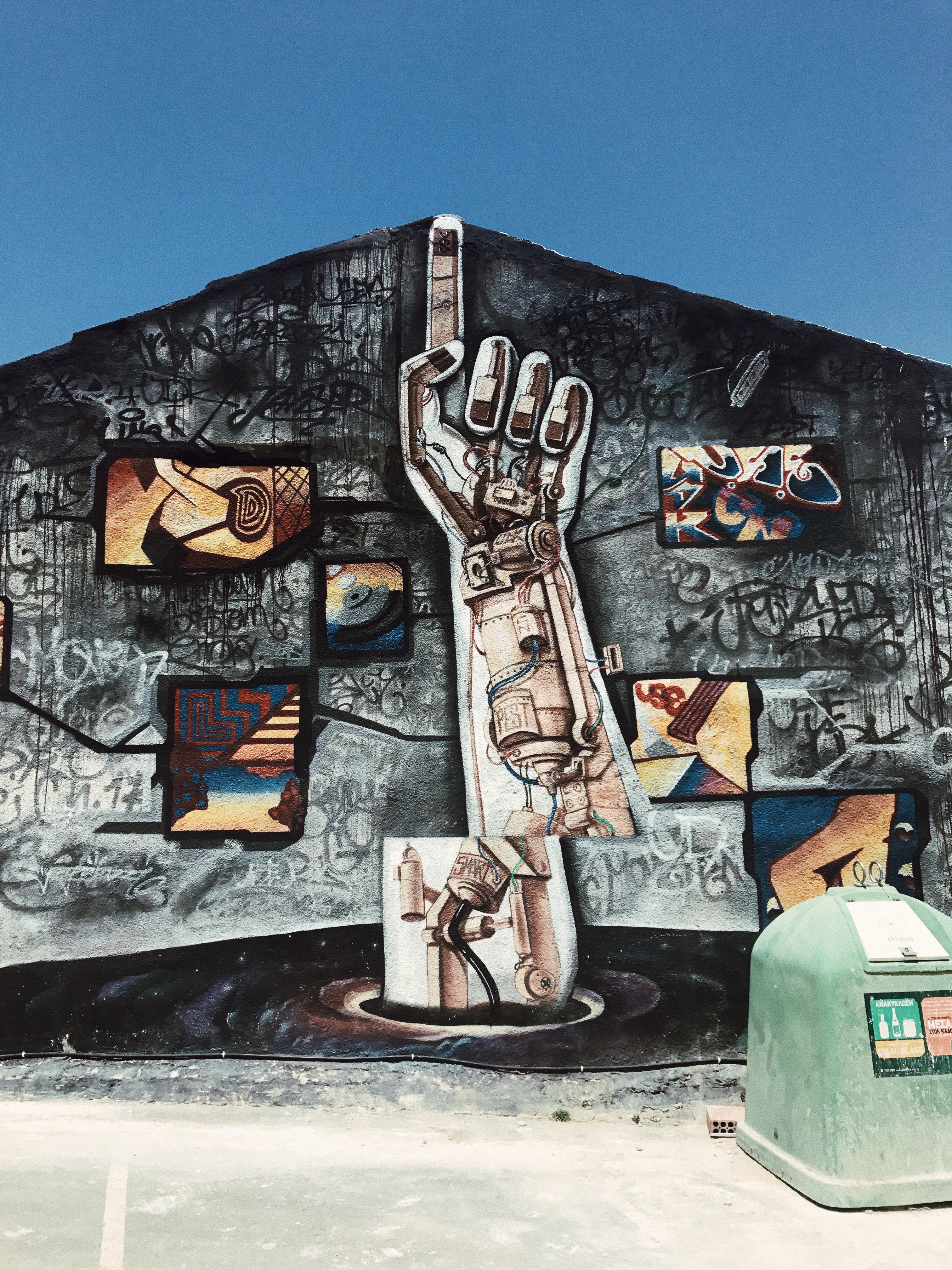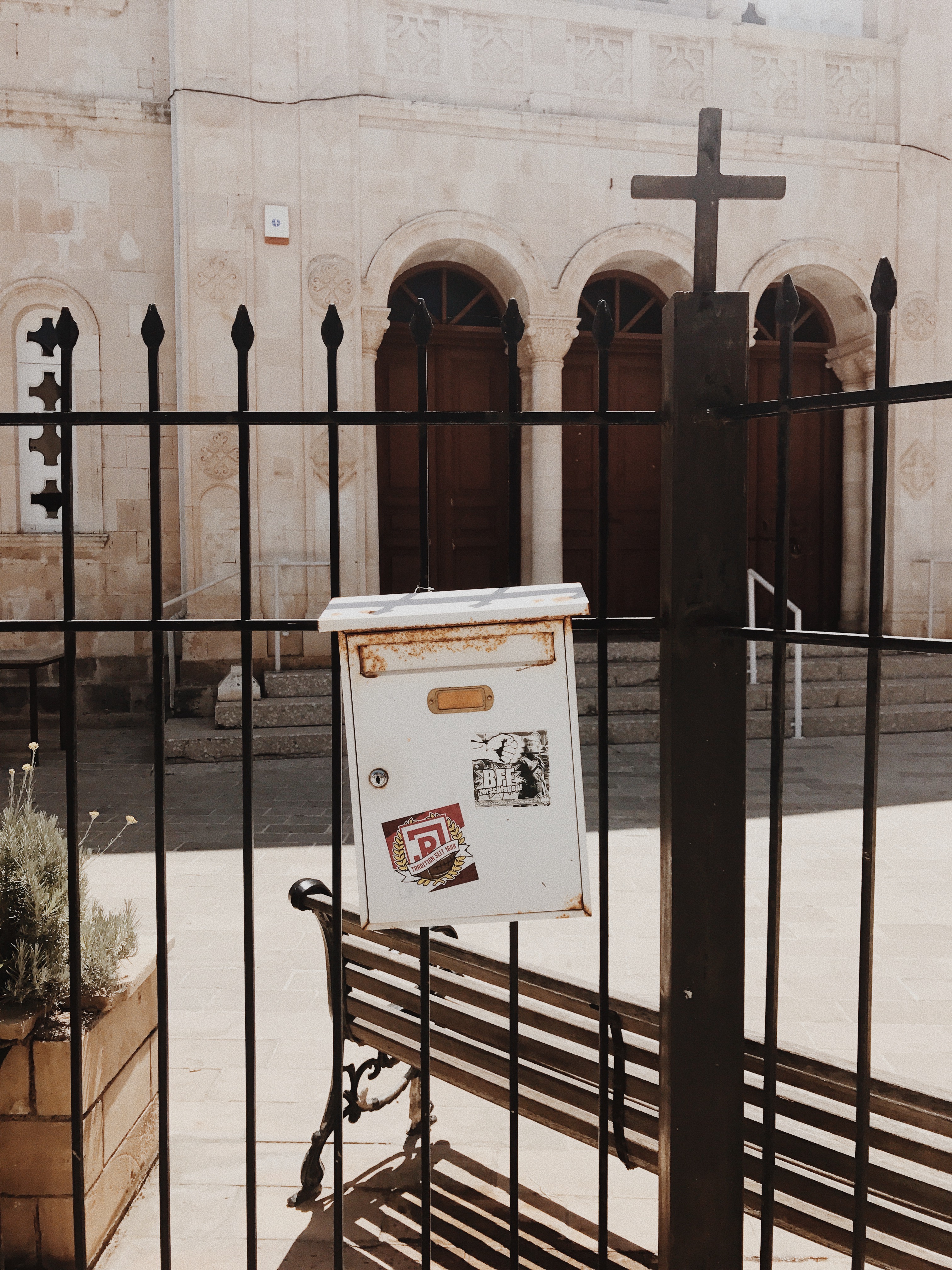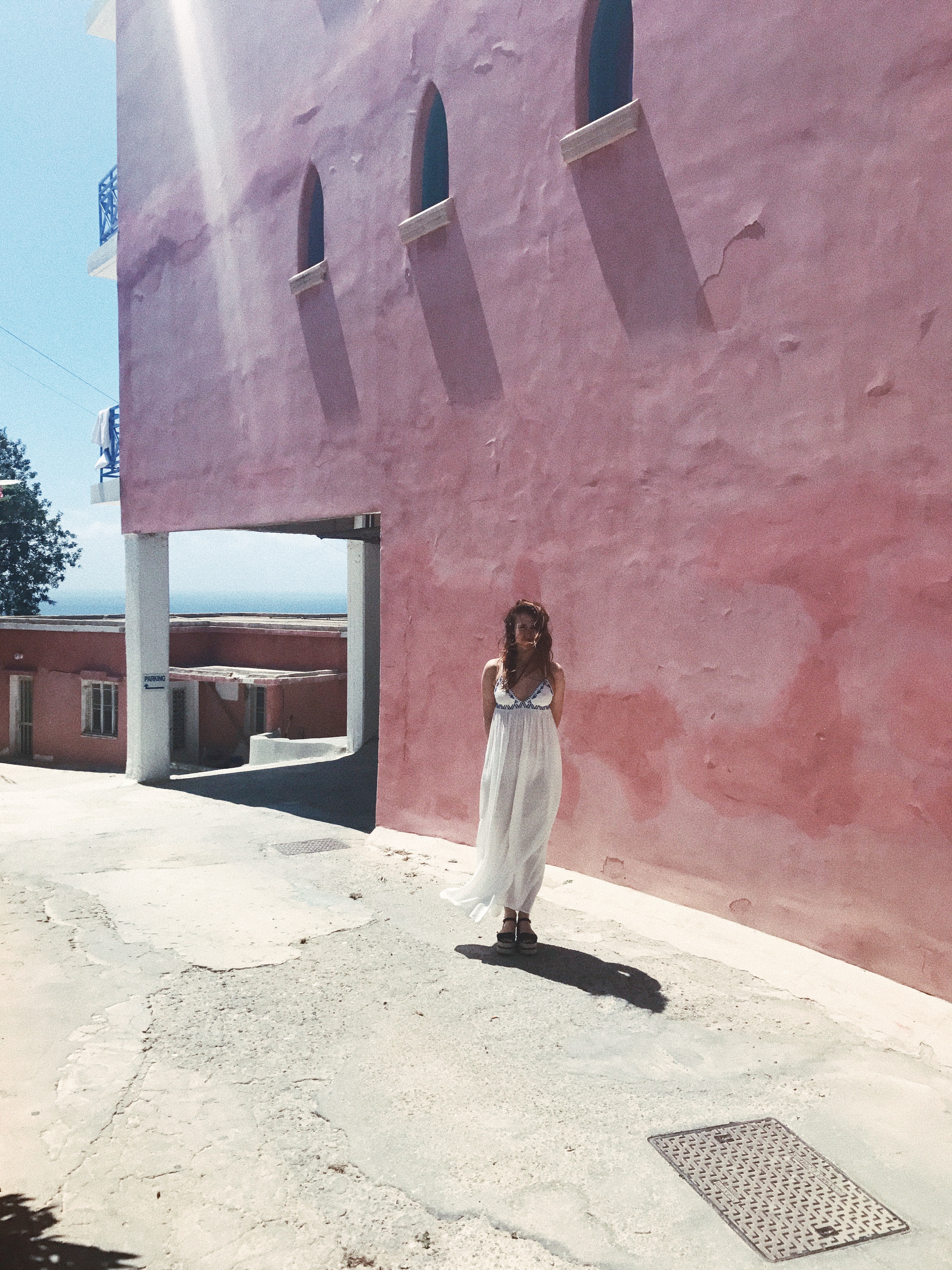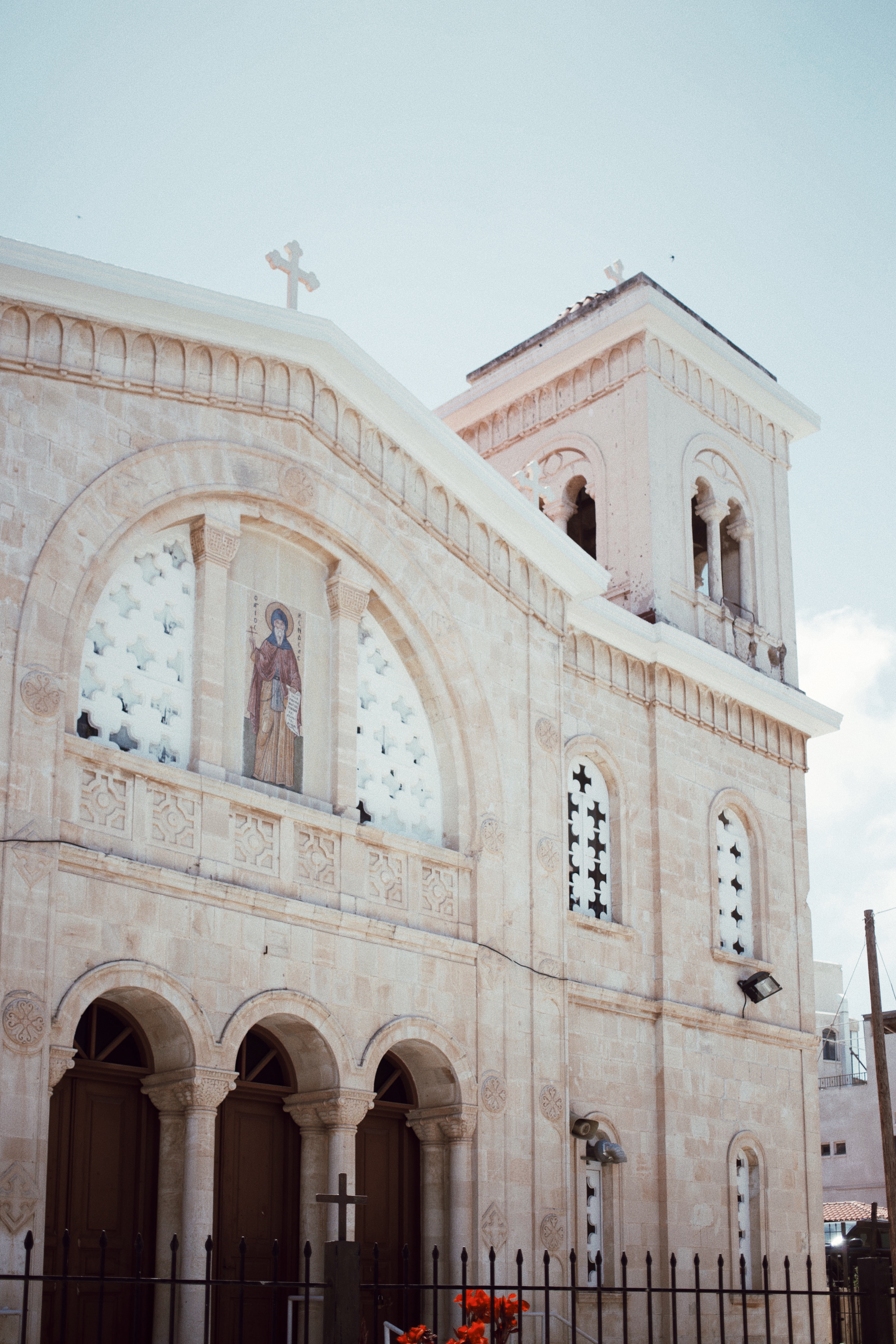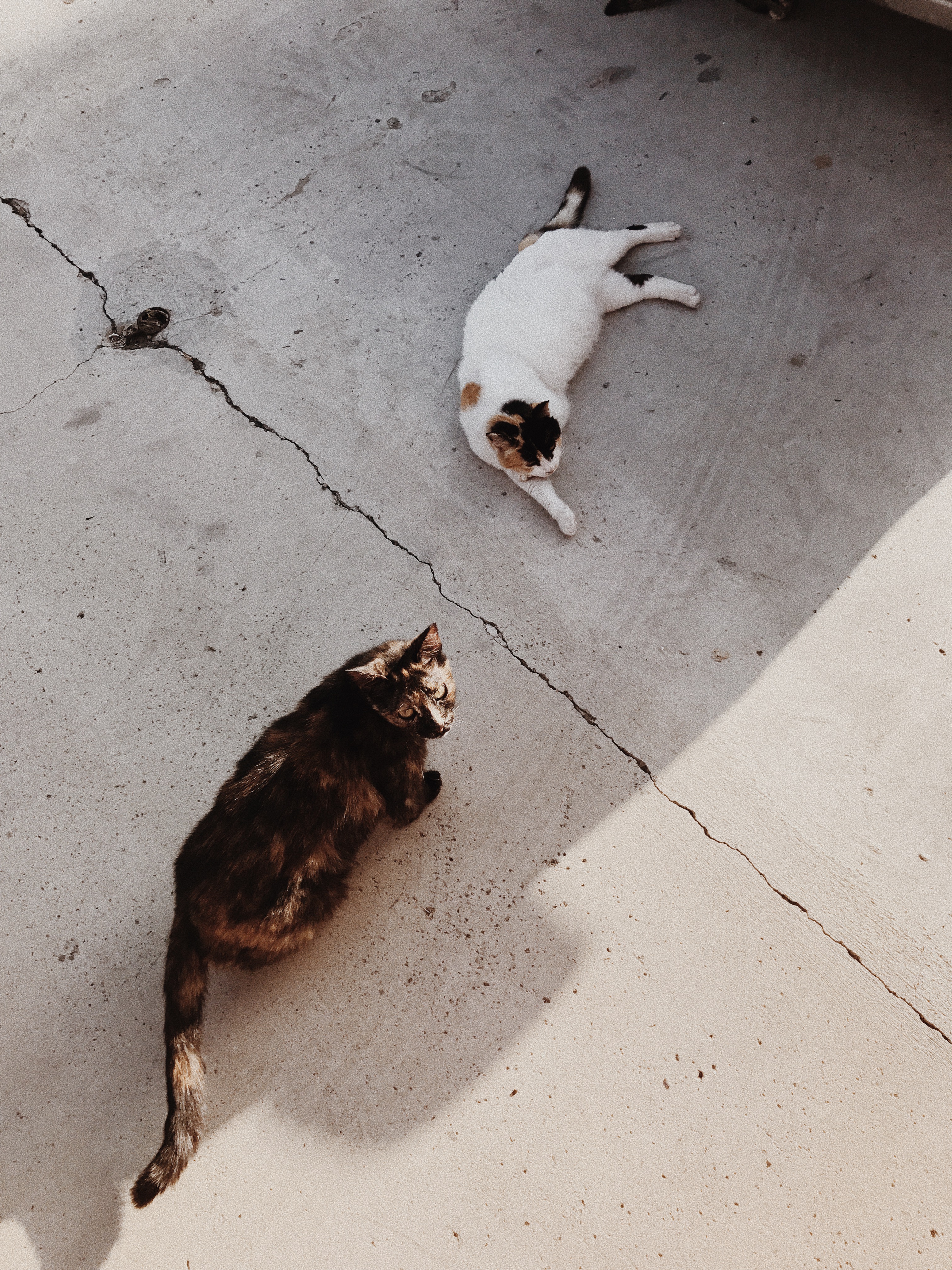 And there's super friendly people everywhere 🙂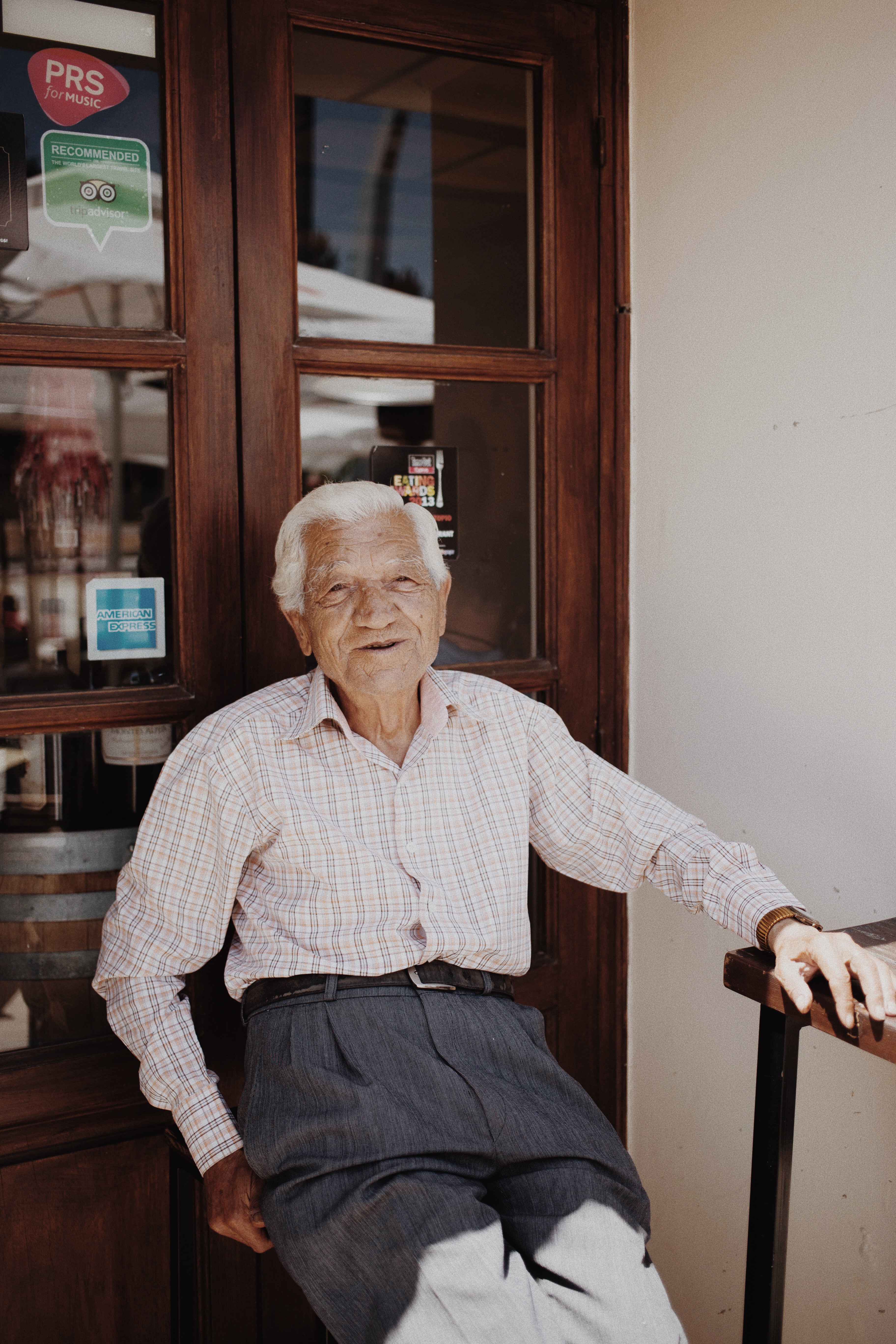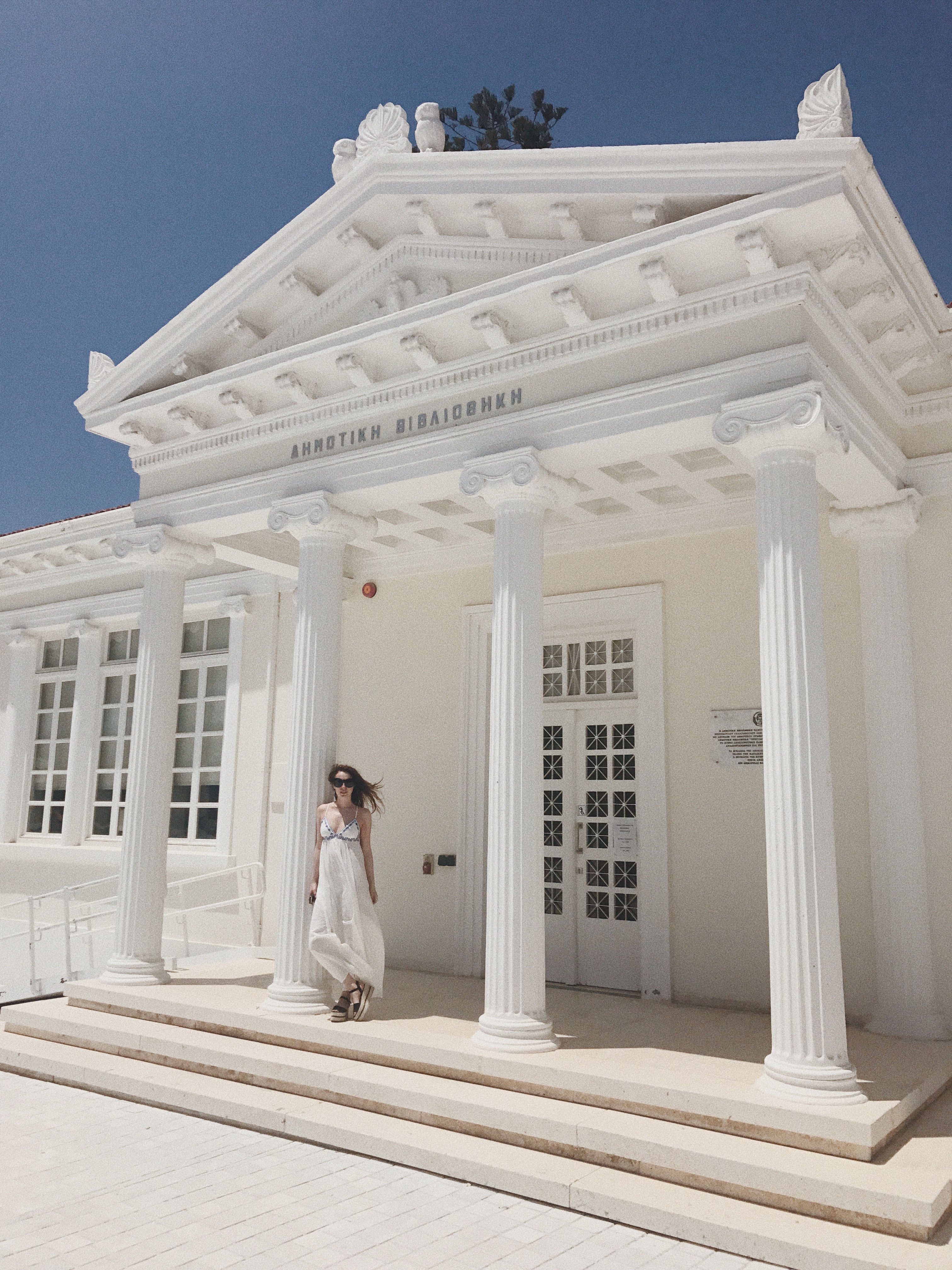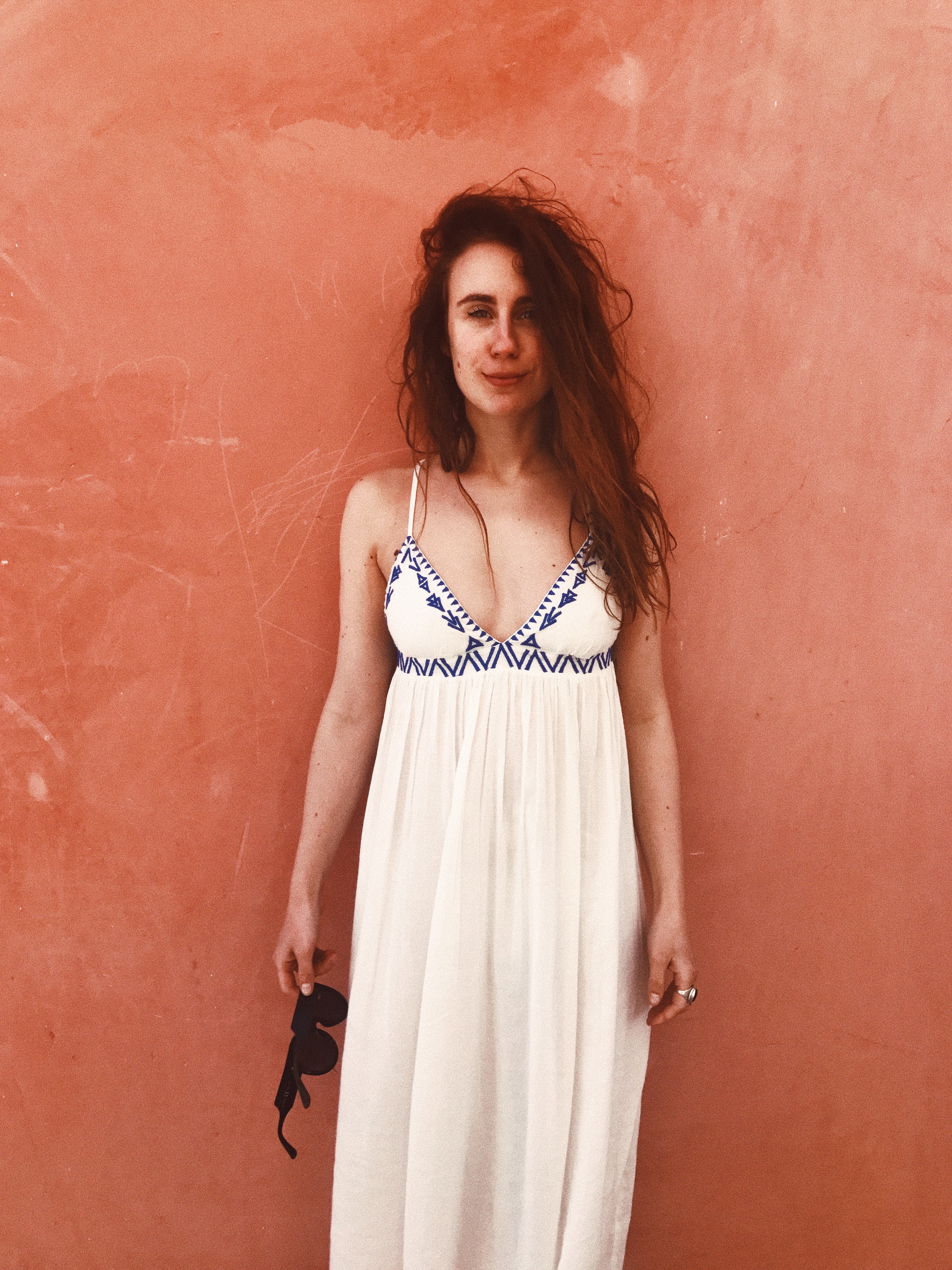 We had lunch at an amazing place called Muse, which is pretty difficult to find (hence you'll find lots of locals here) but TOTALLY worth the walk/drive up to the mountain! The views on the city of Pafos are incredible, and the food is super delicious. Beware of huge portions however, again.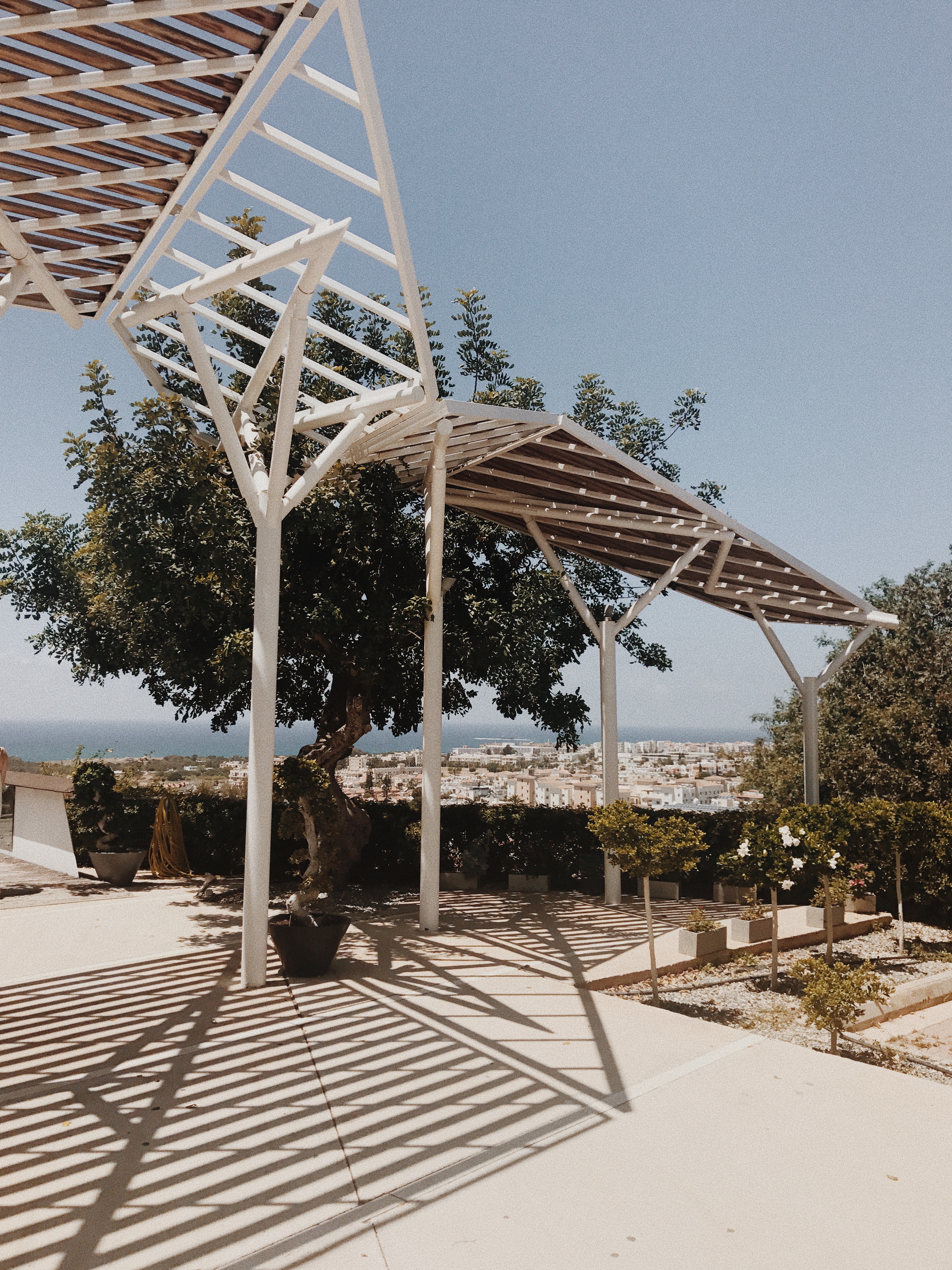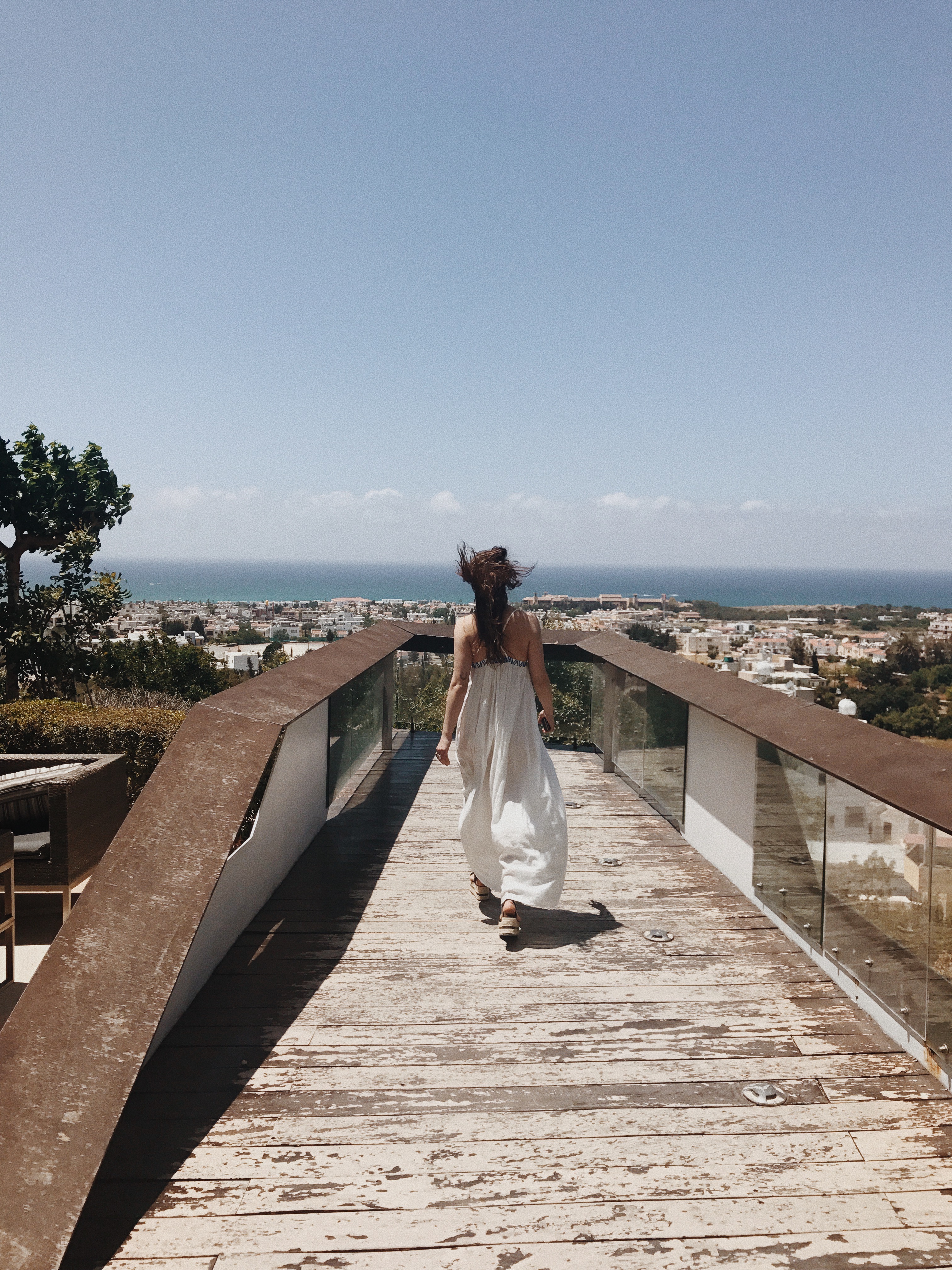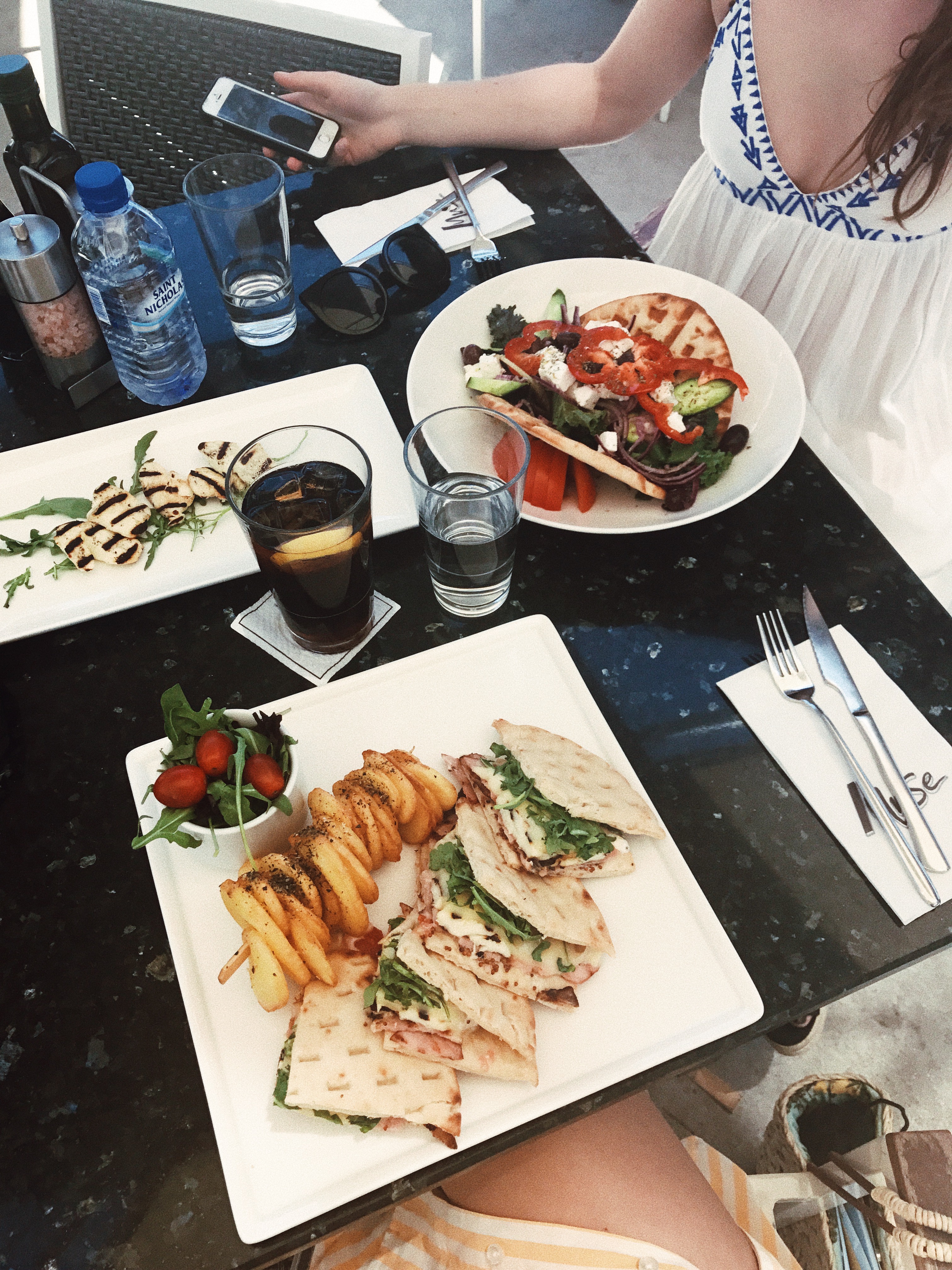 After lunch Lisa and I took another road trip, this time towards the Northern part of the island. We had visited Aphrodite's Rock the day before, and now we wanted to check out Aphrodite's Baths near the city of Polis and the little fishing village of Latchi. It is believed that on this romantic site, Aphrodite used to take her baths in the pools of the natural cave.
The pool itself is not quite impressive, but it's definitely fun to see AND you can find some great secret beaches nearby!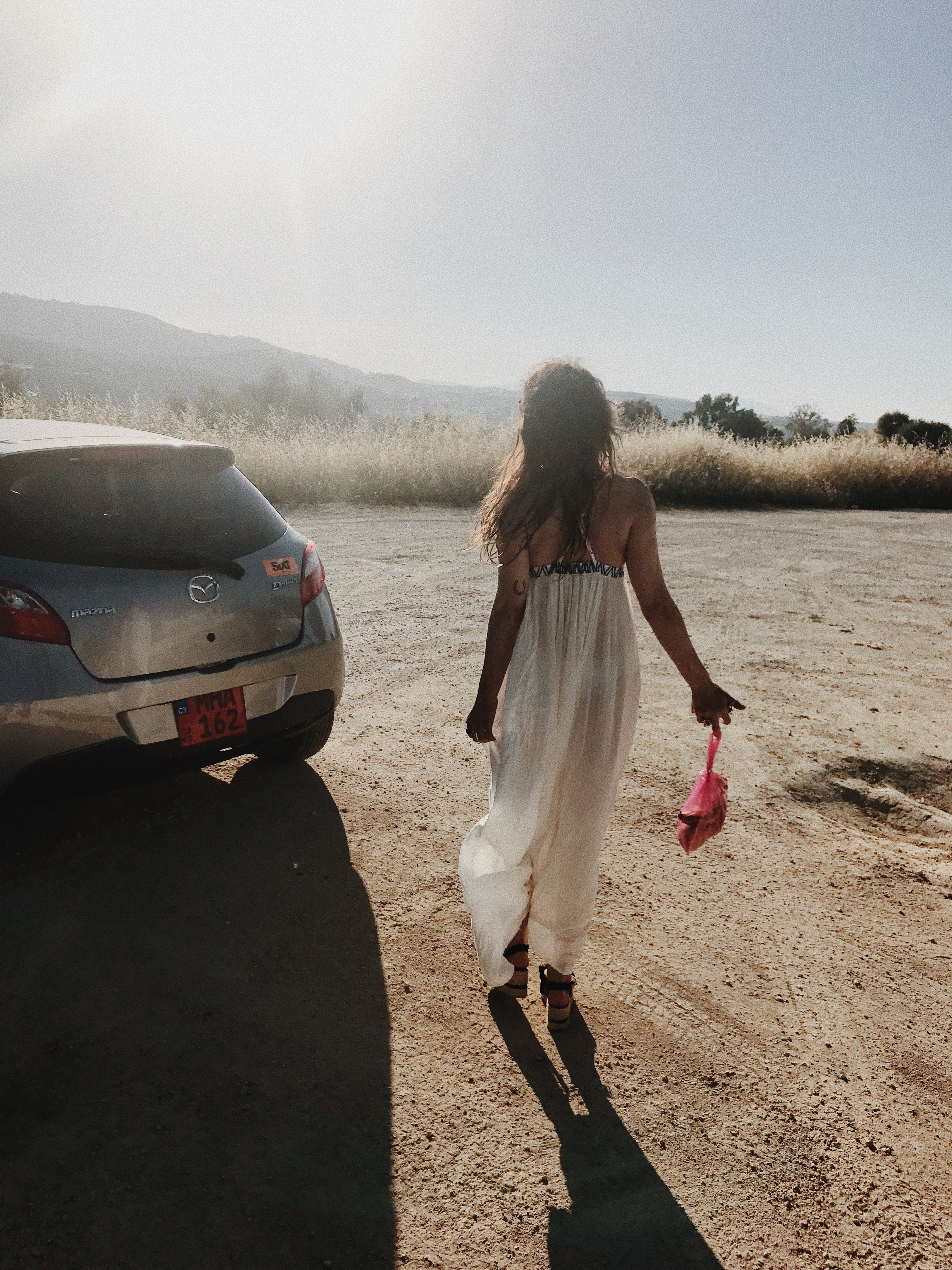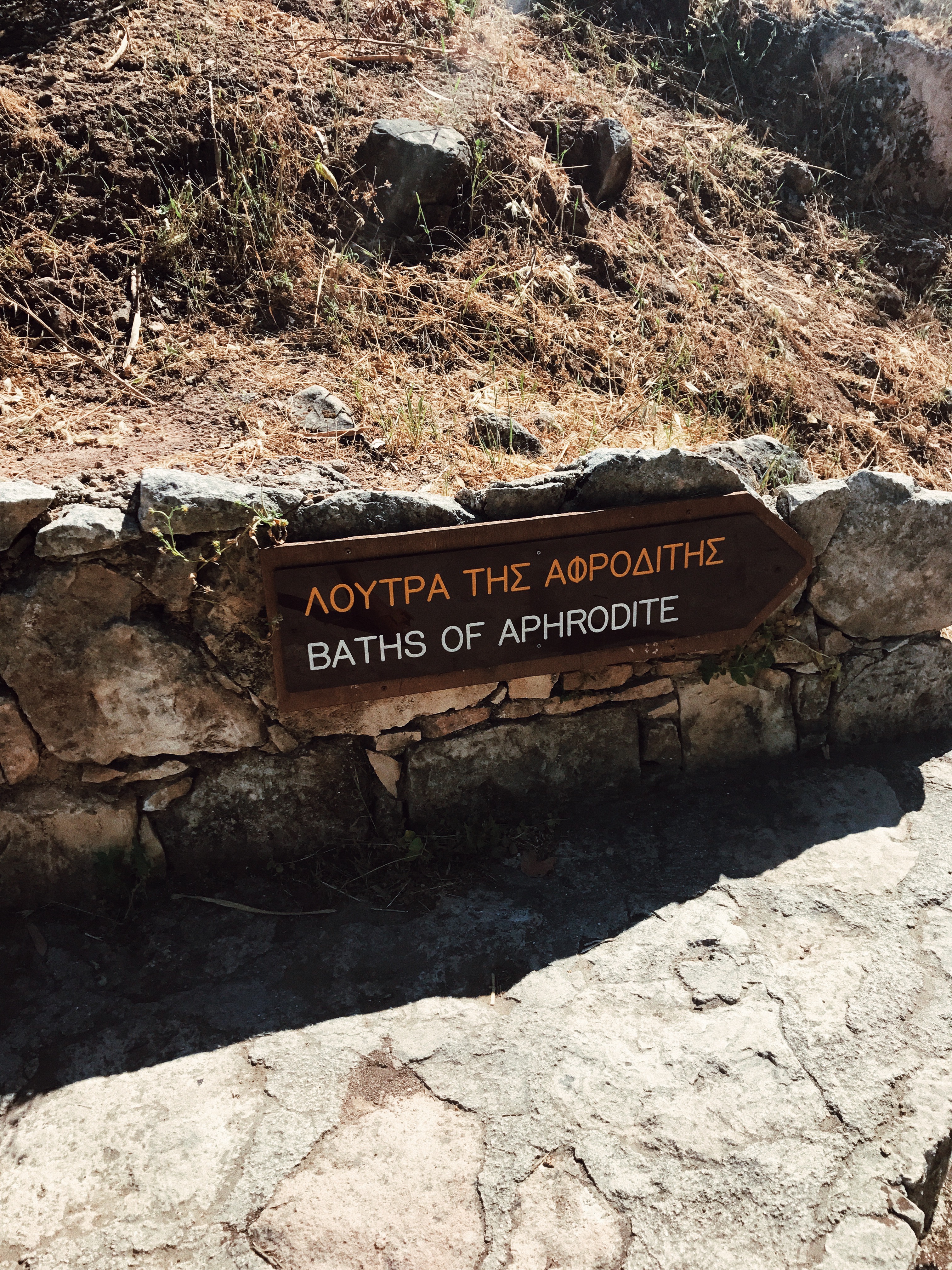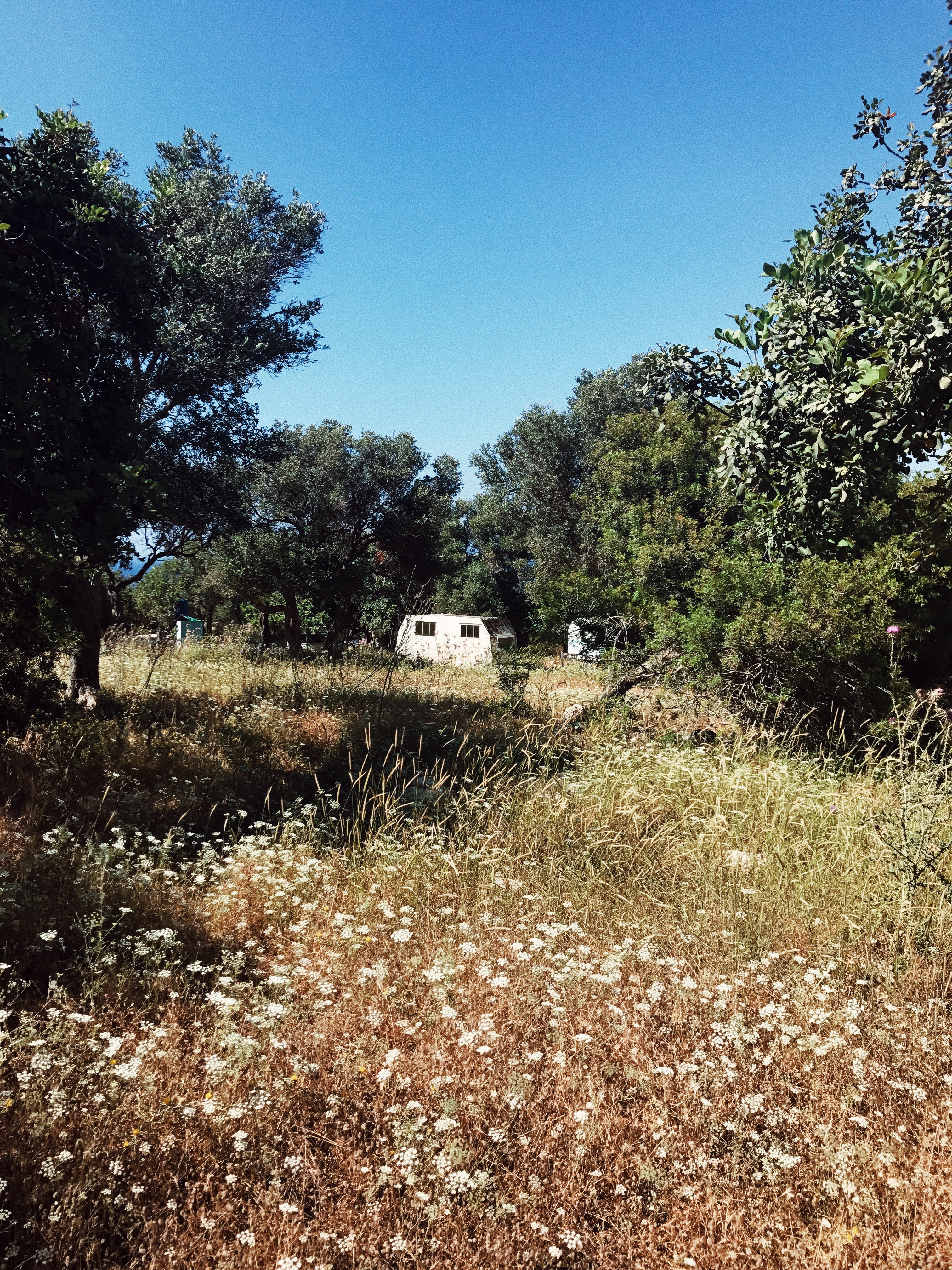 Behind the restaurant next to Aphrodite's Baths you'll find these secret stairs heading down to a beautiful deserted rock beach. Worth a visit if you're in for some private tanning!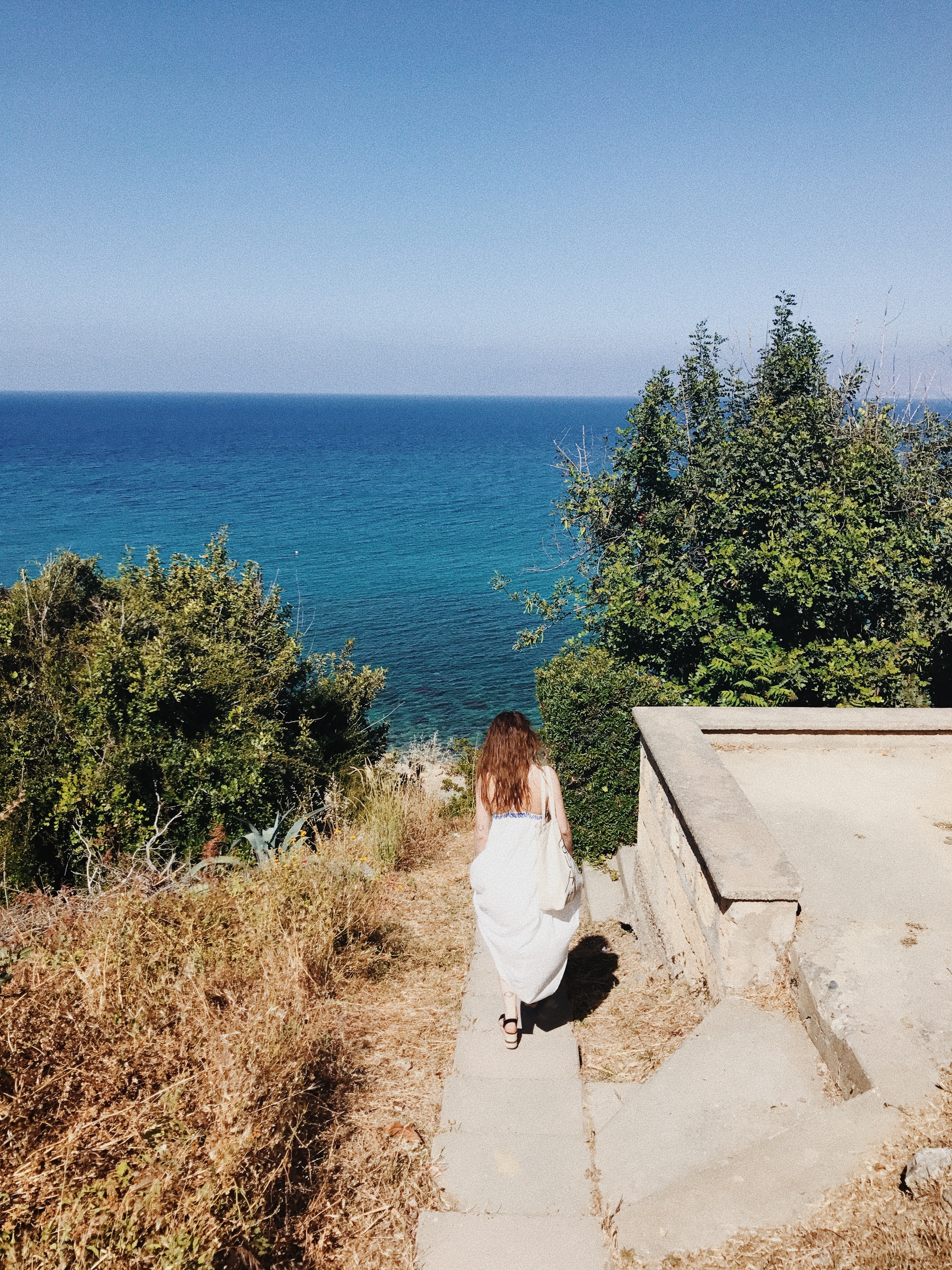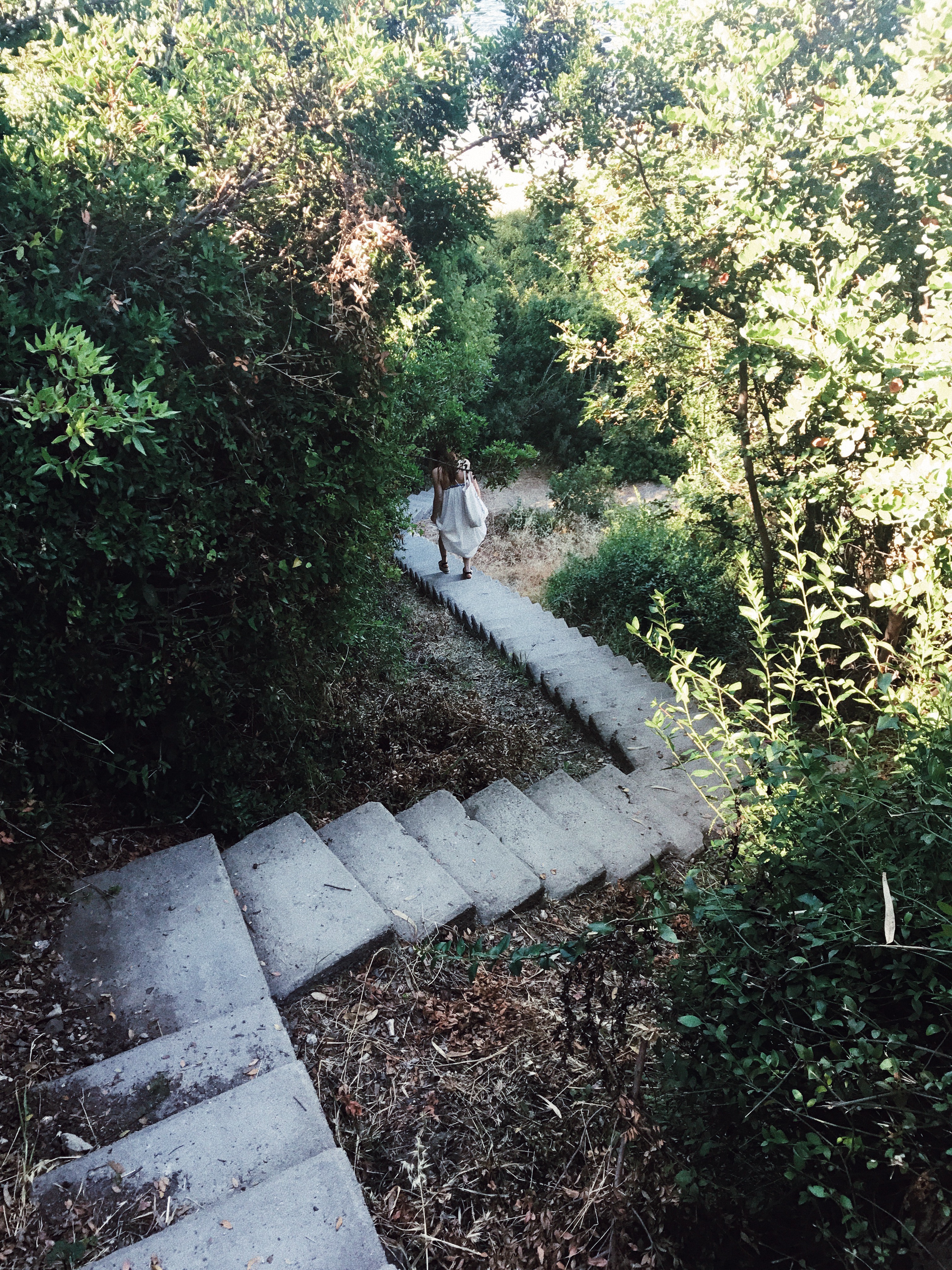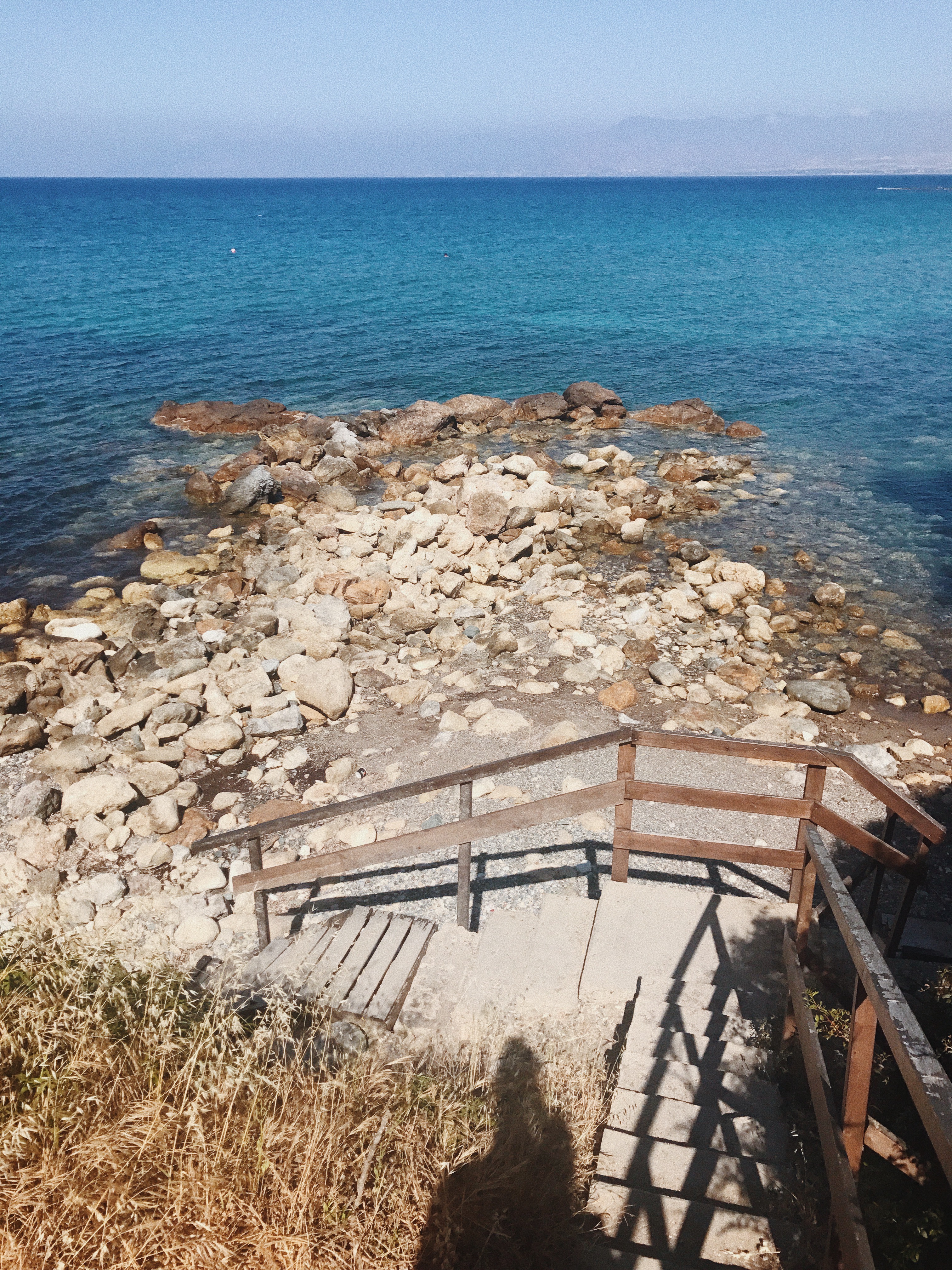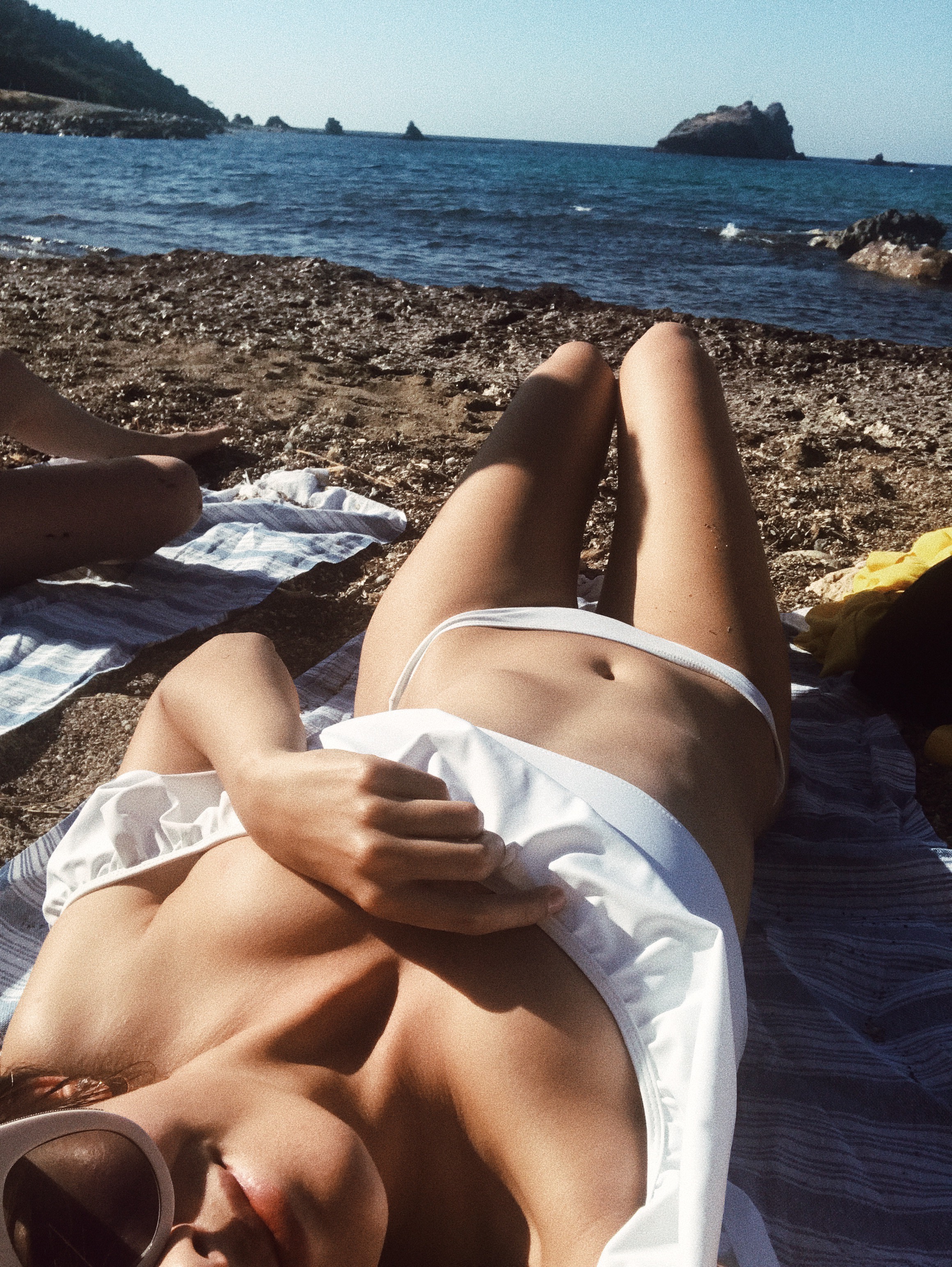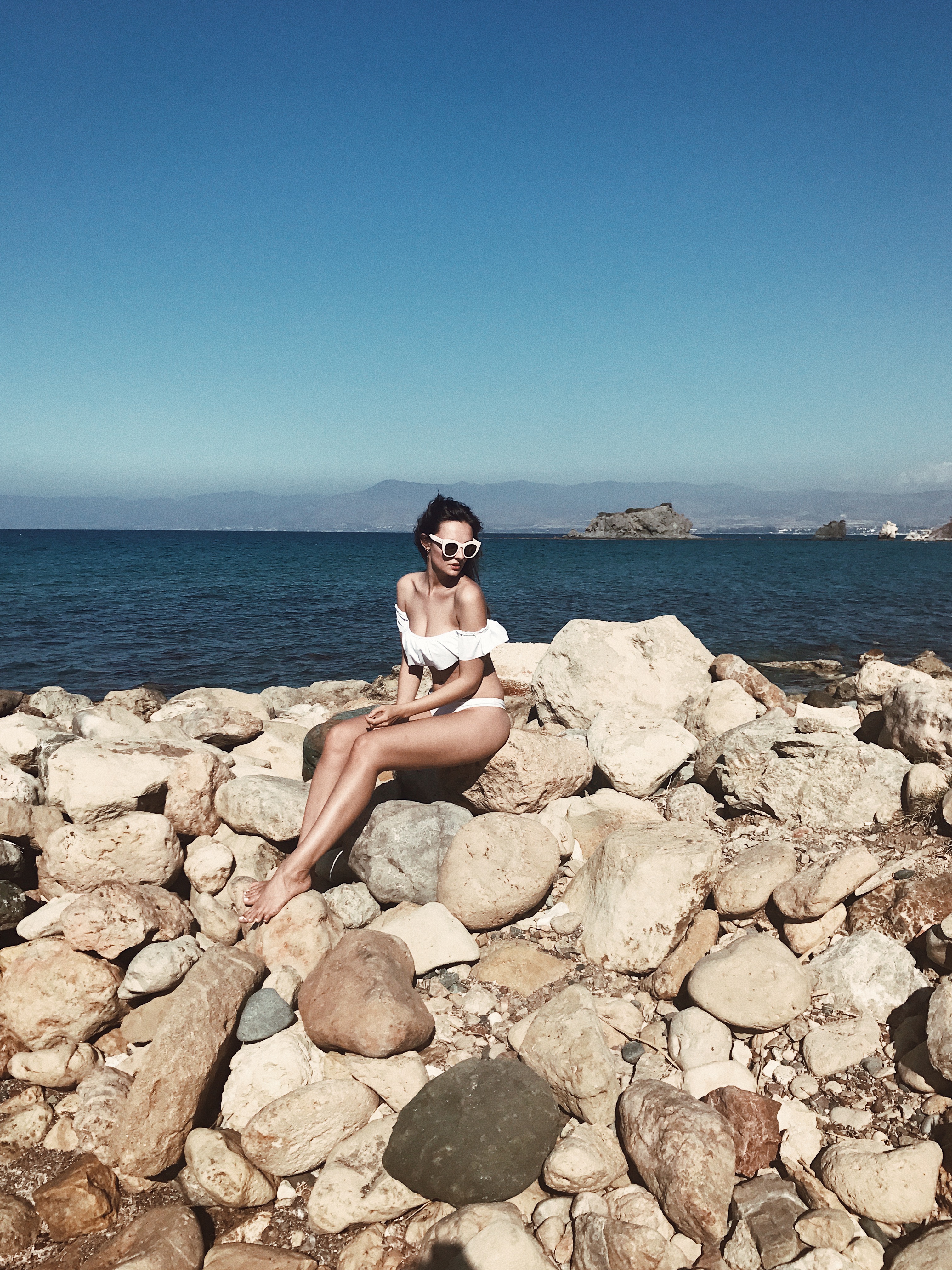 Our trip back home took us through the most beautiful vineyards and we got home right in time for the prettiest sunset! The house owners Klea and Andreas surprised us with a fantastic barbecue in a breathtaking setting. On the menu were traditional dishes and desserts (yay!), and of course lots of Cypriot wine as well. The end of a perfect trip!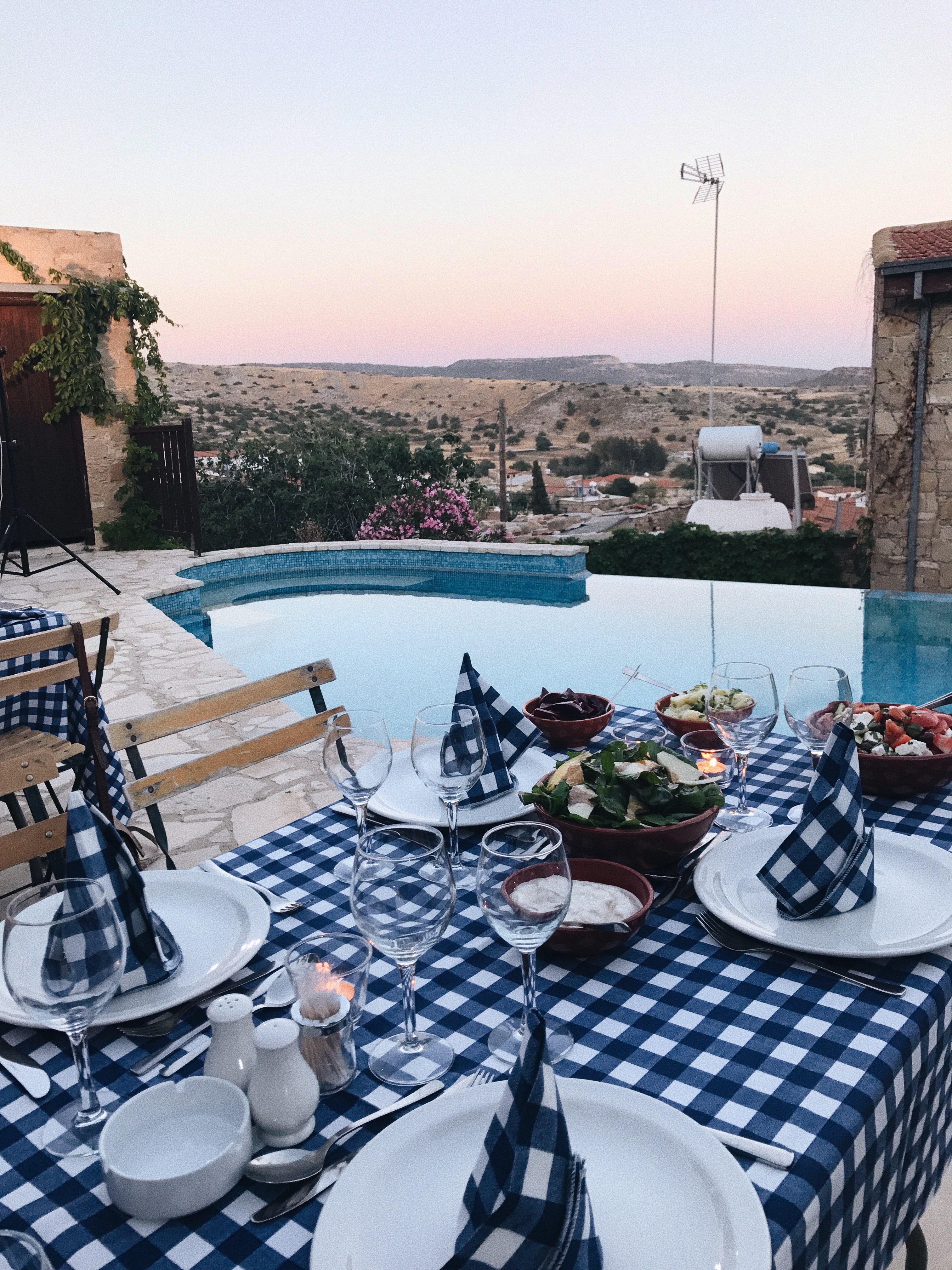 DAY 5 Last morning, last breakfast in the sun, last quick dip in the pool. Our plane left at 12h30 in Larnaca and it was definitely quite painful to fly from this sunny little paradise to cold and rainy Belgium. But Cyprus, you stunning lad, we'll be back!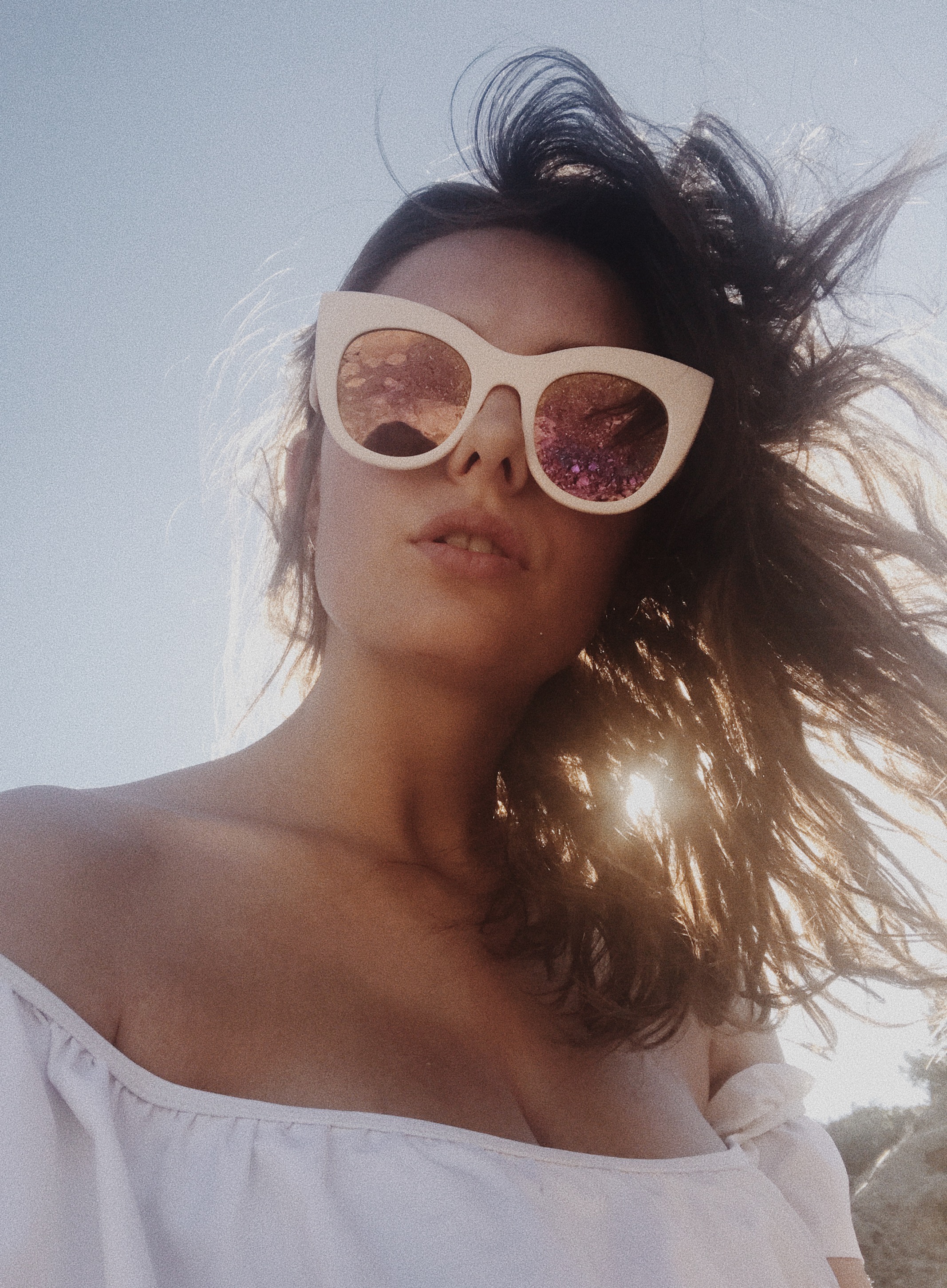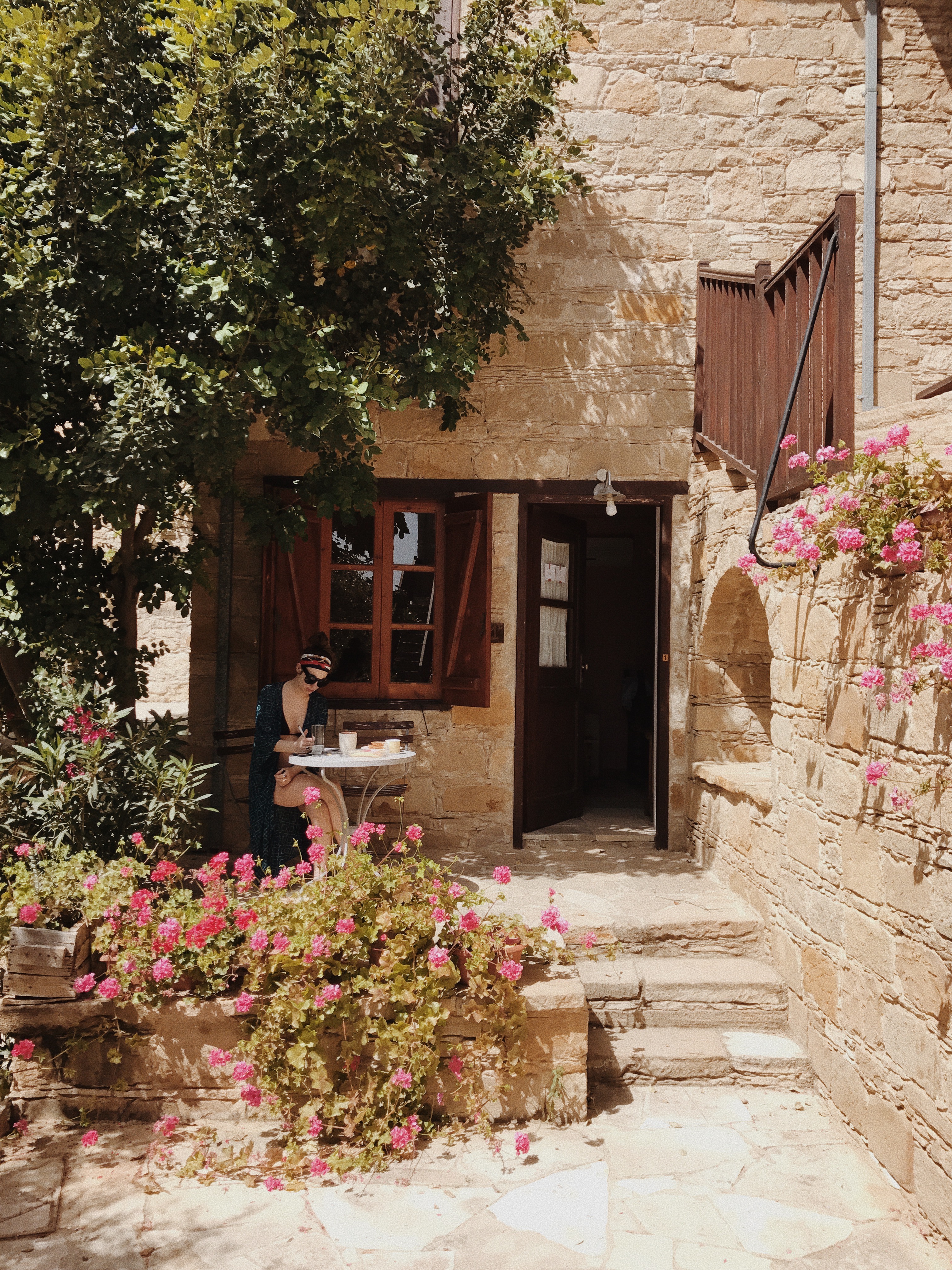 And these are my best Cyprus tips, in short:
Hang out at the white sand beaches on the Eastern part of the island.
Go snorkeling in the Blue Lagoon at the Akamas peninsula.
Take one of the many wine routes and taste local artisanal products.
Visit ancient Kouron and the Sanctuary of Apollo Hylates.
Ski at Mount Olympus during Winter. Not kidding!
Party hard in Ayia Napa. Yes, that's exactly where they recorded a series of Geordie Shore… You might want to google this first.
Soak up art and culture at Pafos, the European Capital of Culture 2017.
Drive up to the Troodos mountains and visit the ancient monasteries.
Take the prettiest picture of the island at Aphrodite's Rock.
Rent a car and just take a road trip through the entire island.
Who's ready to take off and never return? 🙂
Thank you Eliza Was Here for this amazing trip! Prices for 8 days at Eveleos Country House start at €470 per person (flights, accommodation and rental car included).