Time for another round of lusting over how stunning Mexico is. When visiting the peninsula Yucatan, you can't miss out on visiting one of the beautiful islands around! Instead of heading to the popular Isla Mujeres or Isla Cozumel, we opted for Isla Holbox. Why? Its honeymoon-ish views, less touristy (or crowded) reputation and the fun fact that people drive golf carts instead of cars. I discovered Isla Holbox through Pinterest (obv), and it seemed like a less explored place than the other islands, probably because it is more difficult to get to.
Now, there are two extremely important things to keep in mind when traveling to Isla Holbox:
1) Make sure that you triple check how to get there. We thought it would be easy to catch a bus from Merida to Holbox, but at 8PM we found out that there is only 1 daily non-stop bus heading towards Holbox: a 6 hour night bus leaving in Merida at 10.30PM. So we rushed to pack our bags to leave Merida one night earlier in order not to waste a full day traveling and transferring to different buses. I'll tell you everything about this bus line in a practical Mexico transport blogpost if you're interested!
2) There are practically no ATM's at Holbox. And the few ATM's available usually don't work. At most places you can pay with VISA card, but it's cheaper to get enough cash in advance. Buses, taxis, beach massages and boat trips are usually cash only. I'll tell you what we paid for everything so that it's easier for you to make an estimate! But first, some photos of this stunning, laid-back island 🙂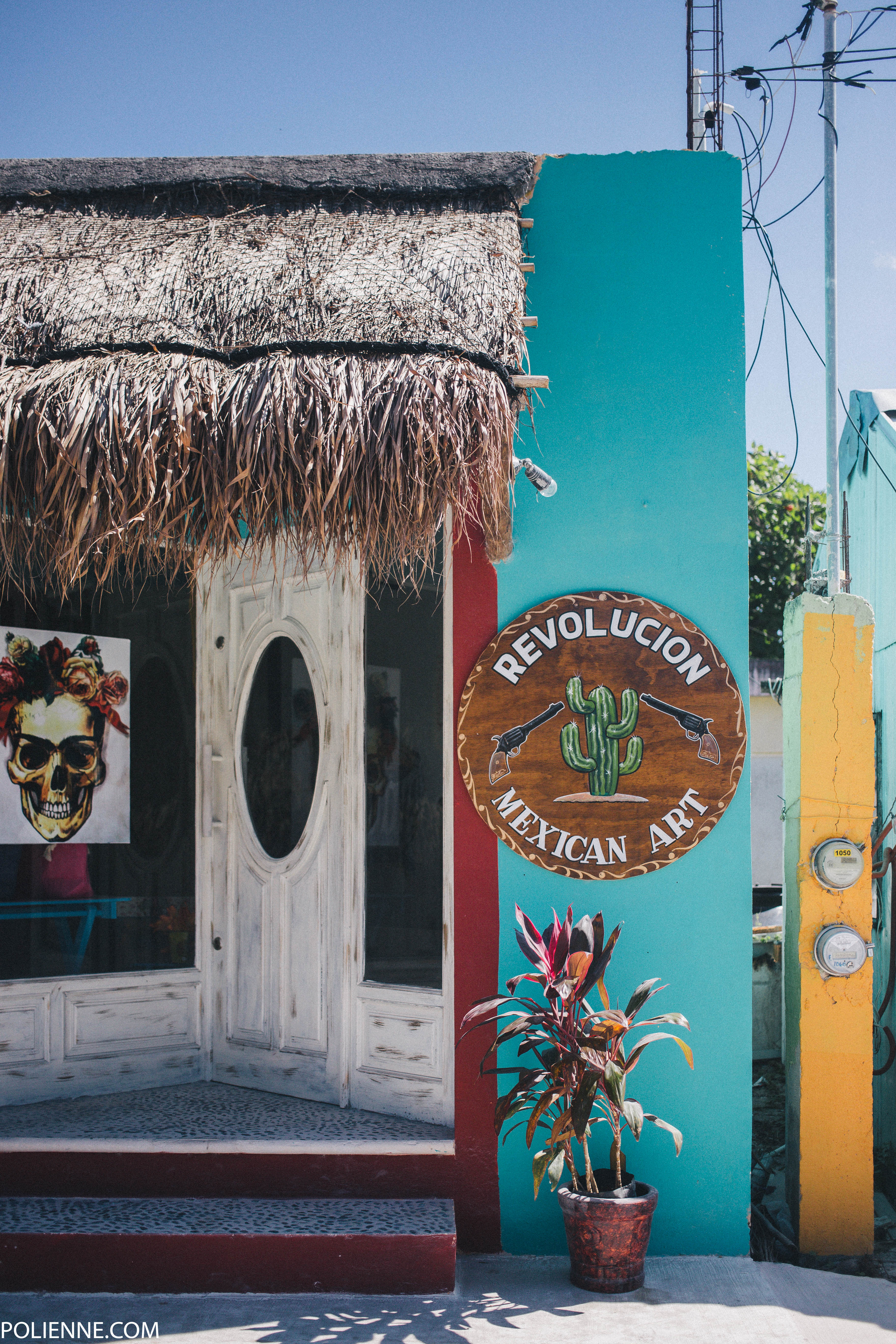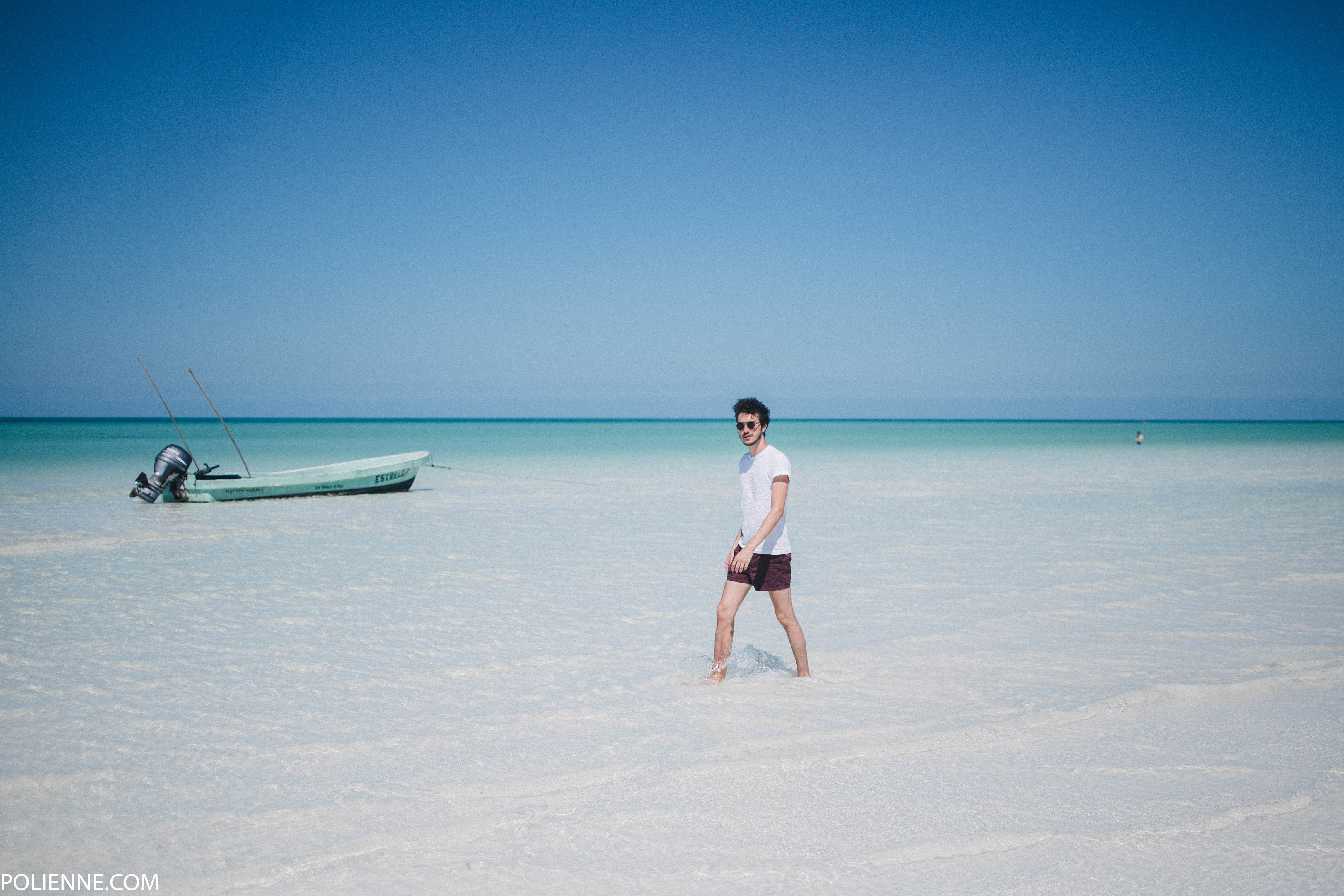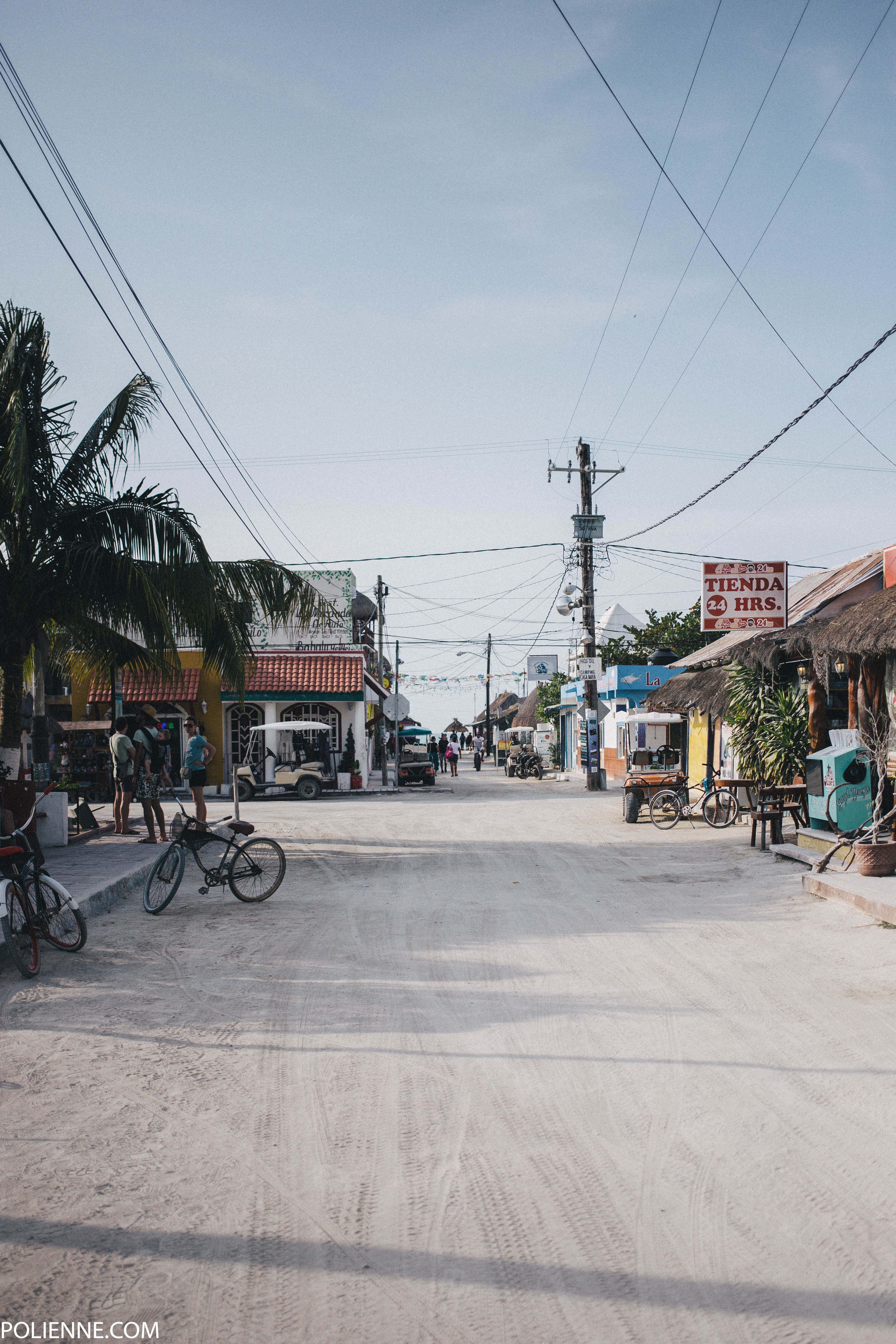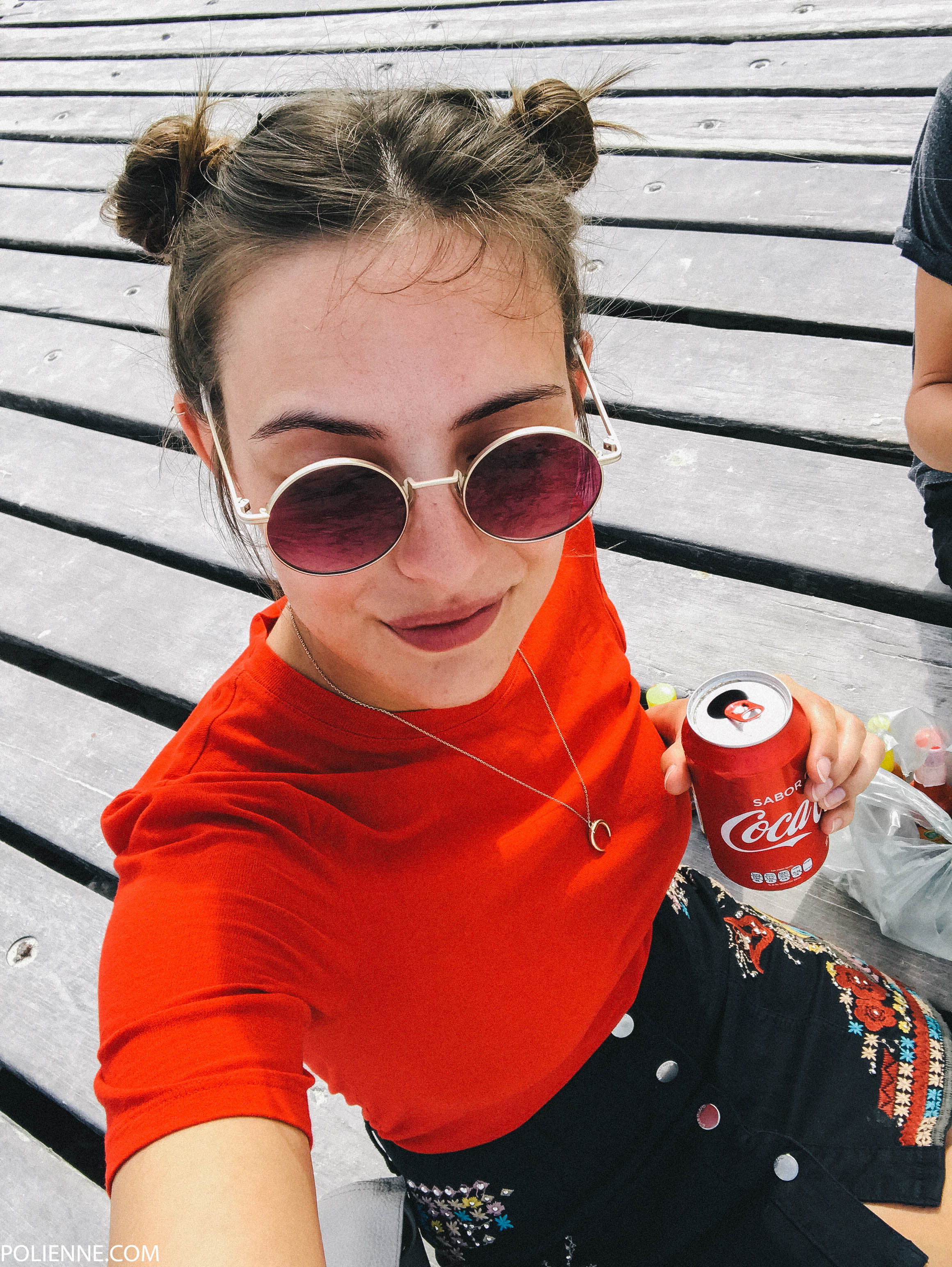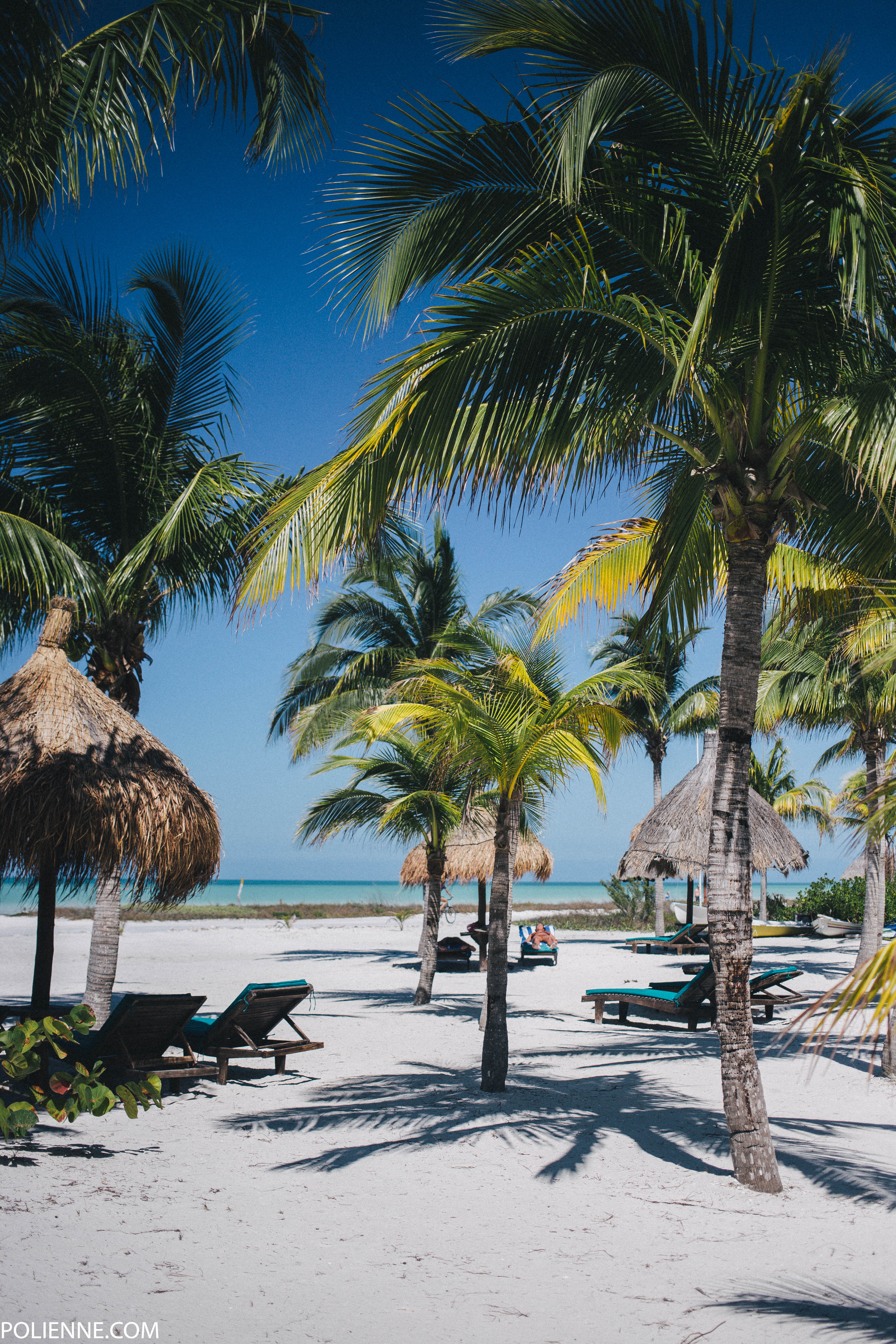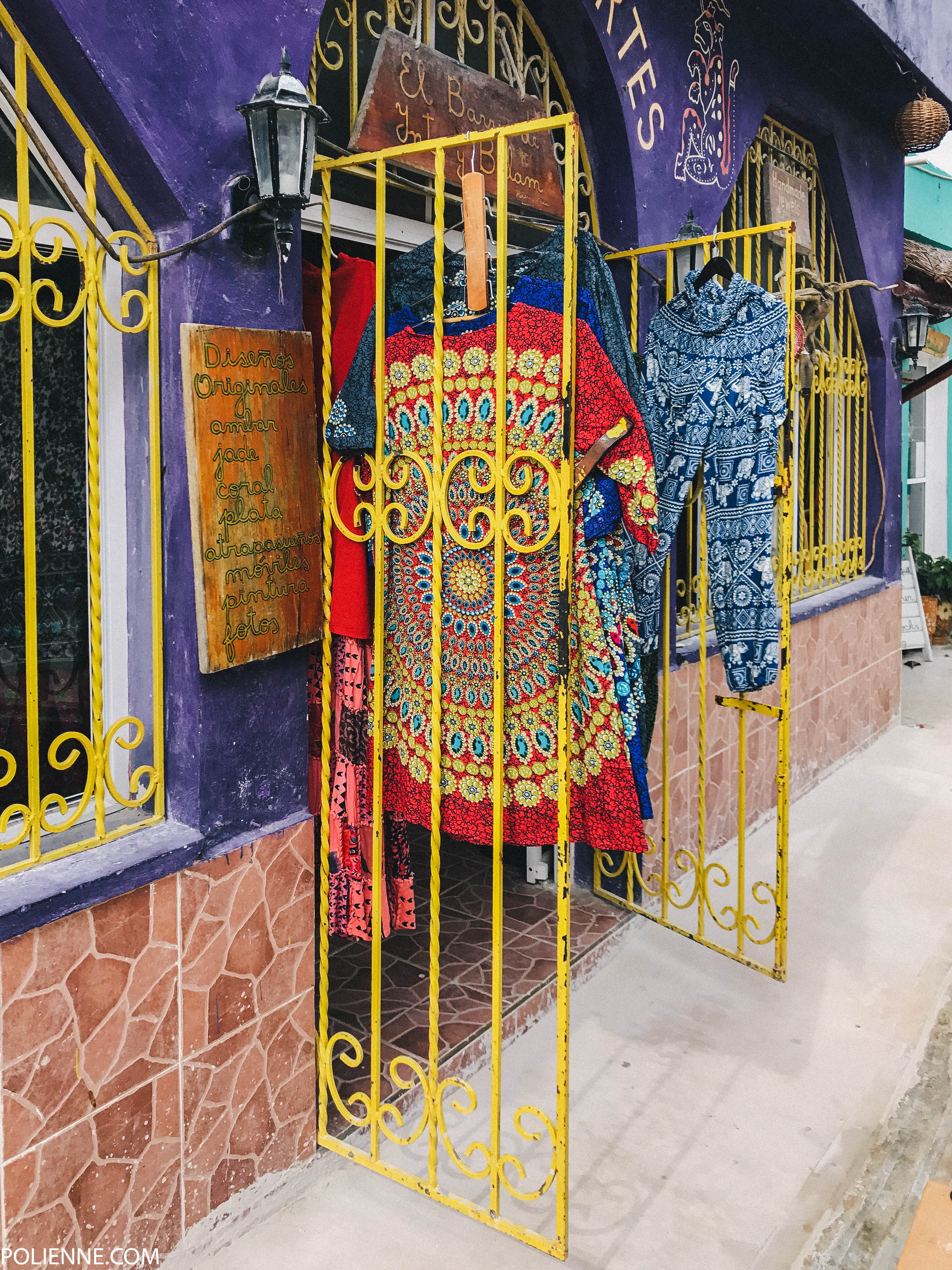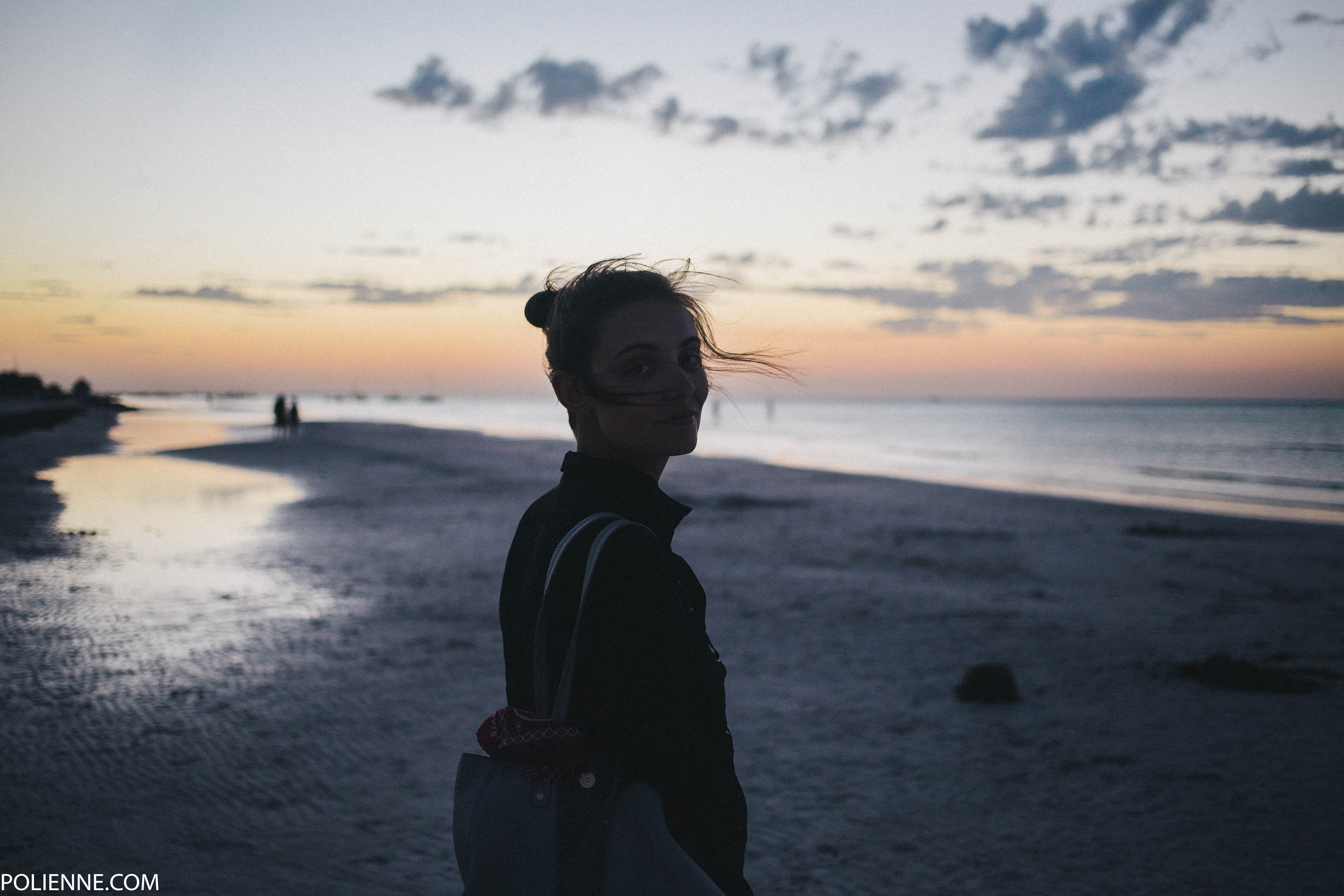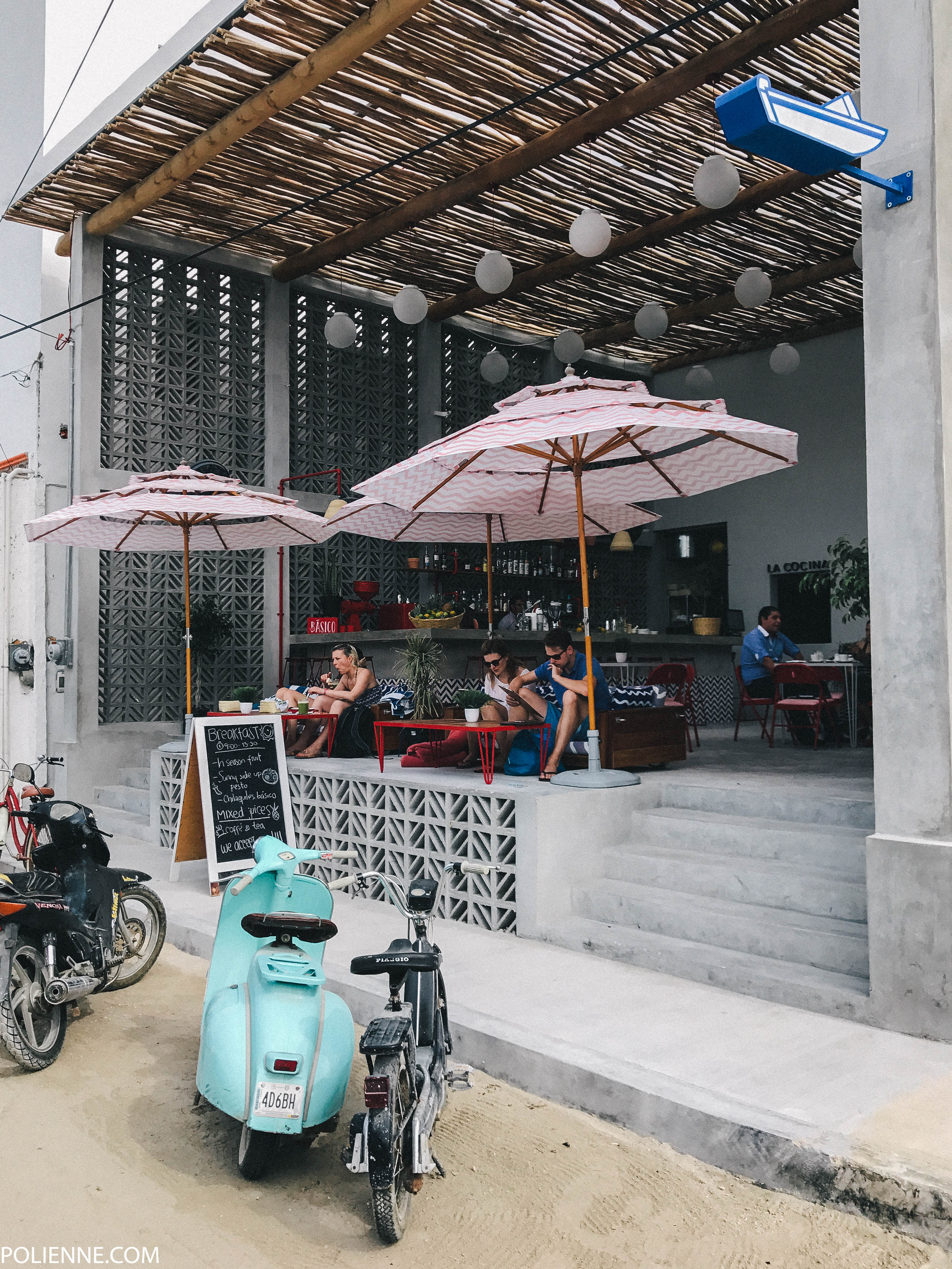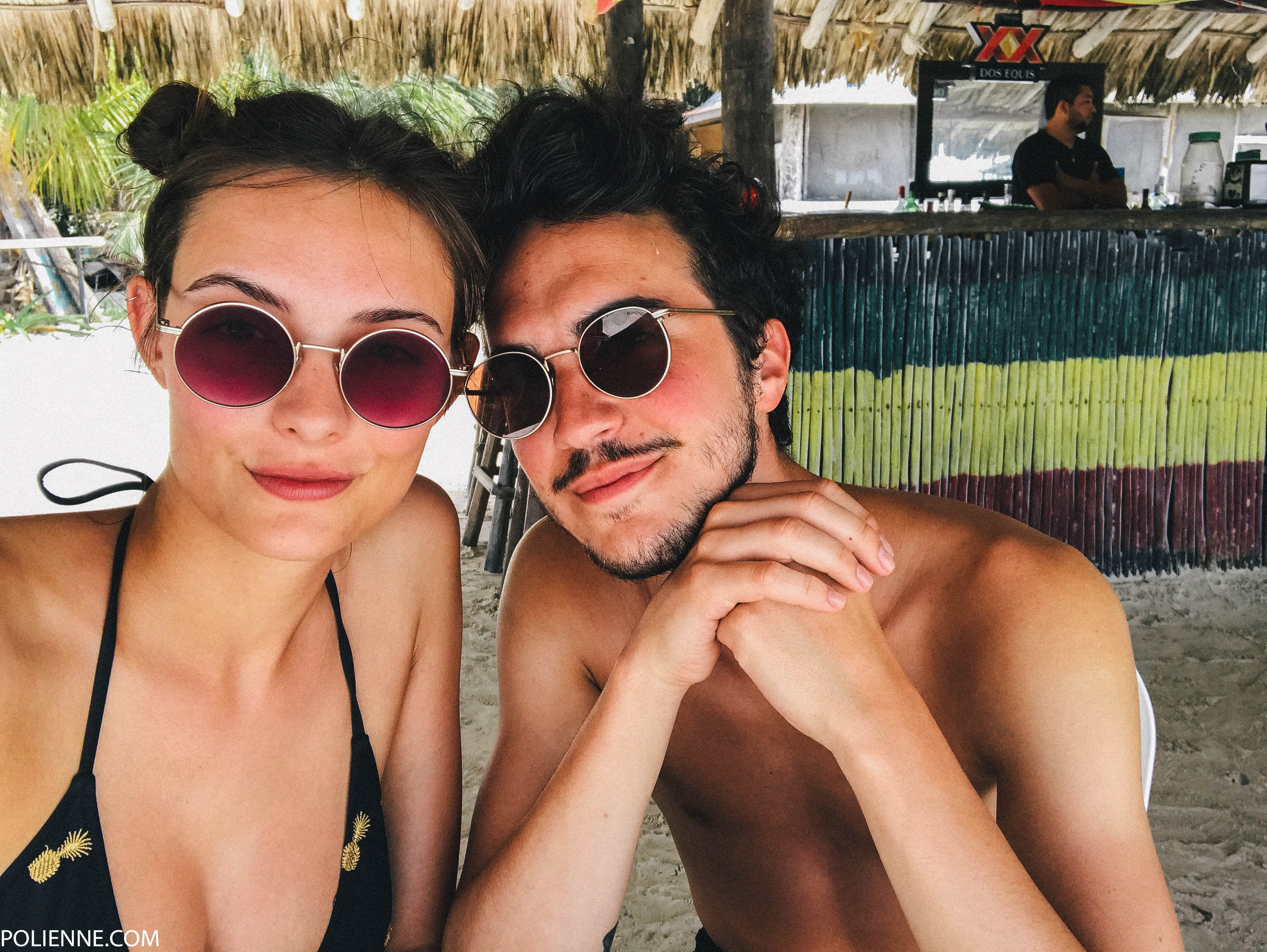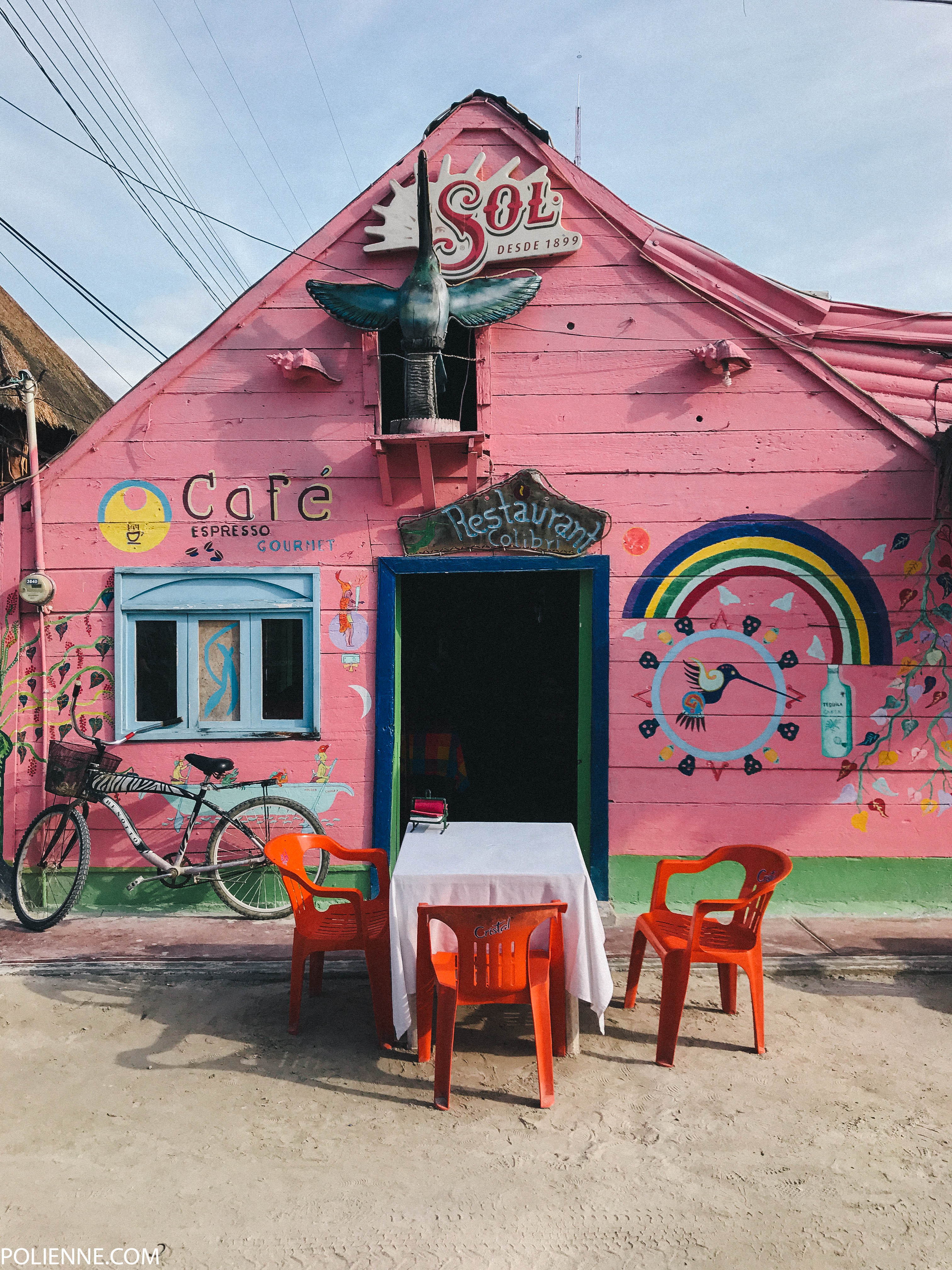 Take a boat trip
Since island life means relaxing, eating and enjoying the sea, you can of course book many boat trips at Isla Holbox. Most of them offer a tour to the 3 smaller islands around Holbox, but we opted for a more active dolphin spotting, snorkeling & fishing trip. We gathered on the pier at 8AM and headed for the sea on a private boat with just one other couple. After only 30 minutes on the boat we spotted the first dolphins, which was a CRAZY experience. I had never seen dolphins in the wild before so I literally freaked out. They playfully swam around in flocks of 3-5 and came excitingly close by at times. We spend about an hour looking for different flocks, before we headed over to a great fishing location. There our guide showed us how to fish the Mexican way, and it only took me 5 minutes to get the first catch of the boat! I caught about 5 fishes, while the boyfriend went for the record of 7. Next up was snorkeling, during which we spotted plenty of fish and even some tiny stingrays. No turtles, unfortunately. At noon our guide steered towards a deserted part of the island to prepare a local ceviche with our fresh catch. Ceviche is a famous dish with raw fish, tomatoes, onions and coriander, which you have to try at least once when in Yucatan. While returning to Holbox town, we could spot flamingos, large stingrays but again no turtles unfortunately. Still the best boat trip I ever had!
PRACTICAL
The boat trip cost us 850 pesos (€41) per person and took about 6 hours. Most guides don't speak English so make sure to polish your Spanish a little bit 🙂 These guys usually accept VISA but we noticed only afterwards.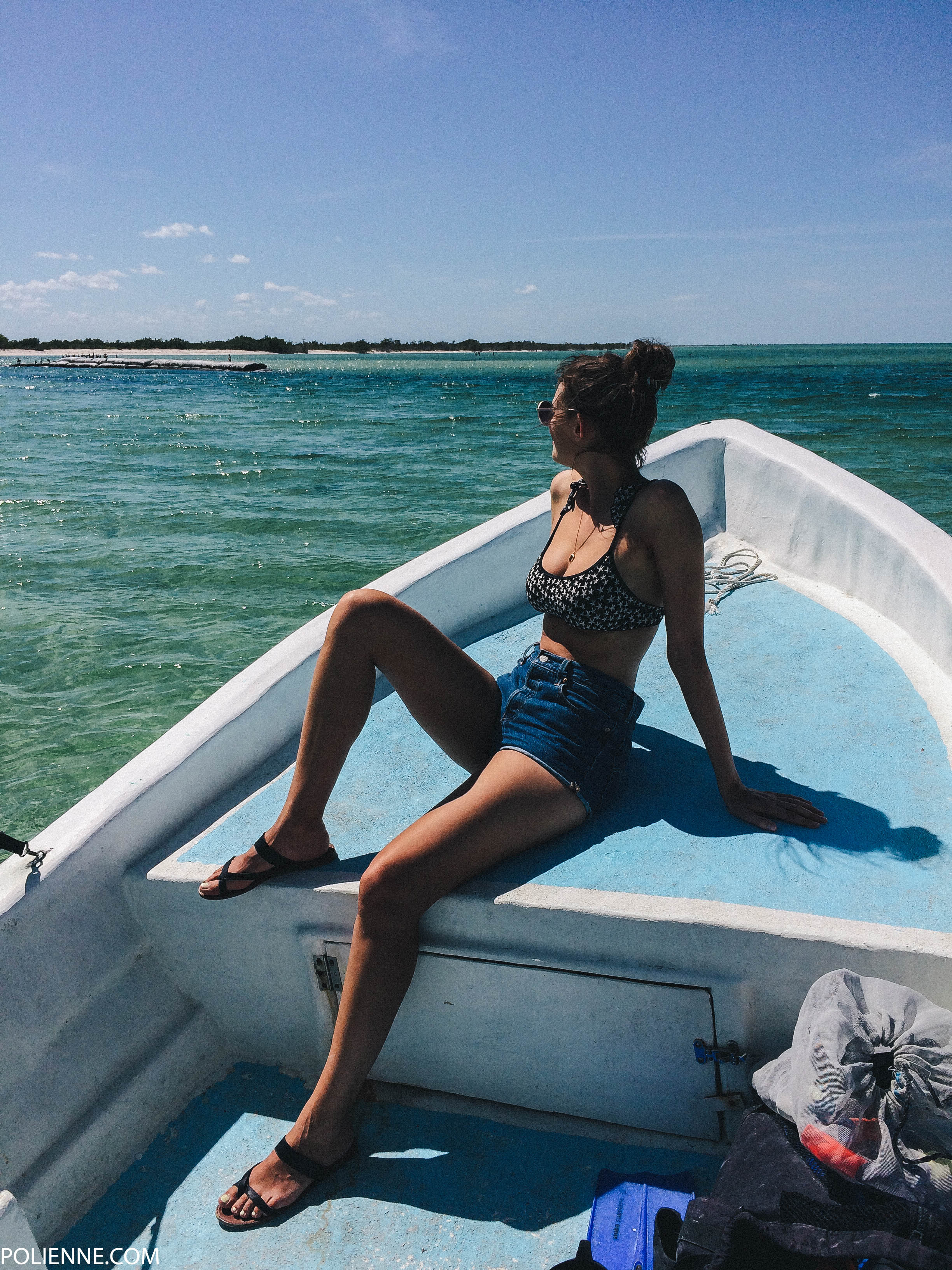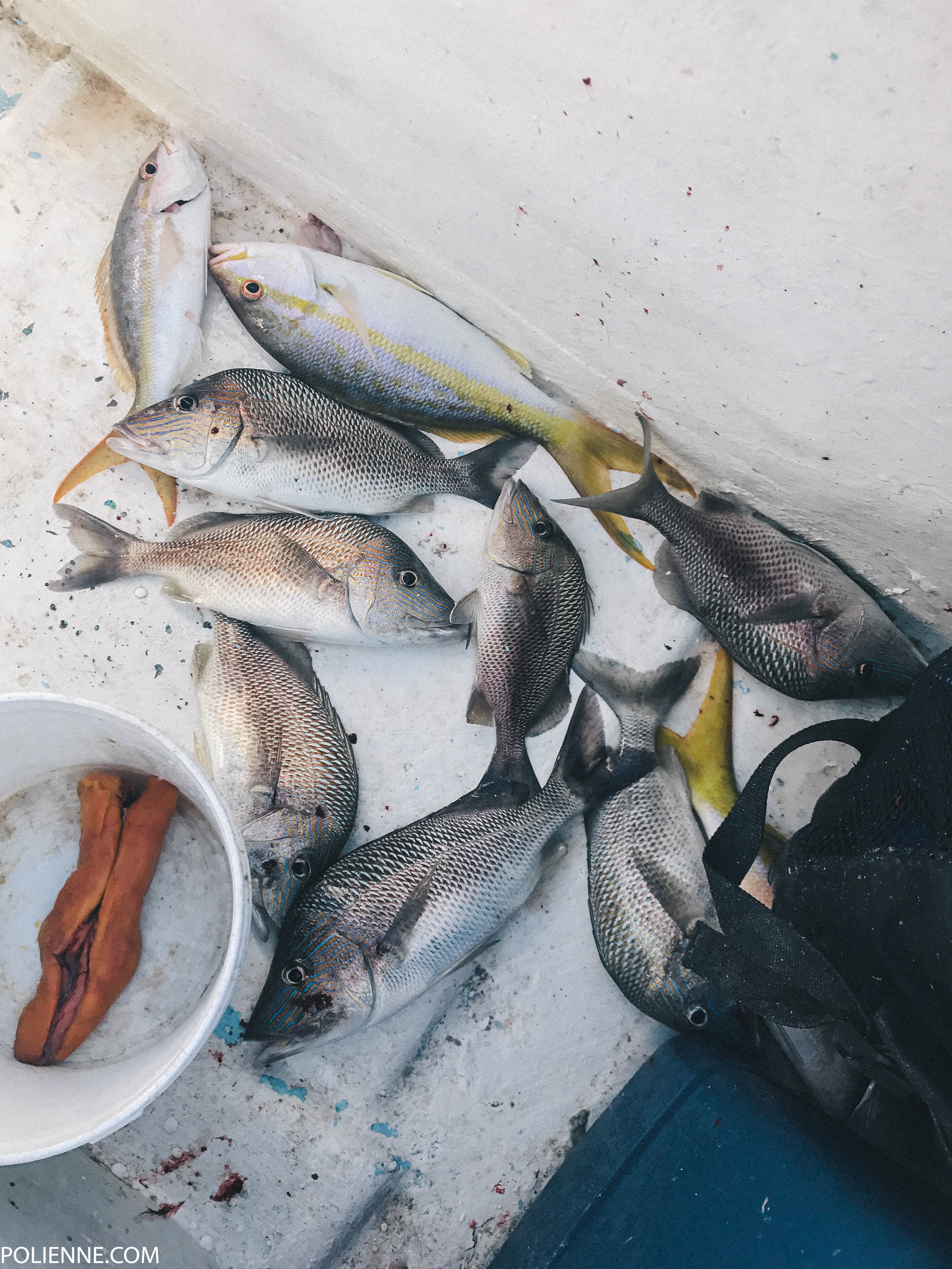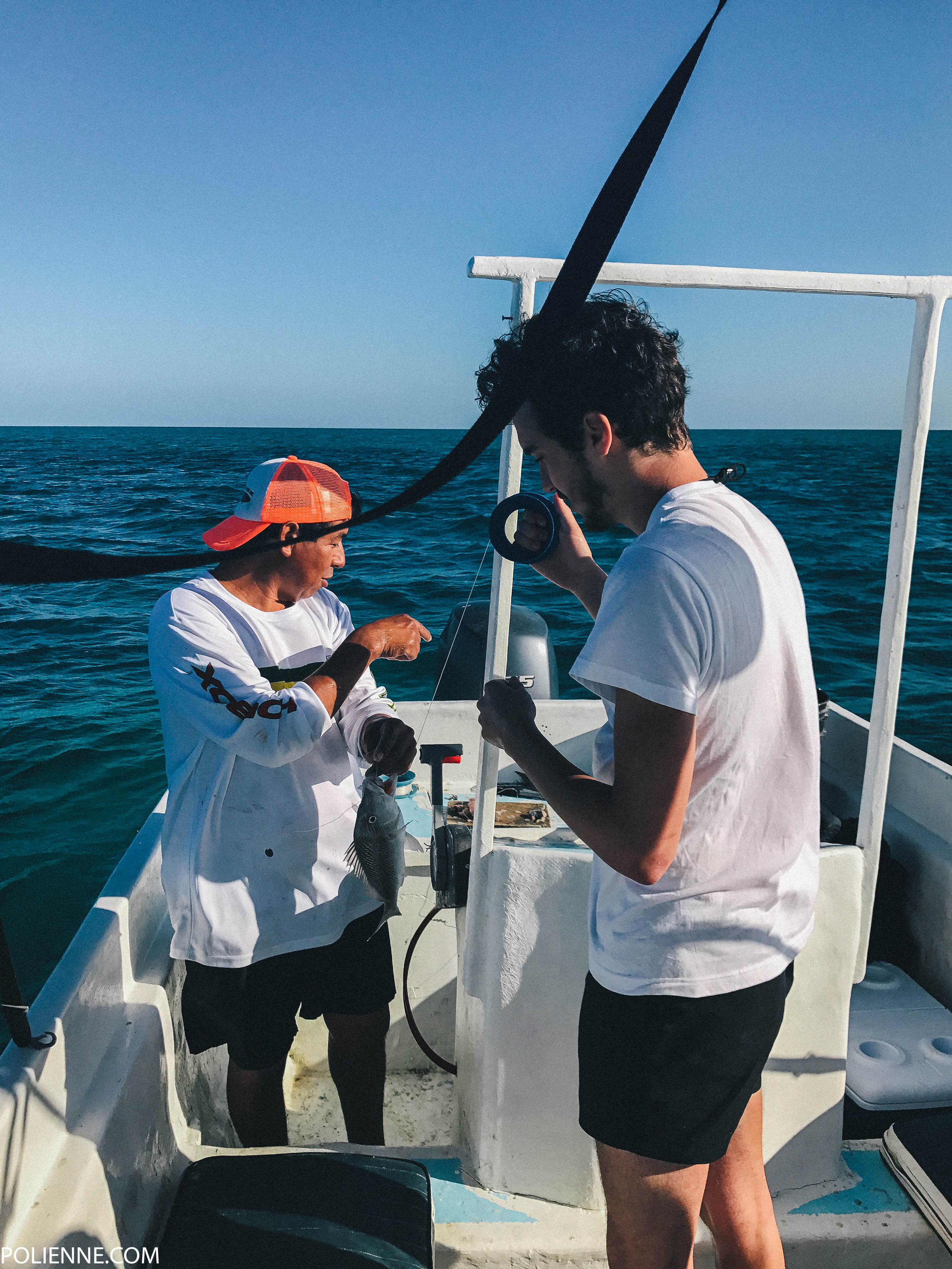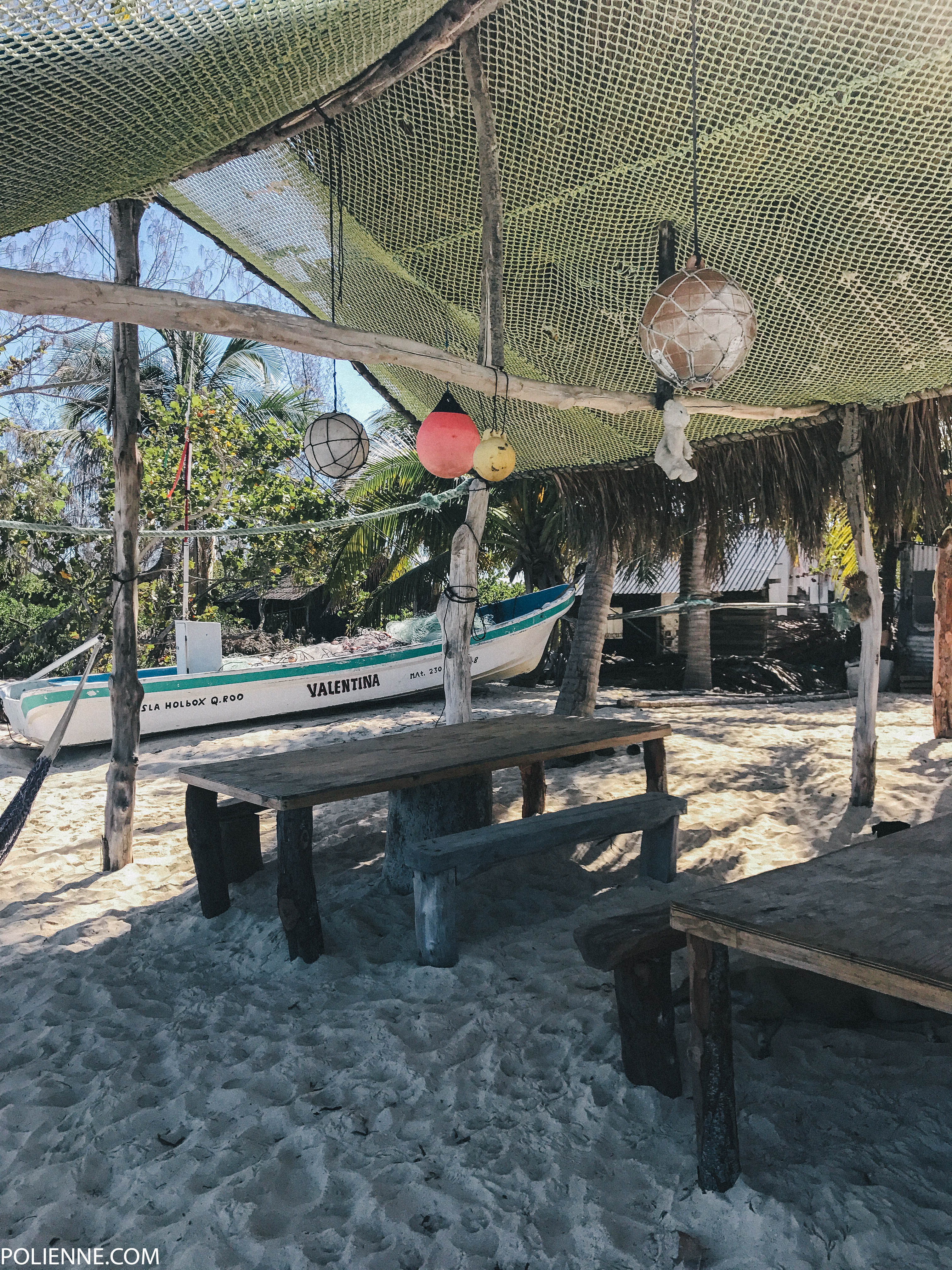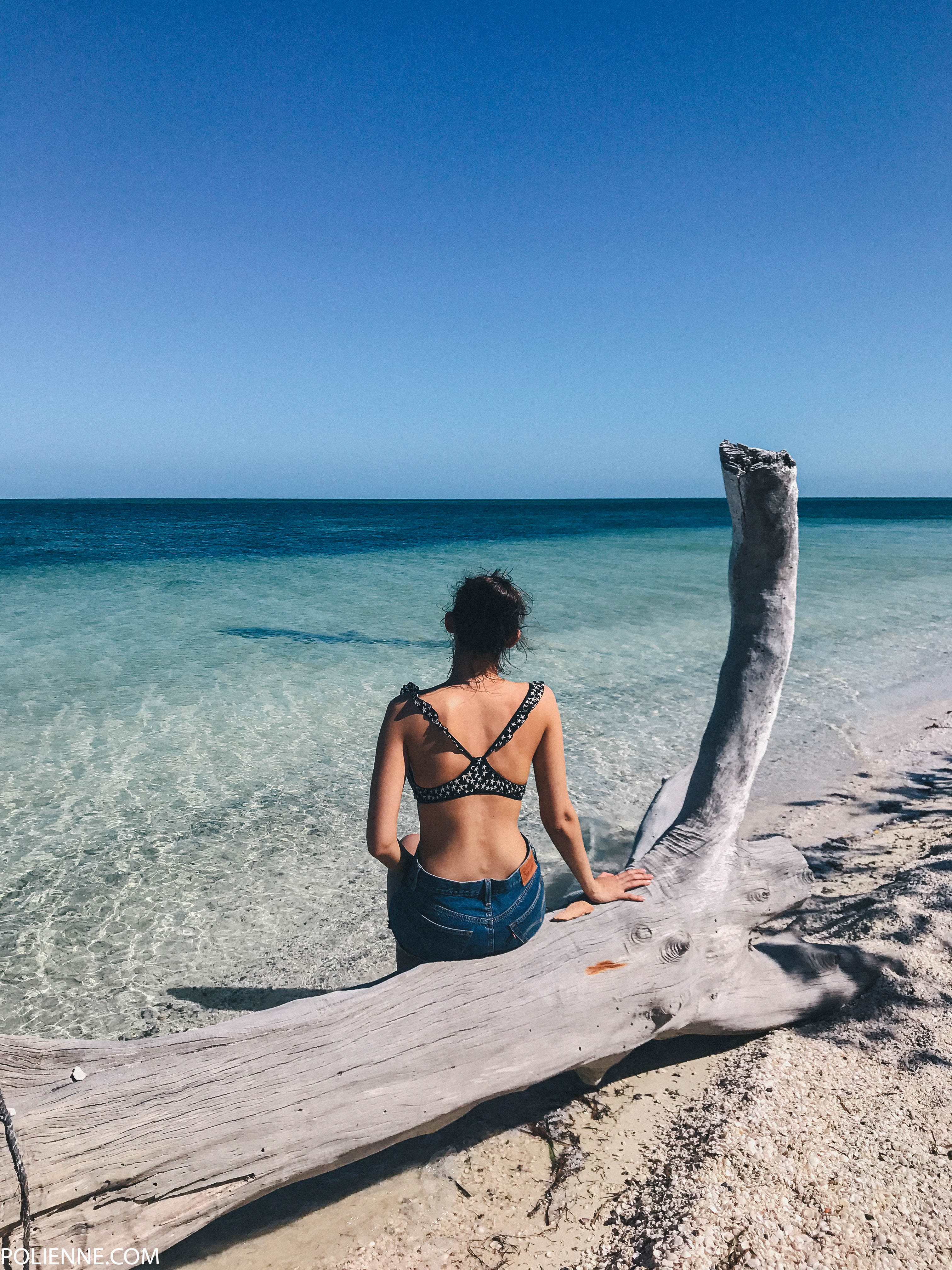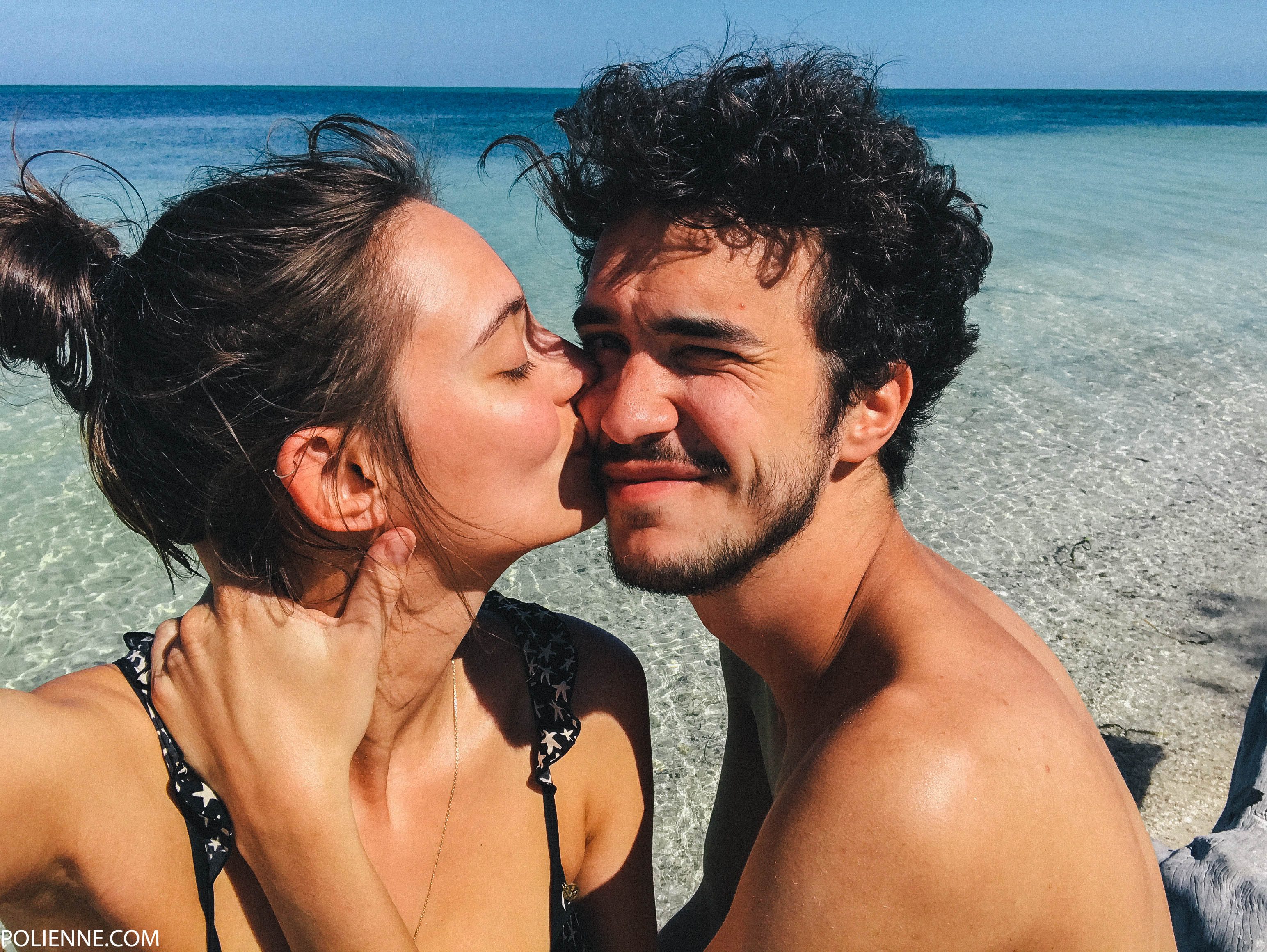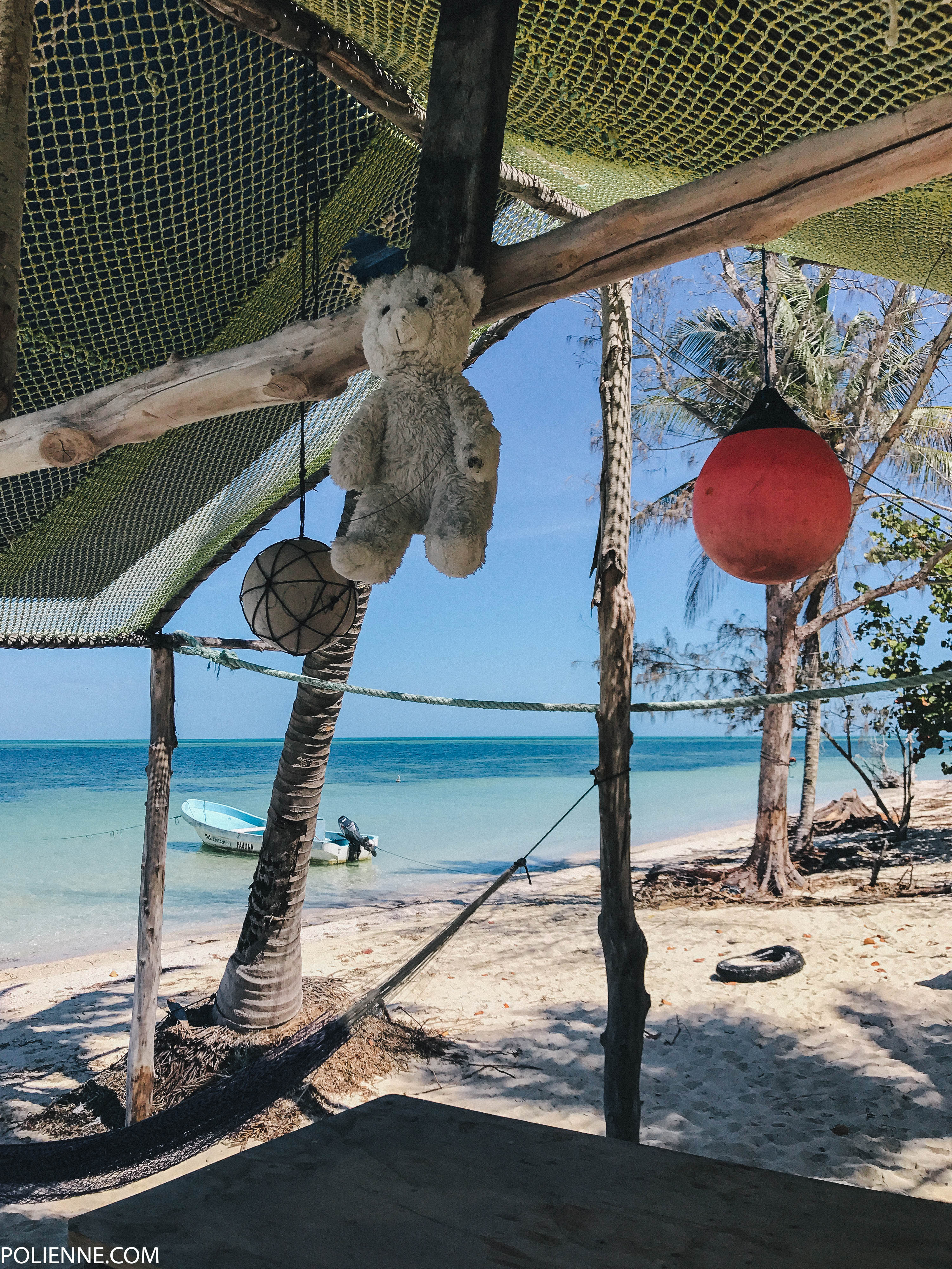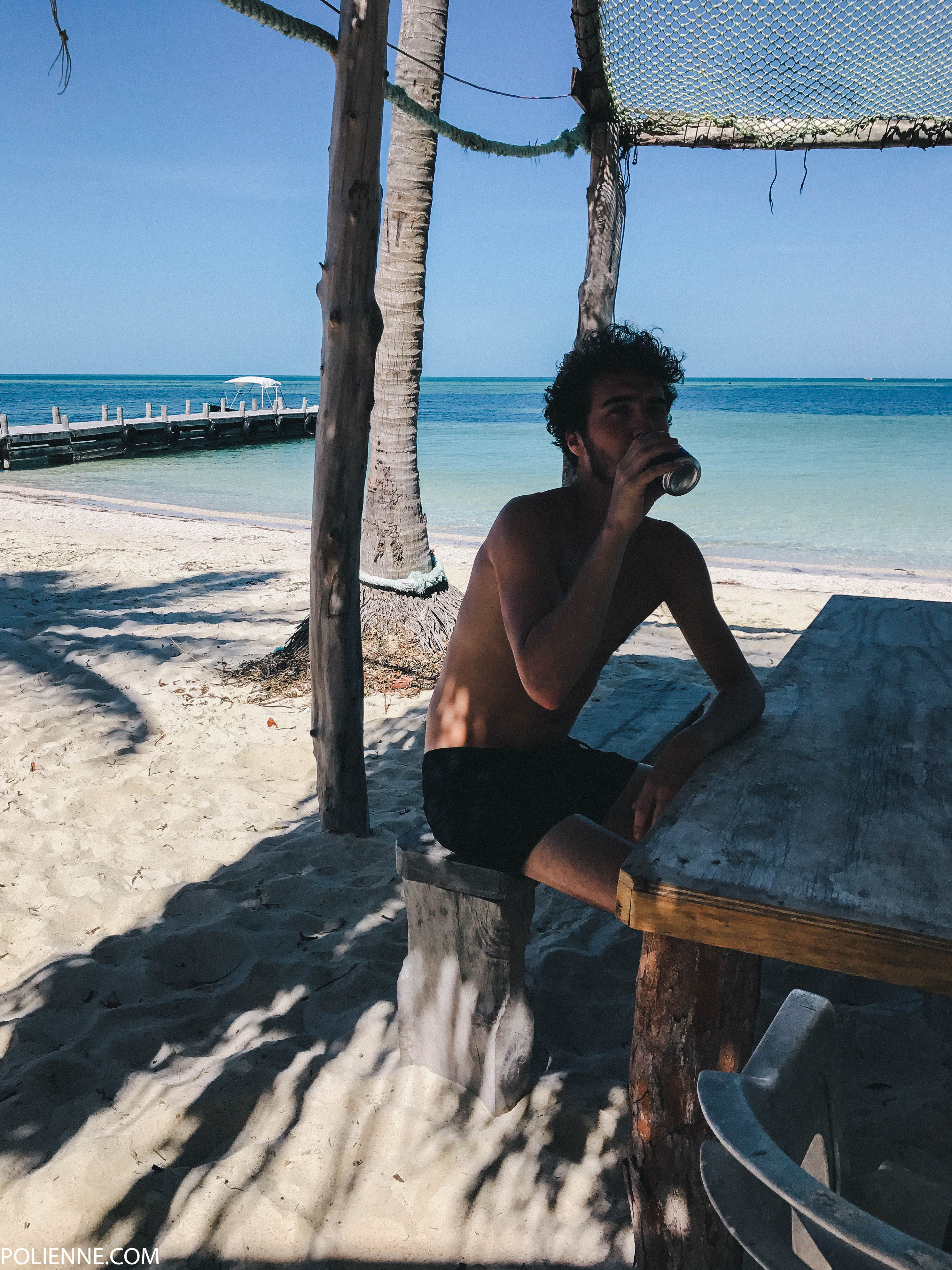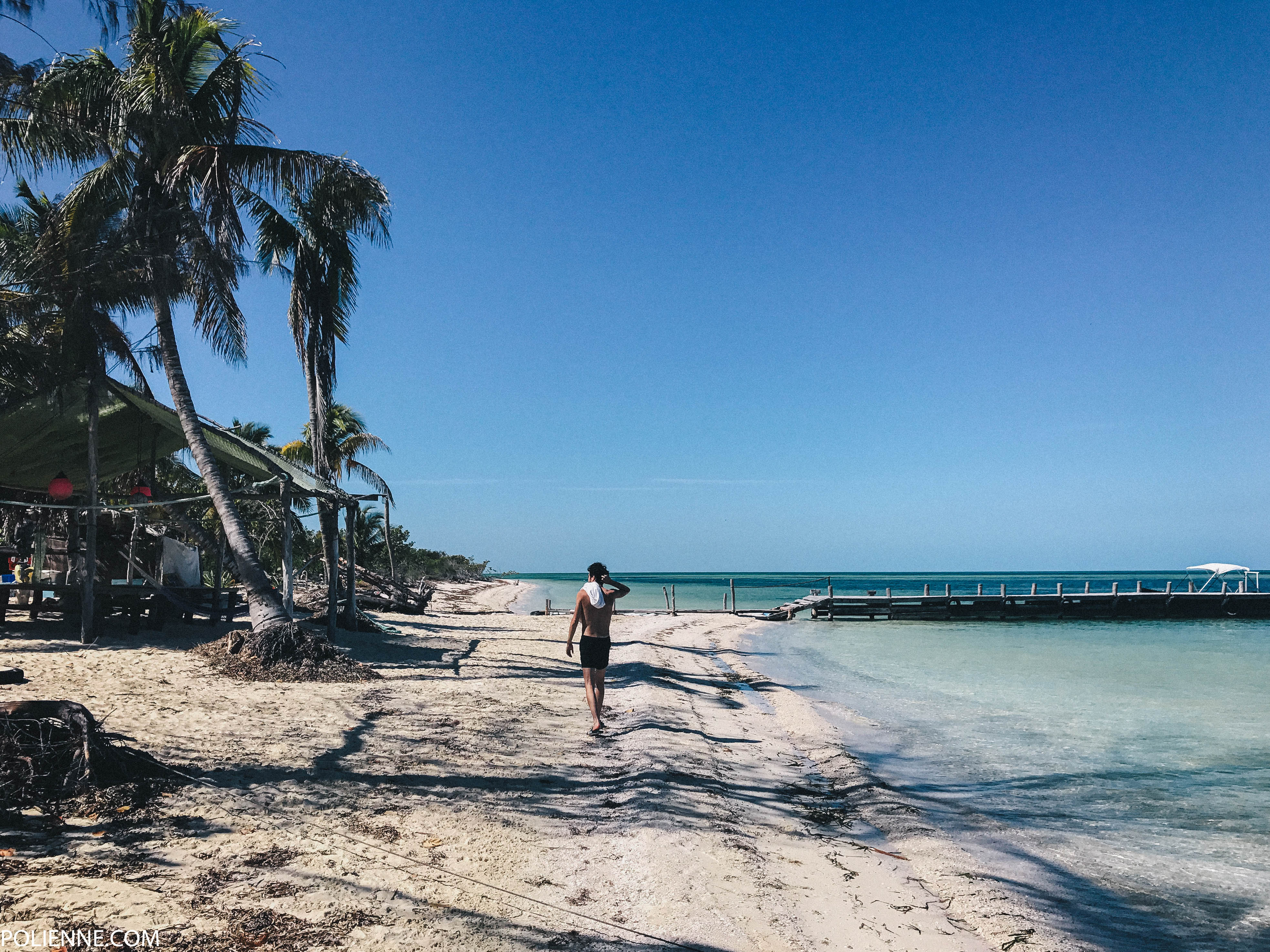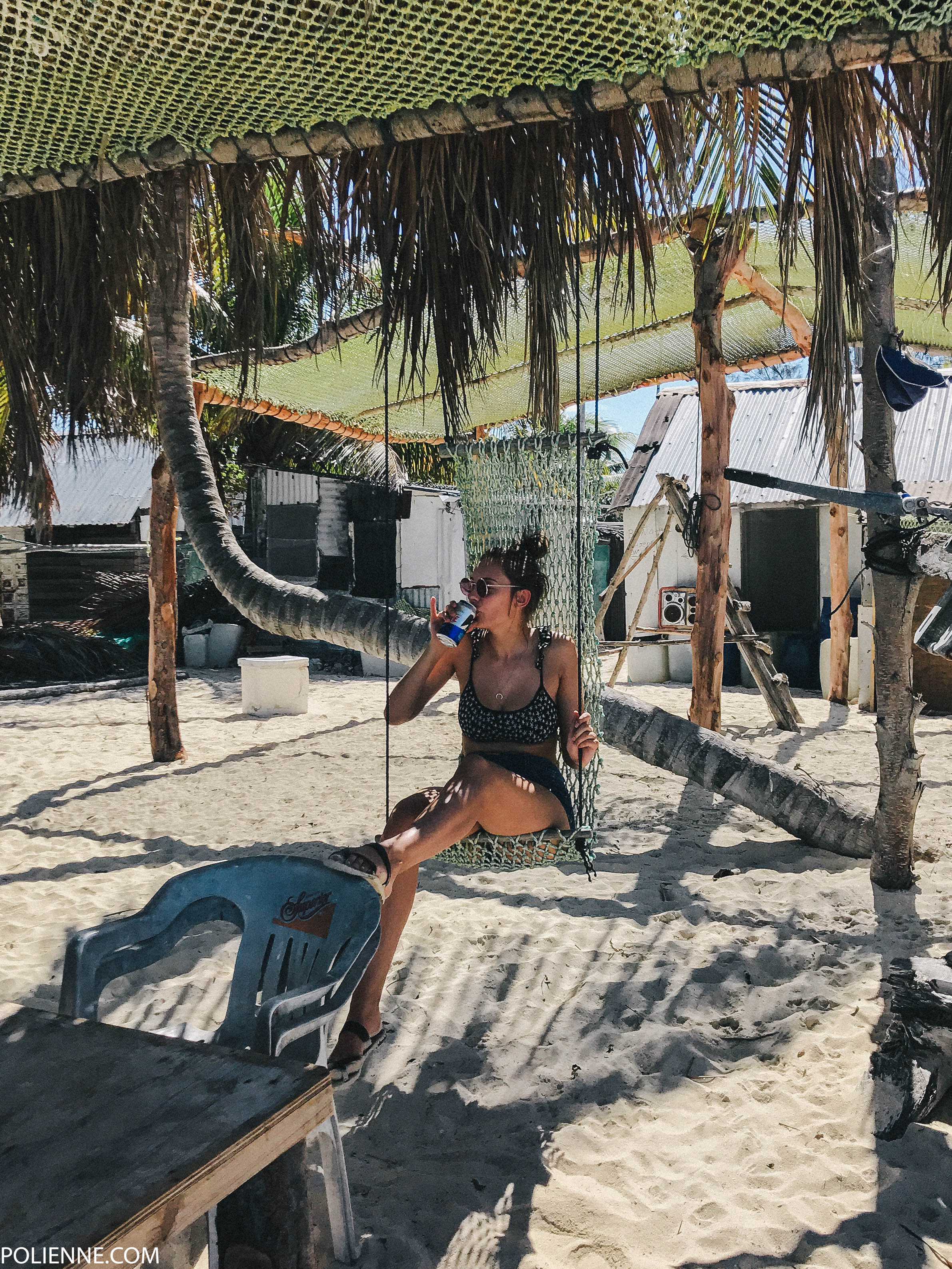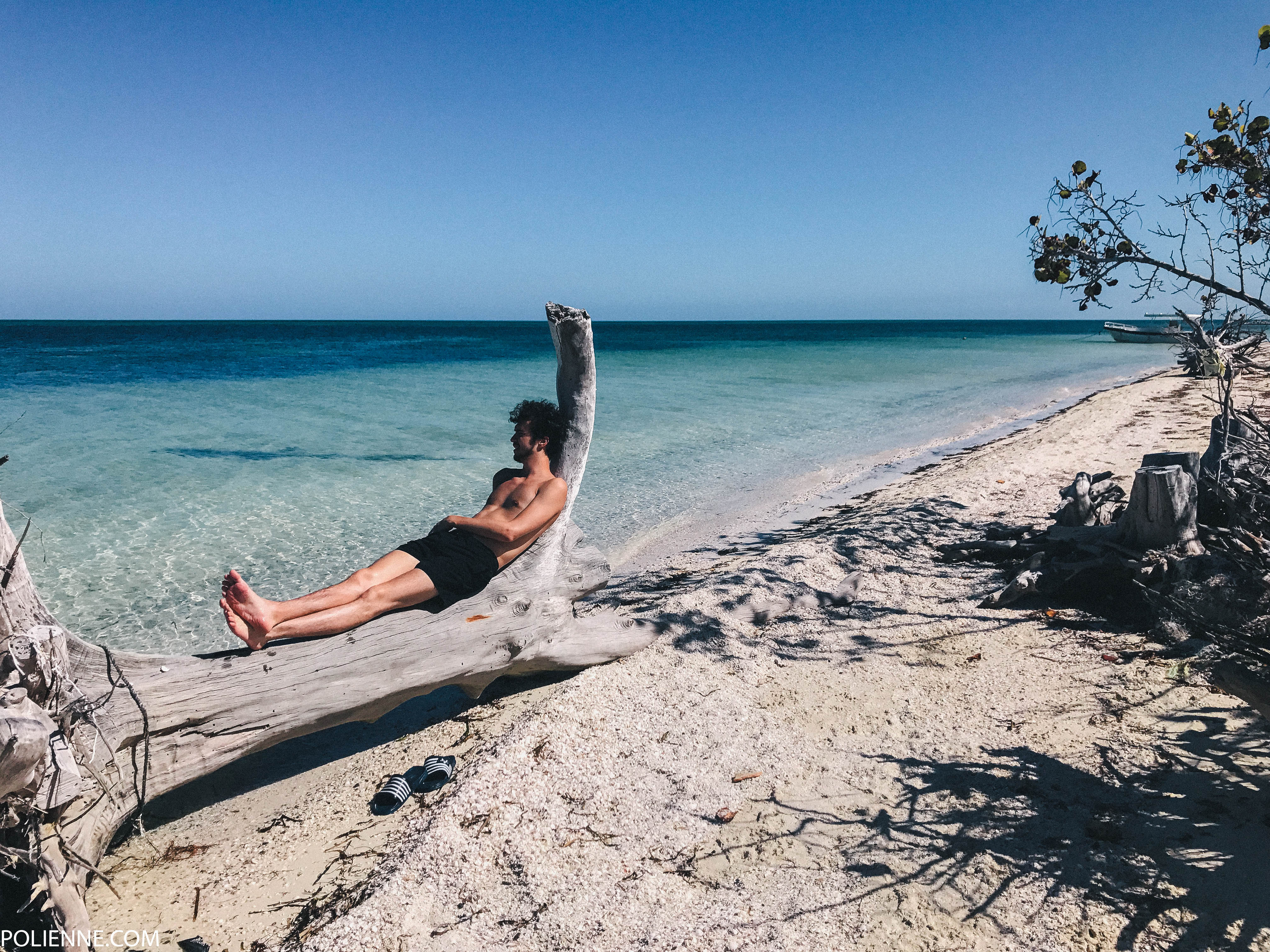 RENT a golfcart
On Isla Holbox there are nearly no cars, but everyone drives a bike or a golfcart instead. And boys will be boys, so the boyfriend obviously want to cruise around in a golf cart for at least one afternoon. On a cloudy day we got ourselves our fancy little ride and took a trip around the island! Since the accessible part of the island is pretty small, it didn't take us long to go from Punta Coco all the way to Punta Mosquito. At these ends you have to park your bikes and golf carts, but you can walk through the beautiful biosphere reserve.
PRACTICAL
We checked a few pricelists and decided to get our golf cart in one of the side streets instead of the more expensive main square. We paid 600 pesos (€29) for 3 hours. You don't need a drivers license and you can pay with VISA card.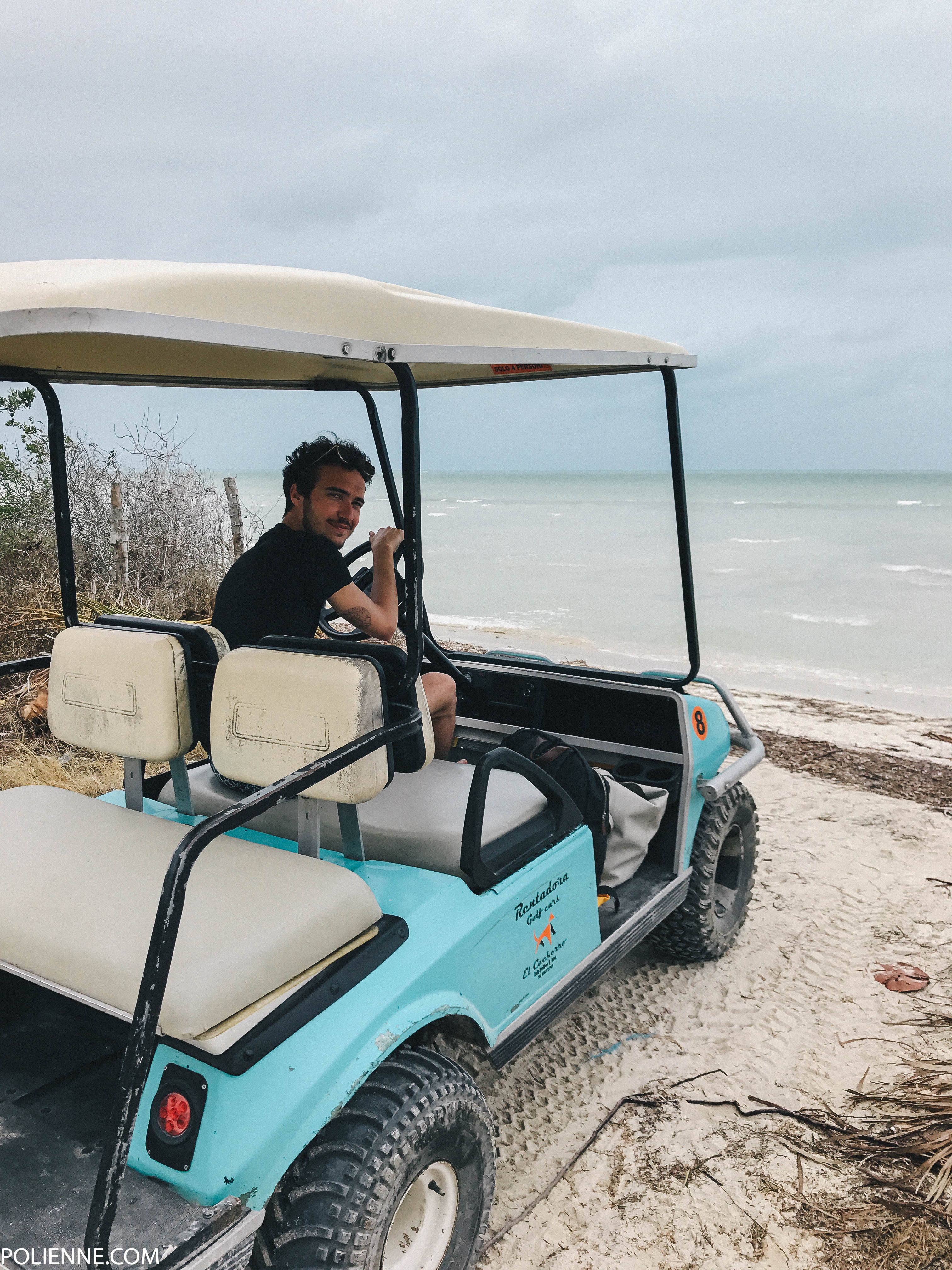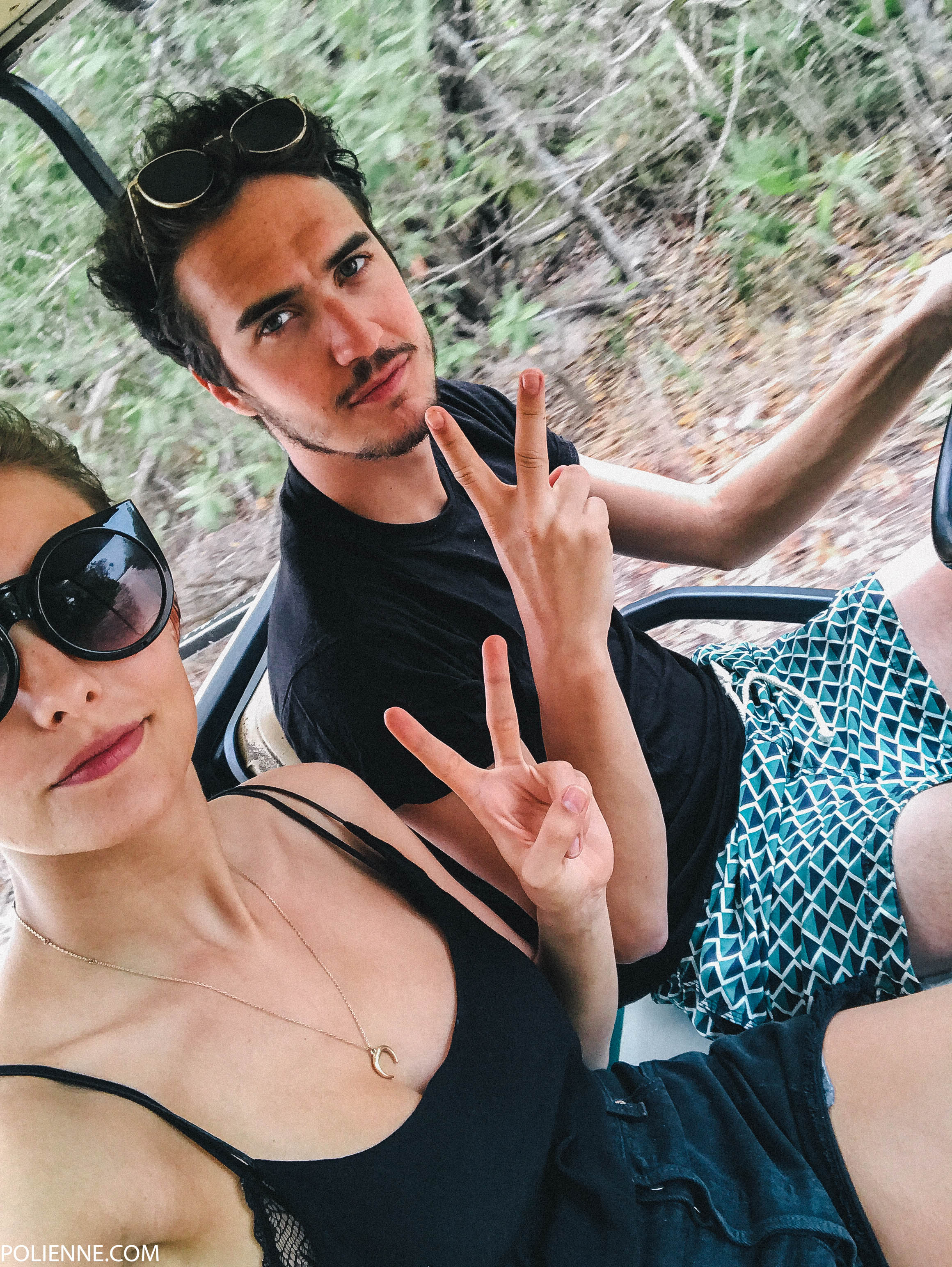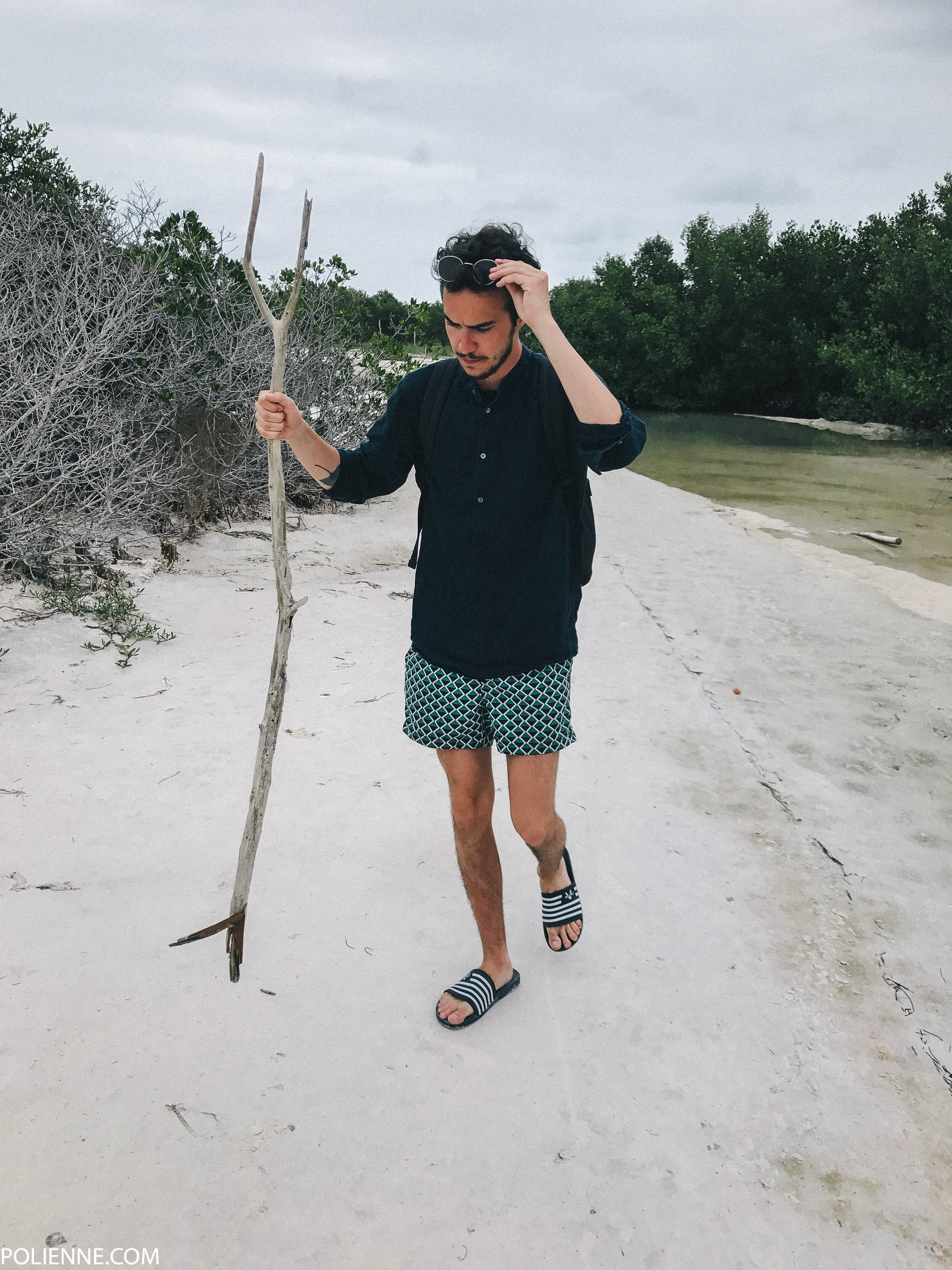 Swim with whale sharks
Isla Holbox is one of the few places in the world where whale sharks travel to once a year. And where you can swim with them. Holy shit. This was one of the reasons that I originally wanted to visit the island, but unfortunately the whale shark season is from May/June to September. These huge fish are herbivores and are harmless to humans, so swimming with them is some SERIOUS bucketlist material. Read about the best places in the world to spot them here!
PRACTICAL
Whale sharks only drop by between May and September (high season July-August), so during these months the island is definitely worth a visit. It's probably not cheap to go on a whale shark spotting and swimming tour, but I bet it's worth every penny. About every tourist booth in Holbox town offers these kind of tours, so just pass by a few of them to get the best price.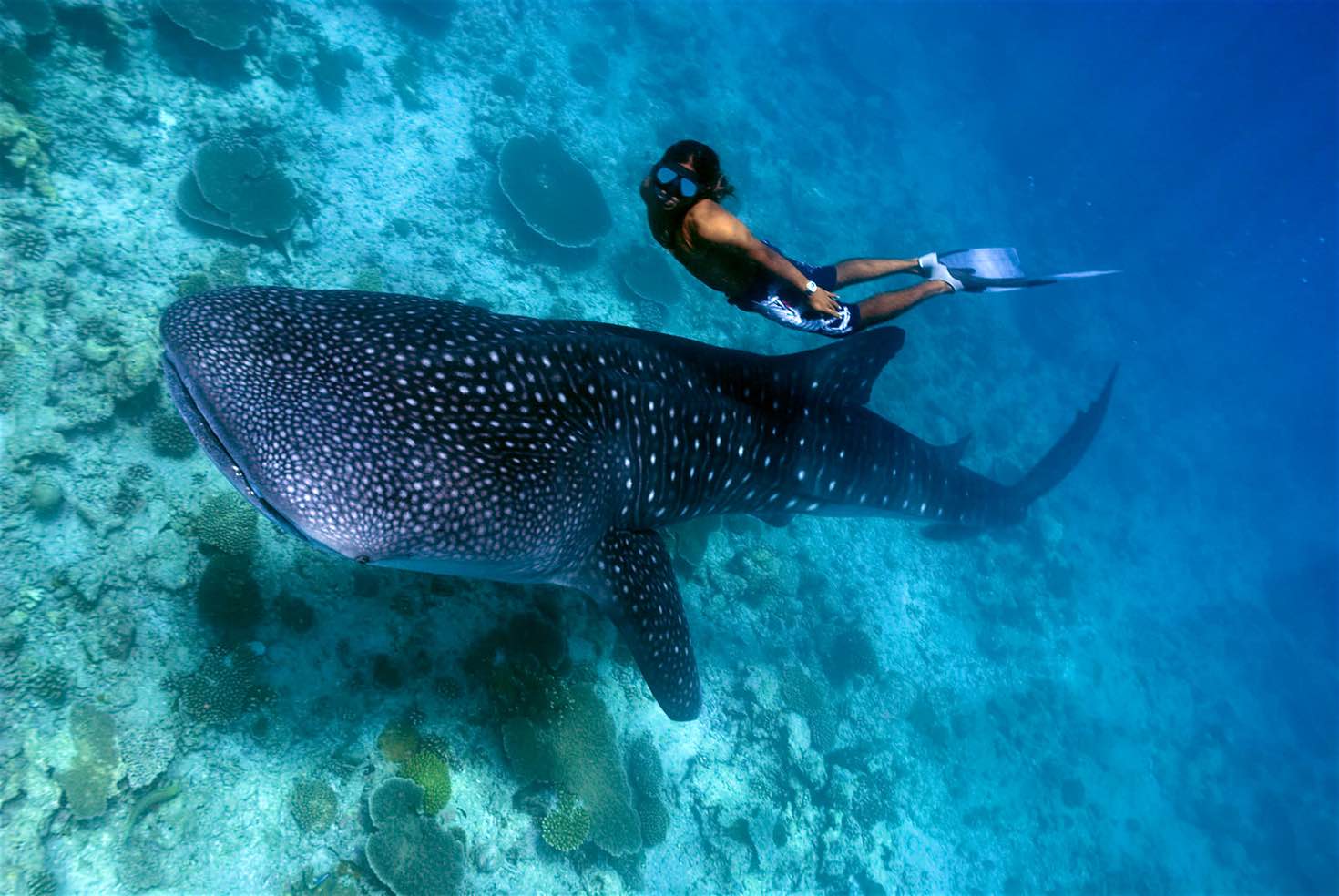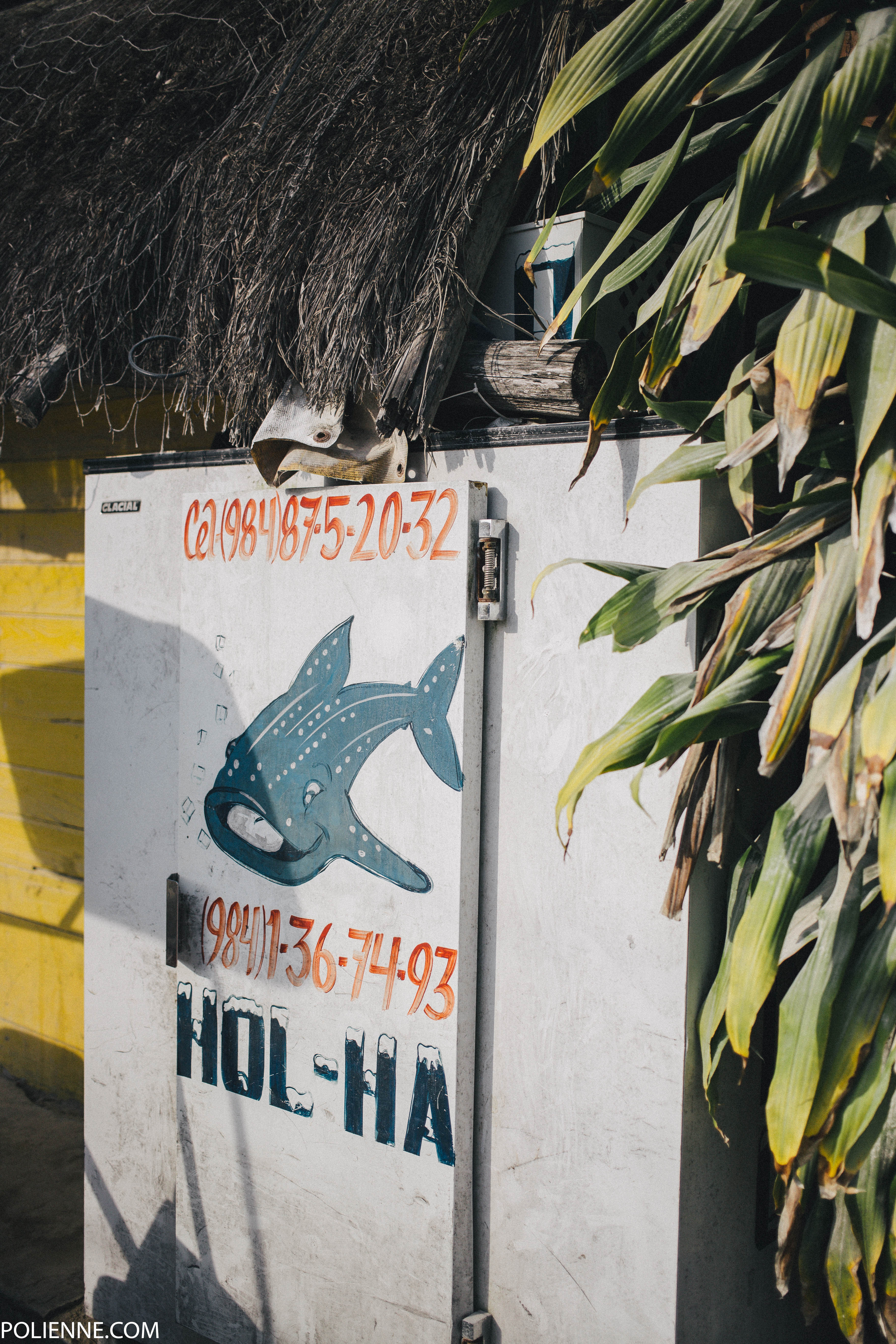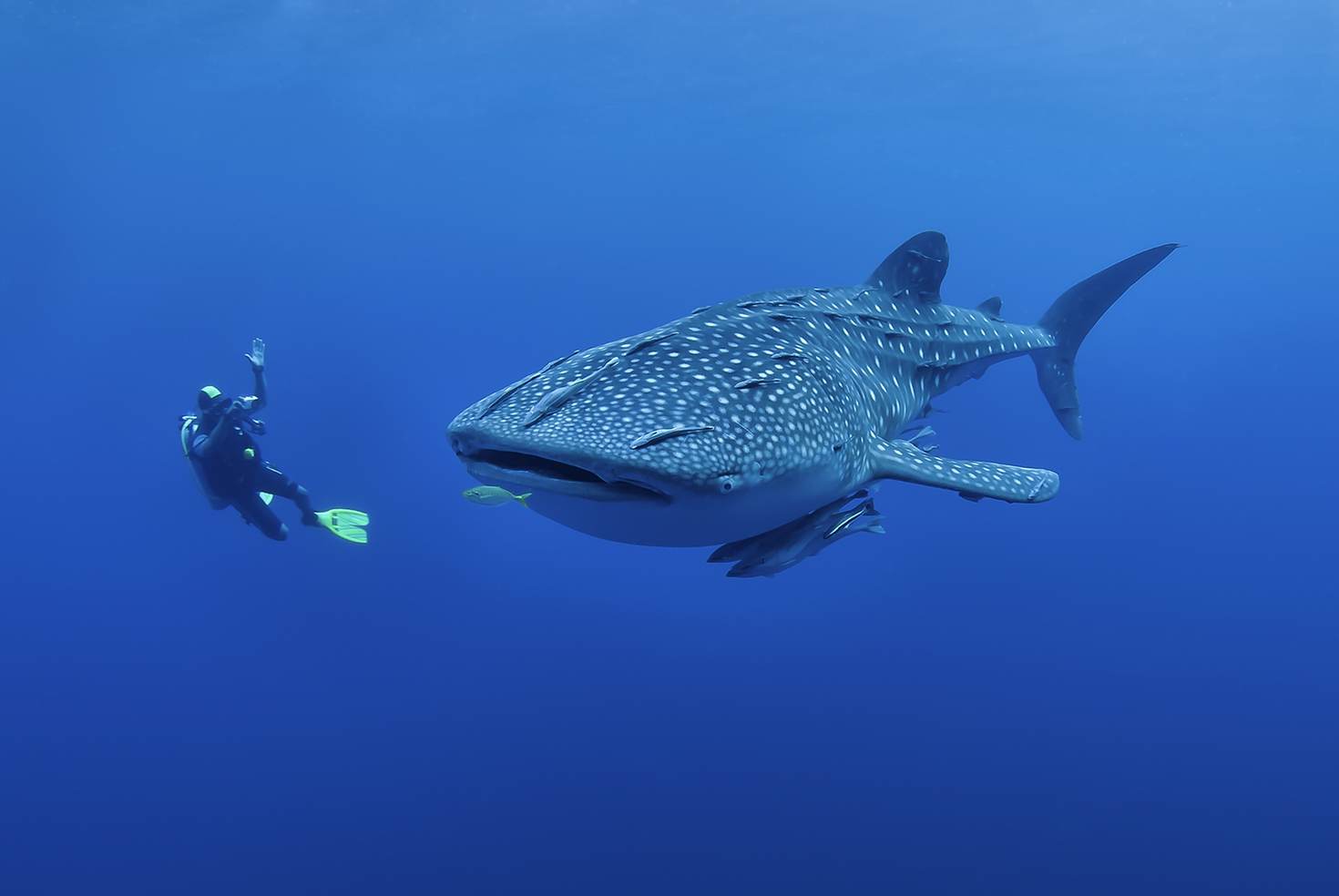 Whale shark photos source here
Get a beach massage
Ever since I got a full body massage on the beach in Thailand a few years ago, I knew this was THE BOMB. Having a tiny old lady sitting on you and stretching your arm all the way over your shoulders towards your toes while enjoying the sea sounds is probably one of the best things ever. So when I spotted a few massage booths on the Holbox beaches, the boyfriend and I got pretty ecstatic. It was a lot more expensive than I had expected, since in Thailand I paid about €5 for a full hour. But hey, the spaghetti legs afterwards proved it was worth every peso.
PRACTICAL
We opted for the massage booth at beach bar Raices, which charged us 650 pesos (€31) per person for a 1 hour full body massage. Most beach massage booths offer the same price, in hotels it's usually a bit more expensive.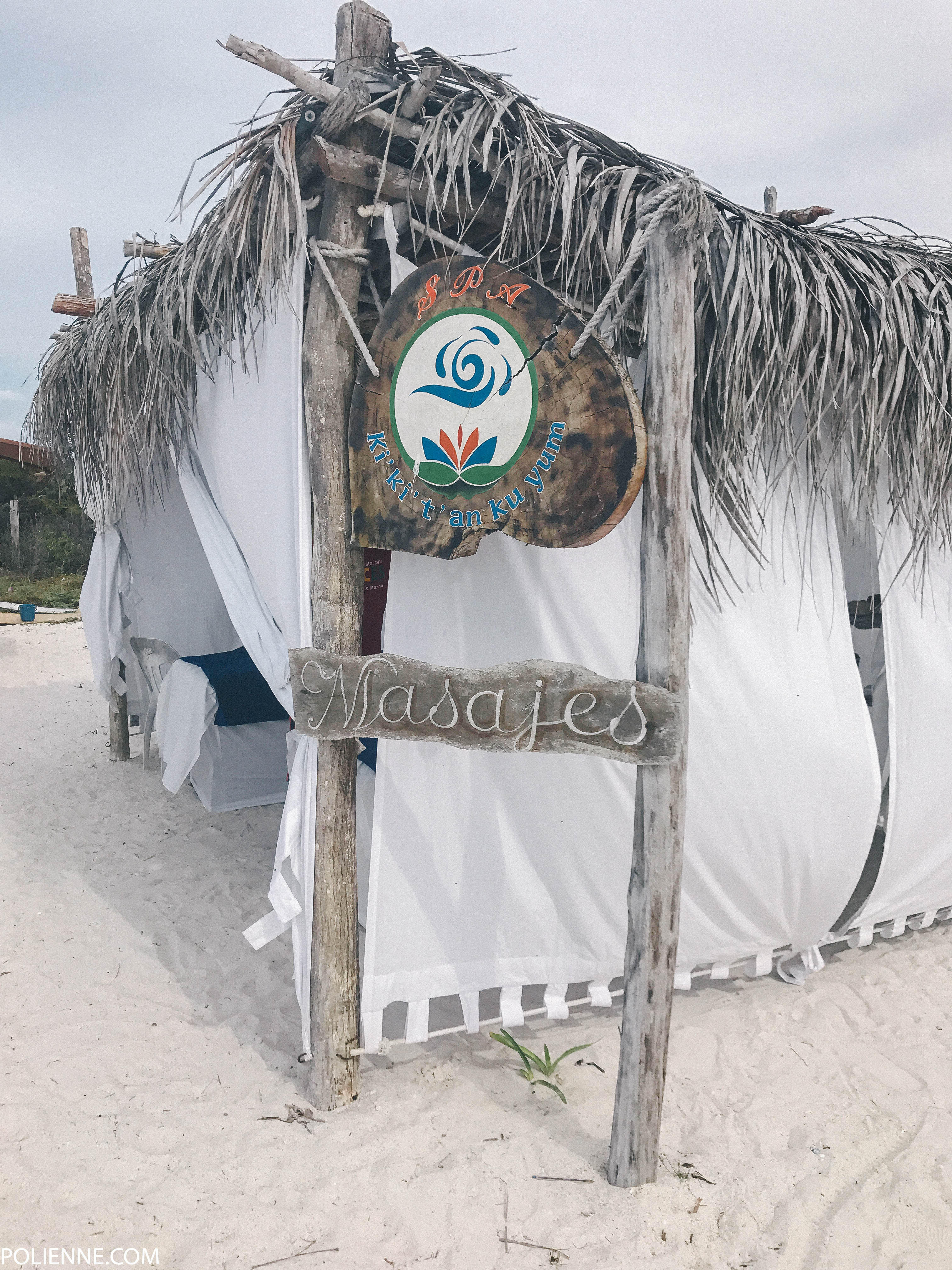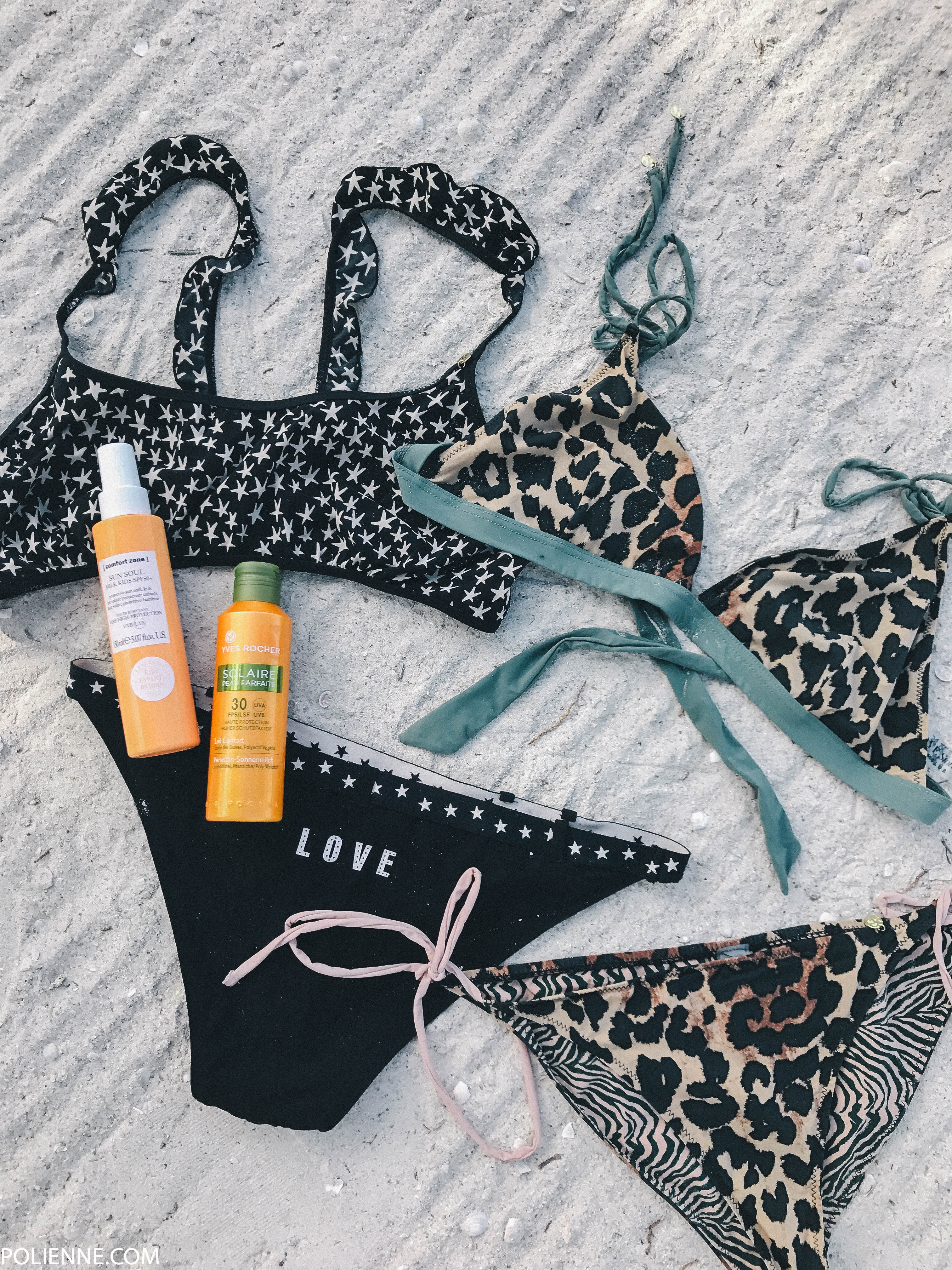 Eat, eat, eat…
In both Tulum and Merida we booked ourselves a place through Airbnb, but to end our trip in Holbox we opted for a hotel. Having no worries about grocery shopping or cooking also meant exploring a lot more of the food options! At Isla Holbox about every place seems to offer really good yummy for your tummy. I'll give you a list of the different spots where we went for lunch and dinner.
PRACTICAL
You can pay with VISA and MasterCard at almost every food place on the island, simply because the few ATM's on the island usually don't work. So BRING ENOUGH CASH for other things like massages, boat tours and the bus back to Cancun, or you'll end up wasting half a day looking where to get money like we did 😀 There are about 4 ATM's providing USD (why???) on Holbox and there's only 1 changing office that gives you a crap rate. All of these ATM's were empty, by the way. There is 1 ATM providing pesos but it didn't seem to work with my VISA nor MasterCard. Then, although the machine didn't indicate that it accepts Maestro, I tried my regular card, and suddenly it worked! So here's a little ATM hack for you if you're heading to Holbox 😉 Try the ATM above the police station on the main square and use your Maestro instead of your credit cards. You can opt for "saving account" or "credit card" when asked, both will (hopefully) strangely work. Hurray for extra pesos!
RESTAURANTS TO GO
Ukulele / hamburgers, tacos, and a sports bar on the roof terrace, about 120 pesos (€5,5) for a burger with fries.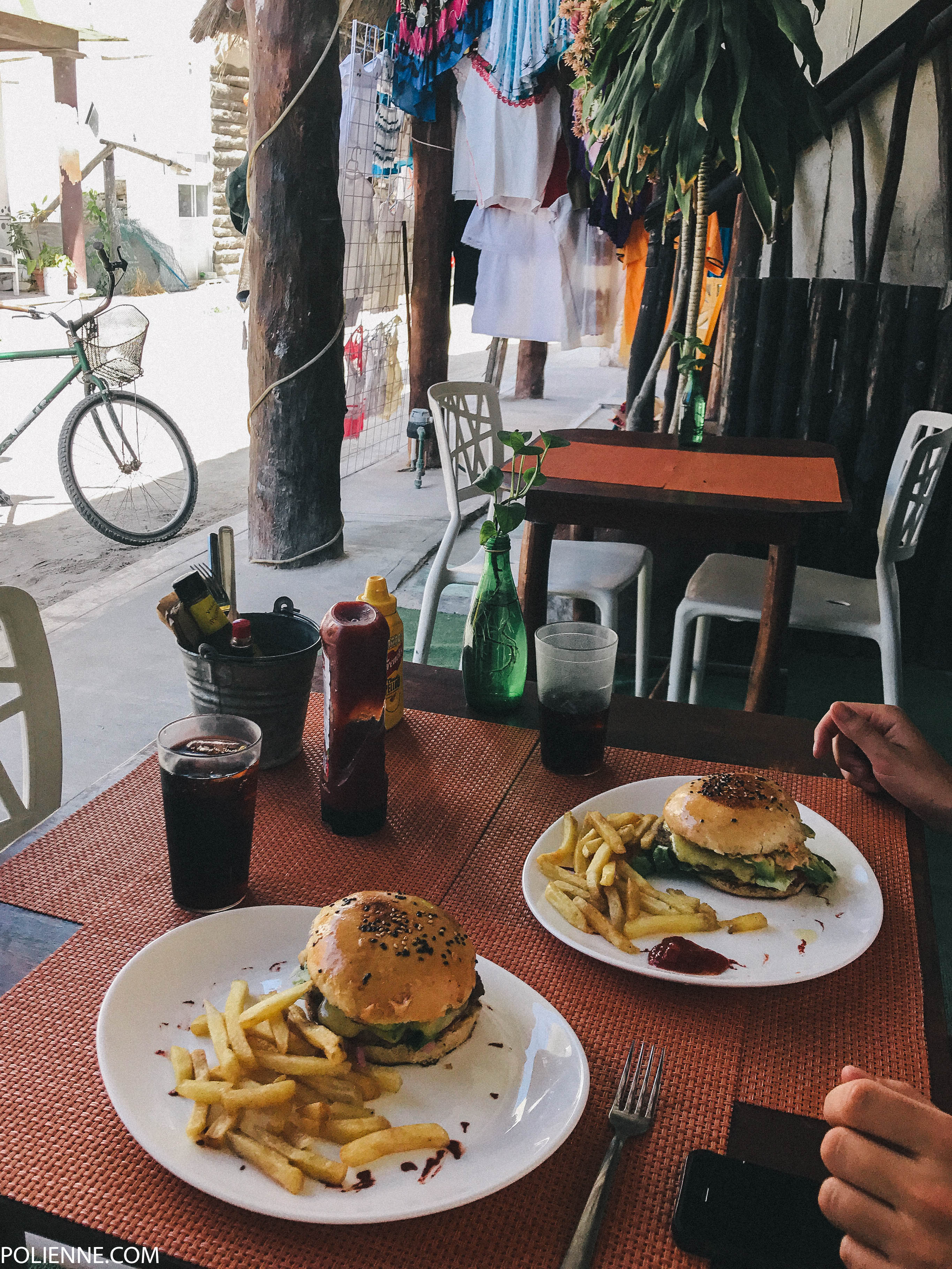 Viva Zapato / fun bar and restaurant with live music, we had a fantastic mixed grill plate here for 450 pesos (€22) for 2 persons and huge grilled lobster for 450 pesos per person.
Arena bar / a rooftop bar with a pool that serves delicious cocktails. Try the "Garden" cocktail for 120 pesos (€5,5).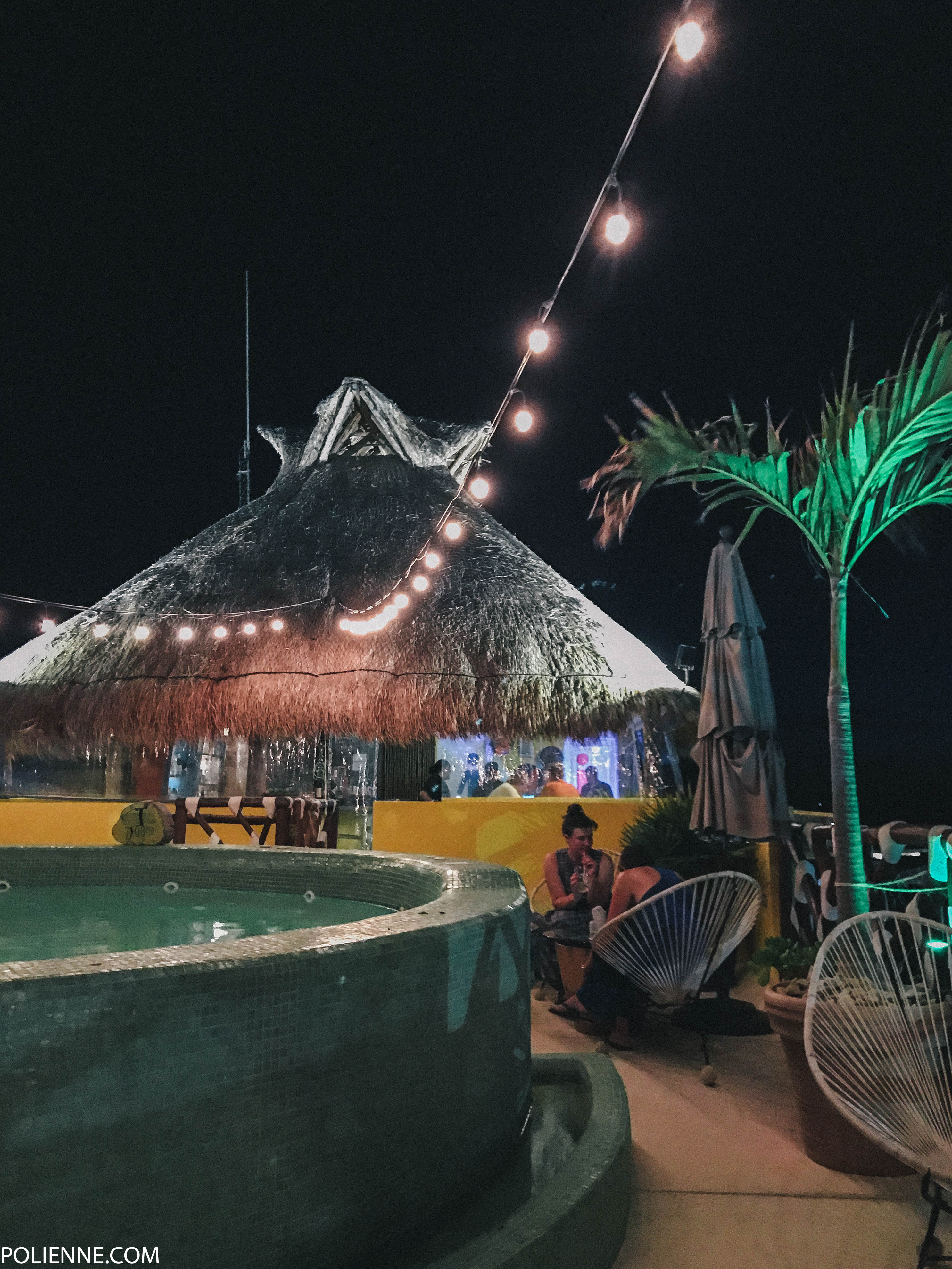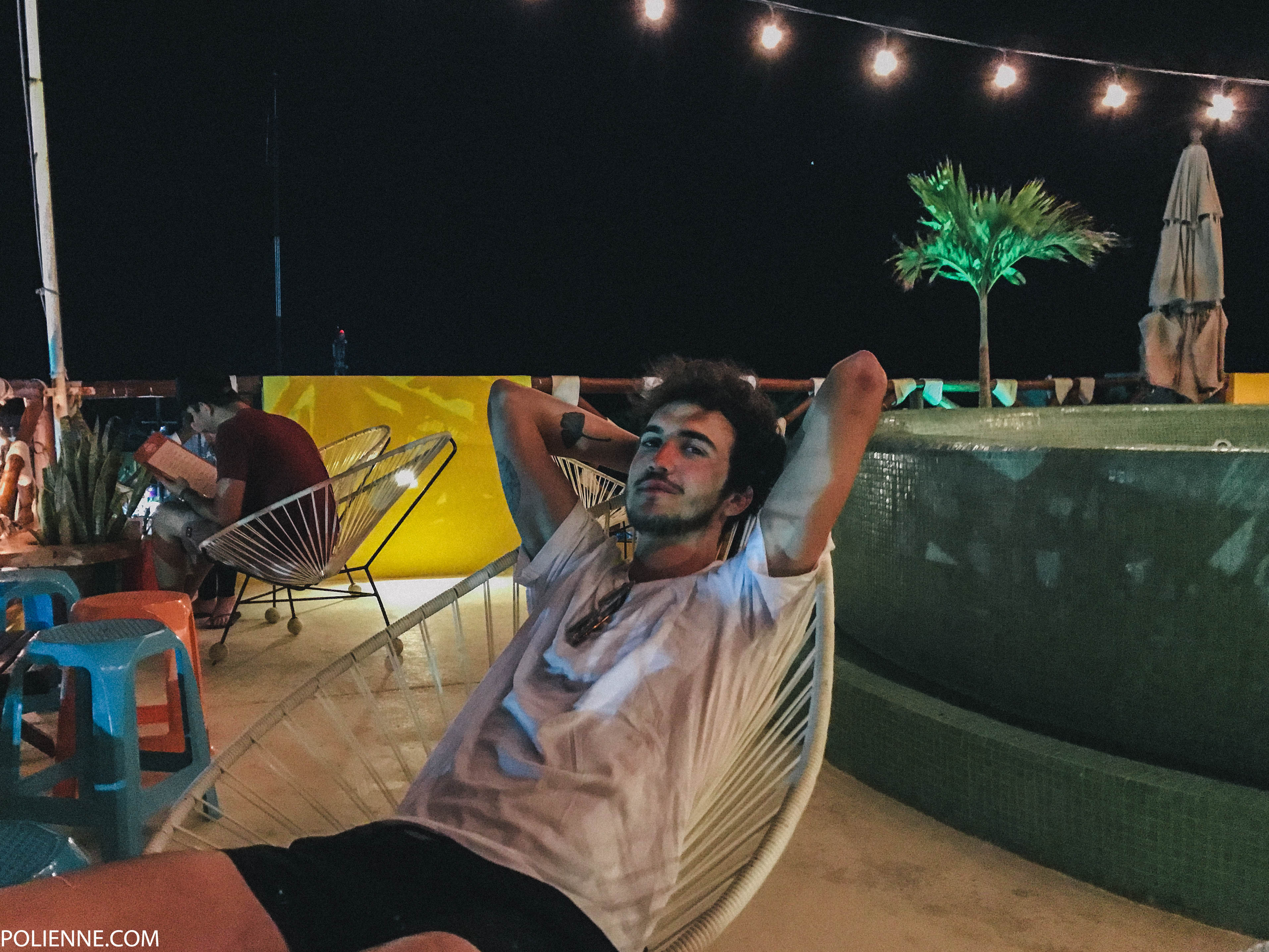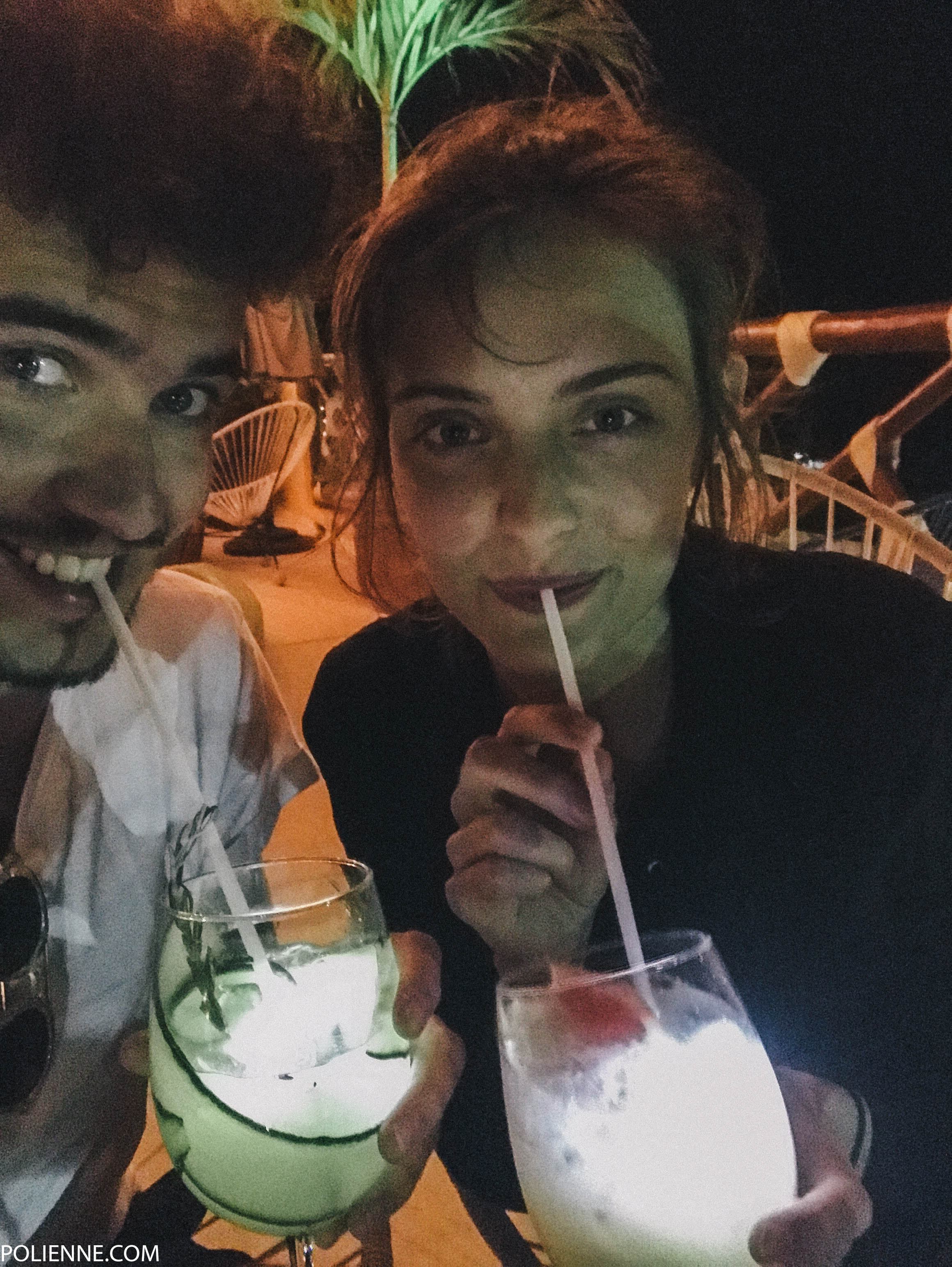 El Hornito / pizza and Argentinian food located on the main square next tot Arena, yummy pizza starting from 100 pesos (€4,8). I don't have a photo of this one, but here's a pic of three cute dogs in front of Bar Arena 🙂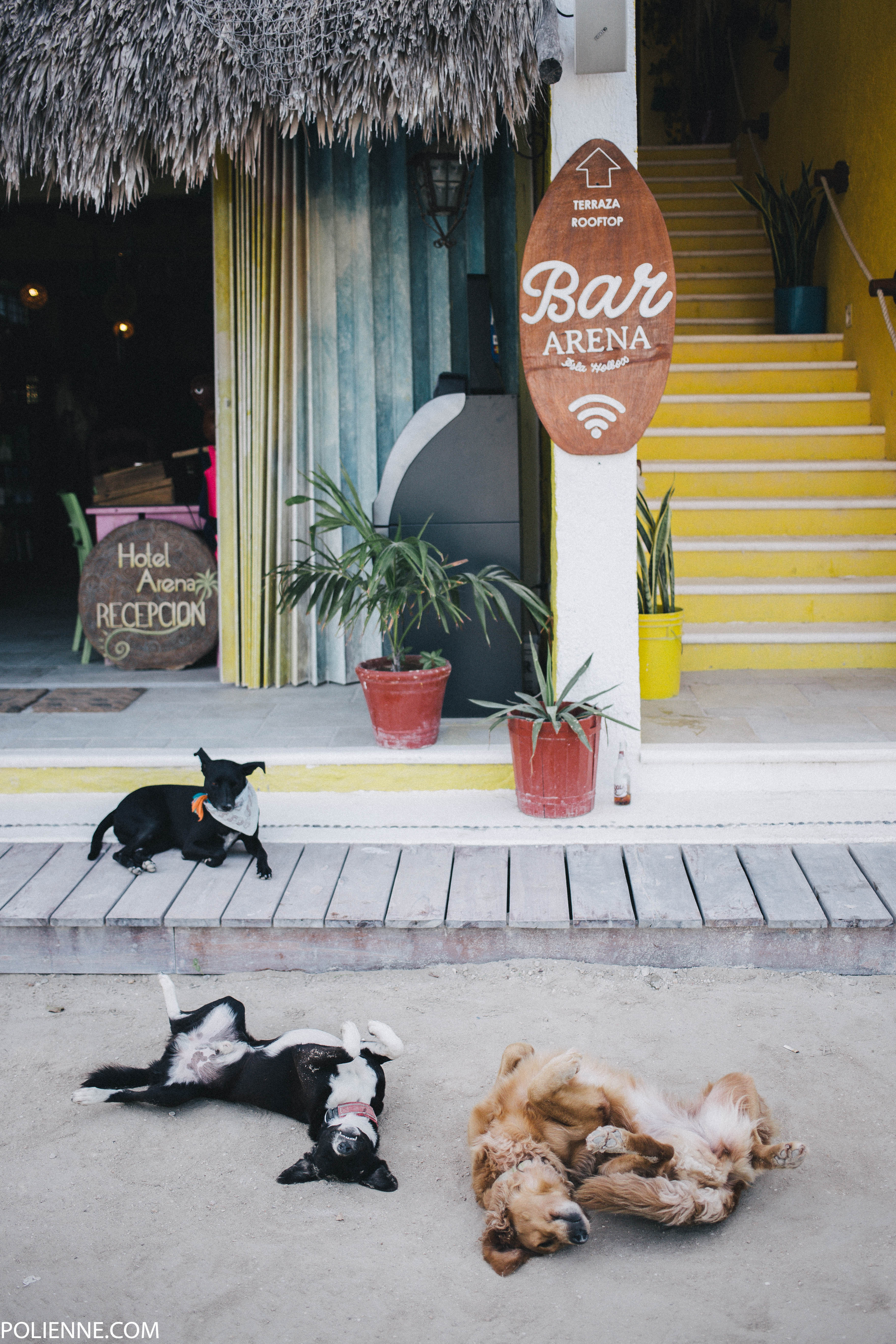 Los Peliones / a slightly more "fancy" restaurant with a beautiful roof terrace, make sure to drop by during the day to make a reservation because it's usually fully booked at night. Pasta, meat and fish between 150 (€7,3) and 450 pesos (€22).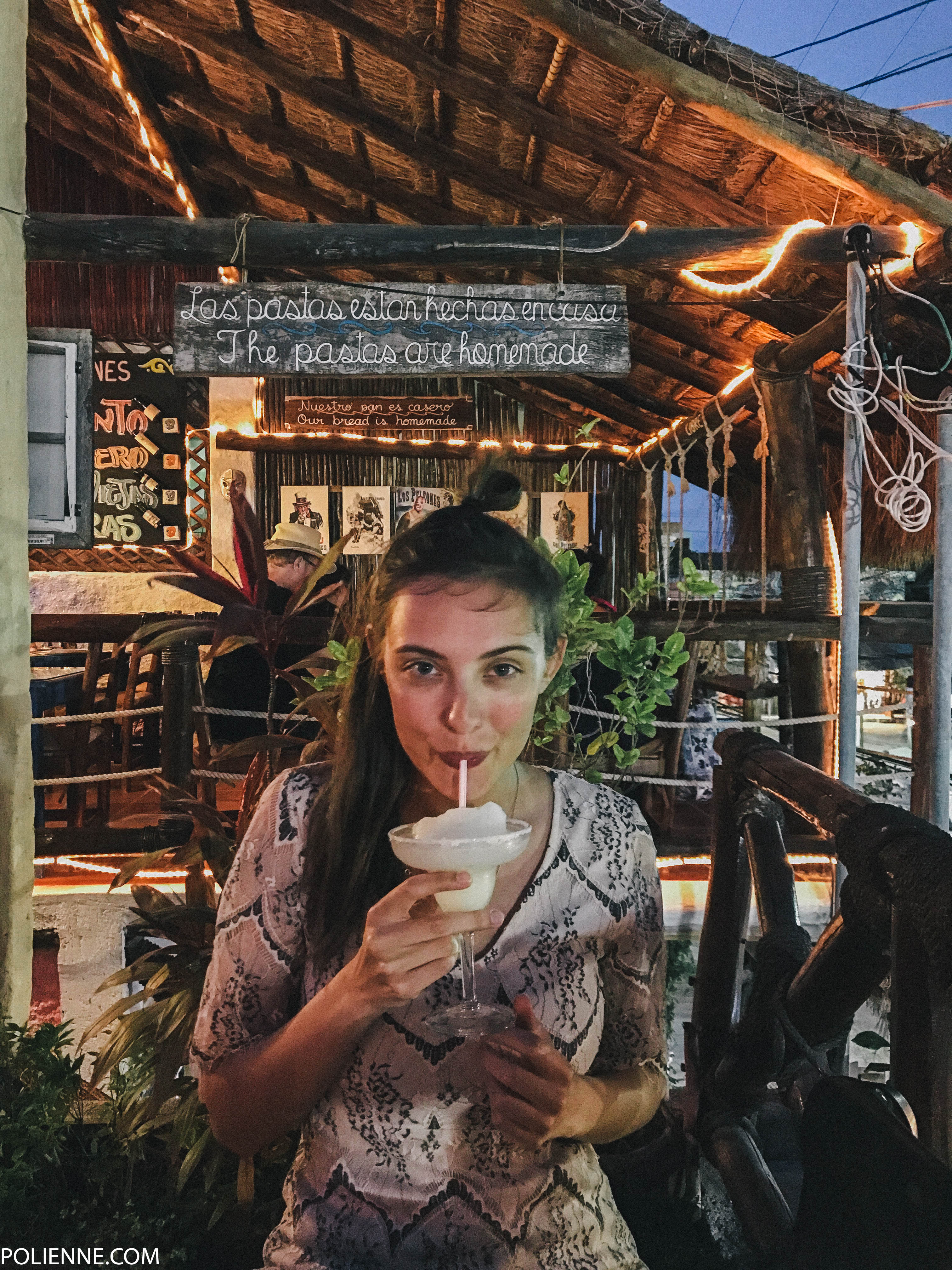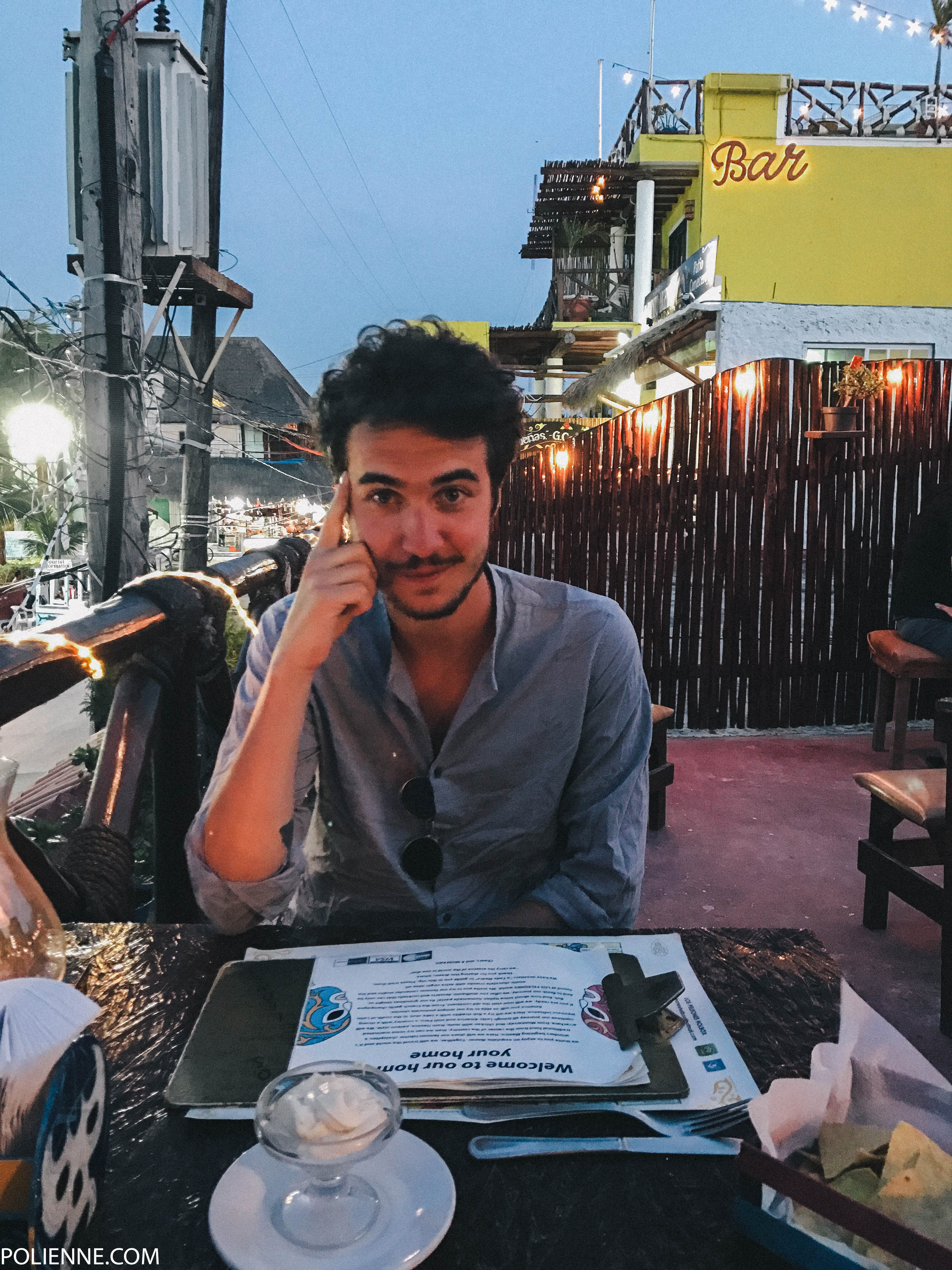 Raices / a beach bar with live music, great for a beer and some guacamole (about 70 pesos (€3,4)), but we've seen some impressive fish and lobster meals passing by too.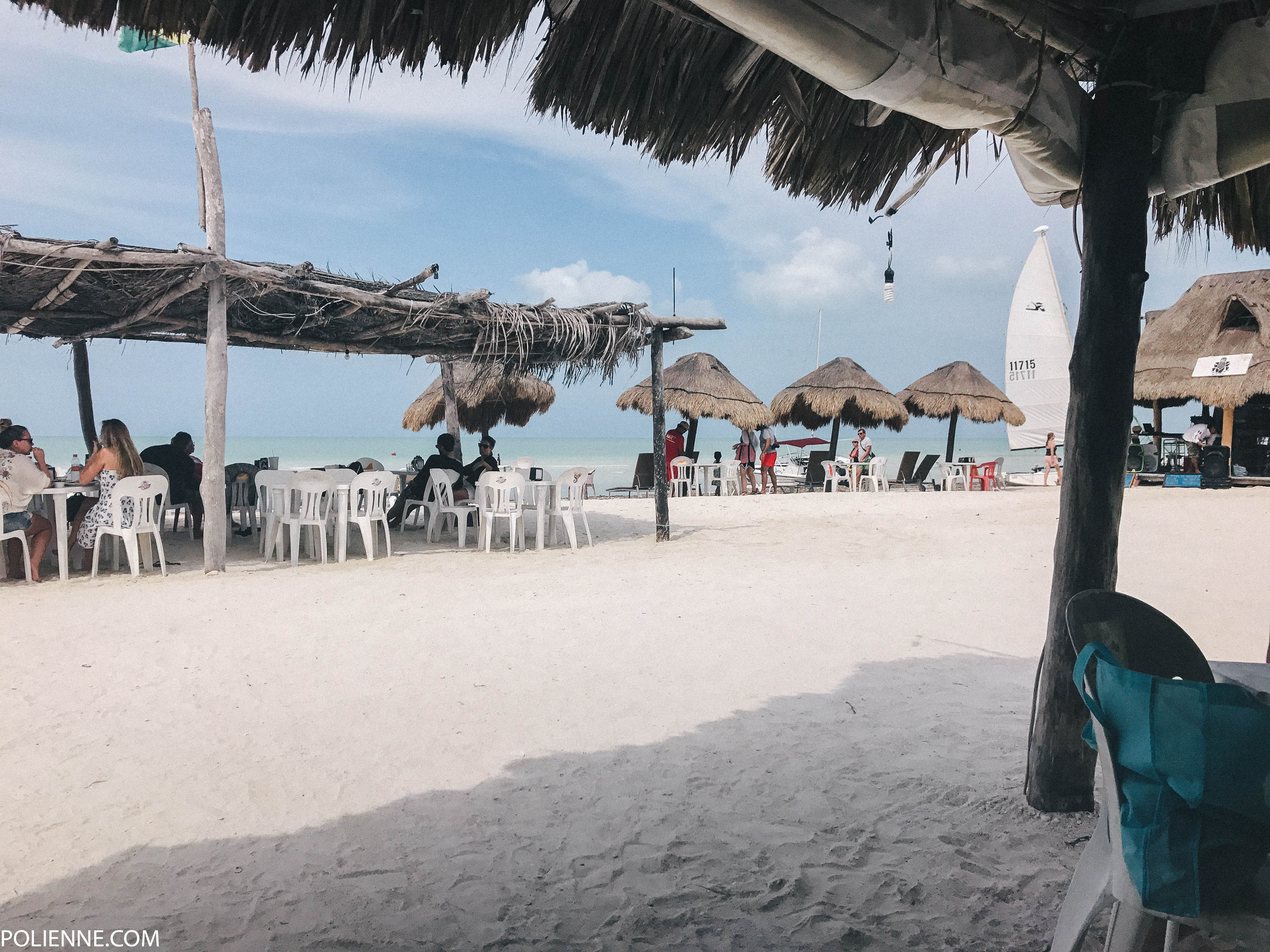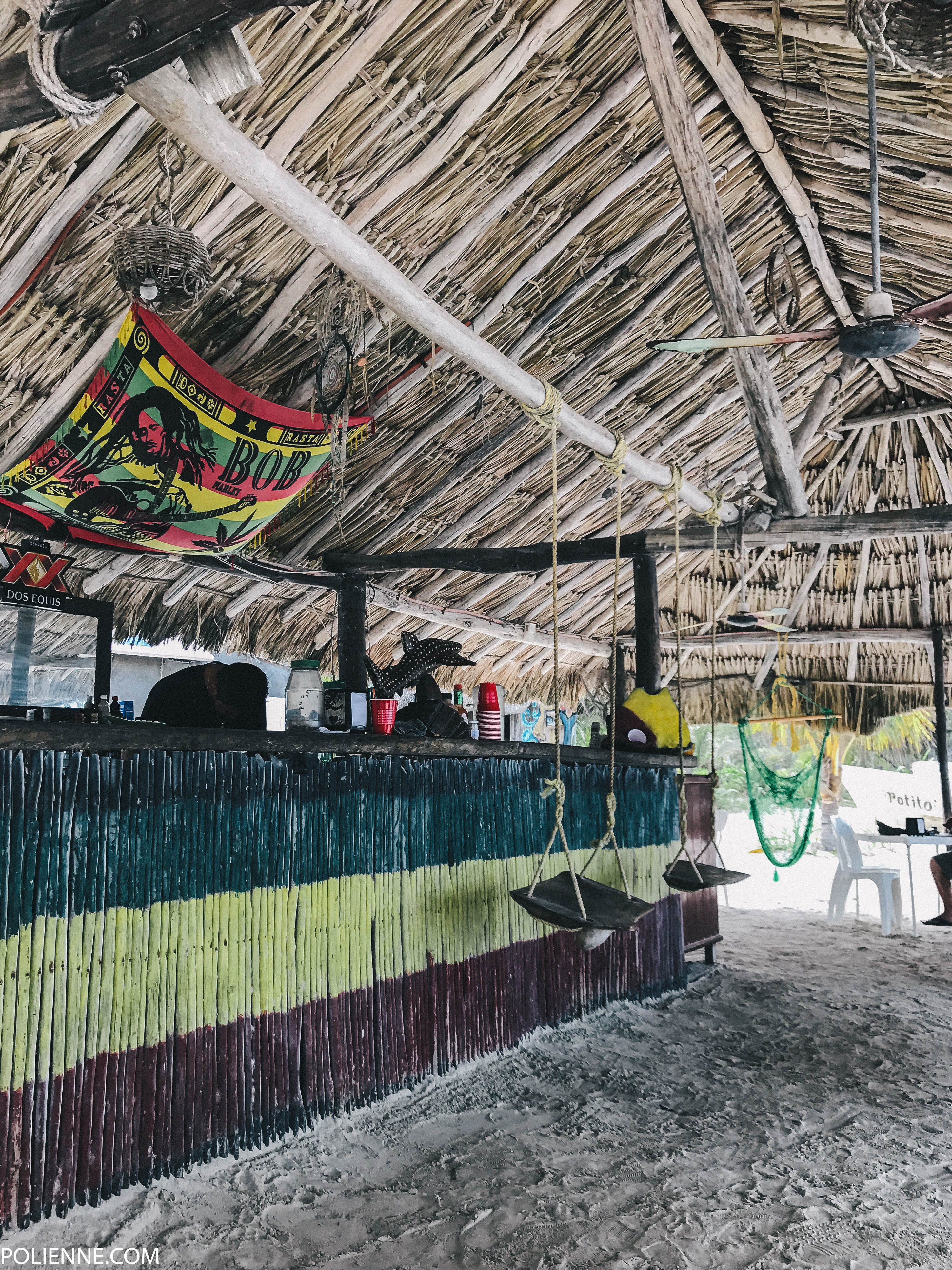 Et voila! Those were my tips on what to do and where to eat on Isla Holbox. I'm getting super nostalgic right now, so let's just go watch some more photos together and feel sad.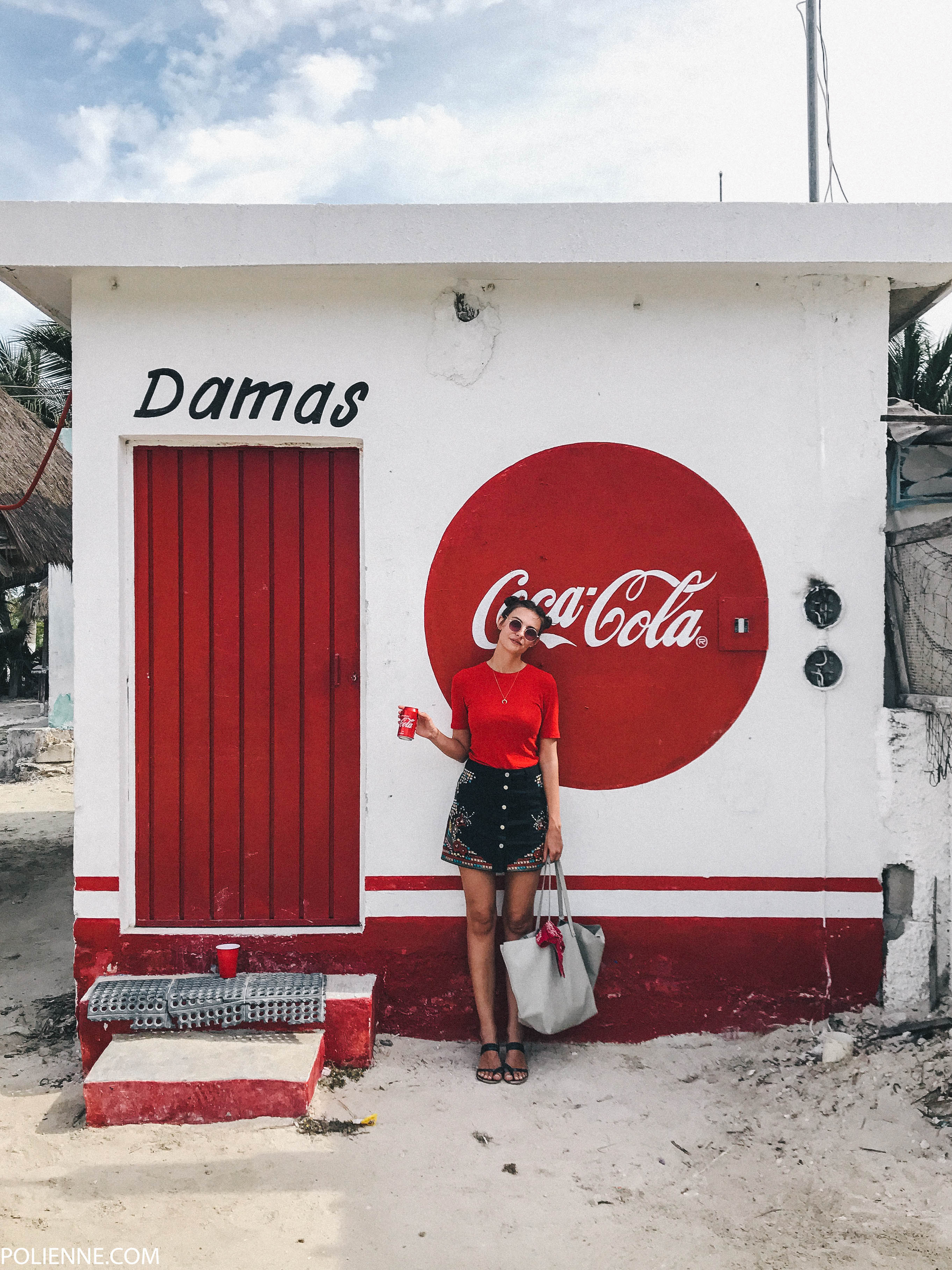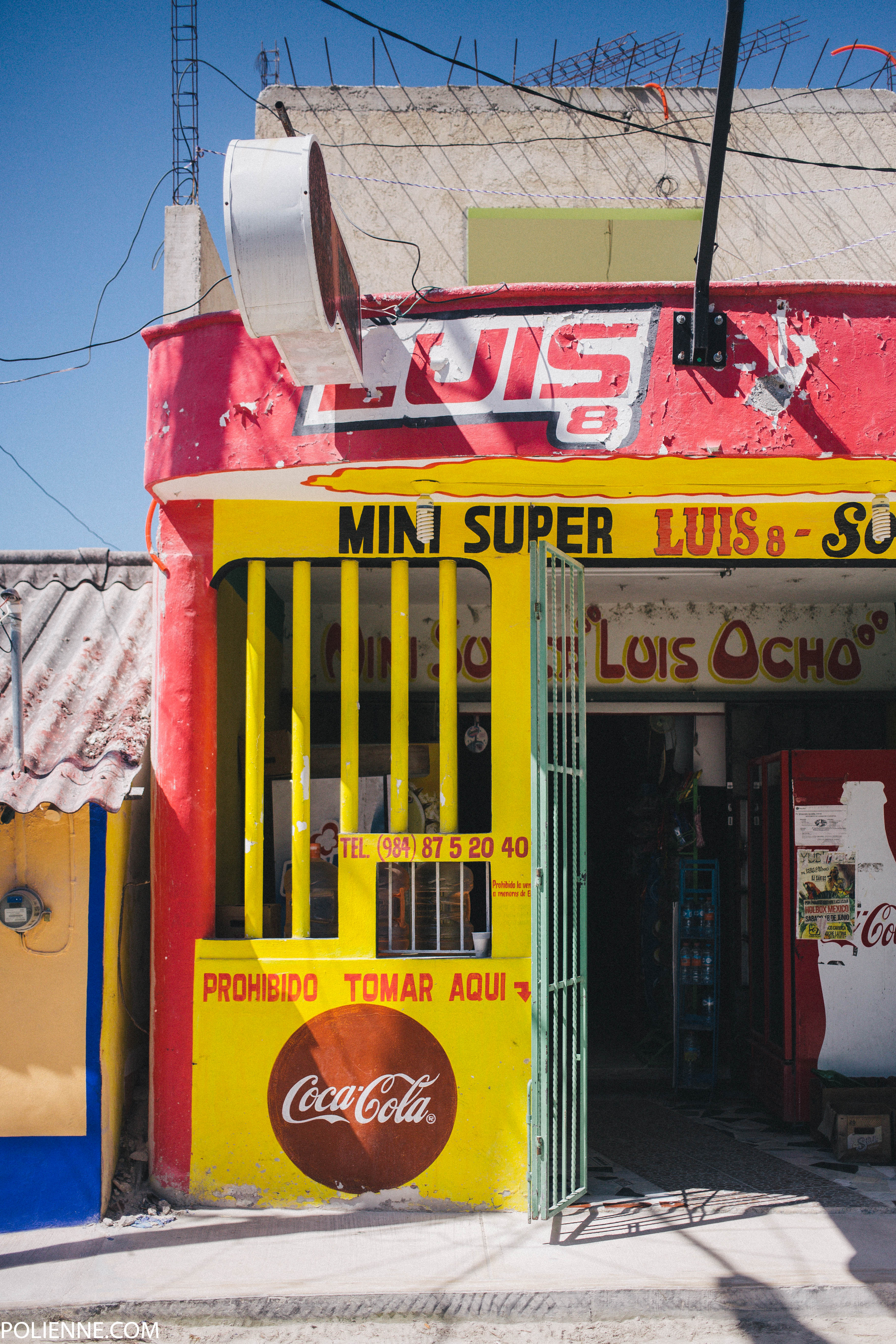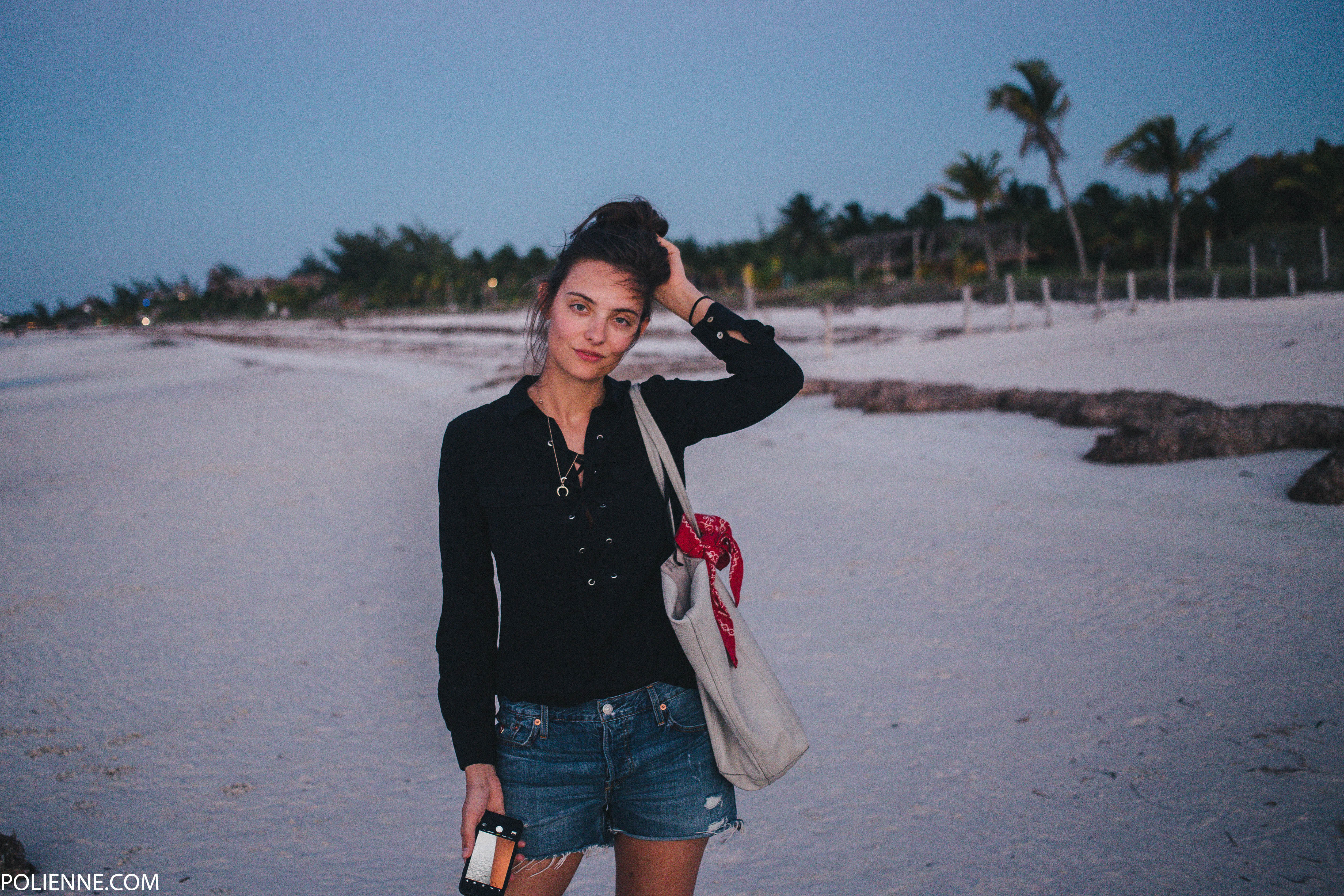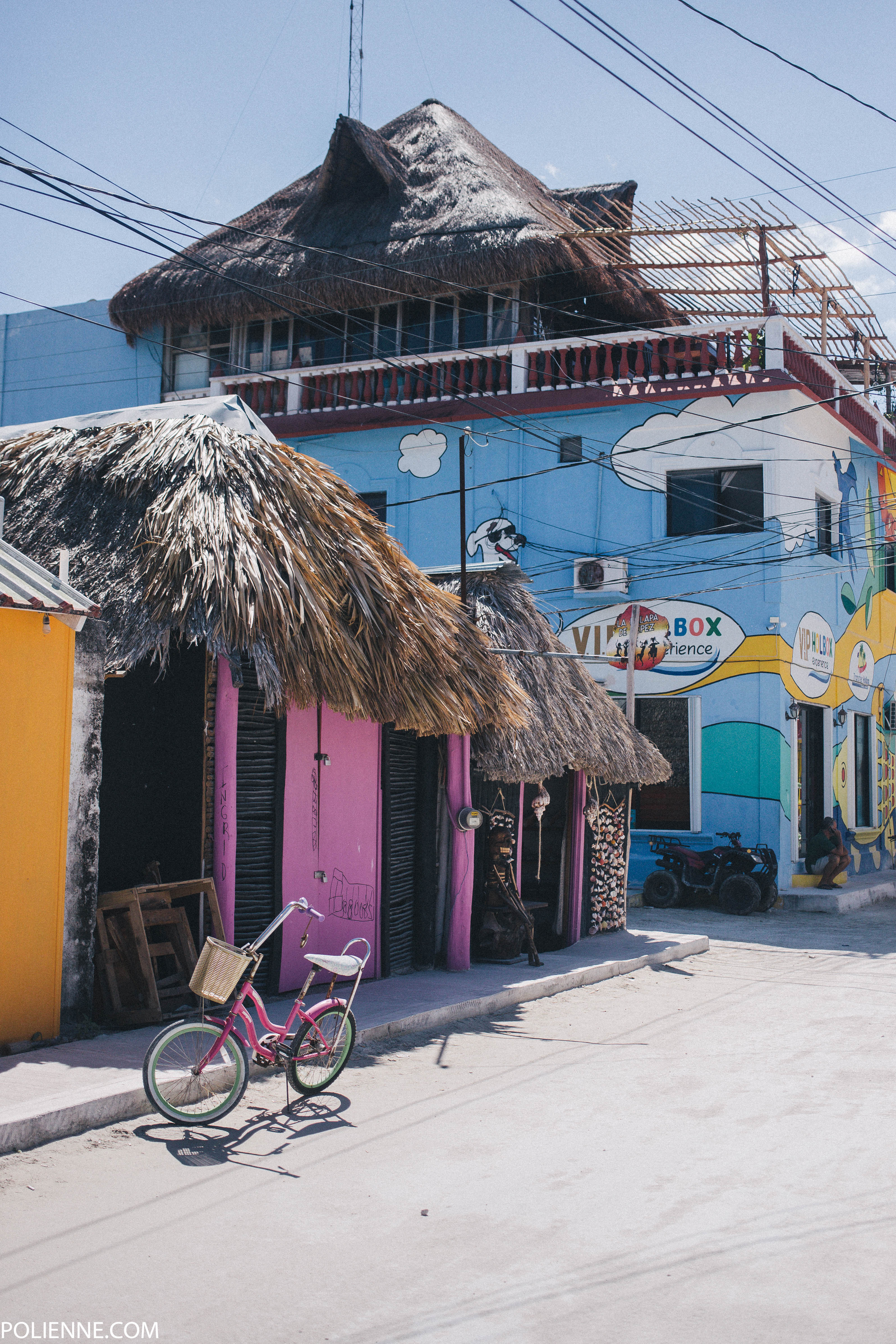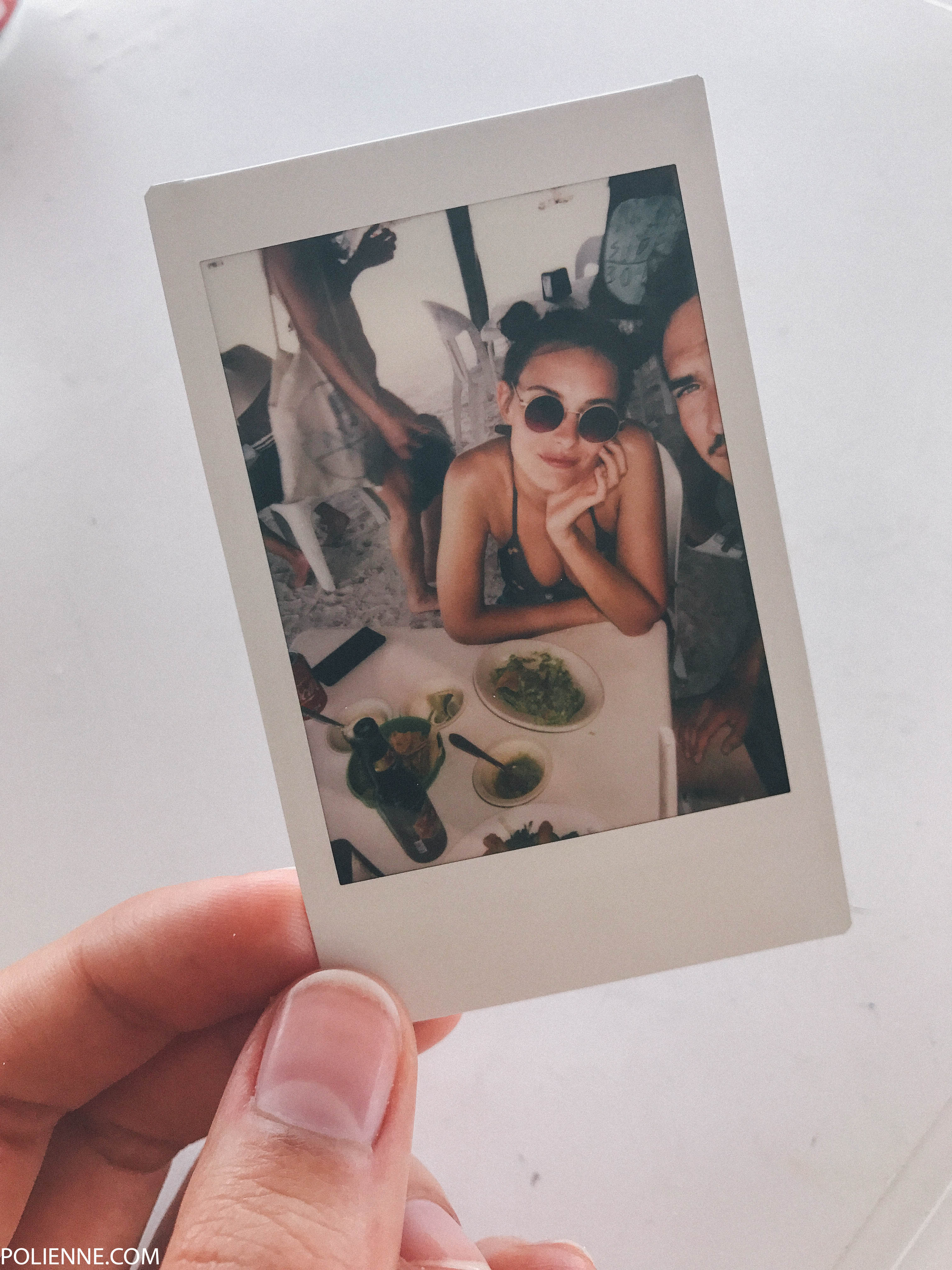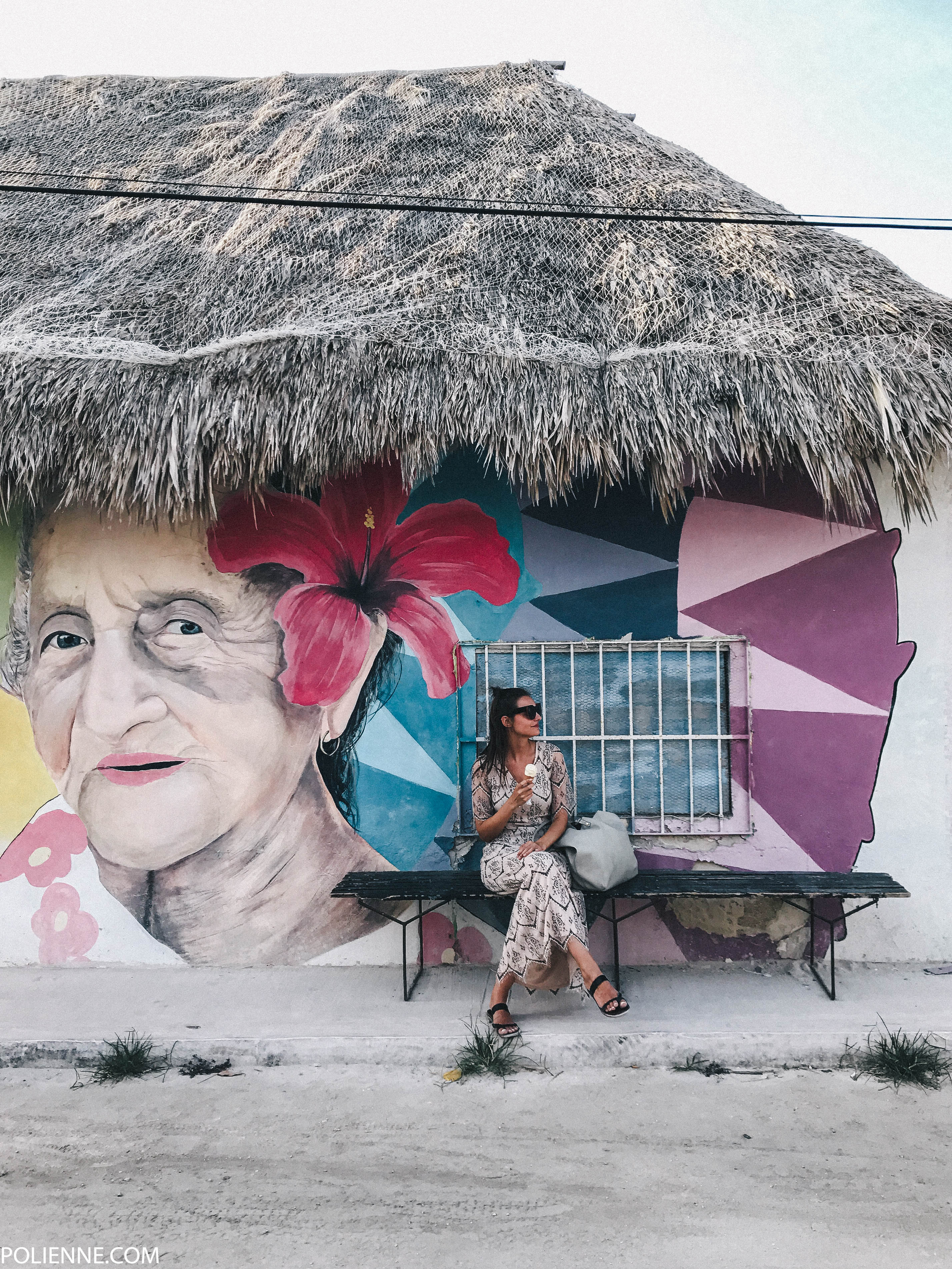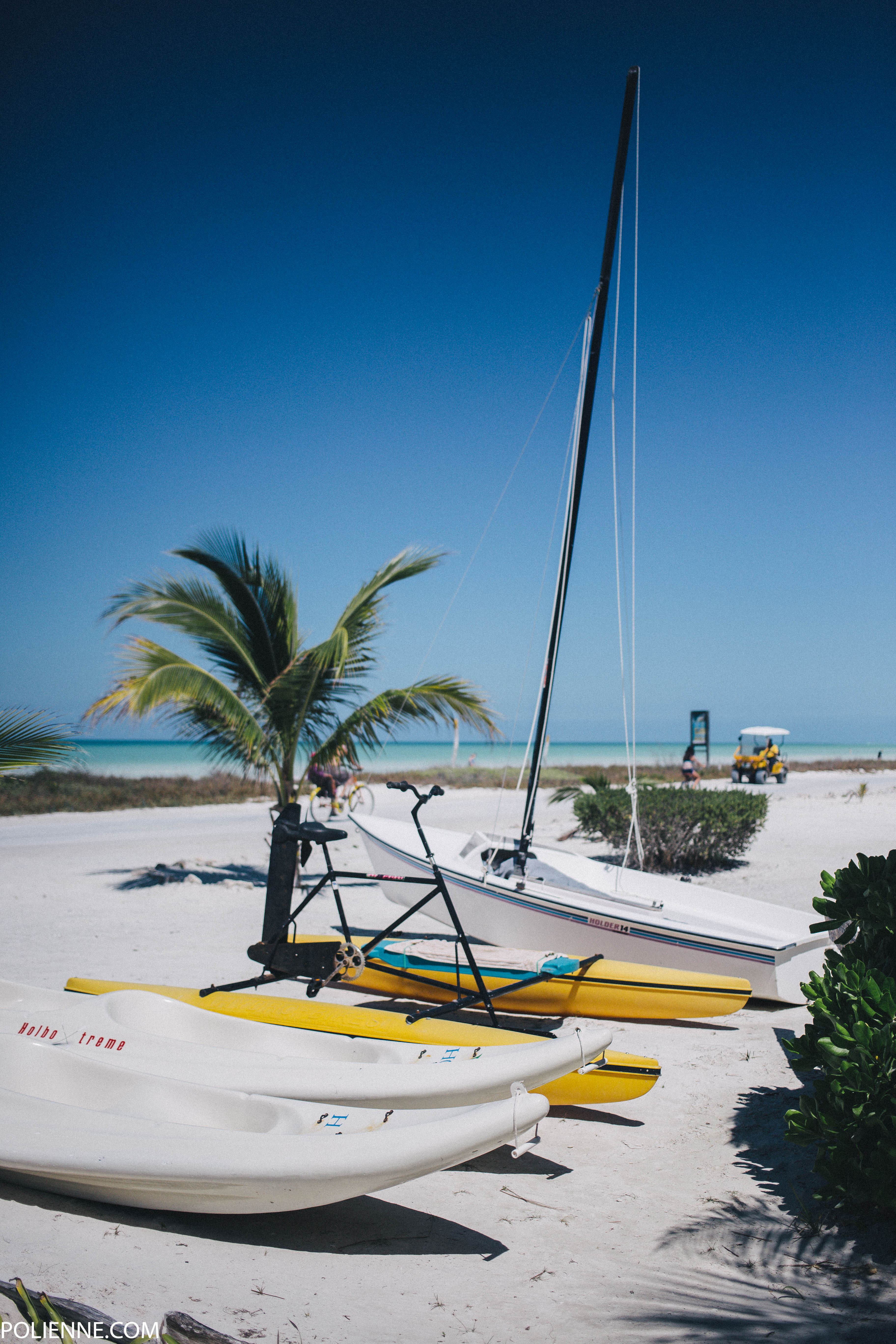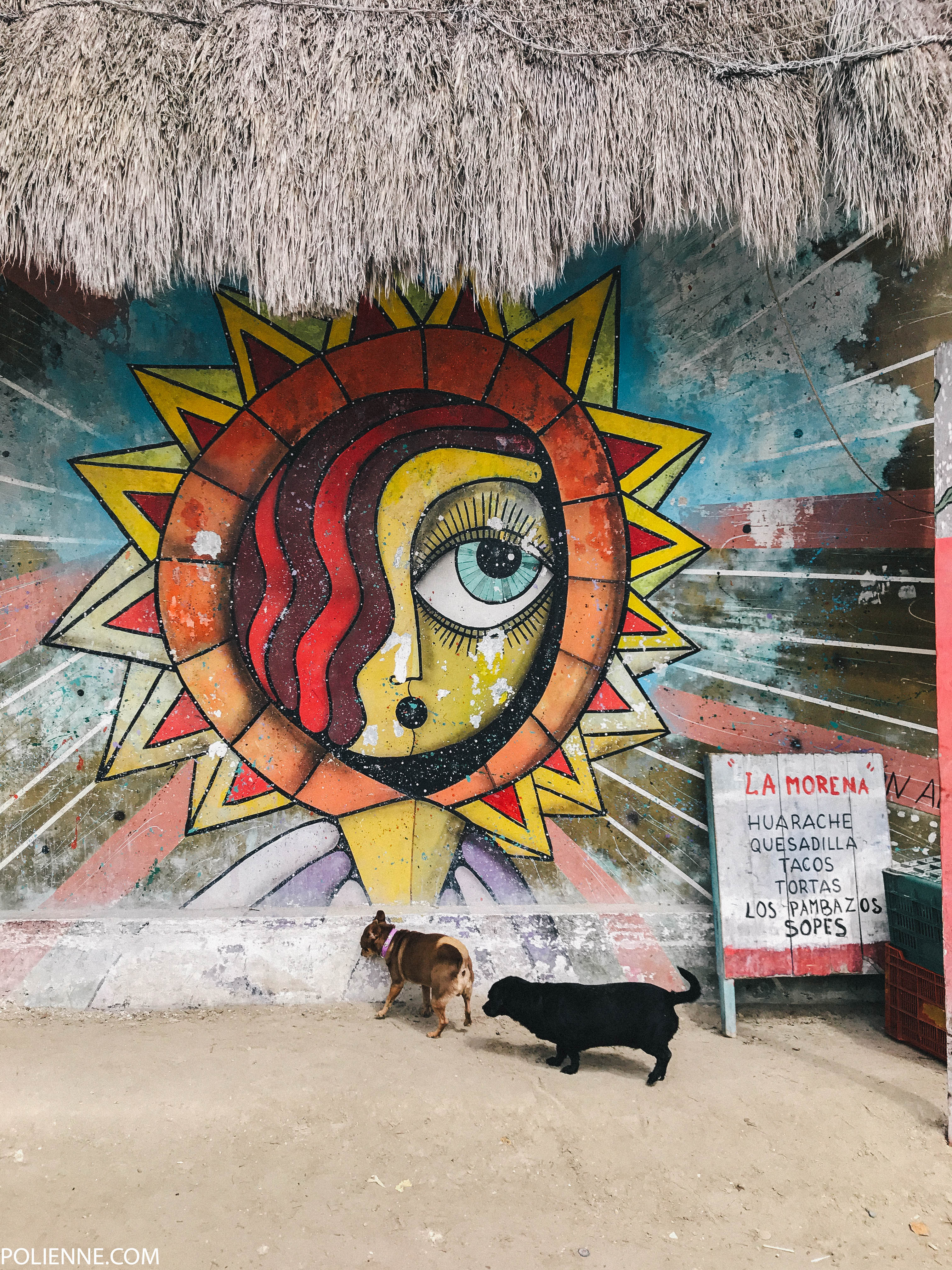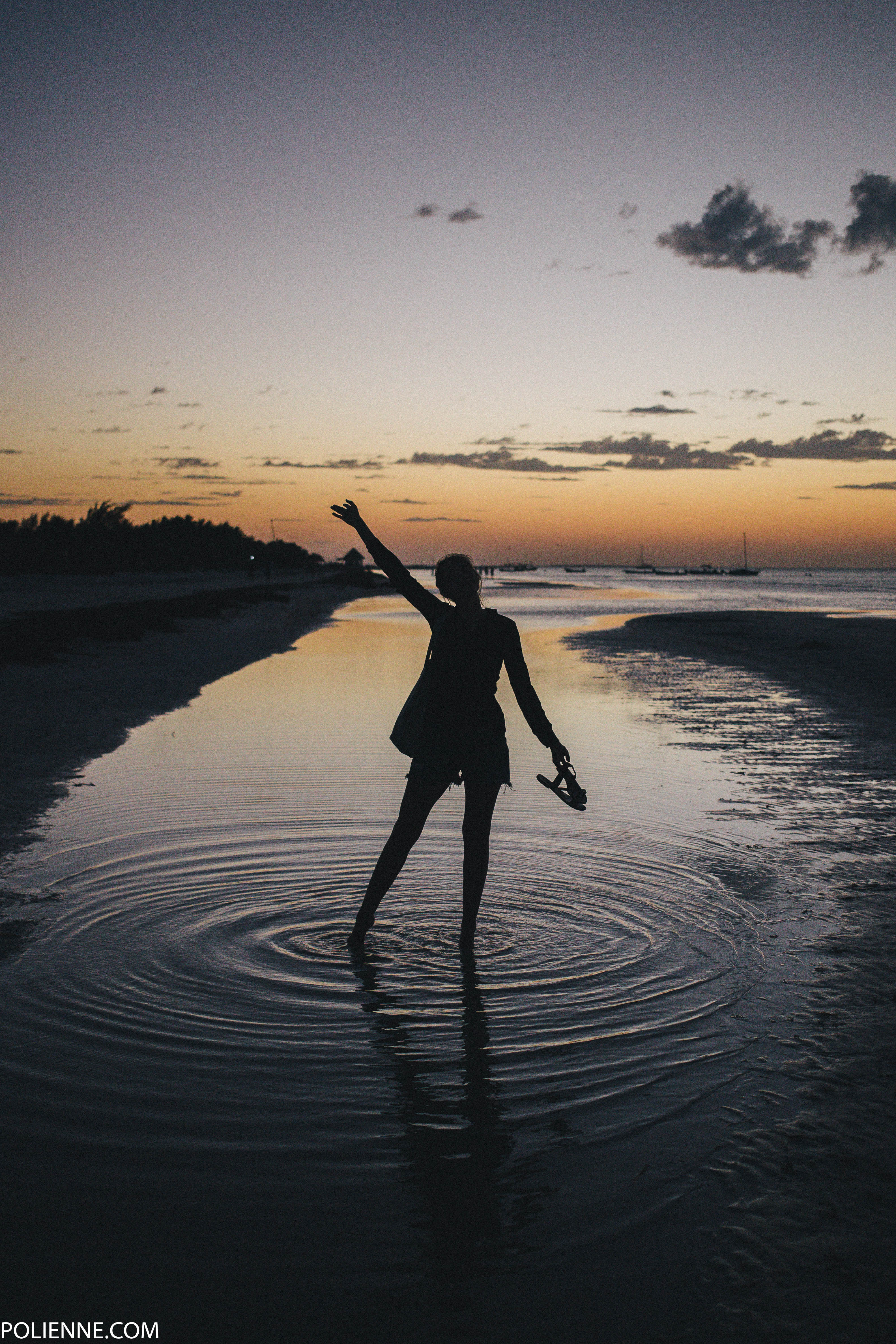 More Mexico?
Our Mexico Trip Summarized / Our Stay In Cancun / 5 Things To Do In Tulum / Our AirBnb Apartment In Tulum / 5 Things To Do In Merida
Next up: our AirBnb design house in Merida!