Yup, after a few seasons of being very stubborn I can officially no longer deny that the Teva sandal has made a revival. And what a revival!
Some of the biggest fashion labels (hello Prada) have even created sandals very similar to our Dads' favourite 90s shoe. Being comfy is cool again — thank God — but it's not always easy to effortlessly pull off these two at the same time.
I searched the interwebz for fun ways to wear the Ugly Sandal and even added a look of my own! Because yes, I fell for them too. Teva offered me a pair of their platform sandals and after years of kindly declining, I this time happily accepted them for the sake of fashion, and of my very thankful feet.
Scroll down for a BUNCH of sandal inspiration, from festival wear to minimalist styling to glamorous party looks!
Go minimal
Toning down trends that feel weird to you at first is always a good idea, because it helps you adjust to the huge strapped things around your feet a lot quicker. It also just looks very cool! Whether you opt for neutral sandals or let's say bright colored velvet ones (has anyone invented these so far?), wearing them with black, white, grey or camel is hands down the easiest way to pull off any eye-catching chunky shoe. You might want to add another fun accessory like a hat or leopard-printed bag because, you know, why not.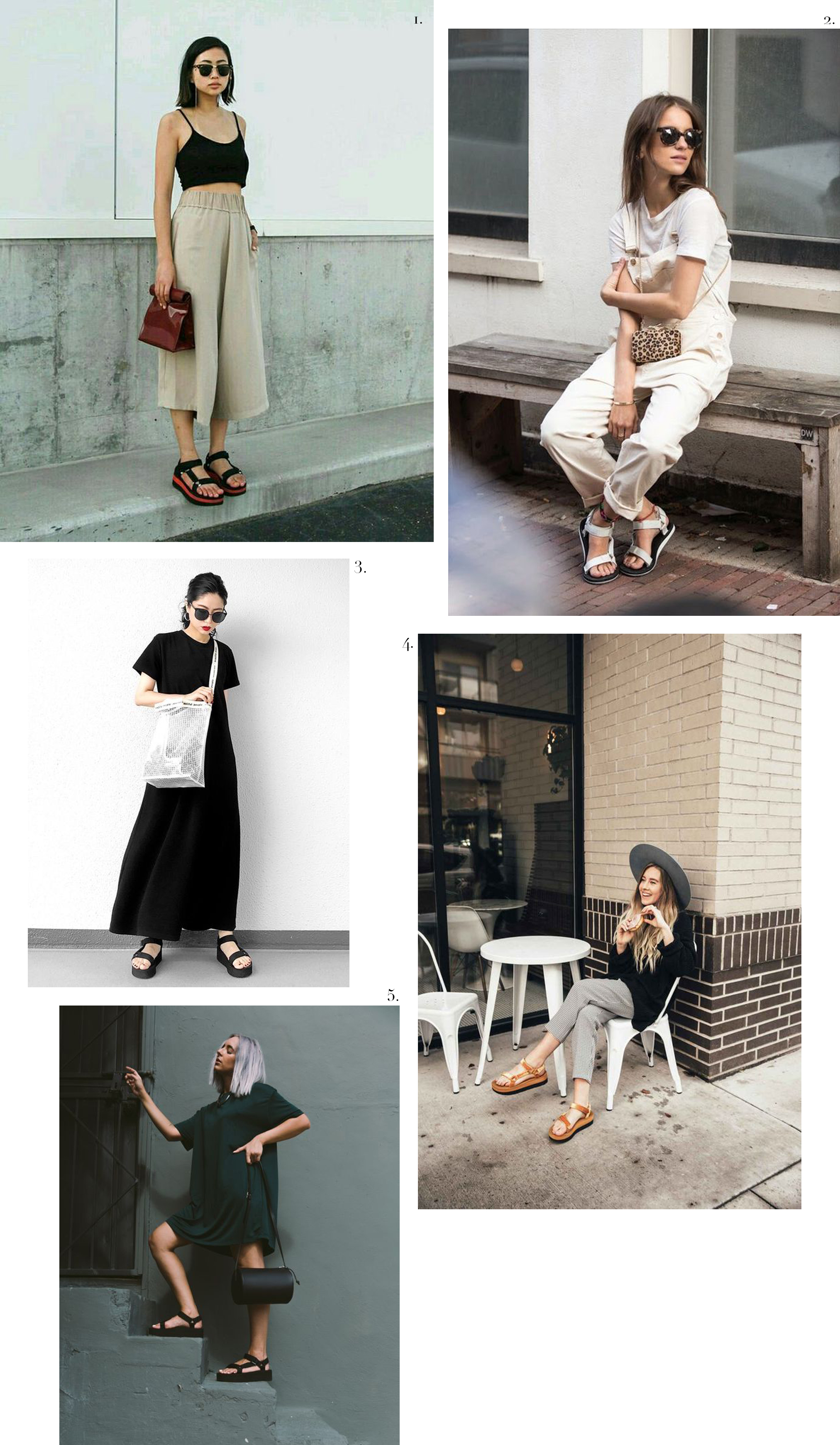 Eclectic much
Annnnd forget everything I said before, because MAXIMIZING the weirdness might be an even better idea! Think mixed patterns, coloured socks, clashing volumes and other crazy stuff that makes your Teva sandal look like the most normal thing in the world. ("Well at least she's wearing decent shoes") Just kidding of course, but you guys know I love a good eclectic outfit every once in a while and these fun platform sandals just fit right in.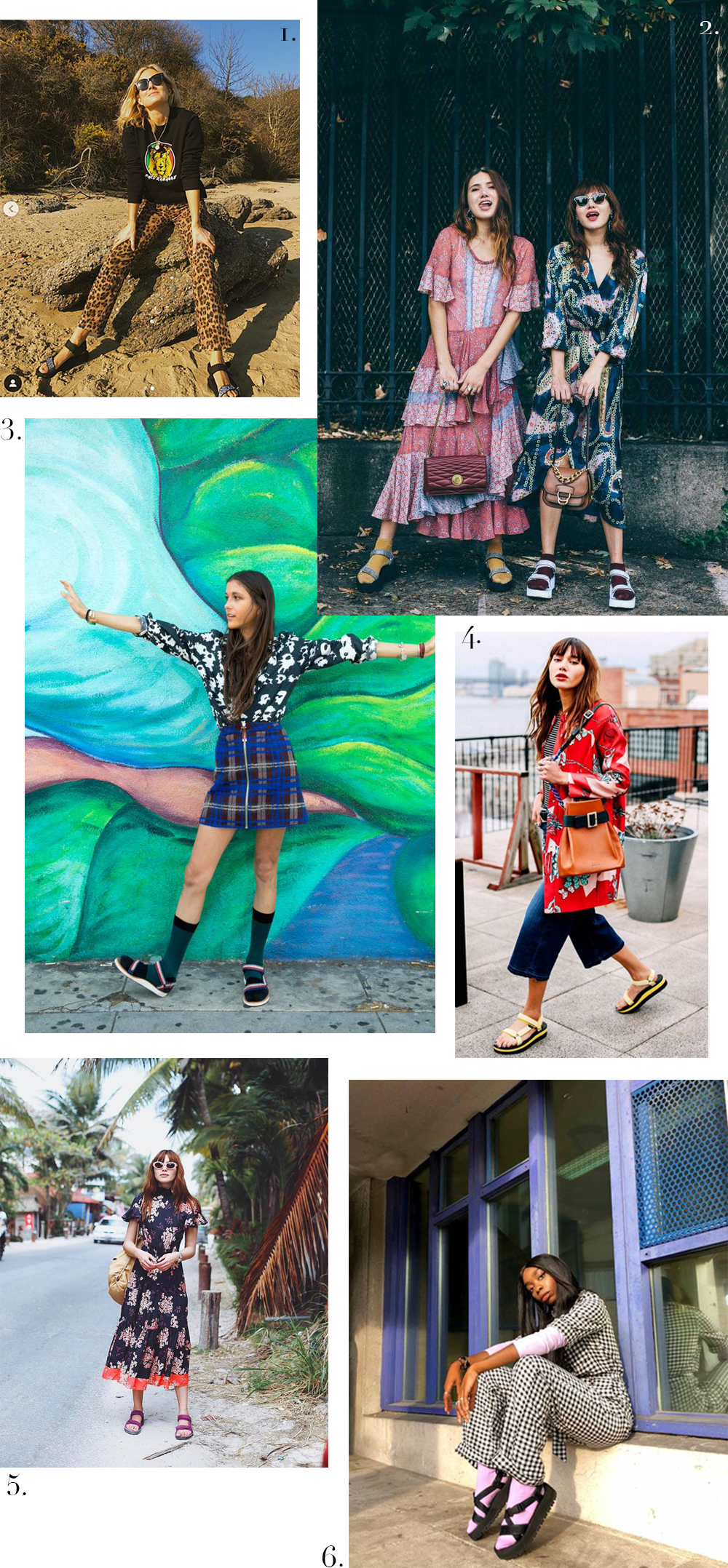 The festival edition
Ah, 'tis the season! Bring out the flower crowns, bum bags and… terrible blisters. Who else always feels like a cripple 80 year old after a few days on the festival grounds? I wish I could wear my favourite sneakers to every single festival, but truth is that I quite frequently ruin my shoes after half a day of dancing — usually by either ketchup or mud. So although wearing sandals might not be my personal best solution either, I can imagine that you guys are a lot less clumsy that I am and therefore could totally pull off a pair of comfy Dad Sandals. Wear them with maxi dresses, denim shorts, playsuits and flared pants. Everything, basically.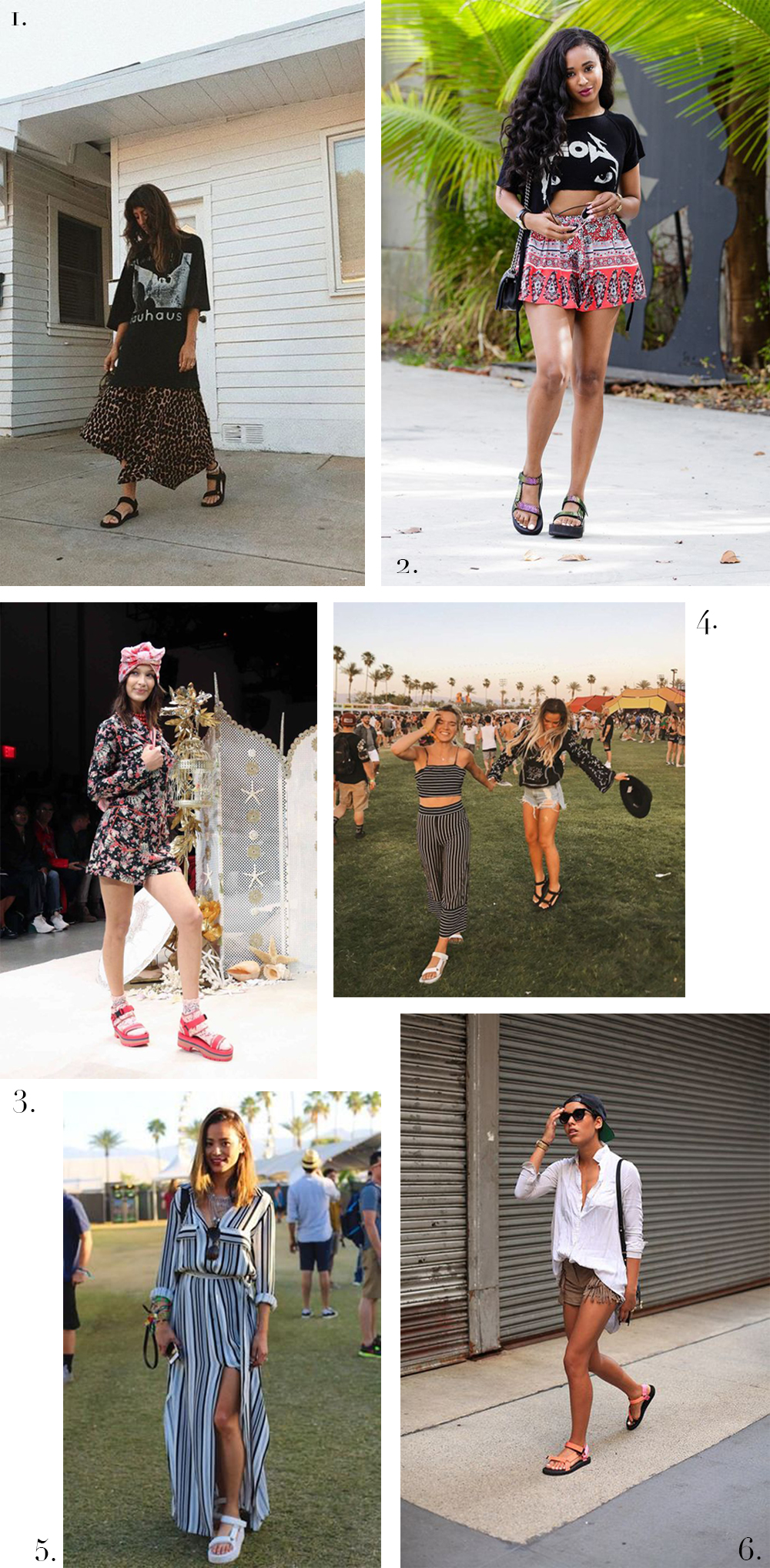 Glam it up
While I started out with the easiest way to start practicing your Teva style, I'll tell you about what's probably the most difficult way as well. It's not impossible though, so don't be scared! Why not try wearing your chunkies in… a glamorous way? It sounds weird, but just LOOK at these stunning outfits below! Opt for feminine, expensive-looking fabrics, flowy and loose shapes and extravagant details such as sequins or embellishments to make the sandals look less sporty. Might be worth the try one day?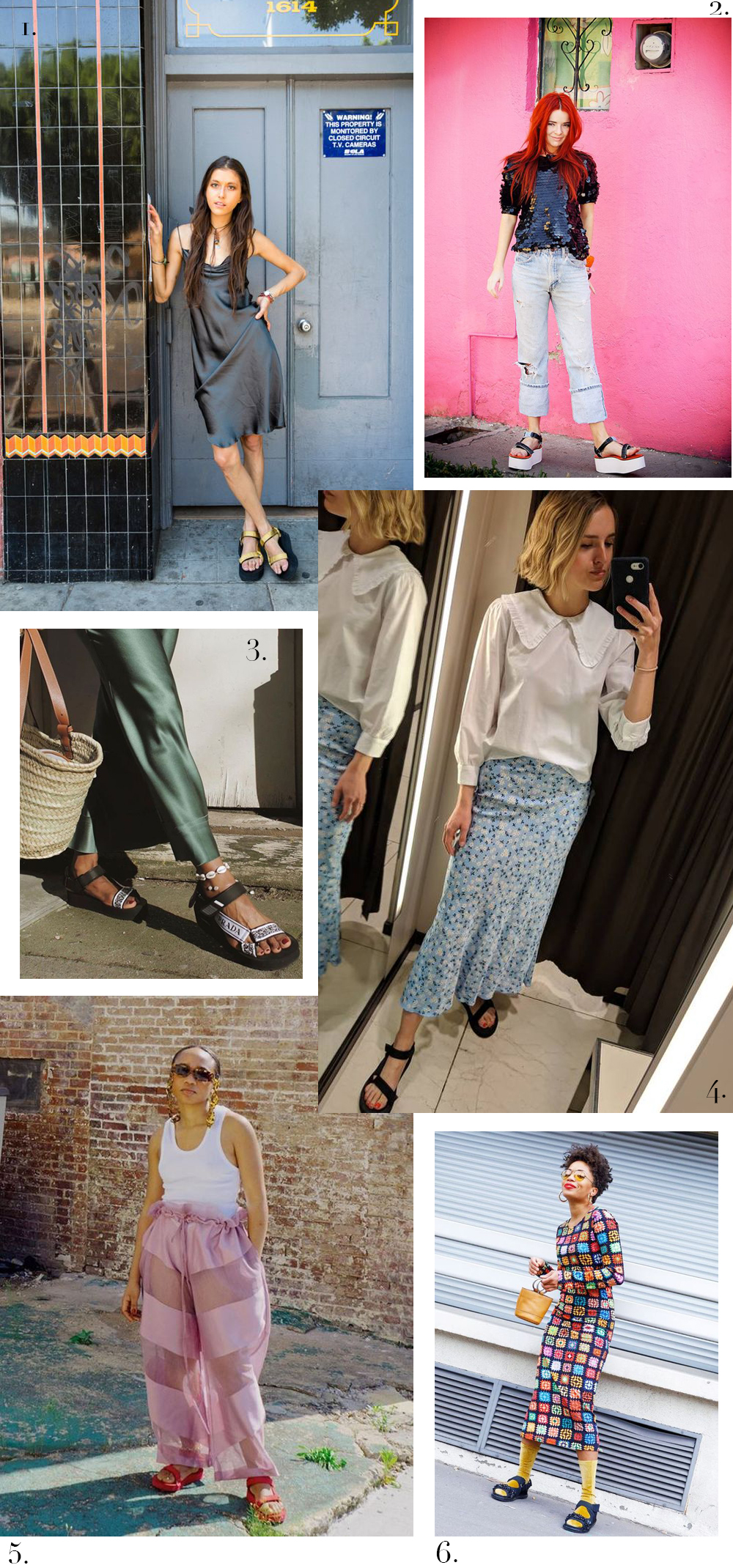 City walk
Most people associate Ugly Sandals with mountains and long, energy-sucking hikes, right? Let me instead tell you that these shoes are the absolutely PERFECT Summer replacement of any of your sneakers in the city! Yep, that cool Scandi floral dress + sneaker game is equally cool with a chunky sandal instead. Most importantly, comfort is key when strutting the streets of your favourite city so next time do consider your Teva's when creating your ultimate city look. I've taken mine to Barcelona and Tel Aviv by now, and my feet surely were two happy motherf-ckers.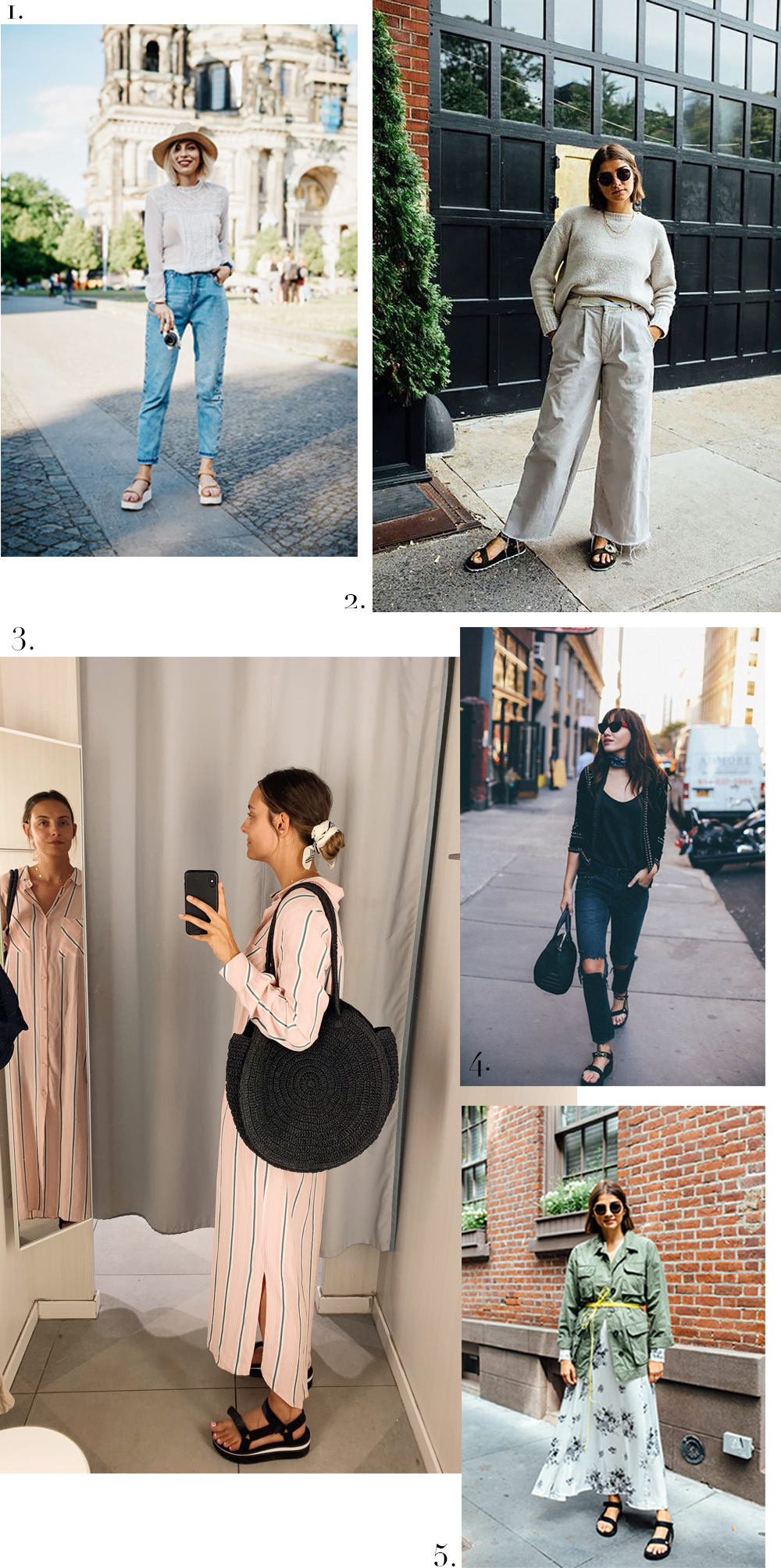 Et voila! I hope this post gave you a bit of inspiration on how to style a pair of chunky sandals in the future! Any styles in particular that you might try? Did I maybe even convince you to buy your first pair of Ugly Sandals? Let me know in the comments!
PS: for your information, this post is not sponsored by Teva 😉