Only two days before Christmas, so here's my last gift guide for the ones desperately in need of a unique present!
Two days left means two days of possible shopping left, so no worries if you haven't found the perfect gift yet! After a few budget-friendly gift guides, I've now created one last post full of ideas for presents that can be a bit more expensive. These gifts are all between €50 and €100 and will definitely be a winner under the tree!
Oh, and don't forget that you deserve a little Christmas treat yourself too… 😉 Dig in, and find my own favourites by following the sparkles!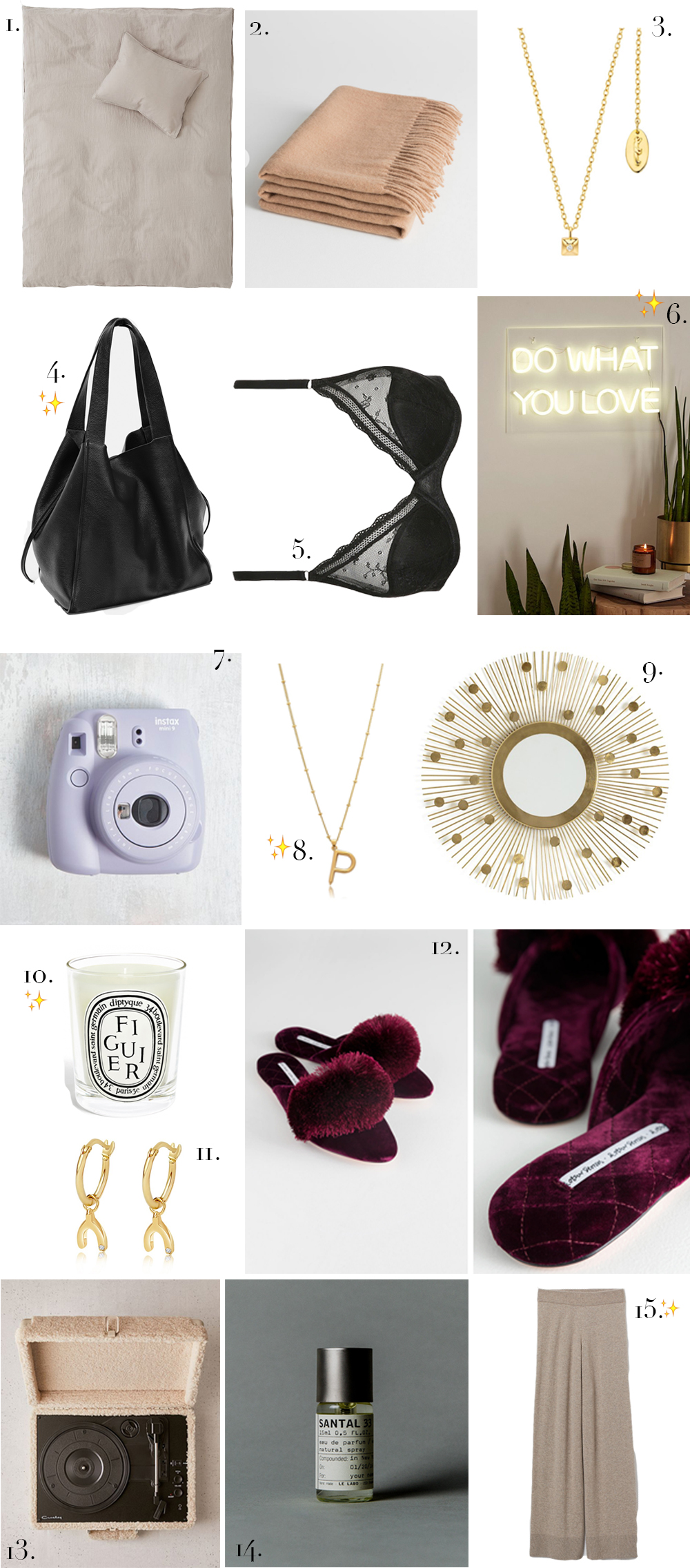 I have one pair of linen sheets and they're my favourite of all times! Feels so luxurious and makes for the perfect night of sleep, over and over again / H&M, €99
In the category of ultimate essentials: a wool scarf / & OTHER STORIES, €59
Okay so this might be the coolest thing ever: showing off my own design in a gift guide 😉 The Lioness necklace is the perfect elegant gift that will stick for years and years to come / DIAMANTI PER TUTTI, €100
You've guessed it already: this gift guide is all about the classics. An oversized leather bag like this is useful for any kind of person / ZARA, €69,95
Pretty lingerie is often an investment, so it's always fun to receive as a gift / MARIE JO, €86,95
How cute is this neon sign? Brightens up every room! / URBAN OUTFITTERS, €59
Yay for creating memories! And it becomes even more fun with a beautiful polaroid camera like this lilac one / URBAN OUTFITTERS, €105
An initial necklace is a super simple but personal gift / EDGE OF EMBER, €98
How about a statement piece to finish any interior? This golden sun mirror would be the perfect eye-catcher / LA REDOUTE, €71
The candle of all candles: fig scent! / DIPTIQUE, €50
These earrings are a lucky charm to wear on a daily base / EDGE OF EMBER, €72
Luxurious velvet pom pom slippers to fully relax when at home / & OTHER STORIES, €59
Ok ok, record players are cool but have you ever seen a shearling record player?! This gem is just amazing / URBAN OUTFITTERS, €99
Find out your lover/friend/parent's favourite scent and make sure they smell amazing for the rest of the year. Here's mine! / LE LABO, €66
A beautiful pair of wide cashmere trousers to lounge in your sofa or wear to your next long haul flight / H&M, €99
That's it! Find all 5 gift guides right here! Hope you found your perfect present, and wishing you an amazing time during the holidays ♥