You know I'm not the fastest person in the world when it comes to travel posts, but good things take time! Finally, discover my weekend guide to Zürich right now.
I've already done a blogpost about how Zürich turned out to be our super exciting surprise destination as a part of a gifted trip by sprs.me, so you might want to read about that experience too! My friend Lisa and I flew over with no travel preparations at all (surprise trip, you know) so I was sligthly anxious that we would miss important things or wouldn't really bump into the cool hotspots. Luckily I have the nicest followers in the world, so after a quick Instagram Q&A I had a huge list of things to do, places to dine at and musea to visit.
So here you go: our 3 day itenerary of the most wonderful weekend in Zürich!
DAY 1 / FRIDAY
After checking in at our hotel around 13h we had a quick lunch at Roots and Friends, which is a 'fastfood' vegan restaurant chain! This was definitely the start of Lisa (who's vegan) falling hopelessly in love with Zürich 🙂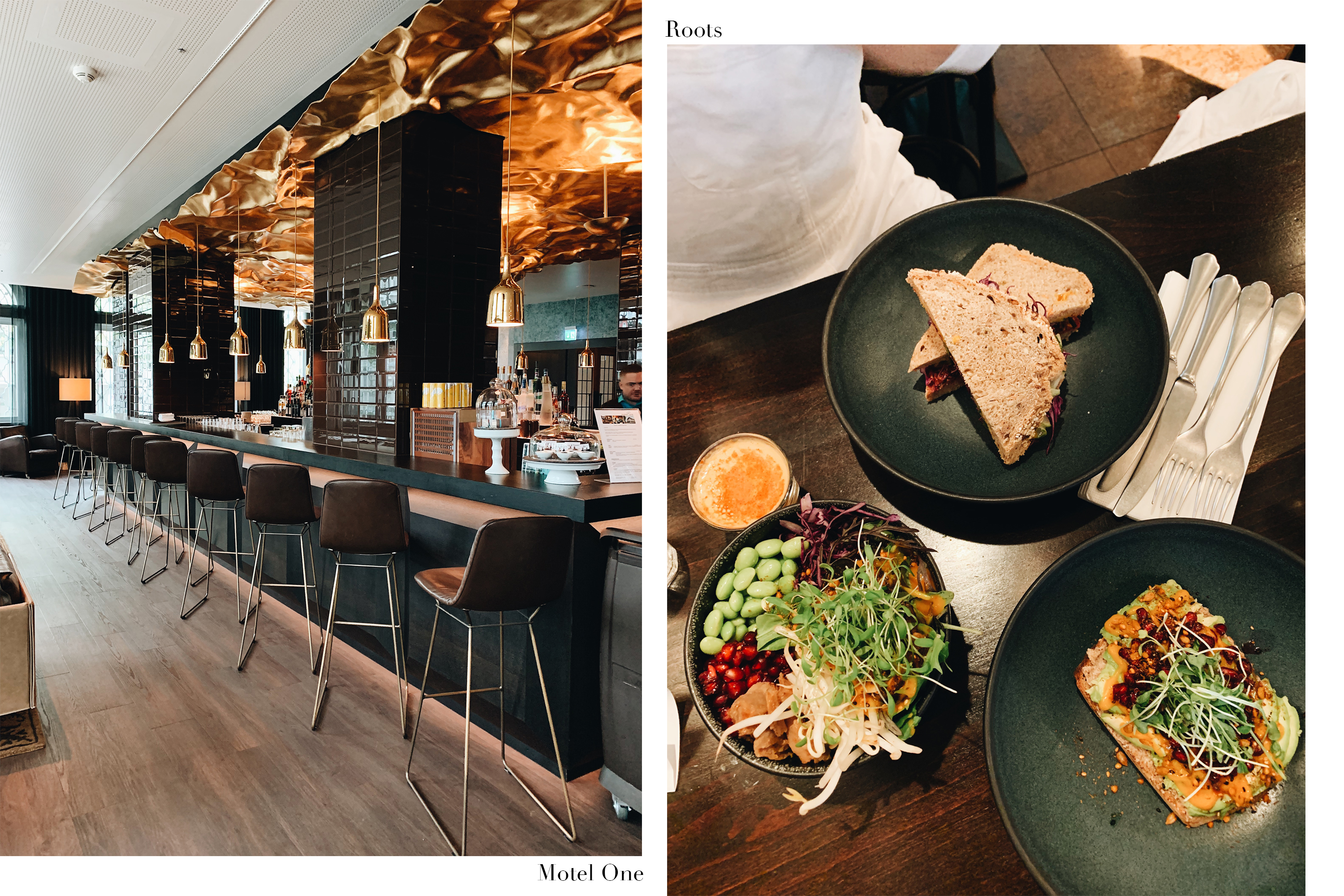 Although it was quite rainy, we did an afternoon walk through Zürich Old Town next to the river. Some sightseeing, visiting some churches, you know! When it really started pooring down, we evidently ended up at the nearby shopping area to hide from the rain. For good luxury shopping go to Bahnhofstrasse, and do check out the COS store there, as it's located in an old bank and the menswear departement is set in the old vault downstairs. Pretty cool! Another street to stroll through when shopping is Rennweg, which used to be the widest street of Zürich in the Middle Ages. It's by the way better to better stay away from the big high street brands in Switserland, as prices are much higher compared to the rest of Europe.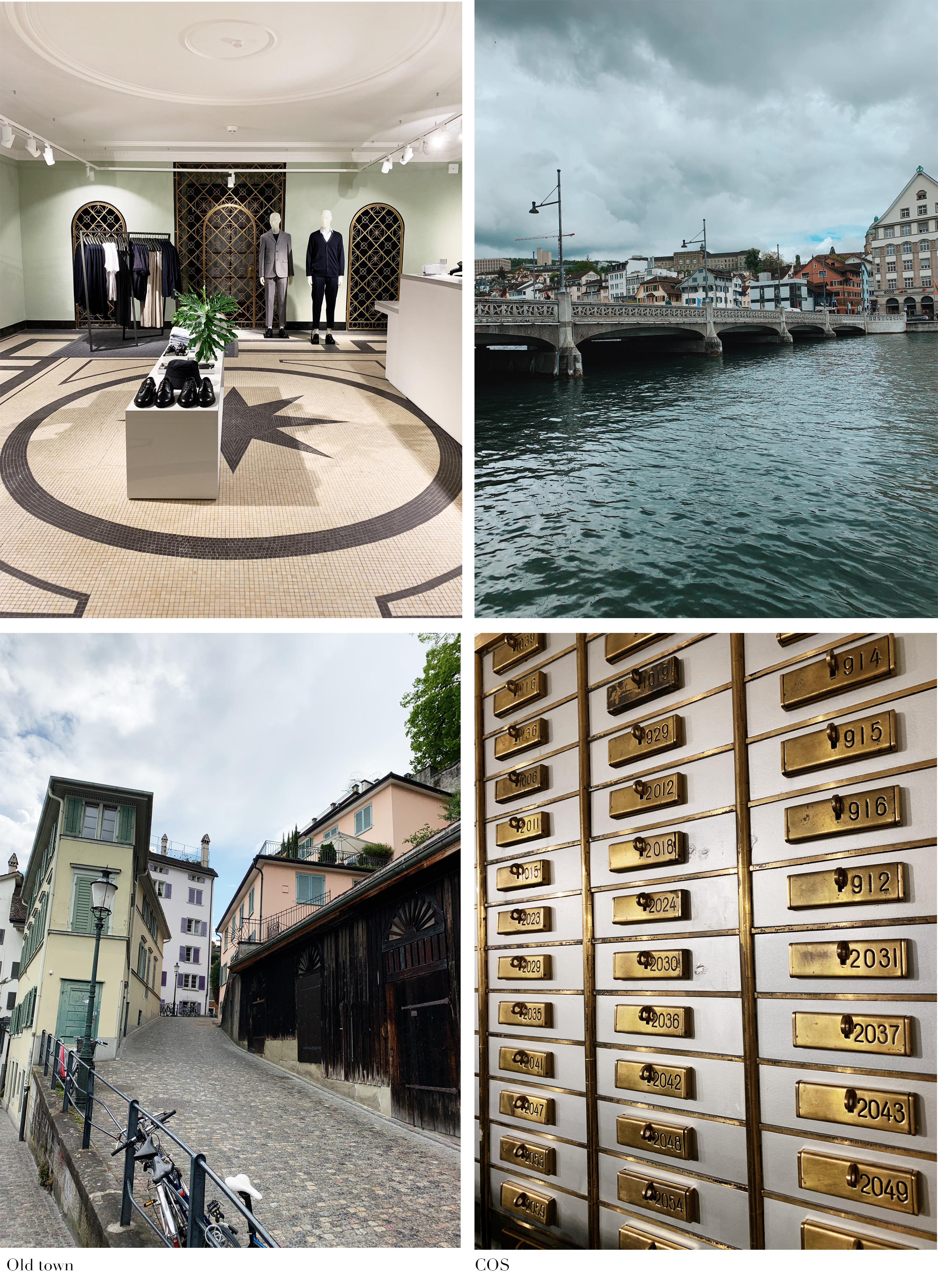 We had a shopping break at Atelier Bar, which is a very relaxed, local place offering coffee, lunch and cocktails near Rennweg. Beware that cocktails are very expensive in Zürich (between 12 and 20 euros), so you might want to opt for wine instead if you're watching your money. This bar is a lovely spot though!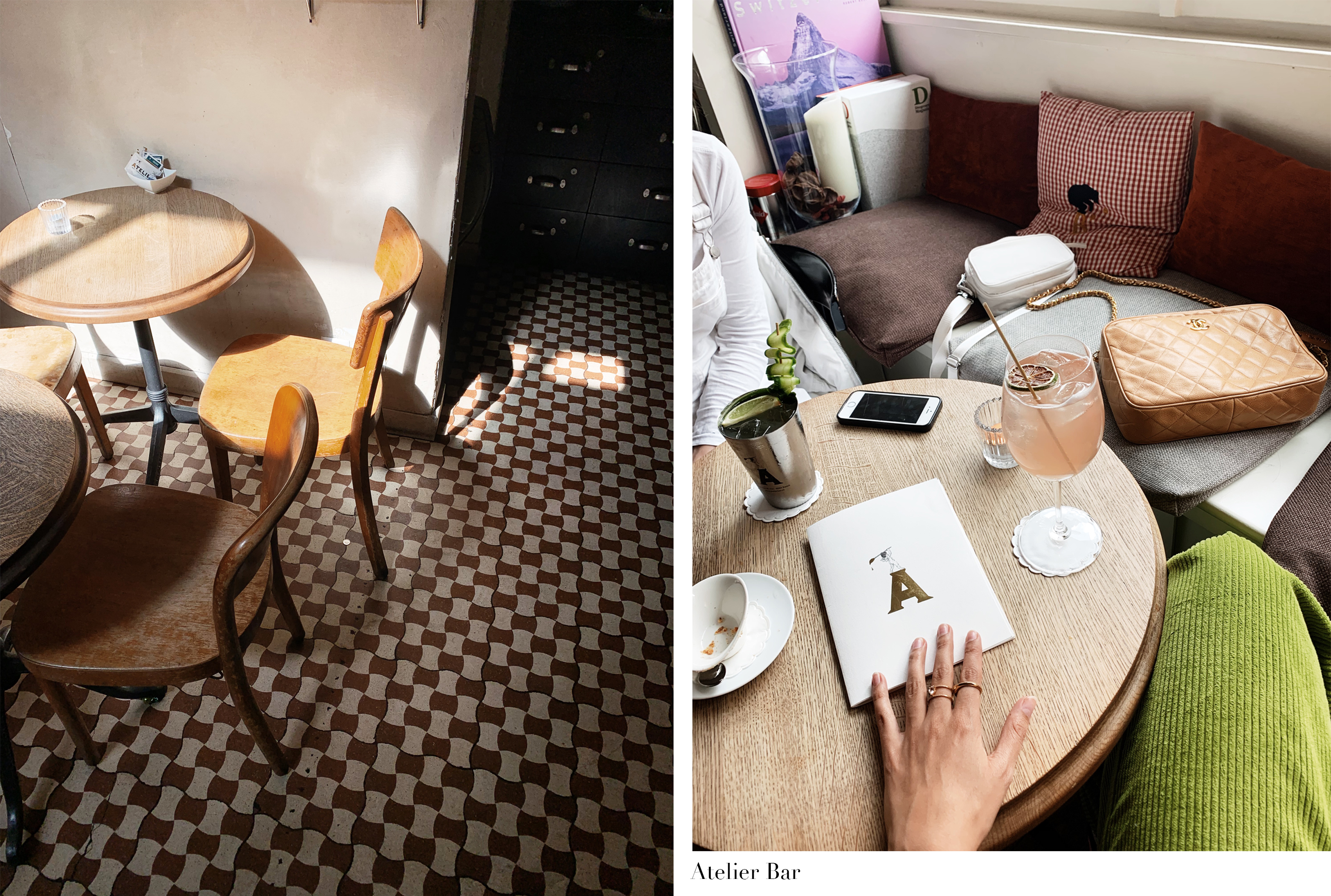 We walked back to the hotel (yep, you can walk almost everywhere in Zürich) and bumped into a very awesome vintage shop called Barbar Secondhand. It had a great selection in both edgy and feminine pieces, most of them with a touch of glamour. Prices were not super cheap but also not ridiculous; let's say €30 for denim shorts and €50 for maxi dresses. Quite comparable with Episode actually.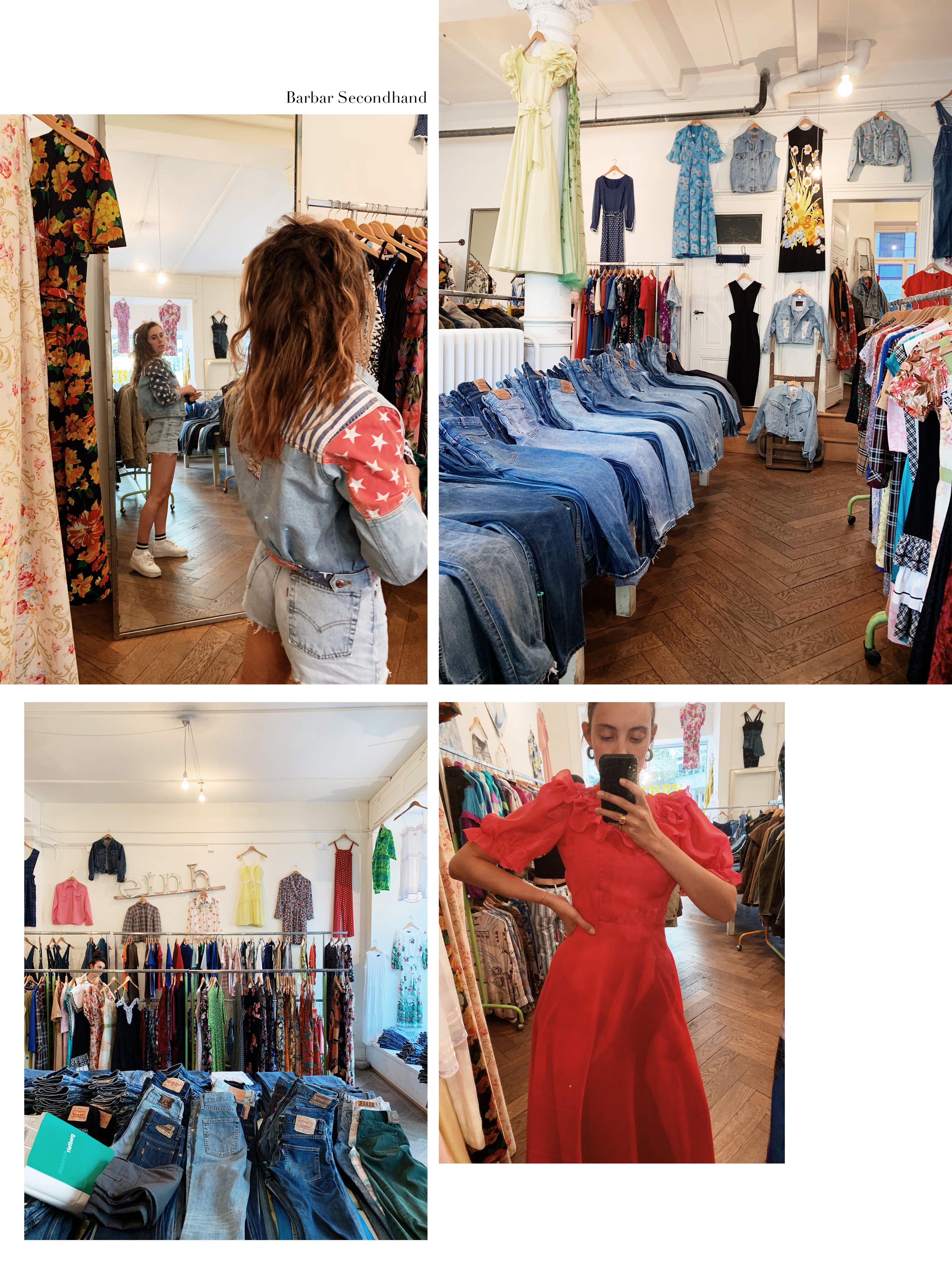 Before heading to dinner, we sat ourselves down on the street terrace of Almodobar, a Spanish aperitivo & tapas place. We had wine, olives and tomato spread bread and it was good! It was quite noisy inside, but I felt like it was a place lots of people have birthday parties and afterwork drinks, soooo yeah.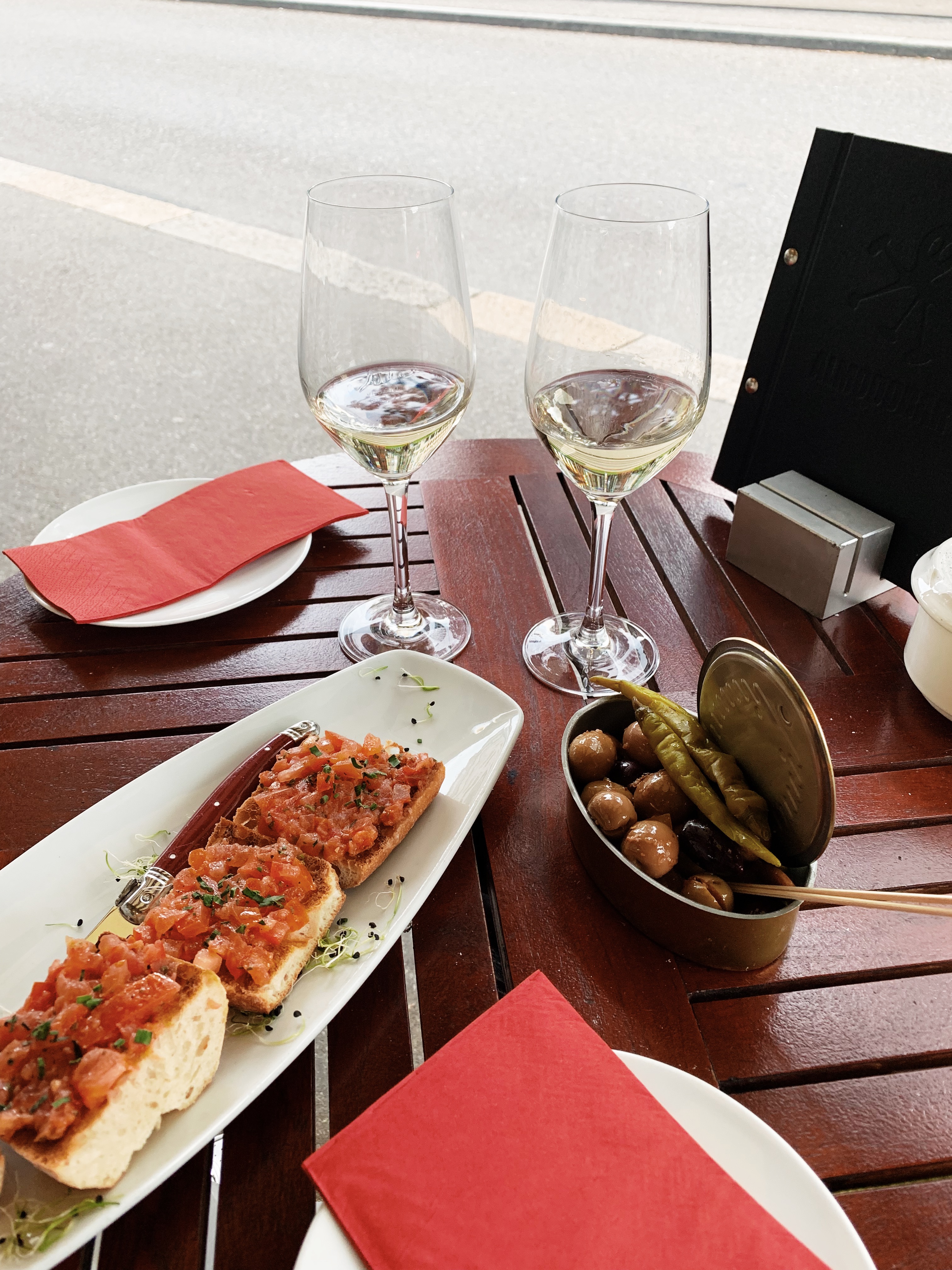 I received lots of great dinner recommendations from followers and we decided to try one of the most popular ones, Maison Blunt, a Libanese restaurant with Moroccon riad interior. The place is not too "fancy" and feels extremely cozy and authentic, we loved it! We opted for mixed hot & cold mezze, all vegan, which was absolutely delicious. Great wine, great atmosphere. We went on a Friday night without reservation and were still able to find a spot. The kitchen is open until 11 or so, so you can always tune in later if everything is full. Next door is a Vietnamese restaurant that has been recommended to me as well by the way; it's called Co Chin Chin.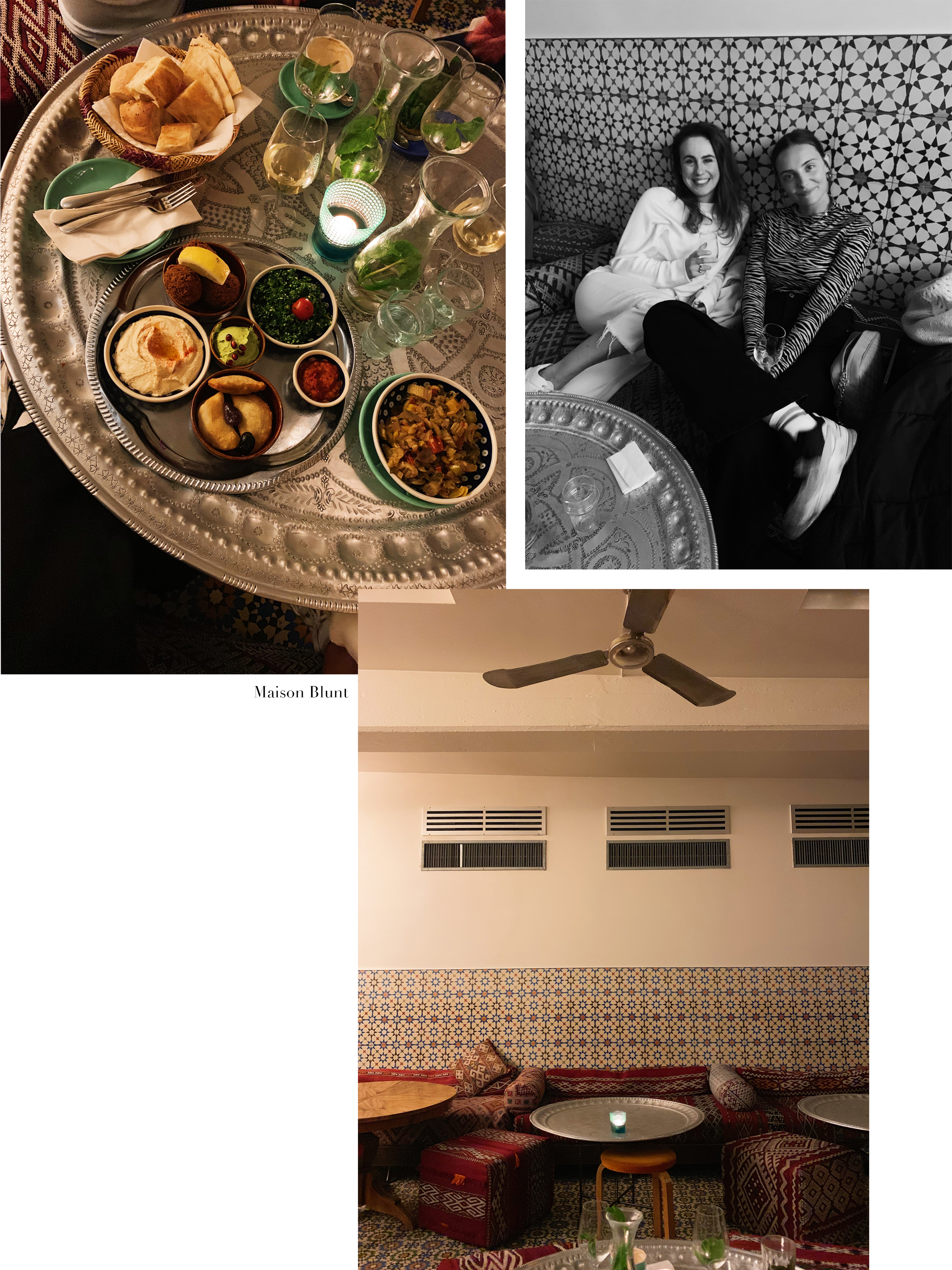 We walked through Langstrasse on our way back, which is one of the main alternative party areas and it actually reminded me of Berlin or Cologne. Think cool bars (at the 25 Hours hotel for example!), trendy clubs and also plenty of shady strip clubs. There were lots and lots of young people on the streets during on Friday evening, so get ready for a lively, loud atmosphere.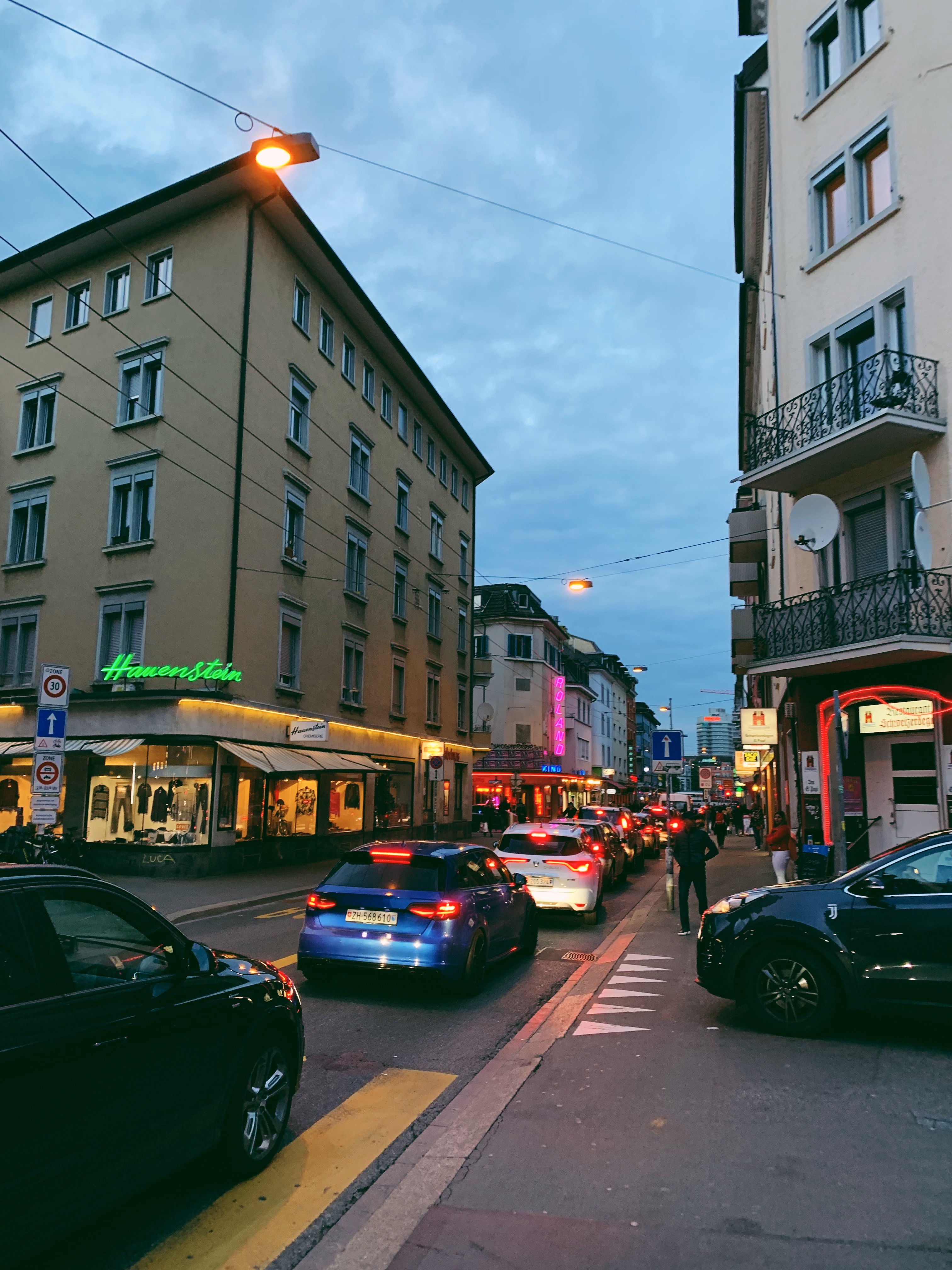 DAY 2 / SATURDAY
Our breakfast at Motel One was included so we obviously took advantage of that! They have a good selection and a cozy interior; great start of the day overall. Zürich actually has a big brunch culture and it mainly happens on Saturdays — on Sundays most places are closed. I heard Banks and COFFEE are excellent recommendations for Saturday brunch!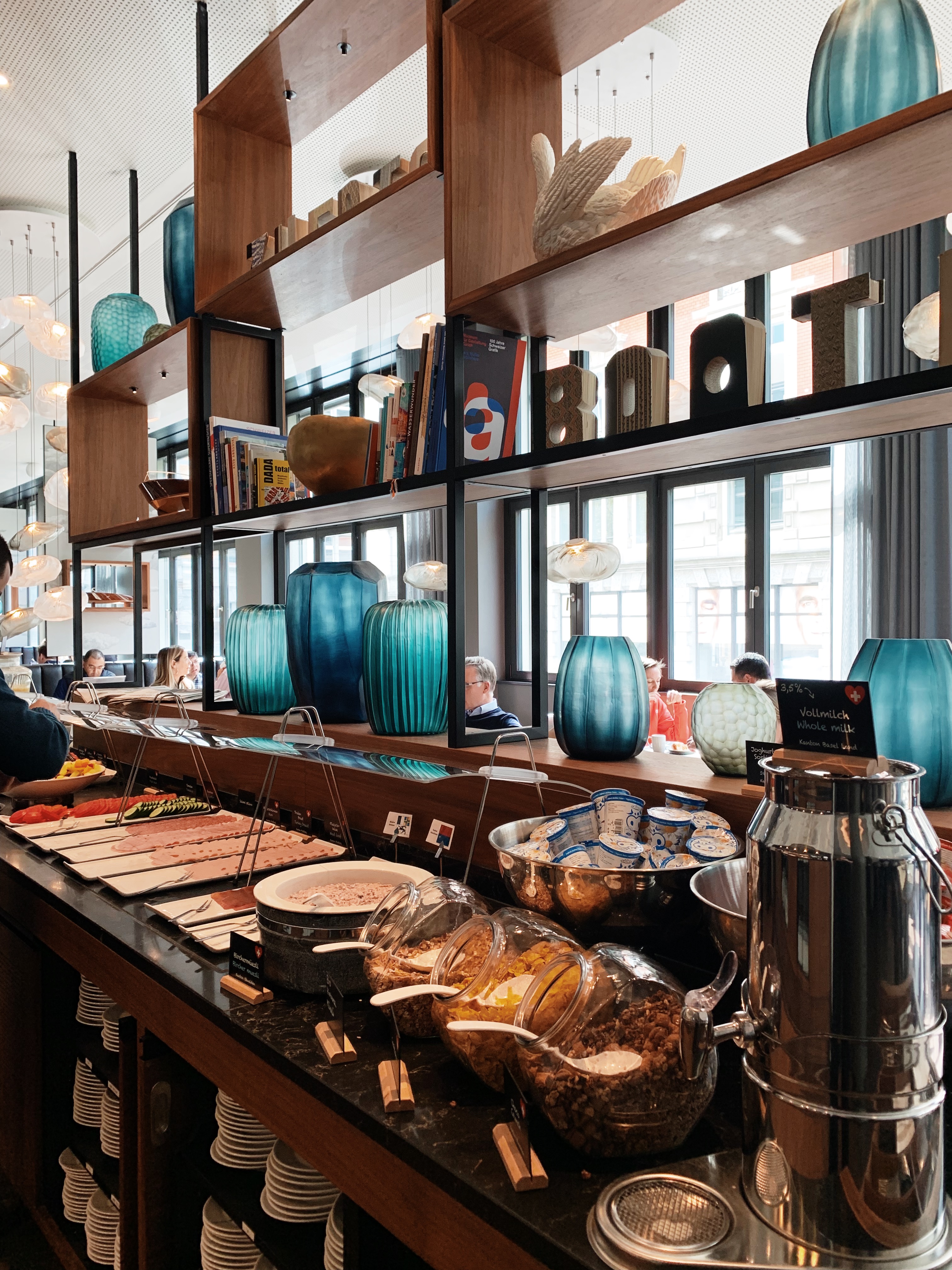 Some more vintage shopping, yaaaaay! We heard about some good flea markets in Zürich and went to check out the one located closest to our hotel, at Bürckliplatz at the beginning of Bahnhofstrasse. This one (as well as the Kanzlei one) takes place every Saturday, but never on Sundays — take note.
Now, let me tell you: this flea market is beyond AMAZING. You can find records, vases, lots of jewelry, film posters, clothing, lamps, toys and also plenty of designer bags here. There's a few designer vintage stores that have a stall there every Saturday, and these are definitely trustworthy. We've noticed a few more shady ones as well, so double-check if everything looks fine before you purchase. Lisa found an oversized Burberry trench (!) for about €150, an €8 pearl necklace and a few old film posters for €20. I got a vintage leather Aigner bag for €70 and a €10 messing wall lamp! You can imagine we were over the moooon. Cash only, but there's an ATM at Bahnhofstrasse very close by.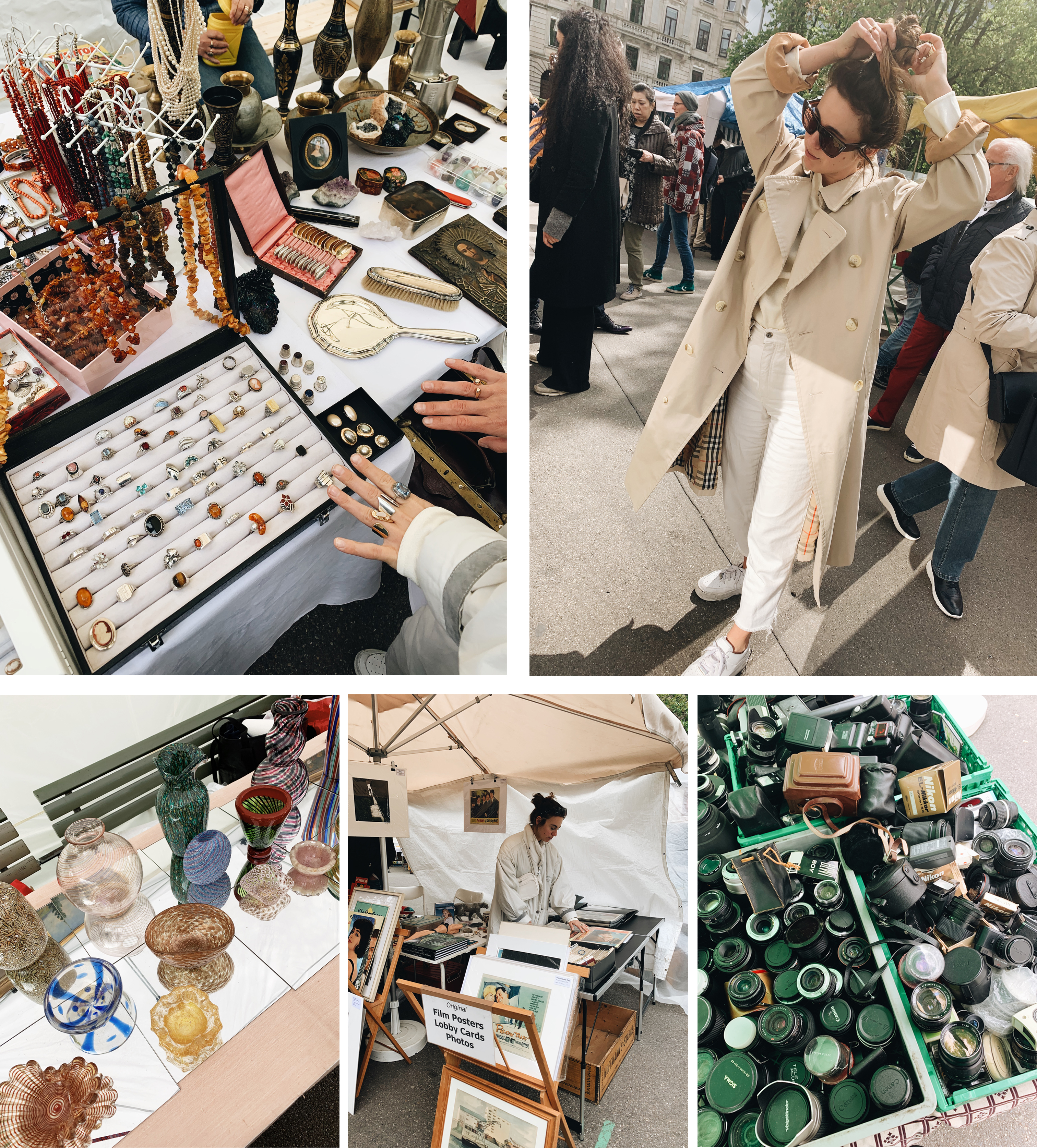 All of this shopping made us hungry, so lunch time! We had our lunch at another veggie & vegan restaurant chain called Tibits. It's actually a buffet restaurant, which I found surprising, with a super yummy and fresh selection! The one we went to is located behind the Opera House, which is worth a few minutes of your sightseeing as well.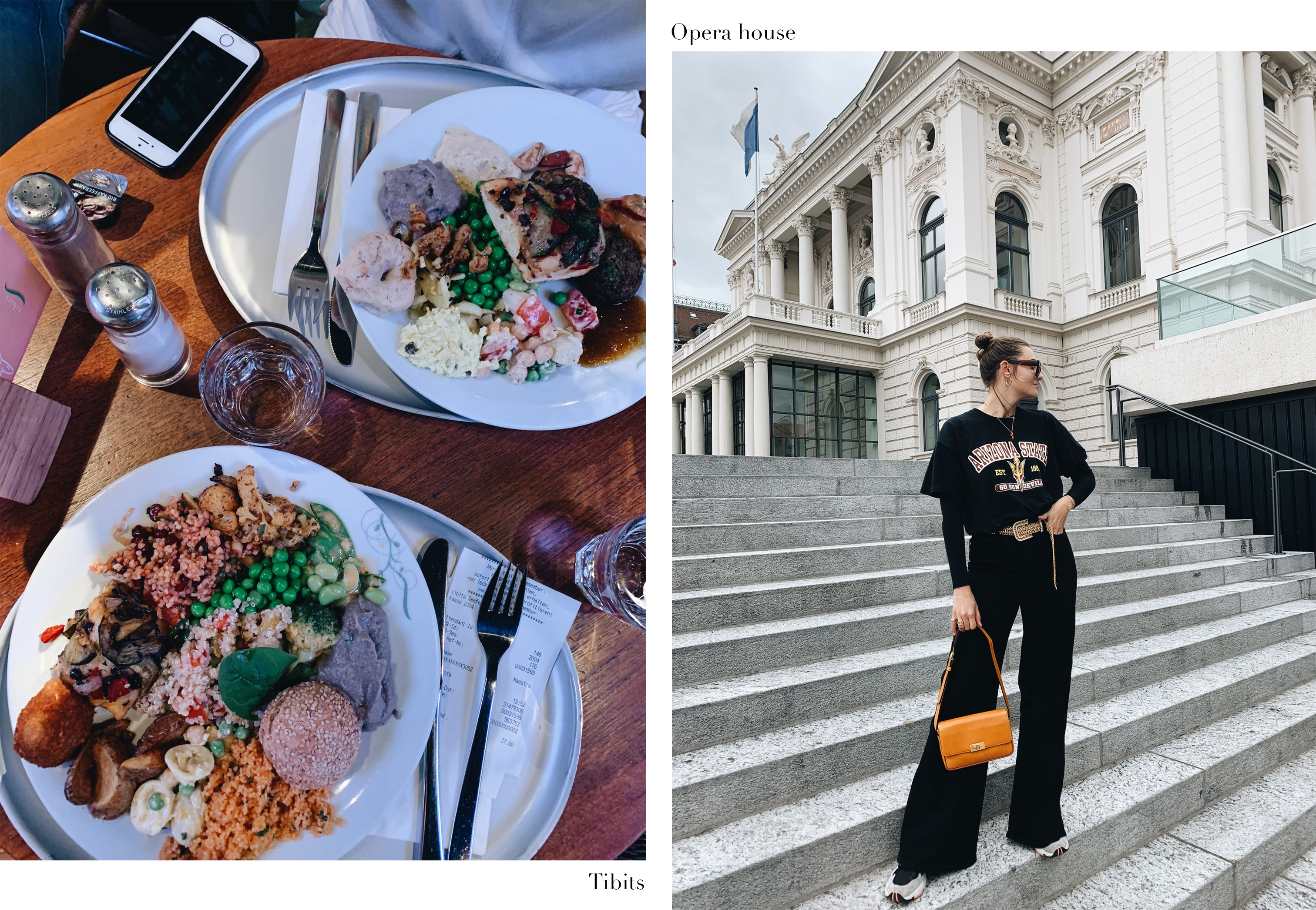 After lunch we headed to Le Corbusier Pavillion for a visit, but upon arrival we discovered that it was closed for renovation until later that week. Bummer! At least we had a nice walk next to the lake and in the park. It takes about 20 minutes to walk from the Opera House, and it's super fun when the weather is nice!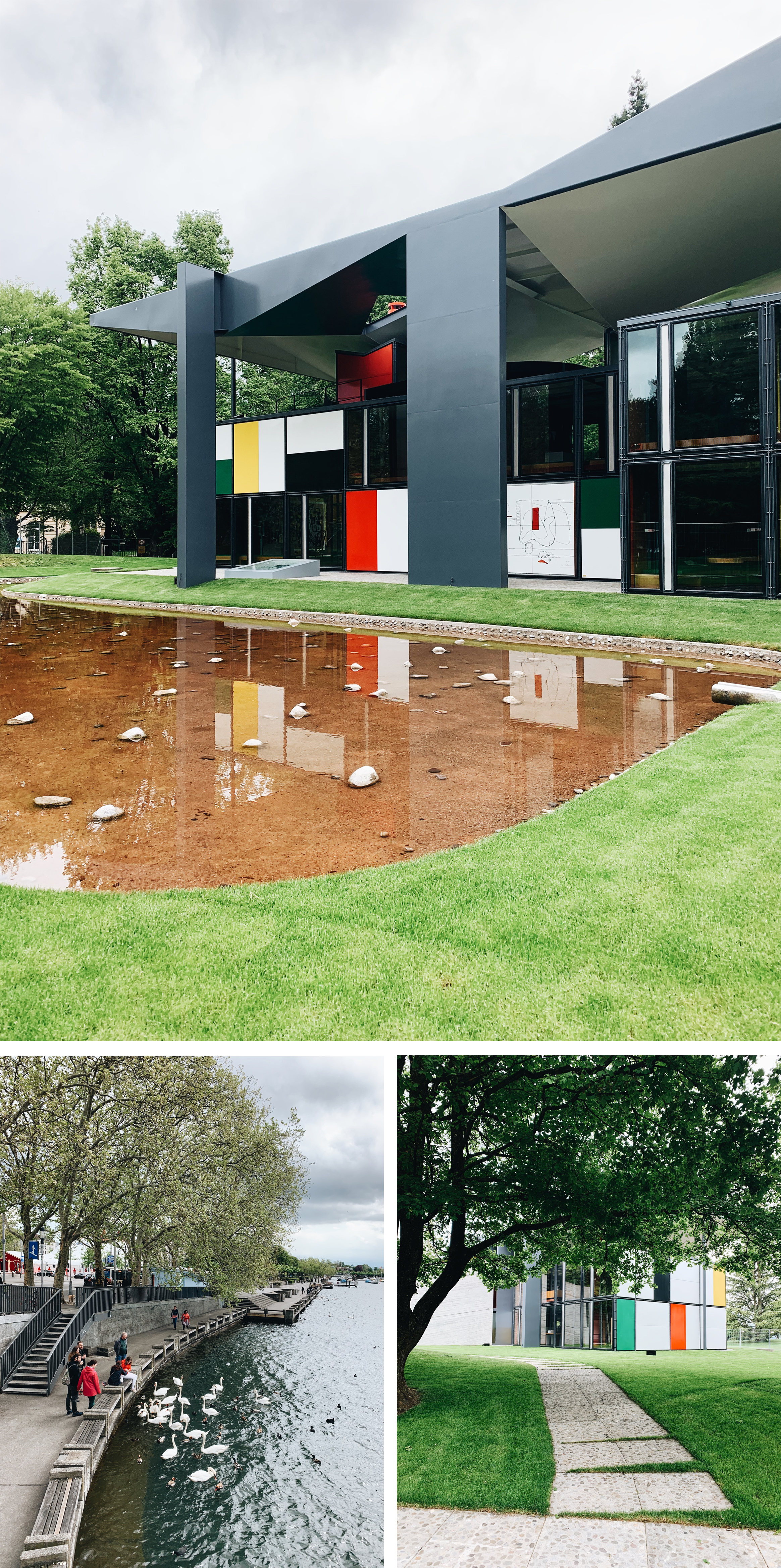 We went back to the Old Town for some more discovering and bumped into another awesome designer second hand store, Luxury Shops. A lovely selection again, but since this is a consignment store most prices were still quite high. A bit of rummaging might result in finding a bargain though! I spotted a beautiful small Gucci bag for €350, my dream Marni bag for €1000 and the most adorable Miu Miu glitter slippers for €120.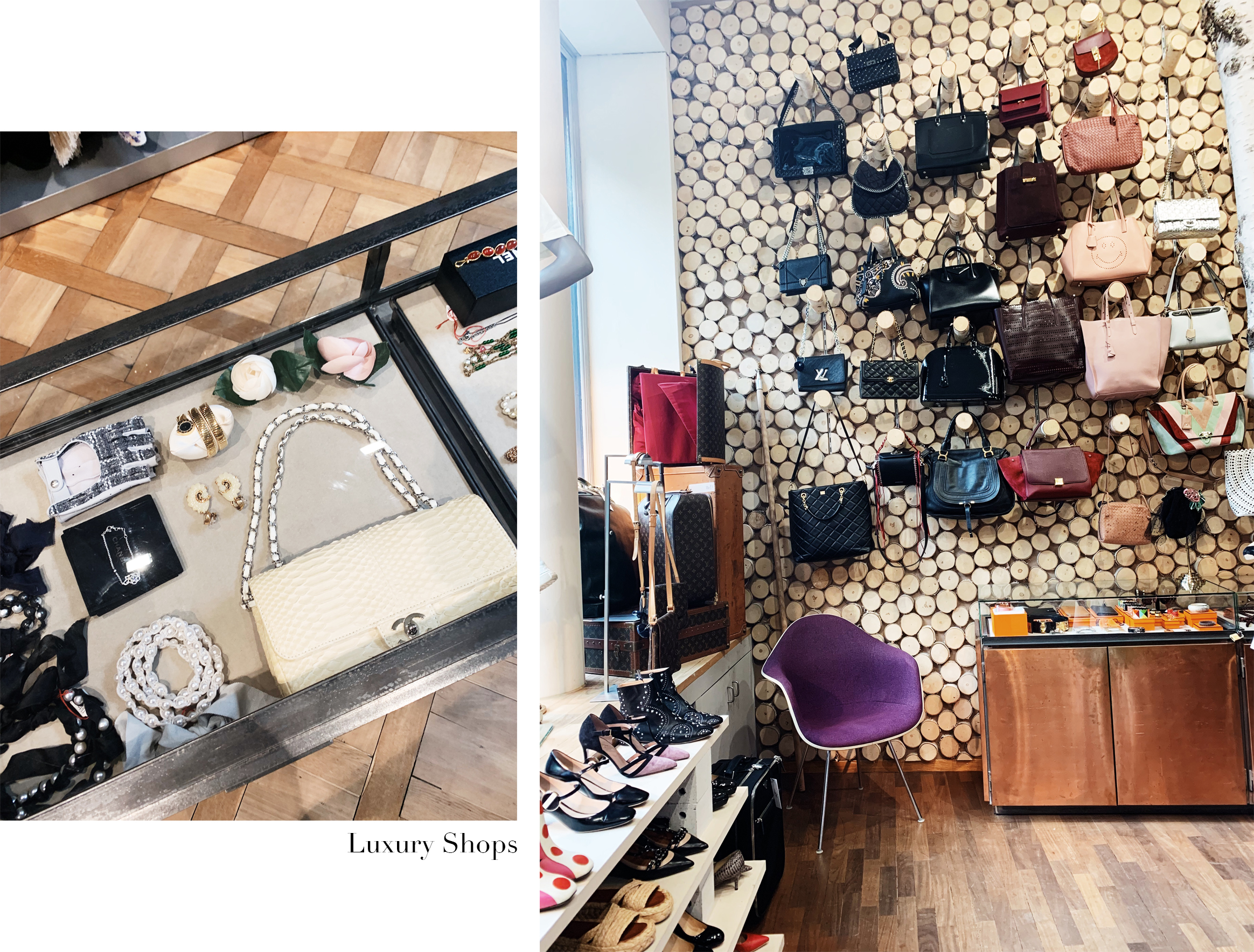 Since it had been raining all afternoon, we really needed a place to hide again. We went to Henrici, a bar located in the midst of Old Town for a quick coffee. The coffee was good but the place was super crowded so I'd recommend to maybe not visit during the weekend (or on a rainy day, perhaps).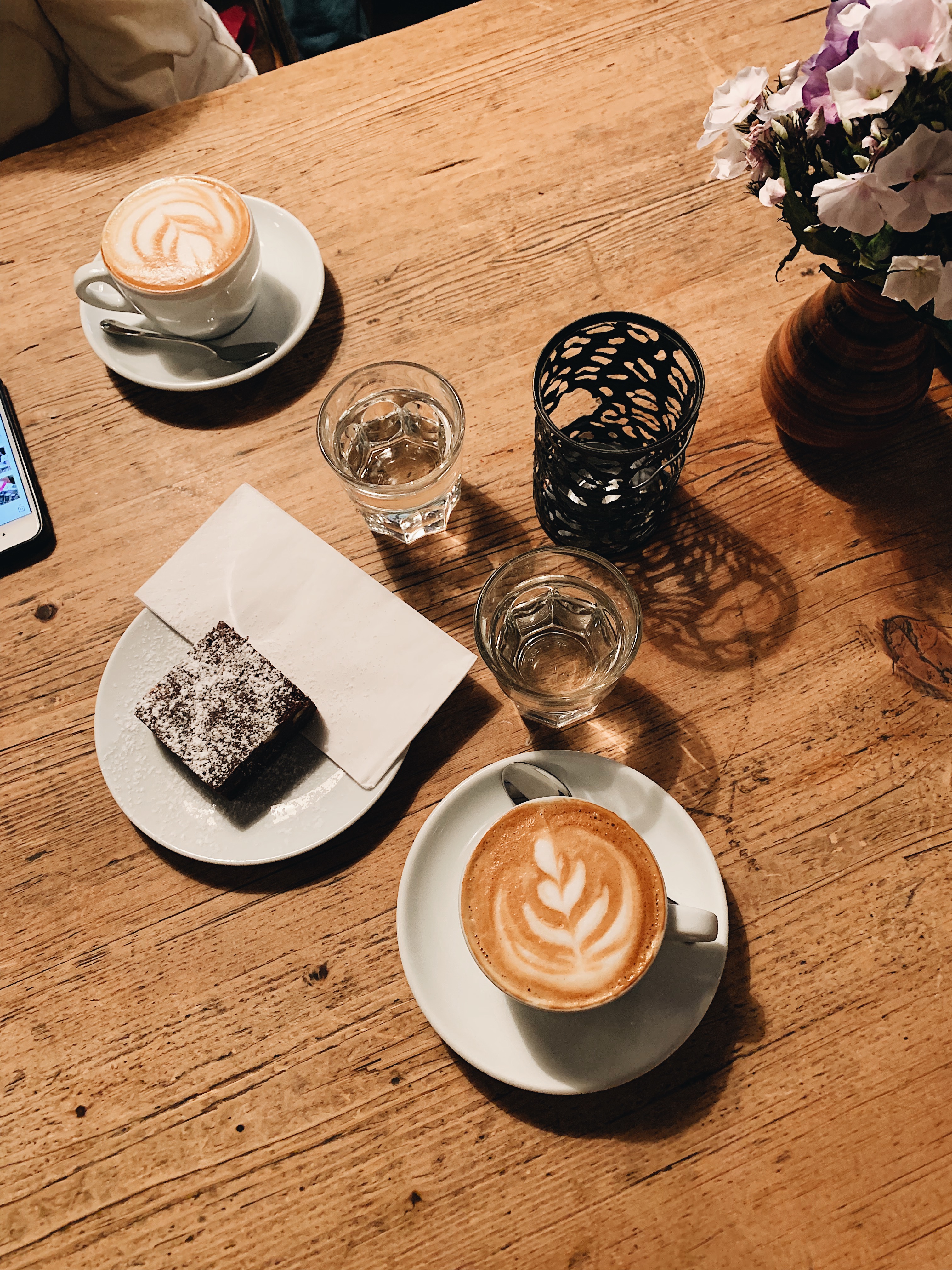 On our way home we accidentally bumped into En Soie, a local shop recommended by several of my followers. They have a nice jewelry, ceramics & textile selection, as well as a (quite expensive) clothing line. Apparently the brand is very old and typical from Zürich so it might be fun to get some souvenirs here! Both of us got a small messing initial for our necklaces.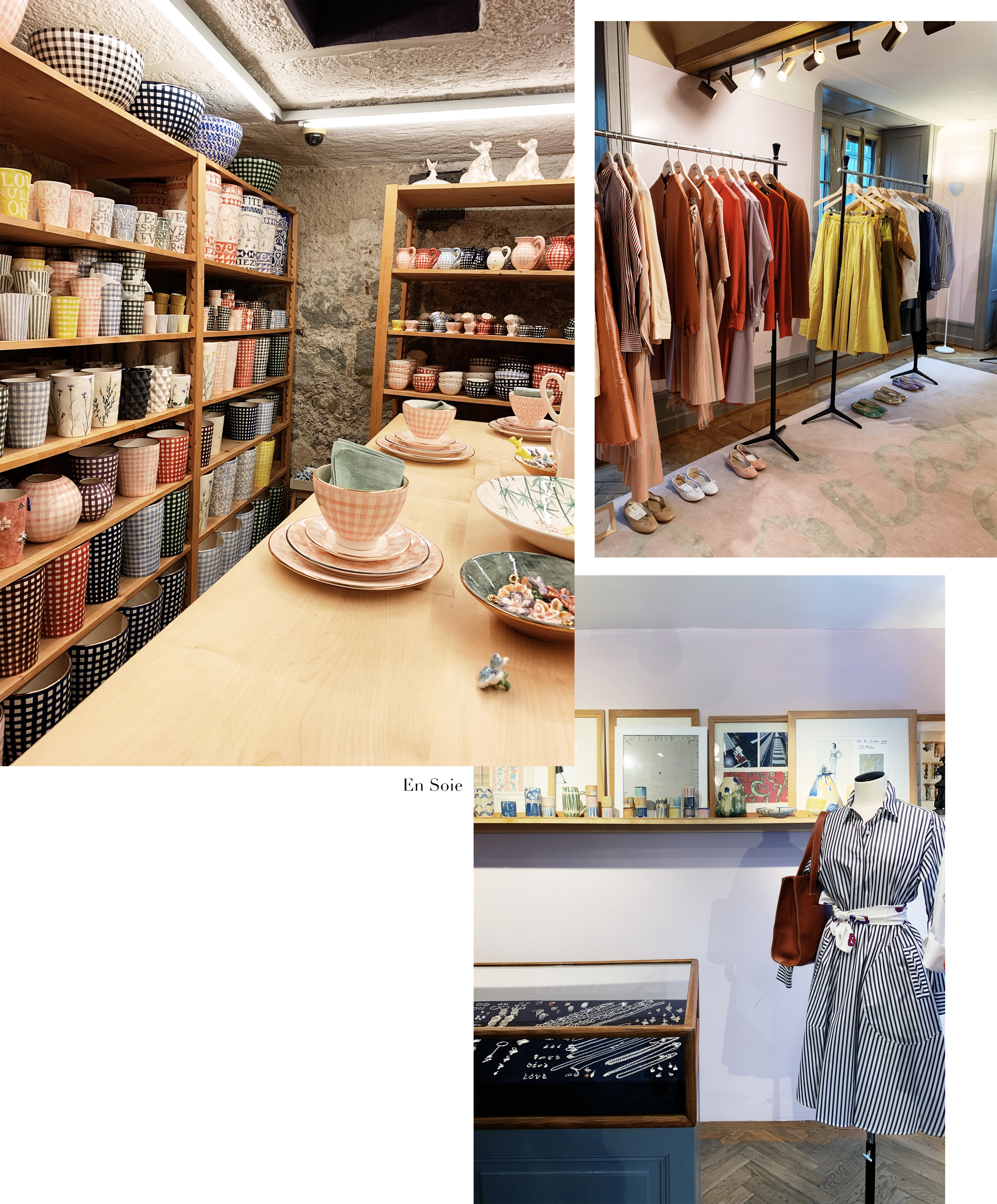 The cold & rain made us long for a warm evening and THANK GOD someone had recommended the Zürich Thermalbaden & Spa to me! This massive spa is located in an old brewery and it's absolutely beautiful! You can buy a day pass to have access to the thermal baths & the rooftop pool for about €30 pp, but we personally wanted a more elaborate evening; I think it could get quite boring to just sit in the baths for a few hours in a row.
We opted for the indo-roman ritual for about €53 pp: this gave us access to an extra spa with different saunas, scrub showers, baths and hot stone places that you have to go through in a certain order for a complete cleansing. The "ritual" takes place in the most beautiful part of the brewery: the brick cellars with high roofing. Now, don't forget to pay a visit to the super hot (!) rooftop pool, which is especially very impressive in the evening: the view over the entire city got even more special because it was rainy & foggy. Stunning! You can bring your own towel and robe etc, but if you opt for the ritual it's included in the price anyway.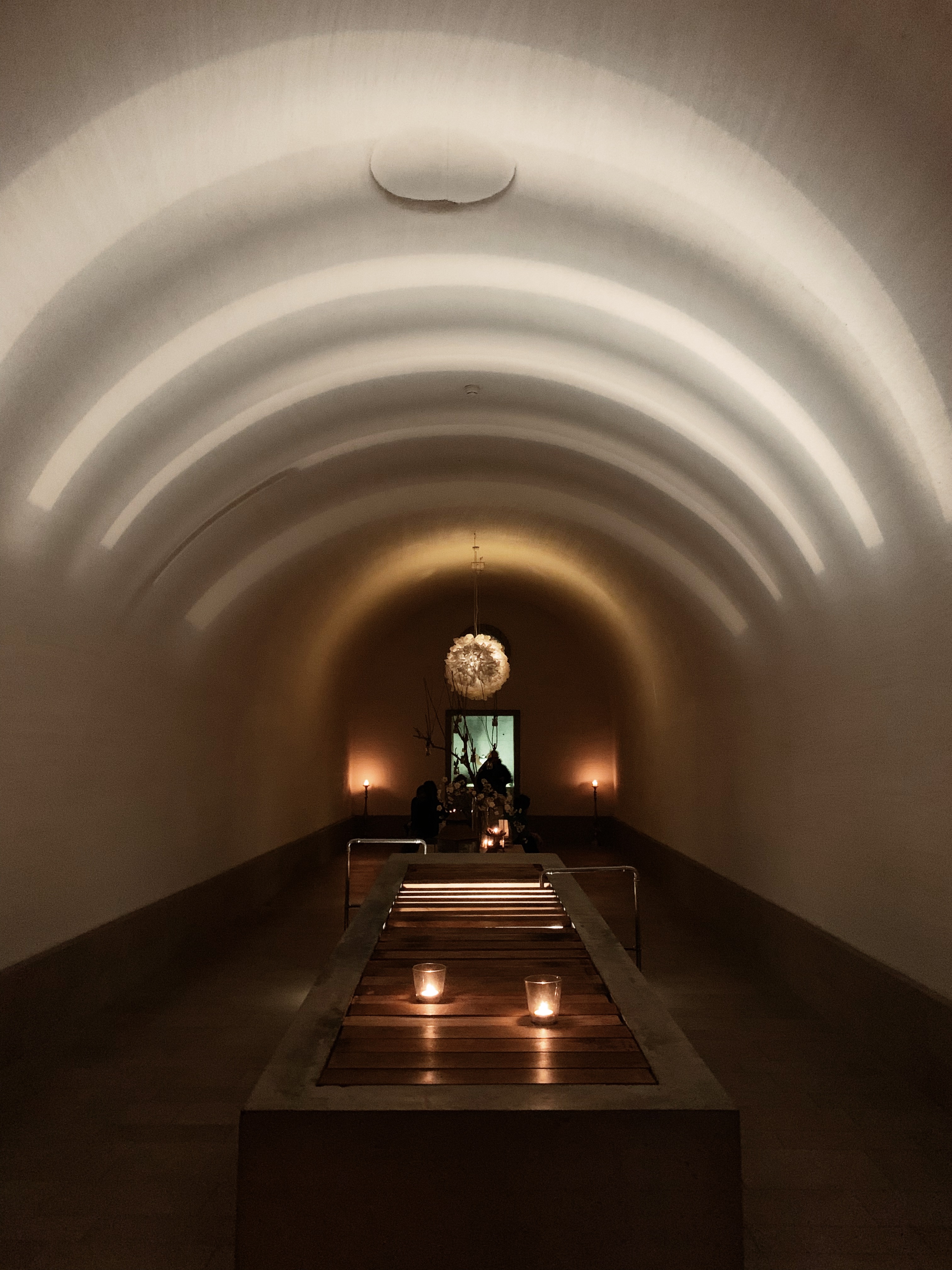 We walked out the spa at around 10PM and were obviously quite hungry, so we wanted a quick and easy dinner. We opted for another veggie buffet restaurant this time (what's up Zürich?) called Hiltl Dachterrasse because… it's a rooftop of course. The food was definitely good but we preferred the quality of Tibits! Also, I think this place is more fun during lunchtime because of the city views and opportunity to enjoy the sun on the terrace.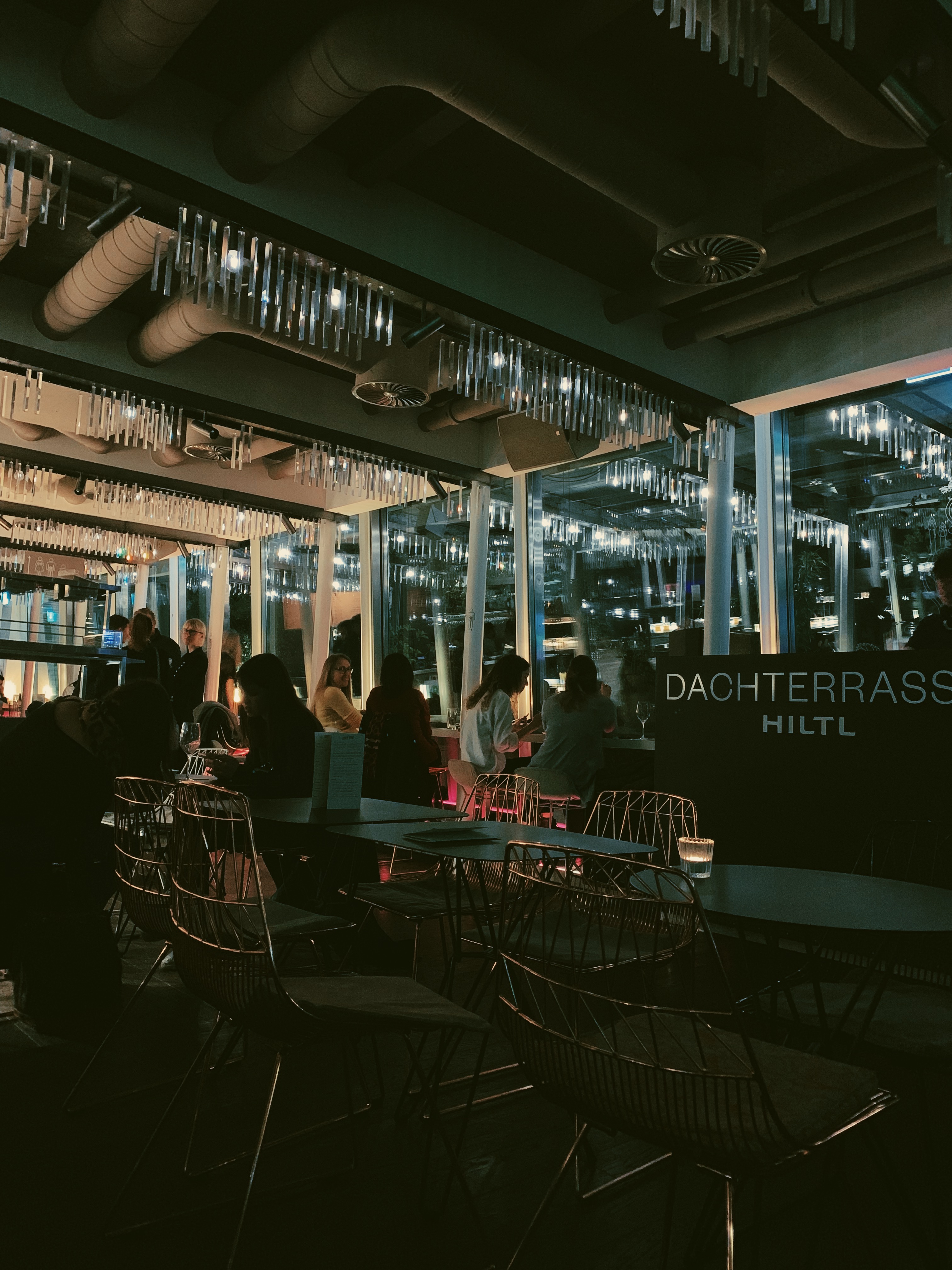 DAY 3 / Sunday
And another late breakfast at Motel One! Nothing to complain about here!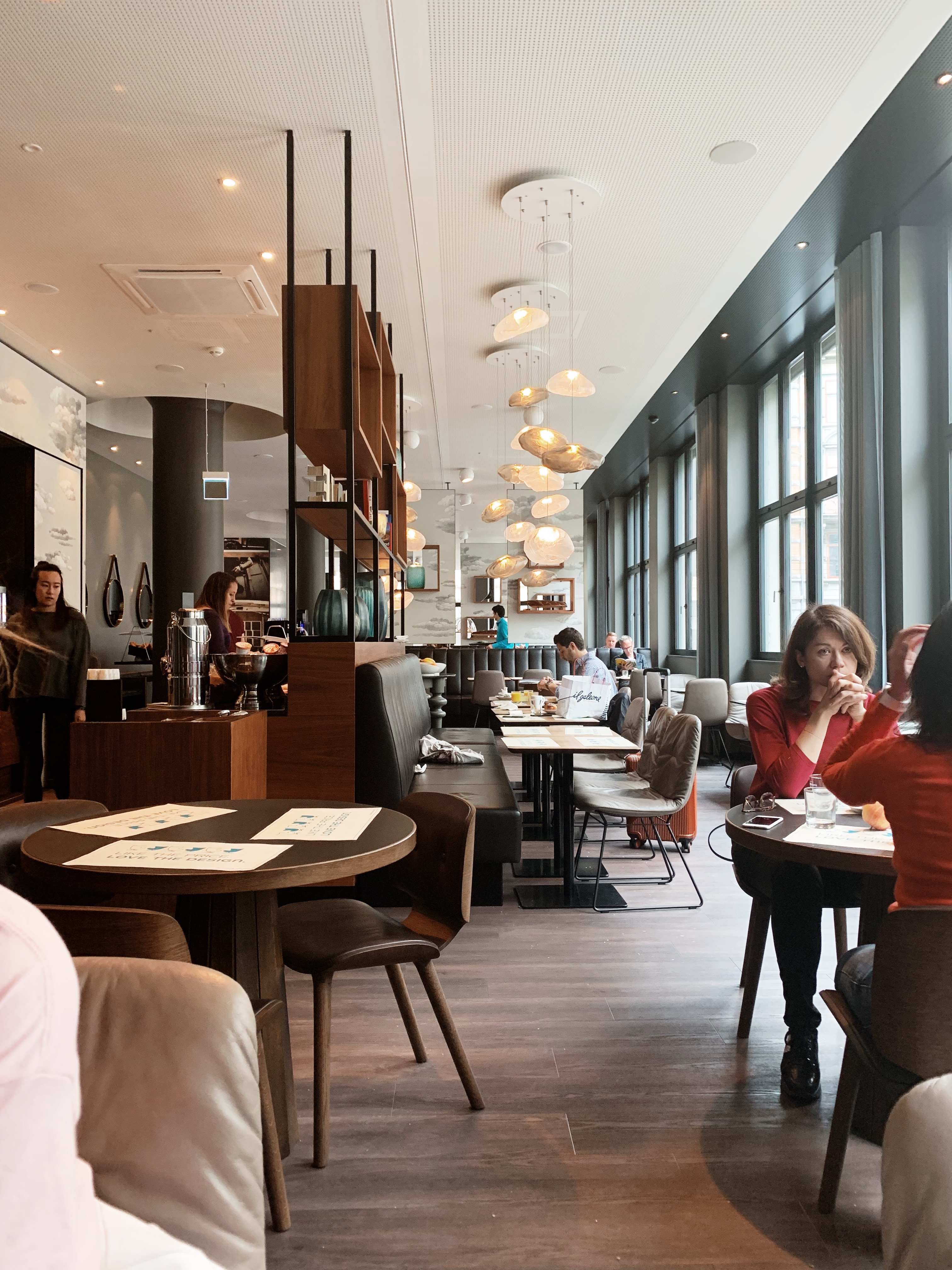 And another rainy day 🙂 We decided to spend our Sunday at Kunsthaus, a real cool art museum that houses one of the largest art collections in Switserland, spanning from the Middle ages to contemporary art. Their current temporary exhibition is called Fly Me To The Moon and focuses on the first Moon landing and several decades of artists' fascination and engagement with the Moon. It runs until the end of June, so do stop by if you're around! It's not a cheap museum to visit, but I can definitely recommend spending some hours in the presence of some super famous and lesser known artworks.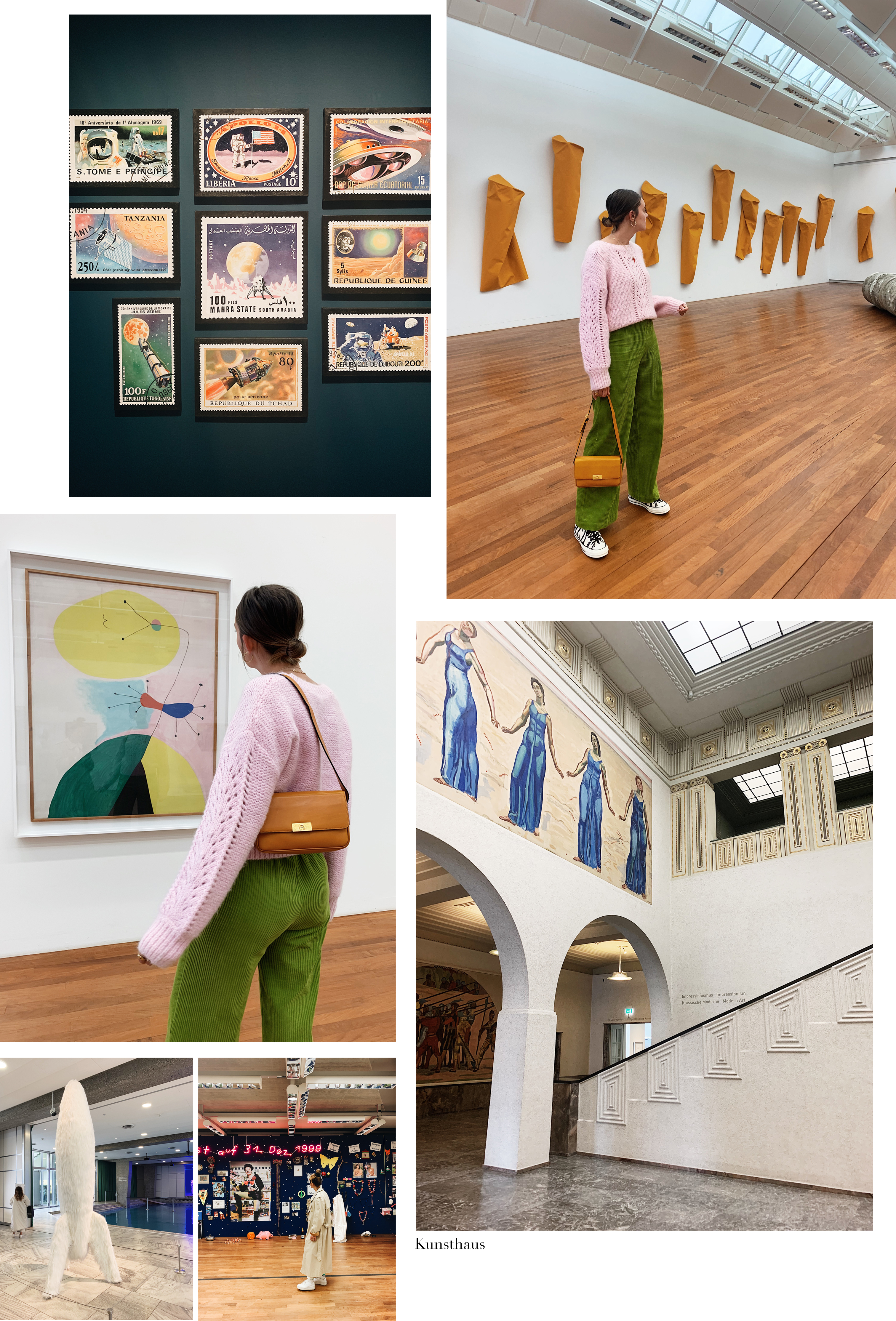 Soooo, we had about an hour left in Zürich before heading off to the airport and we decided to celebrate the wonderful trip with wine & hummus! Lots of places turn out to be closed on Sundays, but we discovered Milchbar that has an adorable terrace and great appetizers. Cheers!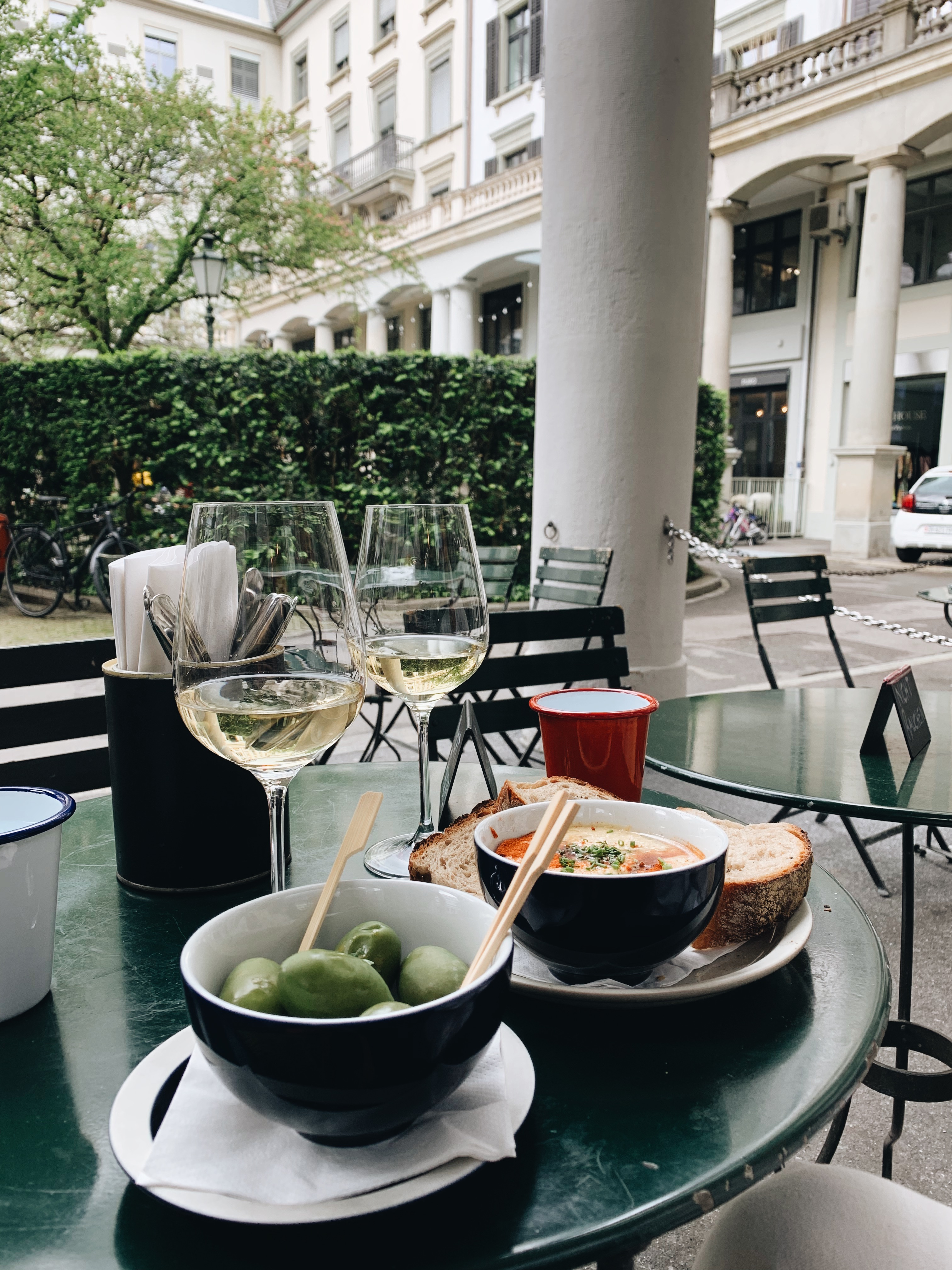 That's it! You can tell that we definitely got the most out of our weekend, even though it was cold and rainy 🙂 Anyone inspired to visit Zürich soon? Or any things that we may have missed & that other people should add to their must-do's? Let me know in the comments! x