Another week, another bunch of outfits! Discover what I wore for a trip to Ikea, Copenhagen city and a flea market in Antwerp.
Yay for another FUN week! It was a quite busy one, but one of the best parts of my job and working from home is that my hours are flexible, which makes everything ten times more awesome. I can choose when to drop by Ikea (not on a Saturday, for God's sake), when to shoot pictures (if it's sunny during the weekend, that does mean shooting during the weekend) and when to take a few hours off to paint my nails (this is so not me, though). Ok anyway. This week's looks!
Monday
So yeah, Ikea! As you might know I'm STILL working on my home office, as it's STILL not finished… Life and other home-related things on our to-do list got in the way, you know. On Monday the boyfriend and I decided to head to Ikea and finally get me a huge, huge office closet. Fingers crossed we'll finish everything soon so I can show you the result of my brand new workspace! I wore a denim on denim look with comfy sneakers and my fave trench from last Spring. Re to the laxxxxx.
wearing a Levi's shirt & Ribcage jeans, & Other Stories trench coat (old), H&M sneakers / (gifted)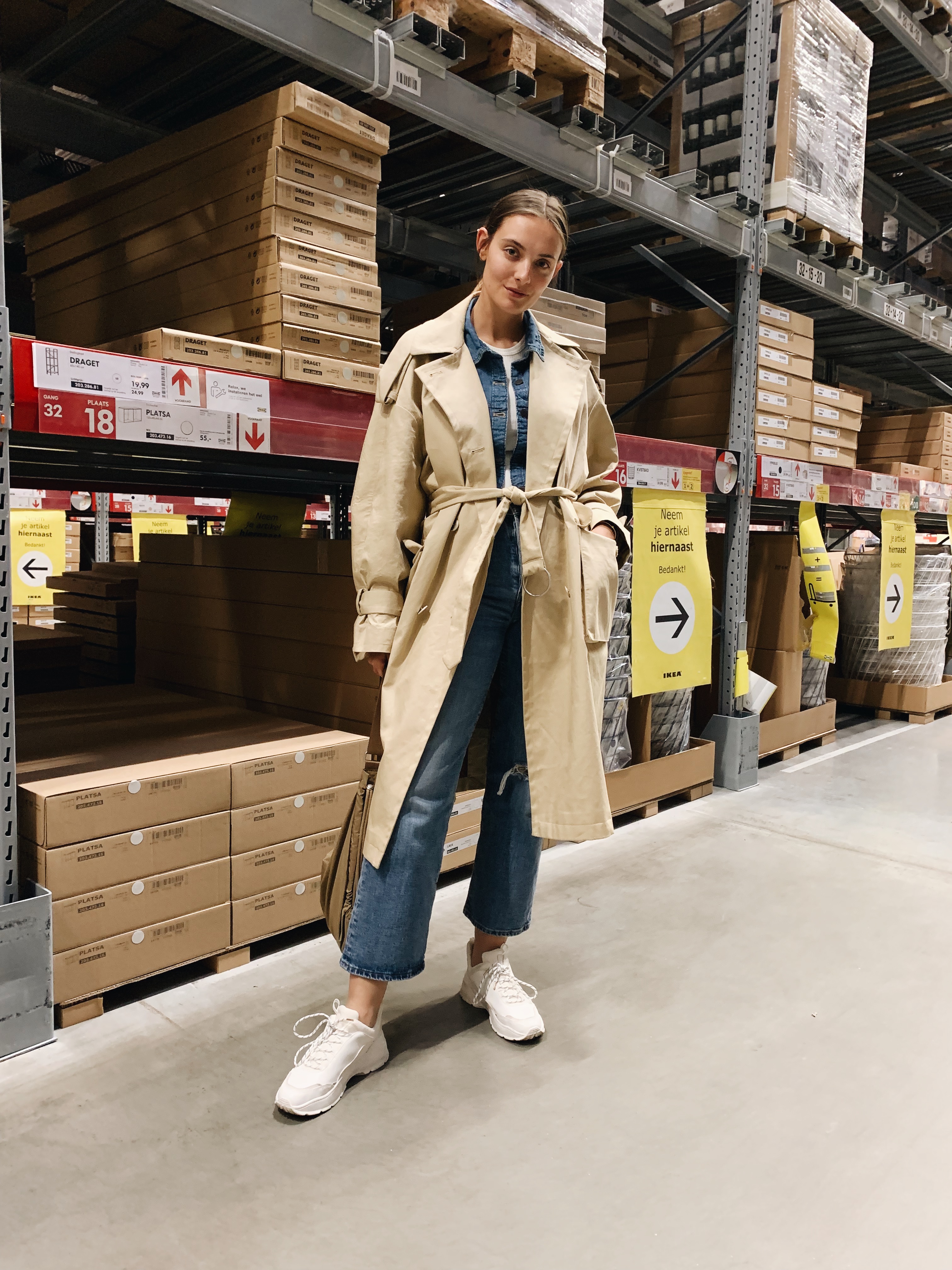 Tuesday
Tuesday was all about catching up on administration, replying to numerous emails and shooting a quick outfit with the boyfriend, aka my main photographer. Yup, I found myself an Insta-hubby, and the kind that enjoys the duty and has a super creative eye too! So luckily I don't have to force him, we simply love to support each other in our careers 🙂 We combined work and play, and had lunch at this lovely Antwerp place called Felfel where we took a quick outfit picture too. I wore a full ottod'Ame look, which is a fun Italian brand I work with this season!
wearing ottod'Ame shirt, trousers & cap, H&M sneakers / (gifted)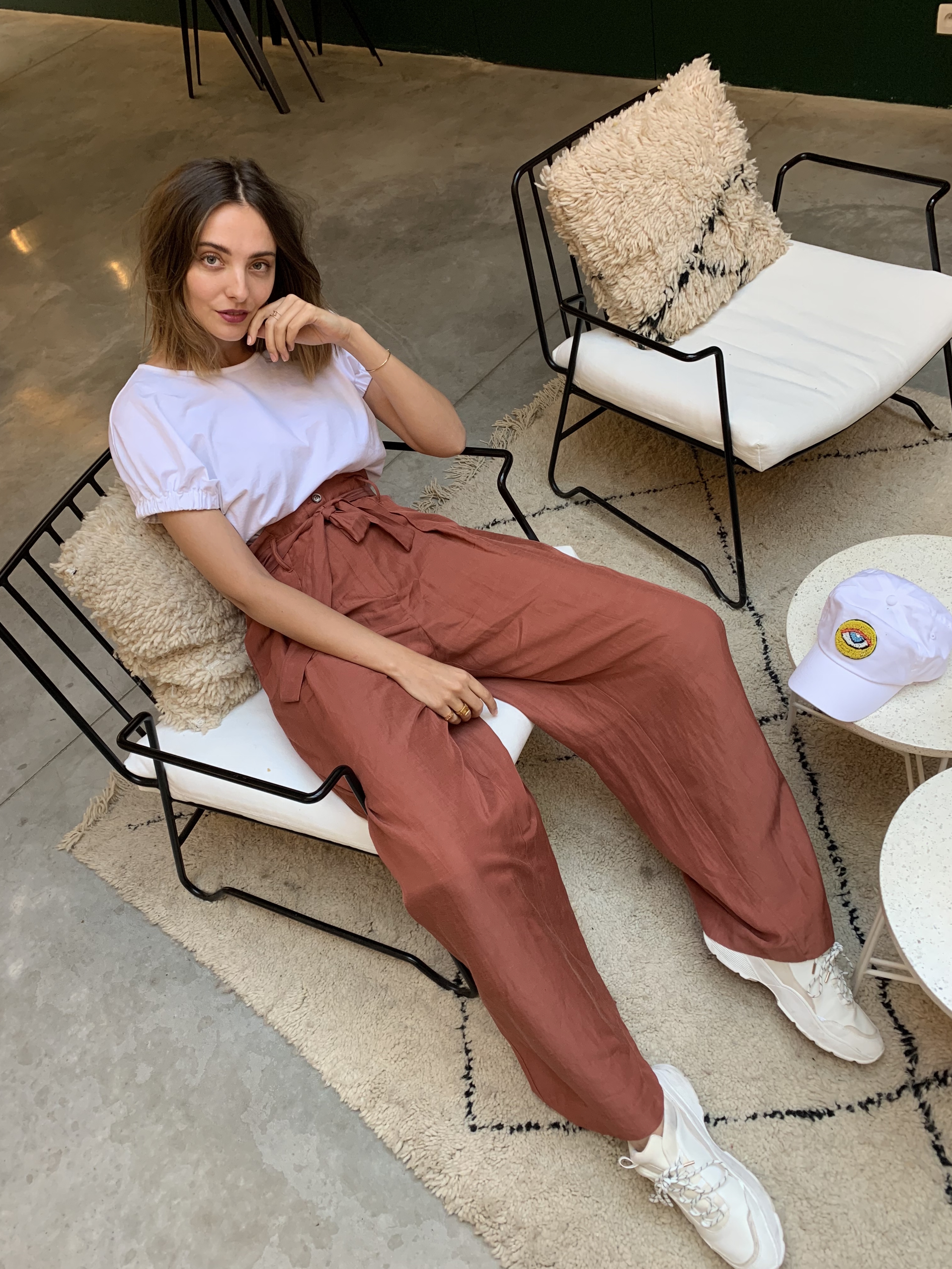 Wednesday
This day was quite similar to Tuesday, except that I snapped some pictures together with Ruth instead of le boyfriend. We actually escaped a pretty severe thunderstorm that broke loose RIGHT after we took this one (test) shot. Well, at least we managed to capture the outfit, right? A super bright & sunny look on a pretty grey day, to cheer up the mood! You might have spotted this look on my Instagram today — see, I wear my outfits multiple times!
wearing H&M Studio orange knit, H&M sunglasses, Samsoe & Samsoe trousers, & Other Stories earrings (old), Converse sneakers, Coccinelle handbag / (some items gifted)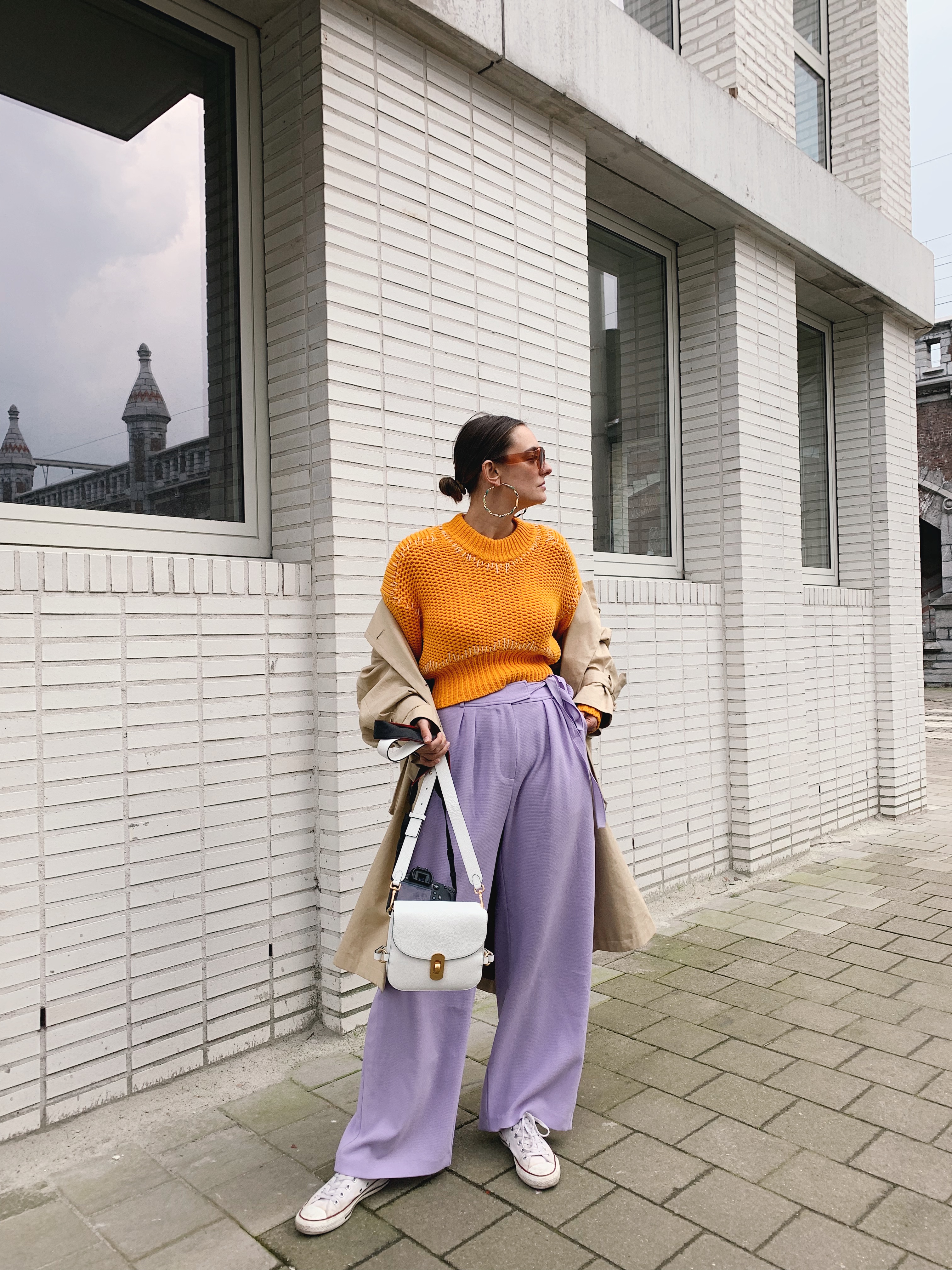 Thursday
On Thursday I flew to Copenhagen for a lovely press event with one of my fave Danish brands, Munthe. I had some time off before dinner so I wandered through the sunny streets of CPH and discovered some impressive second hand stores! Ok, and Topshop, where I snapped this pic. I wore a minimalist, dark look with flared jeans, an oversized lapel coat and a fun net bag.
wearing H&M x Erdem coat (old), Mango flared denim, Vero Moda net bag, Adidas sneakers, H&M sunglasses / (some items gifted)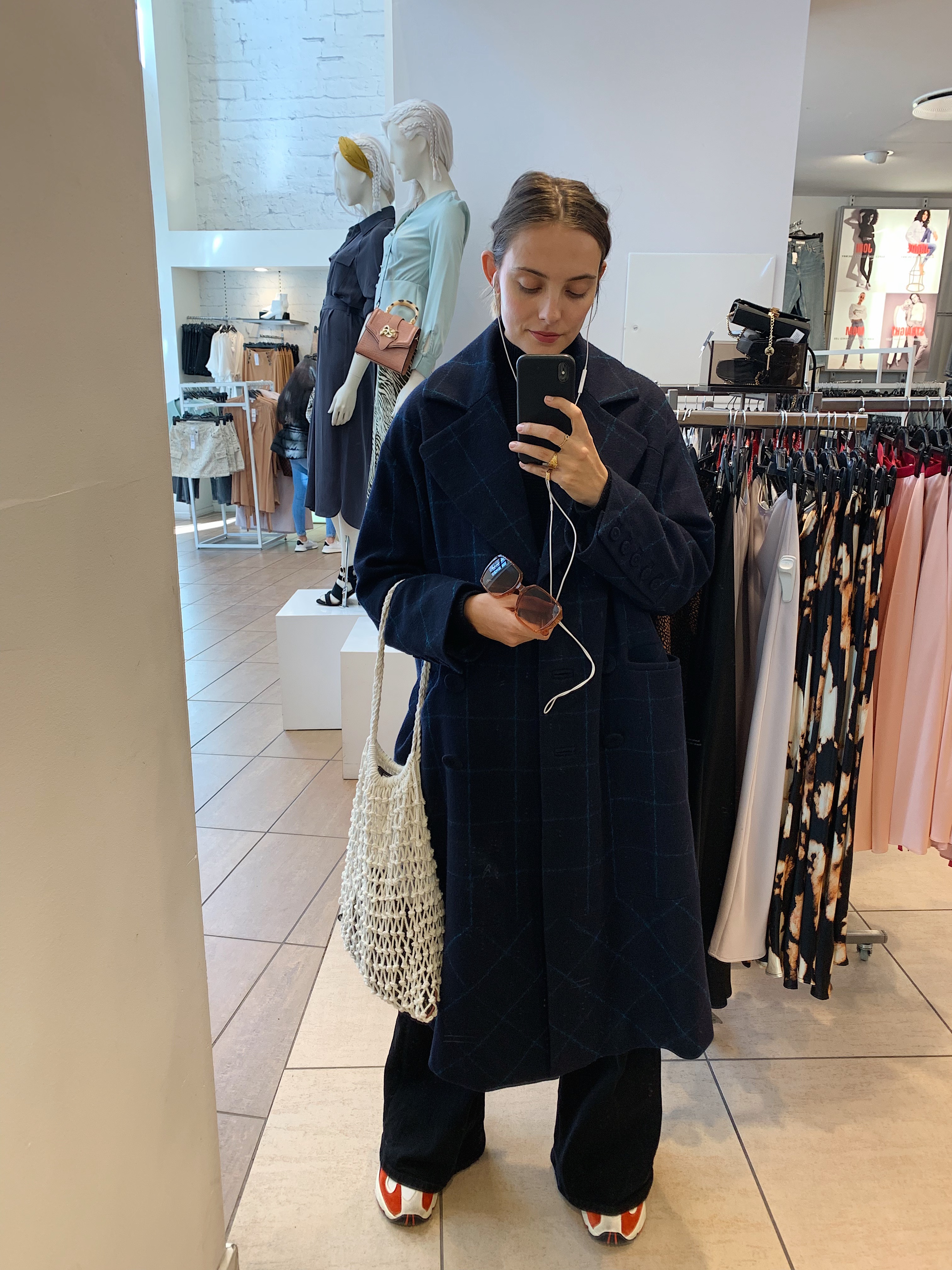 Friday
Yayayay! Friday! Another full day in Copenhagen that I this time kicked off with a super cozy lunch at the Munthe headquarters. They were so kind to let me wear a piece from the SS19 collection: this pink tartan shirt dress that I wore as a skirt! It's actually coming out in May already, for those interested. With me on the picture is the lovely Frederikke, PR girl of Munthe. Why are all the Danish so damn gorgeous?
wearing Aritzia cropped knit (old), Munthe shirt dress, H&M Studio boots (old) / (gifted)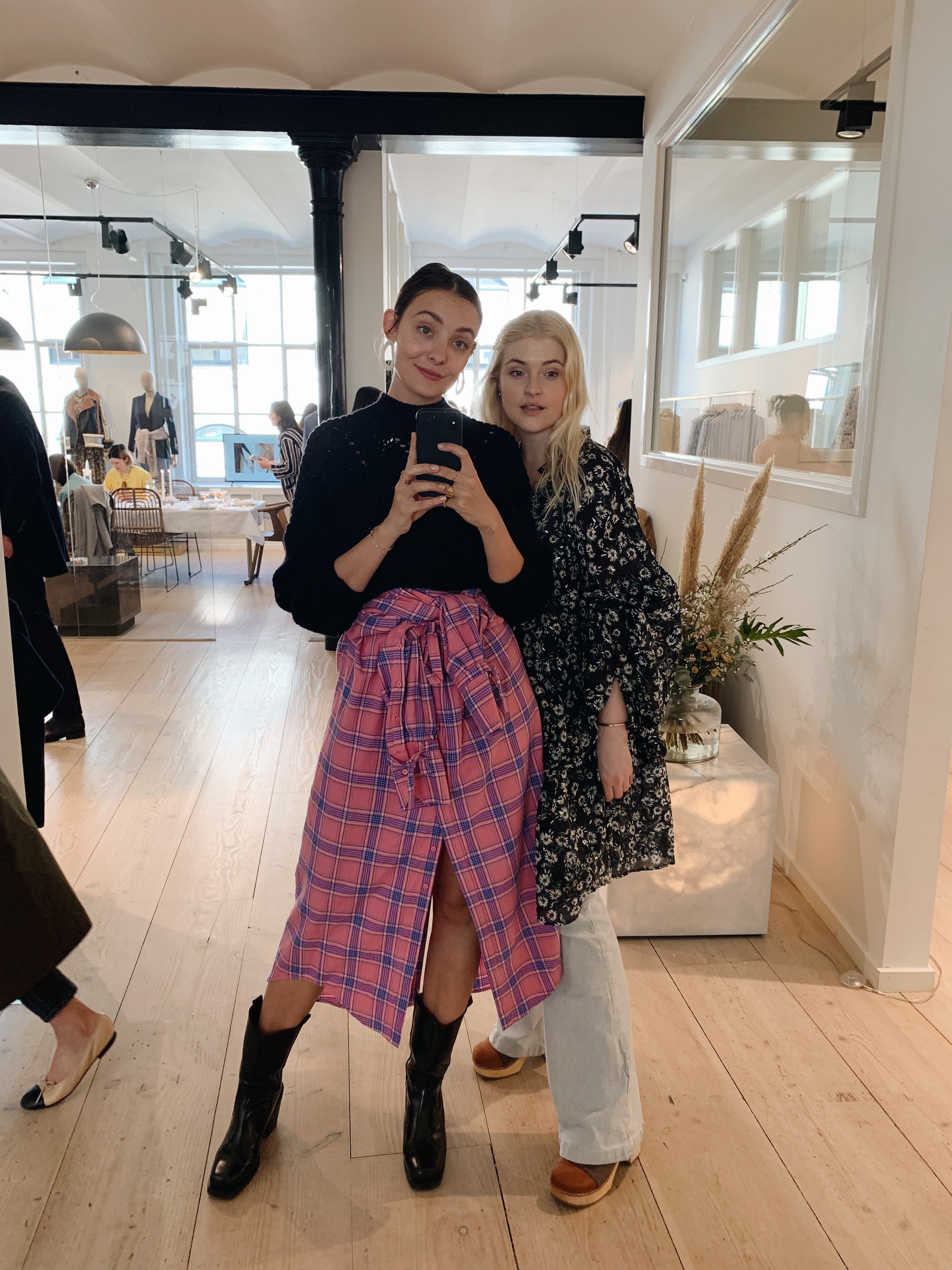 Saturday
Back in Antwerp! As you probably remember, it was a lovely warm weekend so I really wanted to spend every possible minute outside in the sun. I grabbed the boyfriend and dragged him along for a long stroll through the city — you know; the flower market, the occasional vintage shop, a quick coffee break… A cozy Saturday as it should be! I wore a simple jeans & tee look and finished it with this beautiful checked coat. Easy does it.
wearing Baum und Pferdgarten check coat, Tommy Hilfiger denim, Colmar tee, Youbag personalised handbag, H&M sneakers, & Other Stories earrings / (gifted)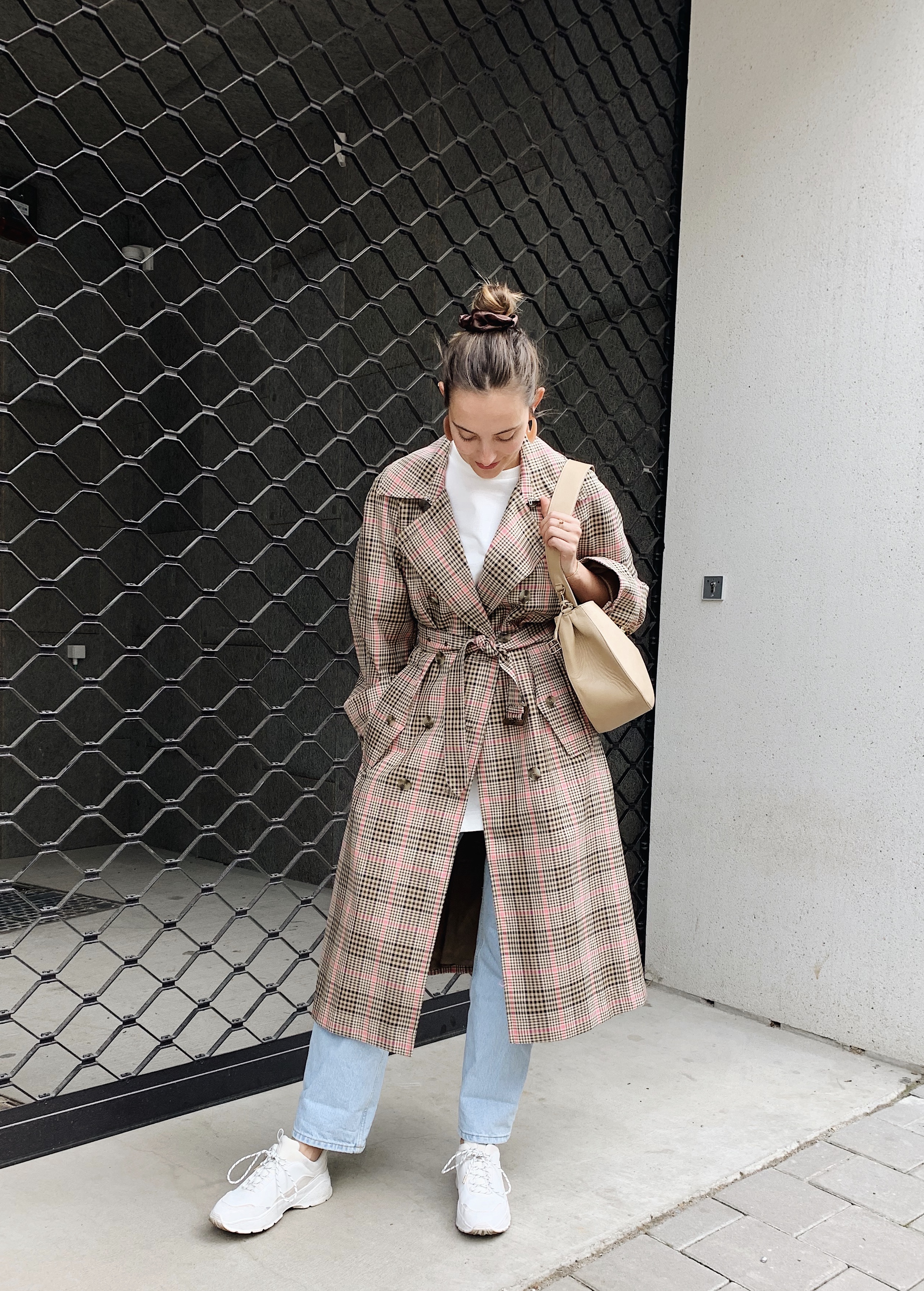 Sunday
And OMG, on Sunday we were treated on even warmer weather, which obviously prompted me to grab the boyfriend again for a fun city afternoon, again! We had lunch with Ruth, biked to a fleamarket nearby and went to dinner with my family in the evening. I seriously live for these quiet weekends! (Did I mention that I spent the entire Saturday night at home alone painting my nails & watching Netflix reality shows? Who am I?)
wearing Colmar oversized tee, Urban Outfitters trousers, ASOS sunnies (old), Converse sneakers / (some items gifted)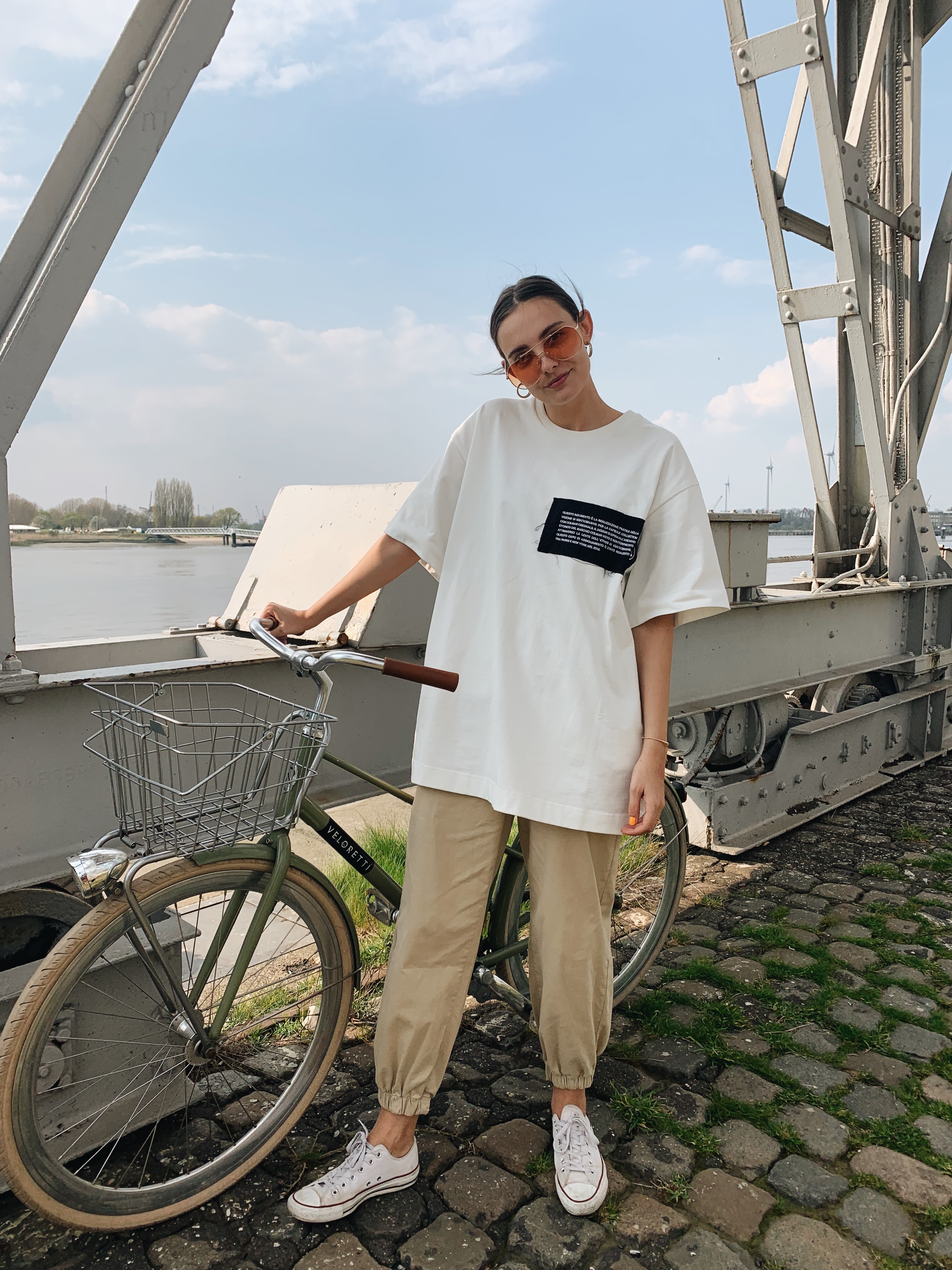 That's it! Any favourite outfits from last week? Let me know in the comments below!