Where did you stay in Thailand? How did you manage to get from one place to another? And what's your exact travel itinerary? – Find an answer to all of these questions in my huge personal Thailand guide!
WHY do holidays always fly by so fast?! The moment we set foot in Belgium again, it felt like we had left for Thailand only two days before. The good thing about blogging is that I can vividly relive my holidays again by writing about them 🙂 So here's my first Thailand post! I want to kick off with al things practical: our travel itinerary, our hotels and our ways of getting around the country.
Lots of people wanted to know if we planned our 2 week trip ourselves or if we booked the journey through a travel organization. As I was probably some sort of autistic travel guide in a previous life (you could call it "well-prepared" too), we figured out our holiday ourselves! We're huge fans of traveling with our mini club of two, and the best way to escape other tourists, is fixing your trip on your own.
Thailand is a super easy country to travel around anyway, so you can definitely book accomodation and travel tickets on the spot. We preferred to set our entire trip in advance, as we were limited to 2 weeks only and didn't want to lose any time trying to find suitable places to sleep. Plus, the coolest spots that we found through Airbnb would never have been available on the spot! By the way, I'll add a list of useful websites and apps for booking stuff in Asia at the end of this blogpost.
Another thing I should quickly point out: I often refer to the price of things in Baht, the Thai currency. 1 Baht equals €0,028, so keep in mind that 100 Baht is about €2,81.
That's it! All set? Here we gooooooo!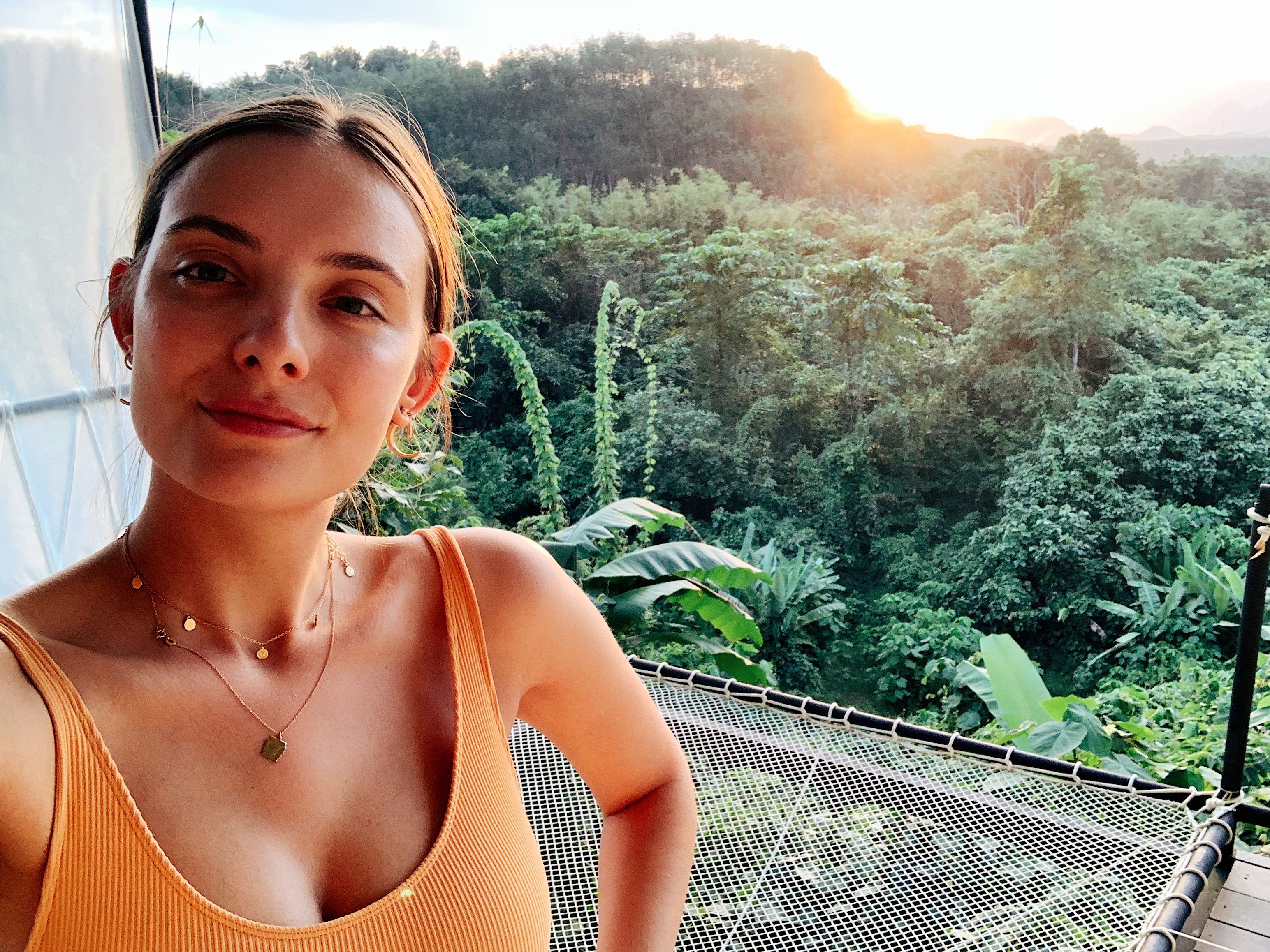 DAY 1: travel
First of all: it obviously takes some time to get to Thailand. If you have the extra moneyz to spend on a direct flight: AWESOME! If not, you'll be up for quite the journey. We left Belgium at 10h05 at December 31st, and arrived in Bangkok in the morning of January 1st after a layover in Abu Dhabi. Happy New Year! We traveled with Etihad, simply because they offered the cheapest option on our desired travel dates. I really liked the service, food and in-flight entertainment. Abu Dhabi is also a pretty nice airport to spend a few hours of your waiting time!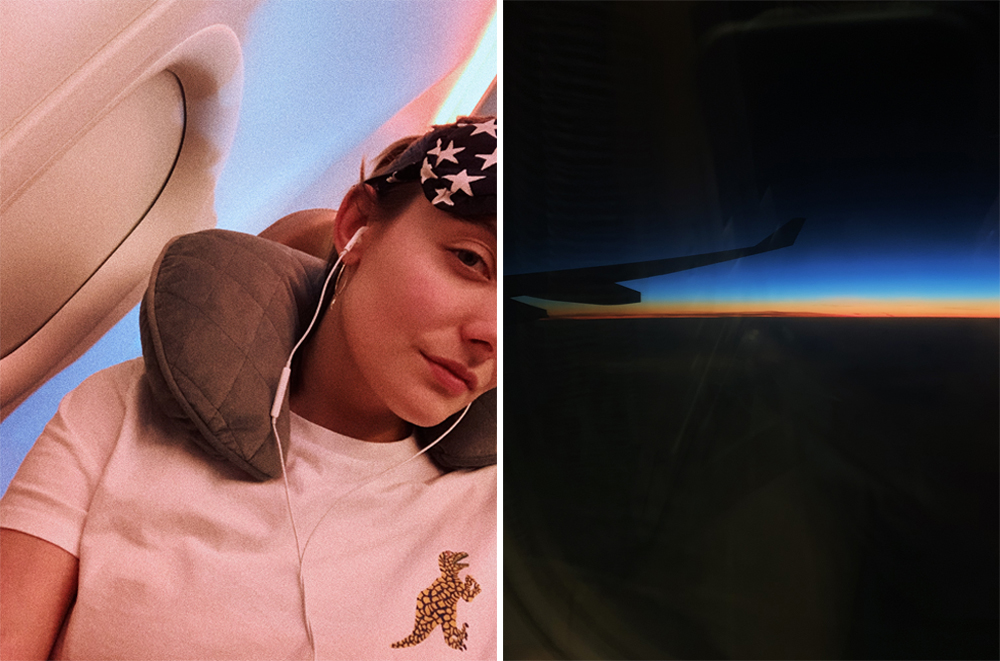 DAY 2 – 3 – 4 – 5: Bangkok
So, our arrival in Bangkok! Since we figured we'd be exhausted of the journey (check), we booked an airport transfer to our hotel in advance. You can of course opt for the sky train or taxis on the spot as well. Do make sure to ask to turn on the meter, although I think most of them will only accept fixed fees from the airport to the city.
The hotel we opted for was The Maven Stylish Hotel, a fairly new hotel offering our main priority, a rooftop swimming pool! This is something I can 100% recommend: it was absolutely amazing to take a dip in the pool after an afternoon of running around in the Bangkok heat! The hotel is located a bit outside the modern shopping area and is a 25 minute drive from the main temples, but is still in a pretty central location. Bangkok is huuuuge, you know.
Other assets of the hotel that I loved are the huge breakfast variety, the kingsize beds and the wonderful lobby design. Oh, and the tiny coffee bar in the lobby where you can get iced lattes to go!
In my opinion, the easiest way of getting around Bangkok is by taxi or Grab, the East-Asian Uber. We usually opted for taxis as there are so many and they are super cheap. I'll tell you once again: you should ask them to turn on the meter first, as they will usually propose a fixed fee of 200 or 300 baht for what's actually a 100 baht ride. This would be the price for a half an hour drive, by the way. Politely decline if they won't turn on the meter, and try your luck with the next taxi.
During the evening we experienced that it's not that easy to find a taxi that is willing to charge by meter, so you might just want to negotiate on the proposed fixed price. If you're not up for a hassle, you can always download Grab and order your car straight from your app! Or use the sky train of course 🙂 We didn't take the sky train as I found the website pretty complicated and never managed to discover the nearest station to our hotel, oops!
A last option is taking a traditional tuk tuk! I'd definitely recommend doing it at least once, for the fun experience, but in my opinion it's not the most comfortable way to travel around. You'll have to pay a pretty high fixed price and when you're stuck in traffic, you're sitting in the heat and air pollution.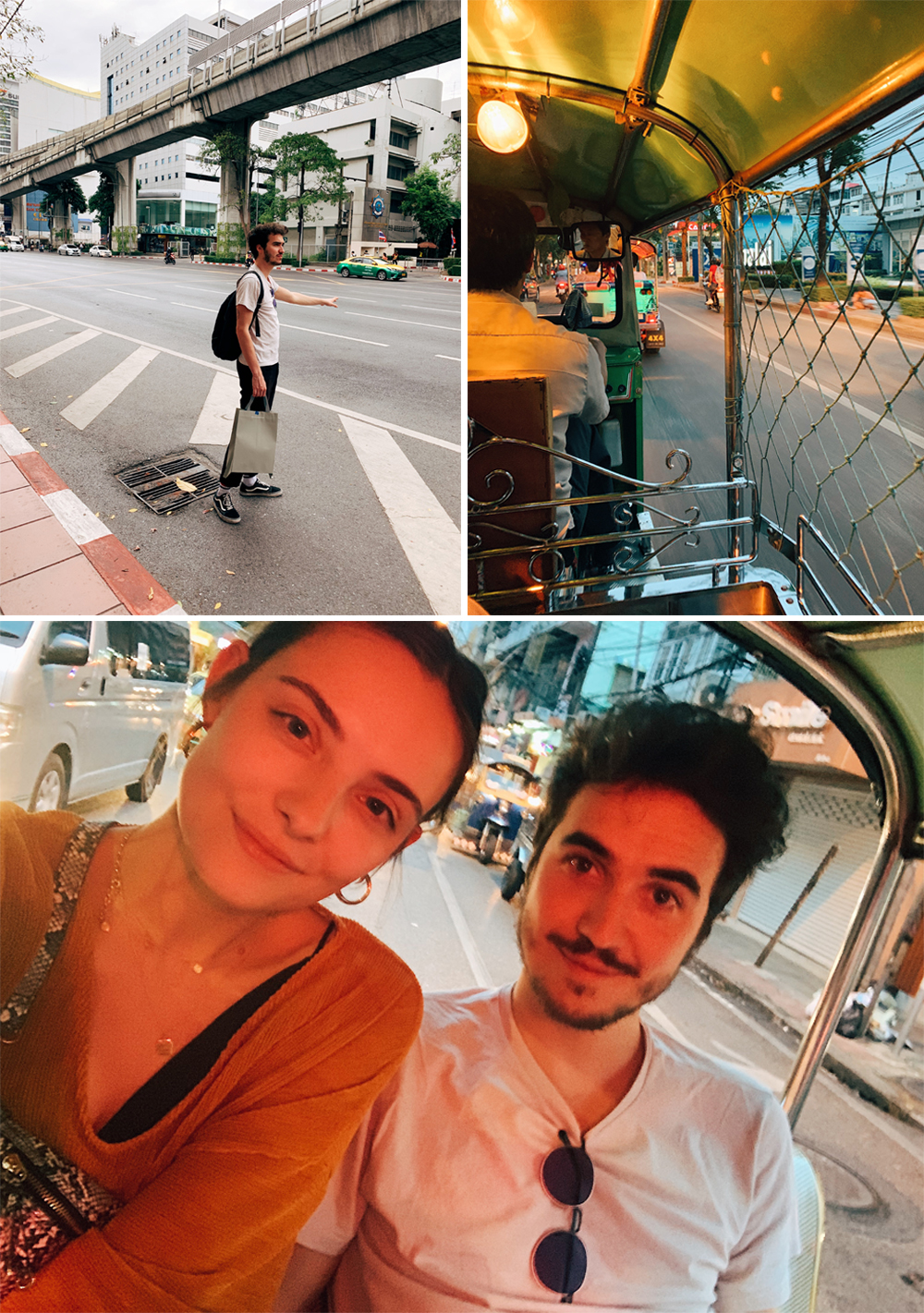 After our Bangkok experience, we took the night train to Chiang Mai at 6 PM on day 5. The train station is located close to China Town, so I suggest you leave your luggage to the drop off point (called Left Luggage) for a 80 Baht in the morning so you have a day of exploring and eating around the area! We booked our train through 12GoAsia, and their ticket pick up point is located right accross the street of the train station. Easy peasy!
Make sure to book train 9, as this is the most recent and modern one. If you're early enough, you might be able to book a first class private cabin for 2 people, which sounded like lots of fun to us! We weren't so early so we had to go with second class beds instead, which was totally fine too. I do recommend booking the 2 lower beds opposite to each other instead of the lower and upper bed combined: I slept in the upper one and it had no window, was significantly smaller in size and had a lot more vibrations from the train. Not the best sleep I ever had 🙂
When you get on the train, a service lady will offer you a full menu & breakfast to purchase, but take note that you can also order single meals in the train restaurant. The restaurant claims to have free wifi, but it didn't work when we were there. But hey, what an experience!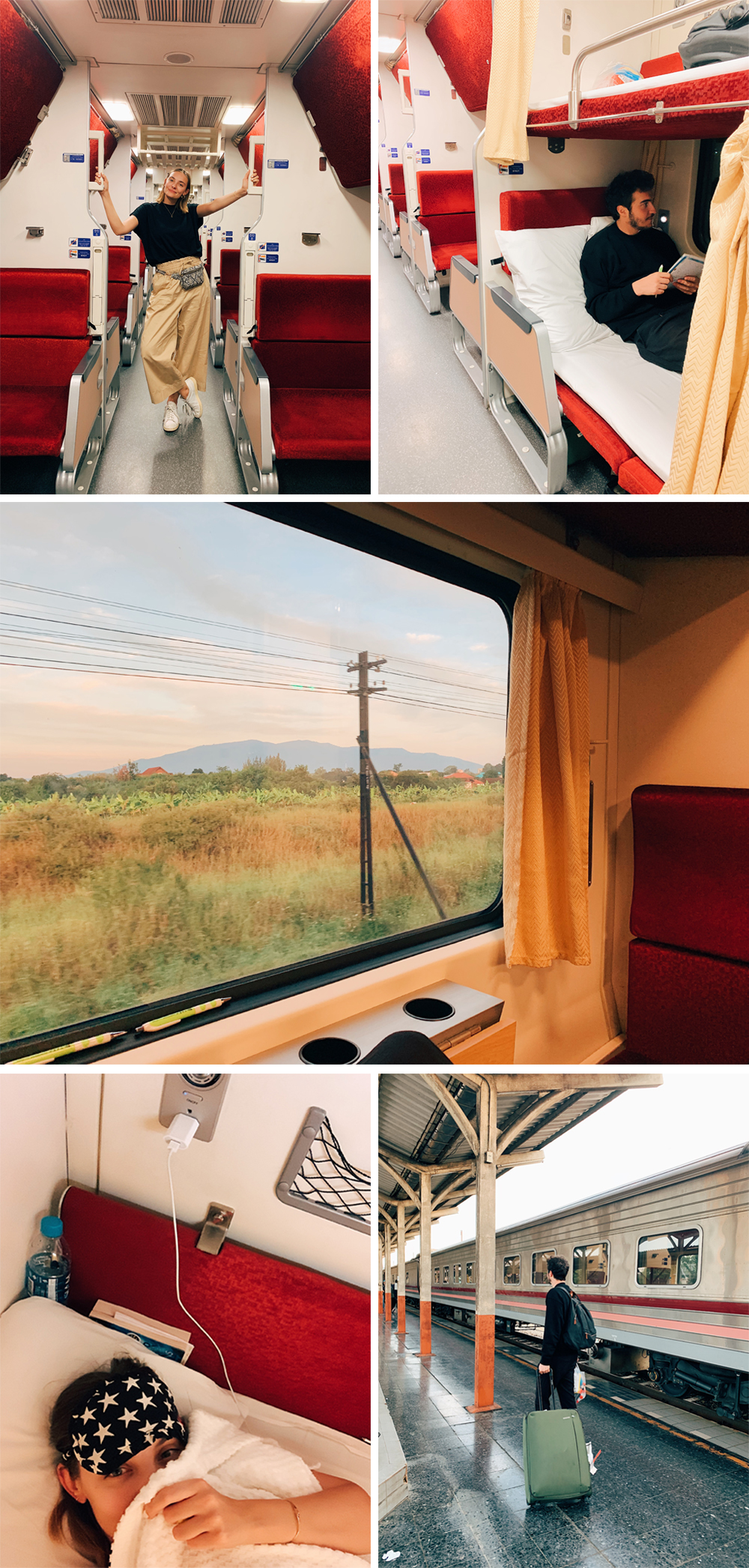 DAY 6 – 7 – 8: Chiang Mai
The night train arrives in Chiang Mai at around 7 in the morning, right after sunrise. This time we weren't really prepared on how to get from the train station to our hotel, and were instantly surrounded by taxi drivers. There are no regular taxis waiting at the station, only the traditional shared red trucks, and they work with fixed fees only. Do not hesitate to negotiate again! Also try to find an actual driver (probably close to the cars) as most of the people that approach you are independent tour guides that will fix you a taxi and hop on with you to explain you aaaaaaall about their amazing tours during the drive. Awkward.
Our Chiang Mai accomodation was actually a room we found through AirBnb, which turned out to be at a brand new hotel. Our room in IRON32 had a super cute terrace, an amazing bath tub (!) and we had the option of having 3 types of breakfast in the morning. It's located super close to the Night Bazaar, which is definitely fun to visit. My favourite area however was hipster heaven Nimmanheamin, but hotels are a lot more expensive around that neighbourhood.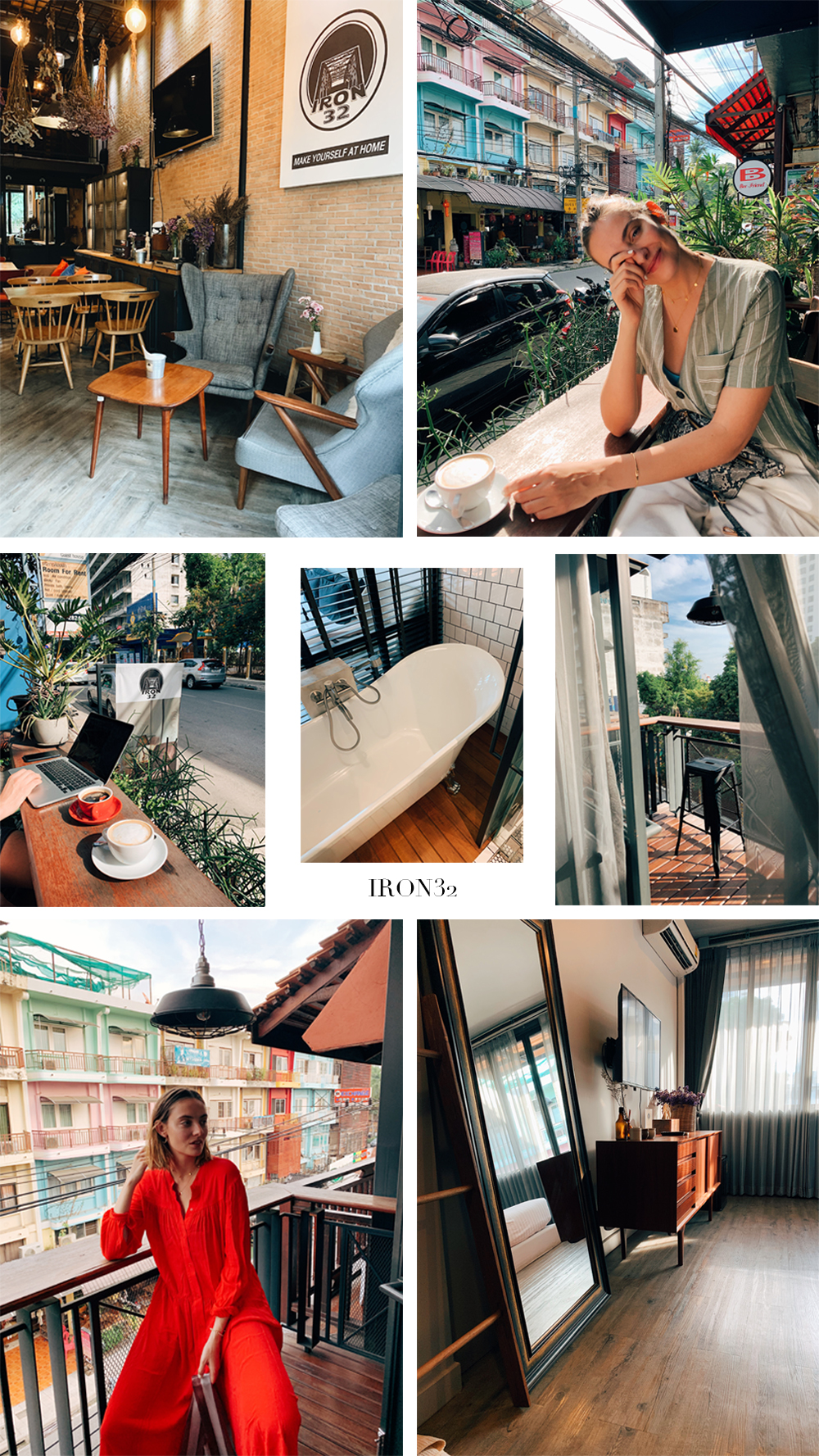 I feel like taxis and Grab cars are slightly more expensive in Chiang Mai, but still very affordable. You can also rent a motorbike to move around, but I would only advise this for mini roadtrips out of the city. The traffic is extremely hectic and you should be an experienced motorbike driver to manage yourself around safely.
Also: do NOT forget to bring an international driver's license! Apparently many visitors forget about this (including us) and you'll get fined for it (including us). The funny thing is that you have to pay something between 200 and 500 Baht — apparently you can negotiate with the police too — and you get a ticket that you can use to drive around fine-free for the next 3 days. Weird, but practical.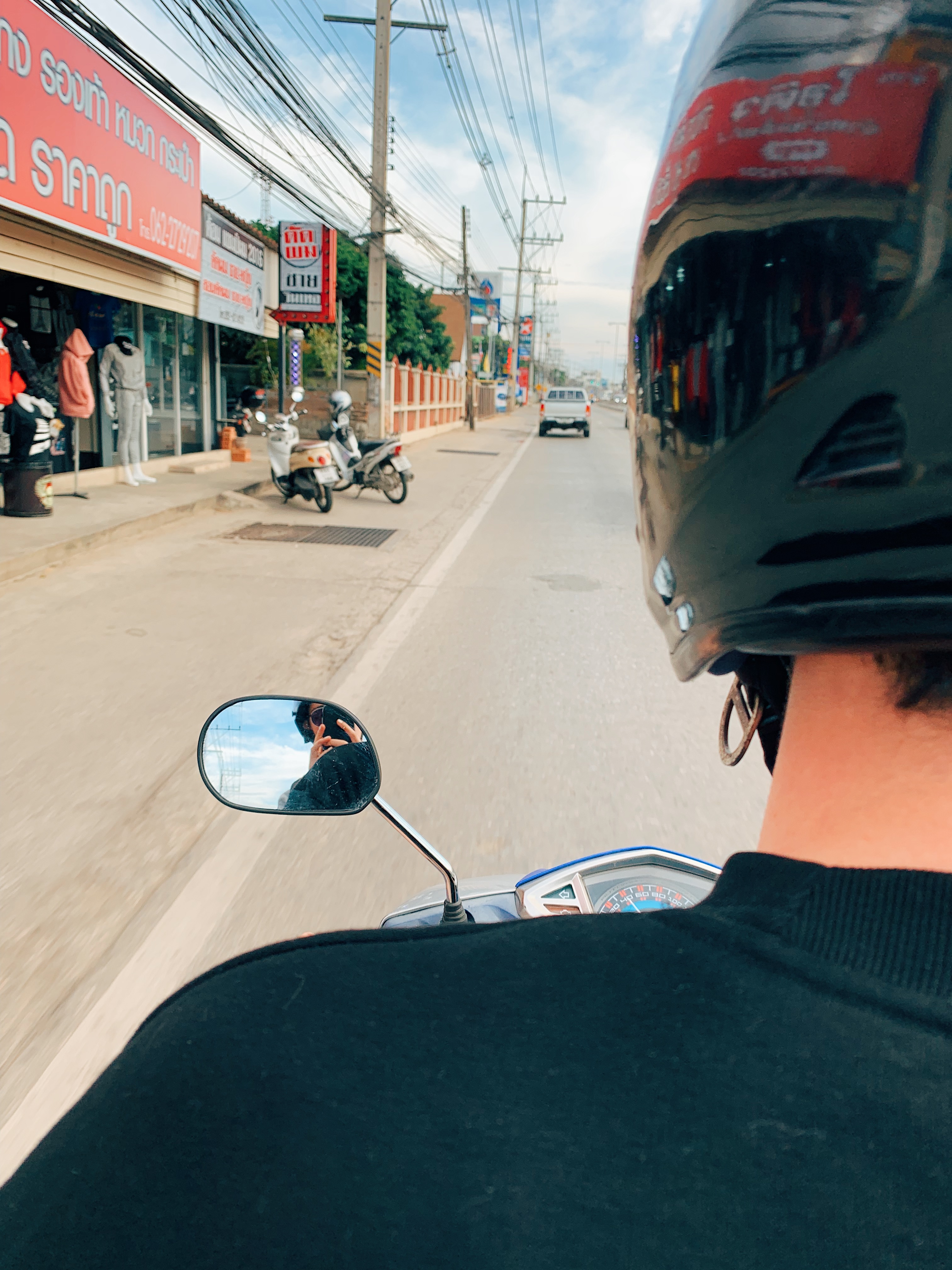 DAY 9 – 10 – 11: Khao Sok
To head to the airport on our last day in Chiang Mai, we ordered a Grab as well and only barely made it to the luggage check-in due to traffic. So although the airport is super close to the city, do not underestimate the time of your drive! We traveled with low-cost airline AirAsia, which meant paying a bit extra for luggage but our experience in general was perfectly fine. Departure was at 11h10, and we arrived in Surat Thani at 13h00.
This airport is the closest to Khao Sok National Park, where we were about to spent two nights. We booked a shared van to the village of Khao Sok the night in advance, but you can easily book it upon arrival too. You'll immediately see the desk when entering the arrival zone after picking up your luggage. I heard that the last shared vans leave at around 16h and that the only option after that is getting a taxi/private transport, but I'm not sure. You can definitely find all this information on travel forums!
The drive to Khao Sok takes about 1,5 hours and the shared vans will drop you off at the bus station, which is a 5 or 10 minute walk from most of the hotels and resorts around. The driver will usually ask if he should drop you off at the hotel instead of the bus station, which should cost you around 50 Baht extra per person. The only problem we had is that we didn't stay at a resort but at an Airbnb place, which our driver didn't know. He didn't want to take us there, so we had to call the host to come pick us up and do the 10min extra drive.
Apparently there is a way to get dropped of at our place though! So first of all: we stayed at Tanoshi Glamping, which is a fantastic glamping accomodation located about 15 minutes from Khao Sok village and 45 minutes or so from the National Park. You'll find Tanoshi on the road from Surat Thani to Khao Sok, before the bus station, which is why you should ask the driver to drop you off there BEFORE you get to the bus station! Tell him to drop you at 99 Coffee, or "the coffee place" — apparently all drivers know what it is. "The coffee place" is the coffee and brunch bar owned by Nod, Tanoshi's Airbnb host!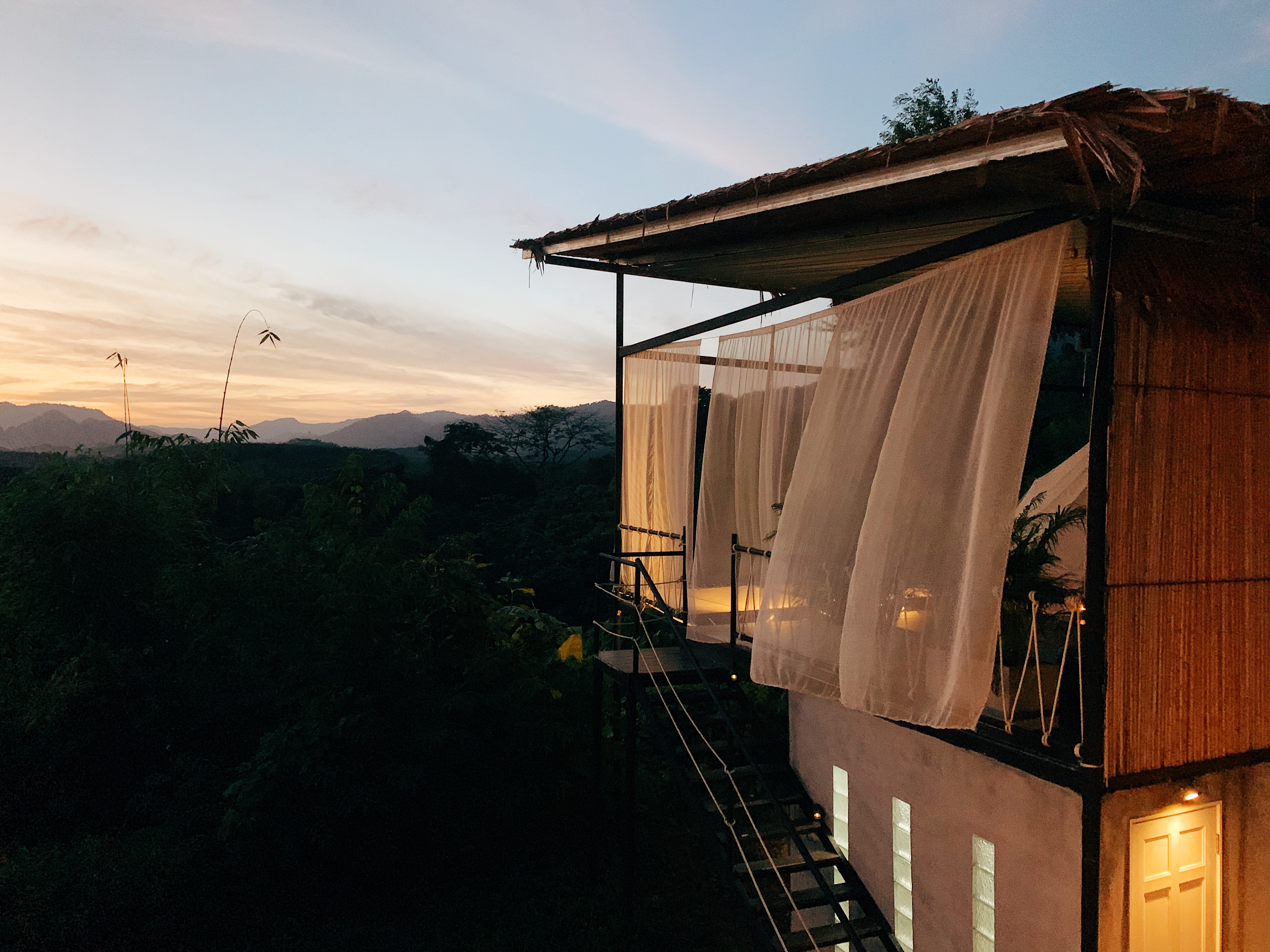 The glamping spot is located right next to the bar and the road, but in a super private way. Except from some road sounds, you feel like you're in the middle of the jungle. Which is actually the case. The jungle views are INSANE, especially during sunset! The glamping tent is set up on a big platform with extra roof and beautiful curtains, which means that you have a super big private terrace overlooking nature. The tent itself has comfortable beds, airconditioning, clean towels every day and even stuff like a big mirror and a hairdryer etc. Also, waking up to the sounds of monkeys isn't the worst thing in the world.
Nod provided us with room service (!) throughout the day and evening and offers free breakfast at his coffee place nextdoors. The only 'downside' of Tanoshi is that it's located quite far from the village and that taxis are pretty expensive in this area. Nod however offered his own taxi service as well.
Anyway, this place was a dream! Should I maybe do an extra blogpost about this unique piece of heaven?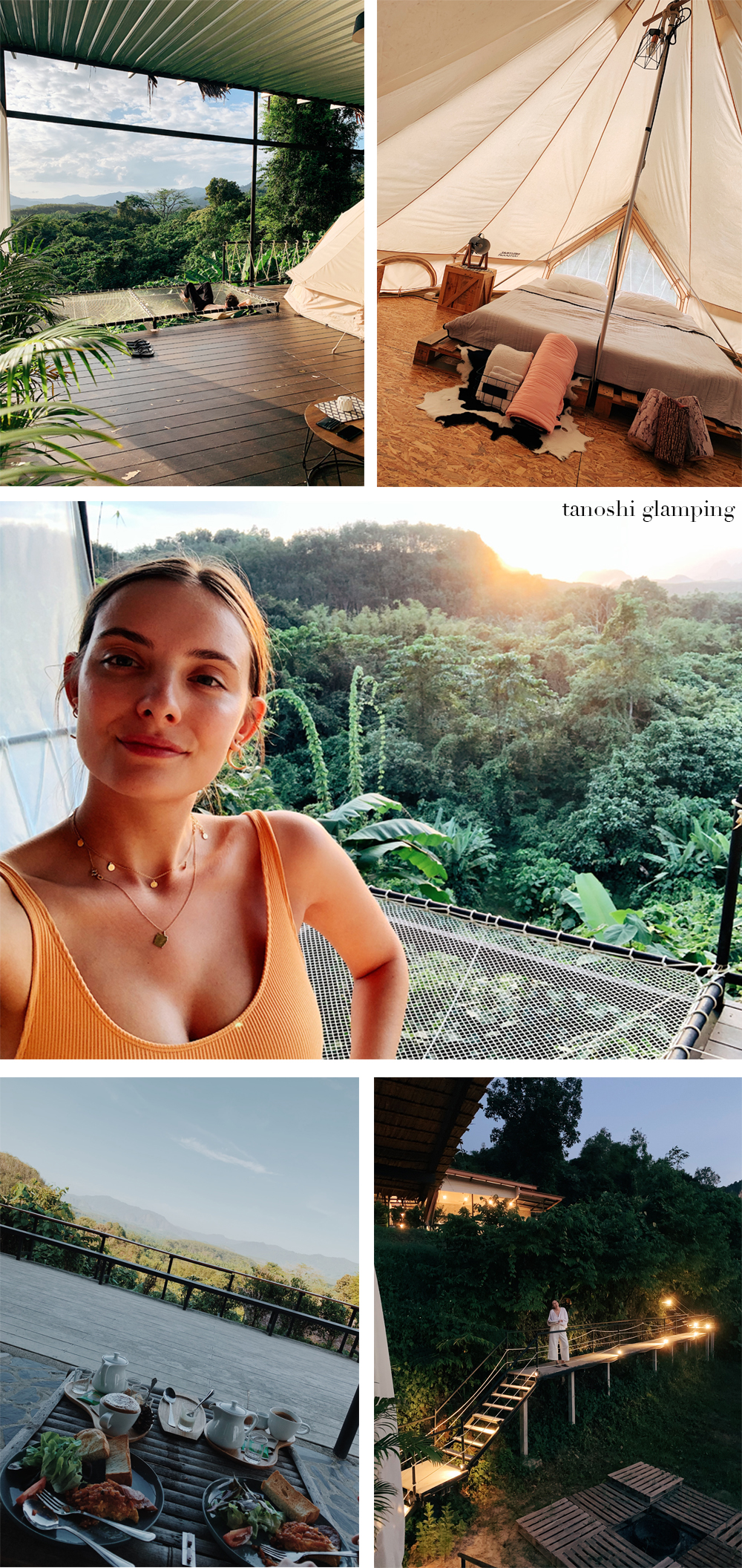 DAY 11: Krabi
On day 11 we were supposed to head to the island of Koh Lanta in the South of Thailand, but we didn't feel like traveling a full day. We decided on a quick "layover" in Krabi to be able to relax a bit! Initally we wanted to book two seats in a shared van, but the only direct one leaves Khao Sok at 8 in the morning every day, and we REALLY wanted to still spend the morning and noon at our amazing glamping tent. There's a second shared van leaving at 12, but it stops in so many villages that it takes about 6 hours (!) to get to Krabi.
We decided on the most expensive option this time: a private taxi. It cost us around 1200 Baht for the 2 hour drive to Krabi. The big plus here is that we got dropped off at our hotel, whereas if you take the shared van, you still have to find another ride from the drop off point to your hotel. Nod booked our taxi, and you can easily book a seat in the shared vans at several places in the village of Khao Sok yourself.
So, Krabi! This is a place that many people use to transfer to the islands, including us. We wanted a hotel that had a pool to spend the afternoon in, and that was located close to the pier to take the ferry the next day. We decided on Dee Andaman, a bit of an old and traditional hotel that is however absolutely fine to stay for one night. The pool was super quiet and the food was definitely okay too. The hotel offers a free shuttle every hour to go to Krabi Town, which was very convenient go to the night market and restaurants nearby.
The next morning we asked the reception to call us a taxi to head for the pier, which was a short 15 minute drive. Again, only fixed taxi fees here apparently!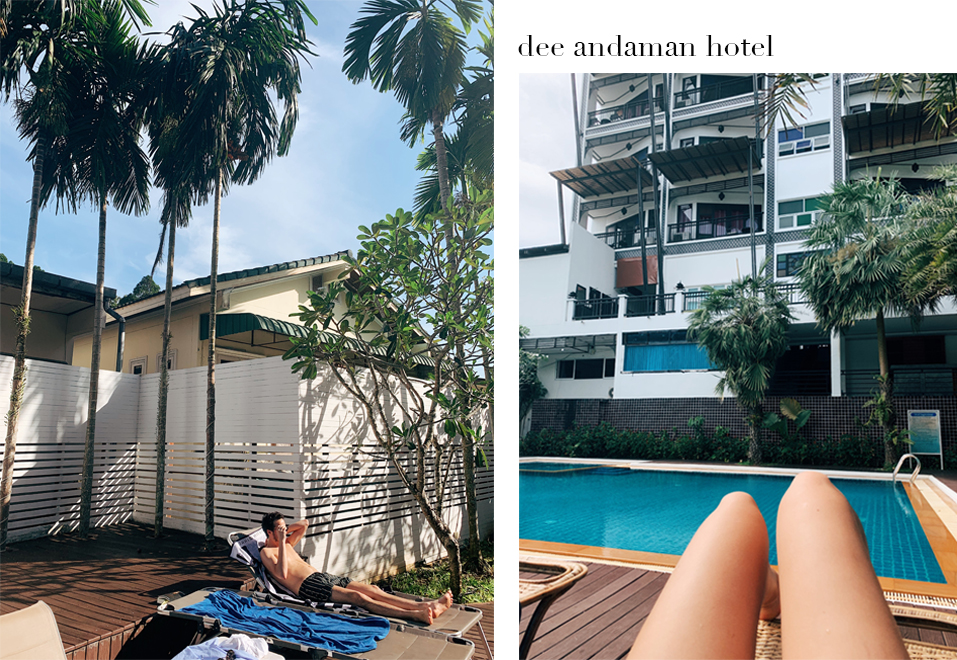 DAY 12 – 13 – 14: Koh Lanta
And just like that we were heading for our last destination of the journey: Koh Lanta! We had booked the ferry of 9 in the morning in advance, which I was quite happy about as it turned out to be a rather small speed boat. So if you want the quick boat ride instead of a slower one, it's probably safer to get your tickets beforehand. It took about 1,5 hours to go from Krabi to Koh Lanta by boat. You can take a shared van as well, which apparently takes about 3 hours. A slower but cheaper option for those traveling on a tight budget.
Out of all of the Thai islands, we opted for Koh Lanta because it's super laidback and is far less croweded than other islands. There are no party beaches or big resorts, resulting in a lovely local and relaxed vibe. I know most people hop between islands during their travels in Thailand, but since we only had a couple of days to spend here, we figured we'd better get the most out of one island instead.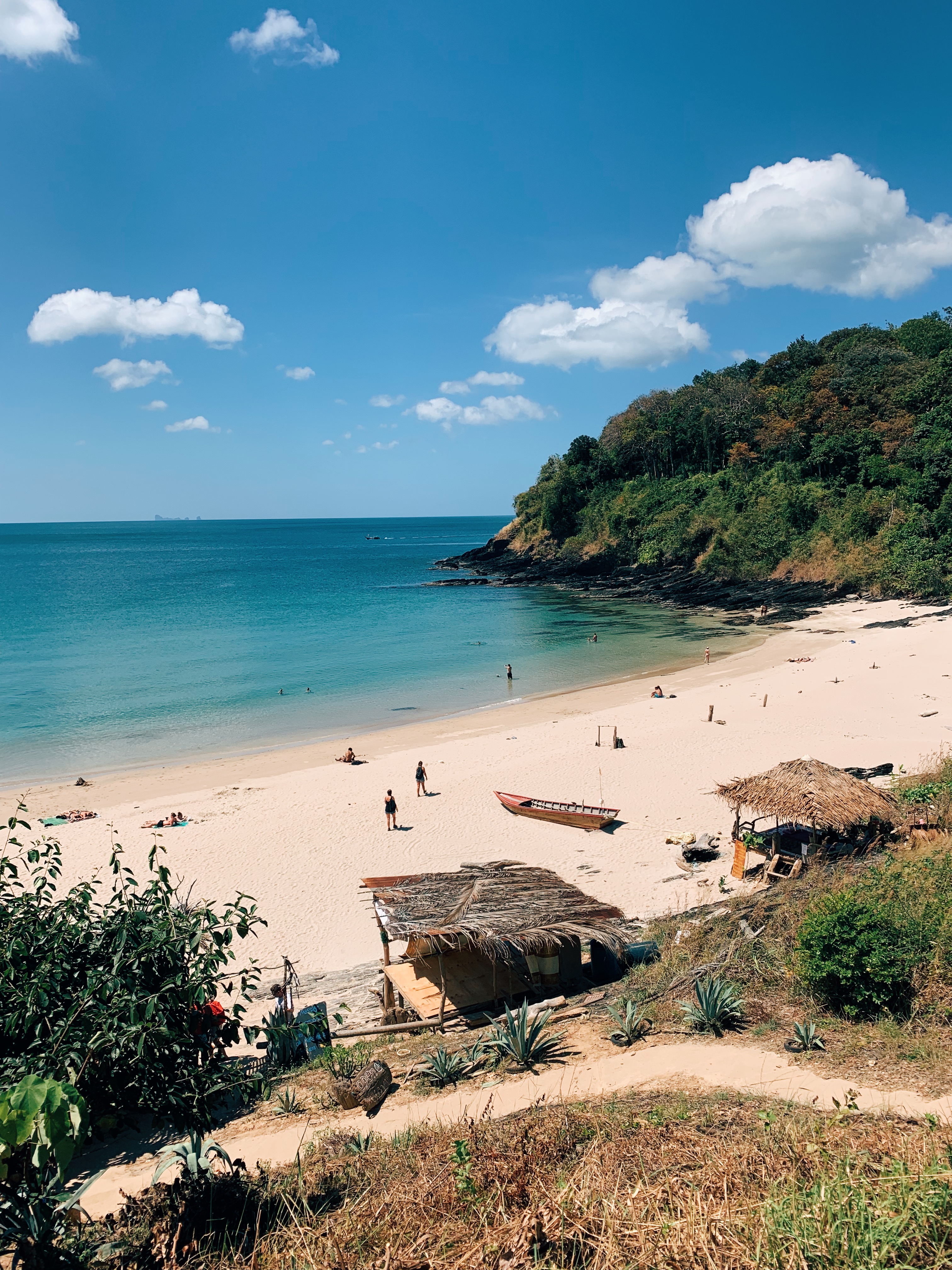 Upon arrival we were met by a swarm of taxi drivers holding a price list for the different places and beaches all around Koh Lanta. Our Airbnb house was located at Old Town, which was quite far and expensive to drive to according to the price list of these guys, somewhat around 900 Baht. We managed to lower the price a bit to 800 Baht, which is still crazy expensive for Thailand but oooooh welllll.
We stayed at an INSANE private Airbnb house with infinity pool overviewing the sea. Find the link to the house here! In short, Koh Lanta Old Town is full of old fisherman's houses that are built next to each other on poles on the water. The house we stayed at was a modern, renovated one with two spacious bedrooms, all kitchen supplies, a large sun terrace and an infinity pool with breathtaking seaviews. The cool thing is that the neighbours are locals, and that only a few of the fisherman's houses are being used for tourism.
The only thing that we thought to be a bit of a shame is that there's no supermarket or marketplace nearby, so we weren't able to use the kitchen and have dinner on our terrace! There's a tiny 7 Eleven nearby, but they only carry prefab stuff, so no fresh vegetables or fish. The Sunday market in Koh Lanta old town offers plenty of veggies and fruits, but again no meat or fish. Apparently this has to do with the Thai culture where people almost never eat at home! Anyway, in the end we did get a takeaway pizza to enjoy the evening views on our terrace 🙂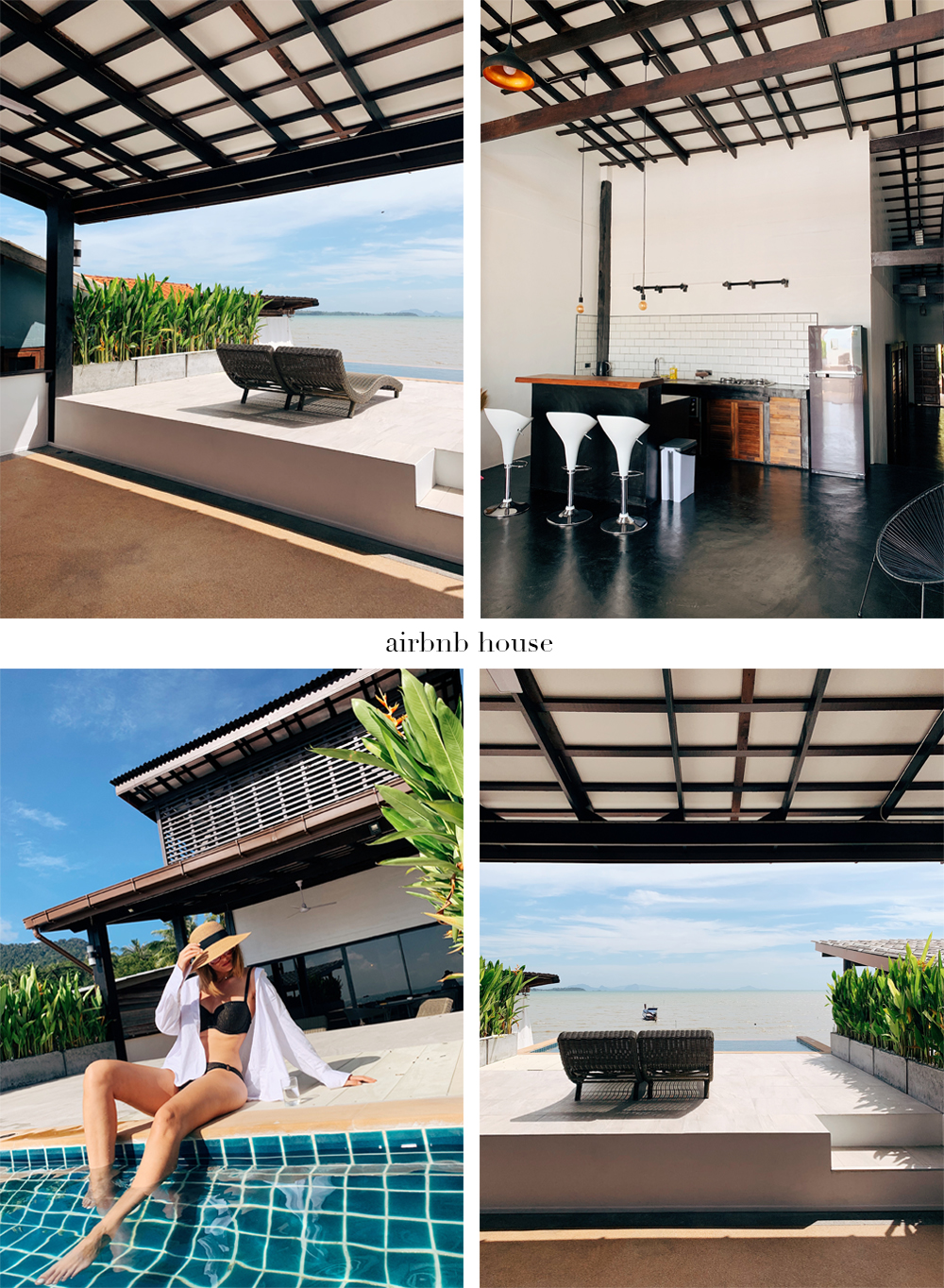 One of the hosts kindly welcomed us at the house and arranged us brand new motorbikes from a local nearby. The cost was 300 Baht per day I think and gasoline is very cheap! Renting a motorbike on Koh Lanta is a MUST, as I haven't noticed any buses driving around and taxis are pretty expensive as said before.
Luckily cruising through Koh Lanta is super nice: there's only a few roads and most of them have great views on nature and the seaside. The roads are very quiet, but there's no lights in the evening so be careful. Our host had warned us for lots of dust and sand in the air, resulting in many of her guests leaving with an annoying cough, so we drove around like bank robbers most of the time.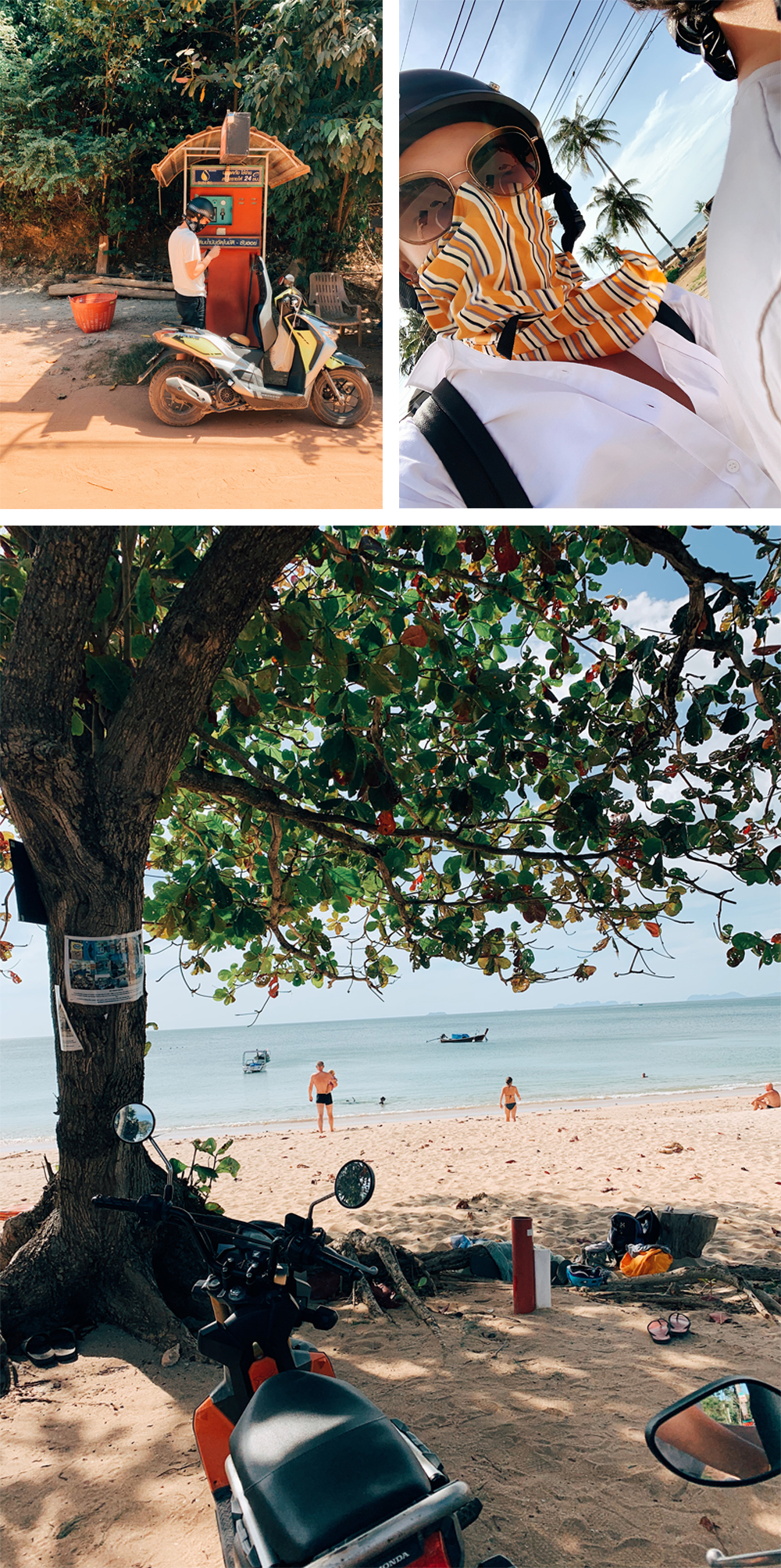 DAY 15: travel
Ah, the last morning of your holidays is always sad 🙁 We packed up and headed home, and our journey back home was a particularly long one. We left Koh Lanta on Monday at 8 in the morning and arrived in Brussels at 7 in the morning on Tuesday. Fewww! Our Airbnb host was so kind to arrange us a taxi to the pier, which cost us about 500 Baht — what a difference with the 800 Baht we paid the first time, eh?
We hopped on the ferry to Phuket and grabbed another taxi there to head to Phuket airport. You can also opt for a shared van, but then you'll have to wait until 6 people have applied for the van at the taxi desk. A huge disclaimer here is that these ferries are often late and that the ride to the airport is at least one hour! Muchos importantos to calculate enough extra time for your connecting flight! Also, it might be adviseable to book a flight from Krabi instead of Phuket, as it's a shorter ferry and taxi ride from Koh Lanta. You can also take the shared van straight to Krabi airport, which I wished we did.
The flight to Bangkok was a quick one, and in Bangkok the waiting game began. We arrived way too early to check in our luggage for our evening flight, but there is a luggage point located at the 2nd floor (if I remember well) that will cost you about 60 Baht for the day. We dropped all of our stuff there and went for a last (highly overpriced) Thai massage at the airport spa. Then back to Abu Dhabi and Brussels, home.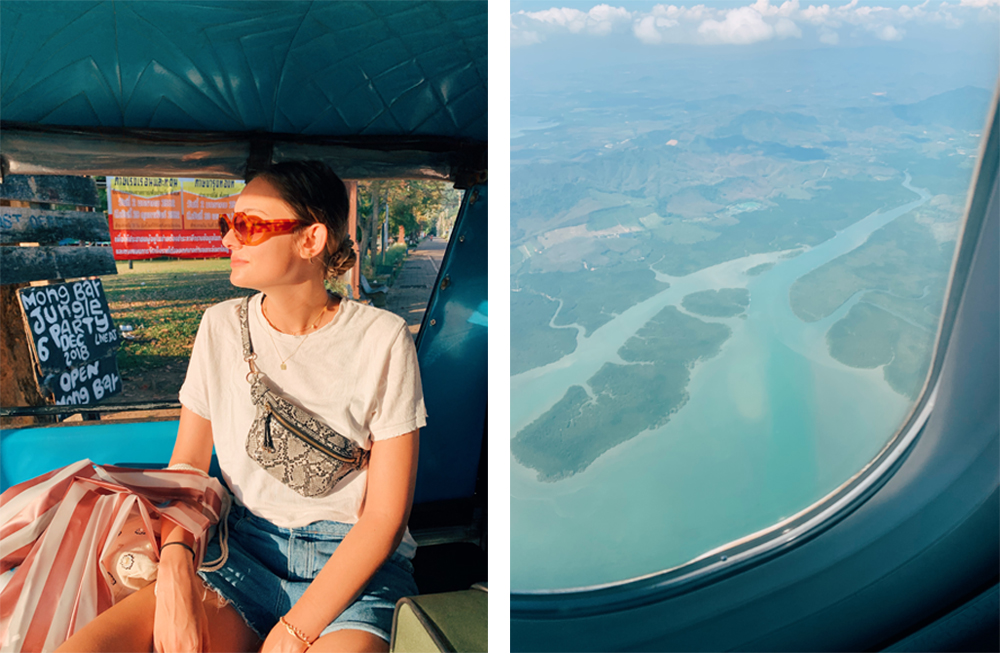 End!
That's it! An overview of our 2 week Thailand trip with our different accomodations and ways of traveling around the country! Please let me know what kind of other content you'd like to read about our holiday, so I can start working on new posts soon 🙂
Now, as promised: a list of helpful websites and apps that I used to plan our holidays with! I can recommend to download some offline maps of the cities you're heading to, before you leave of course. Secondly, get yourself a tourist SIM with free GB internet! I know it sounds a lot less romantic to travel around when you can just google stuff, but trust me: it's extremely helpful to be able to find your hotel again when all signs are written in Thai 🙂
Et voila, that's it for my first Thailand post! Hope you managed to finish the entire post — I know it's quite long 🙂 Let me know what you think, would love to hear your experiences!