And finally it's time for my third London diary! By now you know that Eurostar invited me to discover different shopping areas in London for a weekend a little while ago, and that I checked out trendy Carnaby on Friday and cozy Seven Dials on Saturday (click to see both articles!). On Sunday the boyfriend and I spent our afternoon at Hackney Walk, London's first designer outlet district!
But first, breakfast of course. Since Sunday means sleeping late, we decided to stretch those bed moments as long as possible and treated ourselves to room service! Now, I've had room service before (mostly professional and lazy reasons) but the One Aldwych took the term "breakfast in bed" to a whole new level. Table and everything! This was definitely one of the best Sunday mornings we've ever spent.

Off we went! Here's my outfit of the day: I wore Esprit suit trousers, a vintage sweatshirt that I got in London last month, my blue Topshop bag and those fantastic Asos orange sunglasses. There'll be more outfit photos of this look soon, by the way!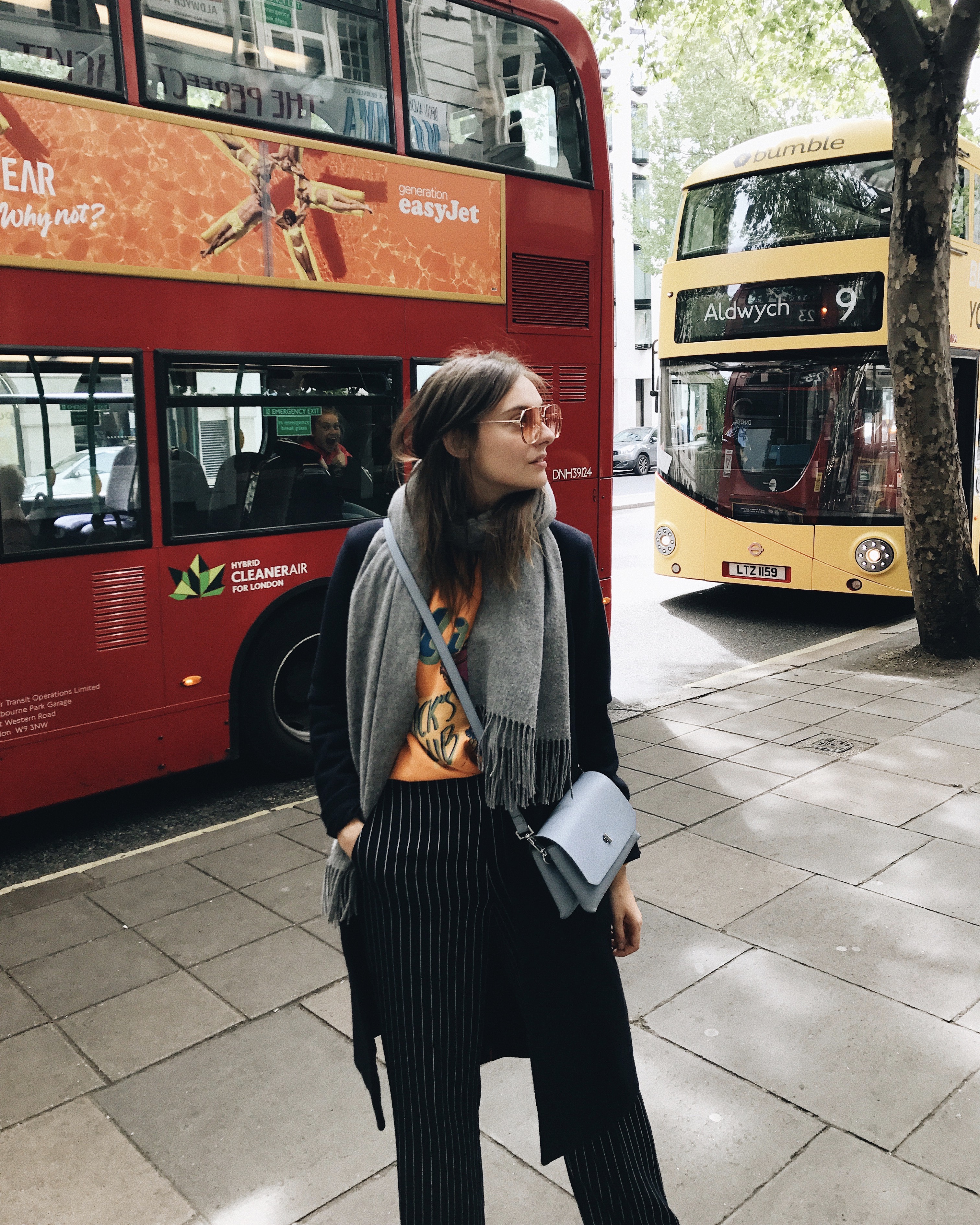 Hackney Walk is located a bit outside of London, close to Shoreditch and the famous Columbia Flower Market. We unfortunately didn't make it to the flower market because we slept late, but it's a great place to combine with Hackney Walk on a Sunday morning!
We hopped on a bus in front of our hotel that led us straight to Hackney Walk in about 45 minutes. These nerdy tourists were pretty excited to find out that we had the entire first floor for ourselves. Front row y'aaaaaaall.

Even though we had breakfast quite late, we couldn't help but heading for lunch first thing upon arrival. Becauuuuse, food. Just a few meters from Hackney Walk on Morning Lane you can find the cutest lunch and wine spot called Legs. From burrata toast with fennel to duck egg with mushrooms to french toast with berries: we had plenty of choice and everything looked darn good. Before we headed shopping, we also quickly snacked on a delicious piece of apple pastry and coffee!

I see faces 🙂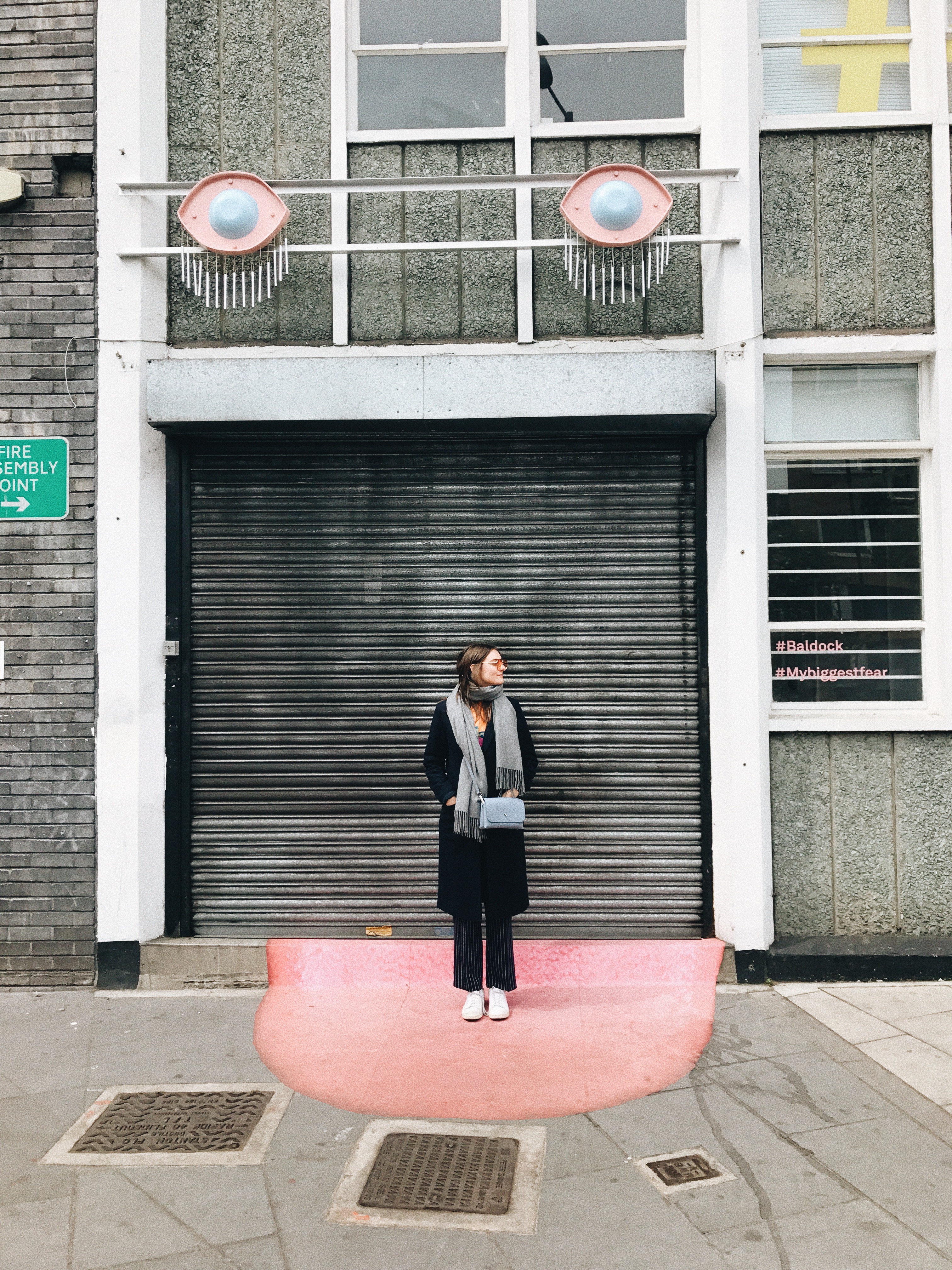 Off to Hackney Walk then! London's first luxury outlet and a major urban development is re-energising an area that has been linked to the fashion industry for years. A few already existing premium outlet stores (Anya Hindmarsh, Burberry, Pringle Of Scotland etc) have recently been joined by a brand new cluster of shops formed underneath formerly unused railway arches.
Brands you'll find there are Joseph, MATCHESFASHION.COM, Zadig & Voltaire, BLK DNM, Wolsey, Nike, Gieves & Hawkes and more. And all retailers offer prices up to -70% off!
Say no more. I spotted amazing Zadig & Voltaire cowboy boots, a fab orange Stella McCartney maxi dress, beautiful Joseph wool camel coats, an iconic BLK DNM leather jacket and elegantly embellished Miu Miu mules at a fraction of their original price!
And of course I did some actual shopping too… Who's up for a shopping haul soon to see my purchases?

But soon home called, and we headed back towards the centre of London to pick up our stuff (hello boyfriend's new vintage guitar) and get our asses over to St. Pancras International.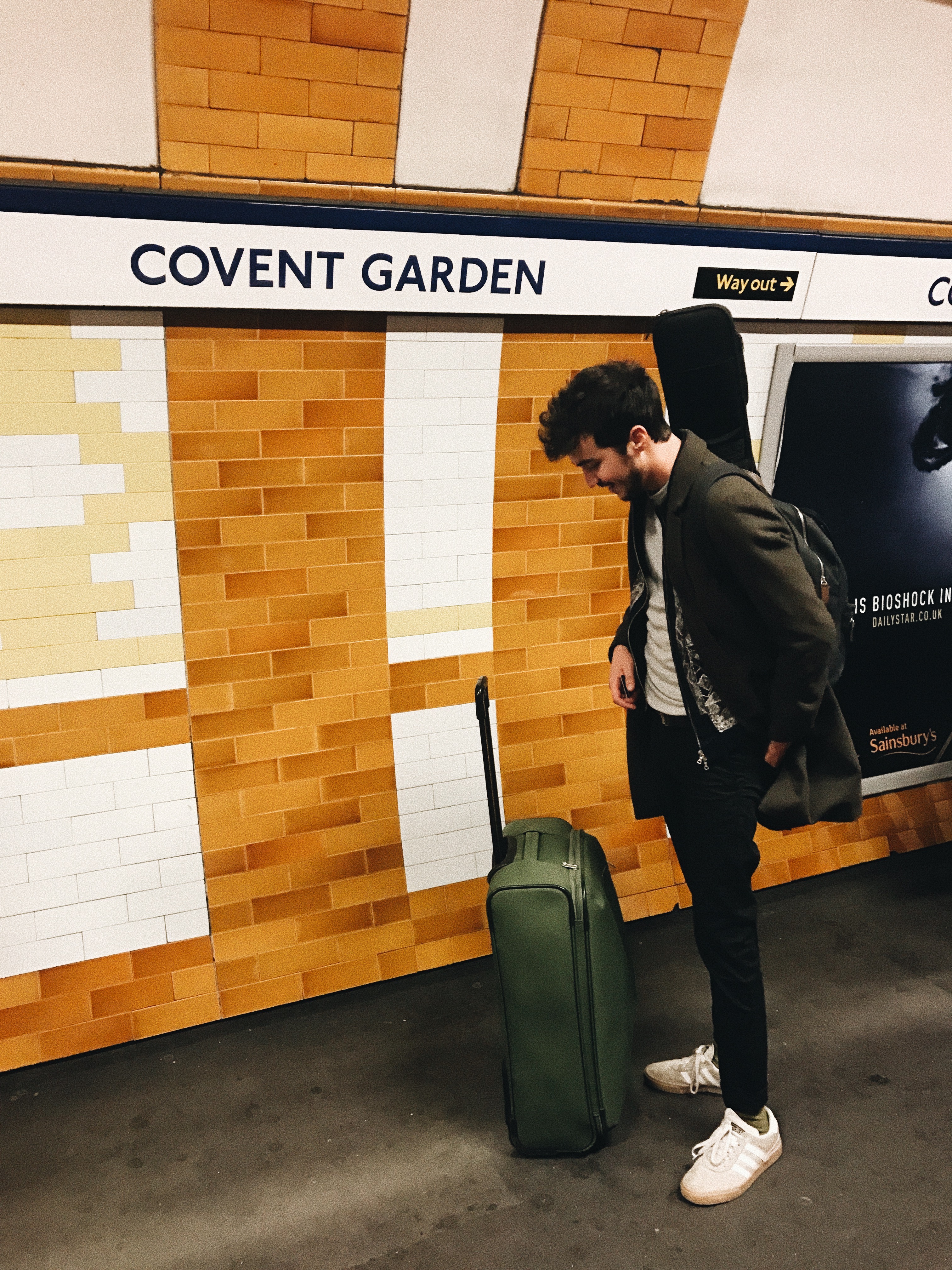 We were a bit early and lucky to spend some extra relaxing time at the Eurostar Business Premier lounge. At 17h55 we hopped on our train (sad-faced) and settled ourselves for a smooth 2h ride home.

That was our last day in London! I hope you found my dining tips useful and I totally hope that I inspired you to go and explore a few other shopping areas in the UK Capital! 🙂 If you're looking for more, read my London diary day 1 and day 2 here. Have a great Sunday, you guys!
With special thanks to Eurostar & Sister PR!