After sharing my first experience from our motorhome trip through Denmark and the beautiful white cliffs of Møn in this post, it's now time to elaborate on our second destination: Copenhagen! Although I'm a huge fan of Scandi cities (Stockholm and Oslo: check) I had never made it to the Danish capital before. The city turned out the perfect variation after our relaxing camping days at the peninsula of Møn.
Read along for my Copenhagen tips and experiences!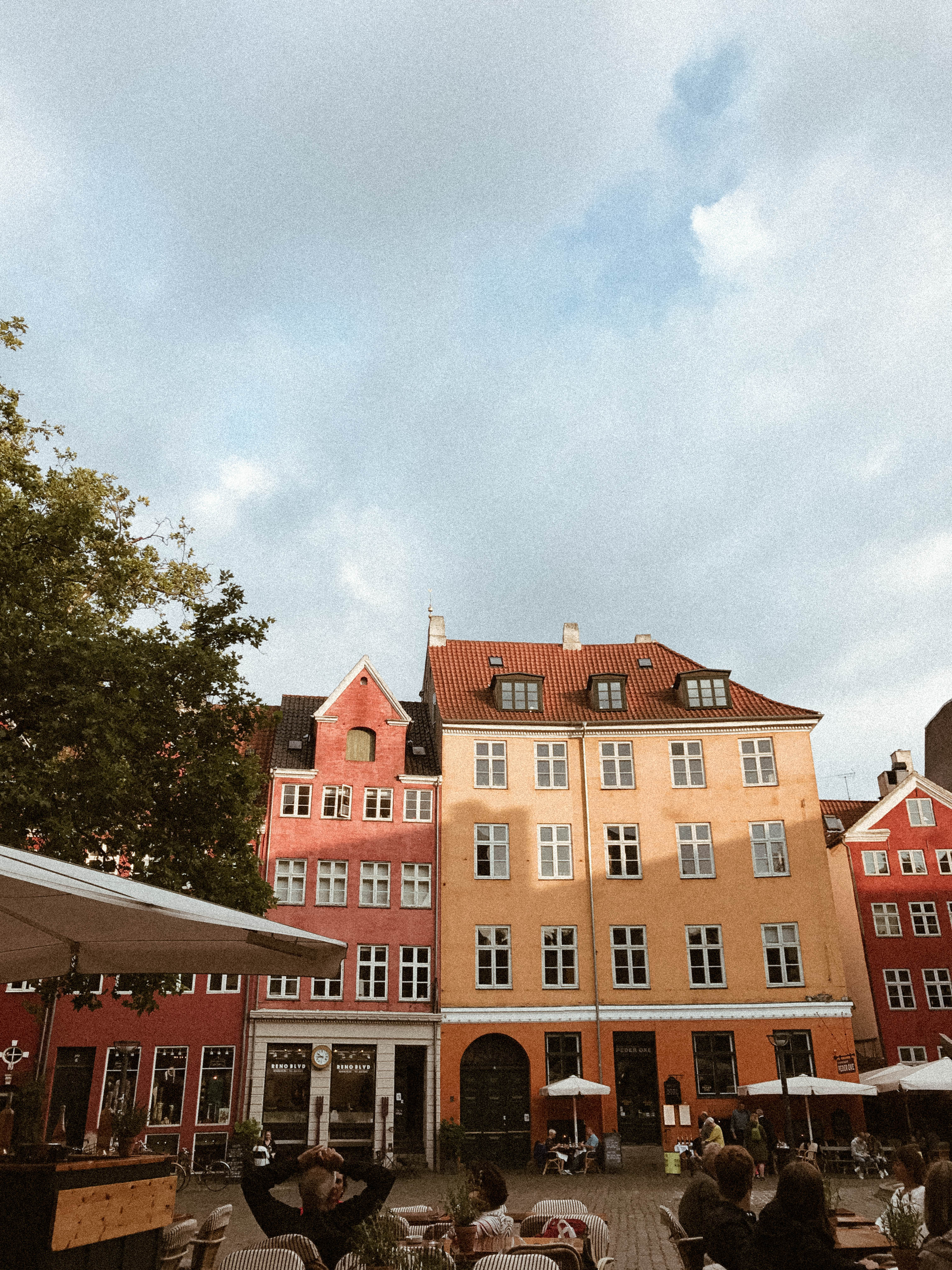 Our stay
First of all, where did we park our camper?! Since we only had 1 or 2 days to spend in Copenhagen, we didn't feel like booking a camping outside of the city. A quick Google search learned us that there's a City Camp located right in the centre of Copenhagen!
The place is basically a secured parking space dedicated to campers that provides electricity, water facilities and even showers. Make sure to settle your booking in advance because this place gets pretty crowdy! Payment is cash only.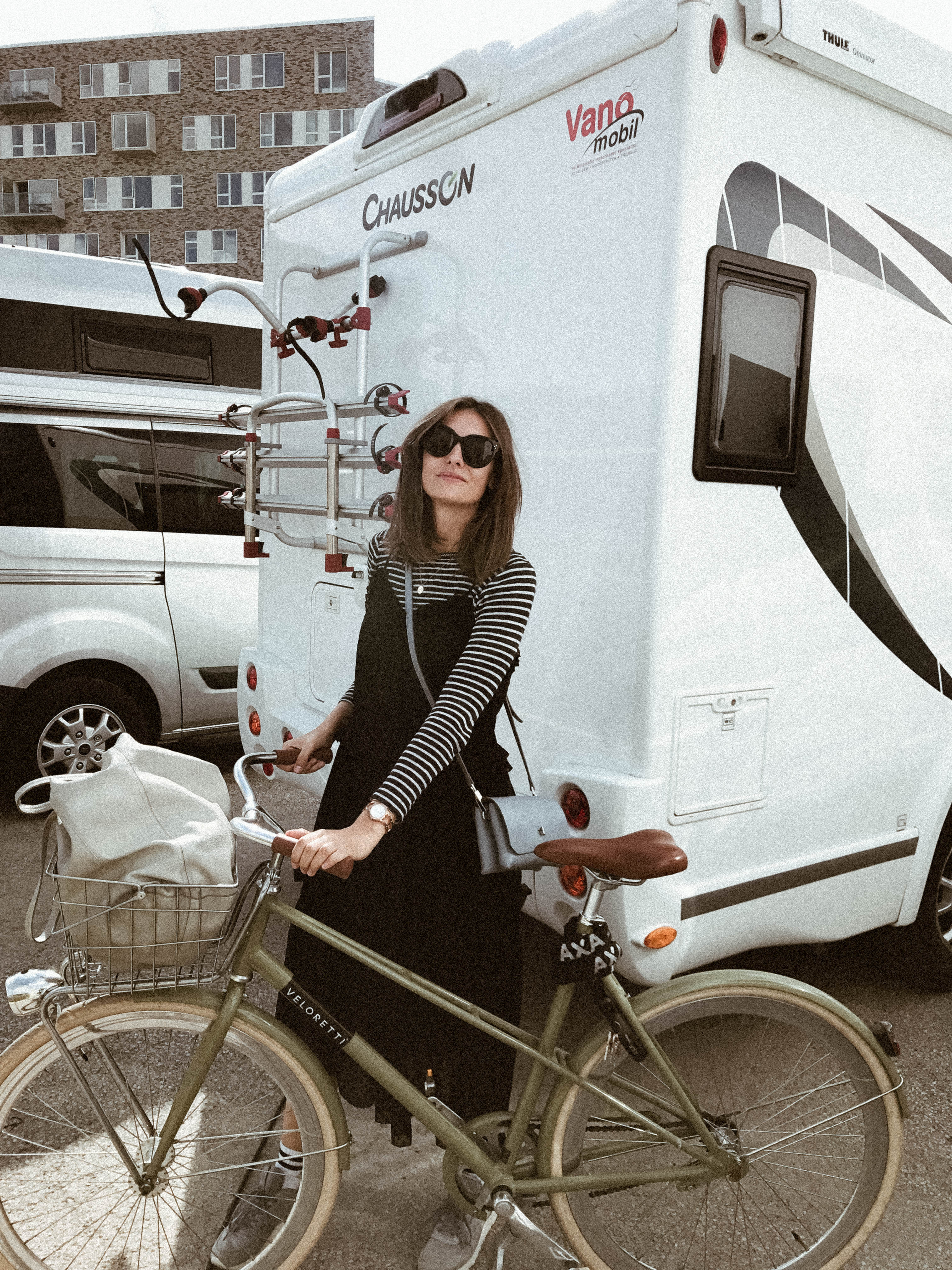 By bike
Yes! As you can see, we brought our bikes! This was one of the main reasons that we opted to stay at City Camp too: the most important squares and must-sees in Copenhagen are a 20 minute bike ride away from the camping site, AND you can take a bike boat! Boat bike? Dunno.
This city is a fantastic place for biking, plus you immediately feel like a local when cruising your own bicycle instead of a rented one! Highly recommended.

Food!
Copenhagen turned out not so much a city for visiting stuff, but more like a city for strolling and experiencing. One of the most important elements of a great experience is FOOD of course! And luckily the Danish know a thing or two about food. Here's where we indulged!
Breakfast
Our Danish friend Malene had recommended us a few yummy places to get breakfast (the city camp isn't a place to really set out your table in the morning) and Mirabelle was one of them! This bakery, coffee bar and lunch/dinner place in one serves delicious pastries, salads and even pastas in a Instagram-worthy setting. It's located a bit out of the touristy area, which meant locals only and a cozy little bike ride.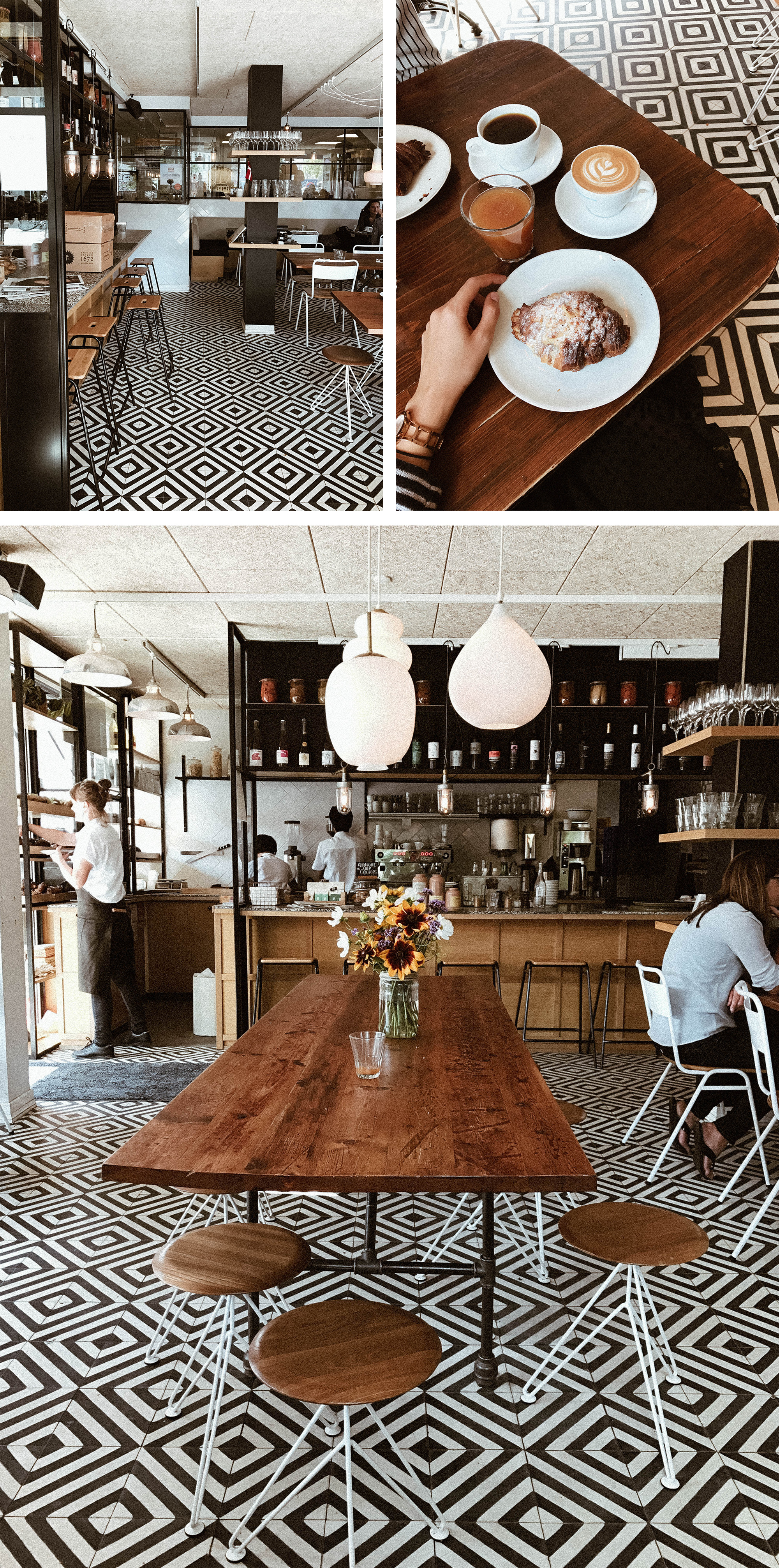 Lunch
While shopping, we randomly stopped at one of the mini outdoor terraces in the city centre, direction Vesterbro. We only had tea and a beer at Voulez Vous, but the lunch menu looked terrific! Think salads, quiche, French pizza and croque monsieurs. The interior is even 10 times more cozy than outdoors, so make sure to crash here when it's getting colder during the coming months.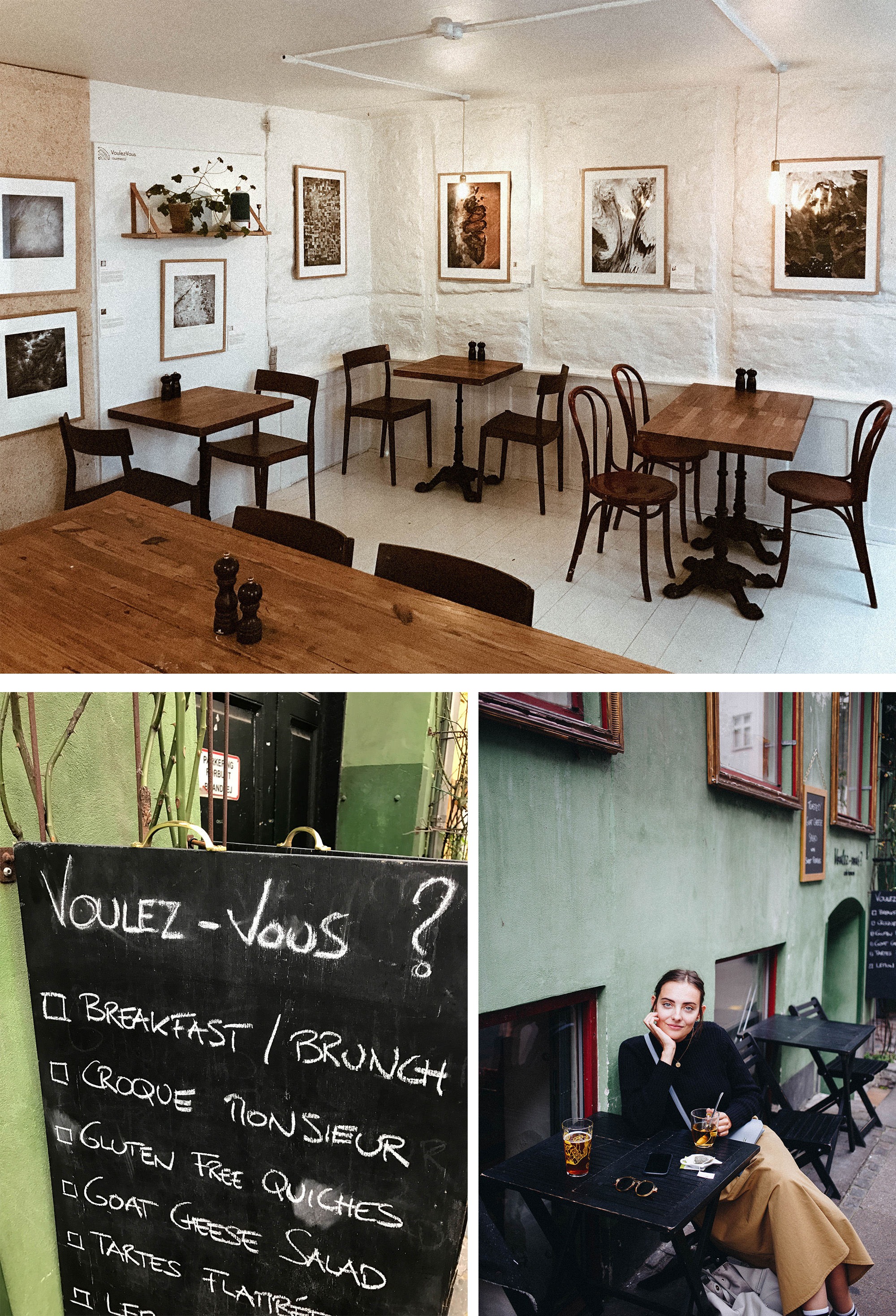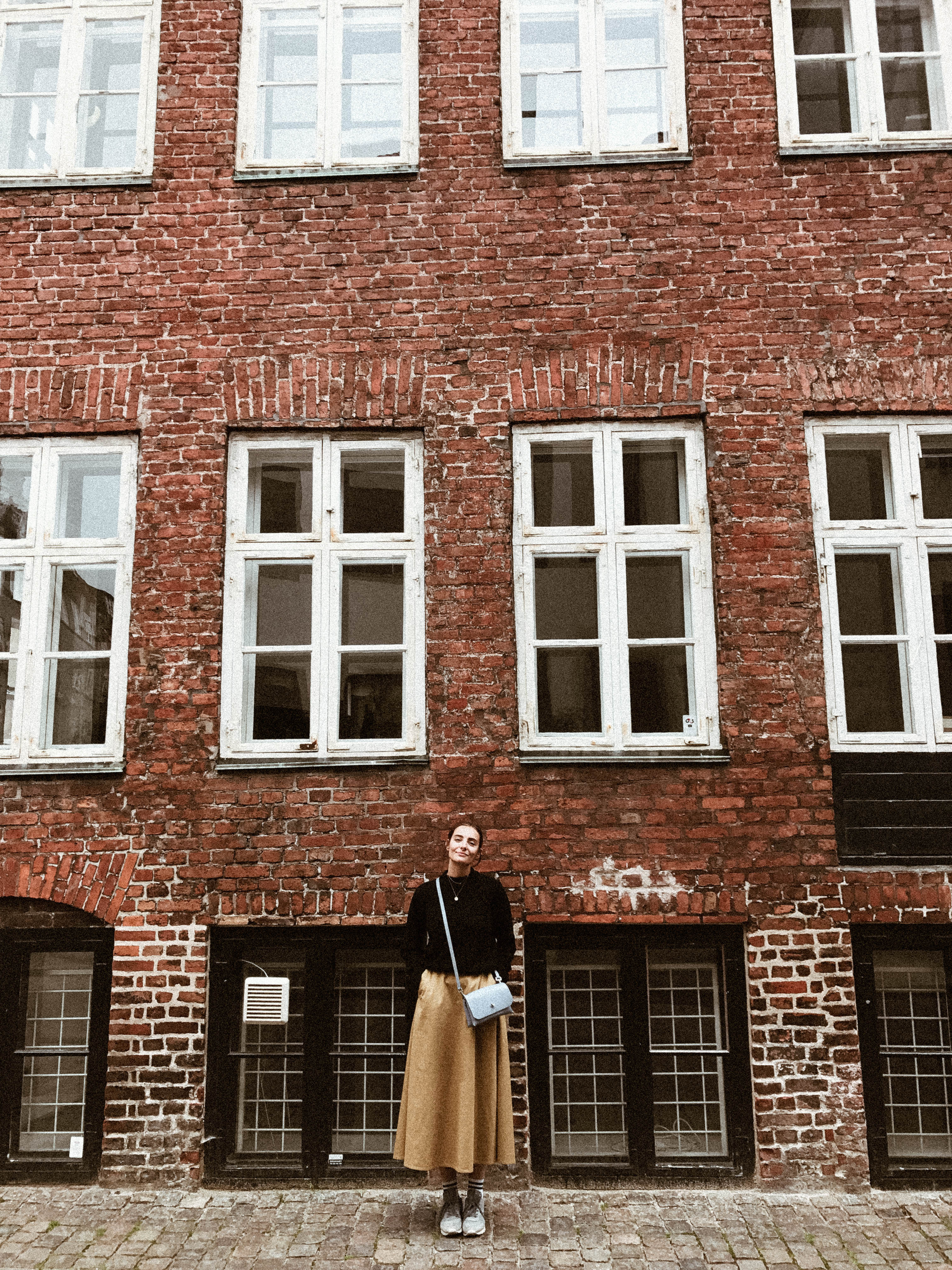 Coffee
Another tip from another local, and this one is gold! If you're looking for a unique, calm spot for coffee with locals only, go to La Banchina. This coffee spot is located near the water (quite the bike ride!) and immediately struck me as the Danish version Tinsel. Imagine how awesome this place is during Summer! We had some pretty chilly weather and still people were taking a swim at the pier. Brrrr. Great cappuccino too, most importantly 🙂

Food market
When asking for CPH tips, so many people recommended us to have lunch at Copenhagen's food market, Papirøen. This definitely showed in the amount of people (both locals and tourists) we encountered, but food markets are supposed to be super busy, right? This food market has great food options, cozy outside sitting spaces, DJ's or bands playing and your payment can be done both in cash and by card.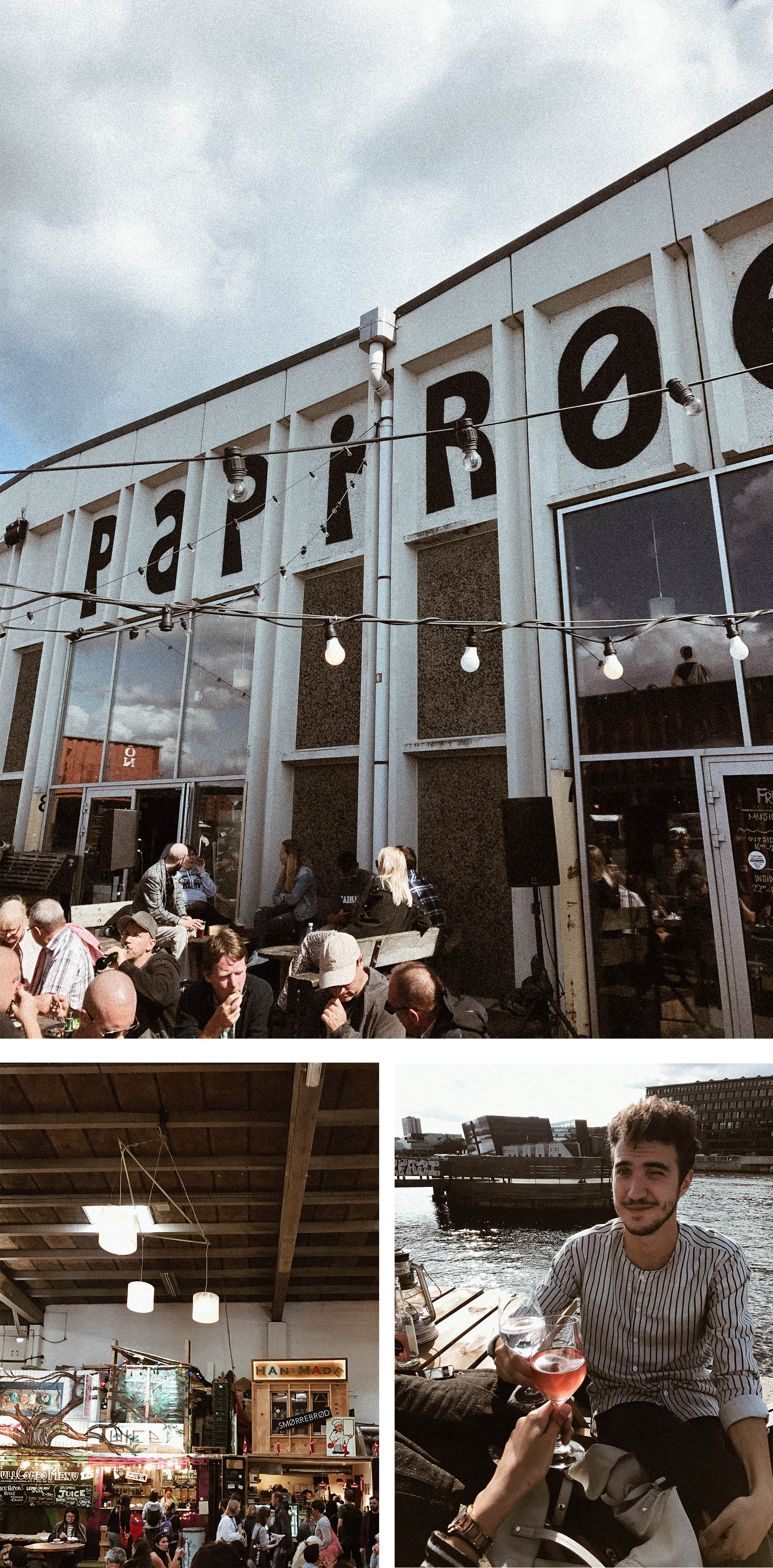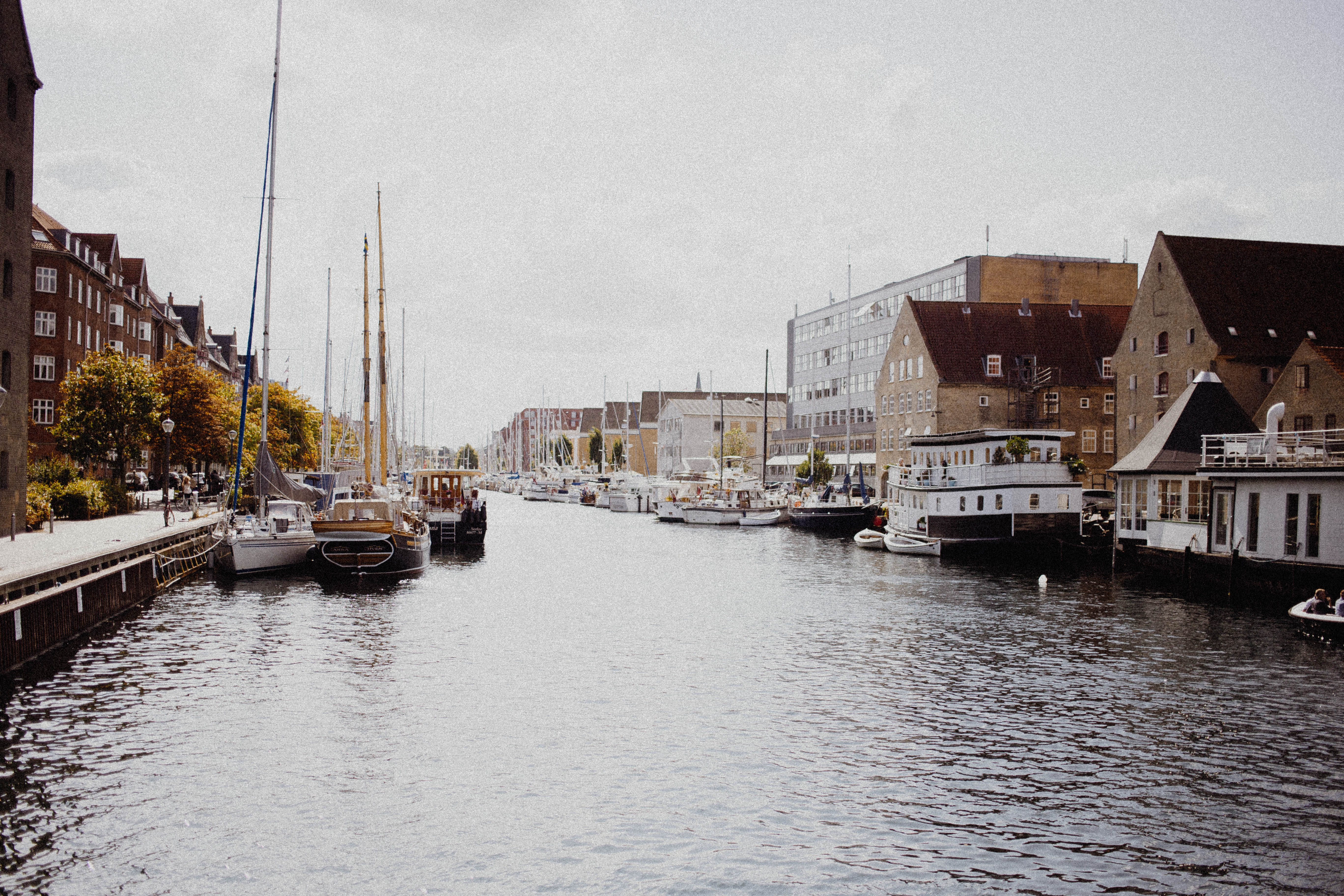 Birthday dinner
So this is a pretty funny story. Since we celebrated my 26th birthday in Denmark, the boyfriend wanted to take me out for dinner in Copenhagen. A friend of his recommended a few restaurants, and we picked out Restaurant Bror for the deliciously looking photos and intriguing daily set (secret) menu.
After a few courses we started to realize that "the balance between comfort and innovation – in flavours and choice of ingredients" was taken pretty seriously. The restaurant isn't afraid to use unusual ingredients, and quite literally wants to let you taste an animal from nose to tail. In short, we had breaded bull's testicles with fresh tartare sauce, cow uterus toast, fried bull's foreskin (yes, those crispy dicks on the photo!), chicken hearts and more.
At first we were totally unaware of attending an intestine fest, but had to admit that everything was damn finger-licking good. Yay!

Christiania
Freetown Christiania is now more of a tourist attraction than the self-proclaimed autonomous district it became in the 70s. However, there's still a few people living there and you can see the remnants of the anarchist community it used to be. A recommendation before visiting Christiania: watch the Netflix documentary on this freetown!
And yes it's true, you can buy several kinds of soft drugs at the plenty of little stalls right on the street, which is the most bizarre thing ever to witness. No photos allowed however, so I can't really show you lots of things!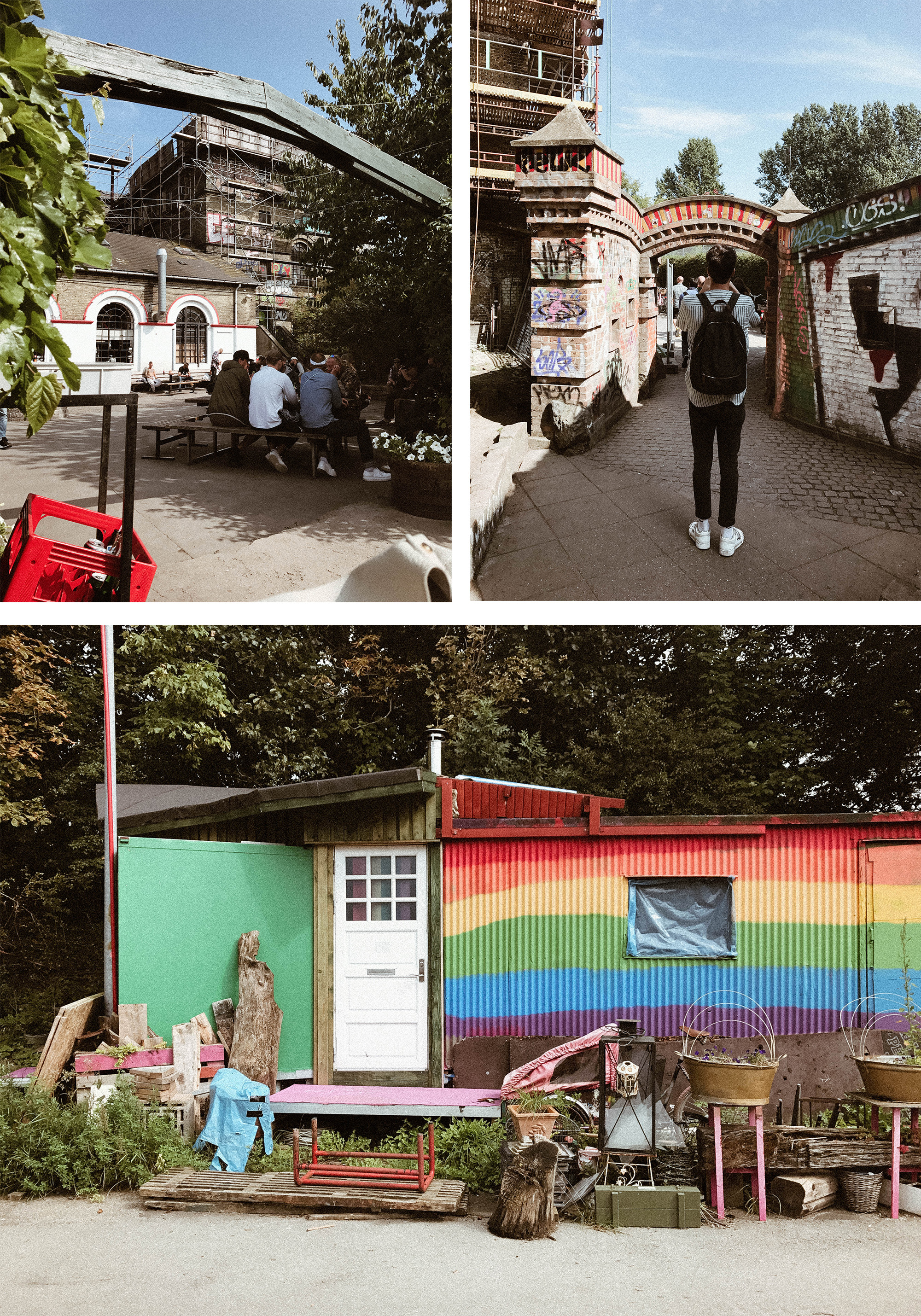 Nyhavn
So touristy, but such a must-visit. This old port is a popular destination for dinner and drinks and is most of the time extremely crowded, but also extremely cute. At this port you'll find the connection bridge to cross the water and head to Papirøen. Wander around, have a wine and pose in front of the bright coloured houses!
Shopping
We didn't do much shopping in Copenhagen, although the city is PERFECT for a good shopping spree. All my fave Scandi brands are united on the CPH streets, like Samsøe & Samsøe, VILA, Bik Bok, Selected Femme and many more.
We stumbled upon a cool vintage store Wasteland (there's an Episode and plenty other second hand shops nearby, by the way) and obviously went vintage guitar shopping at Woodstock Guitars for the boyfriend — something that is seemingly becoming a tradition on our city trips 🙂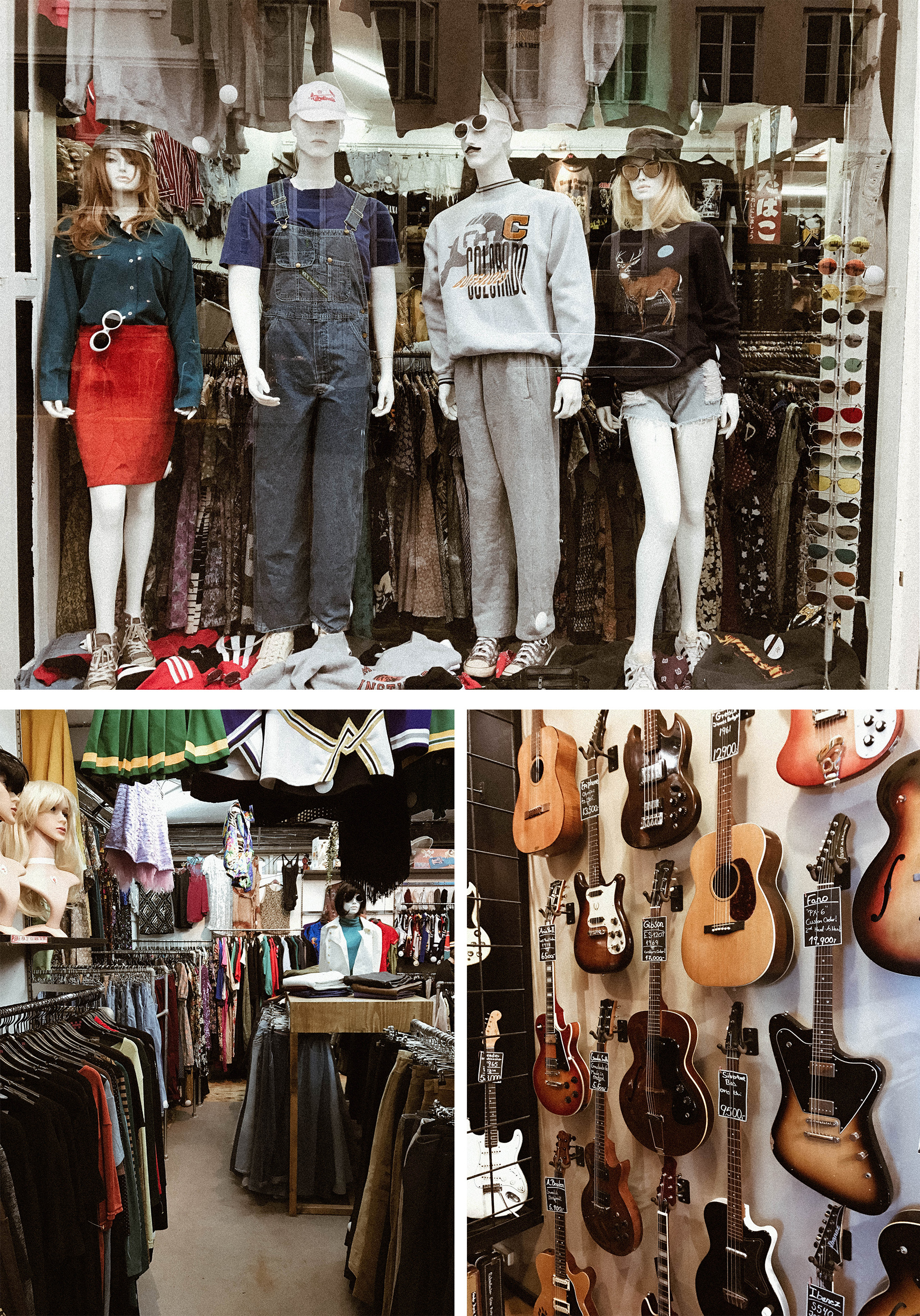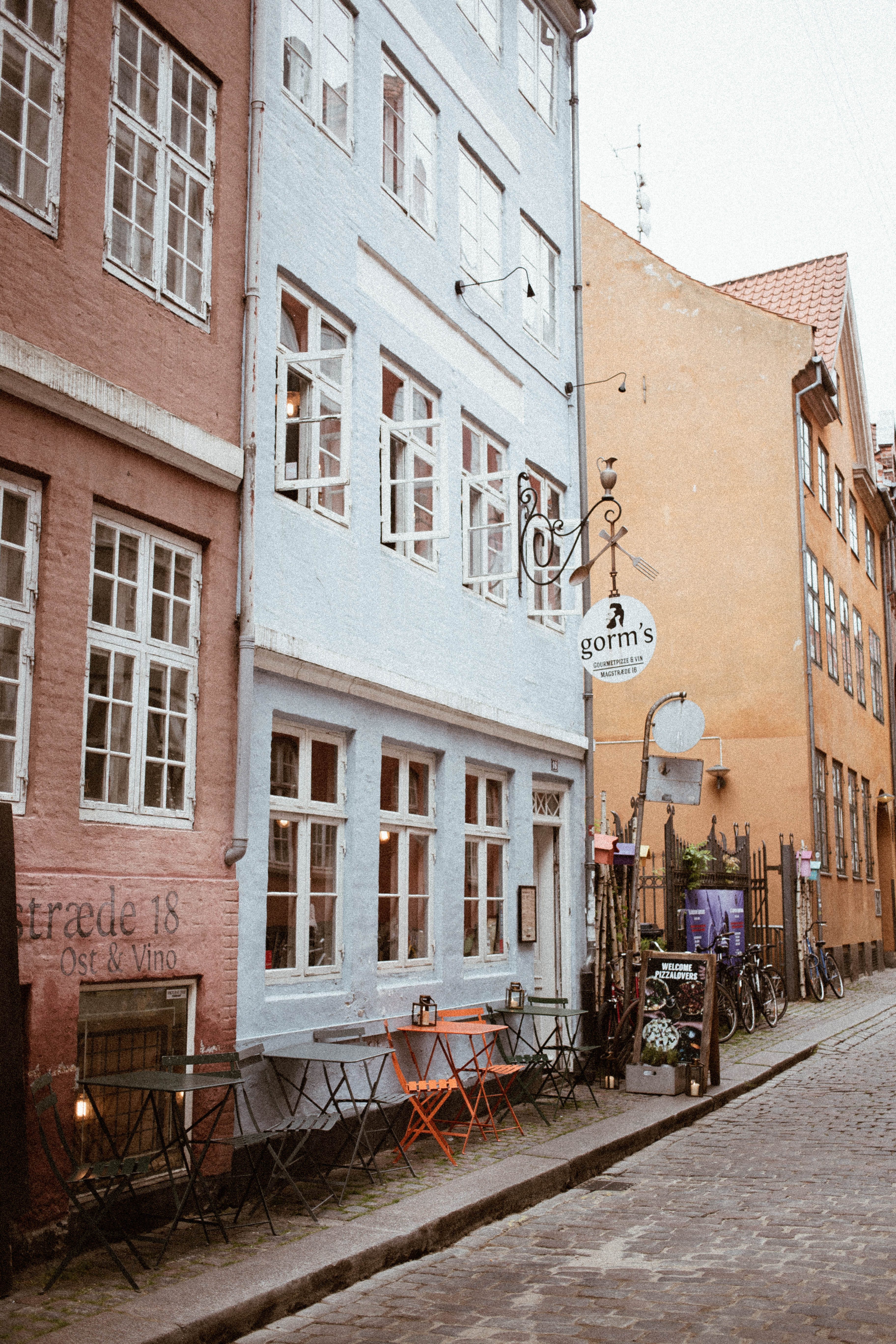 Off to Aarhus
Soooo, that was my Copenhagen report and guide! We stayed in CPH for 2 days and left around 18h for Aarhus, Denmark's second largest city and European Capital of Culture 2017. Stay tuned for my last roadtrip diary and let me know what you think! 🙂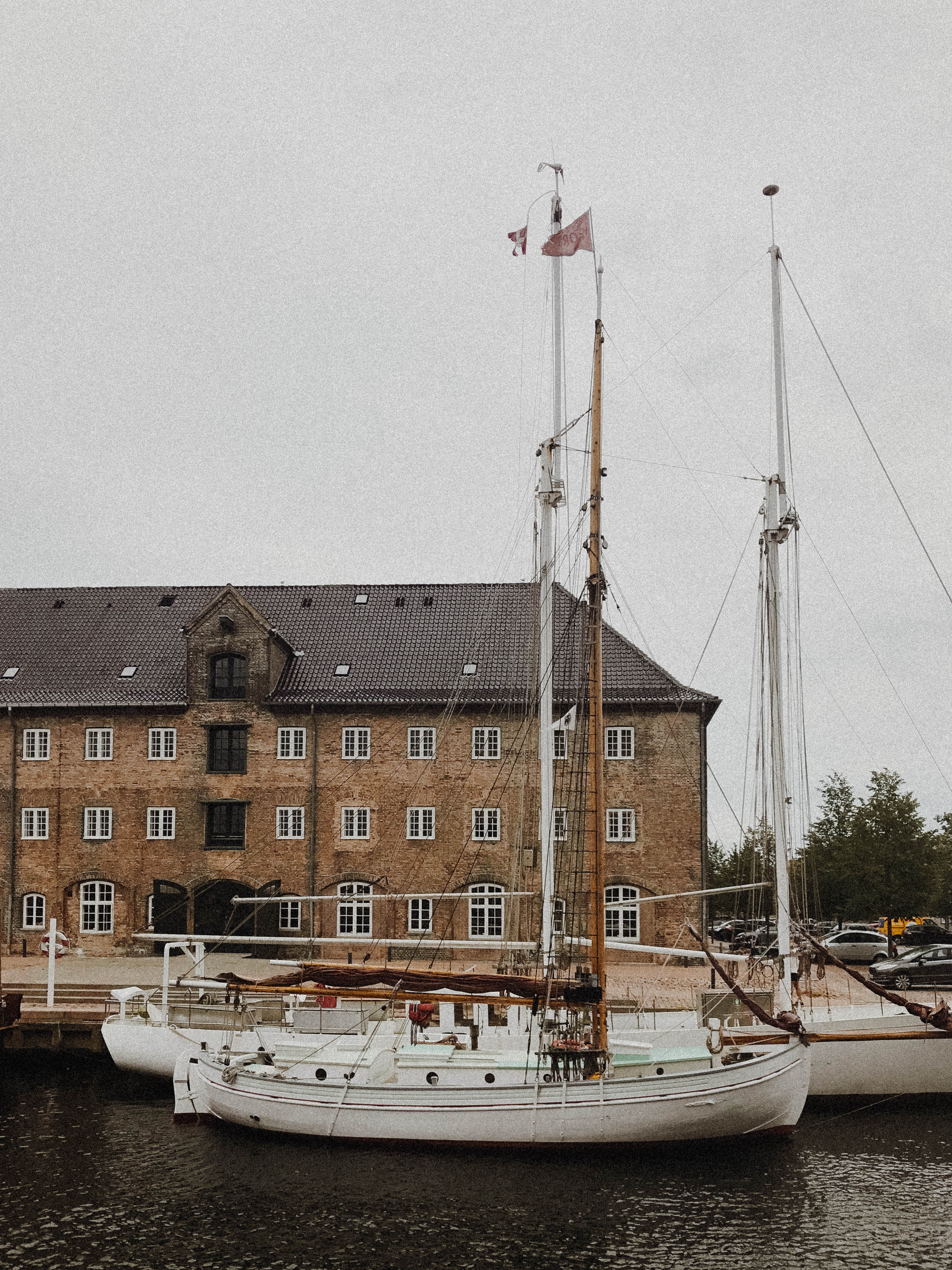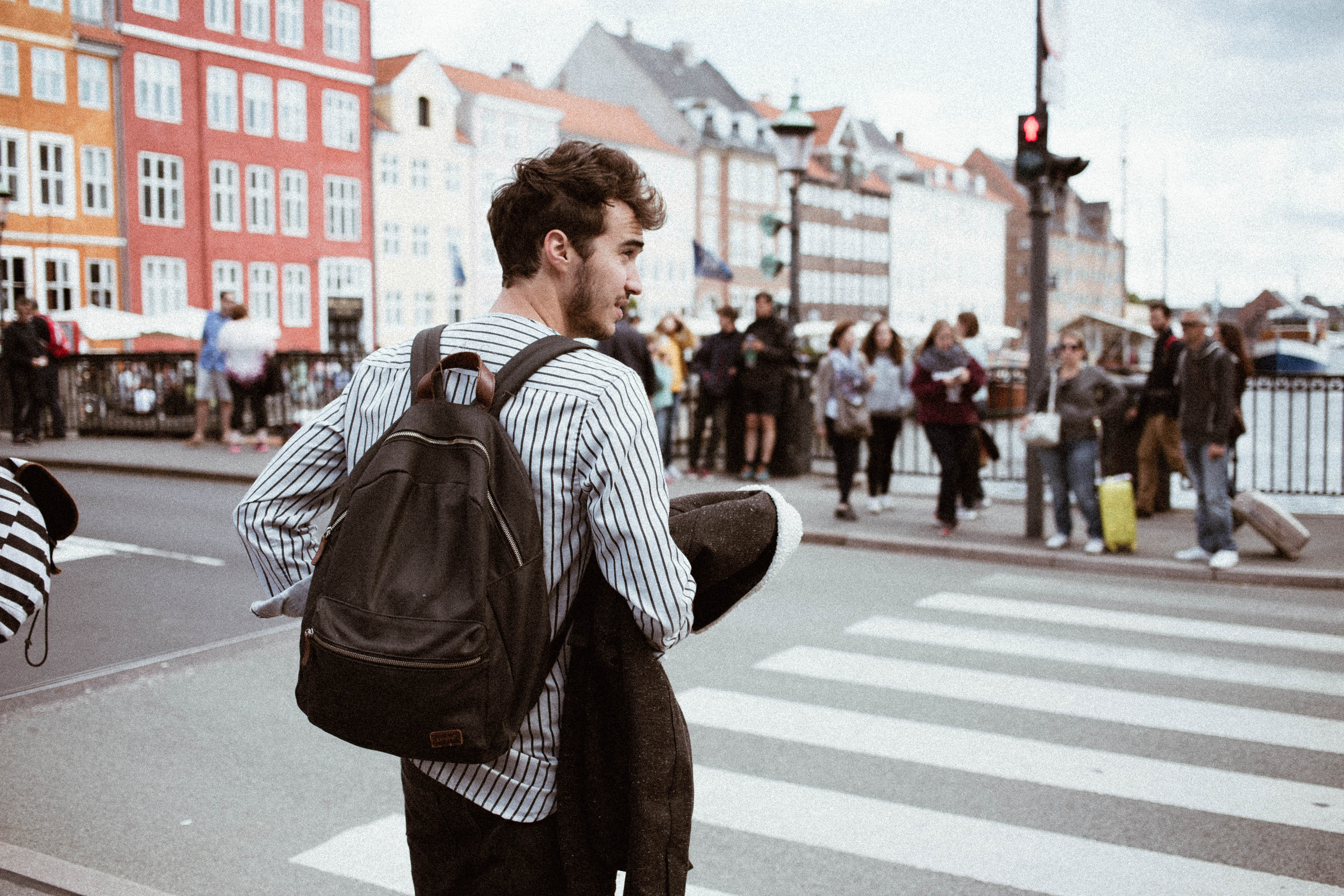 More cruising in our motorhome ♥

If you feel like roadtripping with a camper or a motorhome too, I can definitely recommend attending the Mobicar fair this weekend, from October 13-17 at Brussels Expo! Here you will find the latest camper and caravan models but also plenty of tips & tricks for the perfect camping holiday. Yay!!
Find more info & buy your tickets right here!