Hey guys! I'm extremely bummed to be writing this because I had actually planned this post for this morning around 8 but when I woke up I saw that the post had entirely vanished. So yup, after spending more than 2 hours on writing it yesterday evening I now have to start all over again, from scratch. What a jolly way to start your Sunday!
What I was trying to tell you in my initial post was that I had a pretty rough weekend: I went straight from class to the gym (we're starting week 3 of Kayla Itsines' workout schedule!) to a restaurant with friends to a club and finally to my bed at around 4AM. Yesterday morning I got up at 9 for a shoot I had planned for an exciting little project (the pics look awesome and will be up tomorrow morning, stay tuuuuuned!). 7 hours and 6 looks later I ended up on my couch with an upcoming cold, greasy take-away kebab and my favourite addiction, The Voice UK.
 How did I manage to stay fabulous throughout the day on yesterday's shoot with only a few short hours of sleep (and a couple of drinks…) the night before? Well, after guiding you through my 
favourite Estée Lauder products
 for the past few weeks, I think it is now time to share my 
I woke up like this
-secret with you.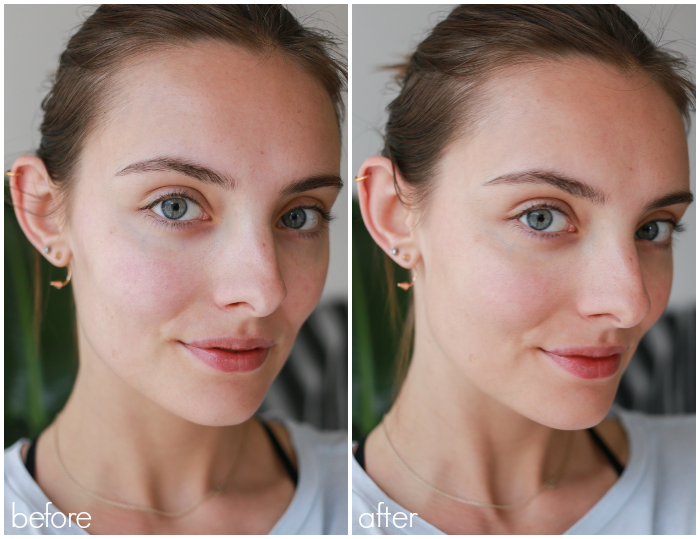 A-B-CC-cream! This is the one holy tube that I keep digging up on a daily base, guys, and in combination with the instant-fresh-glance eye balm the cream is da ultimate bomb. I had tested loads of BB-creams before but never managed to find one that was not peach (ew), brown (eww) or carrot-coloured (EWW). However, the promise of having slight coverage and full moisturisation still appealed to me, so I was happy to read about the more advanced 'whipped, light, fluffy feel and finish' CC-creams.
If you don't know the difference between BB and CC this article may come in handy! What honestly really excites me in this cream, apart from of course deep hydration, a healthy, glowy colour coverage and the protective SPF, is that you don't have to buy "your" colour anymore. The product adapts itself to your skin tone. MIND BLOWN. How about we all take the test to find out if this CC-cream is actually suitable for every skin tone? For me it definitely works… Go get a sample and be amazed.
This post was written in collaboration with Estée Lauder. See our video collab here!