Lots of you have been messaging and asking me about this post and my personal recommendations, because appartently lots of you guys are heading to Dublin too soon! So here you go, my Dublin city guide.
To be honest, the Irish capital had never really come to mind when considering city trip destinations and I have no clue why. So when Enterprise Ireland invited us to discover Dublin and some of the best fashion and lifestyle brands the country has to offer, I was like SURE YES LET'S EXPLORE THE UNKNOWN!
The boyfriend and I hopped on the plane for a 3 day journey of fashion, culture and mainly lots of fooooood. Next to the Irish labels that we discovered and the fashion show that we attended, we also got the chance to soak up some of the city life. Below you can find my personal recommendations! If you have some other favourites of your own, don't hesitate to share them so that other readers get even more tips 🙂
Let's do this!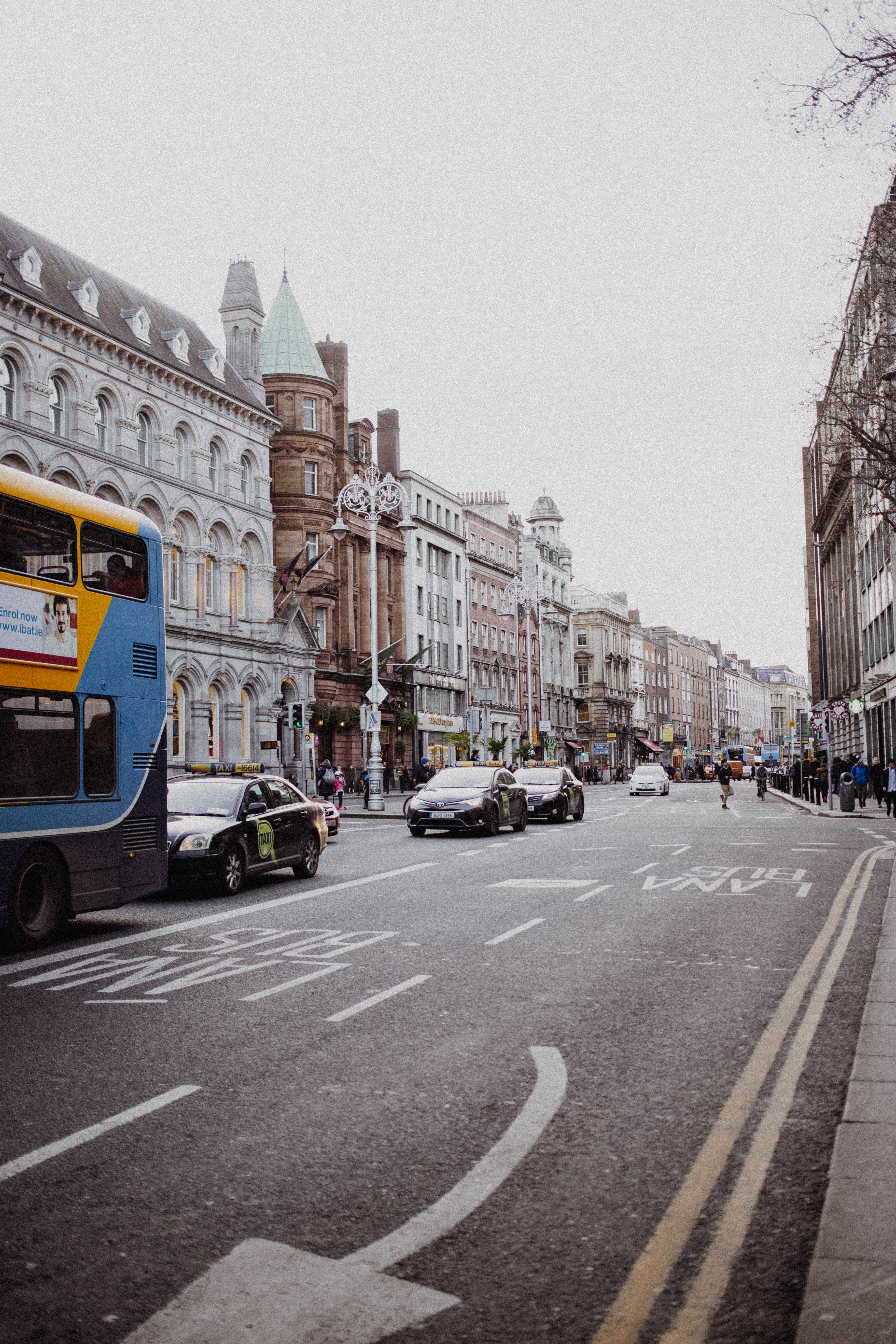 SLEEP
We stayed at the Gibson Hotel, a rather new business-focused hotel in the East side of the city. Equipped with a lovely wellness room, a huge breakfast buffet and crazy glass elevators. By taxi or metro it took about 10-15 minutes to get to the heart of the city! If you'd like a more central stay in Dublin, I heard that The Dean hotel is pretty amazing!
GO THERE / Gibson Hotel, Eastpoint St, North Dock, Dublin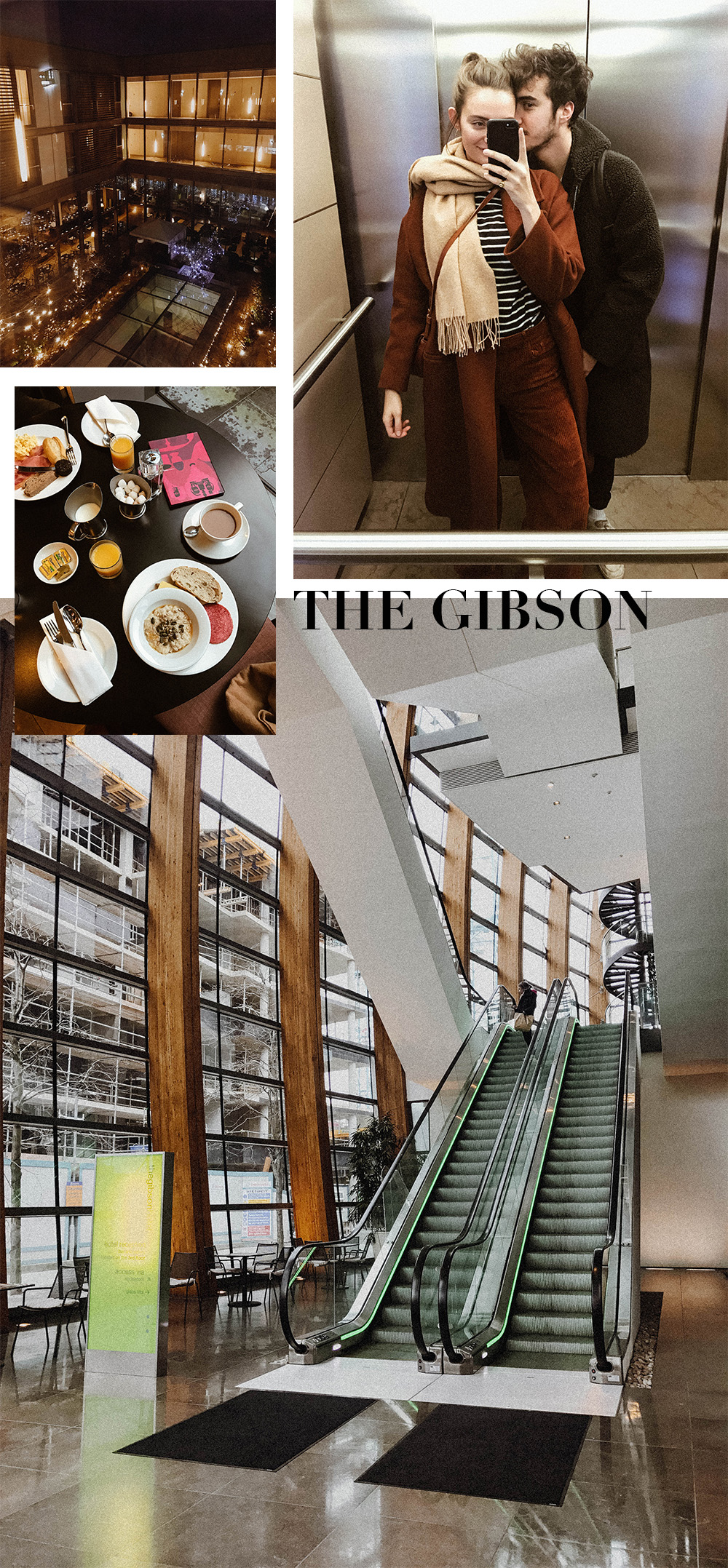 LUNCH
If I've learned one thing during this trip, it's that the Irish surely like to eat, at any given time of the day really. Our lunch dates were always pretty extensive because most lunch places serve dinner as well, and everything was DELISH! We had a great tuna and salmon tartare at Lemon + Duke (great for dinner and drinks too, located next to the main shopping street Grafton Street) and tried the delicious seafood at The House (located at coastal town Howth).
GO THERE / Lemon + Duke, 1 Royal Hibernian Way, Duke Lane Upper, Dublin / The House, 4 Main Street, Howth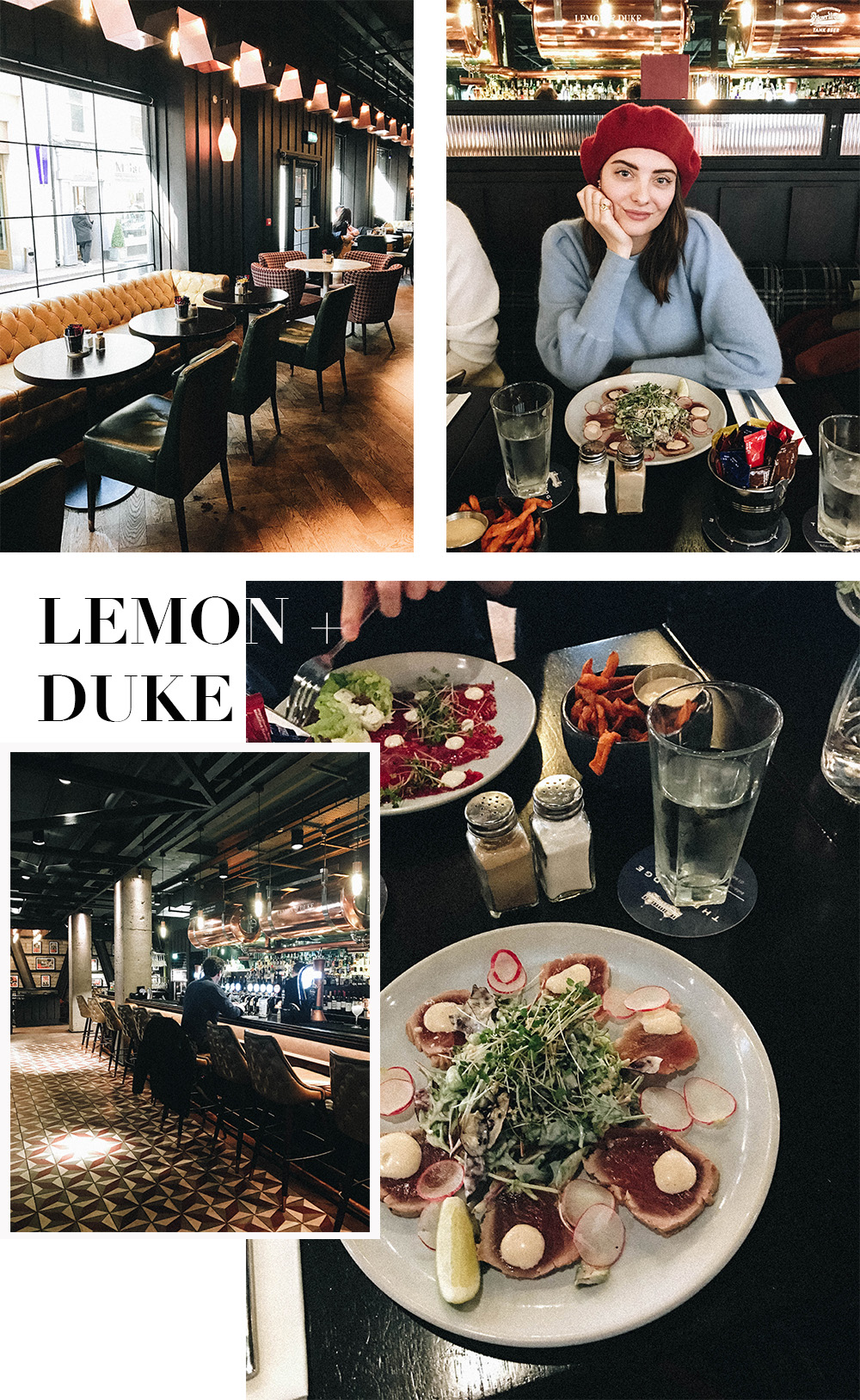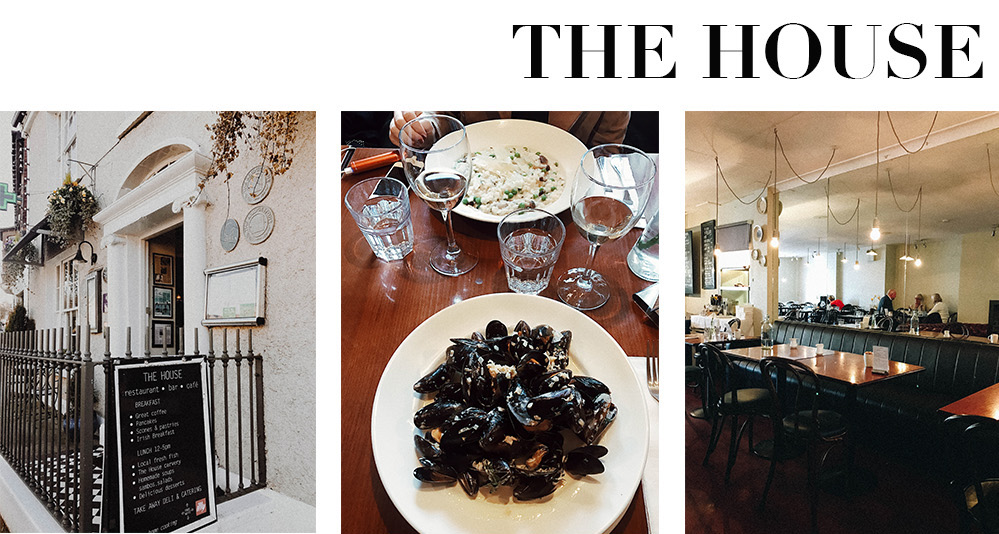 For coffee and cake we went to Kaph. Everything here is paleo and hipster-proof, and it's located in a super fun area with lots of nice (vintage) shopping opportunities. Other recommendations I have received are Network Coffee, Urbanity Coffee and Love Supreme.
GO THERE / Kaph, 31 Drury Street, Dublin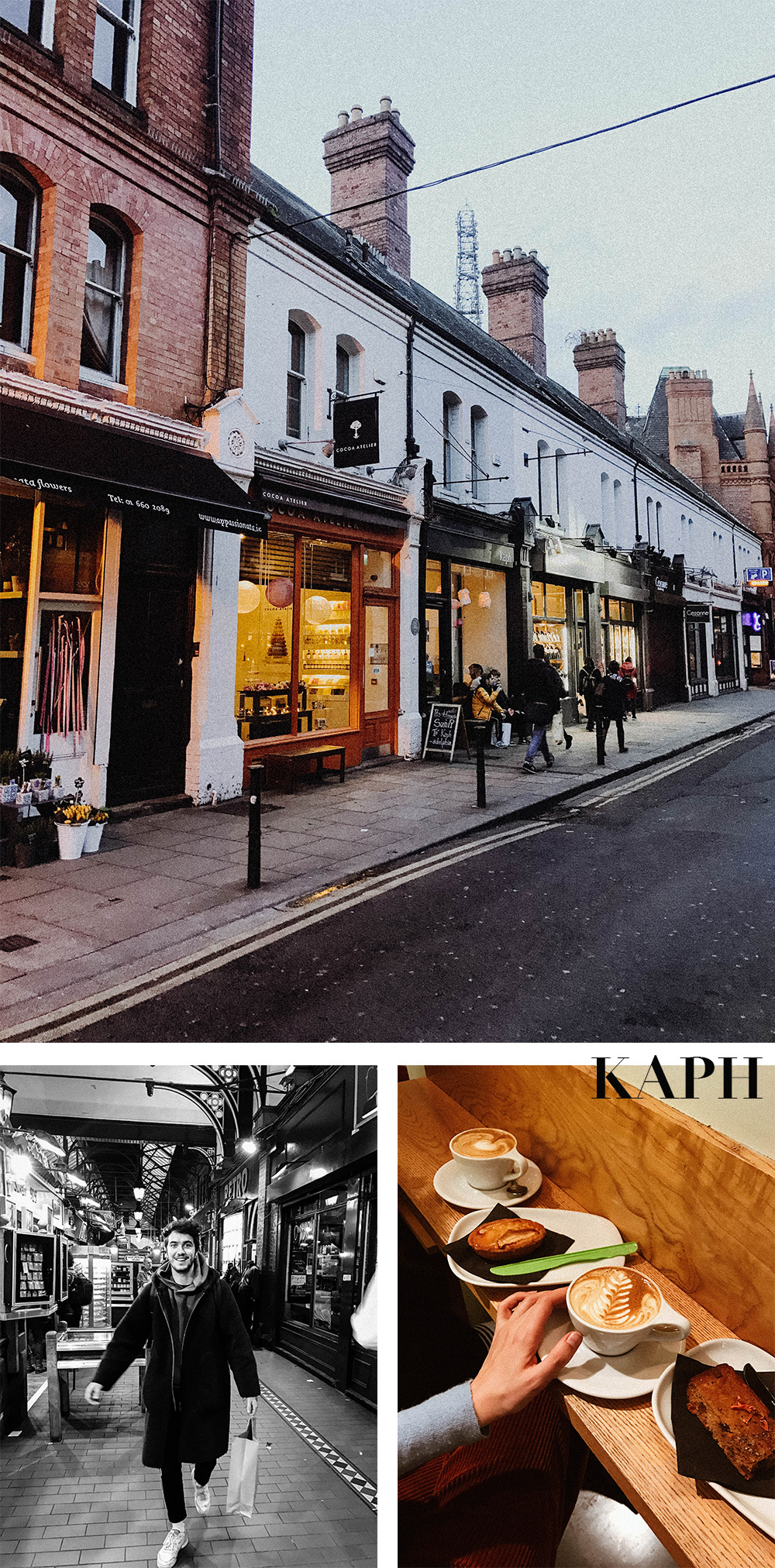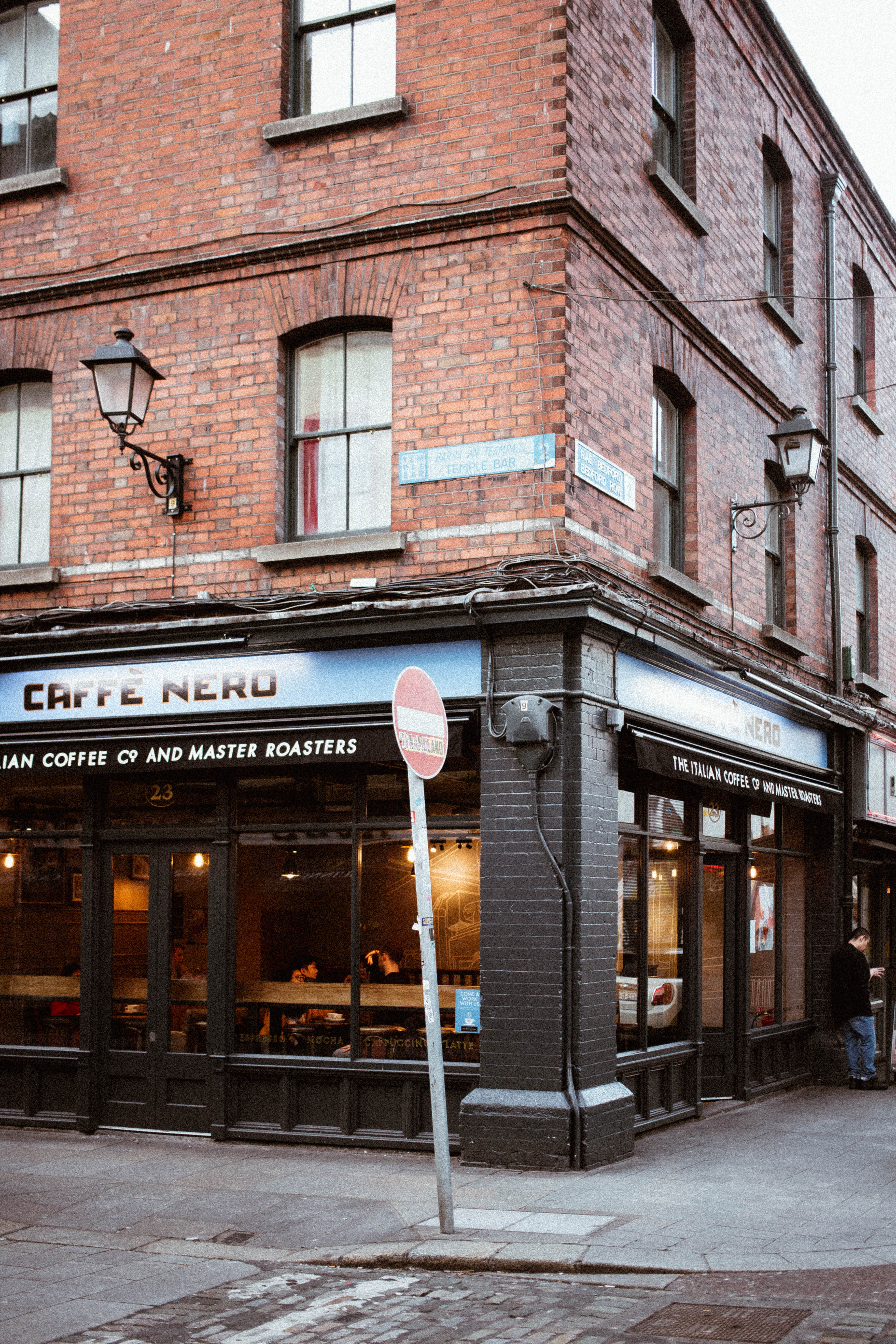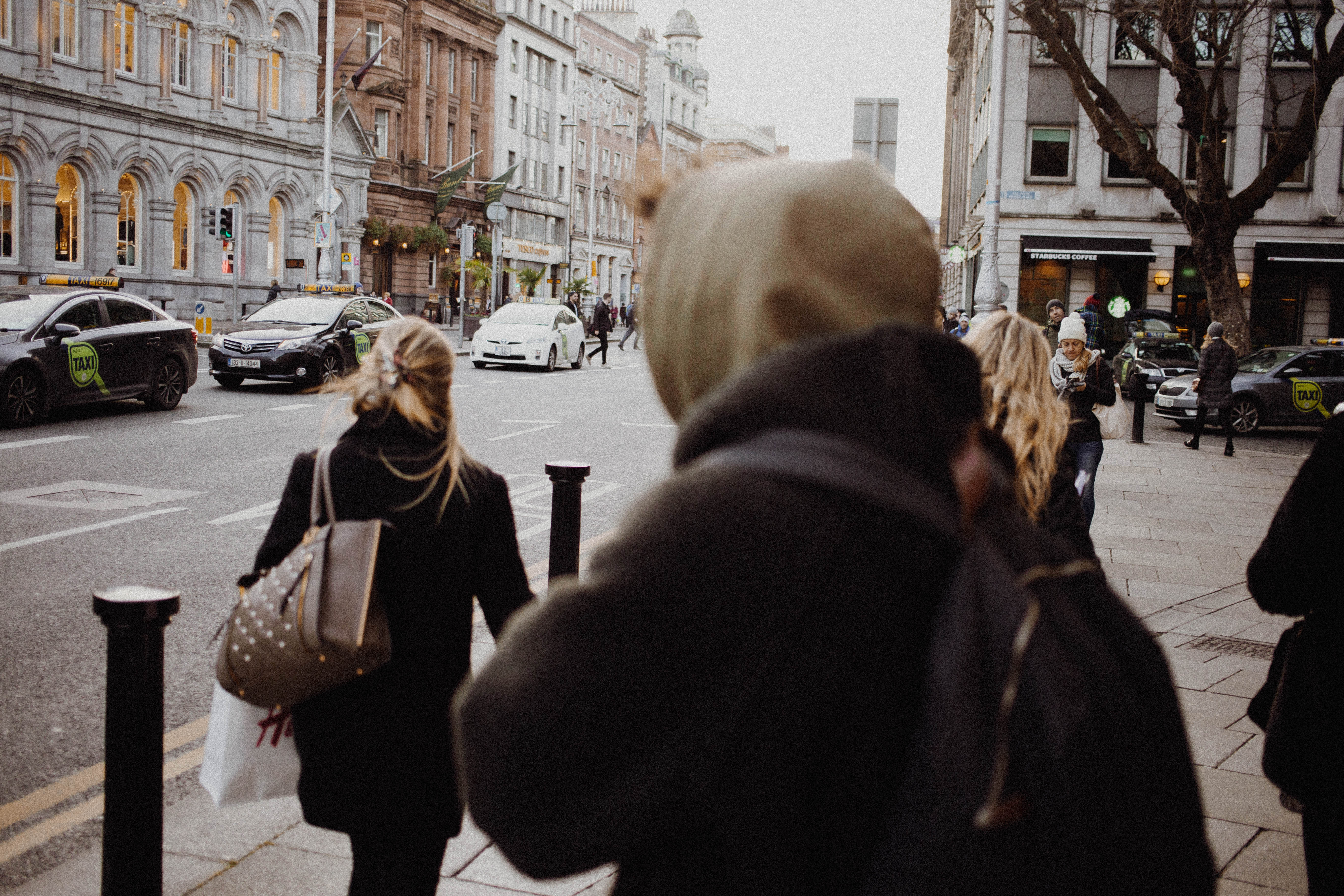 VISIT
I felt that Dublin was very much a city of strolling, hanging, shopping and drinking coffee (LOVE IT), but if you're unlucky like us and have to face one of the many Irish rainy days, you'll probably want to hide inside. And Dublin offers some more than amazing places to hide, visit and enjoy. On sunny days too, yes.
We took a guided tour at the Guinness Storehouse, an interactive museum about the Guinness brewery. Although it's pretty touristy, it's also actually fun! We had a real nice guide, got to tap our own pint of Guinness (failed miserably) and obviously had to taste it too. Great idea to take the tour at 10AM! It actually was, because in the morning there are no queues yet AND you can enjoy the breathtaking view over the city all on your own.
GO THERE / Guinness Storehouse, St James's Gate, Ushers, Dublin

Located right next to Stephen's Green park (a must-visit!), the Stephen's Green shopping centre is an architectural gem. The selection of shops isn't too impressive, but the building itself is! Feels like Disneyland really 🙂
GO THERE / Stephen's Green shopping centre, Stephens Green West, Dublin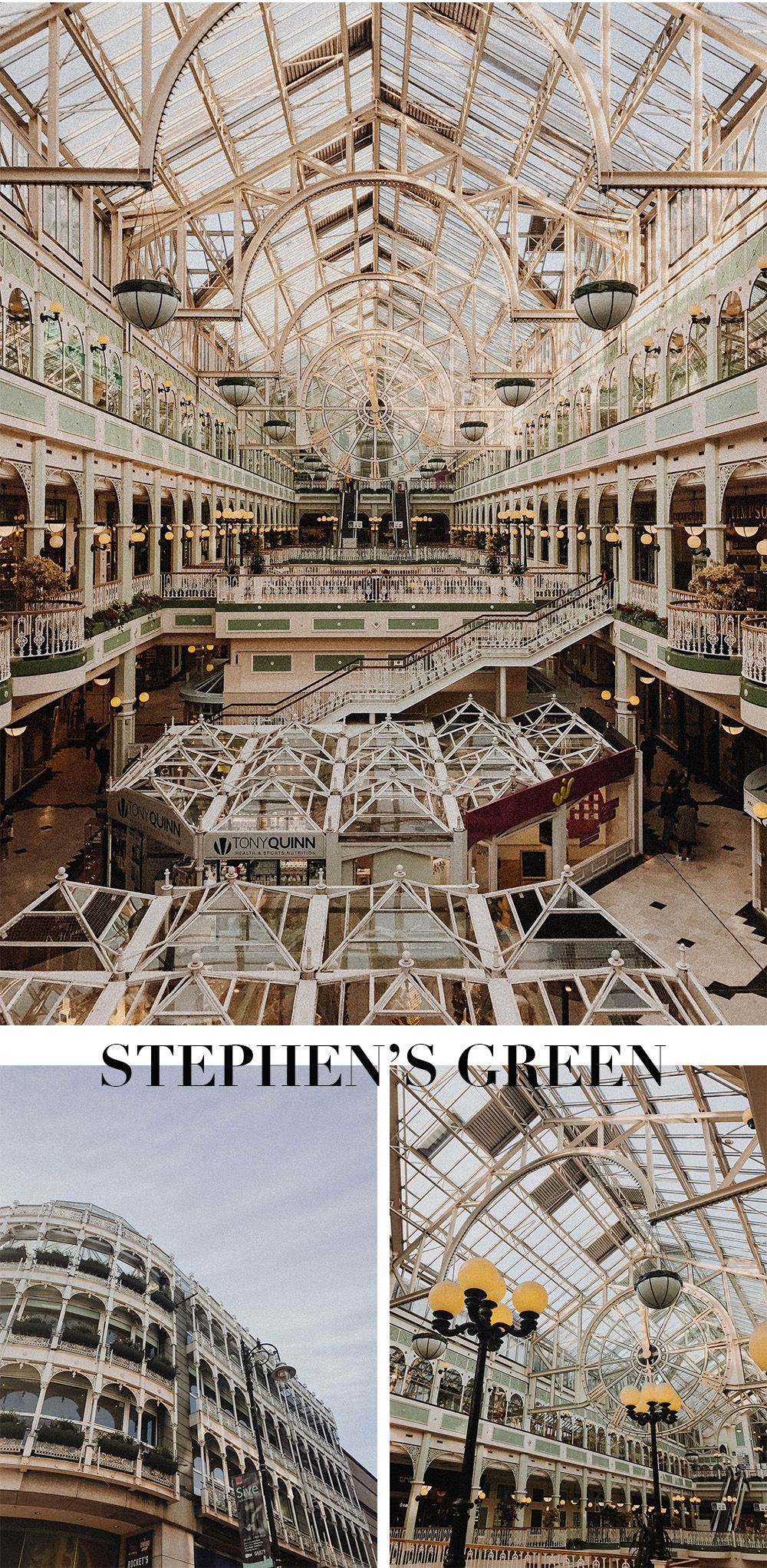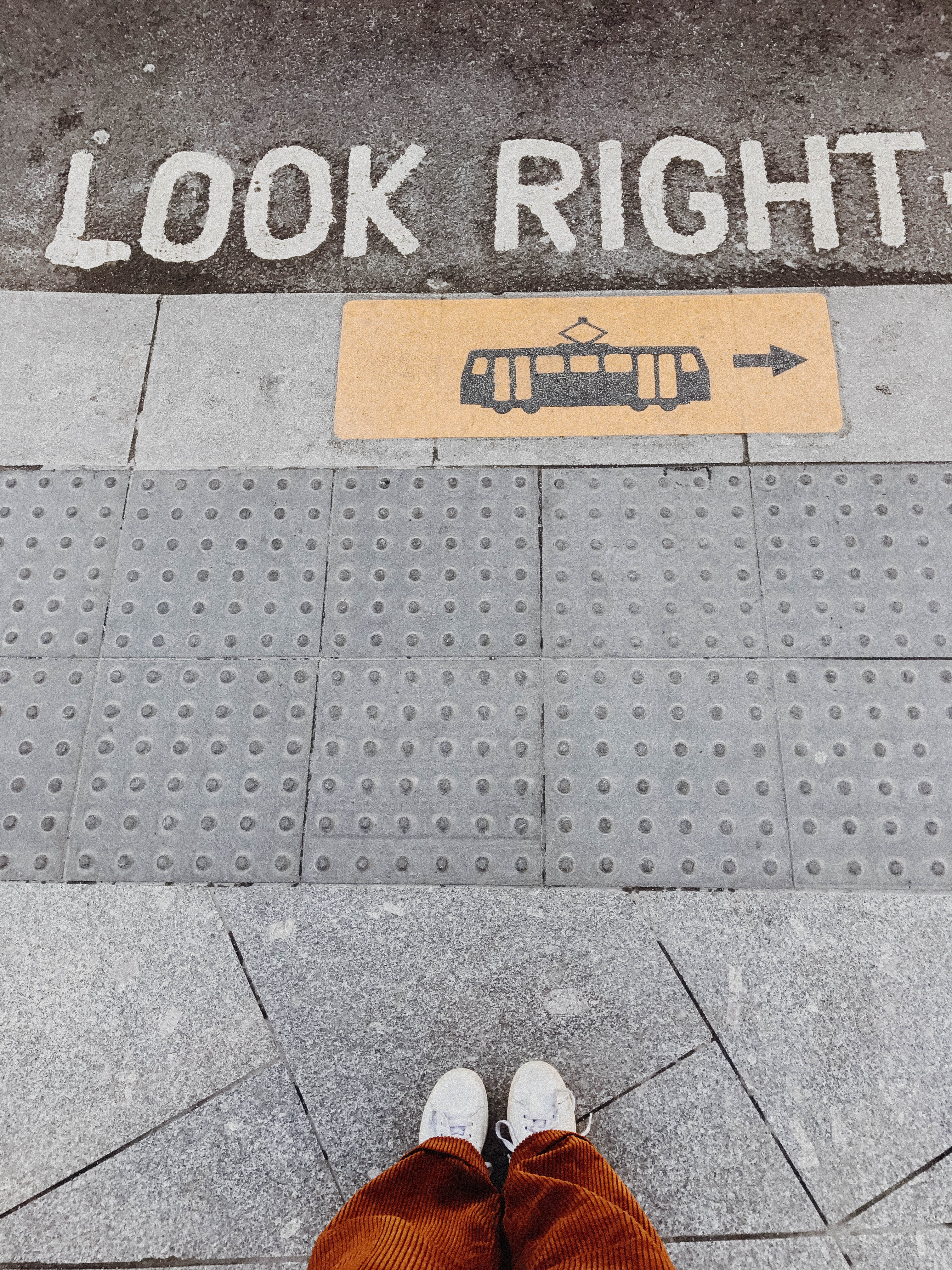 One of the most famous places to visit in Dublin is Trinity College, Ireland's oldest university. The university was founded by Queen Elizabeth I in 1592 and has a jaw-dropping library that displays the Book of Kells, a manuscript written around the year 800. Also to be found at the library: a spiral staircase that apparently was used as the model for Dumbledore's in Harry Potter. Not sure if true, but it looks pretty amazing anyways!
The lines to visit the library can get quite long, so make sure to purchase your ticket in advance, or go early in the morning.
GO THERE / Trinity College, College Green, Dublin

Other places to visit when you have more time: the National Gallery of Ireland, the Dublin Zoo, the Kilmainham Gaol museum (a former prison!) and the National Botanic Garden. Enjoy!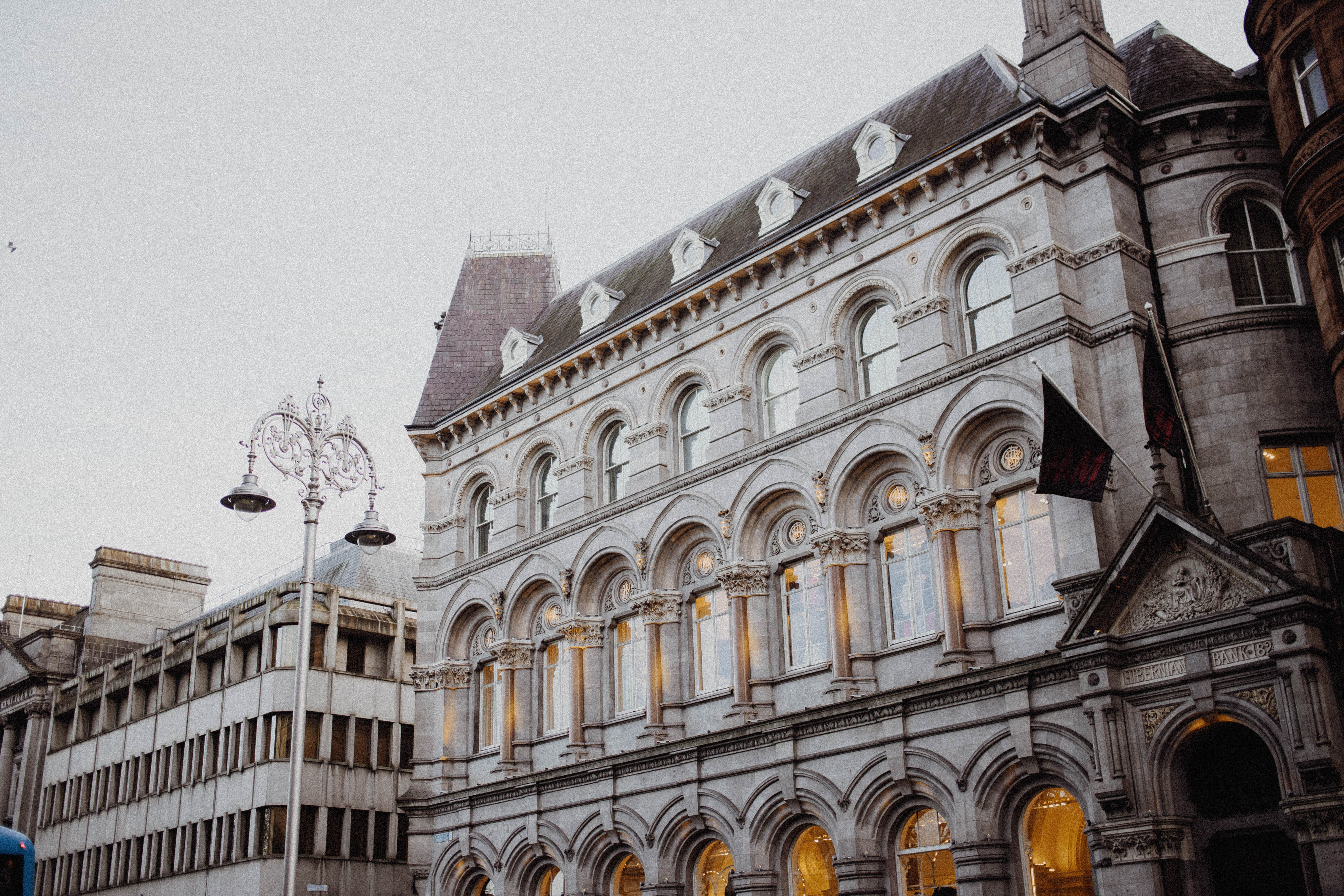 SHOP
A city made for strolling is usually a city made for shopping too, and that's definitely the case for Dublin. It struck me that quite a few local Irish labels were represented on the capital's main shopping street — something that could never ever  happen in Belgium! The Irish are very supportive of their own manufacturers, so as a shopper in Dublin, you should try and do the same.
Apart from the big highstreet stores (H&M, Zara, & Other Stories, Victoria's Secret etc) and some fine designer department stores (Thomas Brown), there's plenty of Irish brands to discover. Here's a few of my favourites!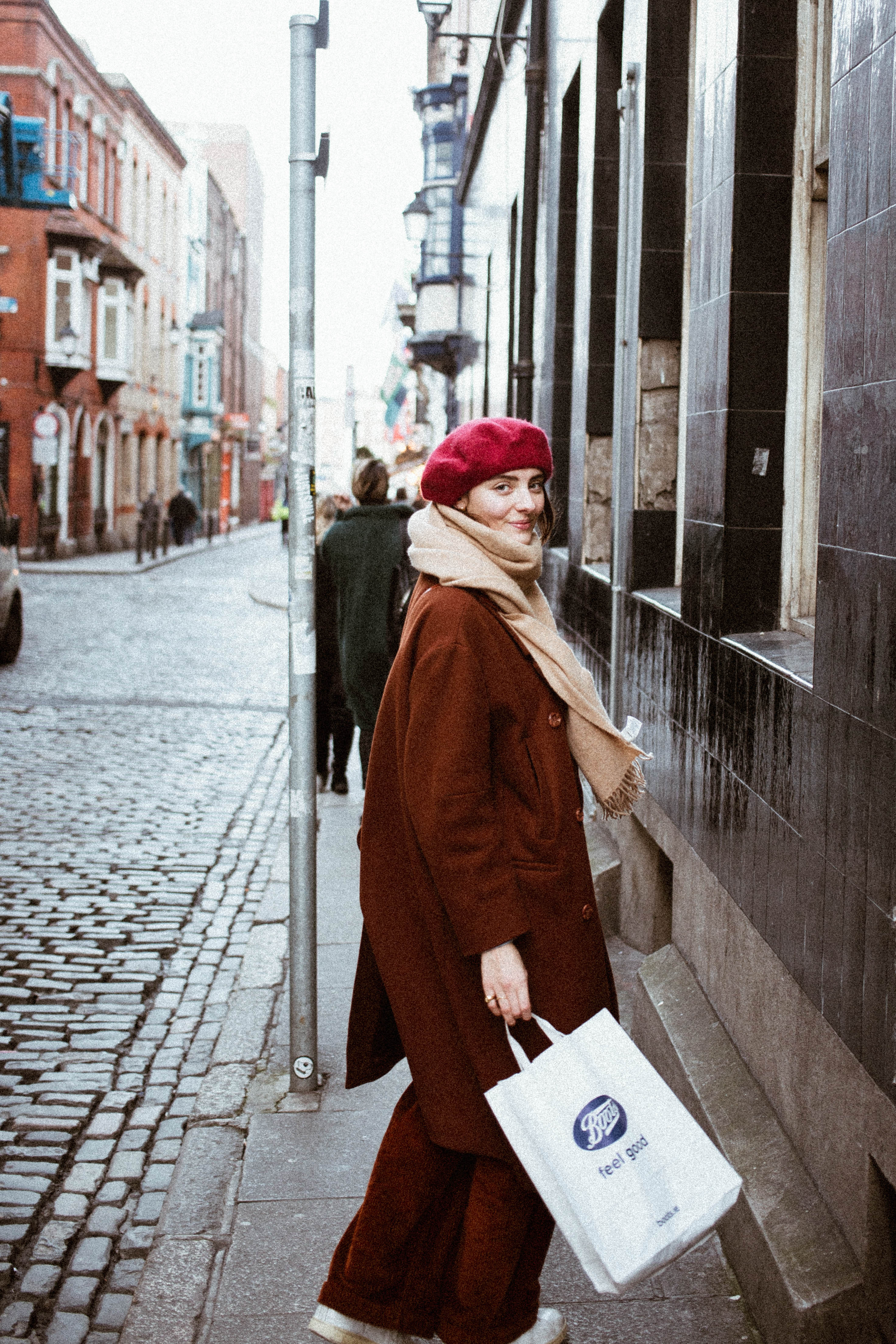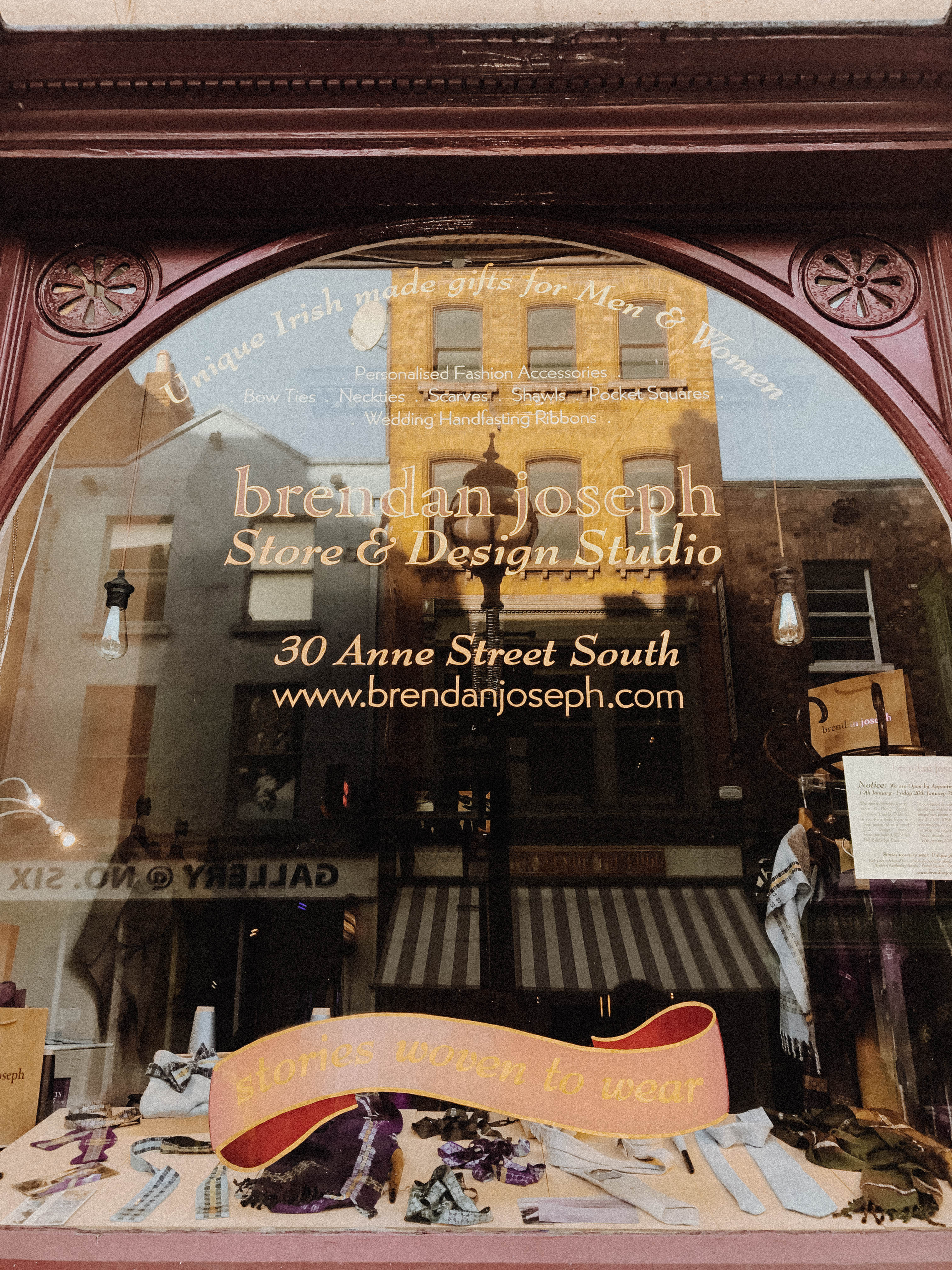 Lots of you are a huge fan of my Chupi pink ring and here's a little something I didn't know myself: Chupi is an Irish brand! And they have a lovely store in Dublin! The label is located at Atrium at Powerscourt Townhouse, a real nice small shopping centre with lots of bars and independent shops. Go there for striking nature-inspired pieces, star sign jewelry and engagement rings! My wishlist is huge.
GO THERE / Chupi, 59 South William Street, Dublin
Although my style has evolved to something more sophisticated and clean throughout the years, you guys know that I'm still a sucker for vintage! So whenever I'm abroad I try to find the best vintage store and score a piece that will remind me of that trip when back home. In Dublin I bumped into The Harlequin, a cute shop stuffed with clothes and accessories. Got myself a beret and also really wanted to take home all of their party wear… This shop is around the corner of coffee bar Kaph, by the way!
Other cool vintage shops are apparently Nine Crows, Tahiti Vintage, Om Diva, Tola Vintage and Dublin Vintage Factory. Let the hunt begin!
GO THERE / The Harlequin, 13 Castle Market, Dublin

This one is rather special. Avoca is a family run home grown business and is one of Ireland's most exciting retail and food stores. It's famous world wide for it's colourful and eyecatching woolen throws, rugs & blankets made from lambswool, mohair, cashmere and more. And their best store is located at a castle! At Malahide Castle you'll find their shop offering the full Avoca retail range including throws, blankets, fashion, gifts and beauty, but also a cafe and food hall.
From the centre of Dublin it takes about 30 minutes by train (DART) to get to Malahide, but the combination of the castle, beautiful garden and this amazing shop is so worth taking the trip.
GET THERE / Avoca, Malahide Demesne, Malahide, Dublin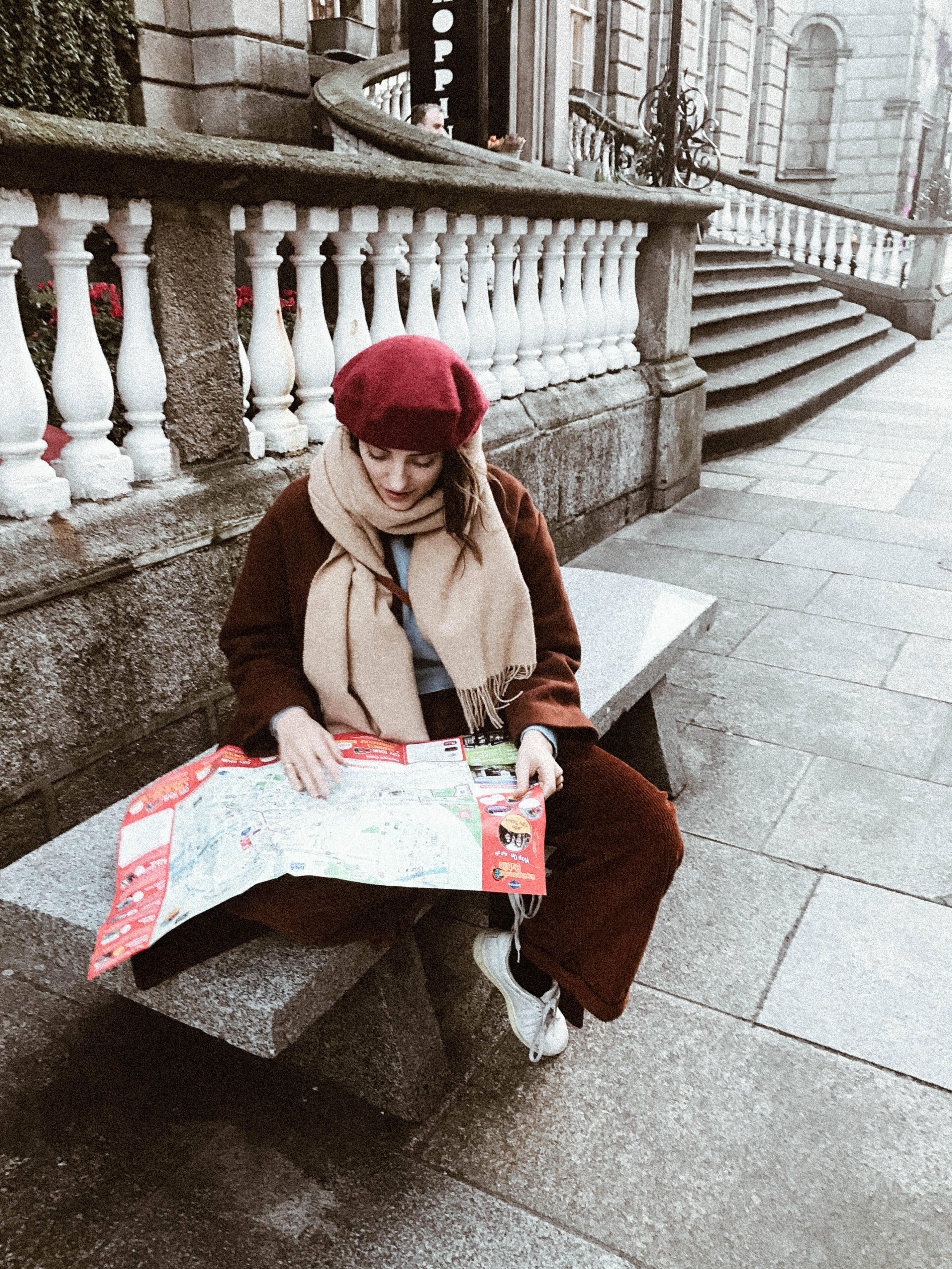 EXPLORE
Dublin isn't huge, so if you have some extra time and want to see a bit more of Ireland, you can always head out to one of the beautiful coastal towns, cliffs or castles nearby. We drove off to Malahide Castle and the fisher's village Howth for half a day, which turned out to be the perfect quick city escape.
Before or after raiding the entire Avoca store (guilty), I'd suggest taking a tour at Malahide Castle and stroll through the beautiful surrounding gardens. Being one of the oldest castles in Ireland, it's obviously haunted by its former owners so there's some fun stories to discover during the tour 🙂
GO THERE / Malahide Castle, Malahide, Dublin
Another recommendation if you want a better overview of Ireland (instead of just visiting the capital): explore the coast! We drove to Howth, an idyllic fishing village located only 30 minutes outside of Dublin.
Next to hiking, capturing scenic views at the famous Irelands Eye and obviously eating fish, you can also visit Howth market for crafts, jewelry and antiques! It's a great place to escape the city, especially if you're lucky and the sun comes out for a day. At Howth we had lunch at The House, as seen earlier in this post!
GO THERE / Howth,

DINNER
As I've told you, the Irish like to eat. A lot. And the food is quite greasy, but also super delicious! Typical Irish food has lots of meat (stew!) and potatoes — or fries, or mashed potatoes, or everything together. These guys apparently even eat Thai curry with fries. Like. What. Some other typical Irish dishes that I luvvv are black pudding and mussels! Not together, but you get my point.
On our first night, we had dinner at Fallon & Byrne, a food hall with a restaurant on top! Fine, classic Irish food and located in a fun area. We spent our second night at The Hairy Lemon (!), which is a typical Irish pub where all the locals go. Huge food portions, huge beer portions and a jolly good time!
GO THERE / Fallon & Byrne, 11-17 Exchequer Street, Dublin / The Hairy Lemon, Stephen Street Lower, Dublin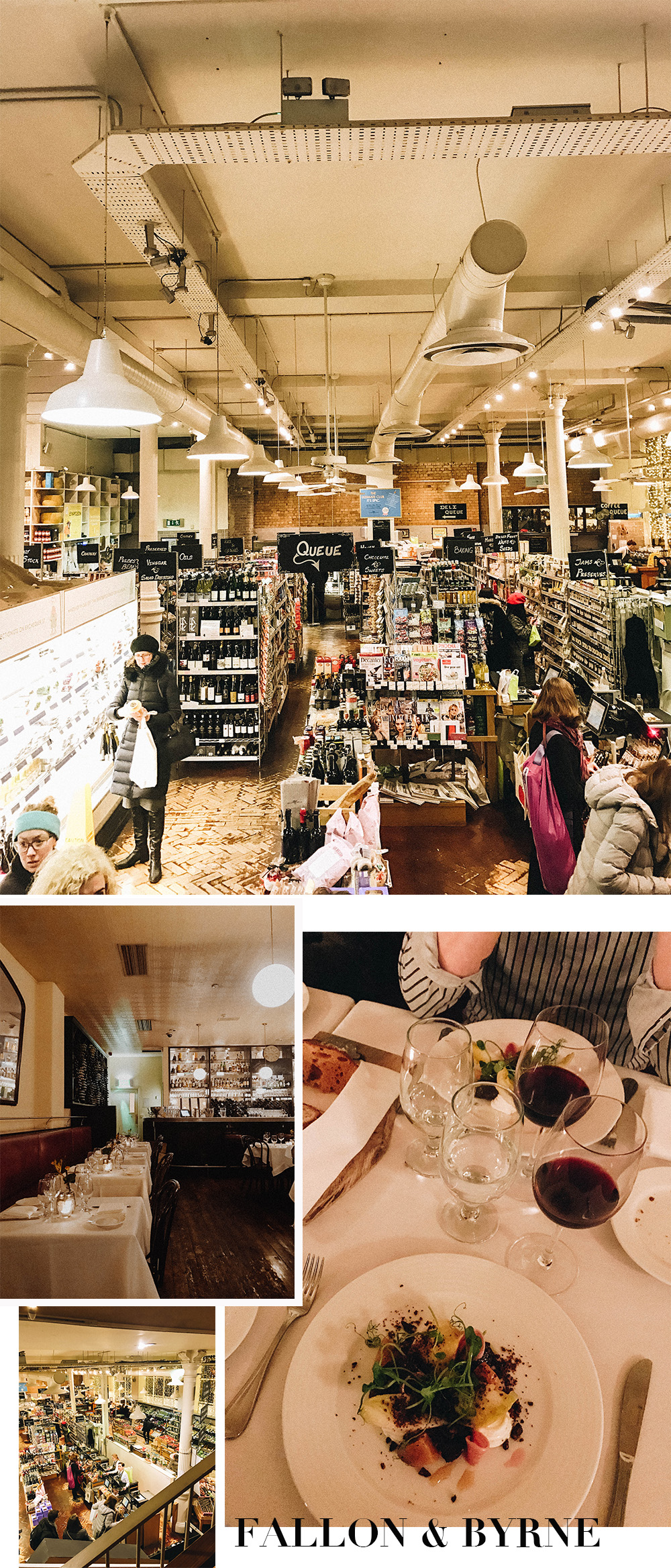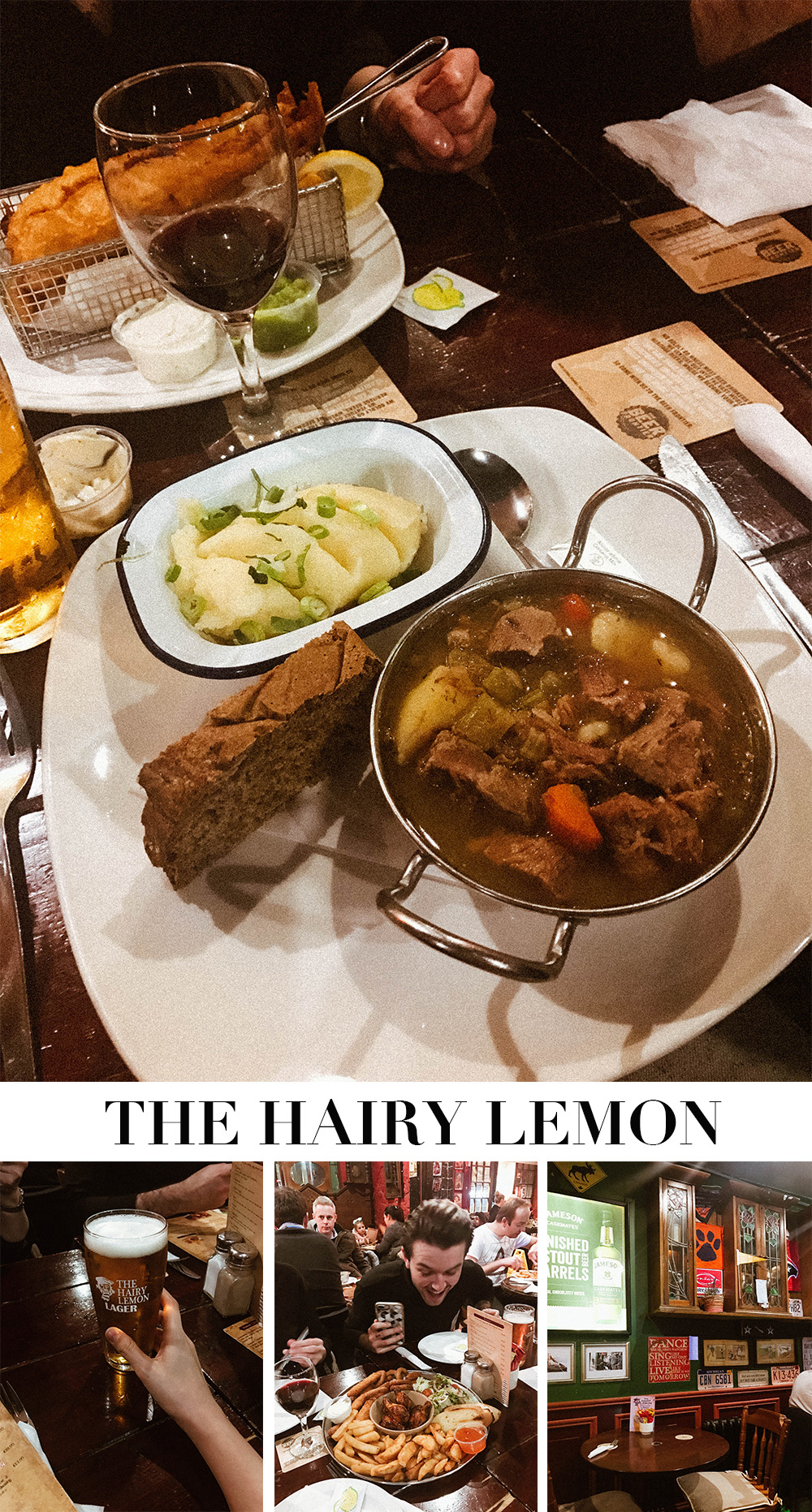 DRINKS
And finally: where to go for drinks in Dublin? Temple bar is probably the most famous area to go at night, but beware for drunk tourists here! There's plenty of pubs around the entire city, but if you want to go for something more fancy, here's a little recommendation from my part. We had some delicious cocktails at the Chelsea Drugstore, a classy "bohemian" cocktail bar at George's Street. Other places that were suggested to me by locals are Peruke + Periwig, Vintage Cocktail Club, The Liquor Rooms and Sophie's (rooftop of the Dean Hotel). Lots of people on Instagram also told me about Pygmalion, which is more like a bar and party place! Oh, beware that most regular bars close around 1AM. There's plenty of clubs everywhere though, even during weekdays due to the large amounts of students in Dublin.
GO THERE / Chelsea Drugstore, 25 South Great Georges Street, Dublin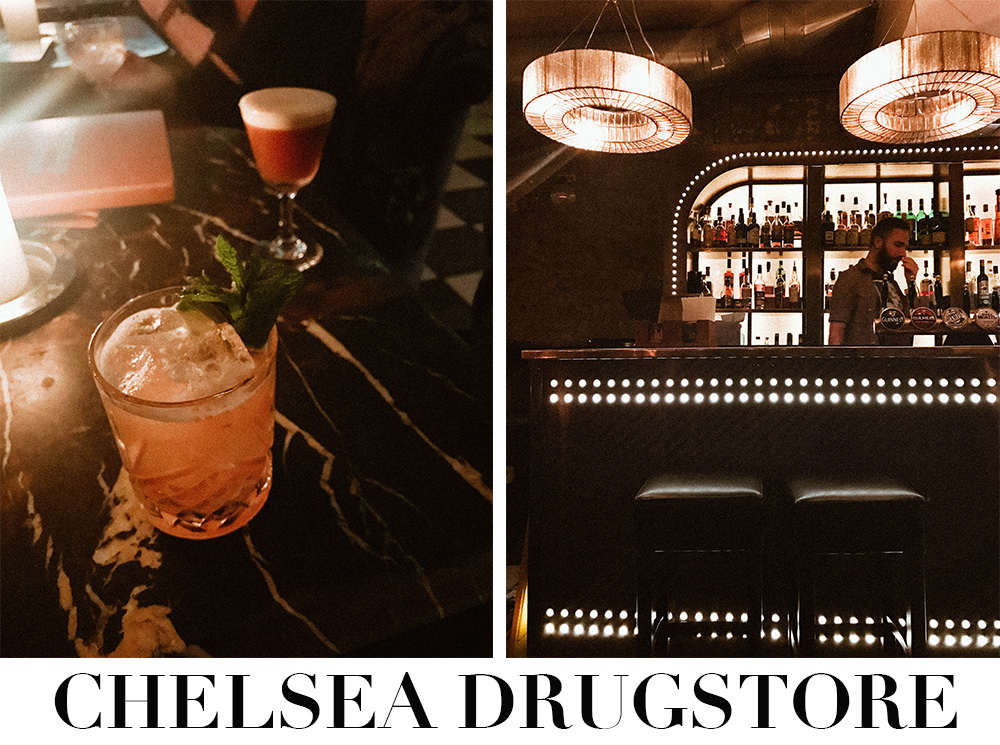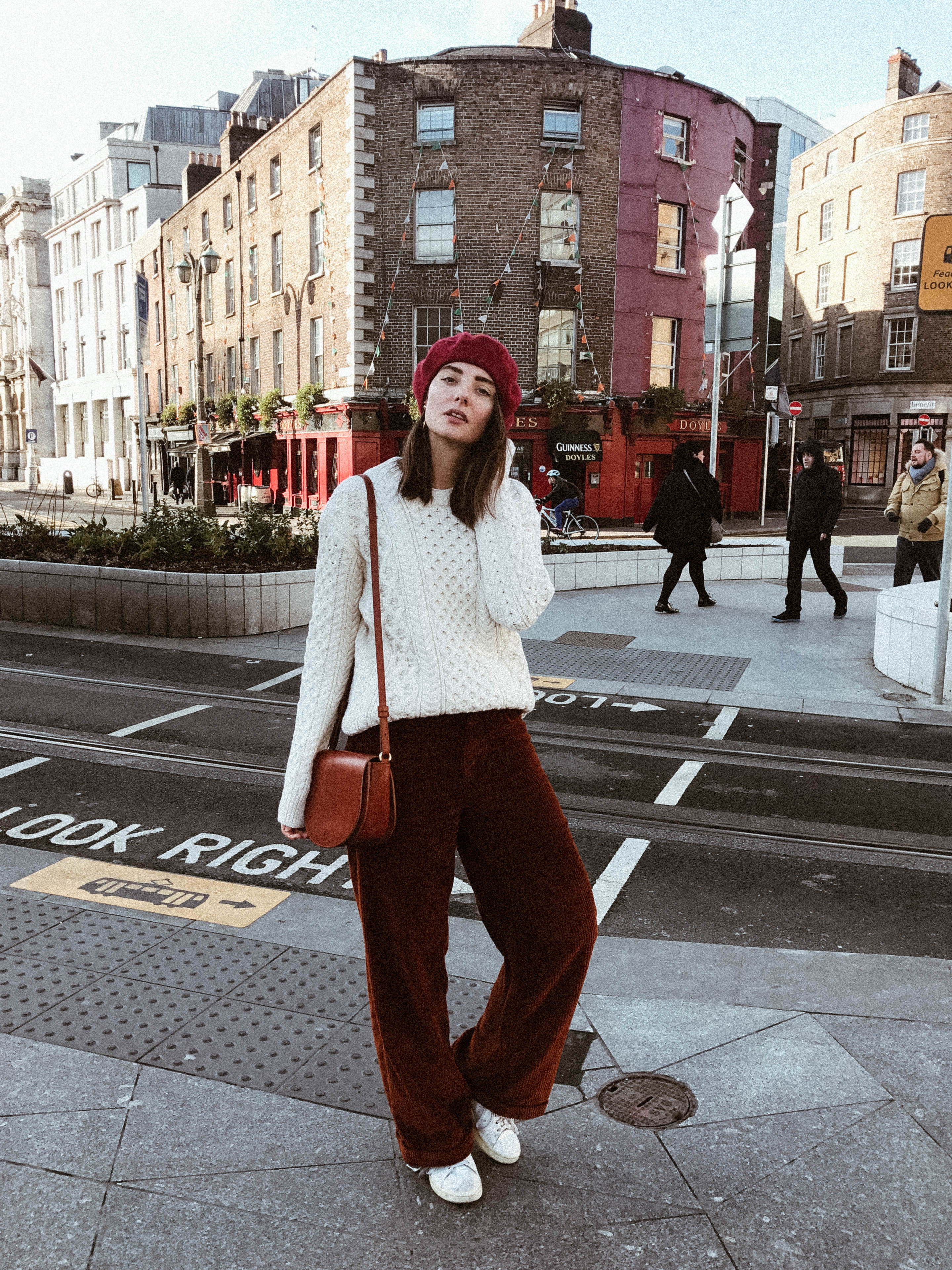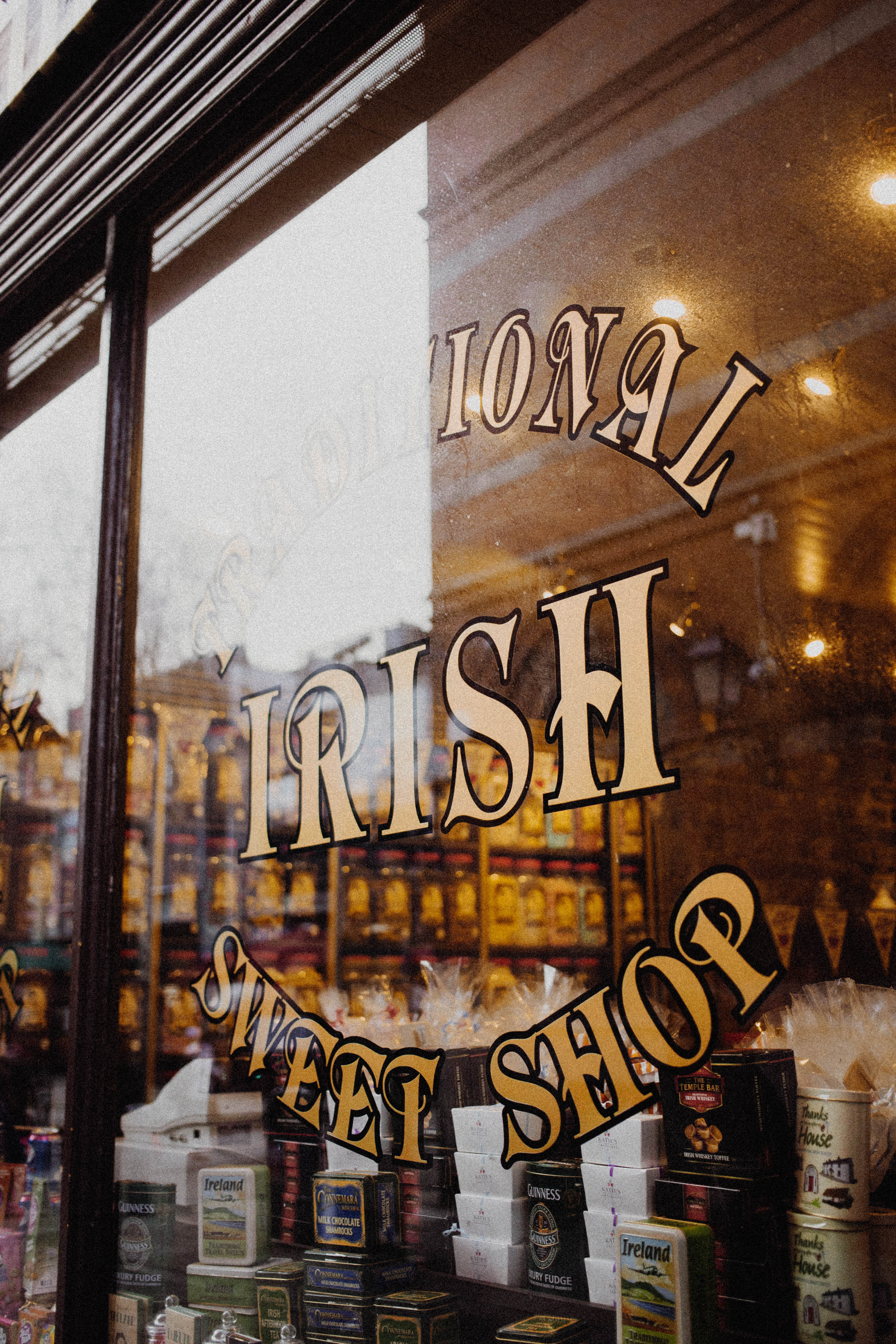 THERE! FINISH!
That's it for my pretty huge Dublin city guide! Who kinda feels like getting on a plane to Ireland right away? 🙂 I dooooo! If you have any other Dublin or Ireland recommendations, please share them in the comments for other future travelers!
This trip was made possible by Enterprise Ireland, huge thanks!