Back by popular demand: your favourite series here on the blog (apparently) in which I share a full week of outfits! Are you ready for LOTS of daily inspiration?
During my short blogging break I conducted an Instagram poll to discover if you guys actually still read blogs and what kind of content you keep coming back for. If you're reading this, you're obviously still a blog person, so YAY HELLO! And you might even have voted for the 7 days, 7 outfits category to return to Polienne too…
I decided to kick off this modest relaunch with my outfits of a not so typical week: I had just returned from my 12 day work trip to Jamaica and had to get over one of my worst jetlags ever whilst getting ready for another journey accross the ocean on Saturday. You can guess that most outfits during this week were all about comfort: I wore trousers only, and opted for easy pieces such as rib knits, puffer anything and lots of sneakers. Let's take a look!
***
Monday
Let's kick off with the first day of "regular" work after my Jamaica trip! With an overflowing mailbox and that damn jetlag to deal with, it was pretty difficult to find any motivation to start working or even get dressed properly. For a meeting (getting out of the house, you know) I opted for a simple essential uniform including a blazer, striped knit and a pair of wide denim.
wearing: vintage Alexander McQueen blazer via Labellov, Levi's striped crop knit, Vero Moda wide jeans, Calvin Klein sneakers, Jukserei earrings (all old gifted items)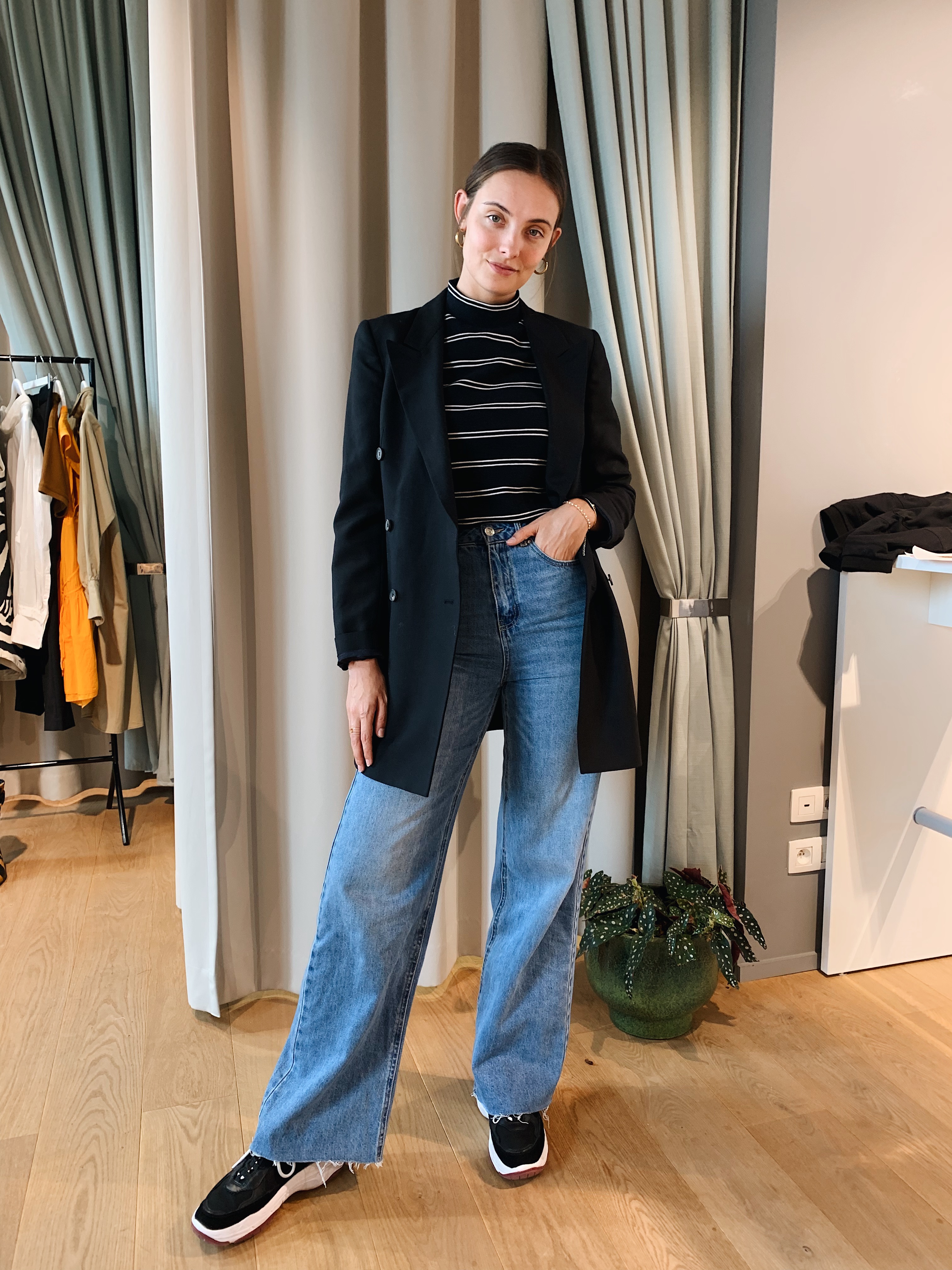 ***
Tuesday
On Tuesday I mainly cleaned up the house, unpacked my suitcases and worked a bit from home, so yay for another super comfy look! Since the sun showed up so unexpectedly in the morning, I opted for a fresh all white rib texture outfit. I did go out to have my analog film from Jamaica developed and stop by the parents for dinner, so I added this fab check trench and beige bag. Instant chic!
wearing: Munthe check trenchcoat, H&M knit sweater, Sea Me Happy rib trousers, ARKET beige bag, Nike AirMax sneakers (including some gifted items)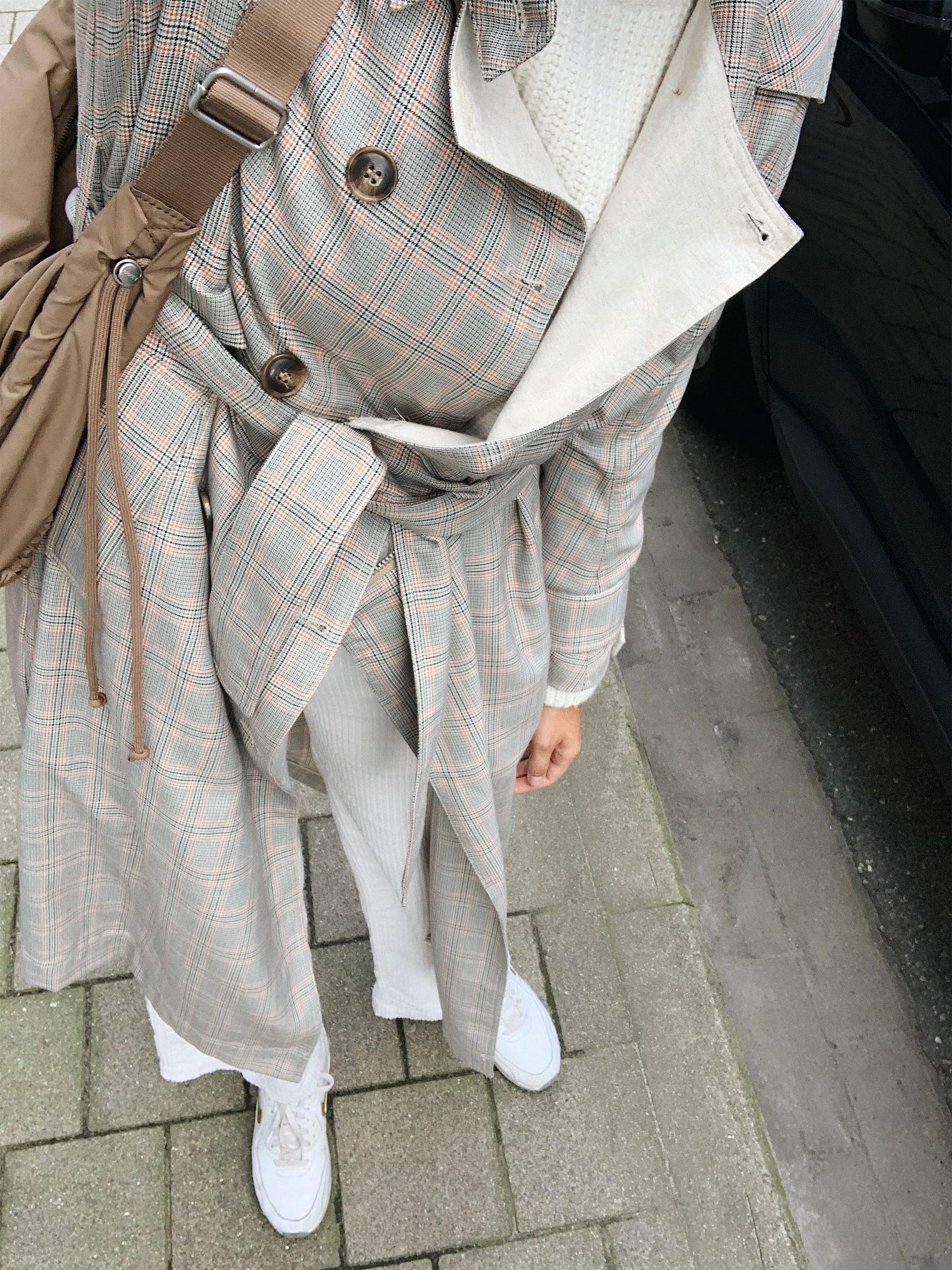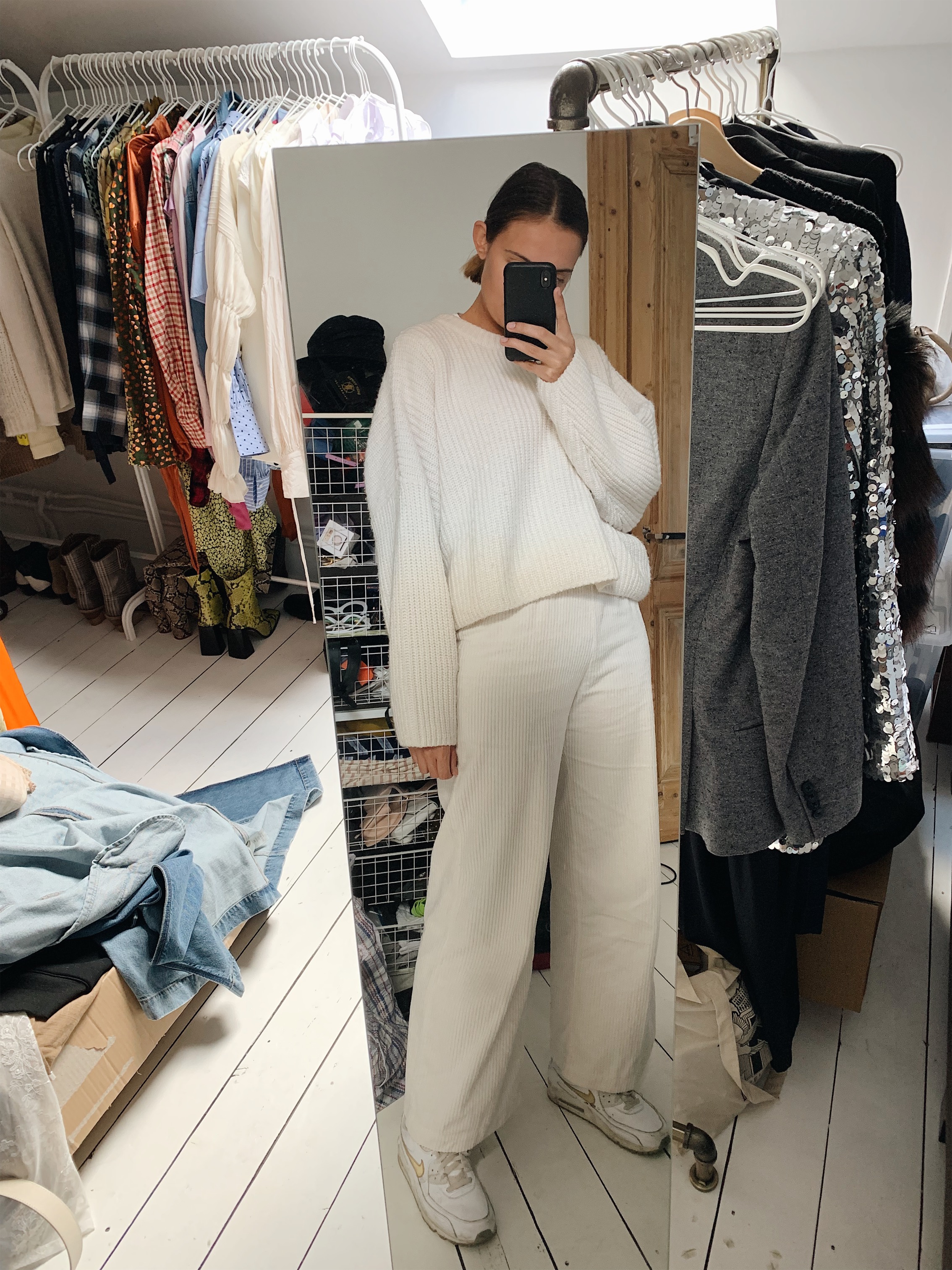 ***
Wednesday
This was such a fun day! On Wednesday my dear Justine and I had a full day of shooting for H&M. You might have seen our different H&M collaborations last season, so I'm very pleased to announce that we'll work together with one of our fave brands again! I was not at all prepared for the rain that day, so I stole Matthieu's white puffer jacket to wear on top of this pastel explosion that was supposed to distract me from the bad weather. Anyone else that likes to dress optimistically on sad, grey days?
wearing: H&M men's puffer jacket (old), Samsoe & Samsoe yellow knit, Samsoe & Samsoe lilac wide trousers, Reebok DMX sneakers (some gifted items)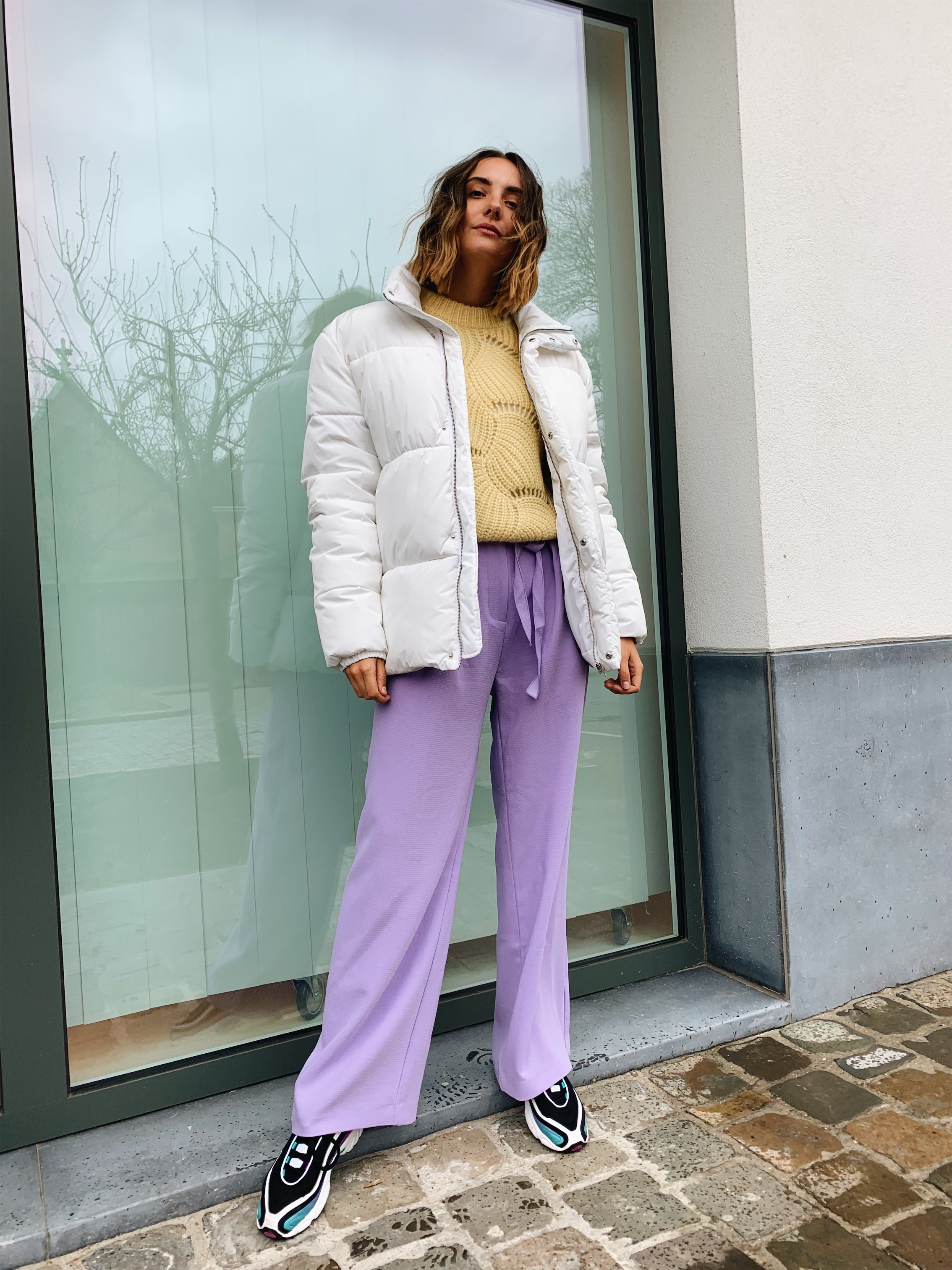 ***
Thursday
After finishing some work and meetings I left for a quick visit to Amsterdam on Thursday afternoon! I was invited by Marie Jo and Fashionchick for a lovely girls dinner, and I just can't refuse free food & good company 🙂 I was still wearing this simple meeting outfit from earlier that day, including my new fave high-waisted jeans and the wool blazer that I was desperately looking for some months ago and eventually found through Instagram.
wearing: & Other Stories camel blazer, Levi's high-waisted Ribcage jeans (gifted), Pull & Bear snake belt, Nike AirMax 95 sneakers, Coccinelle see-through bag (gifted)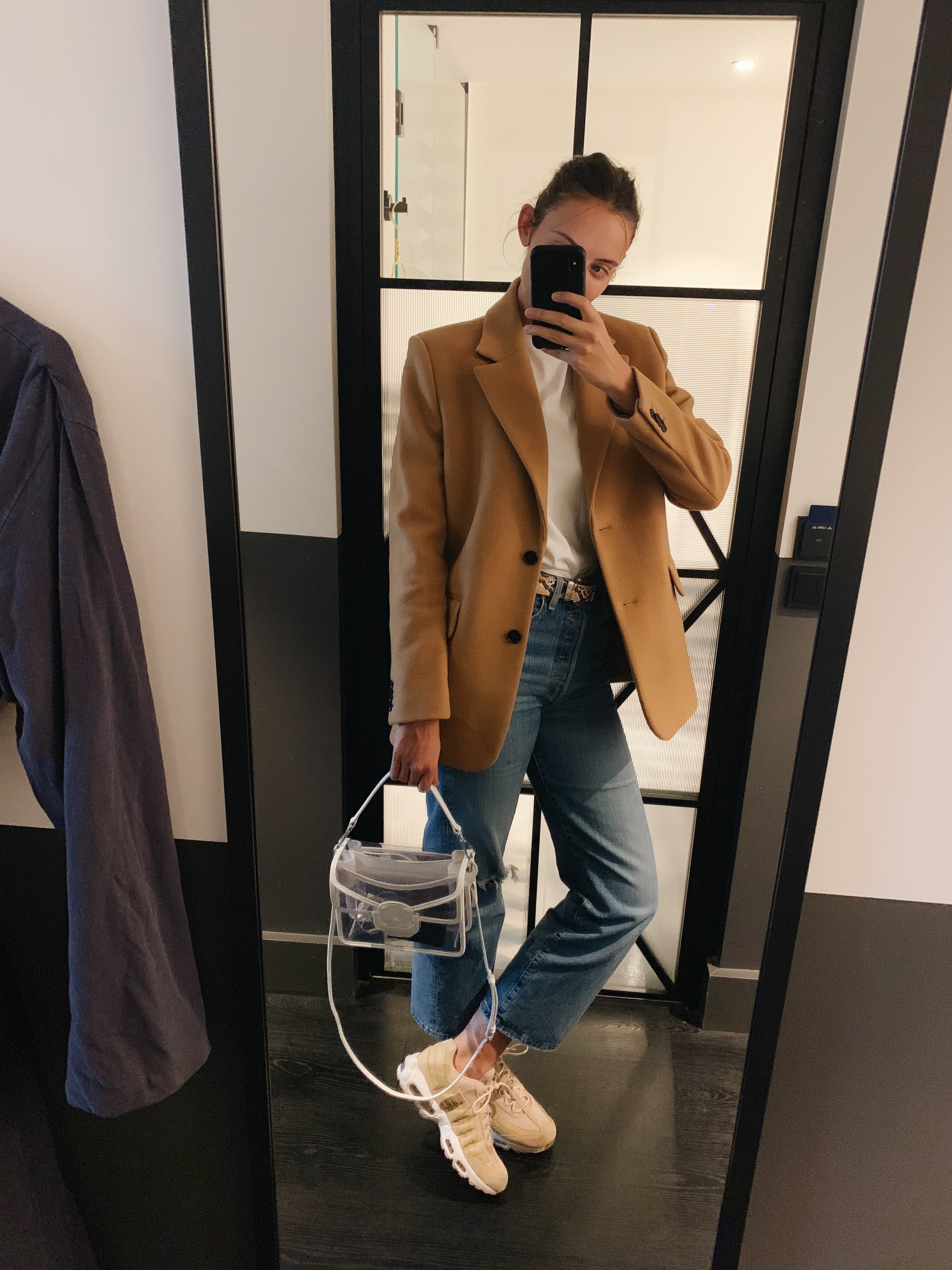 And there's more! I also have my dinner look to share, so welcome to 7 days, 8 looks 🙂 Since I didn't want to carry a full suitcase to Amsterdam, I reused the daytime denim for my evening look. I opted for some essentials with a twist like this chic white blouse with feminine shapes and yellow snake ankle boots to upgrade the jeans from day to night.
wearing: House of Sunny white blouse, Levi's high-waist Ribcage jeans, Topshop snake boots, Coccinelle see-through bag (all items gifted)
***
Friday
Friday was a bit of a messy, in-between day to travel back from Amsterdam, spend some last few hours with my love and pack for a big trip I was leaving for on Saturday. I went for something super comfortable yet again; hellooooo boiler suit and puffer jacket to drown in! To spice things a bit up I added my beloved check Fendi boots — they seriously finish ANY look.
wearing: Envii black boiler suit (old), Edited long puffer jacket (old), ARKET bag (gifted), Fendi boots (old)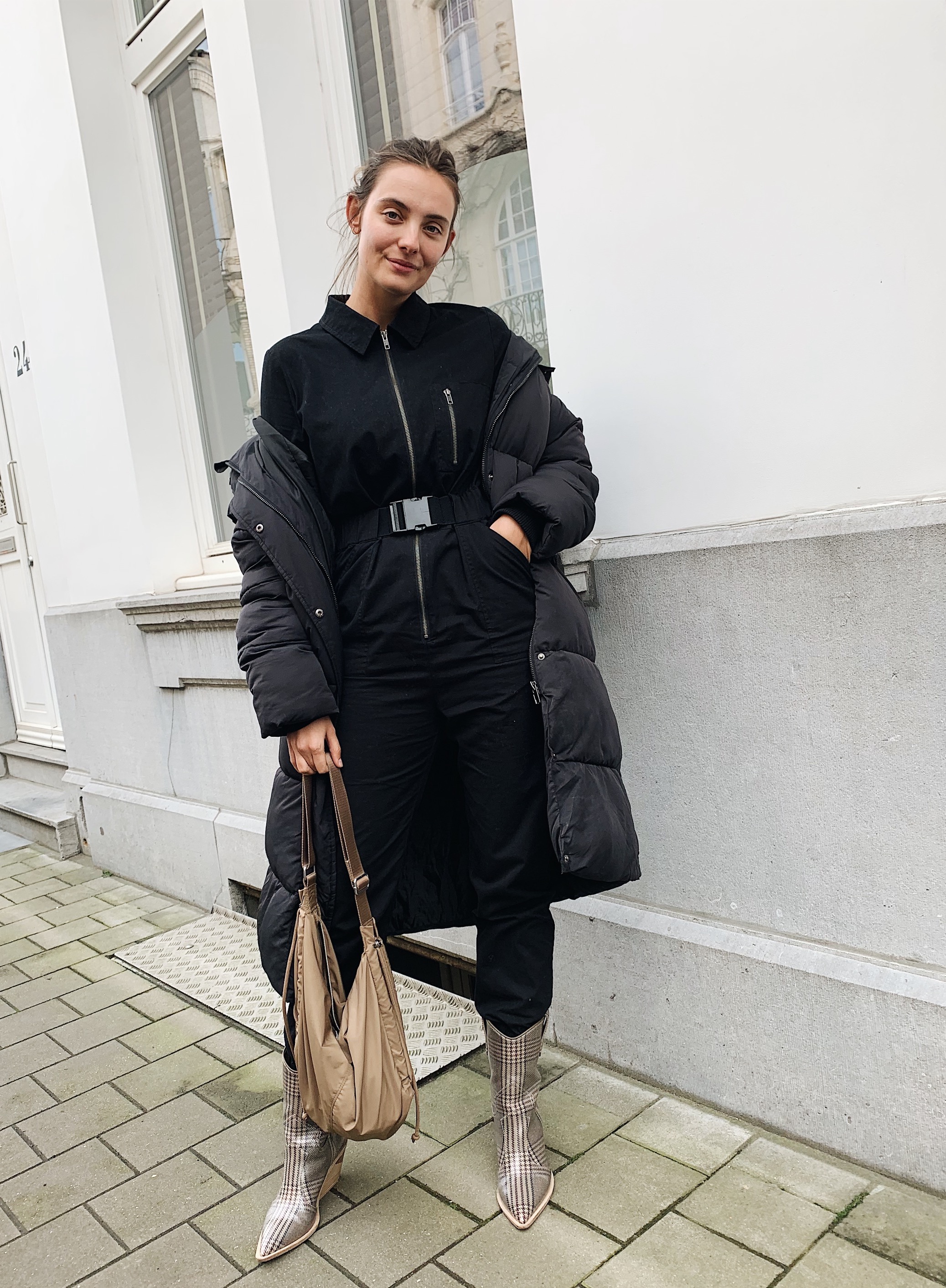 ***
Saturday
Off to Arizona for a project with H&M! By now you've probably seen my first Instagram stories about this amazing trip, right? For this full day of traveling I wore a huge hoodie that I ordered in size XXL from the men's department, a pair of soft track pants and these awesome sneakers. The typical airport uniform, you know!
wearing H&M men's hoodie & deep brown lapel coat (old), Samsoe & Samsoe track pants (gifted PR sample), Nike AirMax 95 sneakers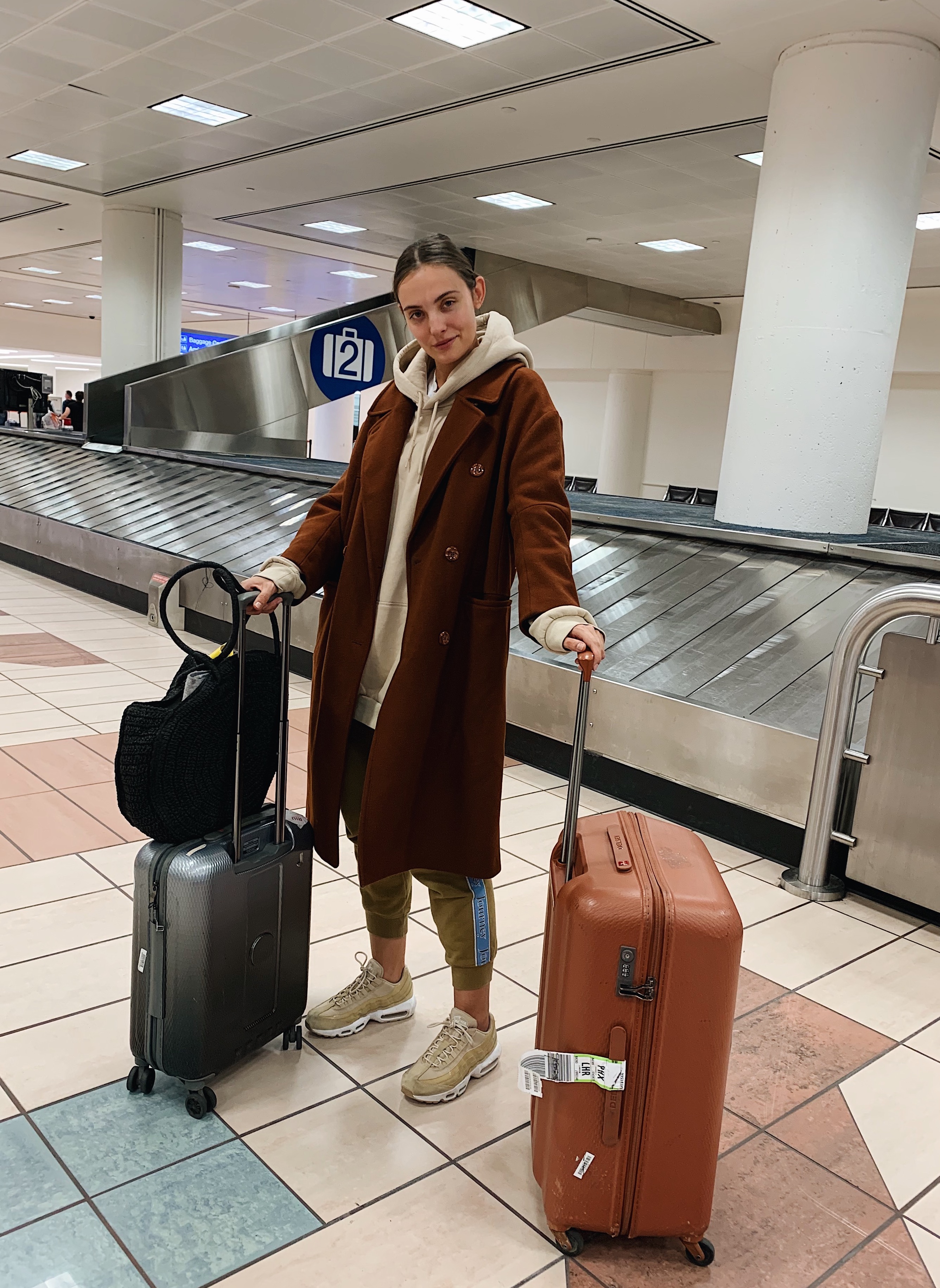 ***
Sunday
Well helloooo Arizona! Before heading to the actual press event located in Sedona, I had a day off to explore the city of Phoenix. My friend Google told me about a cool vintage area called Melrose District so obviously that's where I went! The vintage shopping was amazing indeed (hope to show you my finds soon!), and this is what I wore for this fun afternoon of thrifting around. As I'm traveling with H&M, they were so kind to provide me with a travel wardrobe suited for our Arizona trip, including these beautiful light yellow jeans and chunky white sneakers!
wearing H&M denim jacket, light yellow jeans, white sneakers, snake bucket bag & pink sunglasses (gifted PR samples), Pull & Bear snake belt (old)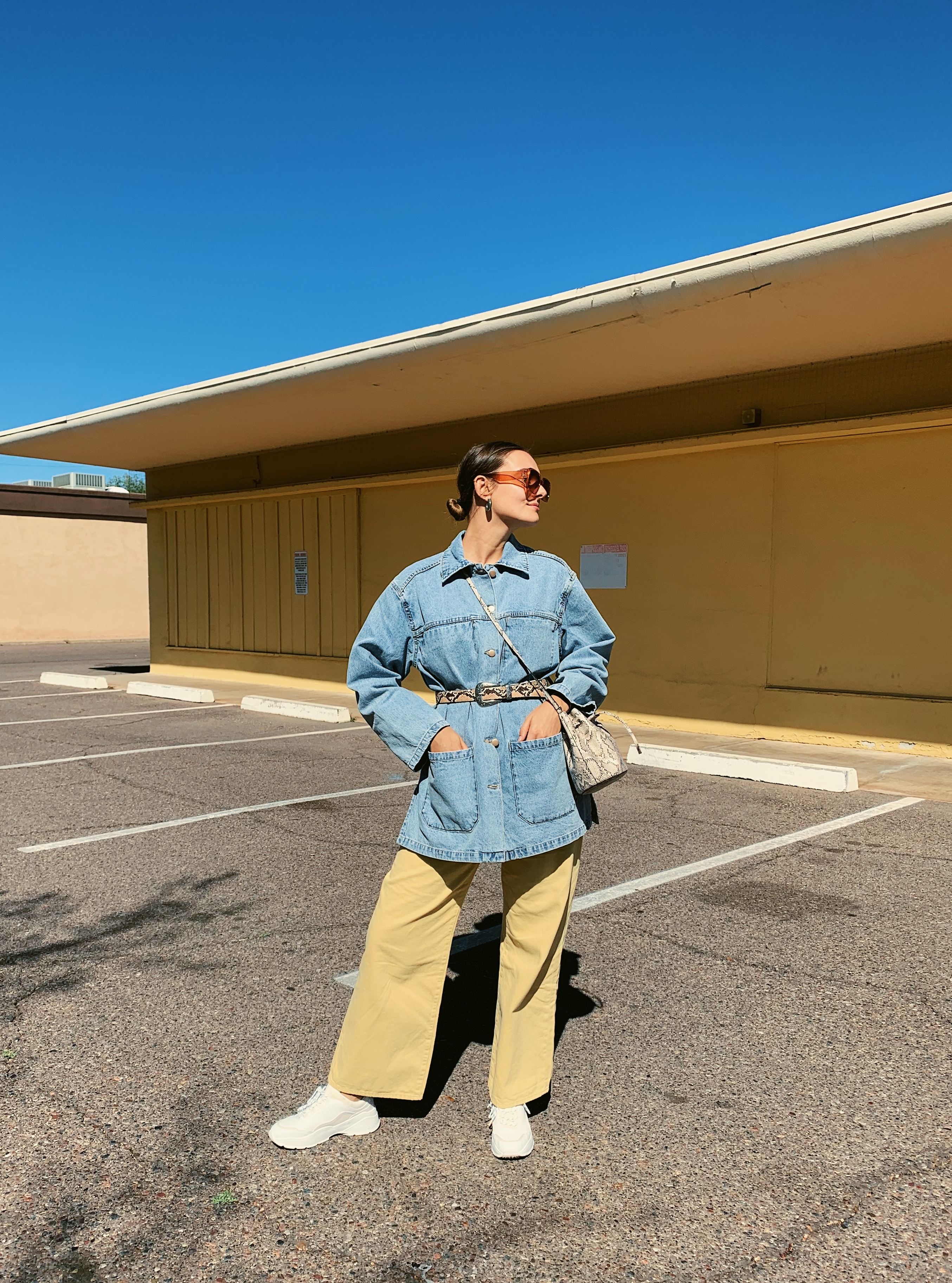 That's it for last week's outfits! Let me know if you like this kind of post + the option of shopping similar items! Oh, and what's your favourite outfit of the week? Happy Mondaaaay x